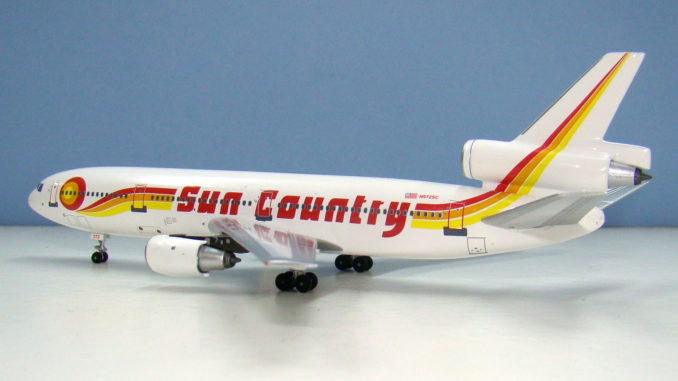 Sun Country has done what very few airlines have managed since the start of deregulation of the US airline industry – survive. Starting as a refuge for ex-Braniff employees, one of several startups of this nature, it expanded into a substantial charter airline and then, in the mid-90s, into a scheduled carrier. Now it appears a future as a low cost carrier beckons. Given that it is timely for Aeroclassics to release a historic type for the carrier, which previously has only had a different liveried DC-10 and 737-800 released for it from Gemini Jets.
THE REAL THING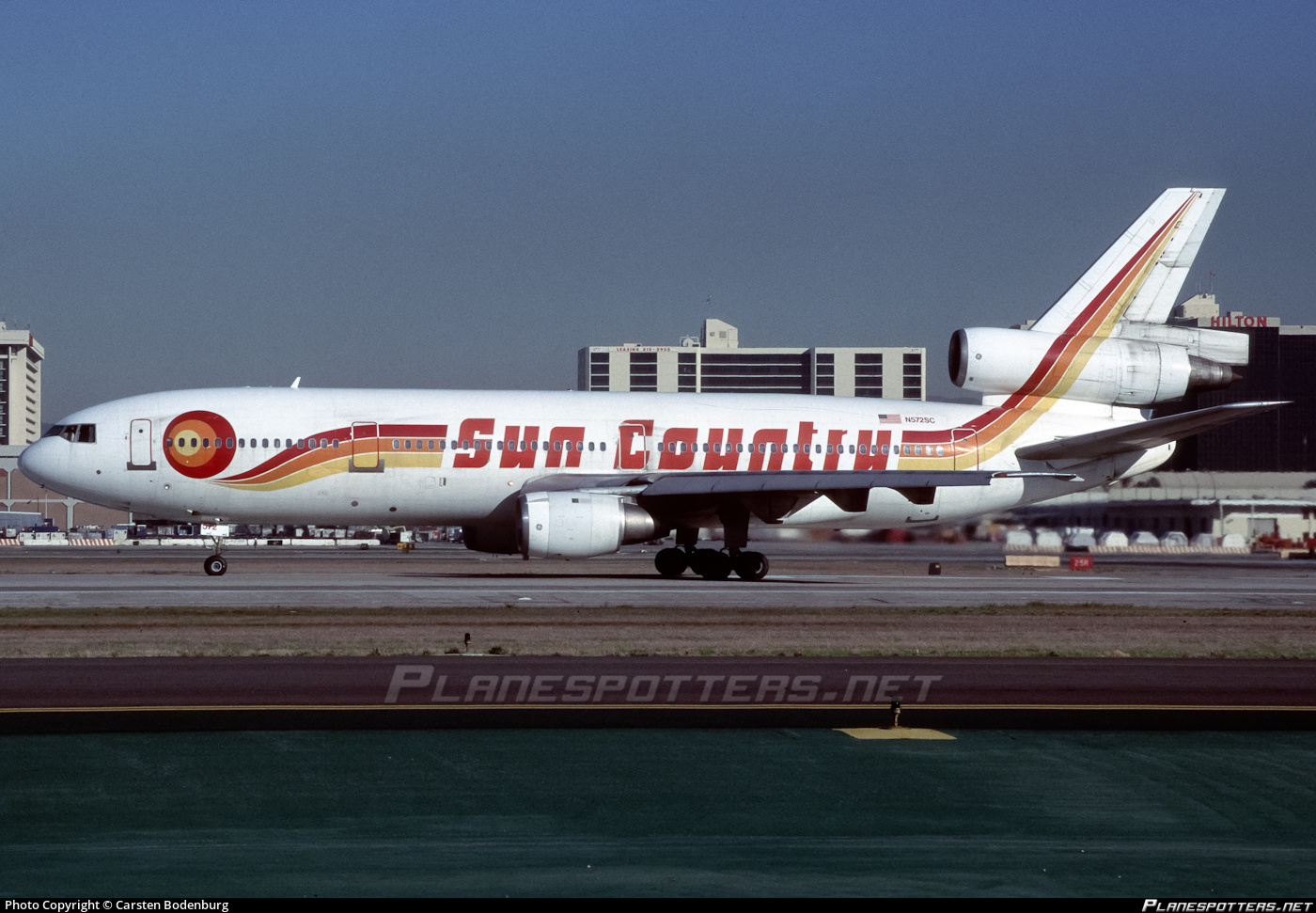 The Sun Country fleet before 2001 was centred around 2 types – the venerable Boeing 727-200 and McDonnell Douglas DC-10. It remained small and consisted only of a trio of 727s (with extra aircraft seasonally leased from Dan Air London) and a single DC-10-40, leased from Northwest as the 1980s came to a close. Profits, partly fuelled by Civil Reserve Air Fleet work during the first Gulf War, fuelled expansion as did the takeover of the company by the Mark Travel Group.
The original DC-10 was returned to Northwest but it was replaced by 13 others, mostly from 1994. These were a mixed collection of DC-10-10s, 15s and 30s from a diverse range of sources. Four DC-10-10s were originally Western Airlines (later Delta) machines, another series 10 was ex-Laker, 4 series 30s were ex-Lufthansa aircraft leased from Gemini Air Cargo whilst 4 series 15s came from Mexico (3 Mexicana and 1 Aeromexico).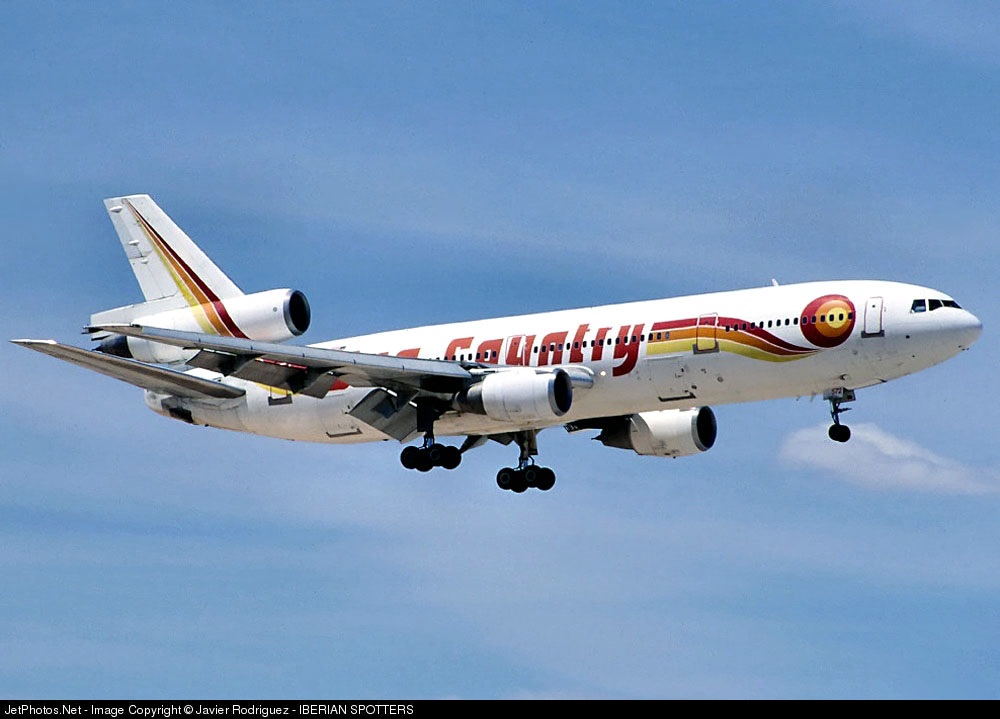 N572SC was one of the ex-Western frames having been delivered new as N908WA in March 1978. She transferred over to the Delta fleet following their purchase of WA in April 1987 and was quickly leased out to American Airlines from June 1988 until January 1989. She was then exported to Europe and joined Scanair as SE-DHZ before switching back to the USA in April 1994.
The 1990s were a tougher period for Sun Country and the charter market declined just as the airline found itself with a substantial fleet of relatively elderly DC-10s. Accordingly as the airline began to pivot towards scheduled operations that the big trijet was less suitable for they began to leave the fleet.
Two of the DC-10s were sold to Skyservice USA and leased to Ryan International in 1998 including N572SC, which became N572RY. For Sun Country the last DC-10 left the fleet on April 30, 2001 by which time 737-800s were joining. Unfortunately Sun Country was haemorrhaging cash at this point and actually was forced to close down in December. Luckily a restart was successful and despite the presence of Northwest (now Delta) at its MSP hub Sun Country has survived.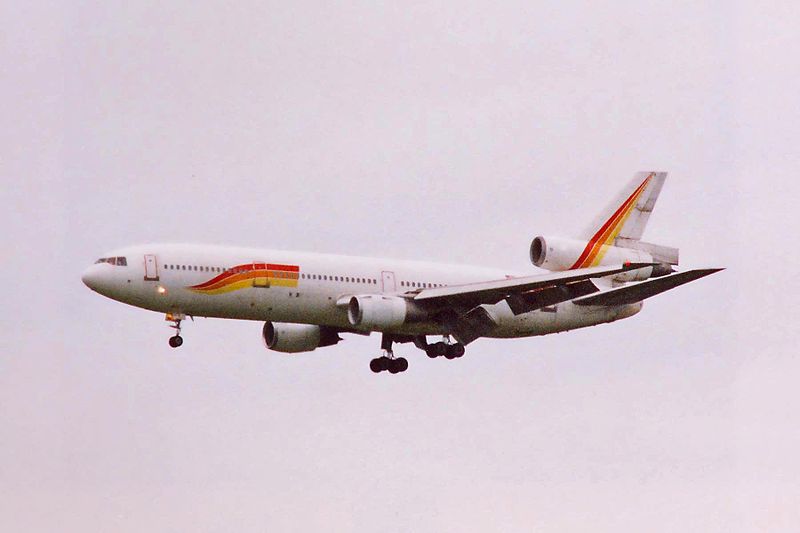 The life of N572RY was not as long as she was withdrawn in March 2004 and broken up a year later.
THE MODEL
The format for my reviews is to split them into three key areas:
The mould of the aircraft
The paint and livery
Printing and quality control
Each can get a maximum score of 10 for a section giving a maximum combined total score of 30.
THE MOULD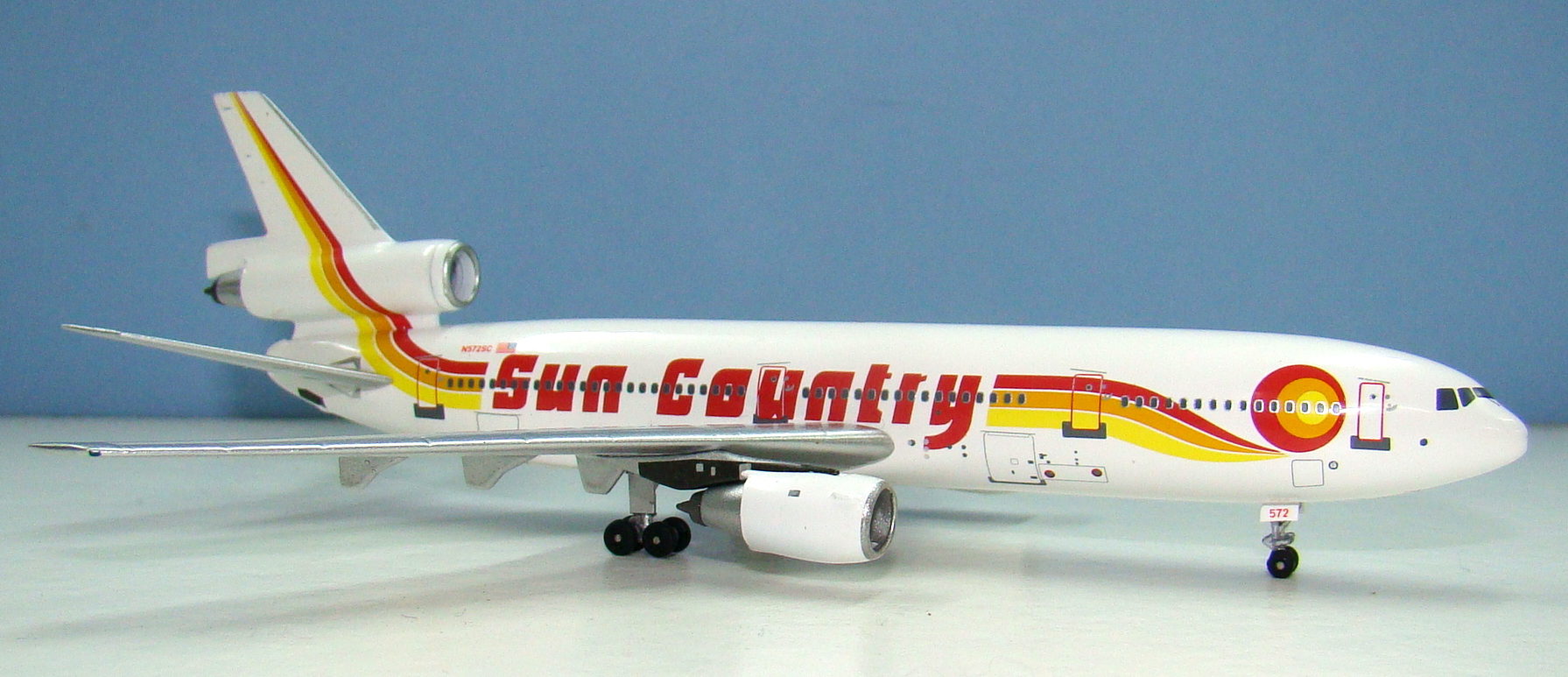 I reviewed an Aeroclassics DC-10 back in August and waxed lyrical about the mould even though it lost points for engine exhaust accuracy. This is a DC-10-10 so shares much of the same original mould as the series 40; however there are a couple of differences. Overall the Aeroclassics DC-10 mould is excellent but in detail there are imperfections to be found.
For starters the DC-10-10 has slightly shorter wings than the intercontinental versions. Although this amounts to only about 4mm per wing in 1:400 scale it would be noticeable and only Dragon Wings ever bothered with this.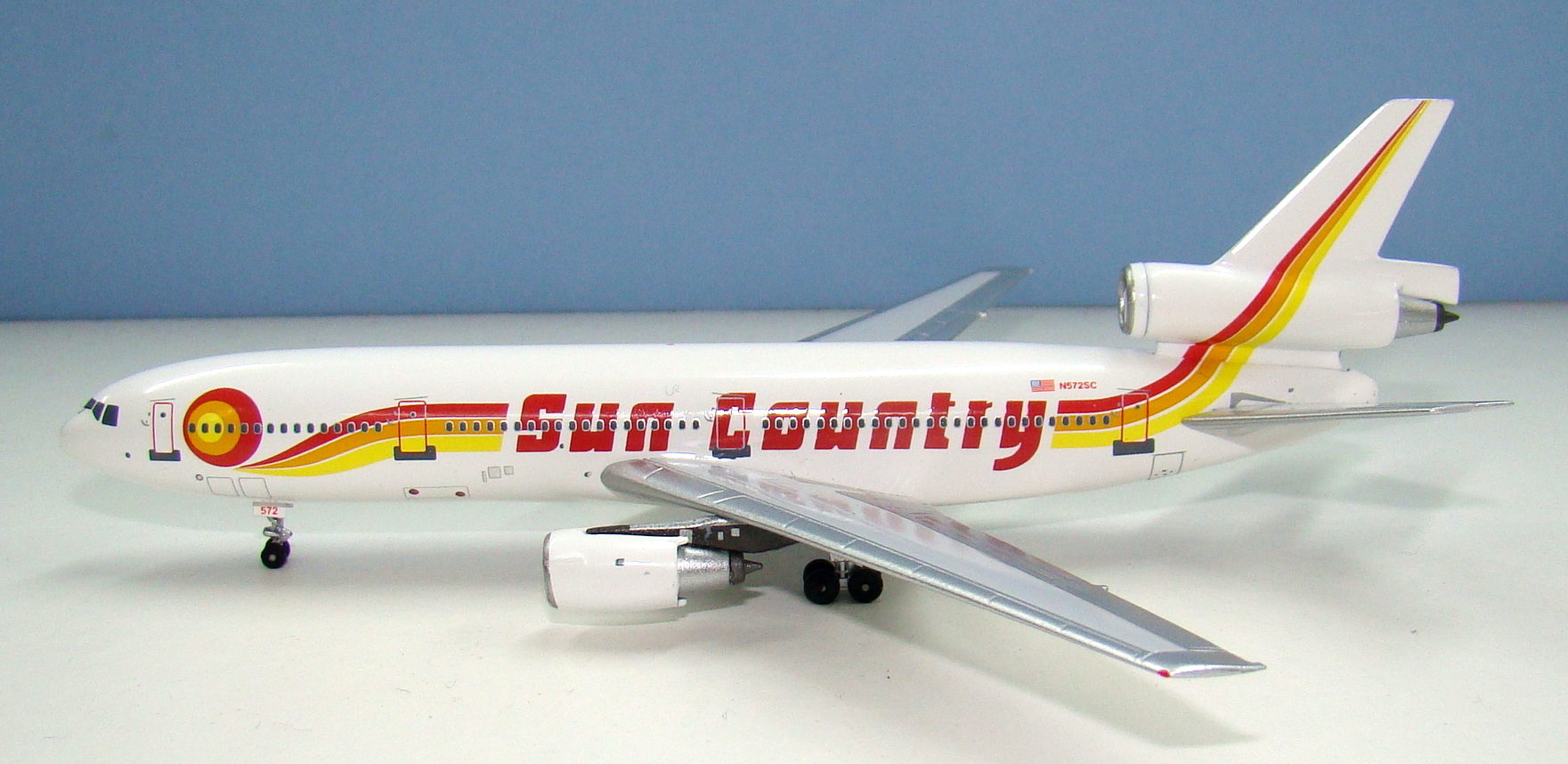 The mould also shares with the other Aeroclassics DC-10 a rather too tubelike shape of the tail mounted engine, which isn't as curvy as it ought to be. Both of these imperfections are minor and at least the generic exhaust Aeroclassics uses looks quite similar to the late model CF6-6 exhaust that the DC-10-10 used. Plus on the underside the the central maingear found on the series 30 and 40 is correctly nowhere to be seen. Gemini Jets just filled in the hole leaving a clear outline!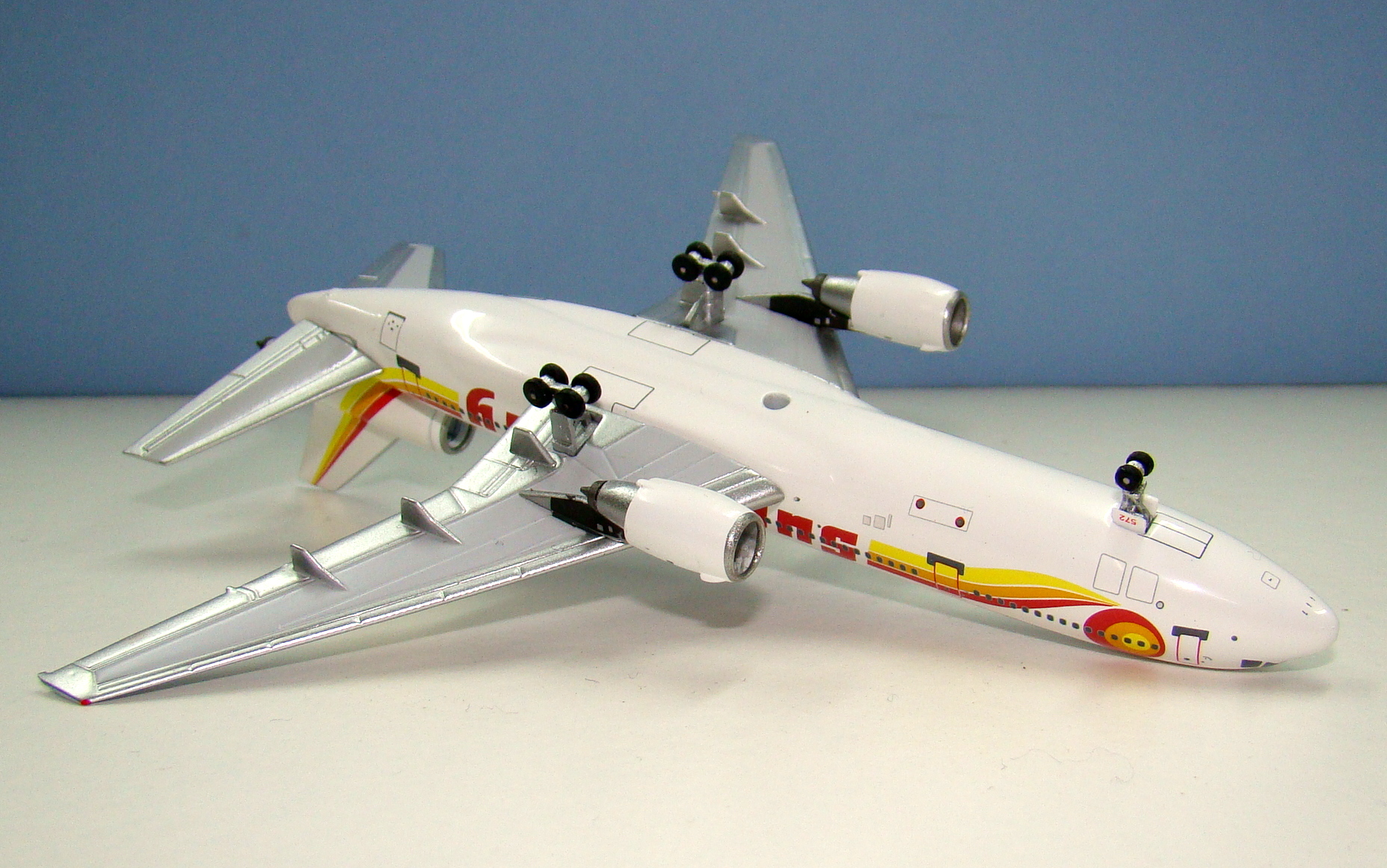 So in reality I think that this mould is probably even better than the series 40 as the only faults are not things that are readily apparent.
SCORE – 9
PAINT & LIVERY
As you'd expect from an airline with the name Sun Country the airline's livery has always been bright and given no reason to mistake what the airline was called. The DC-10s wore two distinct liveries both of which featured large billboard titles and primary colours of yellow and orange. The earlier scheme, as worn by this model, was unusual in not featuring a separate tail emblem. Instead the twin fuselage striping, broken by the large titles, curved up onto the tail and tapered to a point. Towards the front of the aircraft the striping again tapered and swung downwards touching the bottom of a large sun emblem.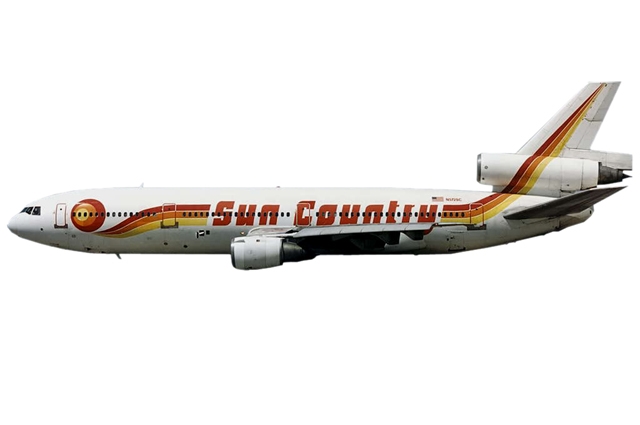 This livery was replaced during 1995 by a more standard but still bright and eye-catching scheme with a separate sun tail emblem and large sash fuselage striping. This latter scheme is worn by the old Gemini Jets release. In fact the new scheme never seems to have fully replaced the older livery totally, which could still be seen on fleet members well into the late 90s.

Aeroclassics continuously prints its colours too dark and yet again they have managed it here. The colours used in the scheme are a golden yellow and two oranges, but the colours on the model are a bright yellow, orange and red. Of the 3 pictures I'm using for reference one of them shows a darker shade than the other two and in that shot the darker orange looks red. This is clearly a trick of the light though and Aeroclassics has gone too dark with the darker orange which is also used for the titles.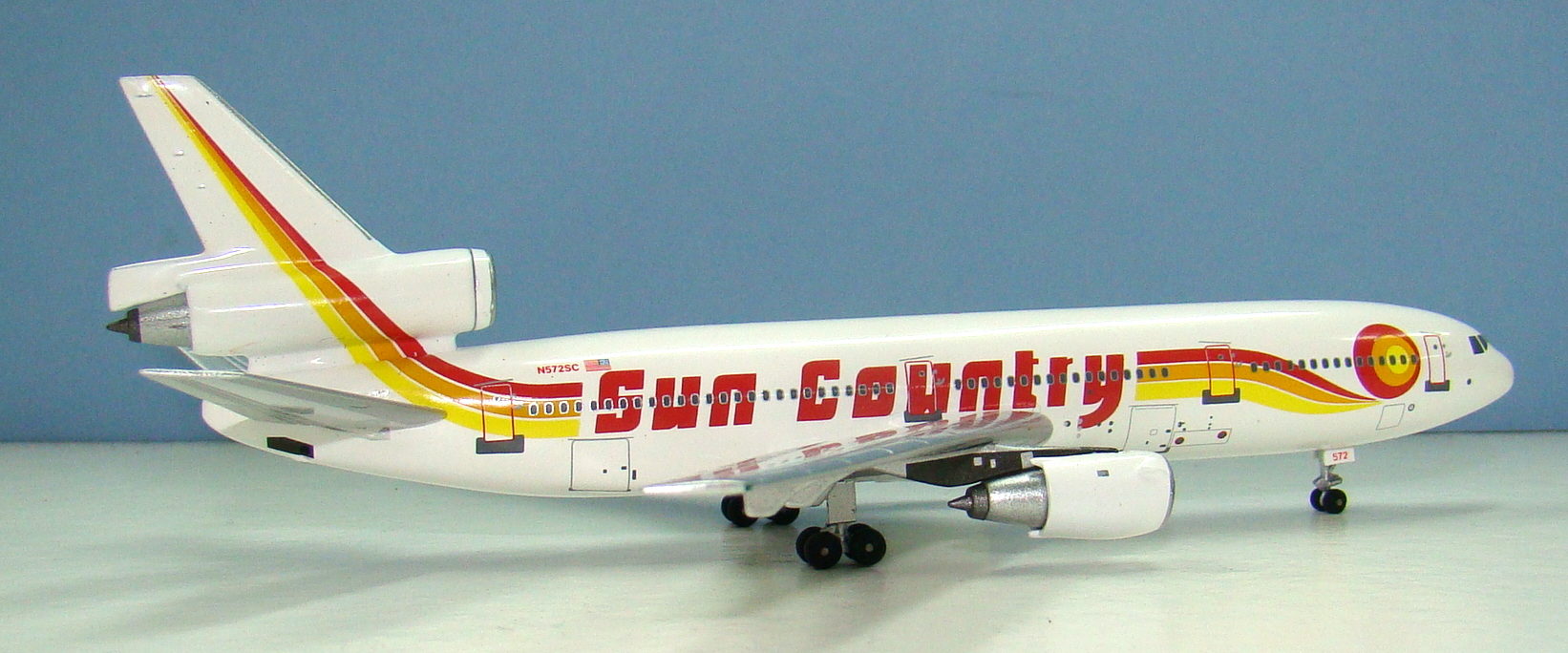 On the plus side the main livery elements are all well placed and Aeroclassics has done good work on the unusual main title font, which is spot on. This is such a major component of the livery that any inaccuracy would have been a disaster so I am very glad that they have done a good job.
SCORE – 8
PRINTING & QUALITY CONTROL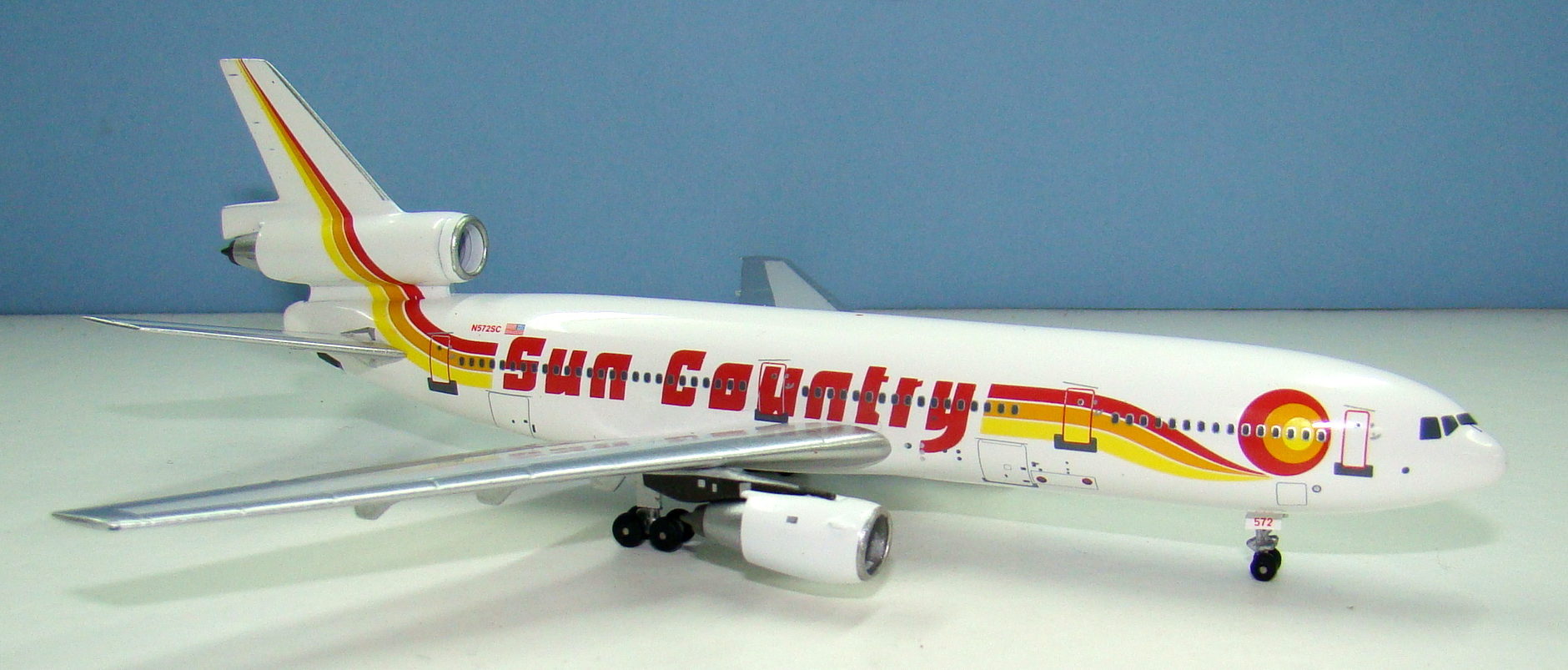 Printing on the model is up to Aeroclassics usual standard, which means it is good without being as good as JC Wings. As with the earlier Northwest DC-10 the tail is lacking some detail as are the underwing engines. Neither would ever look as clean as on this white painted trijet and the dirt would show up the paneling. Also yet again the fanblades on the engines are disappointingly very silver whilst the inside of the number 2 engine is left white.

If you didn't own any Aeroclassics DC-10s you'd think the construction of this model was perfect, however I have plenty to compare it to and something has clearly gone slightly wrong with the mould, at least at the nose end. Rather than being nicely rounded as usual the nose is rather squarely cut off. This is odd and I can only think it is a production issue rather than a change to a previously sound mould. It doesn't ruin the aircraft but it's not great.
SCORE – 7
CONCLUSION
Yet again Aeroclassics have delivered an exciting subject on a slam dunk mould and then gone and spoiled it to some extent by not paying close enough attention to the finish. The odd nose, poor colouring and continual silver engines all talk to a worrying lack of oversight at the Aeroclassics factory. Indeed for a few years now it has been hit and miss from Aeroclassics. I don't call this a miss but it certainly isn't the hit it could have been.
FINAL SCORE – 24