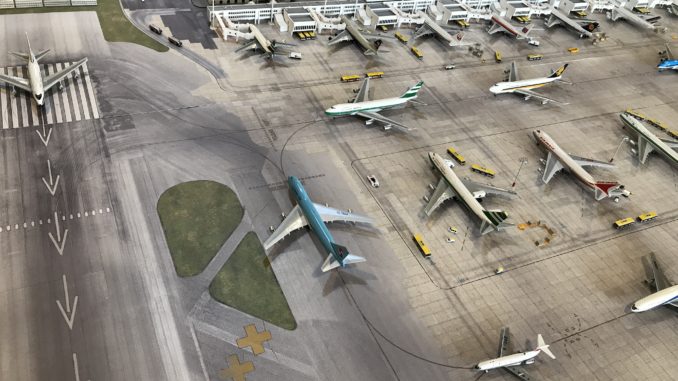 Hu Chow has created one of the most impressive renditions of an airport diorama with his design and construction of a model Kai Tak Airport. The 1/400 airport layout takes us back to 1988, a busy time for the once bustling Hong Kong Kai Tak Airport. In this Airport Spotlight Series we chat with Hu about his inspiration and motivation for creating his model airport diorama.
Current Location: Hong Kong
Airport Name: Kai Tak International (Circa 1988)
Airport Scale: 1/400
DF=The Diecast Flier
HC=Hu Chow
DF: How did you get interested in diecast model aircraft collecting?
HC: When I was a kid, my dad bought me a diecast ANA Tristar that came with a set of out of proportion ground service equipment. I think Tomica from Japan might have made those. The landing gears could even retract. With that, plus 2 other similar sets he purchased and boundless imagination of an only child, I operated a mini Kai Tak from my sofa (sans cushions) with wood planks to simulate the runway. I had so much fun!
Fast forward 35 years, I happened to walk past a shop that sold diecast planes in Hong Kong. I didn't know this had become a full-blown hobby for collectors and was astonished to see the variety and different scales of models. I picked one (1:400 Iberia A340-600) and the slow satisfying road to bankruptcy began. 
DF: When did you come up with the idea to design your own model airport?
HC: Since I'm a graphic designer by day, I know how to use Adobe Photoshop and Illustrator. I started making a foil for fun, just to park my planes. An ebayer, who is now a good friend, sold me a retro CX 747-300 and that's when the Kai Tak foil idea came to mind. I started by making 8 main parking spots and had it setup on the meeting desk at work. I looked at it and thought, it just looked wrong without the terminal. And so it started…
DF: What inspired you to design your airport?
HC: 100% nostalgia. I lived less than 1 kilometer from Kai Tak. My parents used to take me to Kai Tak at least twice a week for meals when I was a kid. My dad was an aviation enthusiast as well so he was totally happy to be there. The windows of the airport restaurant were 20 feet away from the cockpit of any given widebody parked at Bay 3. It was a place where I spent a lot of time with my parents.
Initially I was just toying with the idea, not necessarily knowing how I would or could build the airport. My dad suddenly passed away during design phase and it gave me the extra determination I needed to see this project to completion. It became something that I can remember my dad by. Models of the planes on which my dad and I flew are frequent features in this diorama.
DF: What do you find most fascinating about aviation?
HC: I studied engineering in university with a focus on aerospace subjects. I understand the science behind the basics of flight. But really, the fact that a giant piece of metal can be in the air still boggles my mind, it's just magical.
DF: Favorite airport?
HC: Guess. Haha.
DF: What Ground Service Equipment products did you use for your diorama?
HC: JC Wings buses, Herpa freight containers, Dragon Wings ground service equipment, Panda Models fire trucks and Gemini Jets ground service equipment. I also used a bunch of other stuff made by independent enthusiasts/start-up businesses.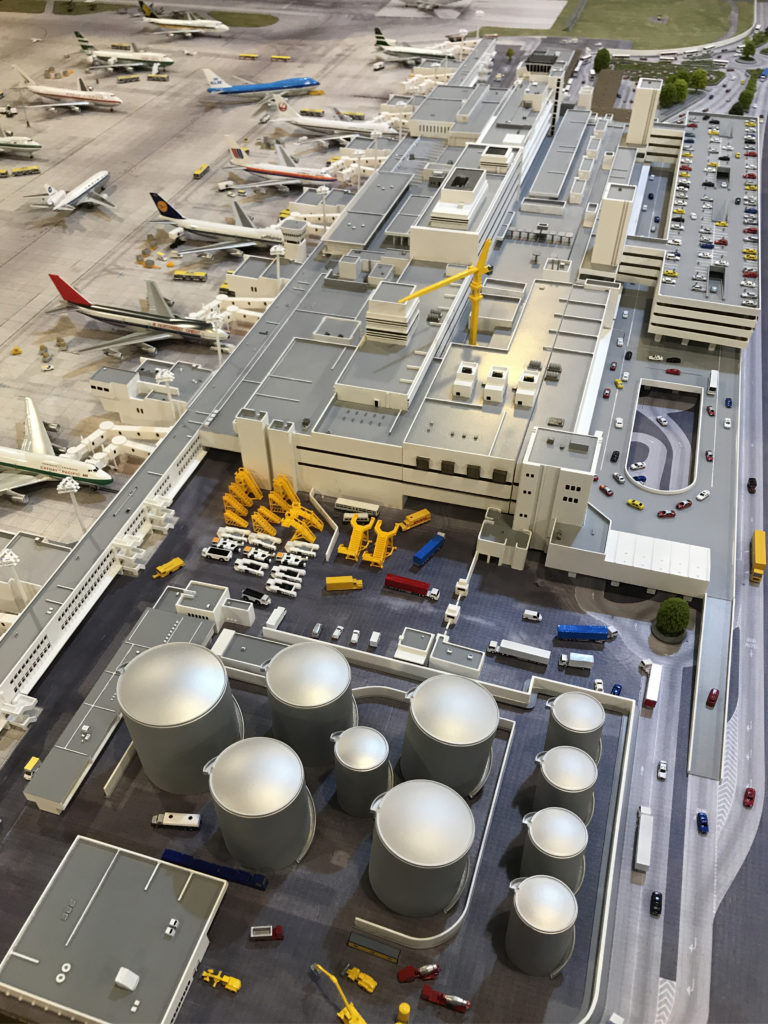 DF: What is the largest aircraft that that's part of your airport? Smallest aircraft?
HC: I try to be somewhat period correct. Since the airport closed in 1998, so the largest action it ever saw was the B744s. And all sorts of majors flew their B747s there. The smallest commercial aircrafts probably were Tridents or B732s from CAAC.
DF: Favorite aircraft that is part of your diorama collection?
HC: It's hard to say, since back in the 80s/90s the type variety was so amazing. 2 engines, 3 engines and 4 engines. They really make the diorama interesting to look at. If I were to pick a favorite, I would say the B747-200, Cathay Pacific VR-HKG. It epitomizes Hong Kong becoming a major city in the world. B747s were really amazing looking flying machines, and still are to this day!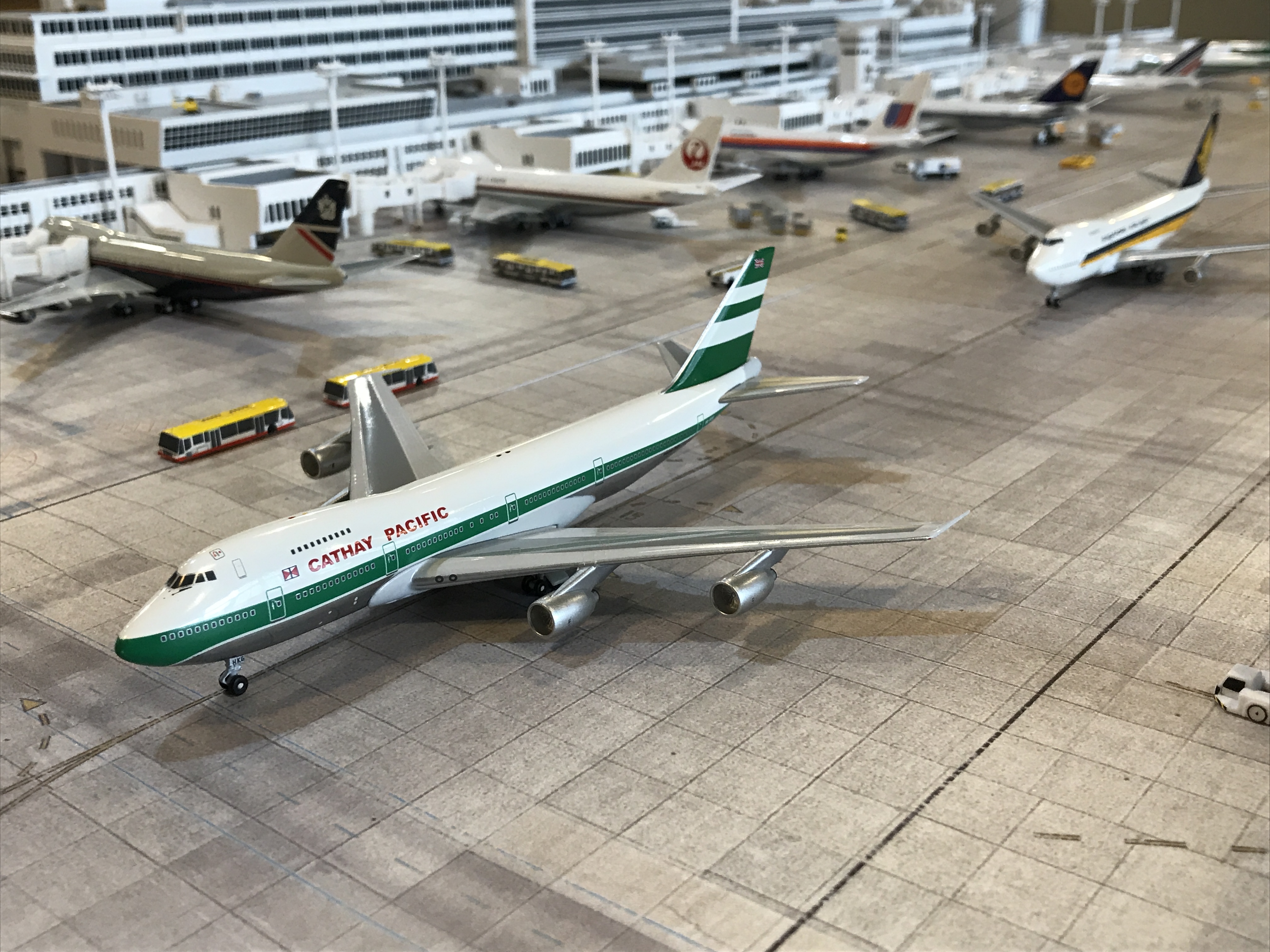 DF: How many aircraft are based at your airport?
HC: There are 21 parking spots, of which 8 are connected by air bridges to the terminal.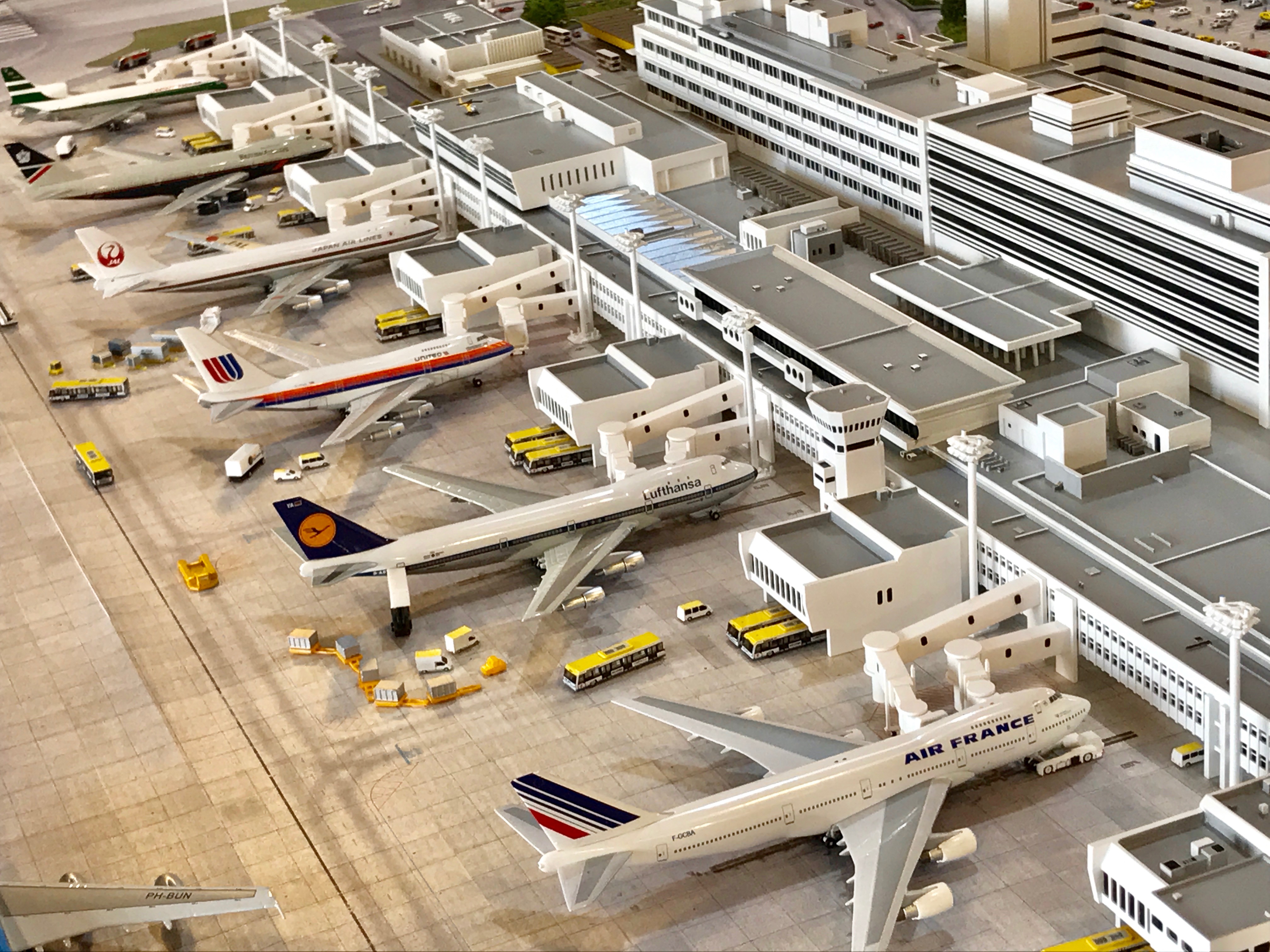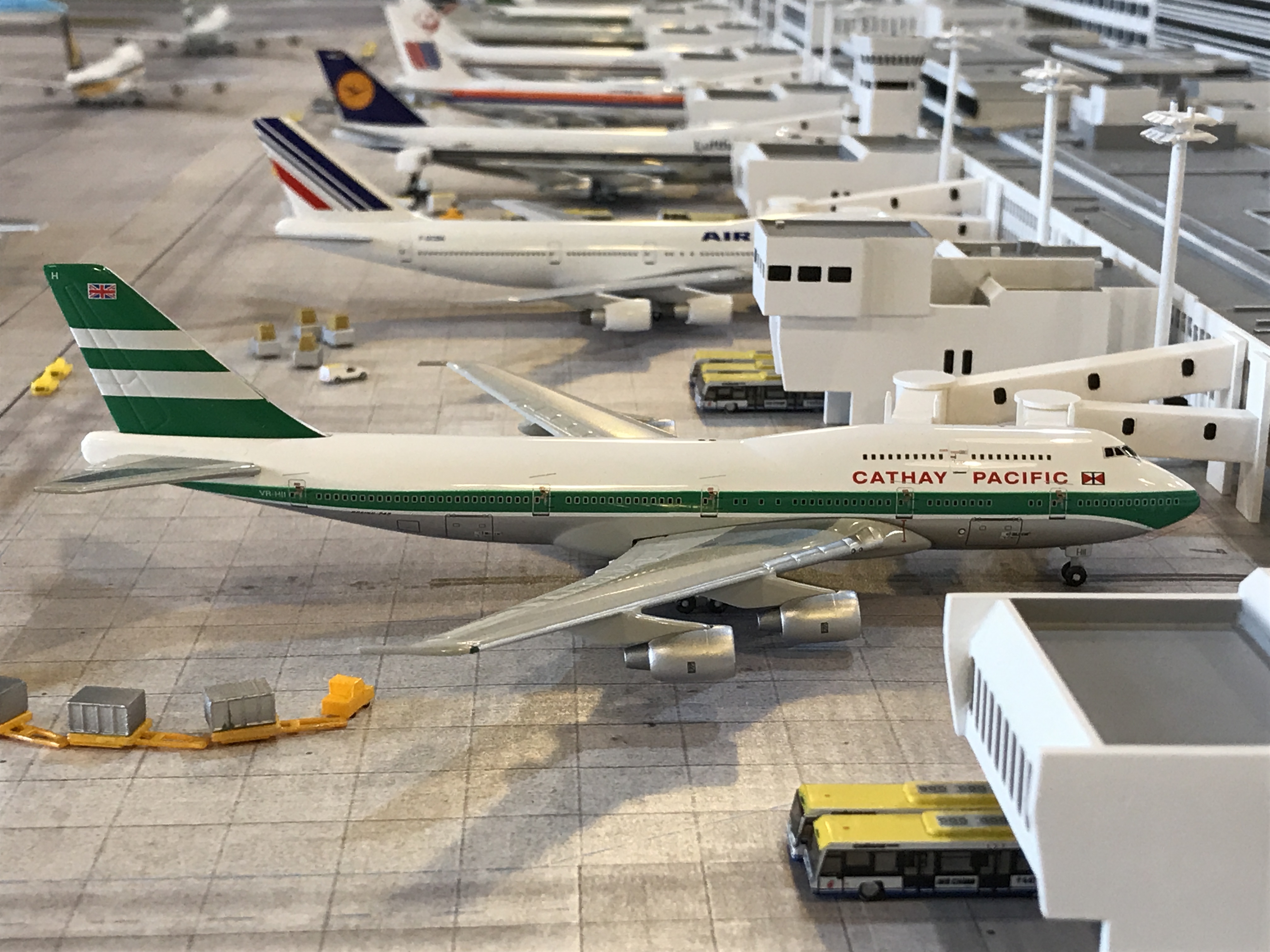 DF: How many hours did it take to design your airport?
HC: Oh my, it took like 7 months to make the 3D CAD file. This wasn't a skill I had, but I kept at it. It turned into an obsession to make it right.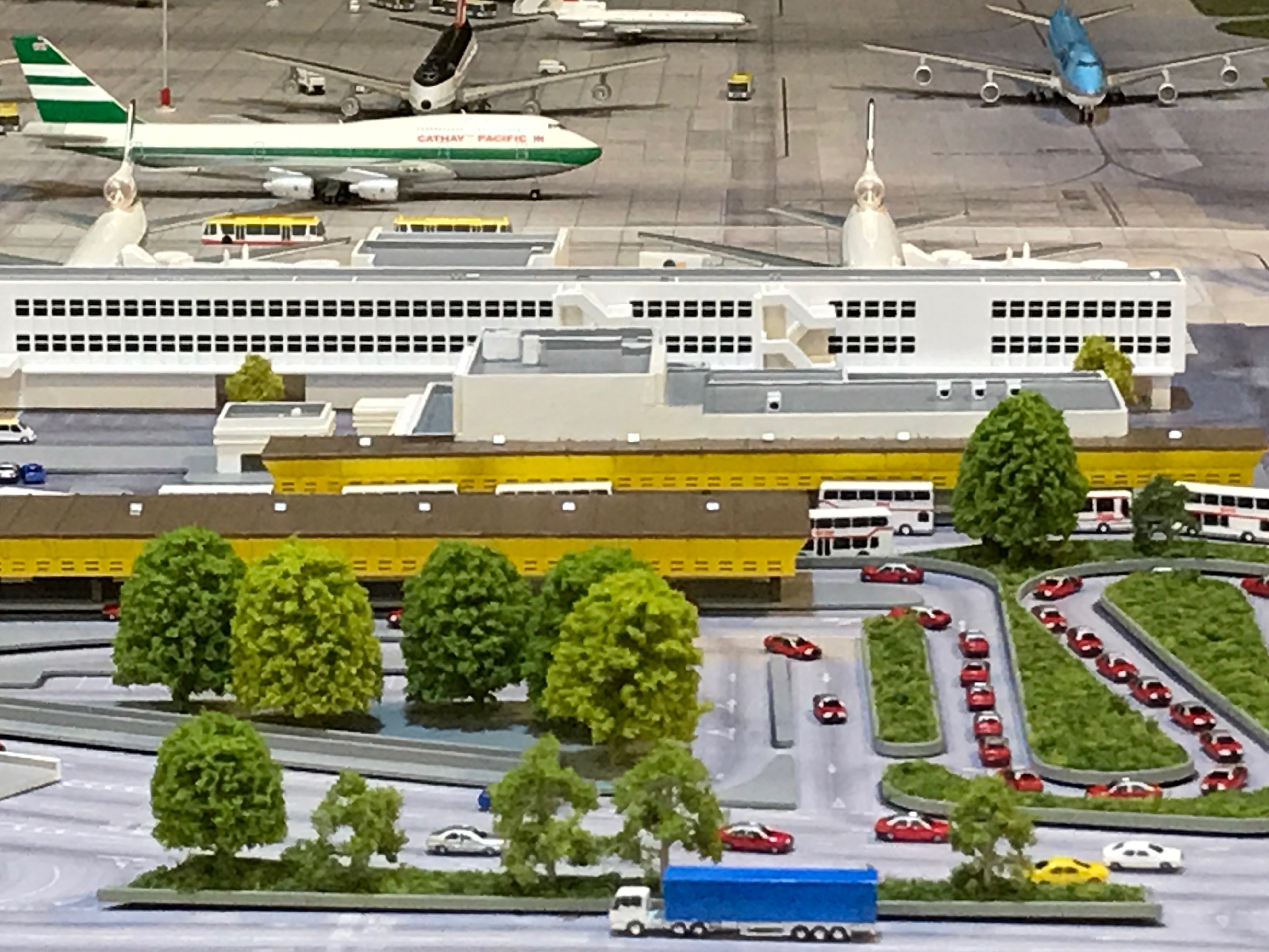 DF: The realism of your airport diorama is amazing including the detailed jetways, trees and parking aprons are amazing. What type different types of products did you use in the development and creation of your airport?
HC: I used a variety of products from several manufacturers.
Light posts from "Aircraft Manufacture" and Herpa.
Trees, cars, trucks and buses from 4D model shop in the UK and Sam Trees in Hong Kong.
Ground service equipment from from Gemini Jets, Herpa Wings, Panda Models , JC Wings, and Aircraft Manufacture.
DF: Can you tell us how you designed and constructed your airport?
HC: I started out doing some research online. Luckily there were a couple of images on Google that showed the footprint of the airport, which enabled me to get the scaling correct. After collecting enough images from either books and the web,  I started designing it with a 3D program. Lots of guesstimates were used to fill in the blanks, as the airport was closed quite some time ago. Not everything is perfect, but it does encapsulate the airport as a whole.
For the actual production, I originally planned to make it using 3D printing, but upon learning of its expensive cost, I abandoned the idea. Eventually I connected with a company that could use a CNC milling machine to fabricate the model from solid blocks of plastic, which yielded great results and was heaps cheaper. I went ahead with the concept, gambling that it would turn out somewhat alright.
Once the milling was complete, it was time to paint the model. It was quite challenging because I'm not really a model maker, and also the painting had to be done to a pretty much finished model, so I had to plan ahead on how to paint the hard to reach areas by designing pieces that would come apart. The real airport had more colors to it, but I assessed the risks in jeopardizing the project due to frankly, a lack of painting skills, and kept most of the model white and grey, with windows painted black and ceiling machineries painted various colors. The goal was to give a nice enough overall impression of this historic airport.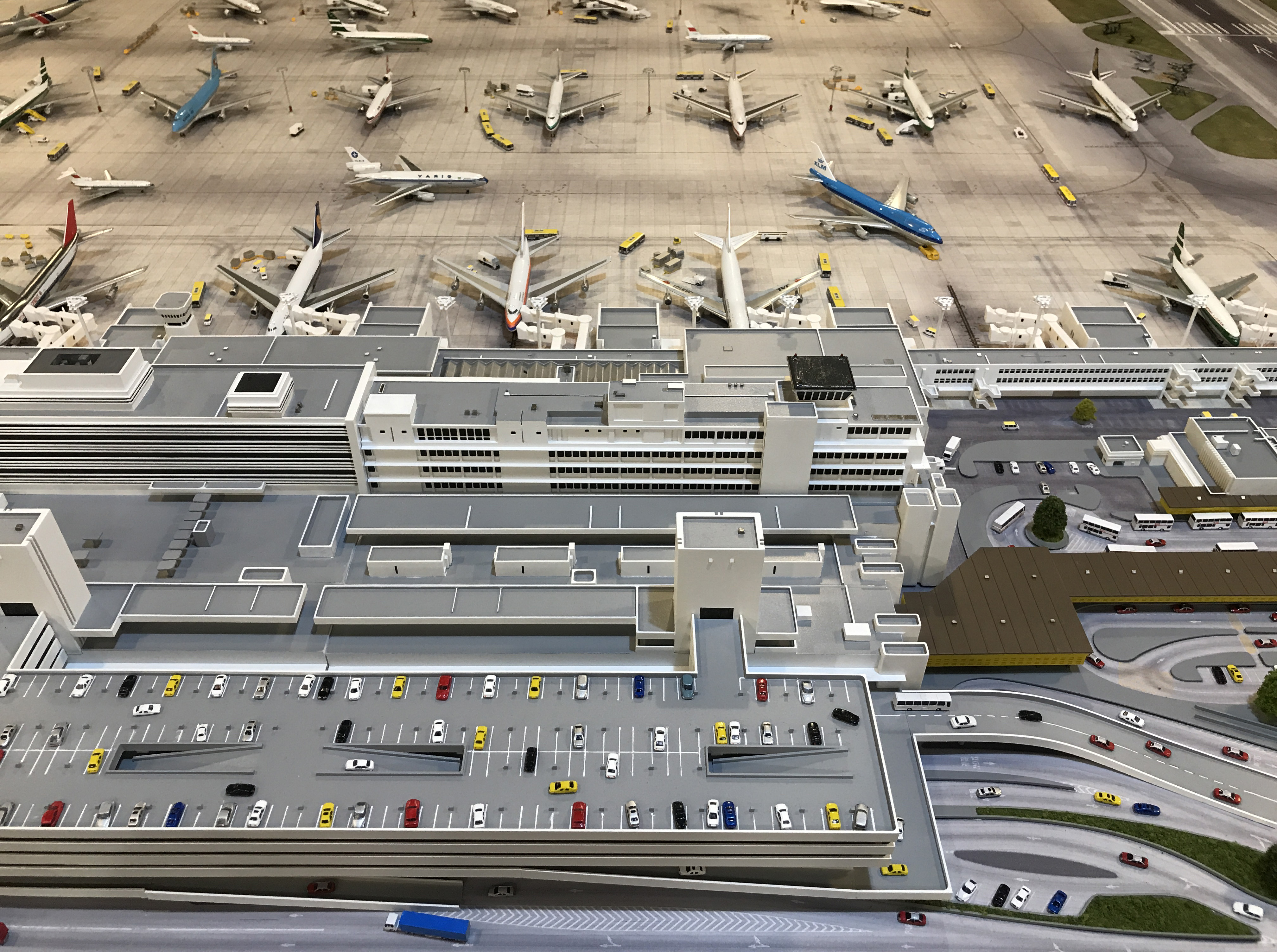 DF: What ground foil product do you use for your airport?
HC: I made it myself with a lot of borrowed textures from photos. Hunting down ground markings were a chore, but I think they are close enough. 
DF: Are there any future expansion plans for your airport diorama layout?
HC: I would love to make the maintenance area and cargo terminal, but there is a huge space limitation in Hong Kong. Sigh….
Interested in being part of our Airport Spotlight Series. Send a photo of your airport diorama to us at [email protected]!