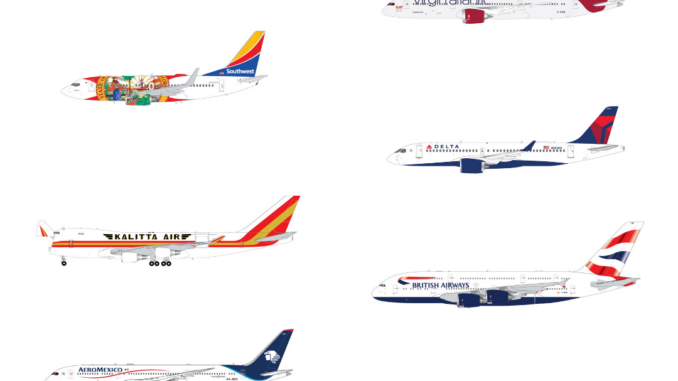 GeminiJets has announced a new suite of models for the month of February! There are 21 new releases in a variety of types representing operators from around the world: ten in 1:400 scale and eleven in 1:200 scale.
Highlights in 1:400 scale include a British Airways A380, an El Al 737-900 in the "Peace Title" livery, a Cargolux 747-400ERF in retro colors, an Emirates A380 in the Year of Tolerance/Expo 2020 livery, a Delta 757-300, and a French Air Force A400M Atlas.
Highlights in 1:200 scale include a Kalitta Charters 727-200, a Virgin Atlantic 787-9, a Caribair Puerto Rico DC-9-30, a Delta A220-300, and a new Kalitta Air "Interactive Series" 747-400F. There is also a KLM "100 Years" anniversary 737-900 and "Florida One", a Southwest 737-700 painted with the Florida state flag. These two models are also each available in a separate "Flaps Down" version with high-lift devices deployed.
Check out the full lineup of new releases below!
GeminiJets (1:400)

Aeroméxico Boeing 787-9 XA-ADH GJAMX1964
---

British Airways Airbus A380 G-XLED GJBAW1932
---

Cargolux Boeing 747-400F LX-NCL (Retro Livery) GJCLX1947
LX-NCL was repainted in July 2020 to celebrate the airline's 50th anniversary. This retro livery is derived from the original Cargolux livery from the 1970s, first painted on their Canadair CL-44 fleet. This is the first 747 to wear this version of the livery.
---

Delta Air Lines Boeing 757-300 N586NW GJDAL1963
Delta acquired their 757-300 fleet in the merger with Northwest Airlines in 2009. The 757-300 was originally seen as a bit of an "odd duck" with only 55 produced, but found a niche as a medium-haul workhorse in Northwest and Delta's fleets, among a few others. Winglets were added while with Delta to increase fuel efficiency on longer flights.
---

El Al Israel Airlines Boeing 737-900ER 4X-EHD "Peace Titles" GJELY1956
This airplane, named for the city of Kiryat Gat, was painted with the word "Peace" above the cockpit windows in Arabic, English, and Hebrew. This special insignia was applied for the inaugural flight on August 31st, 2020 from Tel Aviv to Abu Dhabi, marking the normalization of diplomatic relations between the two countries. The Boeing 737 was chosen for this flight instead of the 787 because the 787 had not yet been modified with the IAI's Sky Shield missile defense system per El Al security requirements.
---

Emirates Airbus A380 A6-EVB "Year of Tolerance Livery" GJUAE1959
Sheikh Khalifa bin Zayed Al Nahyan of the United Arab Emirates proclaimed 2019 to be the "The Year of Tolerance". This initiative included progressive efforts in community, education, government, and culture. The four values of peace, humanity, coexistence, and respect enshrined in the initiative are also represented by this special livery to continue through the Expo 2020 in Dubai, postponed to 2021 due to the COVID-19 pandemic (but retaining the same name for branding).
---

Interflug Ilyushin IL-62M DDR-SEN GJIFL1801
Operating east of the Iron Curtain, Interflug flew a variety of Soviet airliners as the flag carrier of the DDR (East Germany). The IL-62 was designed for long-range flights and held the status of the largest jet airliner in the world for several years.
---

TUI Airways Boeing 737-800 G-FDZU GJTOM1938
---

United Airlines Boeing 787-9 N24976 GJUAL1795
---
GeminiMacs (1:400)

French Air Force/Armee de l'Air Airbus A400M Atlas F-RBAN GMFAF093
The French Air Force (Armee de l'Air) became the first A400M customer in 2013. It has been used as a strategic airlifter and tactical transport for humanitarian relief and counterterrorism missions. F-RBAN was delivered in March 2018.
---
Gemini200 (1:200)

Caribair Puerto Rico Douglas DC-9-30 N938PR "Fiesta Jet" G2CRB942
Originally registered N1938R, this DC-9-31 was first leased to Air Canada, Overseas National Airways, and Südflug before being operated by Caribair for several years until their acquisition by Eastern Air Lines. It was the third delivered of three DC-9 airplanes operated by Caribair, their only jet airliner.
---

Delta Air Lines Airbus A220-300 N302DU G2DAL895
N302DU (MSN 50070, original test registration C-GPCA) was the second A220 built at the new Bombardier facility in Mobile, Alabama, but the first delivered to Delta Air Lines. MSN 50069 (then C-GPWC, planned to be registered as N301DU) was originally scheduled to be the first delivered to Delta, but it was damaged in September 2019 when a false alarm caused a hangar to be flooded with fire retardant foam. That airplane has since been repaired and is undergoing engine run-up and taxi checks in Mobile. N302DU was delivered in October 2020.
---

French Air Force/Armee de l'Air Airbus A330-200 MRTT F-UJCH G2FAF803
---

Kalitta Air Boeing 747-400ERF N782CK (Interactive Series) G2CKS928
In a first for diecast 1:200 scale, a new 747-400F mould (painted for Kalitta Air) is now available as part of the Interactive Series with nose and cargo doors that can be positioned opened or closed. This airplane was originally built for LoadAir Cargo but was not taken up and was stored for a few years before sale to Kalitta Air. It was the final 747-400 produced.
---

Kalitta Charters II Boeing 727-200F/Adv. N726CK G2KFS941
Kalitta Charters II provides passenger and cargo charter service as Kalitta Passenger II and Kalitta Cargo II. The airline callsign is "Dragster", a reference to the racing career of its owner, Doug Kalitta, nephew of Kalitta Air founder and CEO Conrad "Connie" Kalitta (also a drag racing driver). N726CK previously flew under other registrations for DHL Air, Qatar, Emirates, Republic Airlines, and the Dubai Royal Air Wing.
---

KLM Boeing 737-900 PH-BXP "KLM 100" G2KLM924
KLM has outfitted several planes from its fleet with special "100 Years" insignia for the 100th anniversary of the airline, the world's oldest still operating under the same name.
---

KLM Boeing 737-900 PH-BXP "KLM 100" (Flaps Down) G2KLM924F
This model is the first 1:200 "Flaps Down" 737-900 that GeminiJets has produced.
---

Southwest Boeing 737-700 N945WN "Florida One" G2SWA914
GeminiJets has continued releases of Southwest's special US state liveries, celebrating states with Southwest service and often a special place in the history of the airline.
---

Southwest Boeing 737-700 N945WN "Florida One" (Flaps Down) G2SWA914F
This model is the second GeminiJets 1:200 "Flaps Down" 737 produced in a special Southwest livery.
---

TUI Airways Boeing 737-800 G-FDZU G2TOM464
---

Virgin Atlantic Airways Boeing 787-9 G-VZIG G2VIR907
---
All of these models are available for pre-order at DGPilot, the official store of ModelAirliner.com. Click here to shop now!