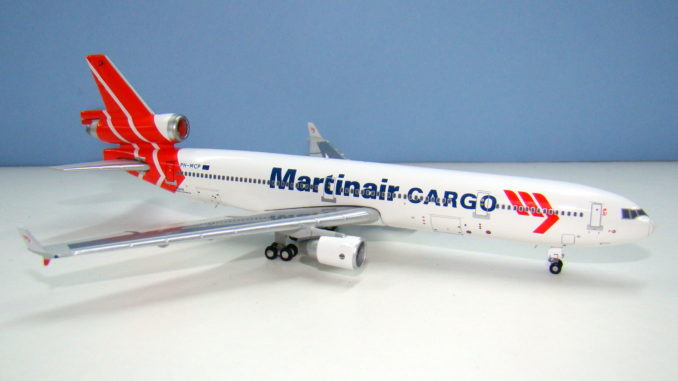 Much maligned in passenger service the MD-11 has more than proven itself as a freight hauler with the majority of the 200 airframes either being delivered as, or converted to, freighters. Unfortunately like its older sibling the DC-10 (and the updated MD-10) the end is nigh for the big trijet even in freighter service, as the youngest frames are approaching their 18th year in service and the eldest would be nearly 28. Nonetheless a decent number of MD-11s remain in service with a small number of major operators – primarily FedEx Express, UPS and Lufthansa Cargo. Gemini Jets chose to mark the retirement of the type from service with Martinair Cargo with a recent release.
THE REAL THING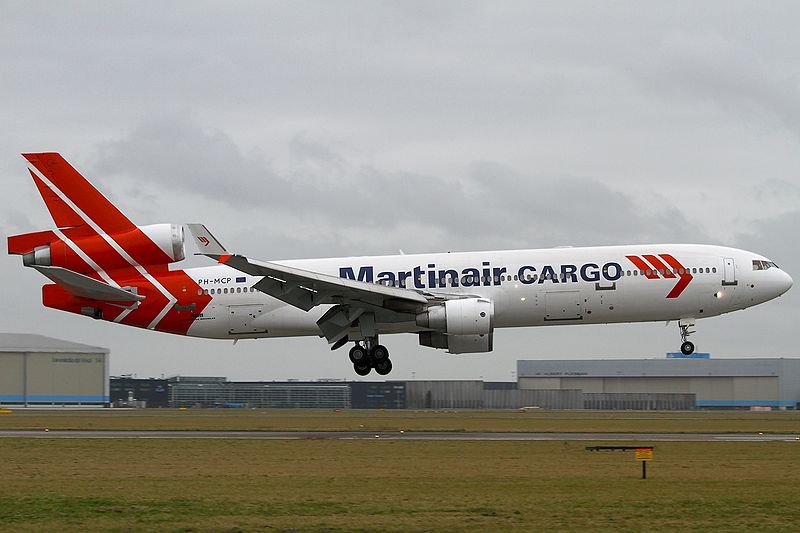 Martinair is a carrier that has had major ups and downs over the past decade. They have a proud history stretching back to 1958, as Martin's Air Charter, and from 1966 as Martinair Holland. For a long time they operated combi configured aircraft and operated freight services in addition to passenger charters, with a major shift towards cargo services being signalled by the first Martinair Cargo liveried aircraft in 1991. Nonetheless it wasn't until 2006 that the swing moved firmly towards cargo and away from passenger operations. The purchase of all shares by the Dutch flag carrier KLM in December 2008 was another step in this direction with the end of all short-haul operations. Finally in November 2011 the final passenger services were flown and Martinair became an all-cargo operation.
Martinair was an early customer for the McDonnell Douglas MD-11, choosing the Convertible Freighter (CF) variant. The first of six new MD-11s, PH-MCP, first flew in October 1994 and was delivered in December. She was followed by the remaining five, a mixture of MD-11CFs (4) and pure freighter MD-11Fs (2). A seventh aircraft, PH-MCY, was acquired from FedEx who had not taken it up after acquisition from Swiss in 2004.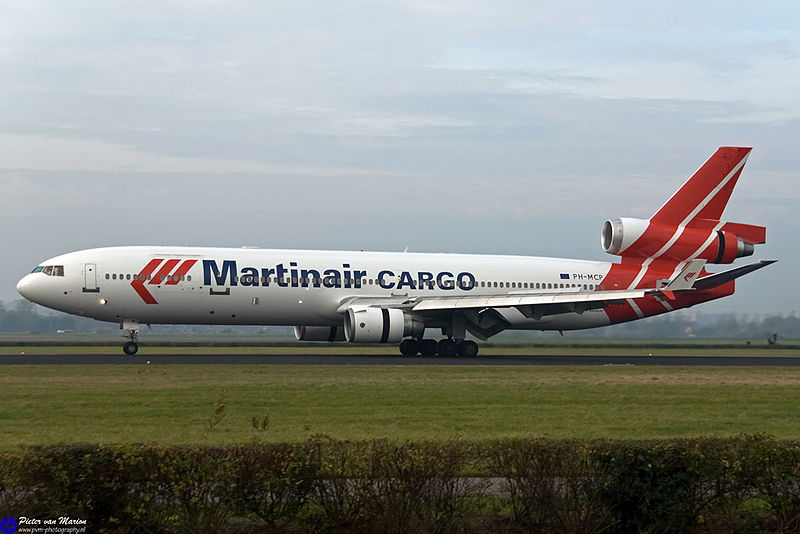 By June 2016 only a pair of the trijets remained in service with Martinair – the first aircraft MCP and the 1996 build PH-MCU. PH-MCT was sold in 2013 but the other four had all left the fleet during the second half of 2015 or early 2016. Martinair was struggling in a weak cargo market and a further restructuring of the business signalled the end of the last pair of MD-11s, and loss of around 300 employees.
The last MD-11 in use was PH-MCP, which left Amsterdam for the last time on July 8, 2016 heading for Victorville and storage. It is likely she will be parted out as none of the other MD-11s have found second operational homes. The Gemini Jets model box marks the last flight of the aircraft as from Bogota to Amsterdam via Miami and London on 26/27 June 2016.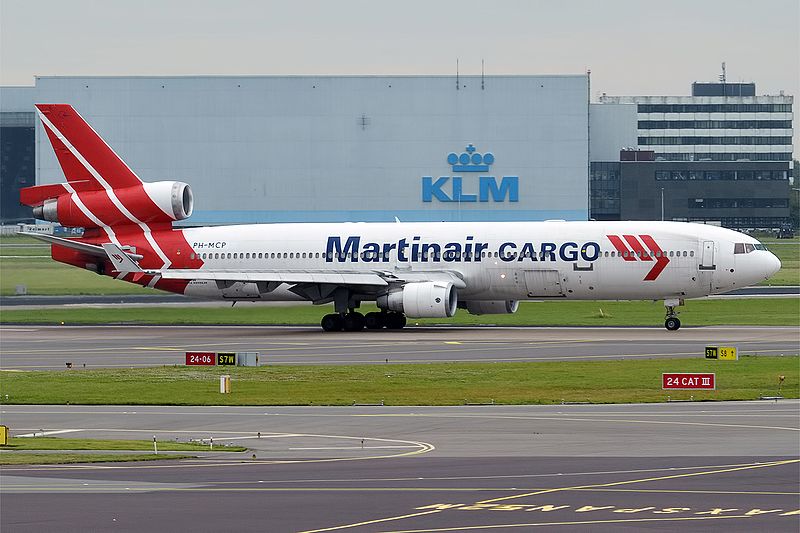 With the departure of the MD-11s Martinair's fleet is reduced to a single Boeing 747-400BCF, although it also operates the remaining three KLM Cargo livered 747-400Fs. It is a major reduction in size for both Martinair, and KLM Cargo itself, and I suspect that it will not be long before both brands cease to exist, although conceivably KLM Cargo will persist as the brand for belly cargo on KLM's passenger fleet.
THE MODEL
The format for my reviews is to split them into three key areas:
The mould of the aircraft
The paint and livery
Printing and quality control
Each can get a maximum score of 10 for a section giving a maximum combined total score of 30.
THE MOULD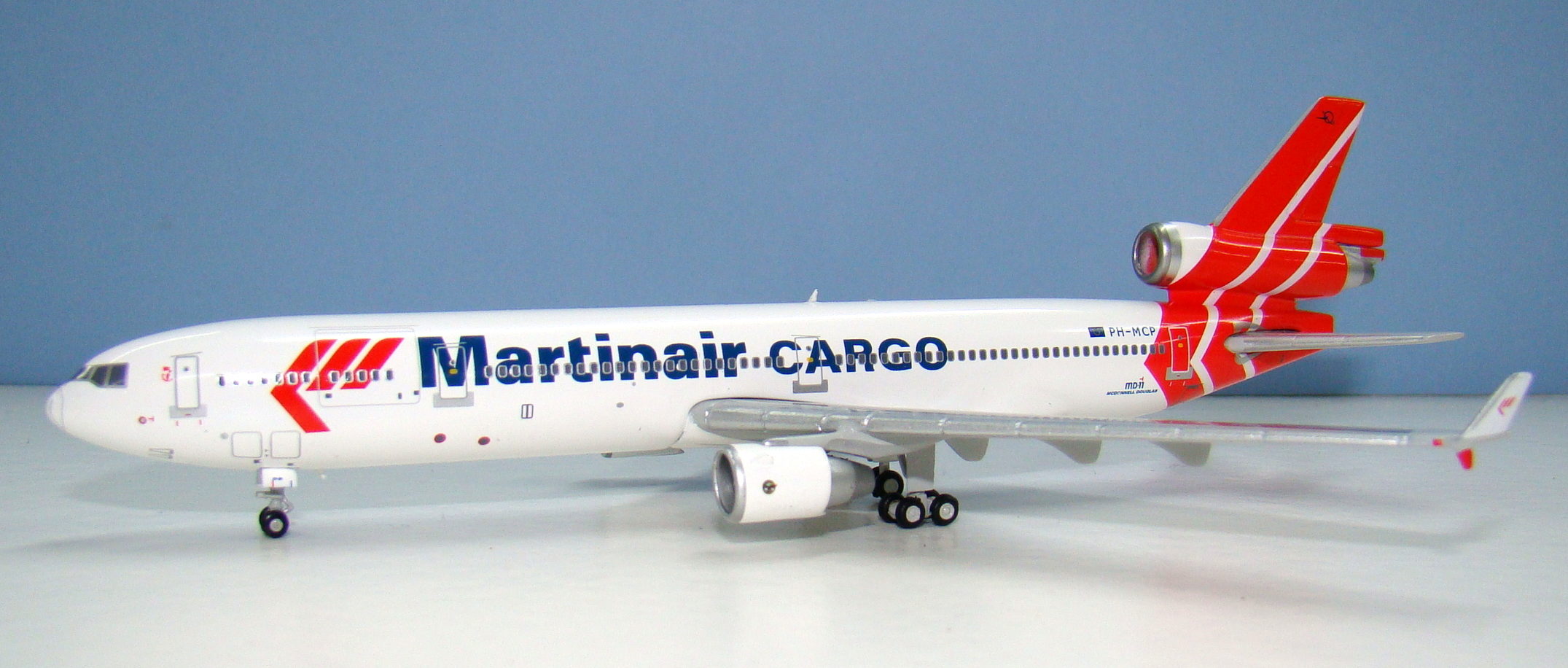 There have been three major moulds for the MD-11 in 1:400 scale with both Phoenix and JC Wings/Gemini modifying there's more recently with extras like rolling gears and aerials. For a detailed look at MD-11 moulds see my Yesterday's Airlines MD-11 mould review.
This Gemini Jets mould originally dates from way back to 2000 but was updated in 2009 and it still a good mould by modern standards. The fuselage shape is very good with an excellent nose. The mould's age shows with its cradle wings but the wing seam is small and subtle. Creating a slot in wings mould when you have this one seems rather pointless.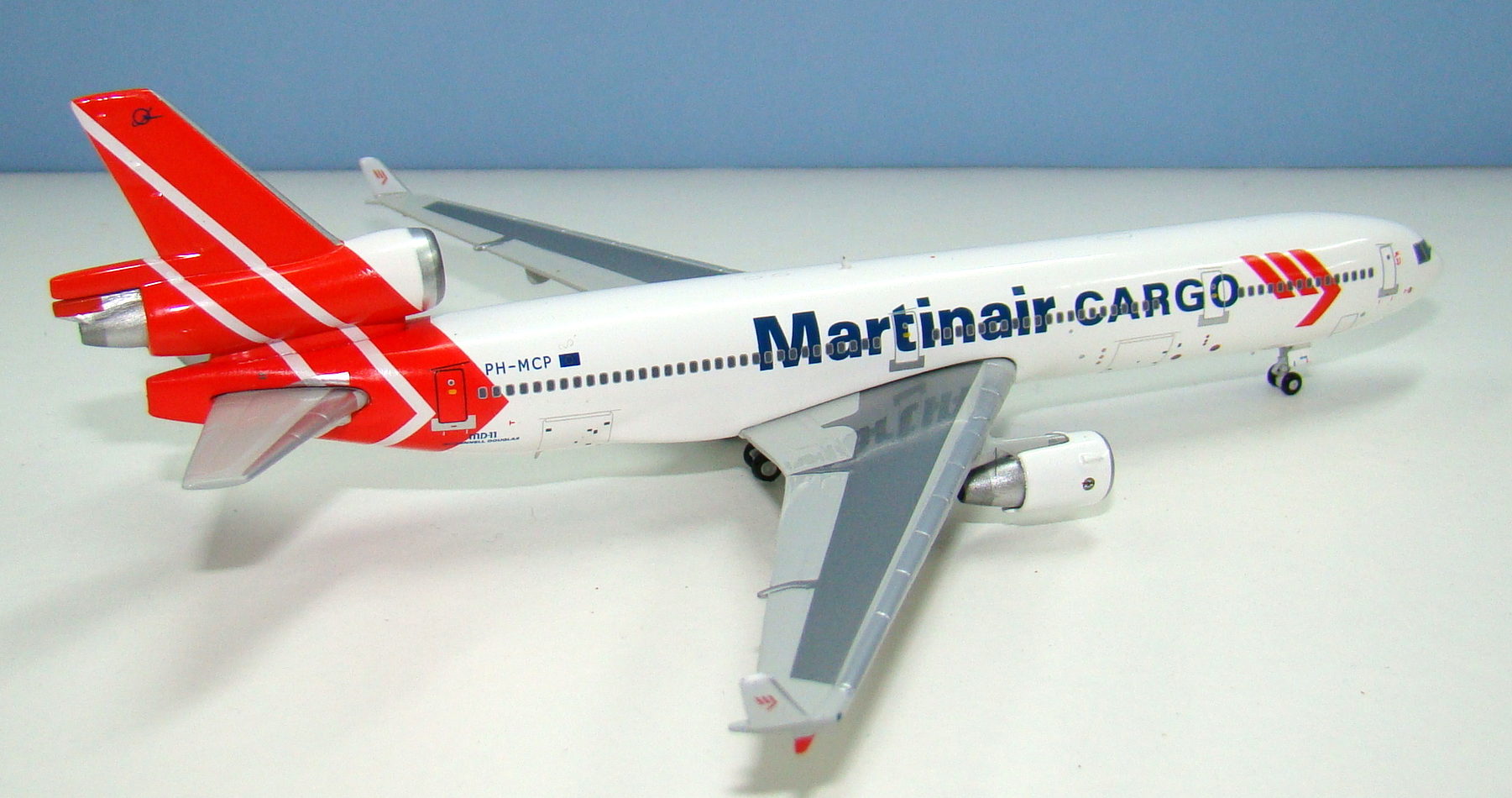 The vertical stabiliser and number two engine are also excellent with the only criticism being that the rear fairing above the no 2 exhaust is in two pieces rather than one (as on the real thing and Phoenix mould). One of the weakpoints of the mould is the shape of the flap fairings under the rear wing, which are a little too rounded. It's not a major issue.

The modified rolling gear undercarriage is a major improvement over the old static gears. The gear doors are well sized, gear legs well detailed and tyres well sized. Likewise the aerials that have been added are well shaped and sized. All three are present: one just rear of the nosegear, one on the roof above the wings and one on the rear belly. What is missing is the small but noticeable hump on the forward rooftop. To be honest no MD-11 in 1/400 scale has this in relief.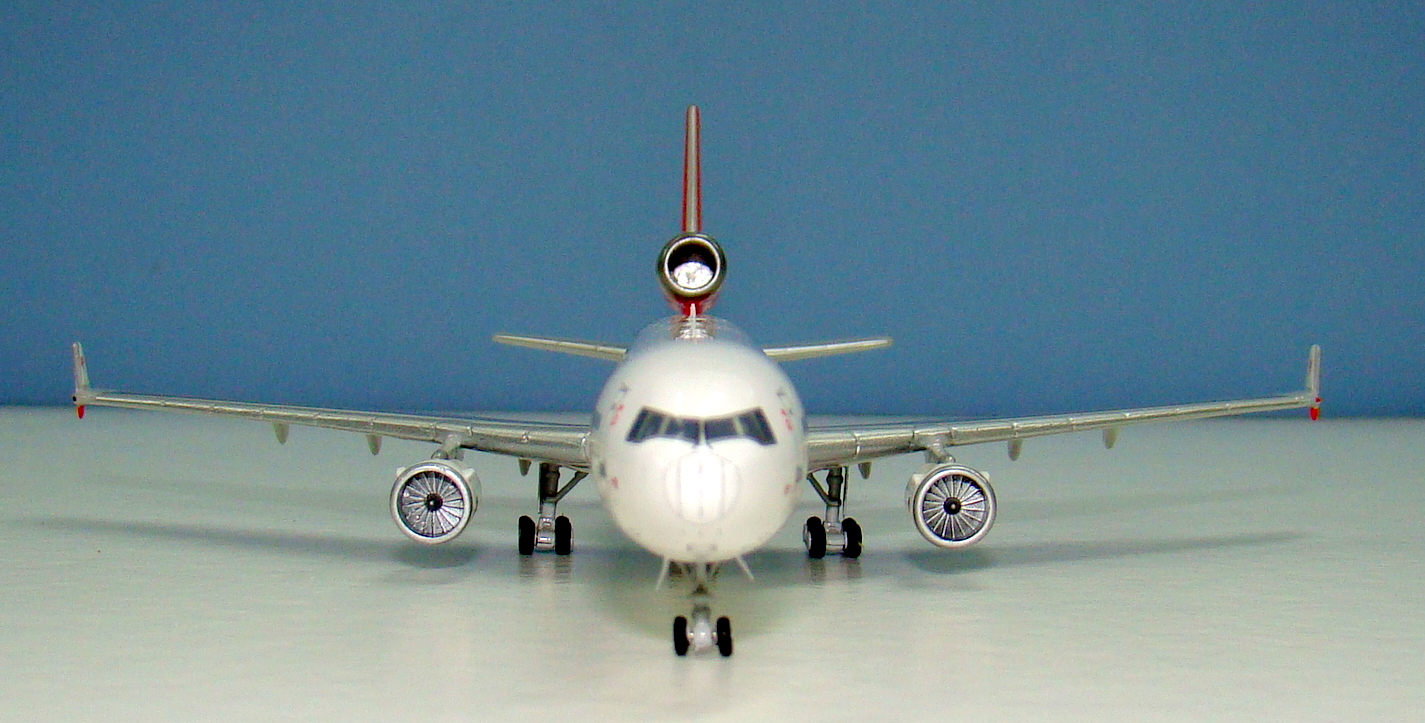 Lastly the mould correctly represents PH-MCP with the stubbier Pratt & Whitney engines. This is the best MD-11 mould that has been produced in 1/400 and it is a fine mould. There is one extra mark against its name however and that is something I hadn't noticed until this model. There actually is no no2 engine! If you look from the front you'll see that Gemini have never bothered to mould the centre fan inside the engine nacelle. From the side you obviously don't notice but from the front it is suddenly blatant (especially when the fans are silver). Aeroclassics managed to fit in the fanblade on their DC-10 so it seems a bit lazy to miss it out. I guess it is just a factor of the mould's age but nonetheless it took me by surprise. Even so if you want an MD-11, this is your best bet.
SCORE – 8
PAINT & LIVERY
It seems nowadays that a common livery design tactic is to take a well known logo and increase it in size until it no longer fits the aircraft, then plaster it onto the tail so that it is barely recognisable. Sometimes this works and looks dynamic and interesting (TAROM for example) and sometimes it looks silly (Qatar Airways' Oryx for example, which they reduced back to a more recognisable size).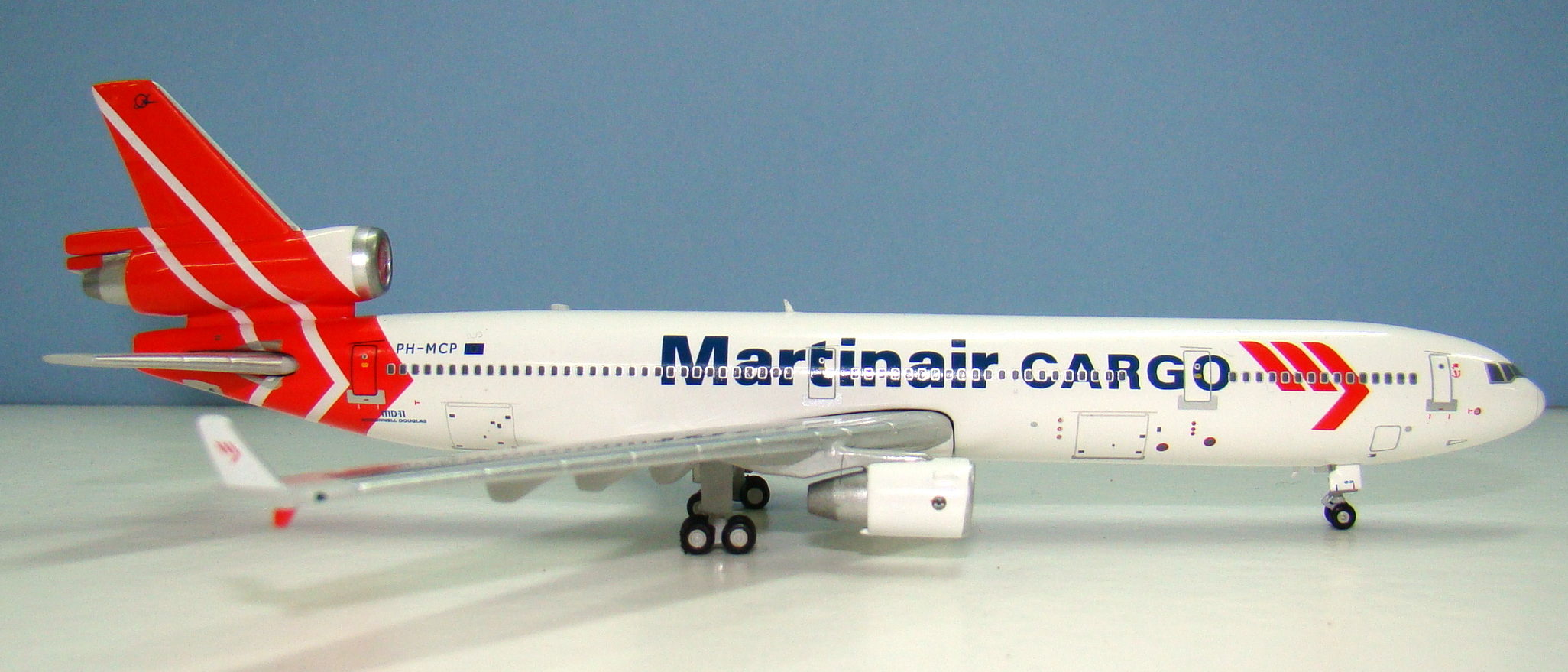 The current Martinair livery tends to fall closer to the latter category in my opinion. In isolation what is the tail other than some stripes? It doesn't really look like the classic Martinair logo, which at least is repeated on the forward fuselage so you can recognise it. In addition the titles cross the window line in a rather ungainly fashion and the Martinair Cargo titles commit the triple sin of mixing case, font size and font. Oh well I'm not here to critique the livery really just to see if Gemini can reproduce it.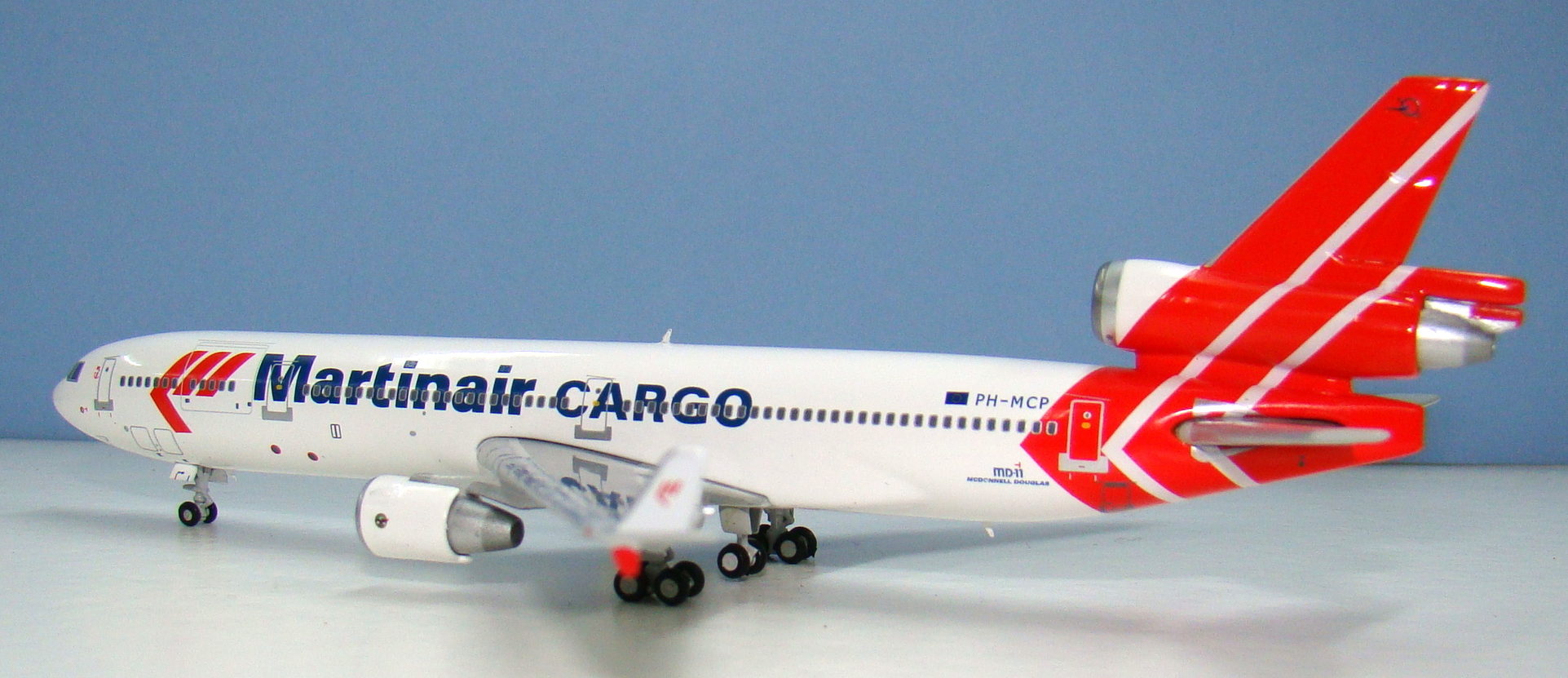 It's quite a simple livery and Gemini have no problem getting it correct. The orangey red looks good and the stripes are all correctly positioned. Fonts can sometimes be tricky, especially when they are such a stylistic mess as on this livery, but Gemini get it correct. The titles look good as does the classic Martinair logo forward, which is repeated on both sides of the winglets. I do think however that the lower winglets are a little sloppily painted. They ought to be fully red but are not.
SCORE – 9
PRINTING & QUALITY CONTROL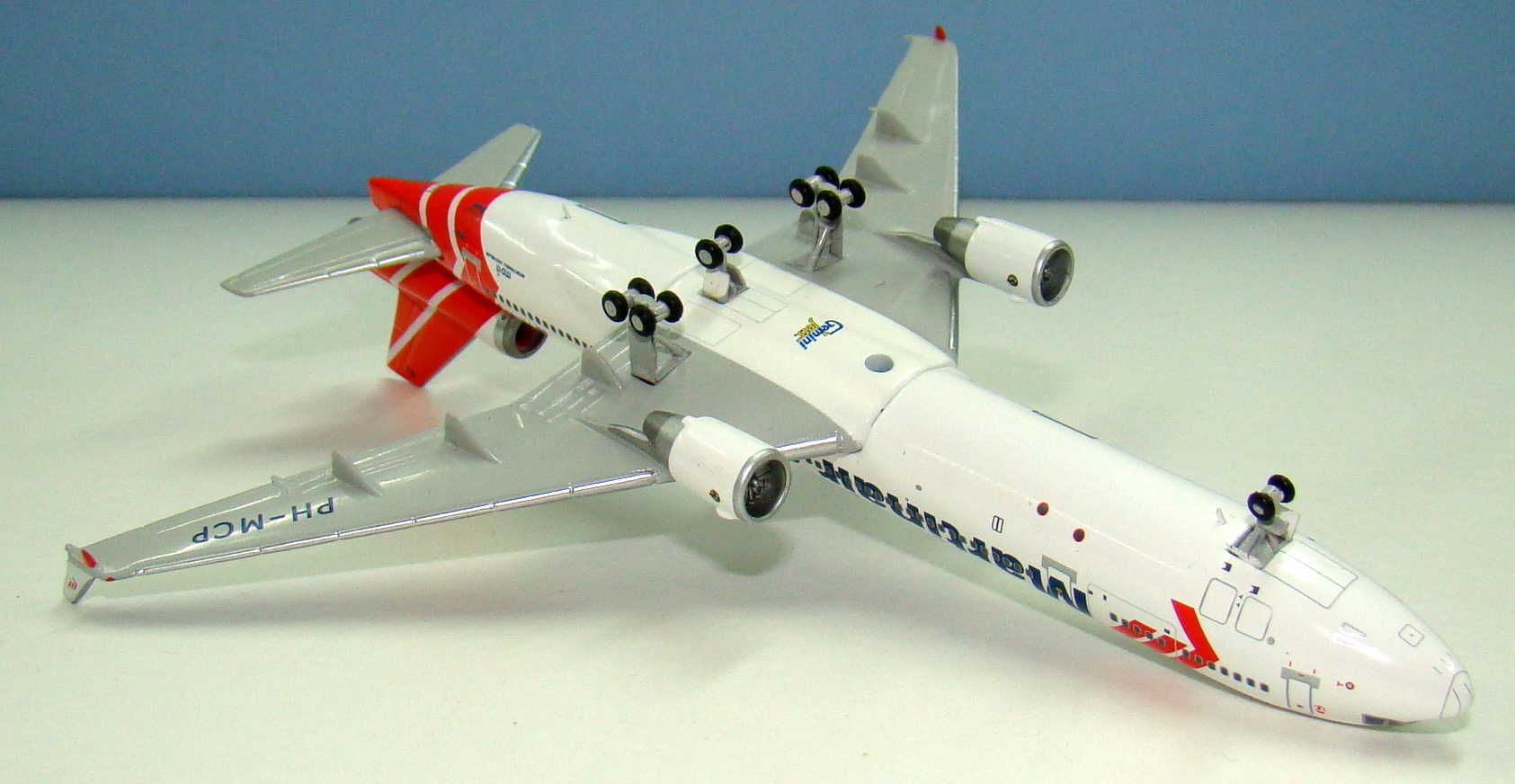 The printing detail on this model is exquisite and there is lots and lots of it. As you'd hope the all important side cargo door and belly cargo doors are very well printed. Also well printed are the many logos; both McDonnell Douglas, on the tail top and rear fuselage, and Pratt & Whitney on the engines.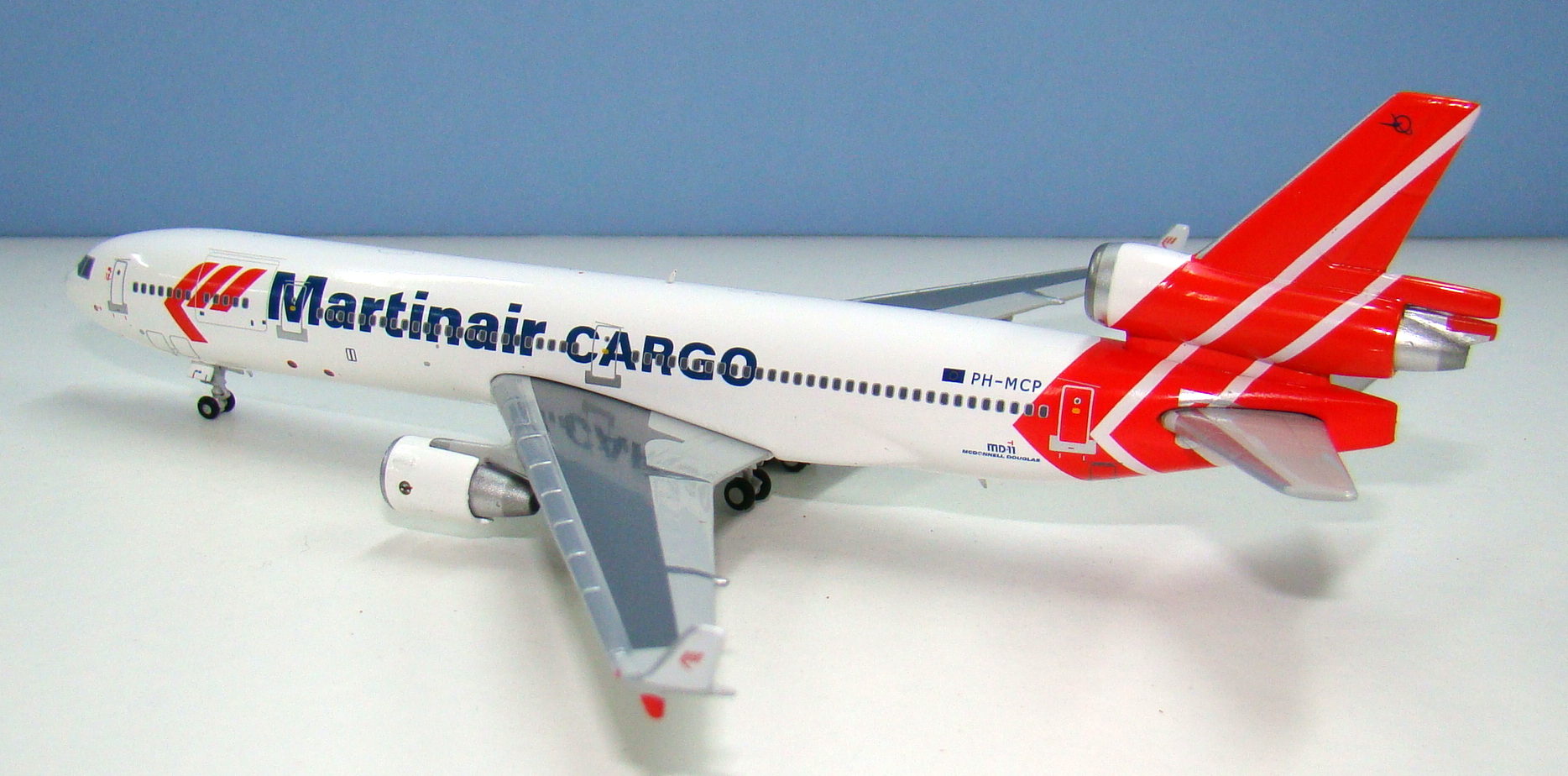 It is a shame after such great printing that the engine inners and fanblades are so very silvery. It just doesn't seem manufacturers can get any consistency in this area. Construction quality is very good, with no obvious flaws even on the rolling gears.
SCORE – 9
CONCLUSION
As this marks the passing of an important aircraft type for Dutch aviation and the end of an era for a historic airline this is an important model. Gemini has done a good job with it. The flaws are minor and should not stop you from adding this to your collection. There won't be many more trijets that are vaguely modern and if your collection hasn't got any three-holers then it isn't much of a collection at all. Go get it!
FINAL SCORE – 26