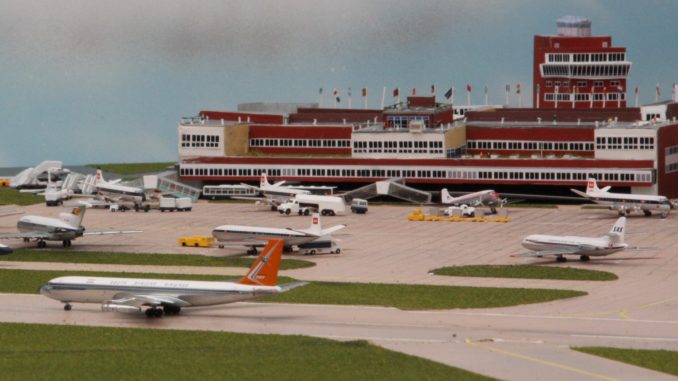 I suppose I can trace my diecast aircraft collecting back to my childhood in the late '50s and early '60s when Dinky Toys made a Britannia, Viscount and several military jets, a Hawker Hunter, Supermarine Swift, English Electric P.1B and a Sea Vixen. I think they were probably 1/200 scale, but scale wasn't important then. I recall I had the military jets, but not the airliners until Lone Star made a Viscount. Then on one of my first spotting trips to London Heathrow with my Dad, he bought me a Teckno SAS DC-7C, which was nicely decaled and had a folding undercarriage.
It came with a spare engine which you could change, so it was quite innovative for its time. Then diecast collecting was overtaken by building plastic kits during the 1960s, with Airfix producing cheap kits of all types and Dad was quite skilled in producing their 1/144th scale model airliners of the Vickers Vanguard, Comet 4B, Boeing 707, 727, Vickers VC10 etc. That hobby really took off and there were no diecast models available throughout the '60s, '70s, or '80s that could match the quality of a well-built plastic kit. The only trouble with the latter is that, unless you protected them in a glass case, they were not very durable and several house moves soon took their toll on the collection. It was not until the late '80s that I started seeing diecast airliners appearing from Schabak in 1/600th scale, but with pretty crude decals.
This really started my collecting interest and then Tampo printed started coming from Herpa in 1/500 scale, but they were pretty expensive as I recall. Visiting one of the Heathrow Aircraft Enthusiasts Fairs in the late-90s, I bought a couple of tampo-printed Boeing 707s in 1/500 scale in BOAC and Cathay Pacific liveries made by Net Models, but I soon sold all my 1/600 Schabaks and 1/500 707s as soon as I spotted the first tampo printed models in 1/400 by Aeroclassics and Gemini Jets. That's when the collecting 'bug' really hit. At first I started collecting models of airliners I had actually seen, in particular those that visited the UK. Then I concentrated on those airliners that were to be seen at London Heathrow over the years. As Aeroclassics started releasing historical models, it was now possible to build up a historical collection from the 1950s up to date. Throughout the 1960s, my Dad used to take me up to London Heathrow once or twice a year on plane spotting days out and it was those days I wanted to recall. I decided to recreate a part of London Heathrow in those days, populated with the lovely diecast models now available.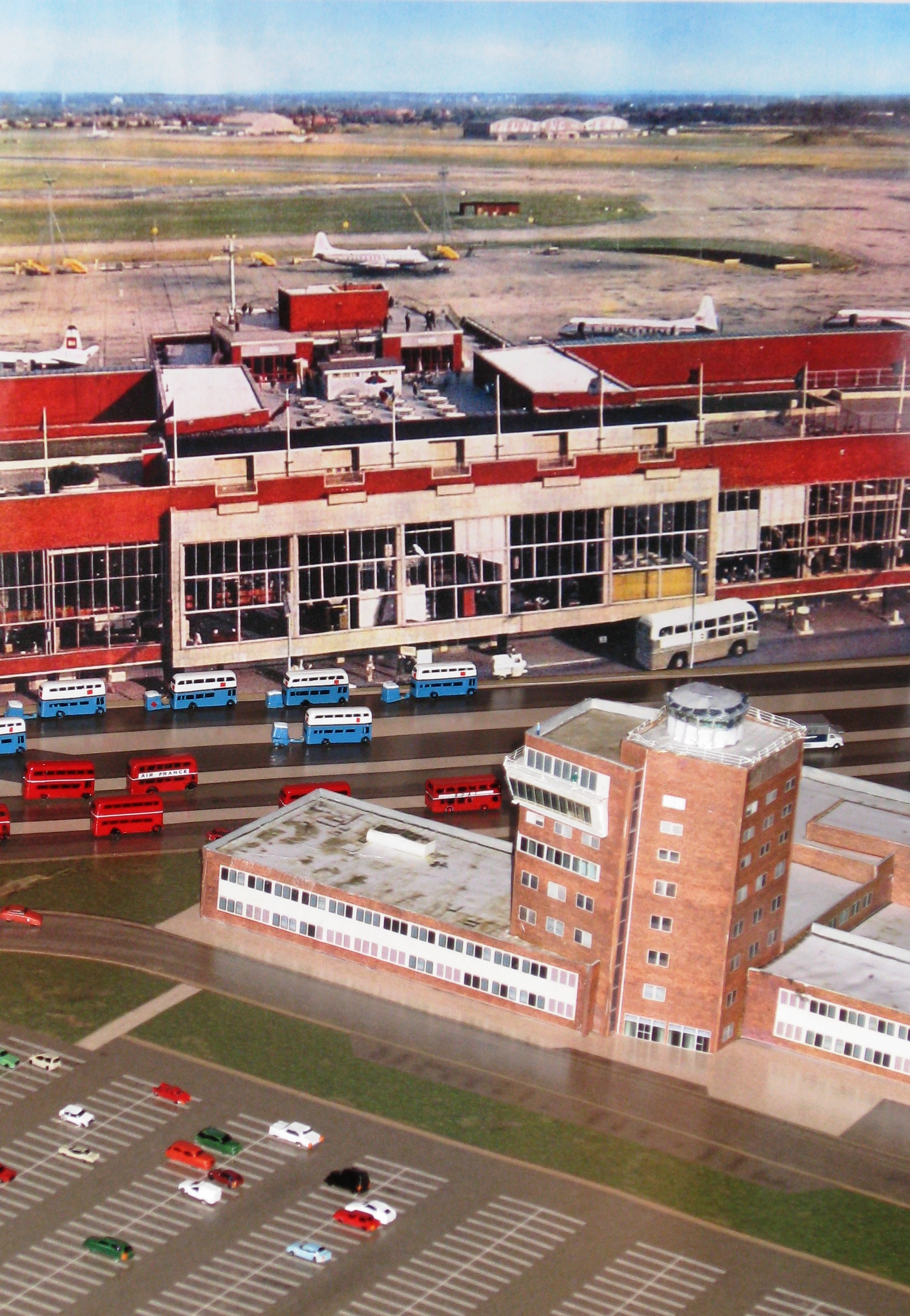 A company called Airport Designs makes a lovely 1/400 scale card kit of Heathrow's old control tower, as well as the BOAC hangar and various other non-prototypical buildings, so these kits were purchased and built. The terminal buildings were built from scratch using balsa wood frames and cladded with plastic card, and finished with printed brickwork paper, also acquired from Airport Designs. In the '50s and '60s, there were no jetways to get passengers to the aircraft and they had to walk down glass walkways, then out in the open to board via aircraft stairs. I reproduced the walkways by purchasing a length of clear transparent extruded tube and cutting it in short sections, painting them to match photos. The rest was all hand painted and even my Terminal Two building has a children's play area with see-saw and roundabout on it.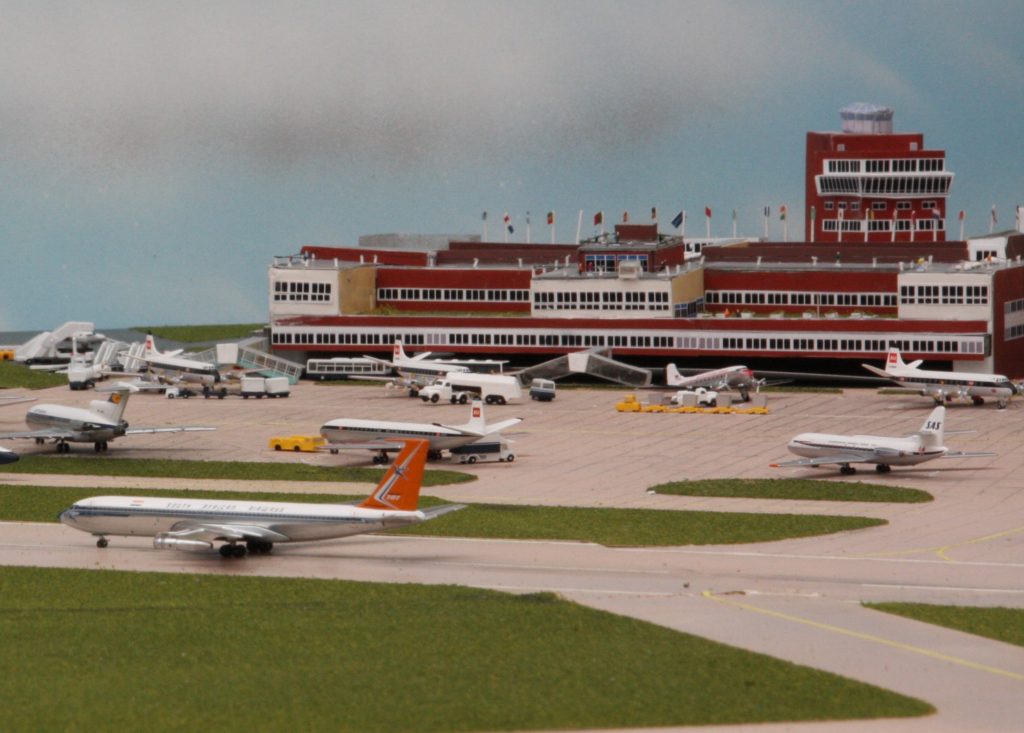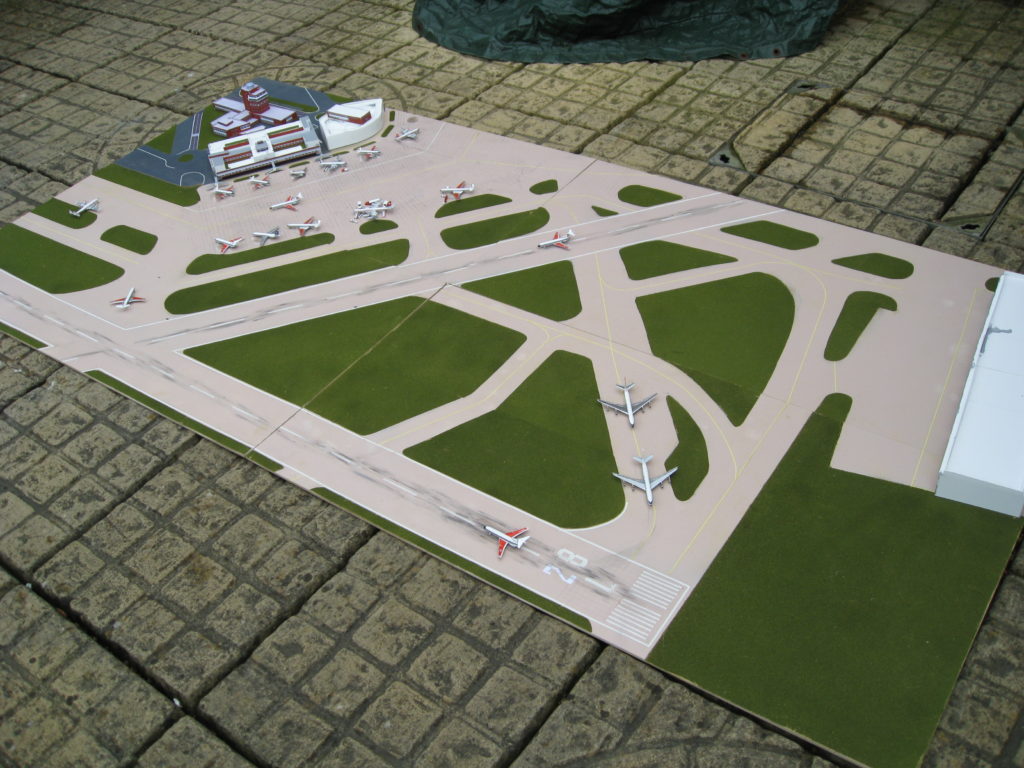 A German company called Preiser makes passengers and airport staff as plastic 1/400 figures, so with a magnifying glass, they were carefully painted to populate the airport. The apron and taxiways are MDF boards painted to match photos and grass areas were masked, sprayed with adhesive and sprinkled with model railway grass powder from Woodland Scenics. As the model progressed, it grew to eight boards sized 6ft X 4ft including the main runway, and was too large to assemble in the house.  It could only be assembled outside on the patio in fine weather, with a watchful eye on the skies. We'll that's a wrap to Part I of my London Heathrow 1960s piece. Stay tuned for Part 2 which will follow this article in the next couple of weeks.