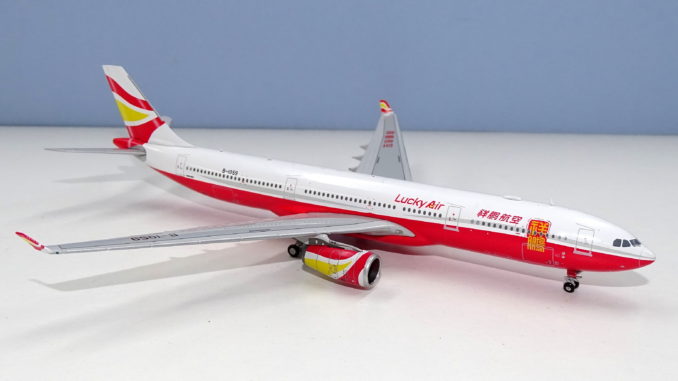 Chinese airlines are well covered in 1:400 scale but among the third tier of Chinese airlines there are surprisingly still models yet to be made and niches that can be filled. Lucky Air for example is a major component of the HNA group with a fleet of over 50 aircraft and yet has a relatively small 8 releases made, with as of yet no overlap between manufacturers. Annoyingly 5 of the 8 are on relatively weak moulds and so Lucky is a carrier that could do with more attention than it has received. This JC Wings A330 has been in the release pipeline for nearly a year but has finally seen the light of day just recently. I don't get JC Wings A330s very often so it is an opportunity to see how they fare against the rest.
THE REAL THING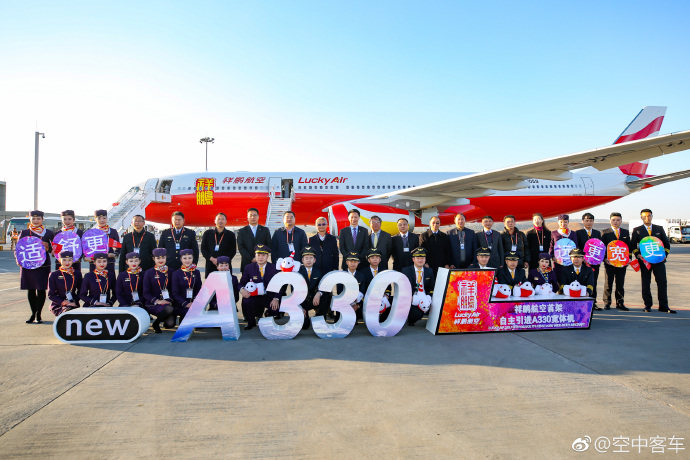 I reviewed a Lucky Air A330 by Phoenix back in November 2018 (albeit in a different livery) and at the time its parent HNA Group's major debt related issues were coming to light. Things were looking desperate and there was even talk of HNA Group selling a couple of its prized aviation assets including Beijing Capital Airlines and Lucky Air. Fast forward a year and this has yet to happen and seems to have met some opposition.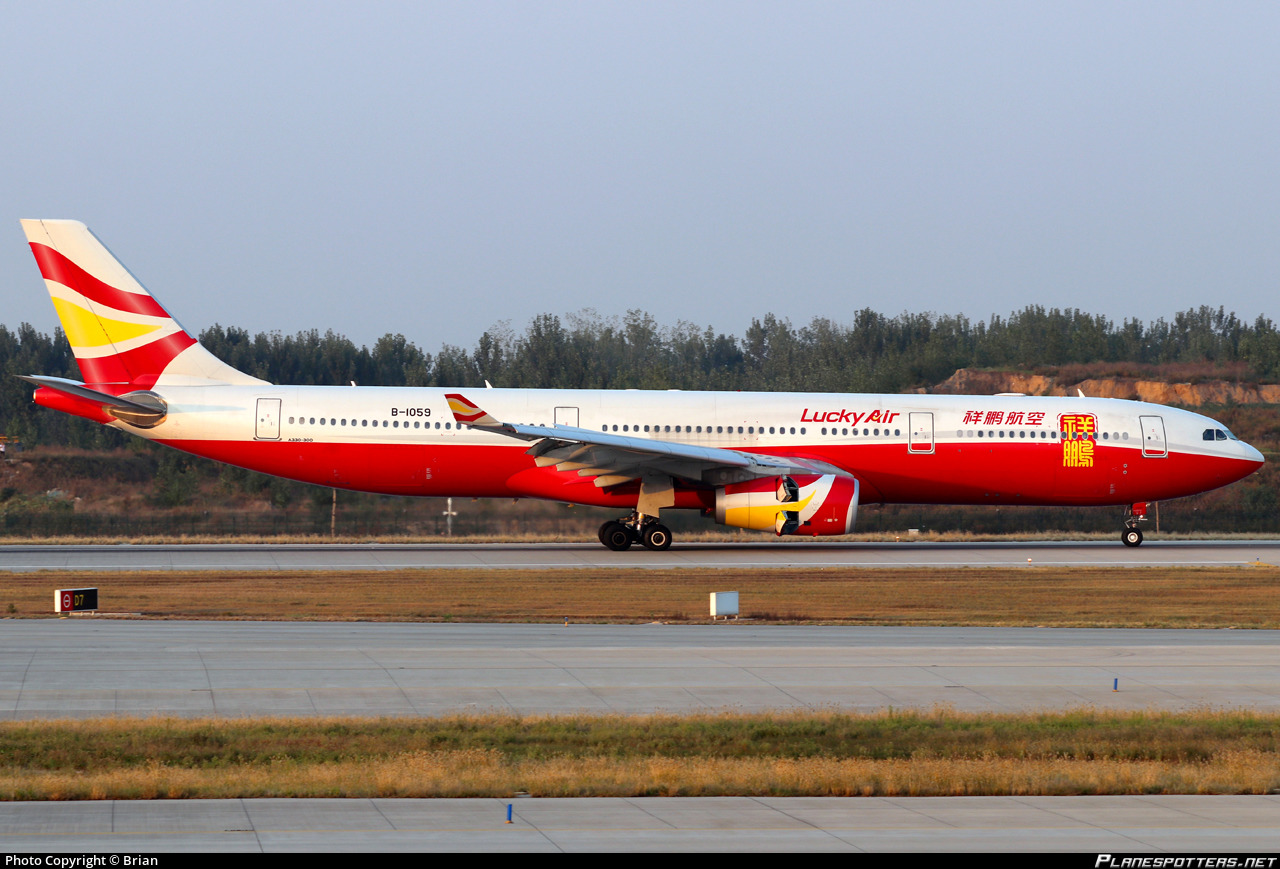 That isn't to say that HNA group is out of the hot water its over-expansion got it into though. Far from it. In September it was widely reported that the HNA Group's cash reserves are still shrinking 20 times faster than its debts are. Its cash position is now 61% less than it was a year earlier while its debts have dropped only by 3%. Nonetheless the group still appears to have the backing of the Chinese state and so will probably pull through. It is still busy trying to sell off non-core assets but it remains to be seen whether it is forced to sell off Lucky Air to survive.
The turmoil at its parent has hardly done Lucky Air itself much good and unsurprisingly talk of acquiring Boeing 787s to expand its long-haul fleet to 20 aircraft have gone quiet. Instead the widebody fleet, of the supposed low-cost carrier, remains at just four Airbus A330s. Its first A330 (the one I reviewed last year) has rejoined Hainan Airlines but was joined three months before then by the airline's first leased A330-343 from Hong Kong International Aviation leasing.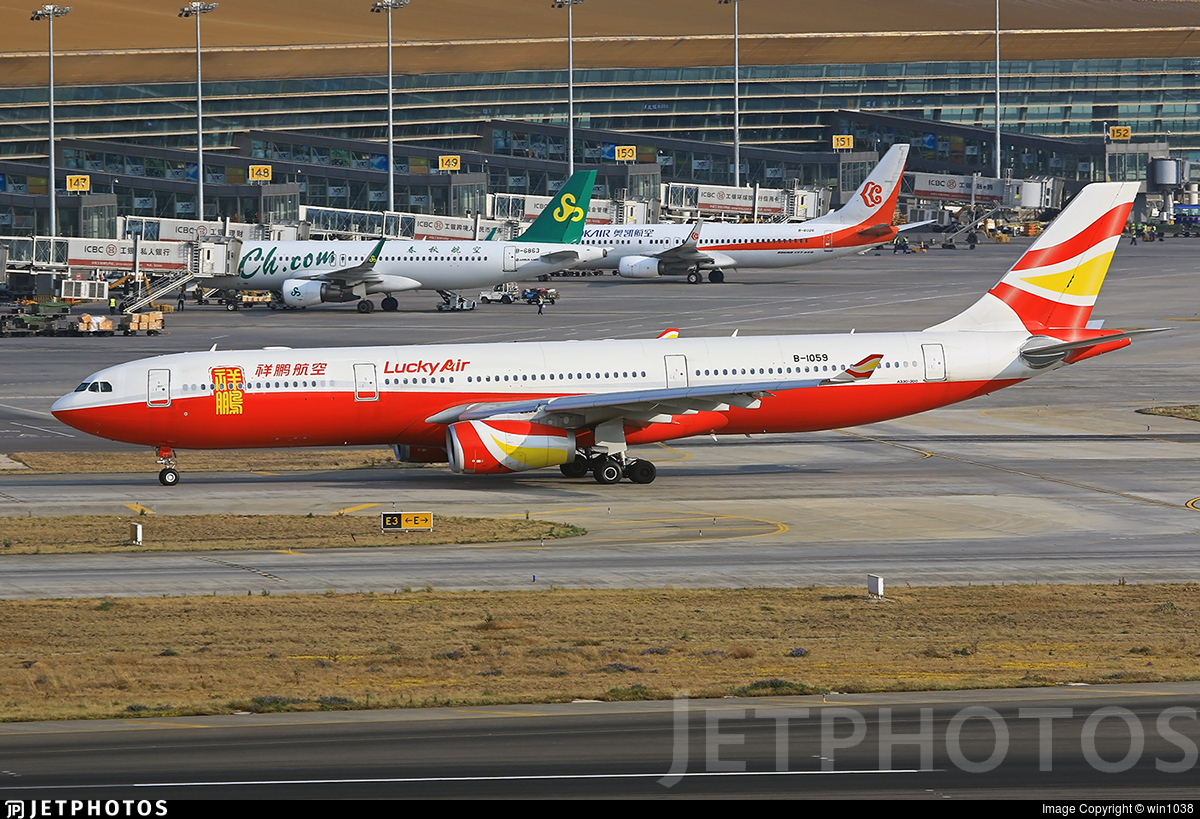 This aircraft was delivered on December 27, 2017 and registered B-1059. Powered by two Rolls-Royce Trent 772s it is fitted with 303 seats in a two-class configuration (24 business and 279 economy). It took a year for all four A330s to join the fleet and they are kept busy primarily flying the Kunming-Moscow, Kunming-St Petersburg and Chengdu-St Petersburg, as well as domestic high-density services to Shenzhen and Sanya.
THE MODEL
The format for my reviews is to split them into three key areas:
The mould of the aircraft
The paint and livery
Printing and quality control
Each can get a maximum score of 10 for a section giving a maximum combined total score of 30.
THE MOULD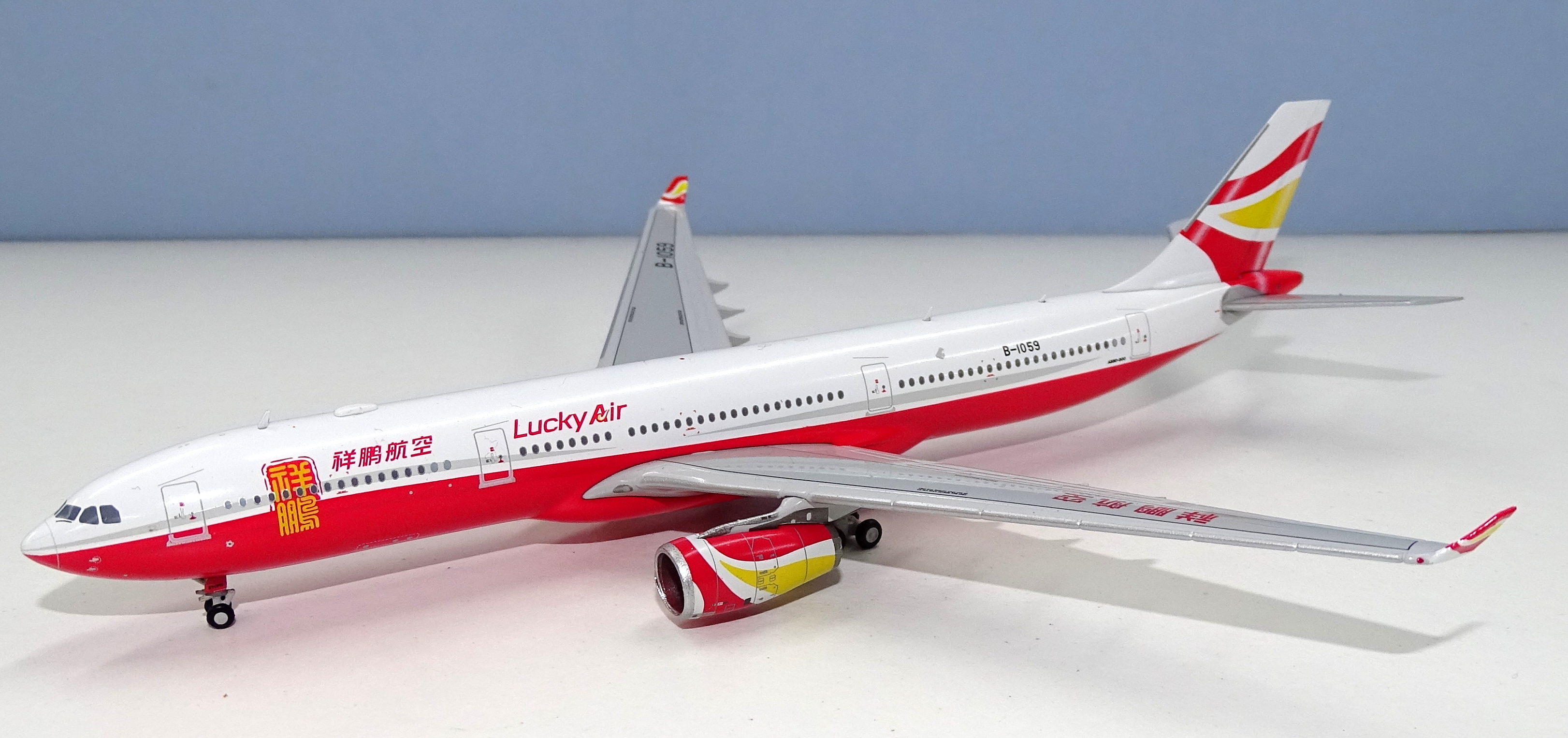 It's been two and a half years since I wrote a detailed mould review for the Airbus A330 comparing the active moulds at the time. Since then both NG Models and Aviation400 have debuted their own passenger A330s, which means there are now 6 active A330 moulds available. Usually that means Chinese A330s are well covered but in this case JC Wings are the only manufacturer to look at Lucky Air in this livery. Back in March 2017 this mould finished bottom of the pile out of the then available four moulds and to be honest it hasn't been improved a lot since. Nonetheless it isn't a dreadful mould.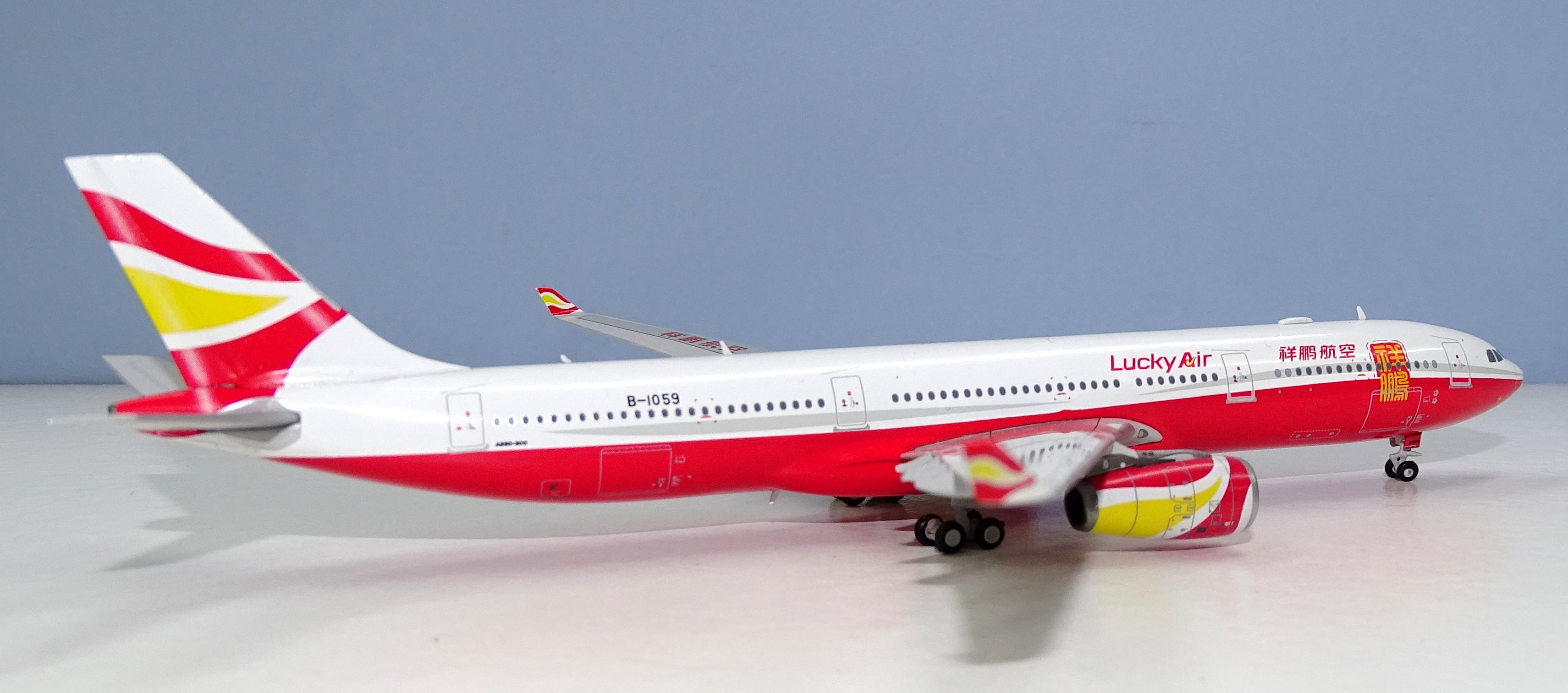 The nose is ok but I do think the transition from cockpit to nosecone is not abrupt enough and that the nosecone is slightly too long. I'm still not quite sure that the nosegear is in exactly the right position either. It is the weakest forward fuselage for an A330 in 1:400 but overall manages to still carry off the aircraft it is impersonating.

JC Wings have resolved the issues they had with fitting the wings to the fuselage and the central wingbox is very well reproduced, with nice detailing on the fuselage underside and aft of the wing. Unfortunately, the maingear has also been altered and is now way too short. This is perplexing as on the earliest releases, using this mould I own, the aircraft sits with a straight back, but now it has a distinct tail down attitude. It is so obviously incorrect that it harms the look of the overall model and I don't know why JC Wings have done this.
The model has four of the five aerials fitted (the smallest rear underside aerial is missing) but as is fairly common with JC Wings models they are all a little large. The small Wi-Fi dome forward is attached but the two smaller bumps just aft of the wing are not.

There is a decent mould here looking to breakout, but even though the wings have been well fitted the maingear height is a serious detraction.
SCORE – 7
PAINT & LIVERY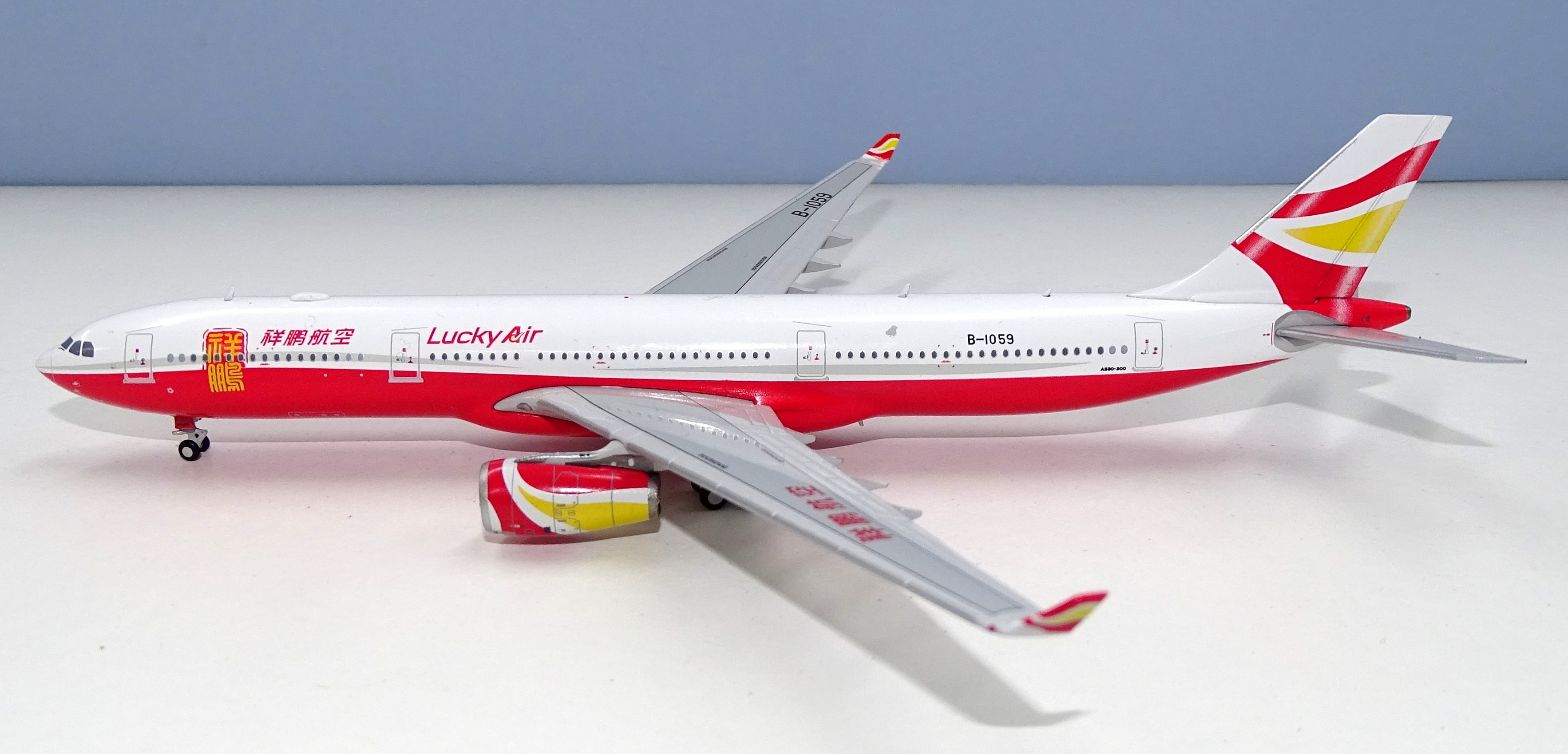 Lucky Air introduced a brand-new livery in January 2015, which registered some surprise and comedy for its incredible resemblance to the British Airways scheme but using colours similar to BA's IAG partner Iberia. The initial version of the livery was updated to add more colour but Lucky Air doesn't seem to be in any massive hurry to repaint the entire fleet, many of whom still wear the older colours.

Lucky Air says the tail colours match the red and gold scarfs of its flight attendants rather than the tail scheme of BA but it is hard to think they didn't borrow the design. At least in other places the livery is more distinctive, with a logo that depicts a seal featuring its name in Chinese characters and a stylised A in Air that represents a cloud. The livery uses 3 main colours – red, bright yellow and a light grey.
The colours of the model are on the darker side, which is no massive surprise since JC Wings often print reds darker. The yellow is fine on the tail and engines although the Chinese text in the seal is too orange and doesn't stand out as it does on the real thing. The grey is fine.

In general, the livery is applied well but in close-up there are several locations were the positioning of the wavy lines isn't quite correct. This isn't helped by the cabin doors, which seem too short. There are three places where the lines aren't quite correct. Firstly, the grey line on the rear fuselage finishes too high. It should move down from the windowline, not raise to meet it. Secondly, the yellow on the engine cowlings is a little too large and finishes too high. Lastly the line of the red and grey do not seem quite correct when they push through the seal and move towards the nosecone. The red and grey both do not curve down enough and are a little too close to the cockpit windows.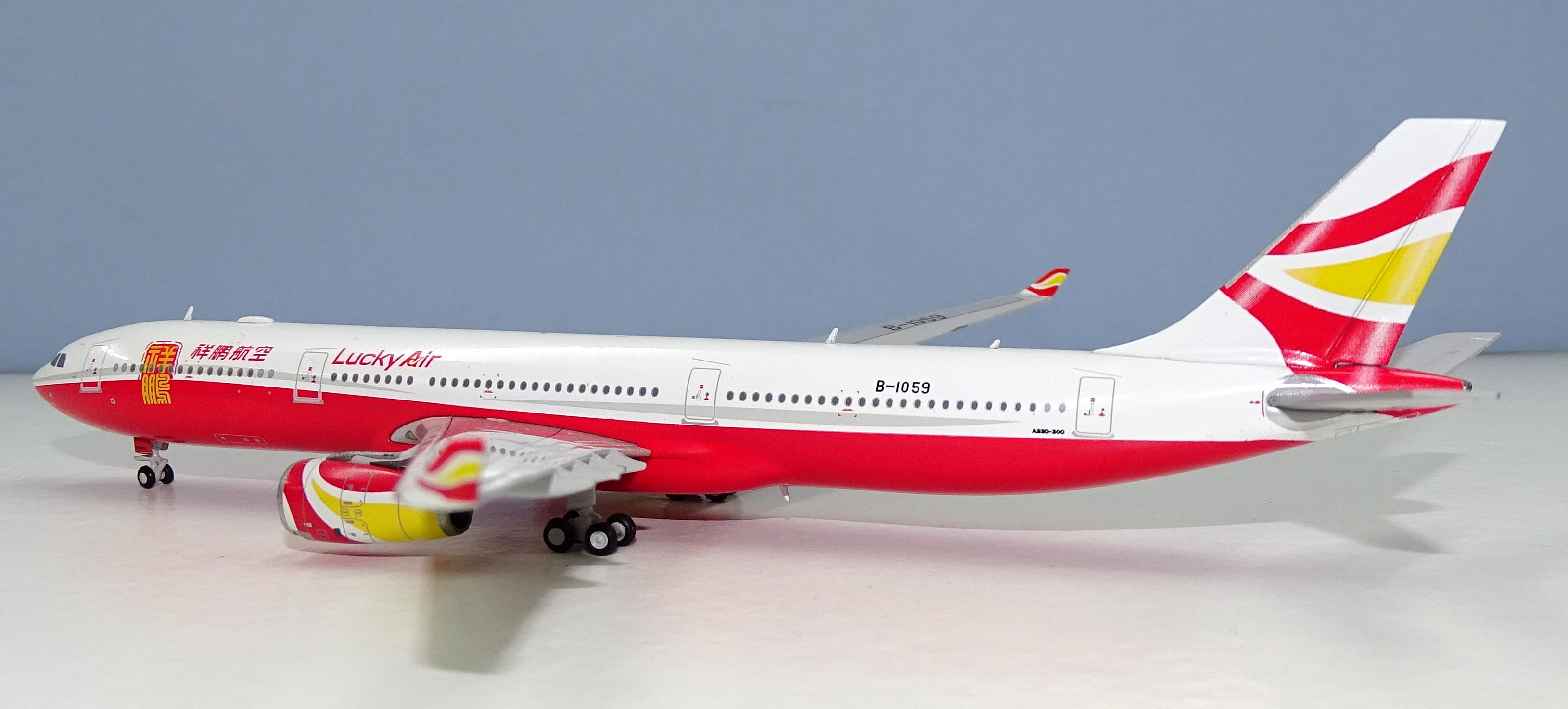 None of these issues are major and would probably not be noticed if I weren't looking for them, but then I am doing a detailed review. Other detailing, such as the winglets is good, but the colour of the red and these minor positional errors add up.
SCORE – 7
PRINTING & QUALITY CONTROL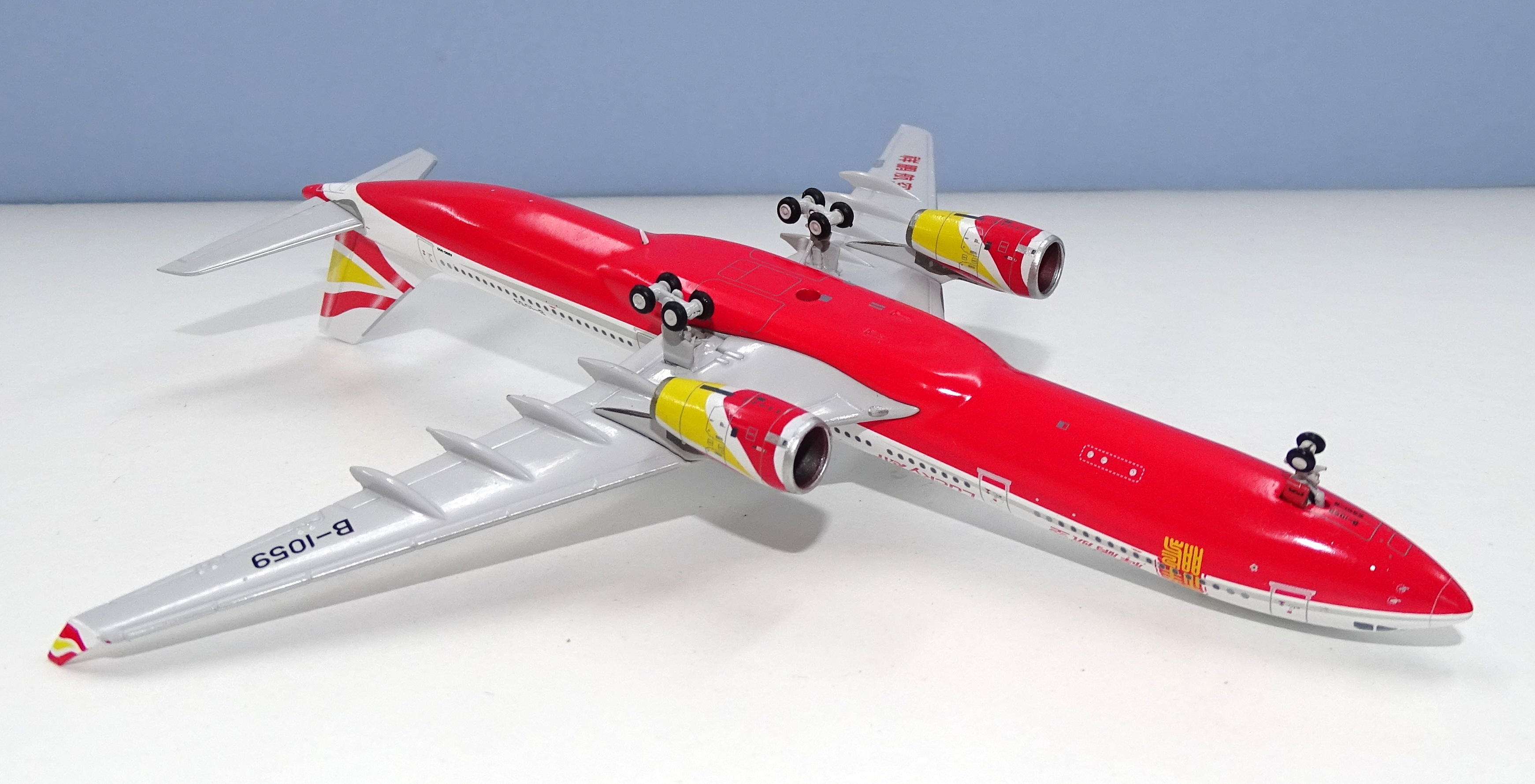 The model has a very detailed level of printing especially around the nosecone and the engines, but JC Wings do not print cockpit window framing on their A330s and I am not convinced that the shape of the outboard cockpit window is correct either. Otherwise print and paint is of a high quality, at least until you look at the engine rims and fans, which are rather untidy and too silvery.

Construction of the model is good. The only criticism here is that the small upper Wi-Fi dome is rather unevenly finished on its left side, albeit very firmly attached.
SCORE – 8
CONCLUSION
This is not JC Wings' finest work. They are a little hamstrung with their Airbuses in that both their A320 family and A330ceo family are so inferior to competing efforts from Aeroclassics, Panda and even Phoenix. Even so, the JC A330 isn't so bad that I would avoid it totally, it is just that with so many A330s around in the 1:400 market it doesn't present a compelling reason to buy it, unless that is, as in this case, nobody else has made the model being represented.
FINAL SCORE – 22/30