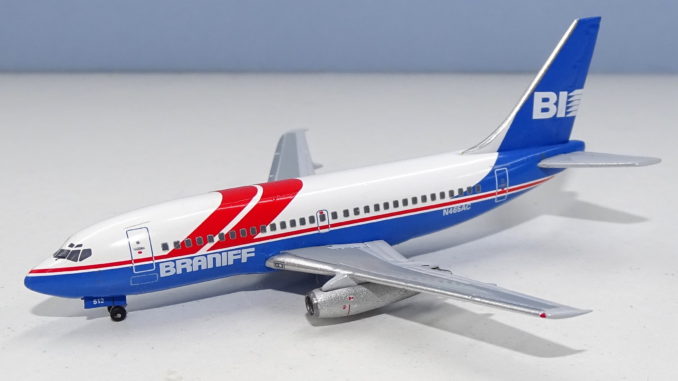 In recent months Aeroclassics has swung away from the delivery of 767s and Tristars alone and rediscovered several of its other classic moulds (DC-9s, DC-10s, F-27s and the like). This has provided a deluge of nice collection gap fillers especially for US classics. It had been more than a year since a 737-200 had seen the light of day but September brought a pair of Uniteds and this attractive late Braniff Mk2.
THE REAL THING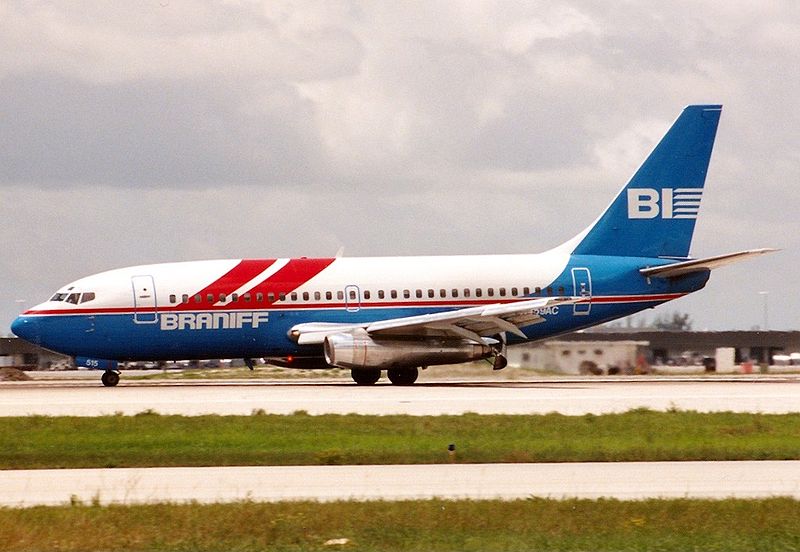 The second incarnation of Braniff had a rollercoaster existence that saw it scratching around for a viable long-term strategy for the refounded airline, ultimately without success. Initially it focused on its old home of Dallas Fort Worth, where it had 100 daily departures, upon the restart of operations in March 1984. By mid-1987 this had been scaled back to just 22 in the face of strong competition from American Airlines and Delta.
In the place of Dallas Braniff opened a new hub at Kansas City instead, up against the old Eastern base there. Ultimately Eastern pulled out in October 1988 but even so Braniff was not making money. It had actually only been profitable for one of its first four years and in late 1987 it made the decision to acquire the struggling Floridian start-up Florida Express as part of its plan to transform into a low-cost, no-frills airline.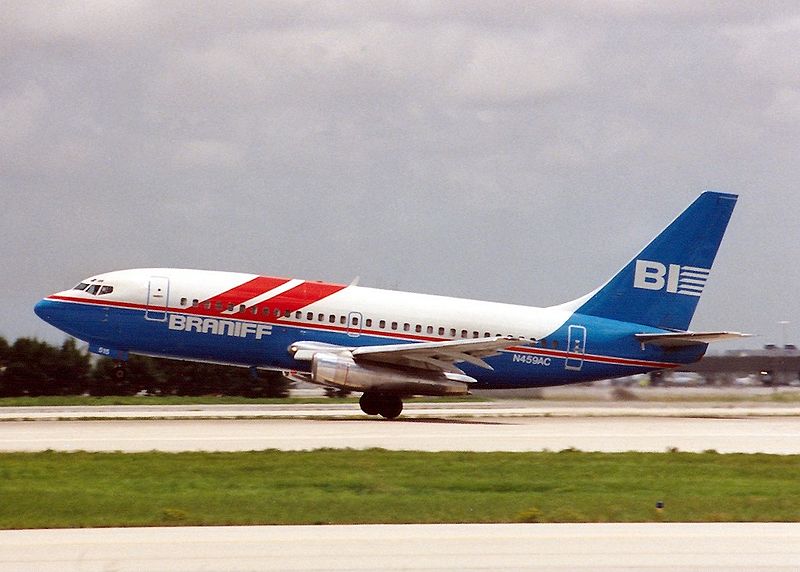 Just prior to the takeover being announced Braniff acquired the leases on 10 old Boeing 737-200s to add to its 25 727s. Florida Express' BAC One-Elevens were included in the merger but the 737s would be used on many of the Florida routes with some of the One-Elevens transferred to shorter Kansas hub feeder services. The first of the 'new' 737s actually dated from 1968 and were old Western Airlines 737-247s.
When AirCal was taken over by American Airlines in 1987 AA gained its fleet of 737s and unsurprisingly after a short period was looking to remove the type from its fleet. Braniff was still expanding to its hoped-for profitability and acquired 12 of them for itself. This varied collection of 737s were also aged, with all but one dating from the 1960s.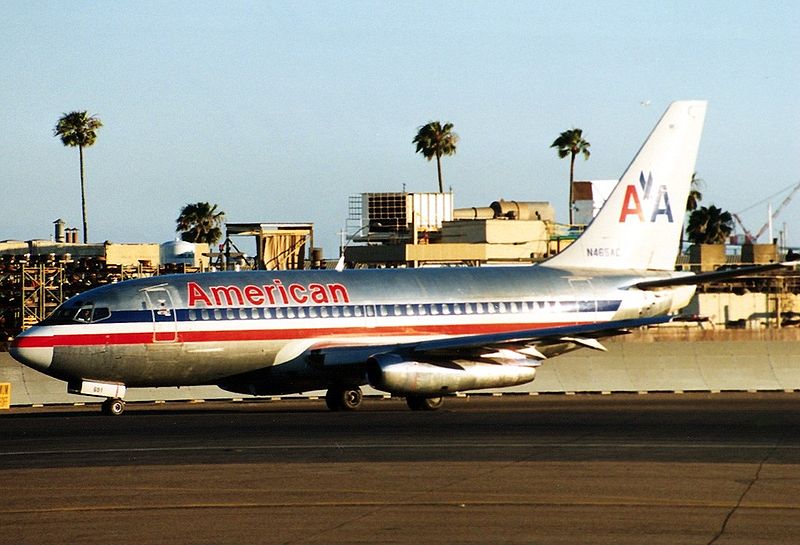 N465AC had first flown on October 10, 1968 and was delivered to Air California four days later as N465GB. She served with them throughout the 70s and 80s until the American Airlines takeover in July 1987 and was leased to Braniff in February 1989. By this point Braniff's plans were clearly not working. The airline had been acquired by the shady Philadelphia investor group BIA-COR Holdings in 1988 and as late as January 1989 was still expanding with the purchase of Pan Am's order for 50 A320s.
The house of cards came crashing down in September 1989 when Braniff II entered into Chapter 11. Operations ceased in December and the company was wound up. N465AC still had some life in her yet and was leased to a short-lived startup operation named Transtar Airlines (not the ex-Muse Air one). She was returned to American in January 1992 and saw no further service prior to being broken up in 1994.
THE MODEL
The format for my reviews is to split them into three key areas:
The mould of the aircraft
The paint and livery
Printing and quality control
Each can get a maximum score of 10 for a section giving a maximum combined total score of 30.
THE MOULD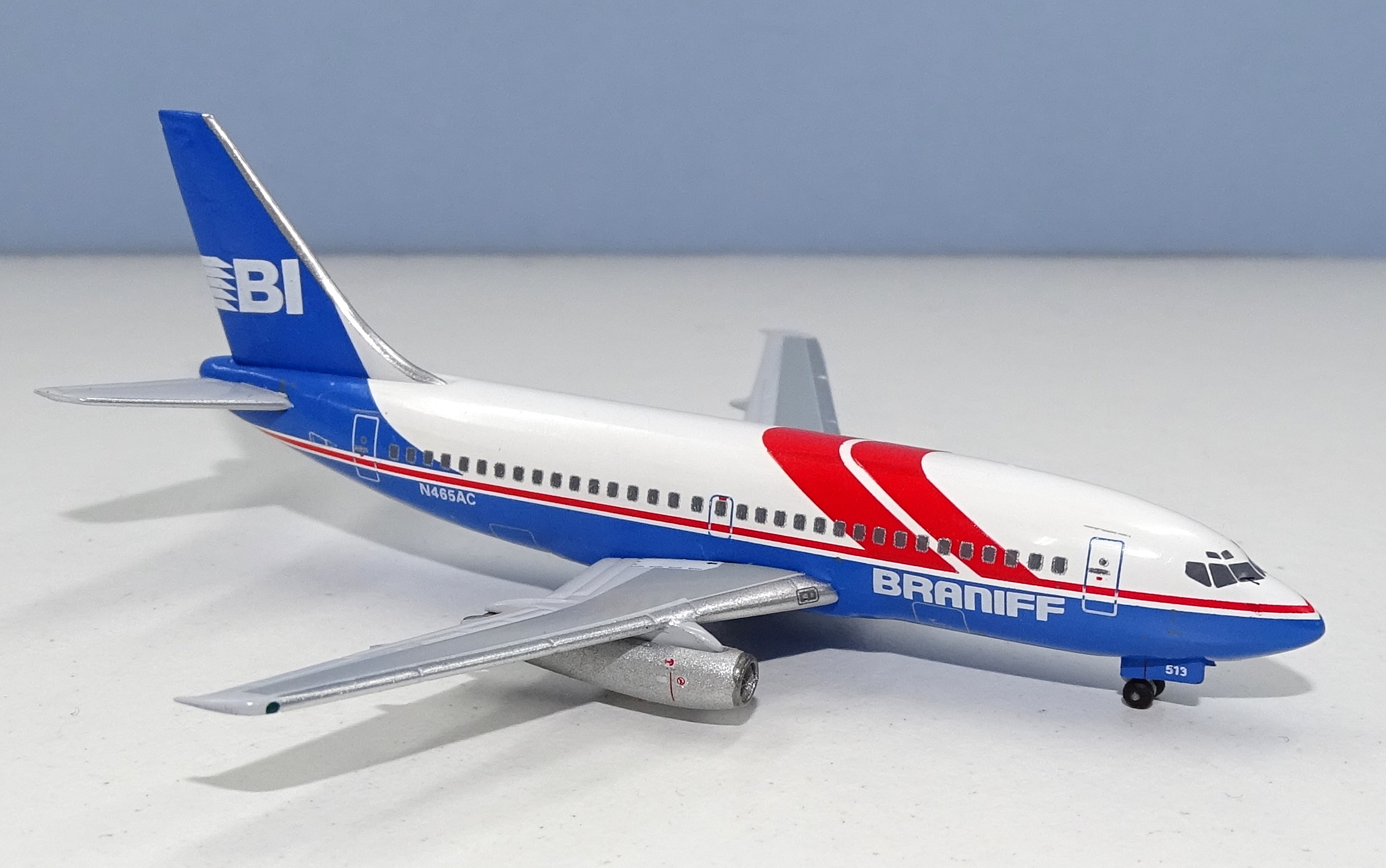 Aeroclassics replaced its already very good 737-200 mould, which had a discrete wing seam, with this slot in mould in 2009. Some early examples had oversized nosegear doors but otherwise it is an excellent 737-200, easily the best that has been made in this scale. Very few 737-200s are made in 1:400 scale anymore but I believe Gemini does still have access to its venerable old mould, which dates all the way from 2001. It cannot hold a candle to this magnificent Aeroclassics casting, which is superior in every way.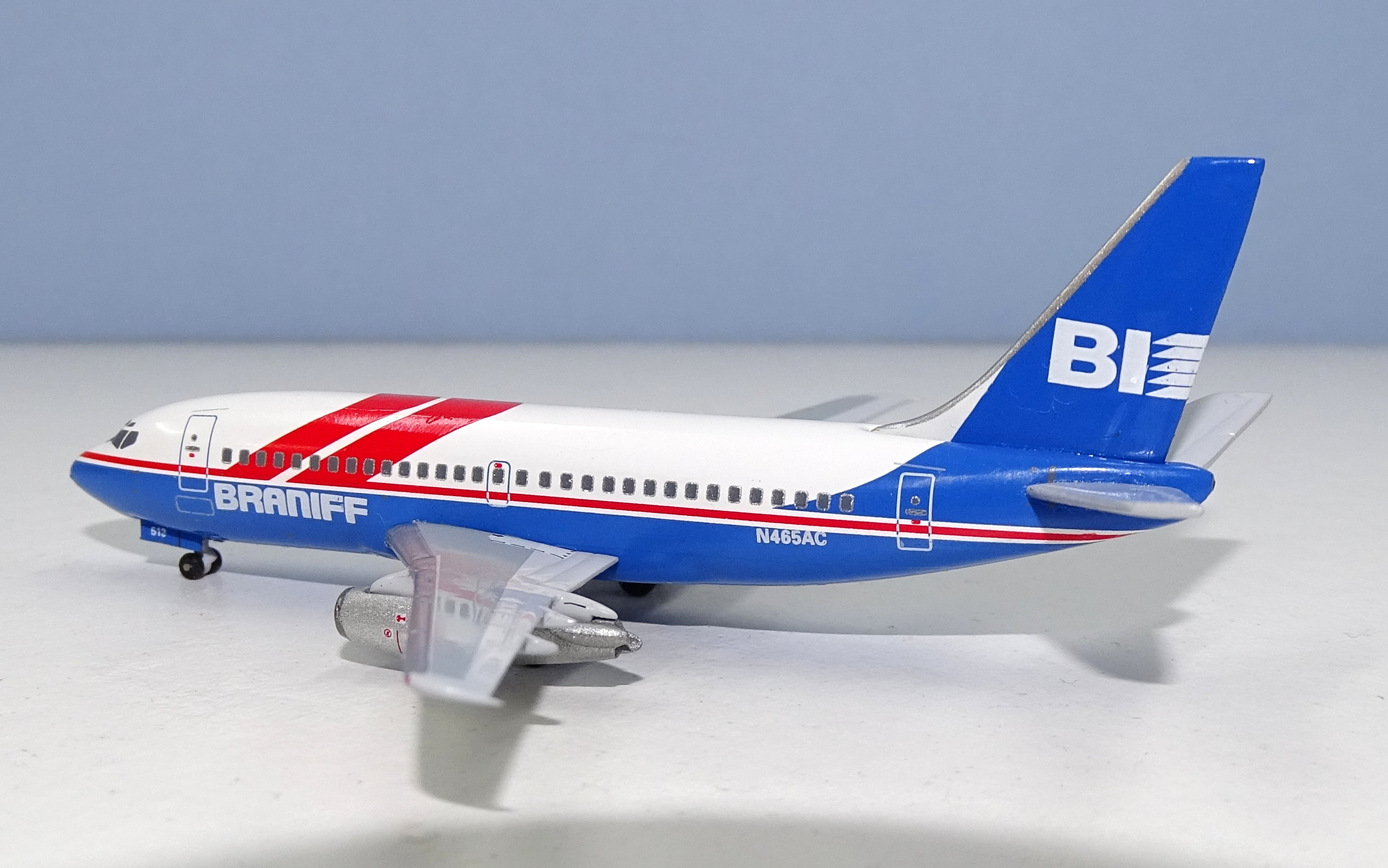 One of the most important things that Aeroclassics has got correct is the wonderful pointy nose region that is shared by the 707, 727 and 737. All its 707, 727 and 737-100,200 moulds look good in this department. This casting is probably slightly better here than the previous mould Aeroclassics and SMA used (the easiest way to tell the difference between the two is that the older mould is a cradle mount and so has a small seamline under the fuselage).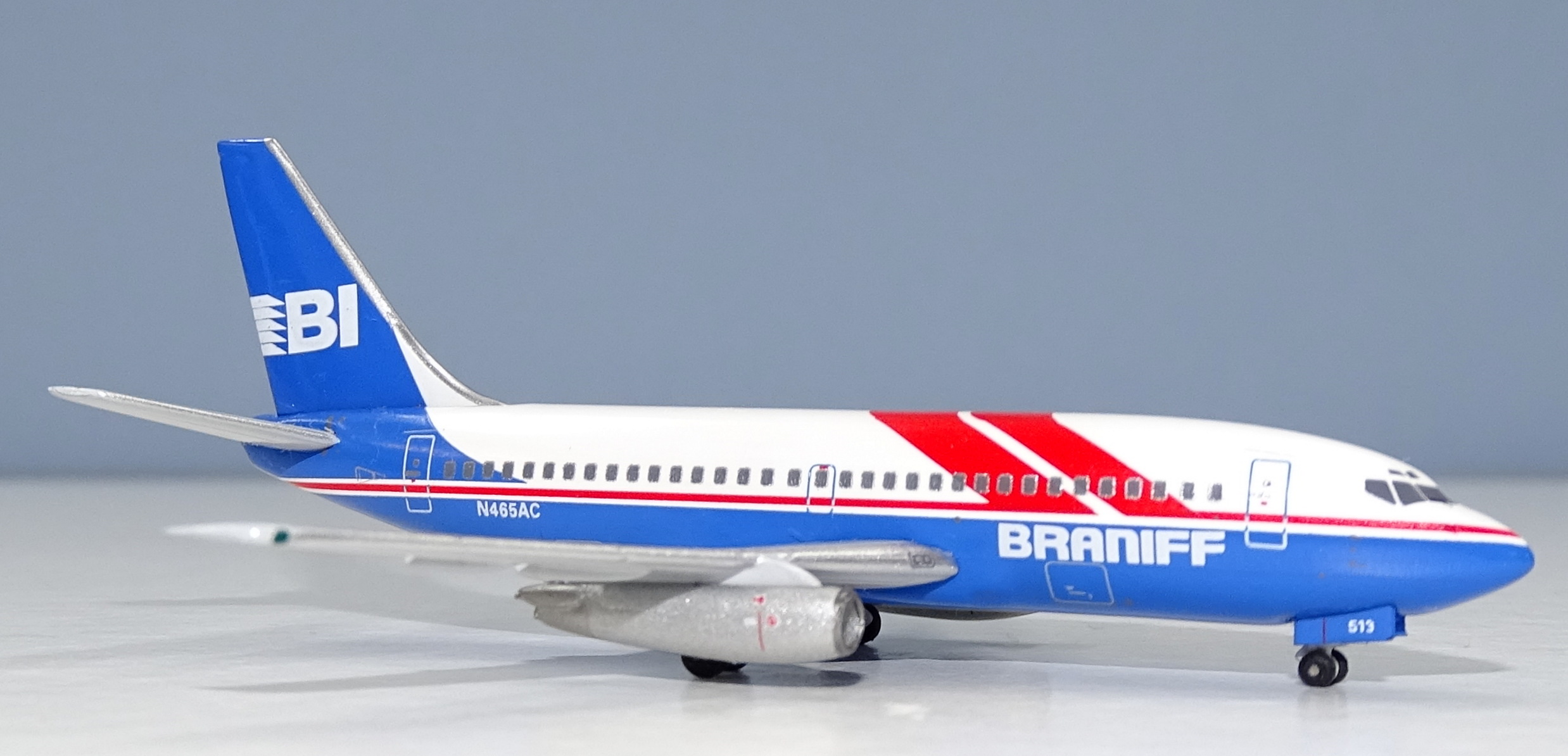 The current nosegear doors are well sized. They do recess into the fuselage a little and are not quite the correct angle along their lower edge but still look good. The wheels and hubs are simple Aeroclassics standard tyres on spigots but with such small and short undercarriage as the 737-200 has it really doesn't matter.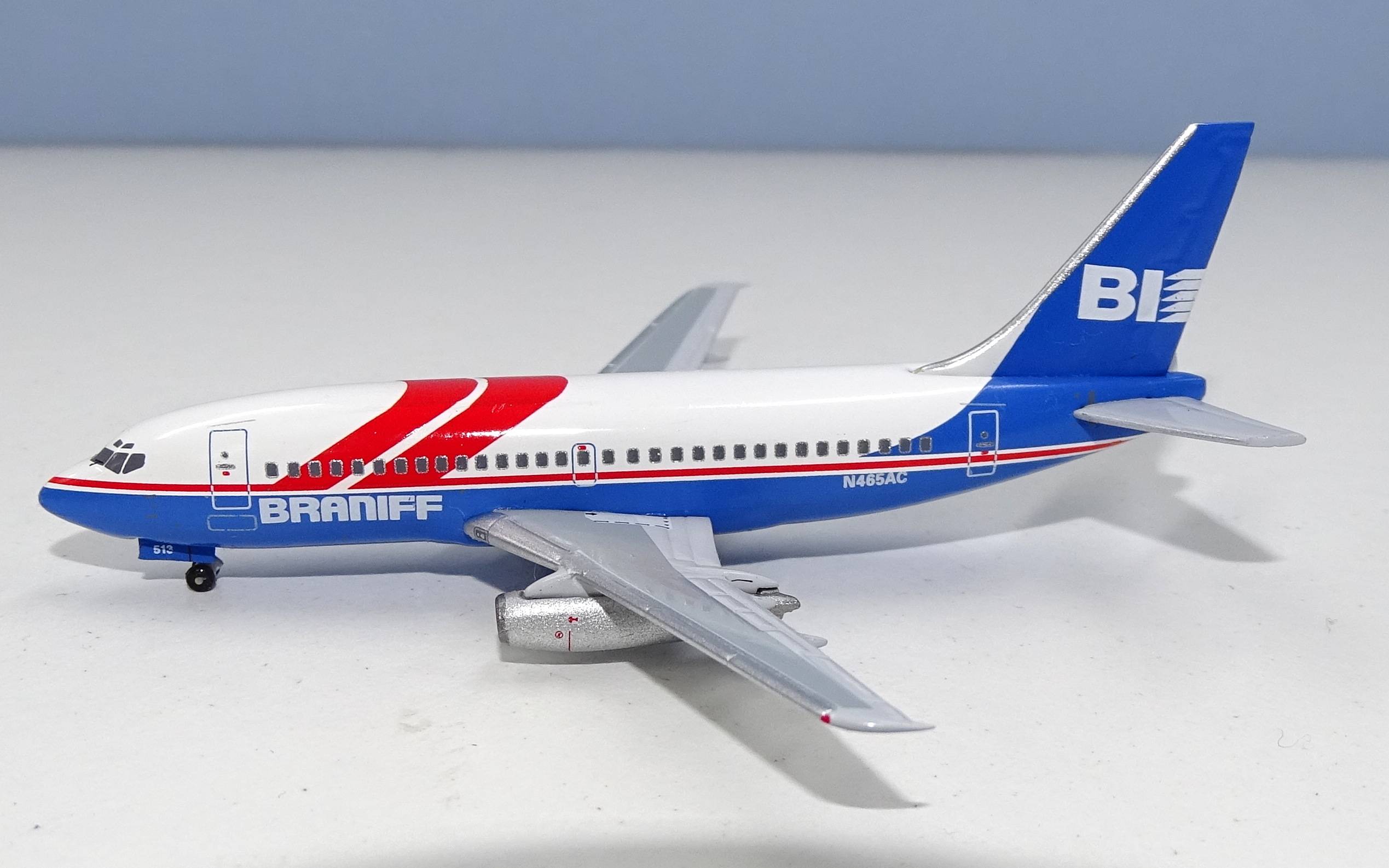 The aerofoils, engines and stabilizers are great and the wings slot in tightly to the fuselage. The mould has no aerials but this is Aeroclassics and I certainly wouldn't suggest that you buy a Gemini 737-200 due to that difference. This is a great little mould and I see no likelihood it will ever be improved. Being harsh, I'll knock a point off for the aerials and shape of the nosegear doors, but that is harsh indeed.
SCORE – 9
PAINT & LIVERY
The 2nd Braniff started out in 1984 with a new understated, but business-like, scheme made up of white, dark-blue and platinum with red titles. This scheme survived only until after the sale by Dalfort Corporation to BIA-COR Holdings in 1988. At that point the airline looked for a new livery and briefly alighted on an odd scheme which bore a resemblance to the sports shoe manufacturer Reebok's logo, and so has since been named thusly.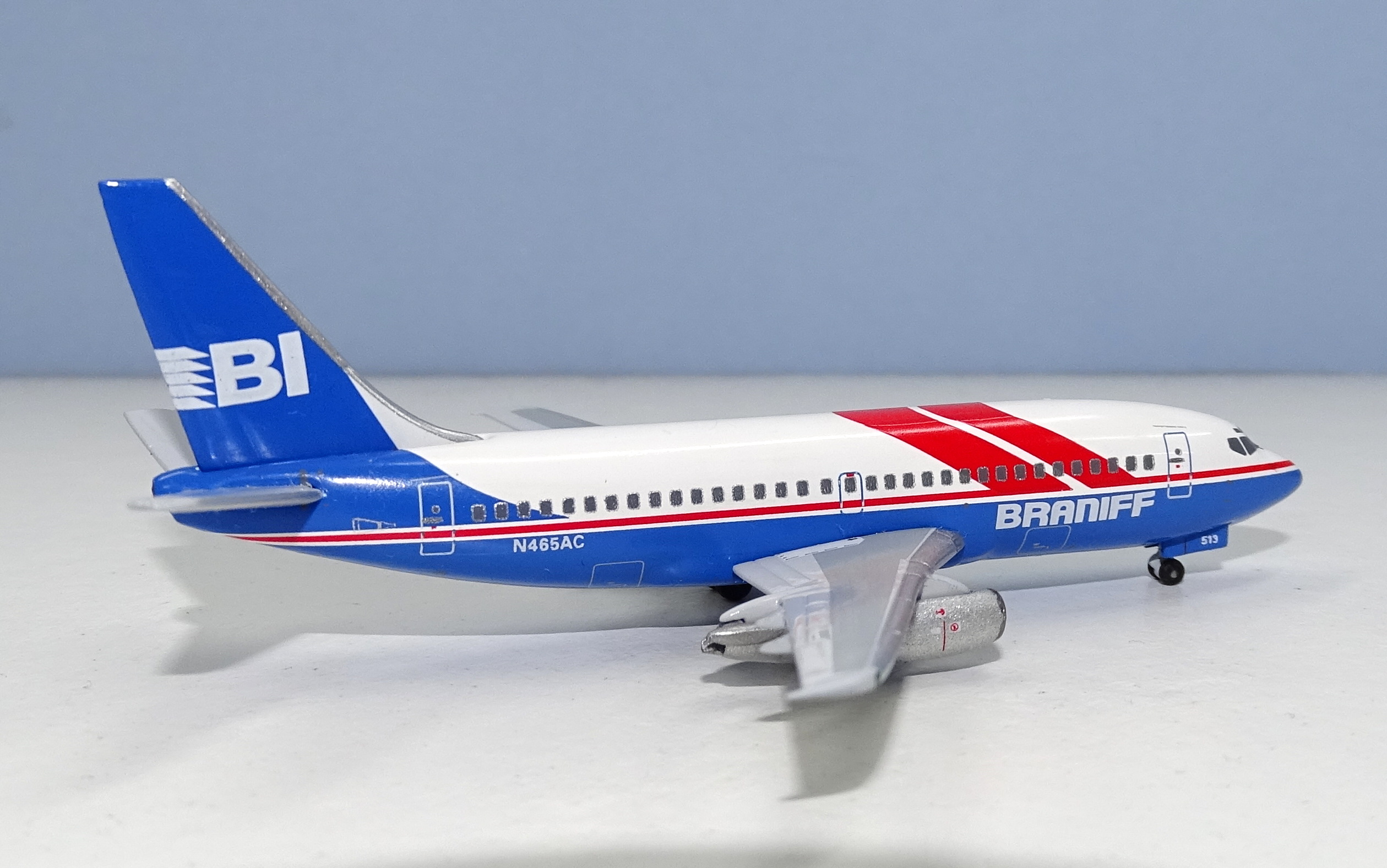 The Reebok scheme was apparently detested by Braniff employees and didn't last long, although its replacement was as confused as the rest of the airline's last years. The A320s wore a billboard scheme with blank tail whilst it was decided that the rest of the fleet would wear a modified Ultra style livery. Regardless this model wears the short-lived Reebok scheme, which features a medium blue belly and tail and thin red cheatline with two large swooshes over the cabin roof.
Colour wise Aeroclassics blue is a little too dark but this is so common with Aeroclassics models it almost doesn't bear mentioning. It is a minor criticism in this case anyway. Placement of the fuselage elements is excellent.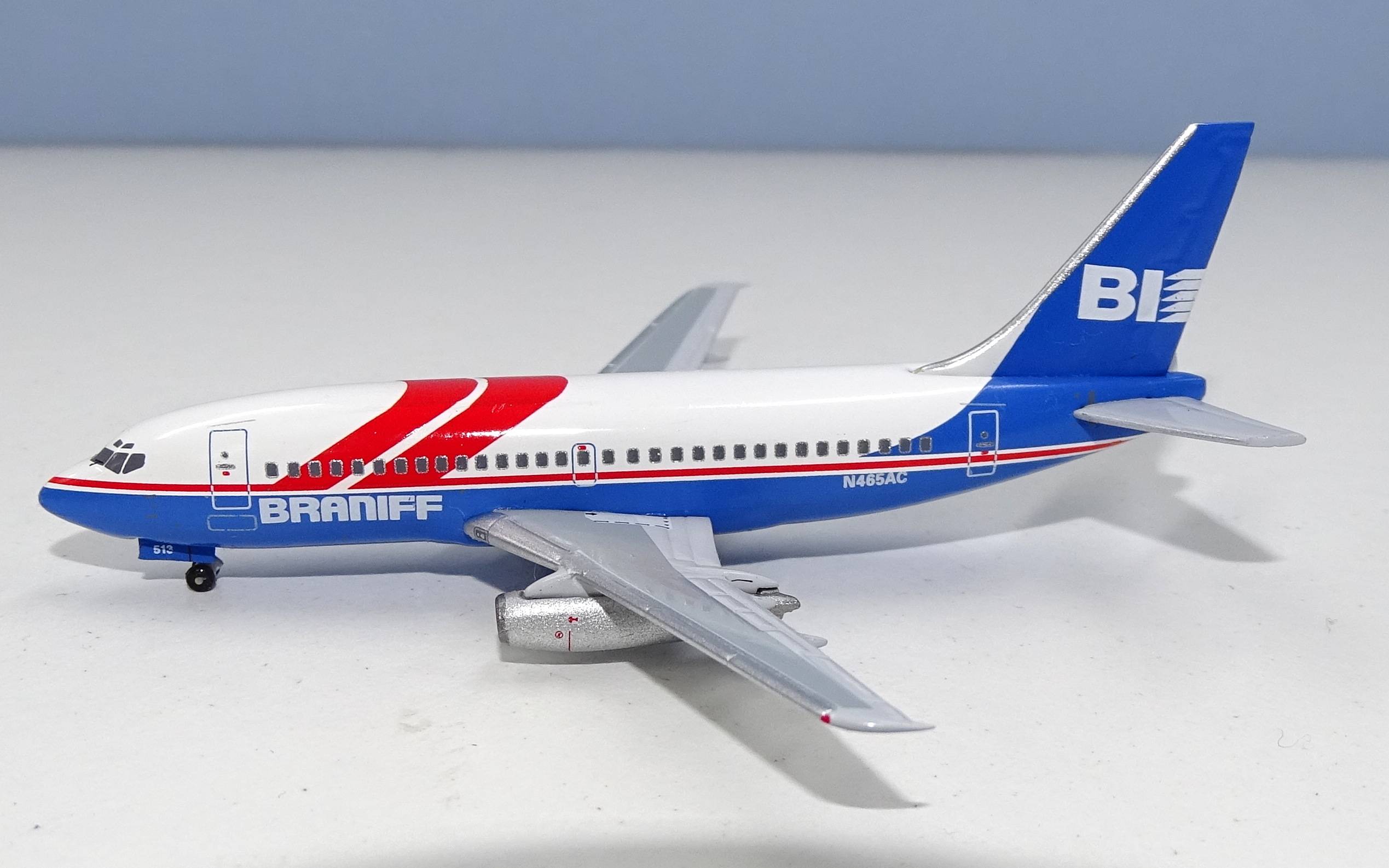 The red is good and the shape and position of the over cabin roof striping spot on. Also correct is the transition of the cheatline onto the tail. This has been an area of weakness for Aeroclassics who have regularly painted the entire tail the block colour when they should have left the front portion white – see the recent Southern DC-9 for an example of this error.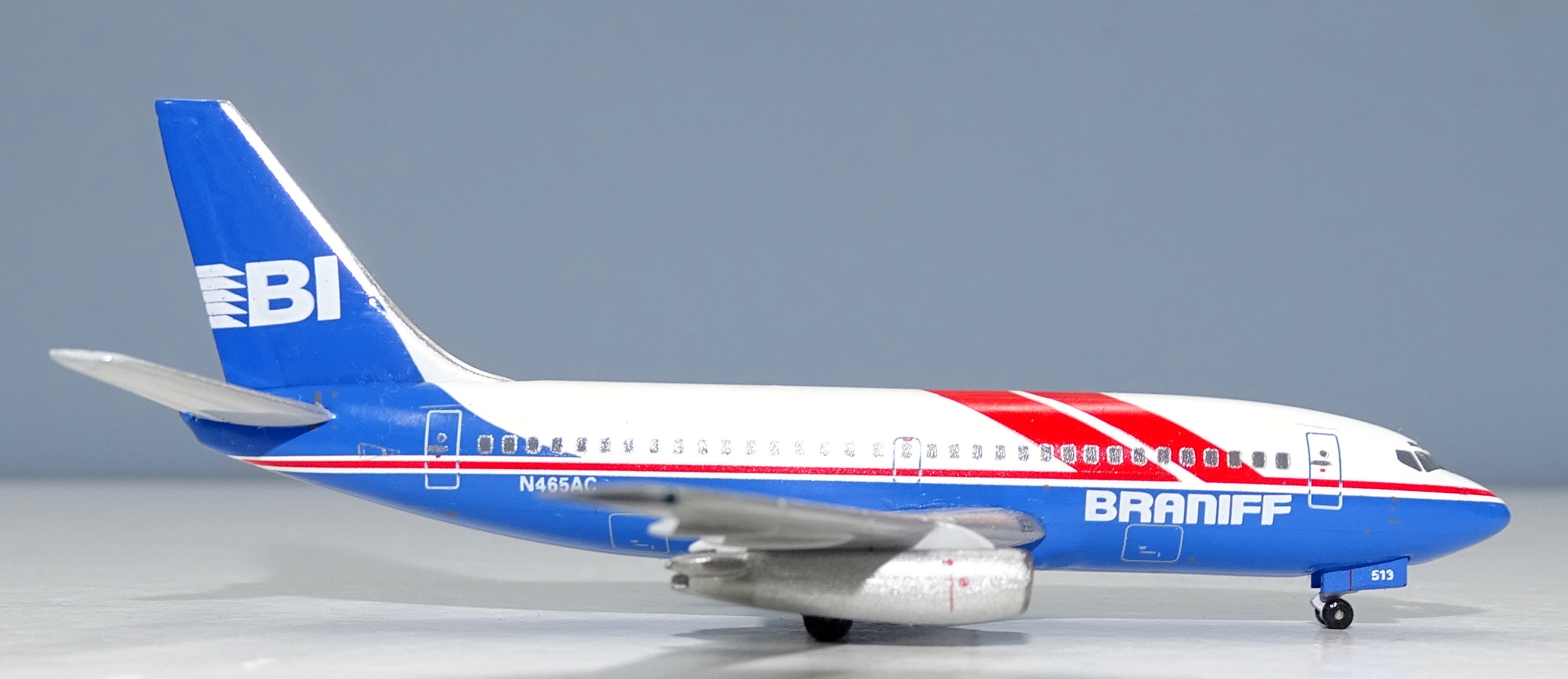 Sadly, the excellence doesn't continue onto the tail. On both sides the BI logo is not straight. I have noticed this on several other Aeroclassics models and it is annoying as it shows a lack of care or understanding of how the tail fits with the rest of the fuselage casting. In addition, this time the striping from the BI logo is also too chunky.
SCORE – 7
PRINTING & QUALITY CONTROL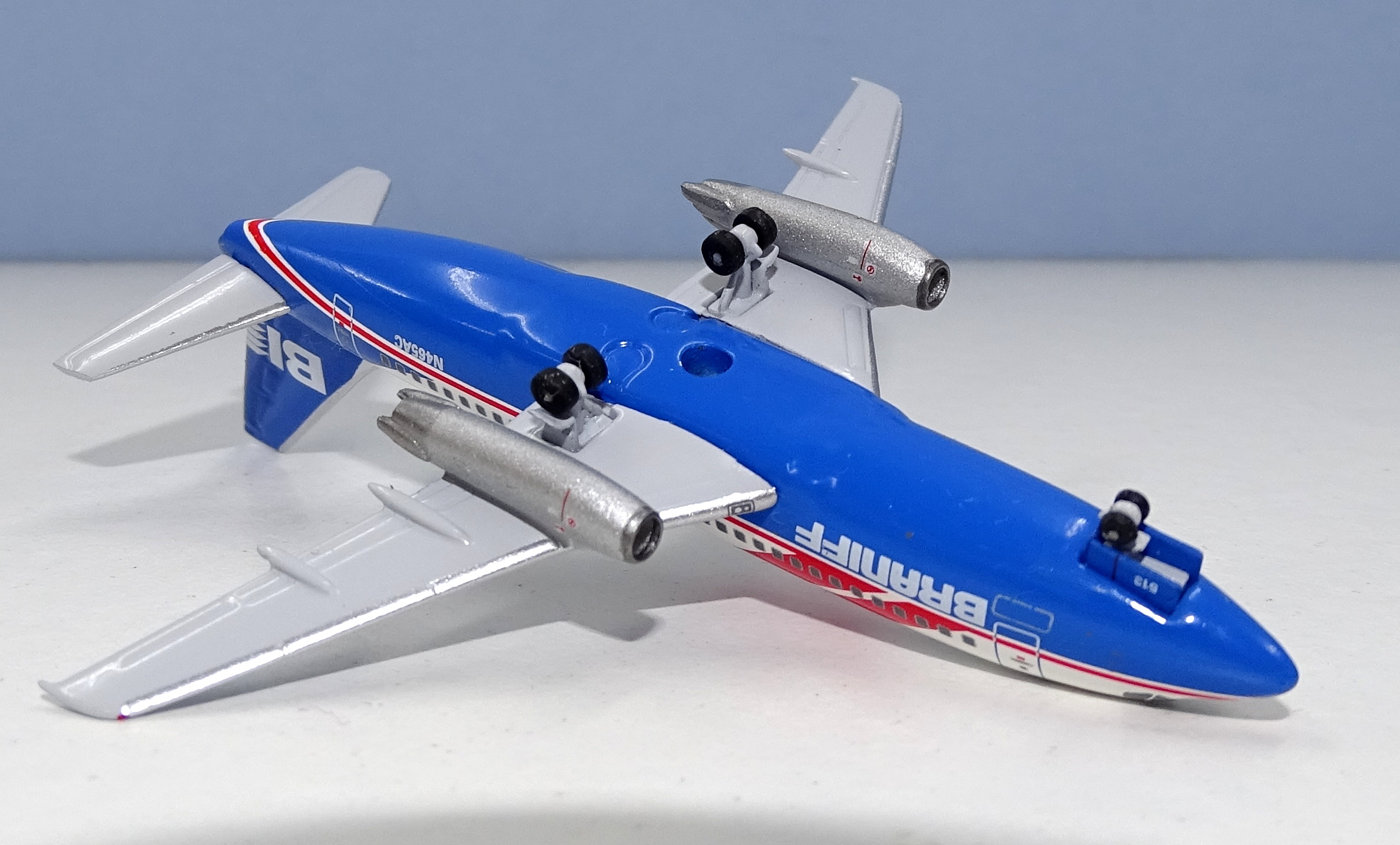 Printing on these models is simple but effective. Details like the pitot tubes under the cockpit and scallop intake by the horizontal stabilizers are well rendered. The engines are also nicely printed although the inner fanblades are left unpainted. To be honest it would be impossible to see the fanblade detailing if they were dark.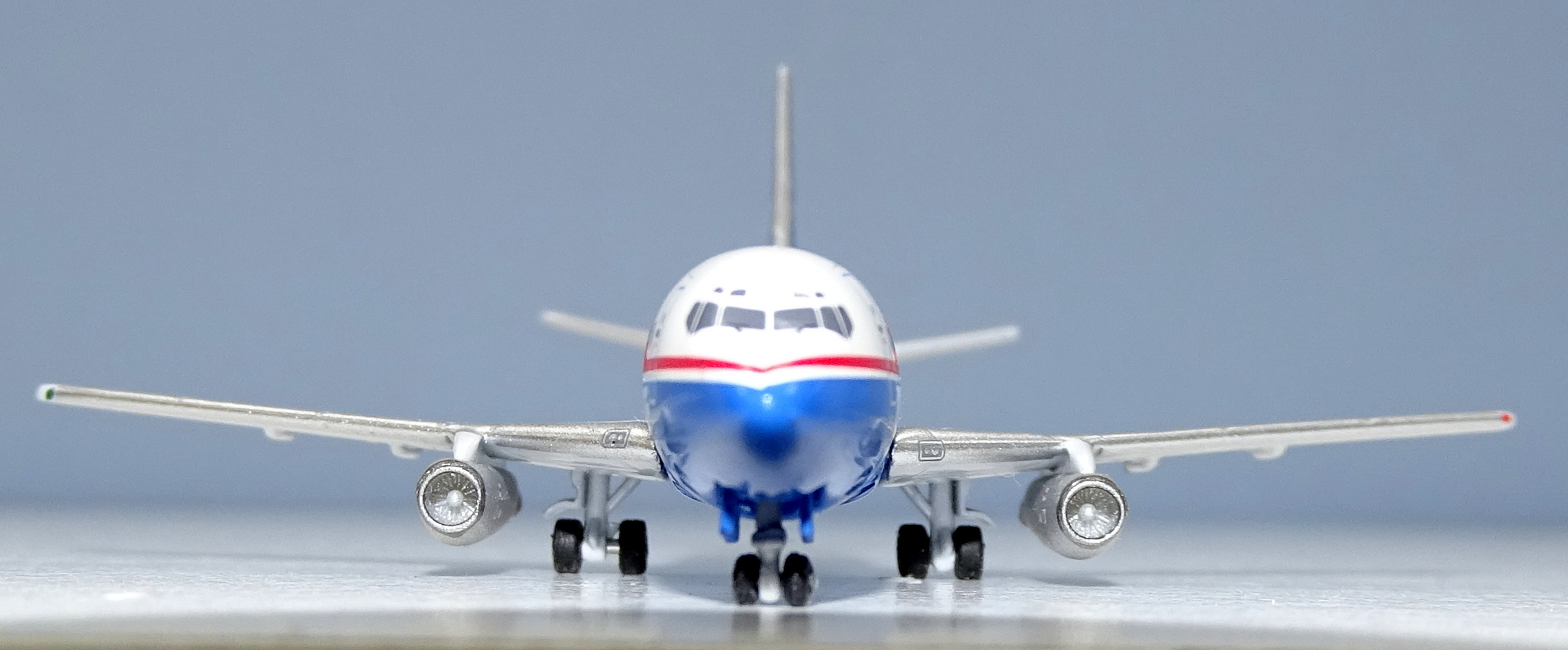 One last printing addition that I appreciate is the rectangle under the L1 entry door, which denotes that this early 737 is fitted with internal fold-out airstairs.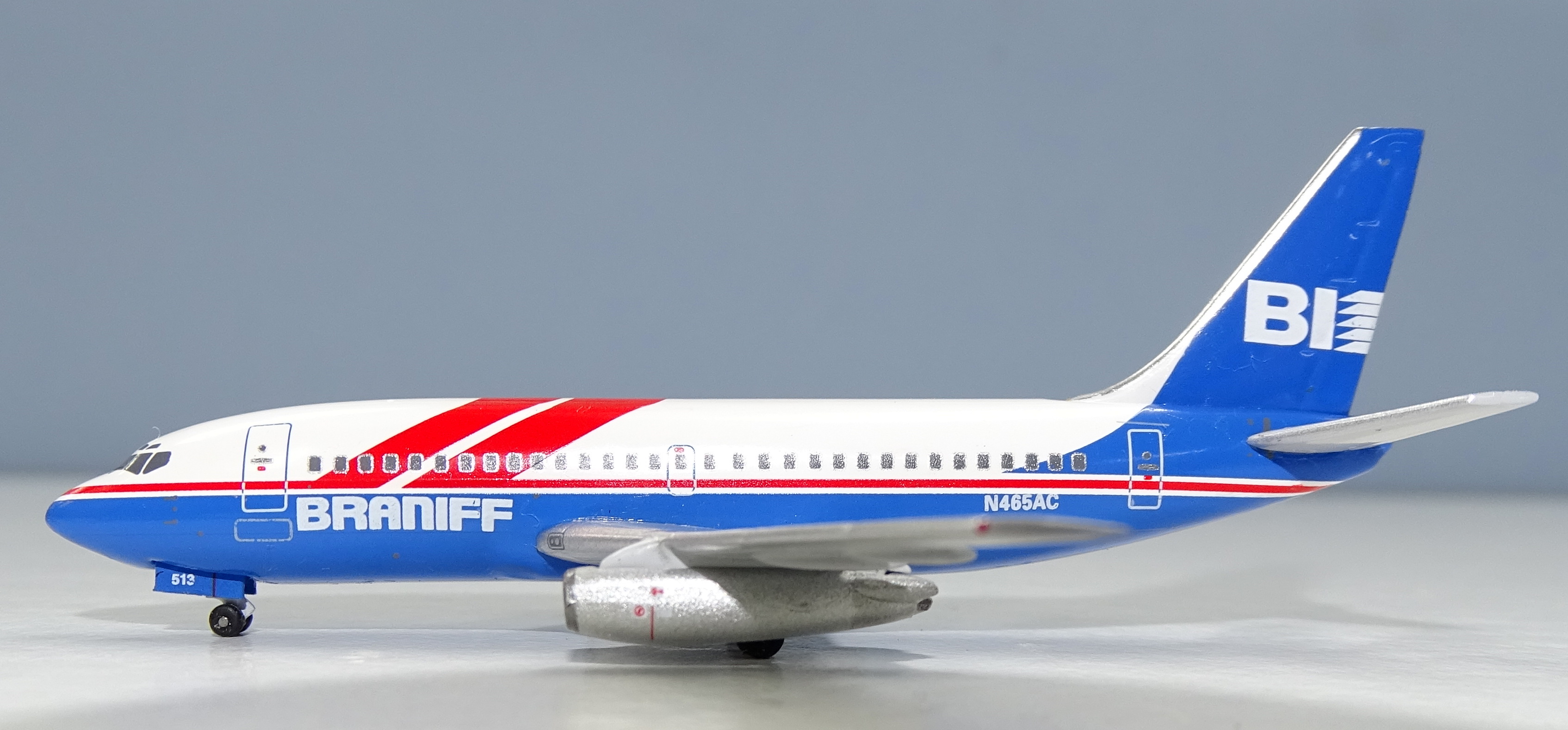 Aeroclassics 737-200s are well known for coming with detached wings but this example has no construction problems whatsoever.
SCORE – 10
CONCLUSION
Aeroclassics is back to doing what it does best, producing fine classic models on outstanding moulds. This is a nice addition to the deregulation scene and hopefully will be joined by other deregulation-era 737-200s like those of Vanguard and PeoplExpress. It is seemingly too much to expect that the factory staff do not make rather obvious errors with research and print angles but despite these this is a fine addition.
FINAL SCORE – 26