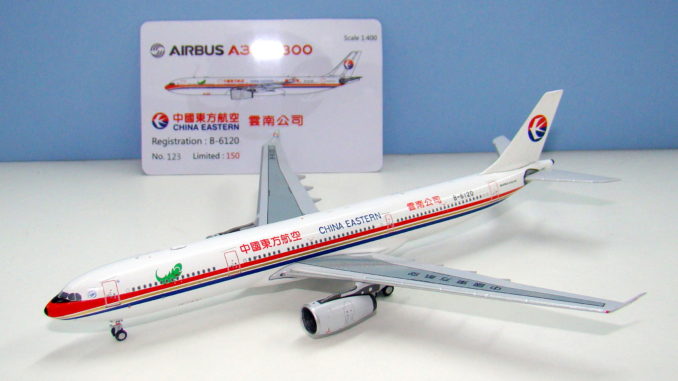 Panda Models have been doing some great work recently and would no doubt be far better known if they decided to break away from their main focus of Chinese airliners. At least half of Panda's releases are actually made for Skywings, which is a shop in Guangzhou as I understand it. They appear to contract a lot of models out to Panda but have also recently used JC Wings too. Panda released a new A330 only in late 2016 and have been making good use of it for Chinese big buses since. Here we investigate a recent release.
THE REAL THING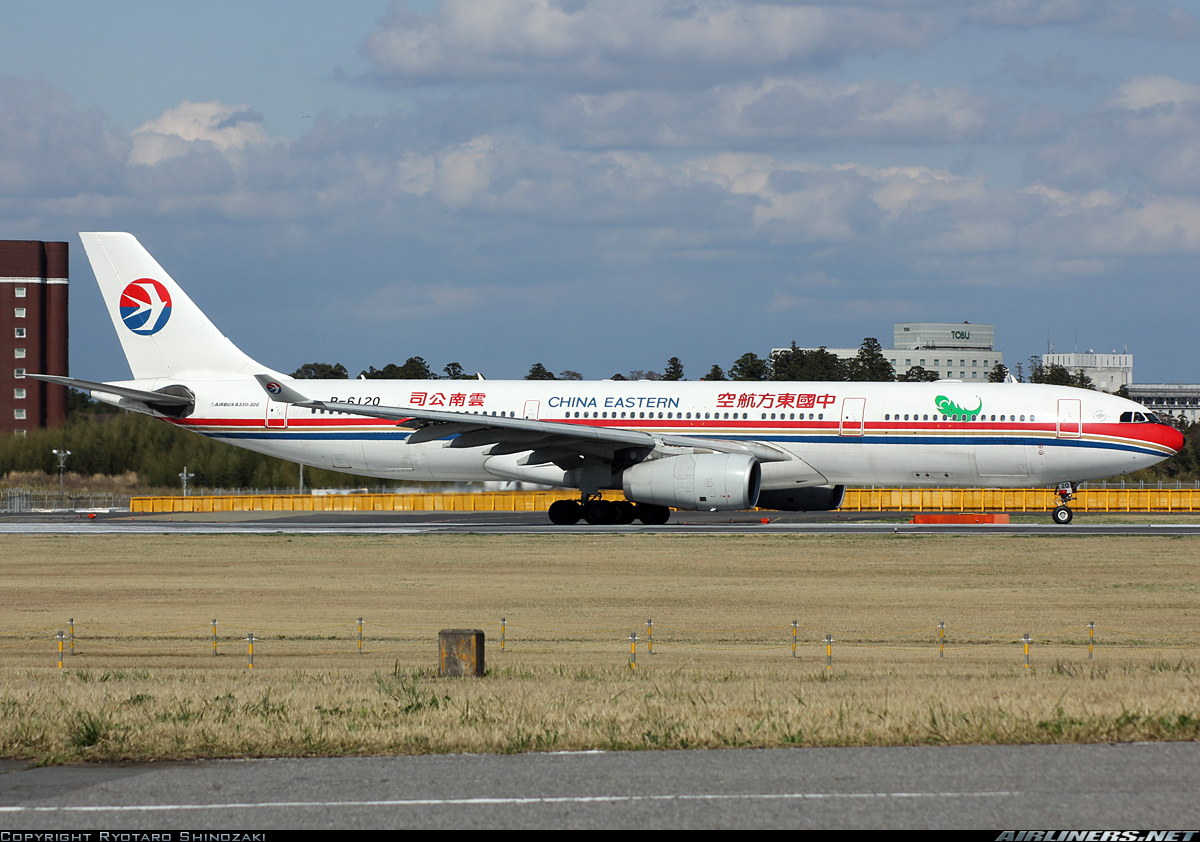 China Eastern received its first A330 in January 2006 and has gradually received 47 of the type (with another six ex-China Eastern aircraft on lease at its Shanghai Airlines subsidiary). By mid-2011 they had 5 A330-200s and 15 A330-300s but increasing deliveries of series 200s has enabled China Eastern to standardise its widebody fleet. Between June 2012 and June 2013 China Eastern almost doubled its fleet of A330-200s from 8 to 15 units which directly replaced the airline's A340-300s. The year before the 767s had gone and deliveries in 2013 and 2014 enabled the replacement of the A300s.
B-6120 was one of China Eastern's first A330s (along with B-6119) and is a series 343X delivered two days apart in January 2006 from her sistership. Many of China Eastern's A330-300s have worn special schemes and this aircraft has also since as this model depicts she is wearing the Yunnan feather.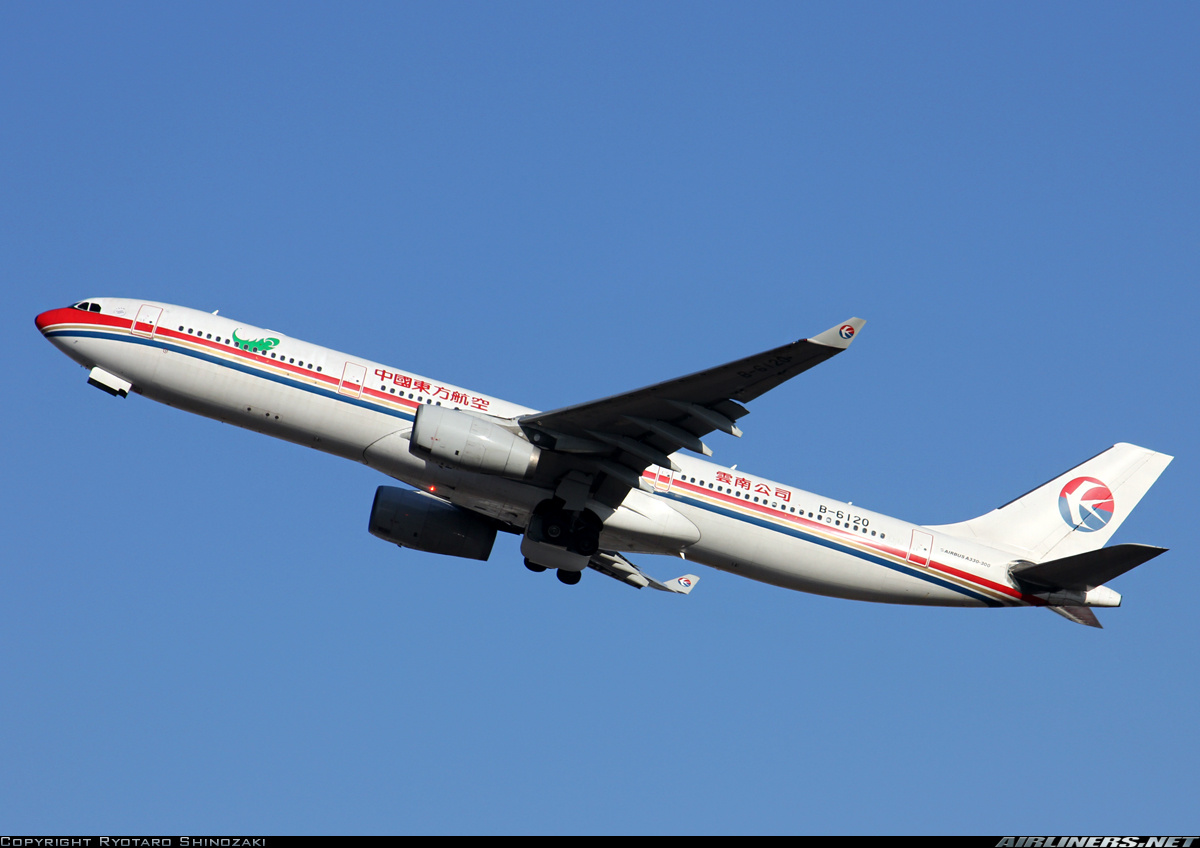 China Eastern's Yunnan division, which it mainly acquired through its takeover of China Yunnan Airlines in 2003, has always been a bit separate. Indeed today it is technically a separate airline – China Eastern Yunnan. Prior to the new livery implementation many of the Yunnan branch fleet wore the feather of Yunnan on their forward fuselage whilst from 2012 Yunnan division aircraft, including an A330, wore a much more elaborate Peacock livery.
B-6120 was wearing the standard China Eastern scheme in 2011 and had the feather applied sometime after March 2013 when it looks like she was switched from long haul international duties to instead operate the main domestic trunk and regional international routes from Kunming (Yunnan's main city). By 2015 she was serving in the boring new livery but in April 2016 she gained the amazing all over blue Disney livery to advertise the new Shanghai Disney Resort. As such she is probably the most famous aircraft in the China Eastern fleet.
THE MODEL
The format for my reviews is to split them into three key areas:
The mould of the aircraft
The paint and livery
Printing and quality control
Each can get a maximum score of 10 for a section giving a maximum combined total score of 30.
THE MOULD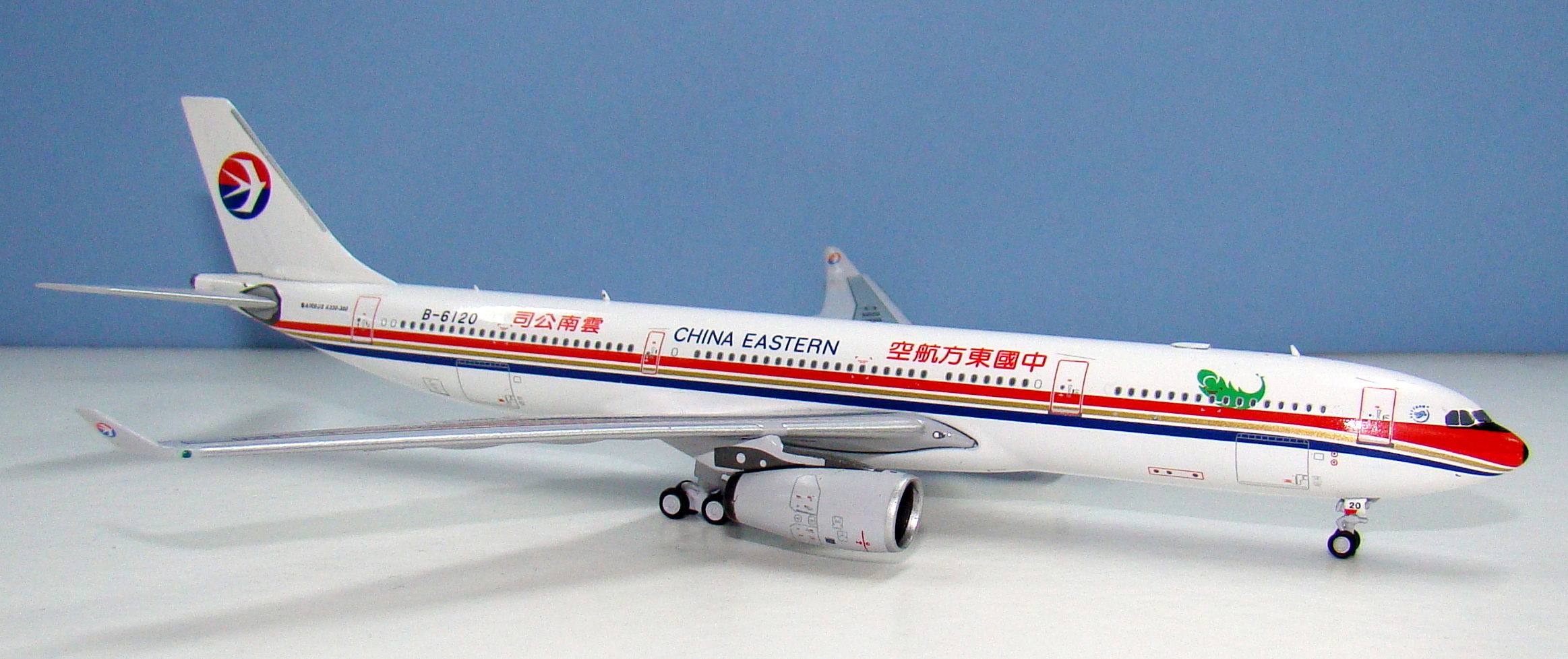 Panda Models A330 is the latest to join a crowded market for the type in 1/400 scale. It appears that if Inflight400 ever get their act together it won't be the last. Do we really need this many A330s? Perhaps not but at least none of them are appalling (now JC Wings have sorted out their wing issue). I've written a lot about the moulds available in 1/400 scale for the A330 recently – see:
http://www.yesterdaysairlines.com/model-airport-blog/comparing-a330s-1400-scale-detailed-mould-review
The Panda Models A330 is right up there with the best of them and indeed arguably superior to all of them. The nosecone and front fuselage is effectively perfect as is the rest of the body, wings and vertical stabilizer. The undercarriage is also excellently detailed and positioned, however the colour and detailing of the wheelhubs is not as good as on the Aeroclassics and Phoenix moulds. The tyres are also a little weak as they are very thin.

The aerials and satnav dome on this mould are all excellent. All four aerials are present and the dome though not part of the fuselage is well modeled. On this front alone the mould is better than the Aeroclassics and JC Wings. Altogether it beats the Phoenix on undercarriage position and detail and underwing detailing, beats the Aeroclassics at the nose and aerials and beats the JC Wings everywhere except on under fuselage detail.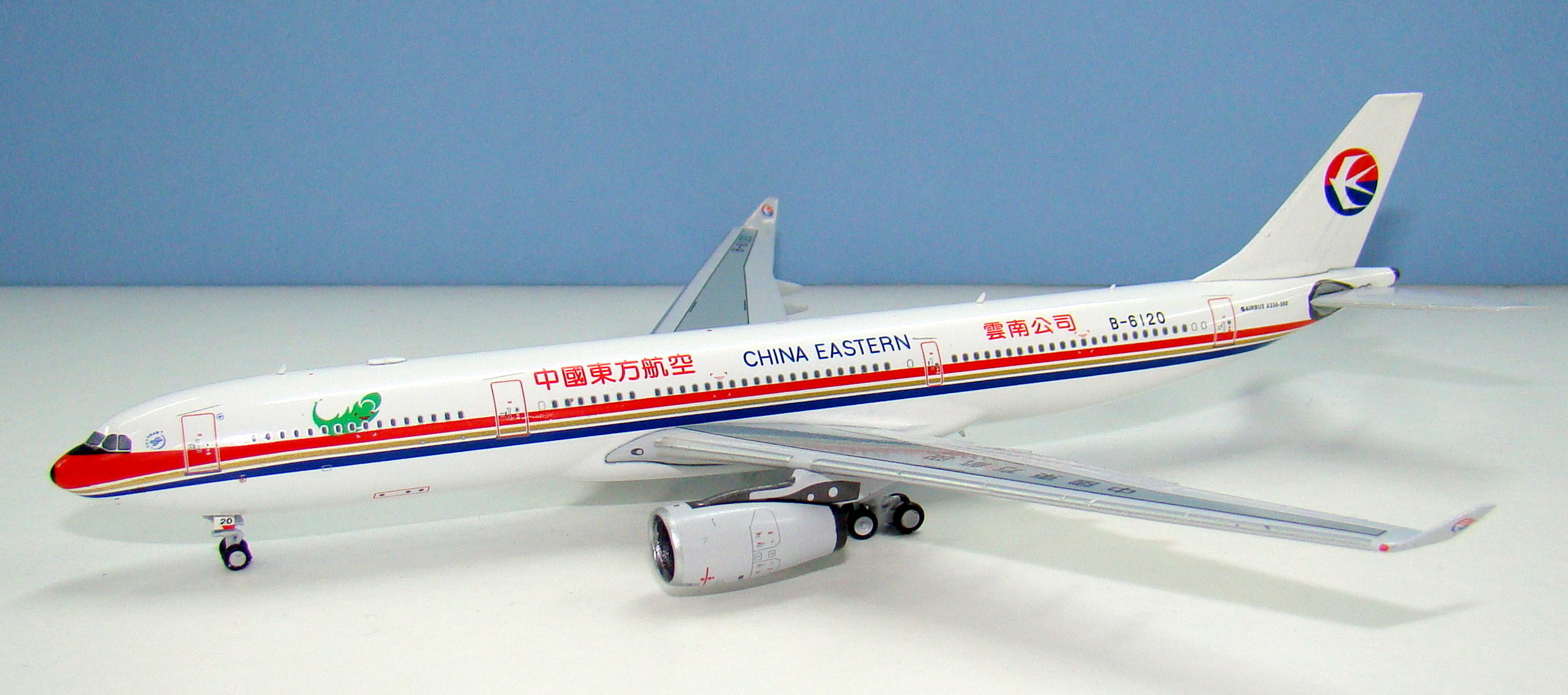 It is a very good mould, although possibly a near clone of the Aeroclassics the addition of the aerials and hump take it to the next level.
SCORE – 10
PAINT & LIVERY
As I understand it the major Chinese airlines struggle with a lot of bureaucracy that goes with being effectively state owned and operating within China. That has meant that most of the larger airlines rarely alter their branding and have kept their basic liveries for decades now. China Eastern is alone amongst the big 3 in being allowed to shake things up and in November 2014 it re-imagined its livery into one of the blandest offerings the world has seen!

To be honest I don't actually hate it and China Eastern operates so many special liveried aircraft that the base scheme seems like just that – a blank canvas template. China Eastern's old scheme was more traditional and featured a rather attractive triple cheatline with red, gold and blue bands. On the tail the swallow logo sat within a blue and red halved circle. Yunnan division aircraft regularly had the Yunnan feather added forward.

The old China Eastern livery is actually surprisingly complex but it has been reproduced so often you'd expect the manufacturers to know it off by heart. Panda clearly do because they have done a great job with this release. The beautiful fine cheatline stripes are replicated perfectly and the triple red/gold/blue colours are spot on.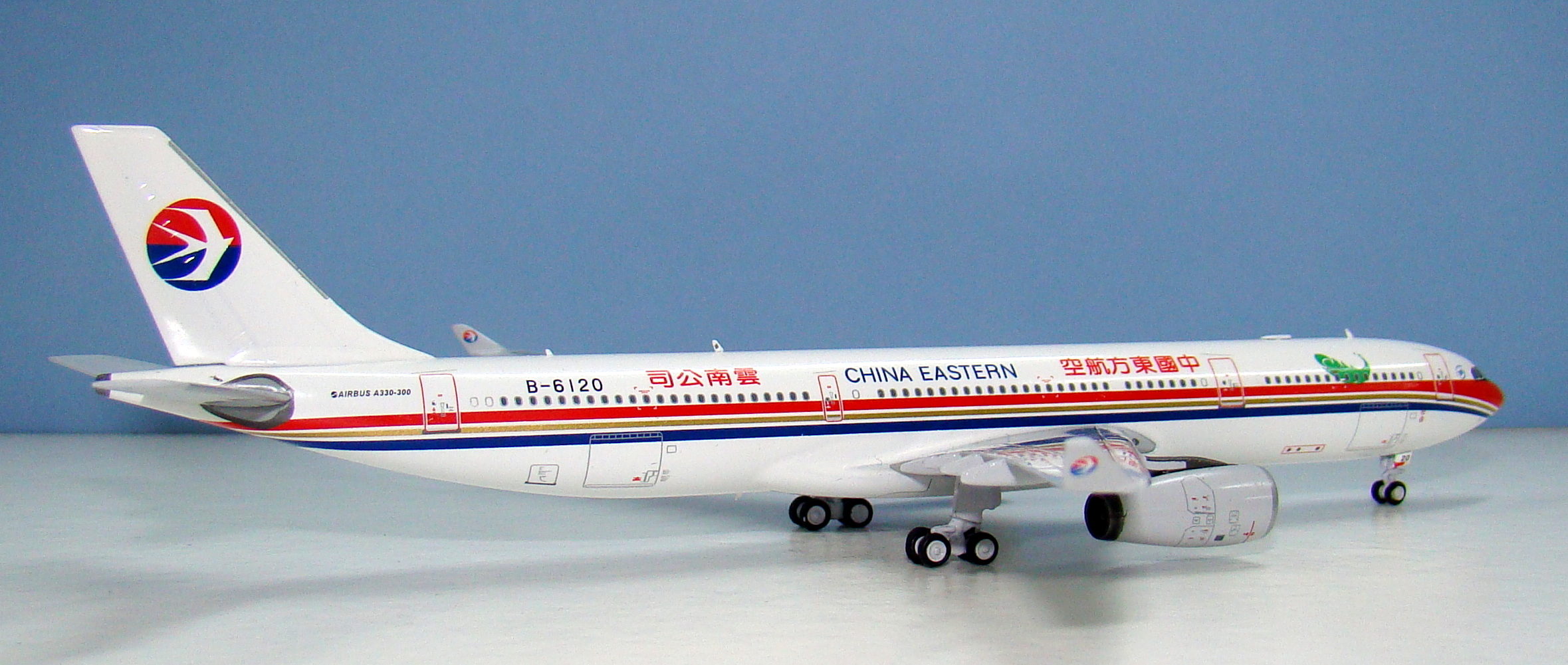 Equally the position, size and font of the titling are great as are the Chinese characters. The Yunnan feather is also well positioned but maybe just touches the cheatline a little too much and is perhaps too dark a green. Is that enough to knock a point off for – no I don't think so.
SCORE – 10
PRINTING & QUALITY CONTROL
I have been impressed by the printing quality of Panda models that I have purchased, they are as good, if not better than anybody else. That rings true here as the printing is sublime. There's a lot of printing detail especially on the engine nacelles and cargo doors. The colour around the engines is a particular delight. The fan blades are dark but not as dark as the engine interiors and the whole grades wonderfully into the silver rims.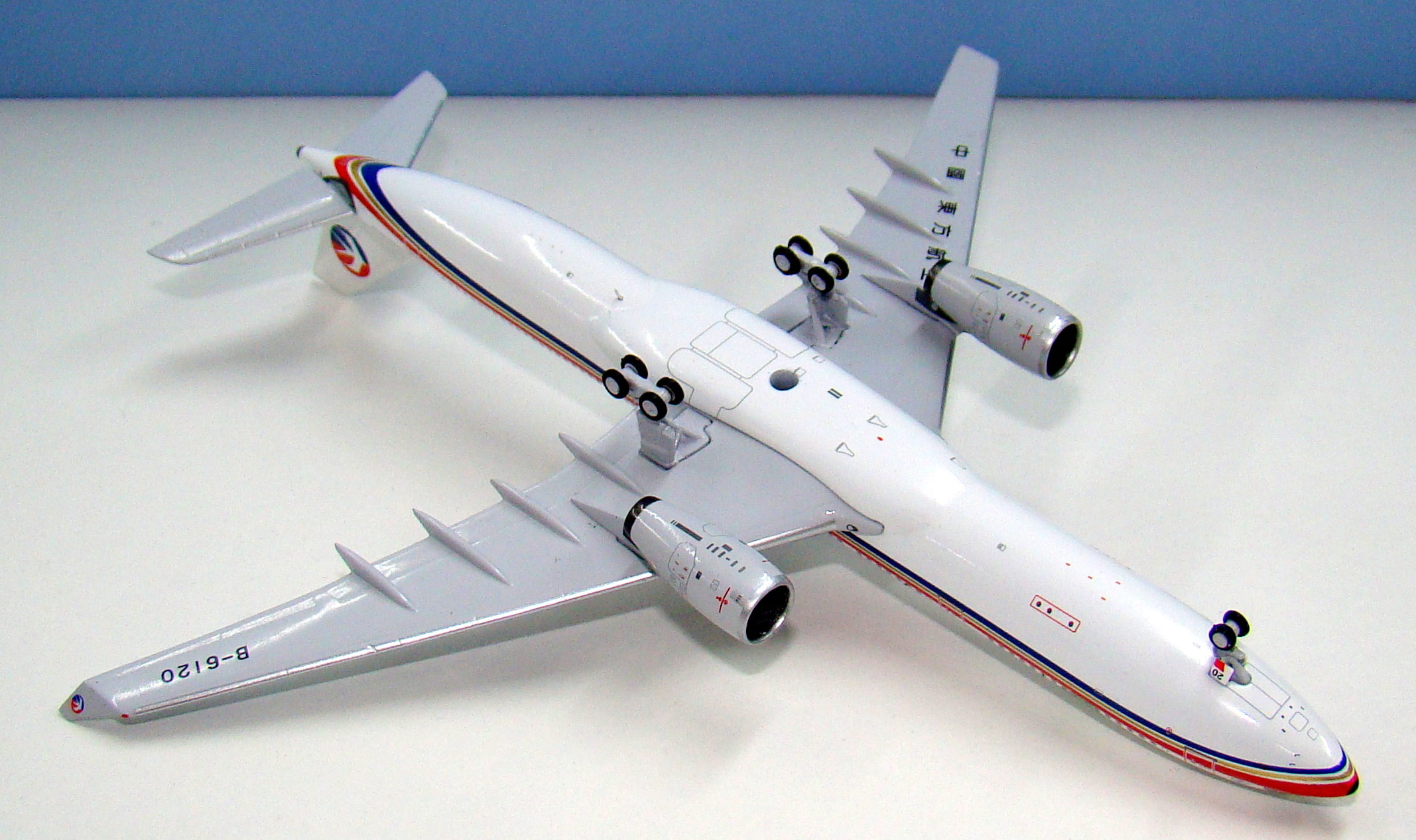 On to quality and I suspect that the smaller production runs of Panda and Skywings allow them to put more care into the models. Of the 70 or so I own I can only recall being unhappy about one model. The assembly of this A330 is top notch. Everything is snugly in place and well fitted. The only thing that stops this model getting a full score is a small scratch above the port side horizontal stabilizer. It's minor and looks like it was done accidentally when the parts were joined.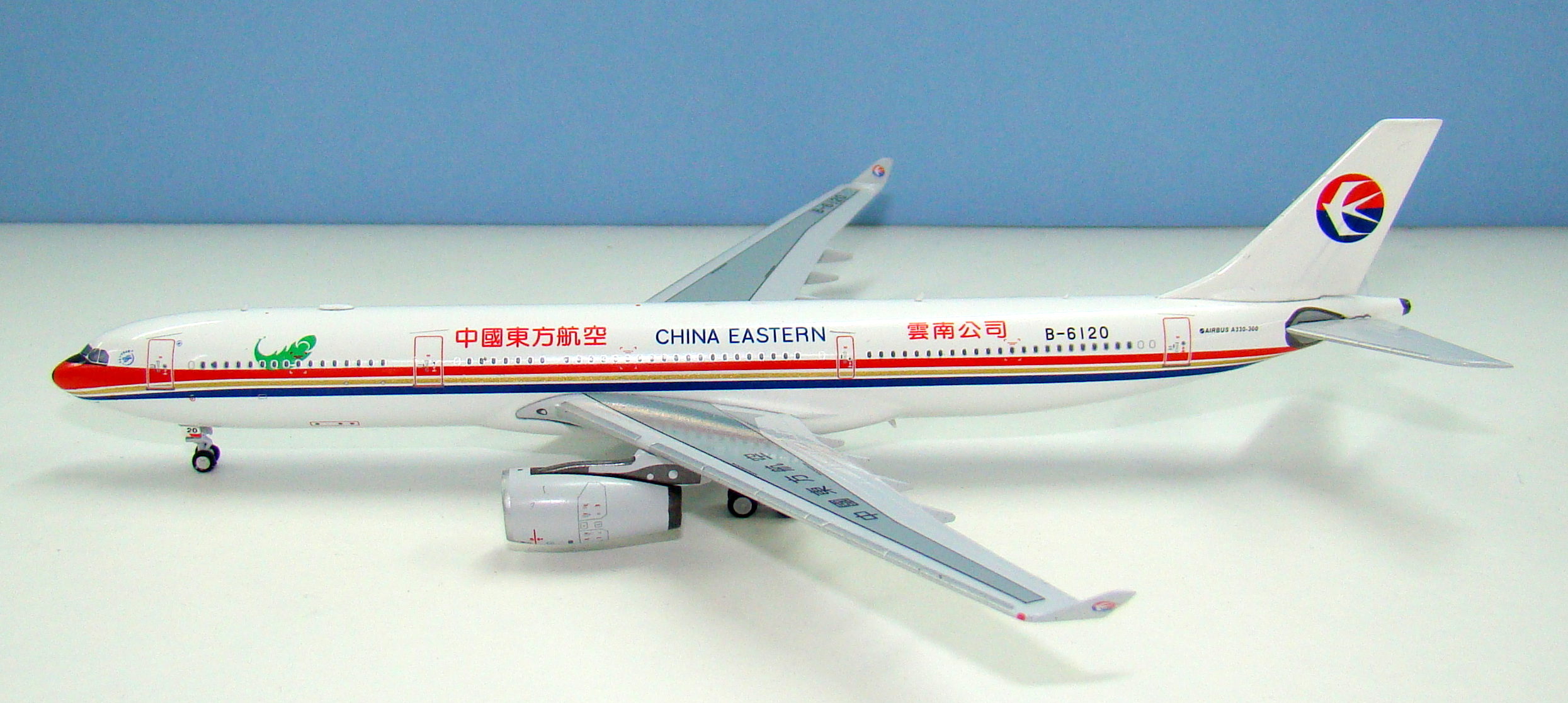 I should additionally note that this model comes with a lovely box and also a collector's card. This denotes the model's position in the production run as 123 of 150 made. The card is plastic and very attractive. It is a great touch and adds the cream on top of a truly superb effort.
SCORE – 9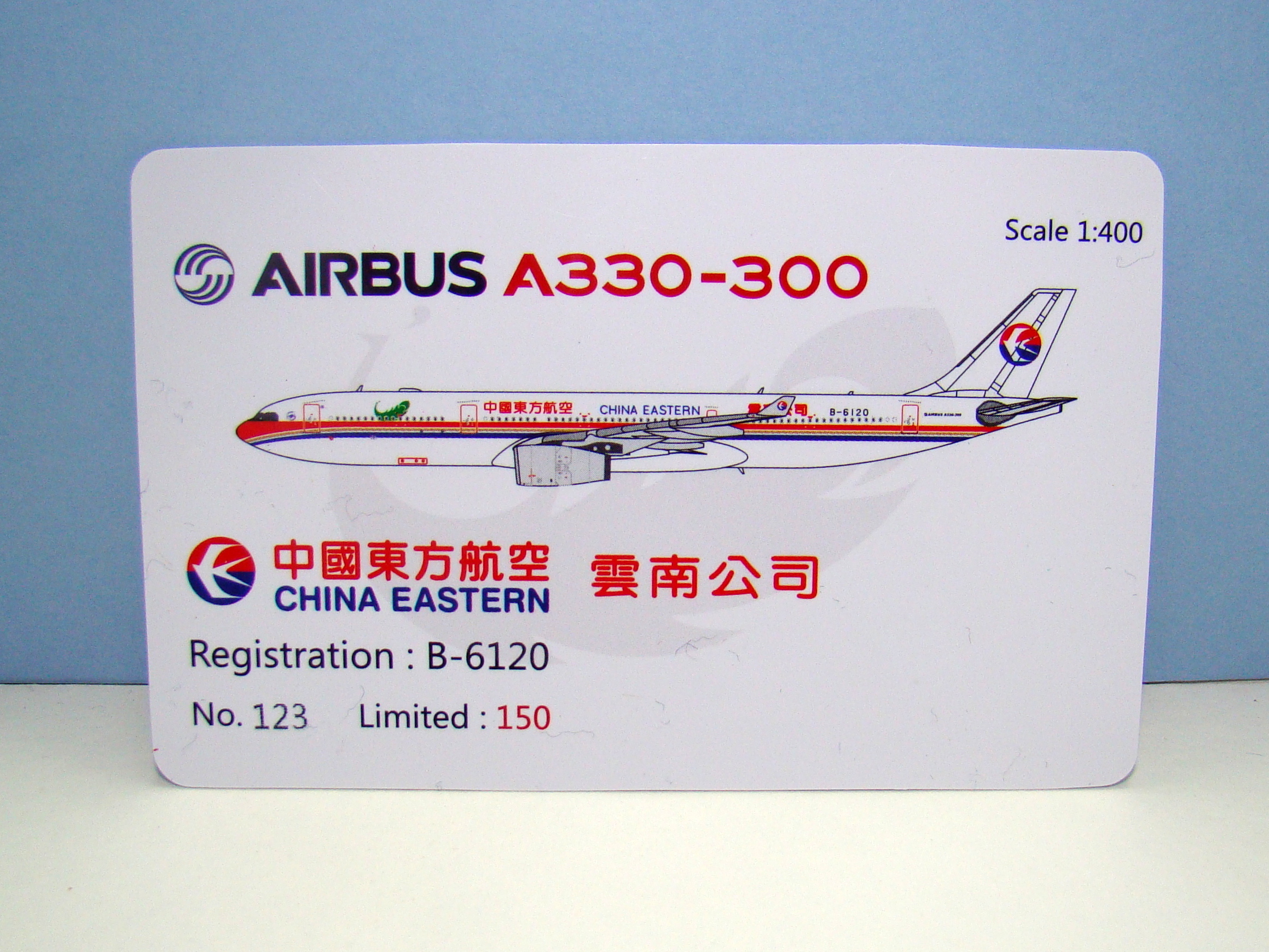 CONCLUSION
Spectacular is the word to sum up the quality of this model. It may be representing a fairly run of the mill aircraft but that shouldn't be allowed to detract from its brilliance. I feel rather miserly for even knocking off a single point, but as it is this is the highest scoring model I have come across so far and will be hard to beat. Skywings collaboration with Panda Models is setting the 1/400 scale bar high indeed.
FINAL SCORE – 29/30