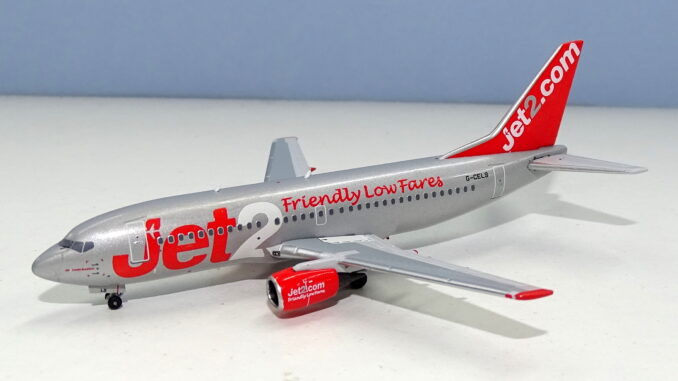 Panda Models have had a quiet 2019 and shrunk its number of releases substantially. It has also lost access to the Chinese ARJ21 and Y-20 castings. Whether this suggests financial troubles or just a change in strategy is hard to say but they do still have an impressive mould catalogue and the potential to release unique models rather than just following the crowd. The 737-300 is perhaps their best avenue for unique releases and they have used it, albeit sparingly, this year for some British low-cost airline releases. Jet2 has been the target of quite a few 1:400 scale releases in 2019 from NG Models, Phoenix and Panda, but only the latter has a series 300 mould that they actually use.
THE REAL THING
Jet2 has grown into the UK's 3rd largest scheduled airline in an environment that has seen the collapse of charter airlines of long standing, like Thomas Cook and Monarch, and the destruction of traditional scheduled brands and their low-cost subsidiaries (British Midland, BMI Baby and Flybe). That it has managed this despite the dominance of easyJet and Ryanair is even more impressive.
Jet2's roots are from the cargo airline Channel Express, which had been operating since 1983 with a mix of Heralds, F-27s, Electras, A300s, and from 2001 some 737-300s. It was a massive gamble for the established freight airline, owned by the Dart Group, to form a low-cost passenger offshoot in October 2002.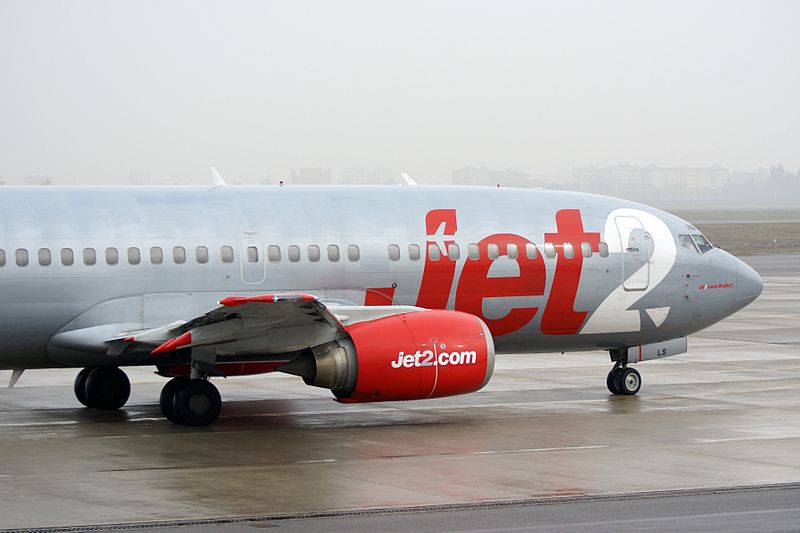 The new airline focused not on the congested South of England but instead Yorkshire, where it saw that Leeds-Bradford was under-utilised. Only British Midland flew from the airport at the time and although easyJet was in Liverpool other low-cost competition was limited.
Services began in February 2003 with a pair of 737-300s and the type would form the backbone of the initial fleet. The 737-300 was available at the right price, as it was transitioning out of the fleets of first line operators, and the majority of the 25 series 300s Jet2 would go on to operate would be either series 330s from Lufthansa or series 377s from Ansett.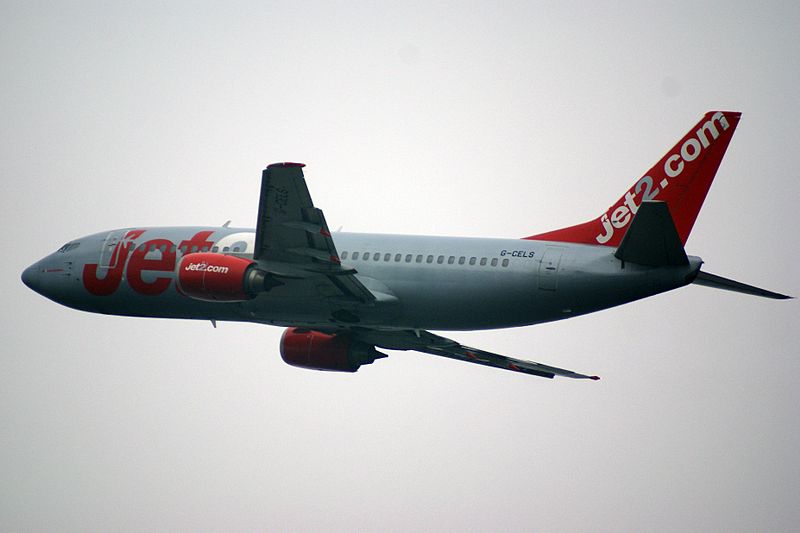 Jet2's success seems to have come from focusing on leisure markets, working with the communities it flies from and taking advantage of niches it has identified as under-served (for example the creation of Jet2 Holidays in 2007, which offered flexible duration holidays rather than the standard 7, 10 or 14 night model).
G-CELS is one of 10 former Ansett 737-300s delivered to Australia in the mid-80s. With Ansett she was VH-CZH. She was transferred to Channel Express' parent company, Dart Group, in May 2002 and served a short lease to Buzz prior to being repainted into Jet2's scheme as their first aircraft. She remained in service with Jet2 until September 2016 when she was withdrawn and turned into an Aviation Academy ground trainer. Jet2 has since transitioned to mainly 737-800s, initially second-hand machines but from 2016 new frames, but still has a place in its fleet of 91 aircraft for 9 737-300s.
THE MODEL
The format for my reviews is to split them into three key areas:
The mould of the aircraft
The paint and livery
Printing and quality control
Each can get a maximum score of 10 for a section giving a maximum combined total score of 30.
THE MOULD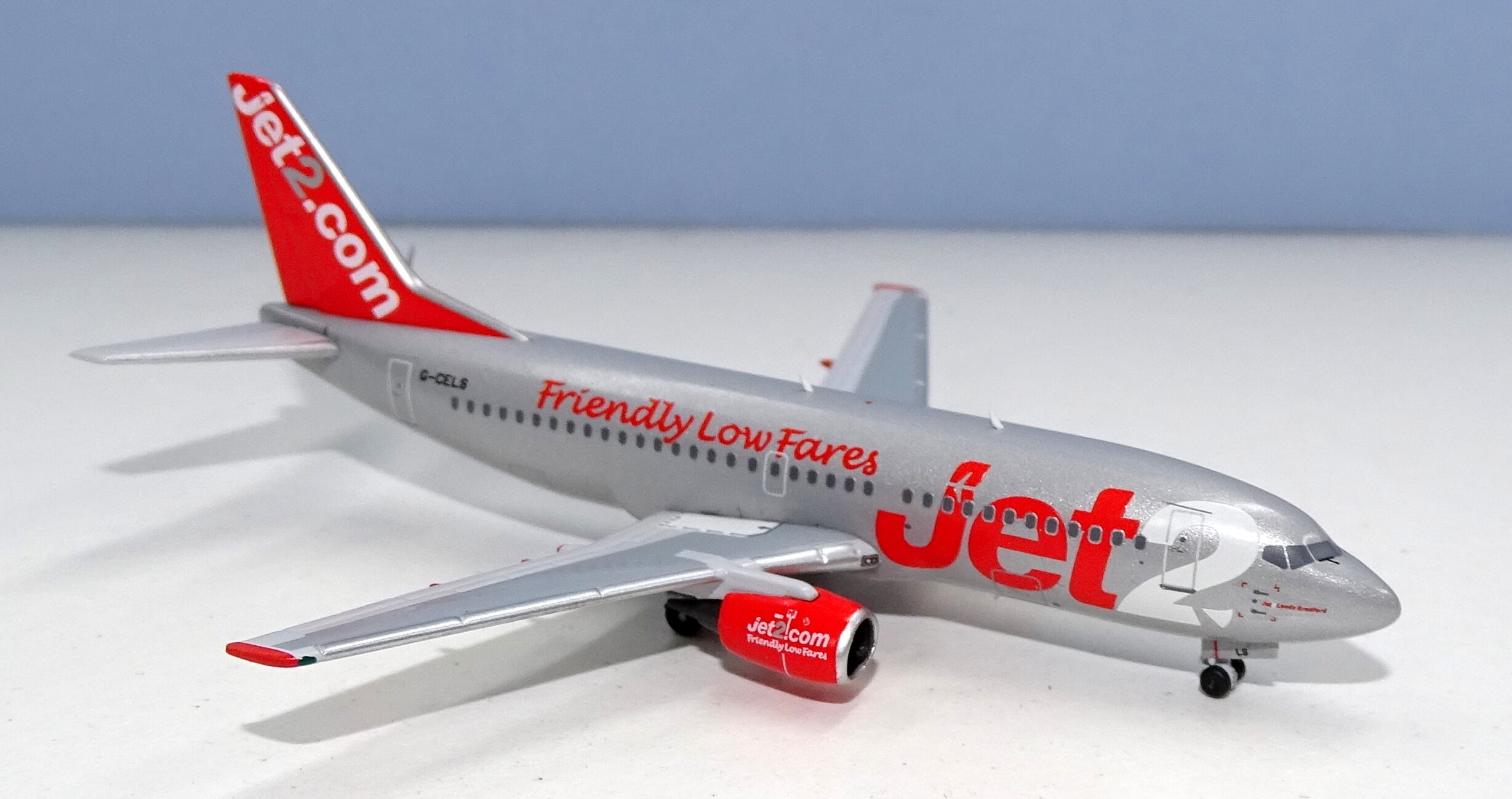 I'm going to avoid discussing the tortuous history of this mould but suffice to say for a time Aeroclassics had access to it but no longer does. All the other 737-300s made are nothing special. The old Dragon Wings mould and newer Phoenix offering are both poor, which leaves the old Gemini mould as the only other competition. Gemini did for a while use the Phoenix casting but has recently, in the past few months, used their old mould twice (for Western Airlines and United Airlines examples). It is ok but rather showing its age and doesn't match up to the Panda mould in any respect.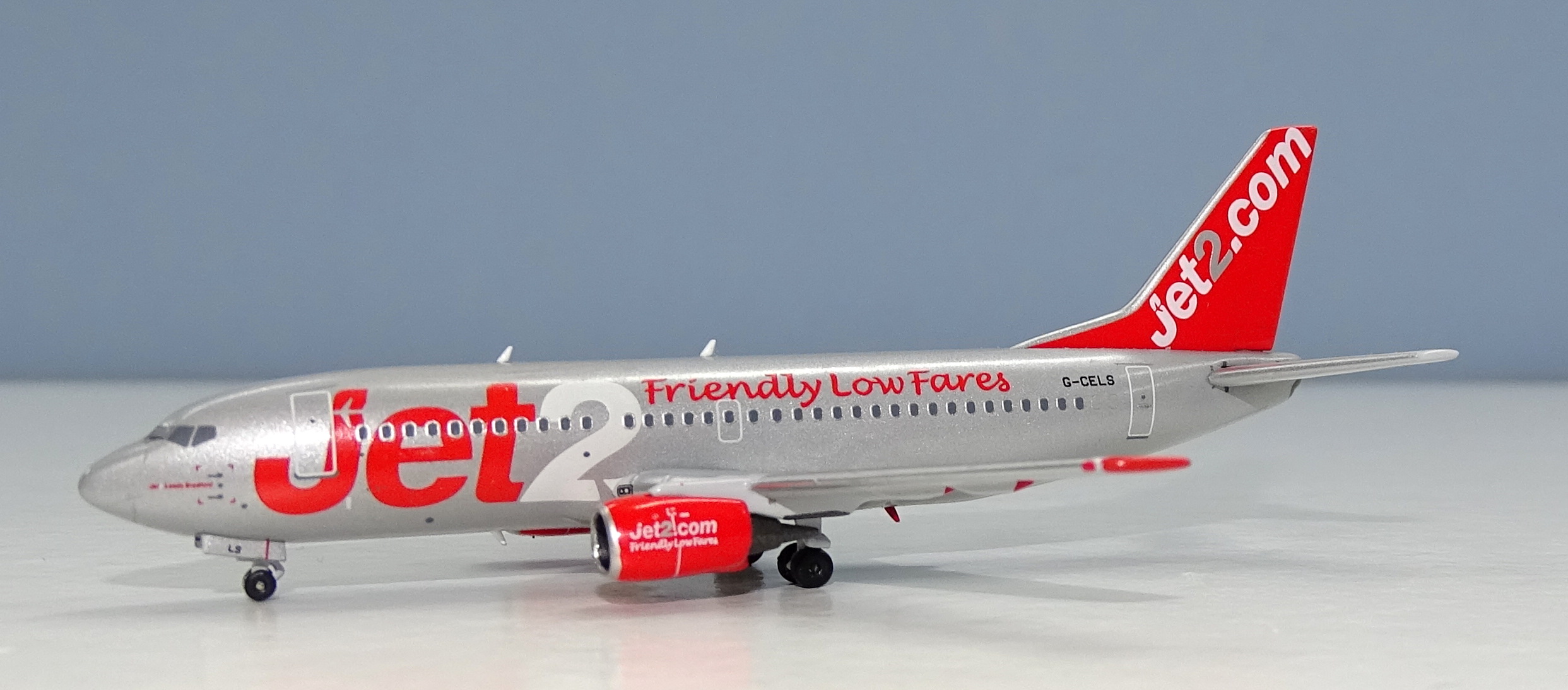 I sometimes hear criticism of this mould but in my opinion it is unsubstantiated and at worst caused by the acrimonious Panda/Aeroclassics history. When I hold this mould up to an image of a 737-300 it lines up almost perfectly with the outline of the real thing. Unlike all the competition it has an accurate nose and nicely curved cockpit line.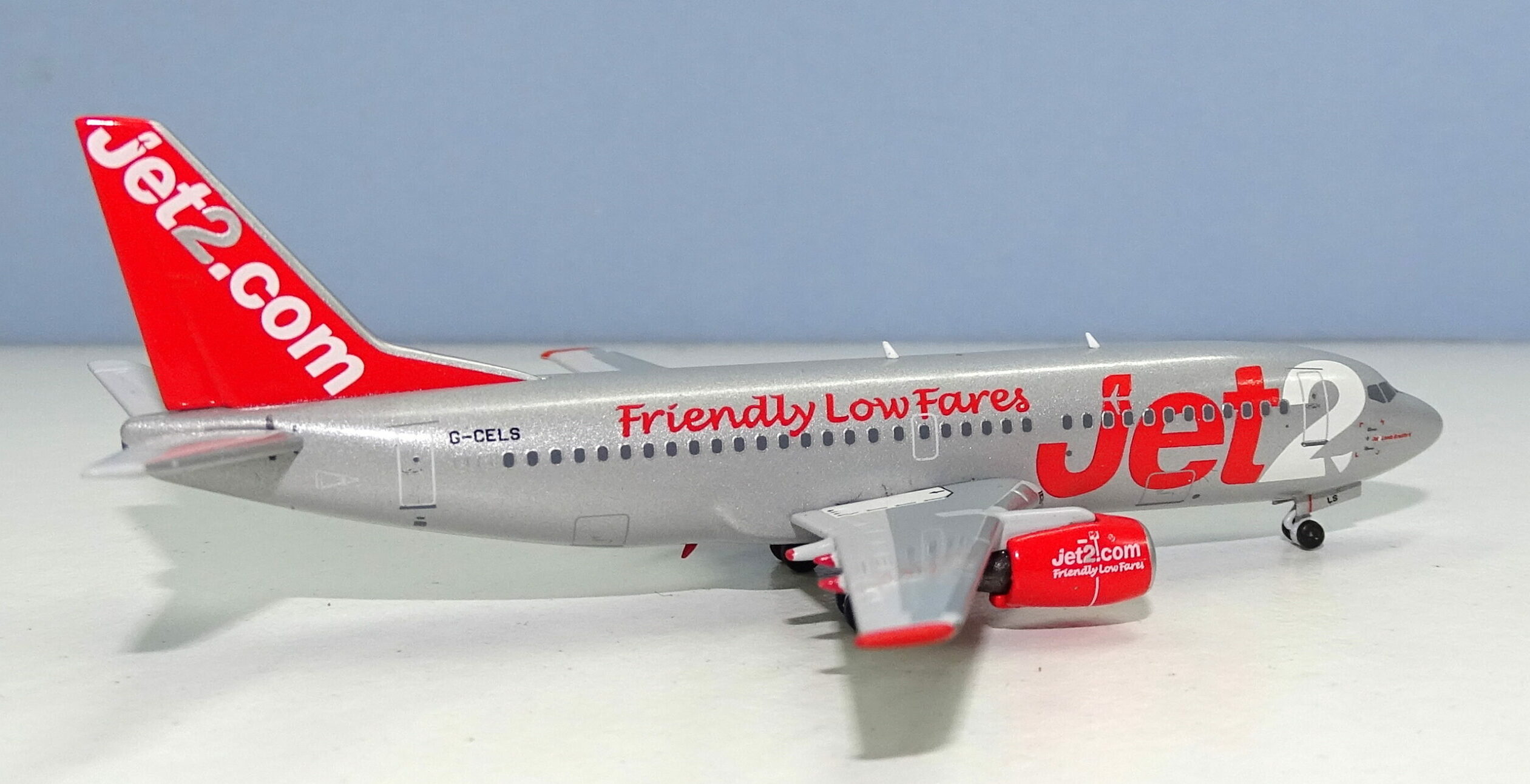 The wings and engines are spot on as is the rear fuselage. Extra credit goes for showing the APU notch at the tailcone.
Panda have added aerials to all their moulds and this 737-300 comes with four (two up and two down). Panda models aerials are always excellent and unlike JC Wings / Gemini aerials perfectly sized. It is pleasing that they have the capability to modify the number of aerials they show on a per model basis.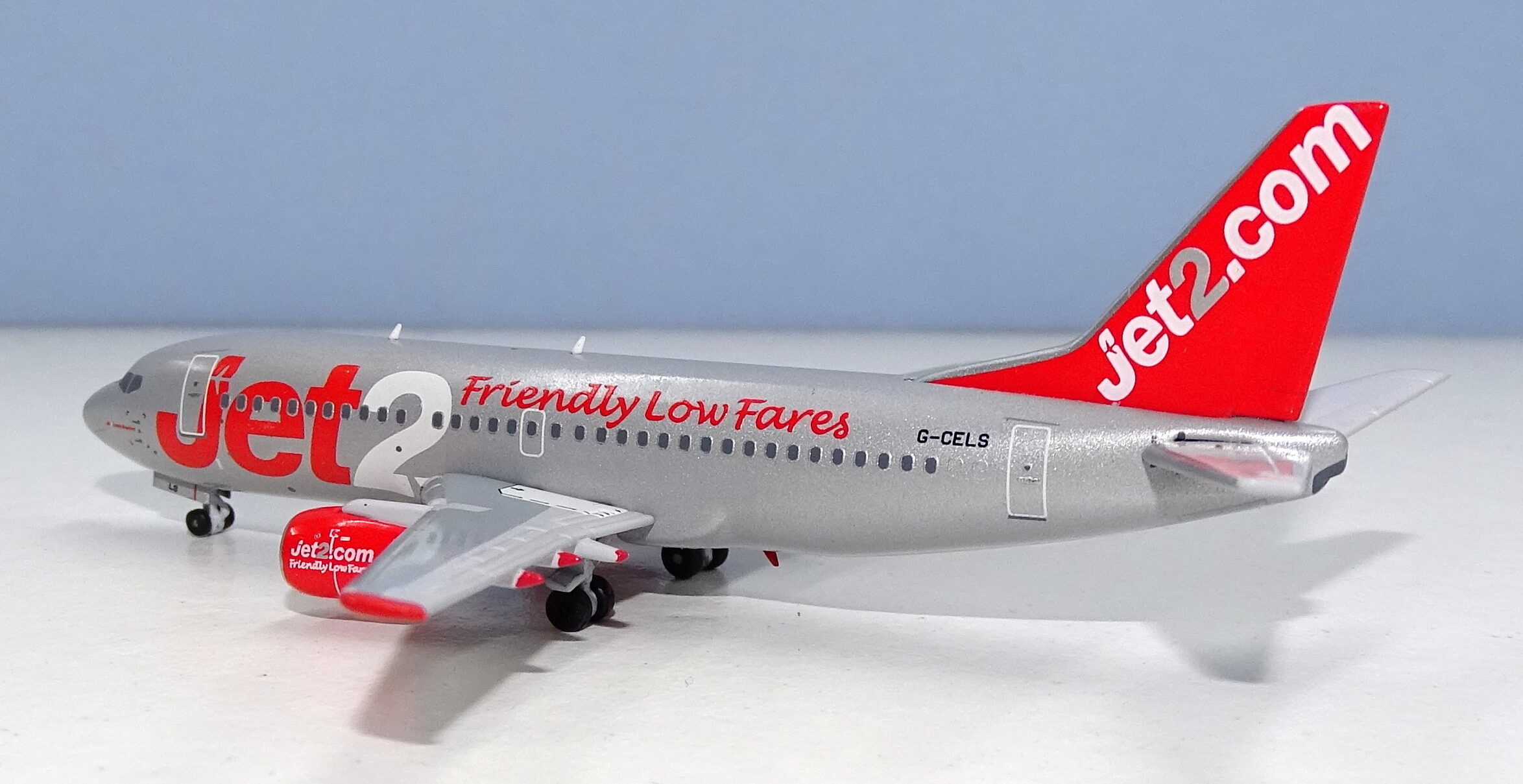 The undercarriage on this mould is the simple tyre on spigot type but this doesn't make a real difference to the attractiveness of the model. I have noticed that sometimes Panda 737-300s have poorly fitted nosegear that can make it too short giving the aircraft a nose down appearance. This model doesn't suffer from this and besides it is not a mould issue anyway.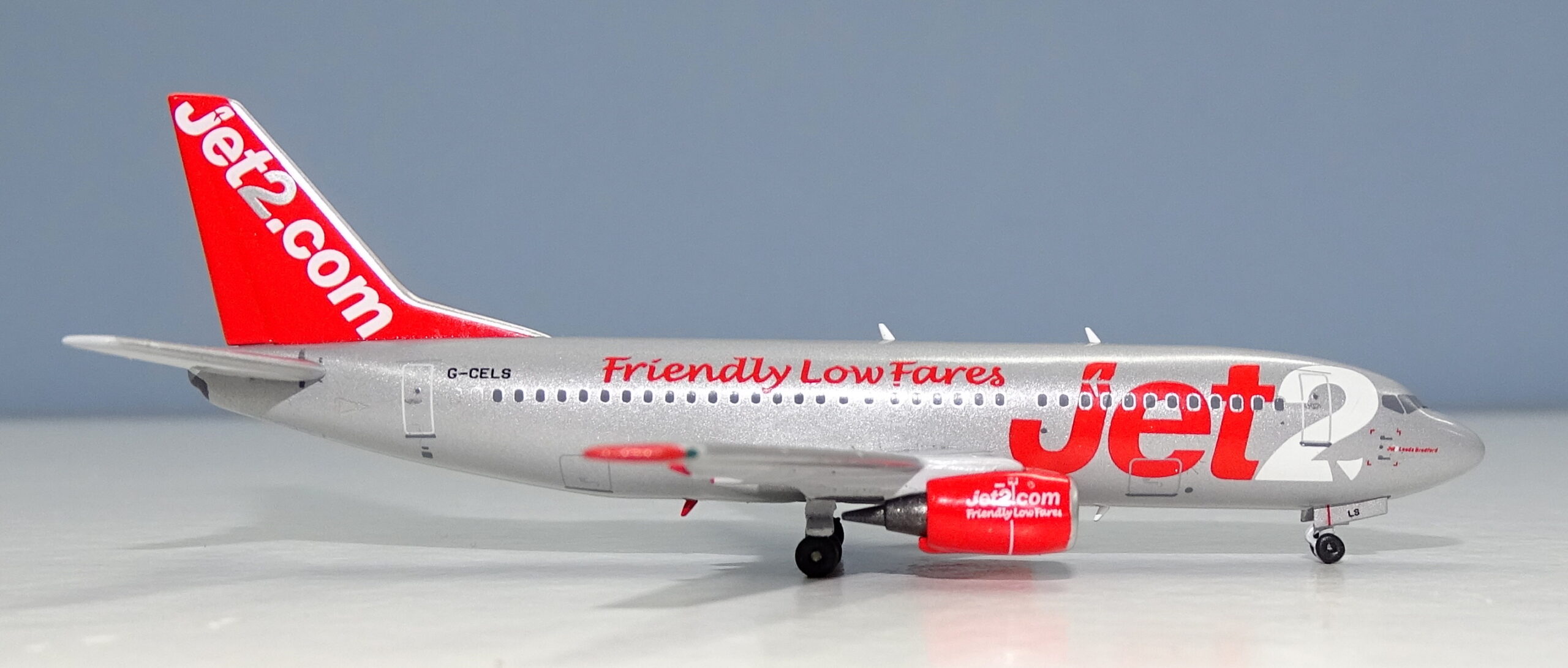 Panda have recently announced they are making a 737-400 and presumably it will be based off of this excellent mould. If it is it will be a winner – I just hope that they use it.
SCORE – 10
PAINT & LIVERY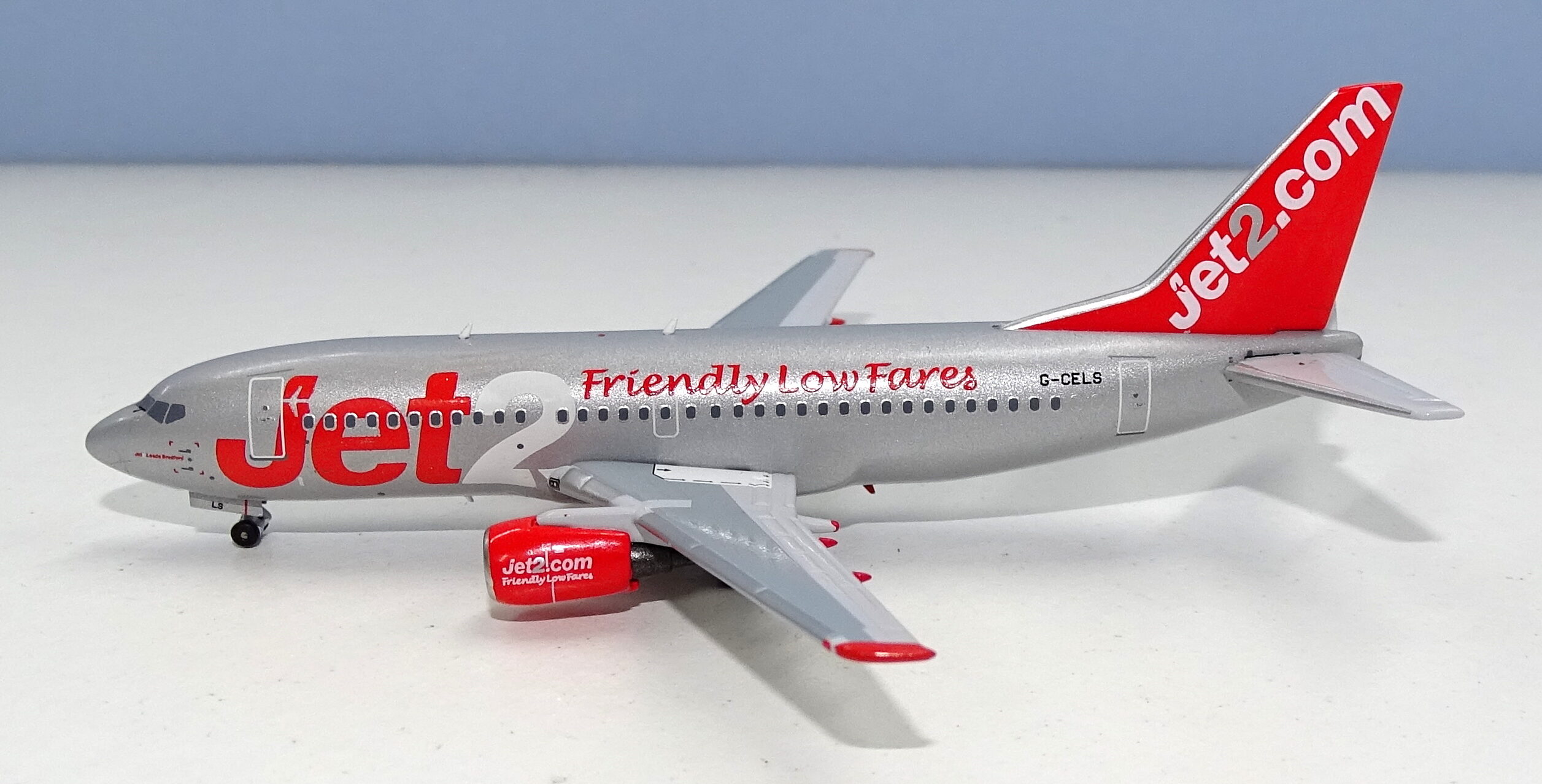 Jet2's livery is a silvery grey and the selection of a non-white base colour nowadays makes it almost unique. It has also made it a challenge for manufacturers – or at least Phoenix anyway. Their 737-800s seemed too dark even before you realised Phoenix don't know where a 737's cockpit windows are supposed to go.  Panda Models have no problem correctly determining the shade of silver required.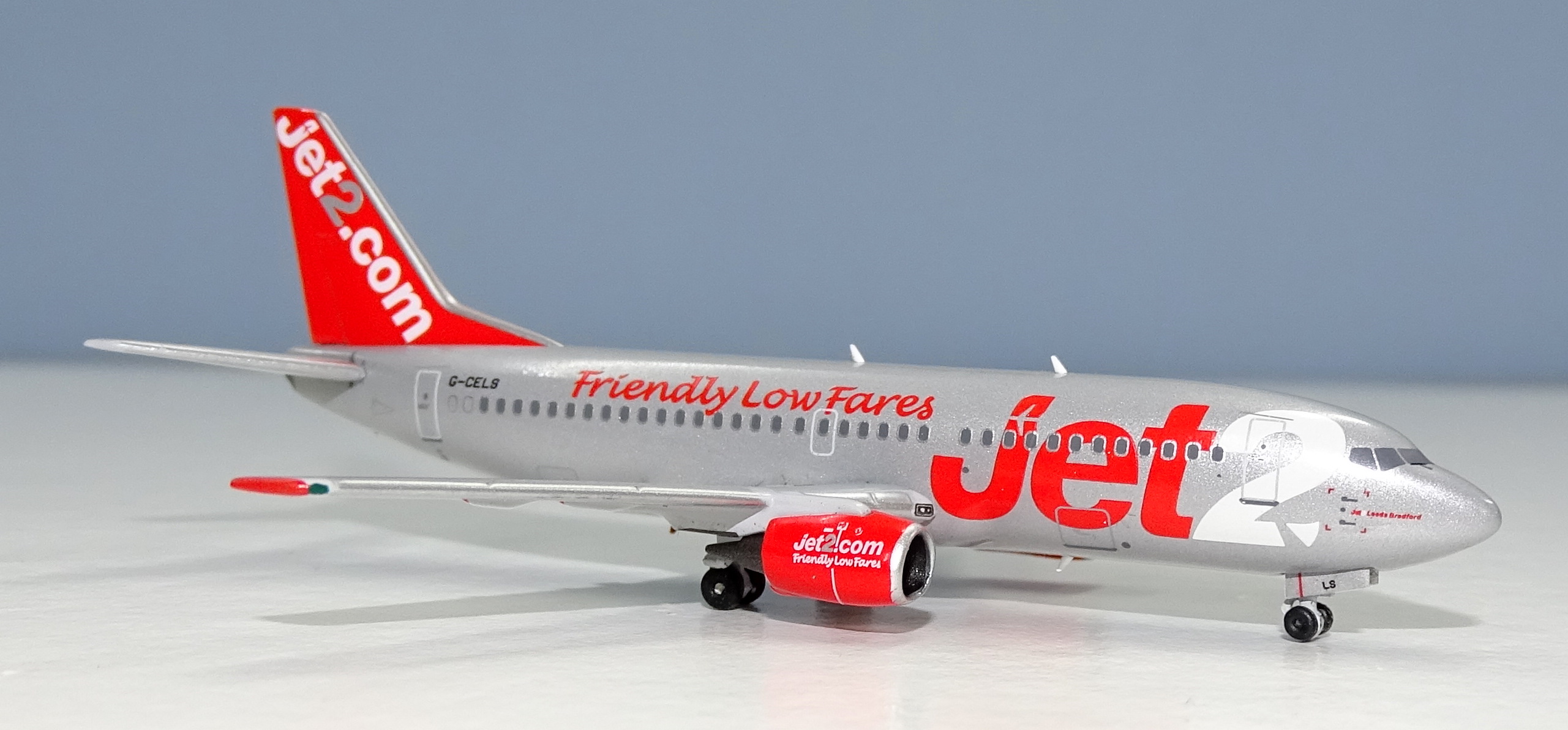 This 737 has actually worn three different sets of colours in Jet2 service. The initial scheme had a big white 2 on a silver tail with small orange Jet titles. This was modified in January 2005 to the existing standard tail with full Jet2.com titles on the orange background. Finally in late 2009 / early 2010 the 'Friendly Low Fares' titles were added. This model therefore represents the final scheme worn by the aircraft.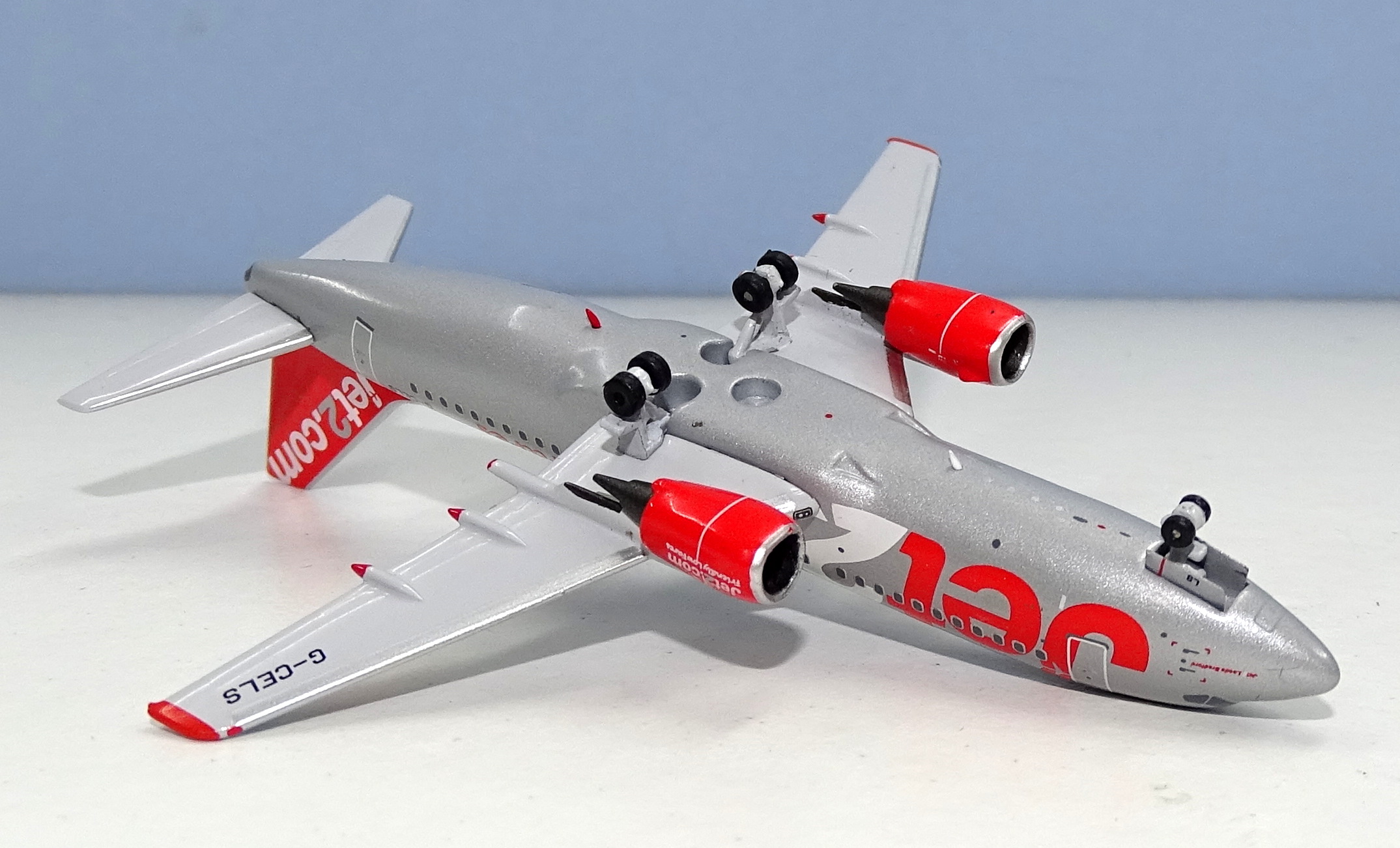 I have no complaints about the fuselage finish. The complex title fonts are accurately portrayed and positioned. Also present but only really visible under a magnifying glass are the small Jet2 Leeds Bradford titles at the nose. Likewise, the engines have the titles and slogan perfectly added. Under the port wing the British registration is correctly positioned.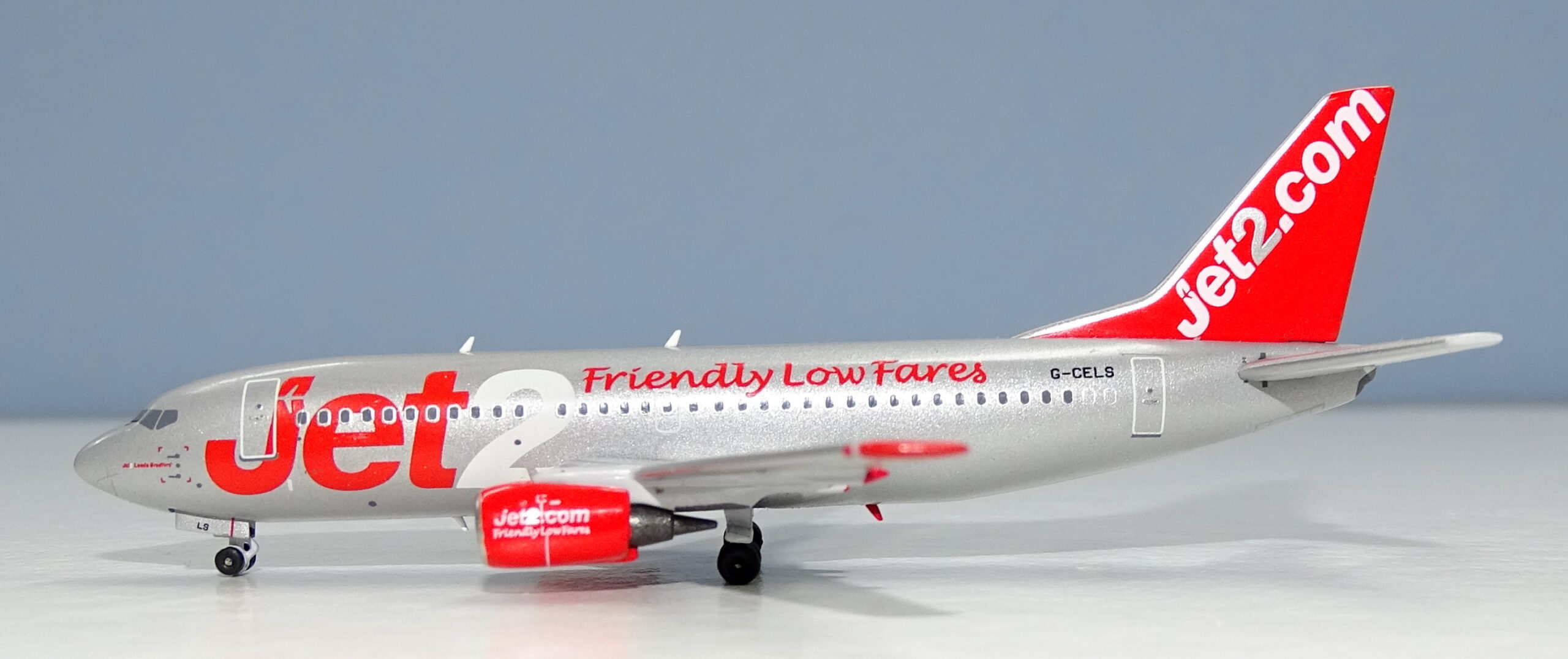 The tail is also very good but being hyper-picky the size and position of the titles here is not 100% accurate. The titles are slightly too tall meaning on the left side the J is not quite low enough and the m of com is too close to the rear margin. This is rivet counter territory and nobody would notice this glancing at the model even if they were familiar with the livery.
SCORE – 9
PRINTING & QUALITY CONTROL
Printing detail and quality on Panda models is almost universally excellent and that is true of this model also. There are no issues with details like pitot tubes, blocked out windows, overwing exit markings and landing lights nicely printed on. Also unlike the recent Gemini Jets United Airlines 737-300 Panda have printed the cockpit windows in the correct position and the livery is straight and true. Gemini are certainly not alone in having issues printing elements on straight at the moment, it has been afflicting quite a few Aeroclassics releases also. It really ought not to be.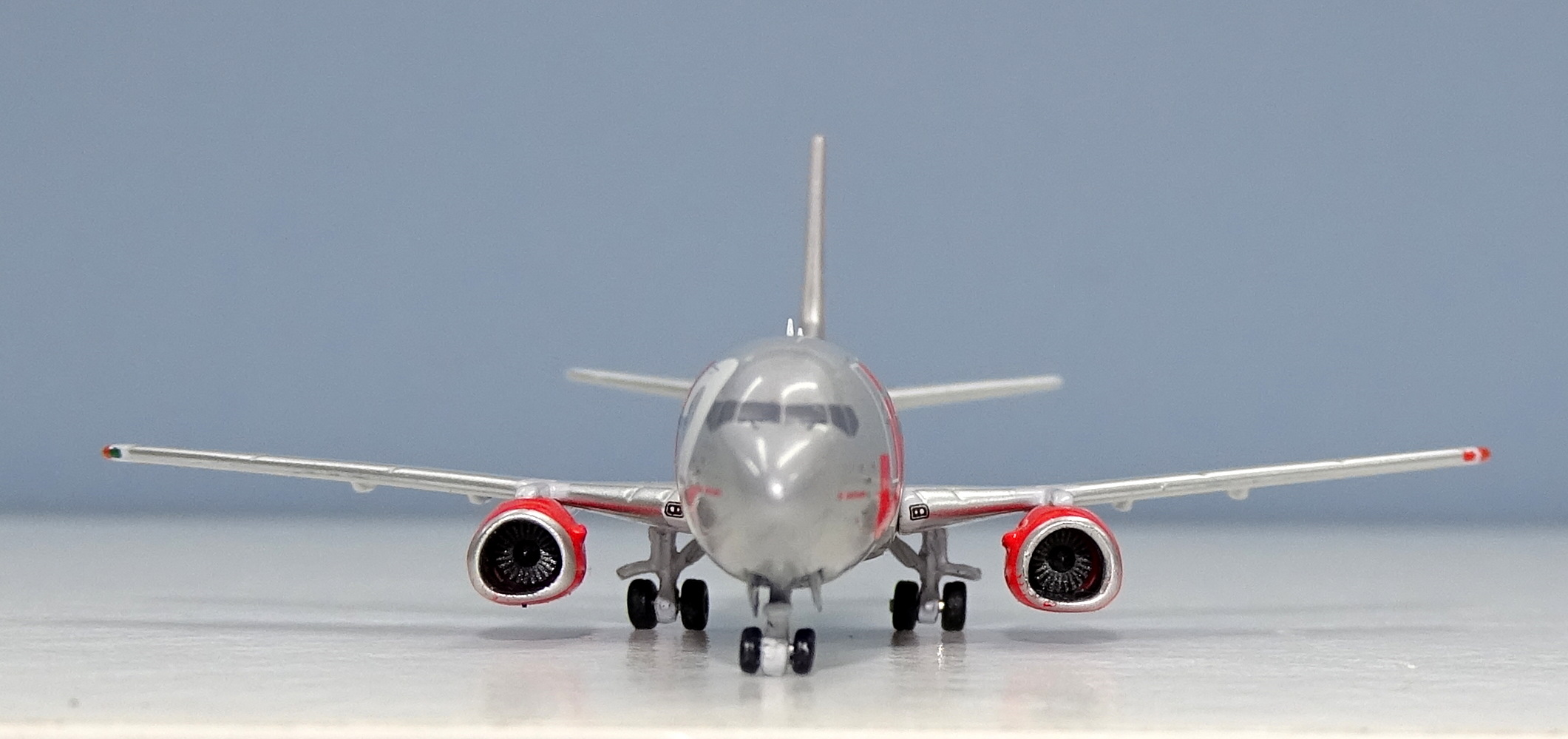 Build quality is superb. As I said there are no signs of the landing gear issues that sometimes are present on this mould and all the other parts are properly fitted and well attached.
SCORE – 10
CONCLUSION
This mould has the potential to get similar usage to that of the NG Models 757 and clean up for the 737-300, which is massively under-represented, in 1:400 scale. I really hope Panda wake up and realise this and start using the mould. Just in the UK alone there are more than ten schemes that are screaming out for a 737-300 and then the rest of the world has loads more. This model is close to perfection and I am being Scrooge-like in detracting a point from it.  C'mon Panda keep the 737-300s coming. A series of Go examples should surely be just around the corner after the recent easyJets.
FINAL SCORE – 29