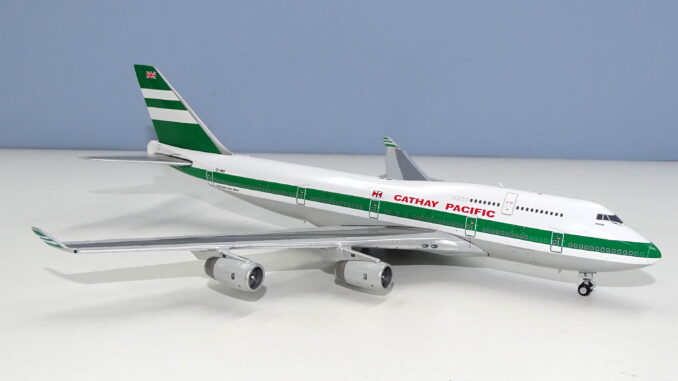 In recent years there has been a proliferation of small, mainly Asian, brands appearing that use existing manufacturers to make models for them. DreamAir of Taiwan, HYJLwings of China and Skywings of China have been the most prolific. They have variously used Panda Models, NG Models and JC Wings moulds for a range of mainly narrowbodies. The latest addition in this space is KaiTak Wings, an offshoot of Fantasy Wings who have recently used the JC Wings 747-400 to produce this 280-piece limited edition 747-400.
THE REAL THING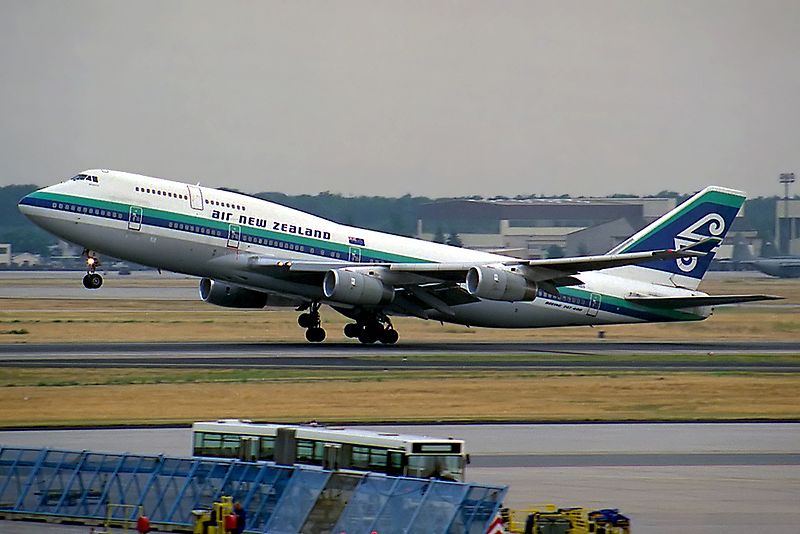 The most obvious thing about this Cathay 747-400 is that it is not really a Cathay machine at all as the New Zealand registration and modified cheatline demonstrate. Air New Zealand was an early customer for the 747-400 having converted options for series 200s into its first 400 order
ZK-NBS was delivered new to Air New Zealand on December 16, 1989, however she did not immediately enter service with the kiwi flag carrier. Instead she flew from Christchurch to Hong Kong on December 17 and was leased out to Cathay Pacific for a year. This was due to an industrial dispute between Air New Zealand management and their pilots and cabin crew. Pay and working conditions needed to be re-negotiated to cope with the series 400s then exceptional range.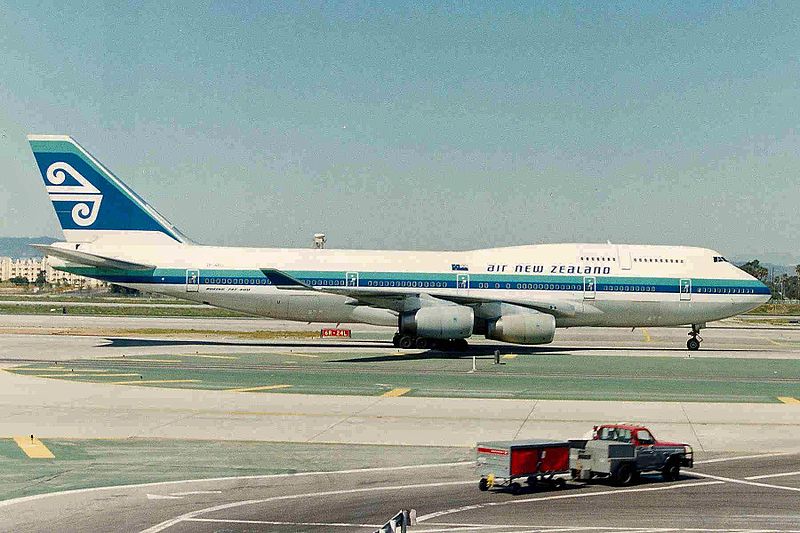 Air New Zealand's second 747-400, ZK-NBT, was not delivered until November 2, 1990 and entered service four days later. It wasn't until February 11, 1991 that ZK-NBS, rechristened 'Bay of Islands', actually operated her first revenue service with Air New Zealand.
In the meantime, she had been assisting Cathay Pacific in a phase of impressive growth. The airline made $241 million during 1987 (a 71.4% increase on the previous year) and was growing at a double-digit rate annually thanks to impressive economic growth and booming demand for seats. It still only had a fleet of 25 aircraft but added 4 747-367s in 1988 and had six of its own 747-467s on order with many more optioned.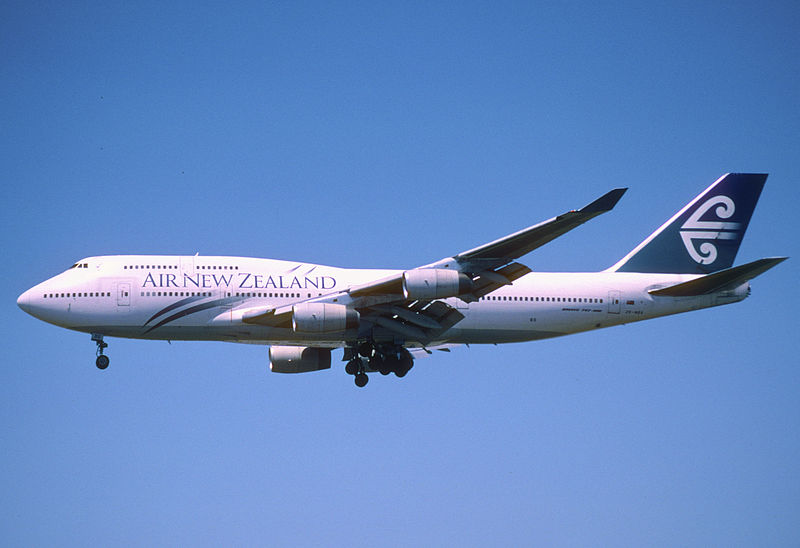 Cathay's first 747-467, VR-HOP, joined in June 1989 and was accompanied by her earlier sibling VR-HOO in September (the latter had been held back as part of the test programme). Since Air New Zealand's first 747-419s were also Rolls-Royce powered NBS no doubt fitted into the CX fleet well and enabled Cathay to grow until more of their own 747-467s arrived. By the end of 1990 Cathay had five of its own aircraft in service and so NBS could be returned in the new year. Apparently Air New Zealand weren't thrilled with Cathay's usage of the aircraft since they used it a lot for the short Hong Kong – Bangkok – Singapore services and base training, which meant it gained rather a lot of cycles.
ZK-NBS would have a long career with Air New Zealand but would become the first of its 8 series 400s to be retired, at the end of December 2008 after operating a biofuel test flight. At the time the global financial crisis was hitting Air New Zealand hard and it made sense to reduce capacity. As a 19-year-old 747 her value was limited and she was parted out after operating 86,330 hours of flights and 11,276 cycles.
THE MODEL
The format for my reviews is to split them into three key areas:
The mould of the aircraft
The paint and livery
Printing and quality control
Each can get a maximum score of 10 for a section giving a maximum score of 30.
THE MOULD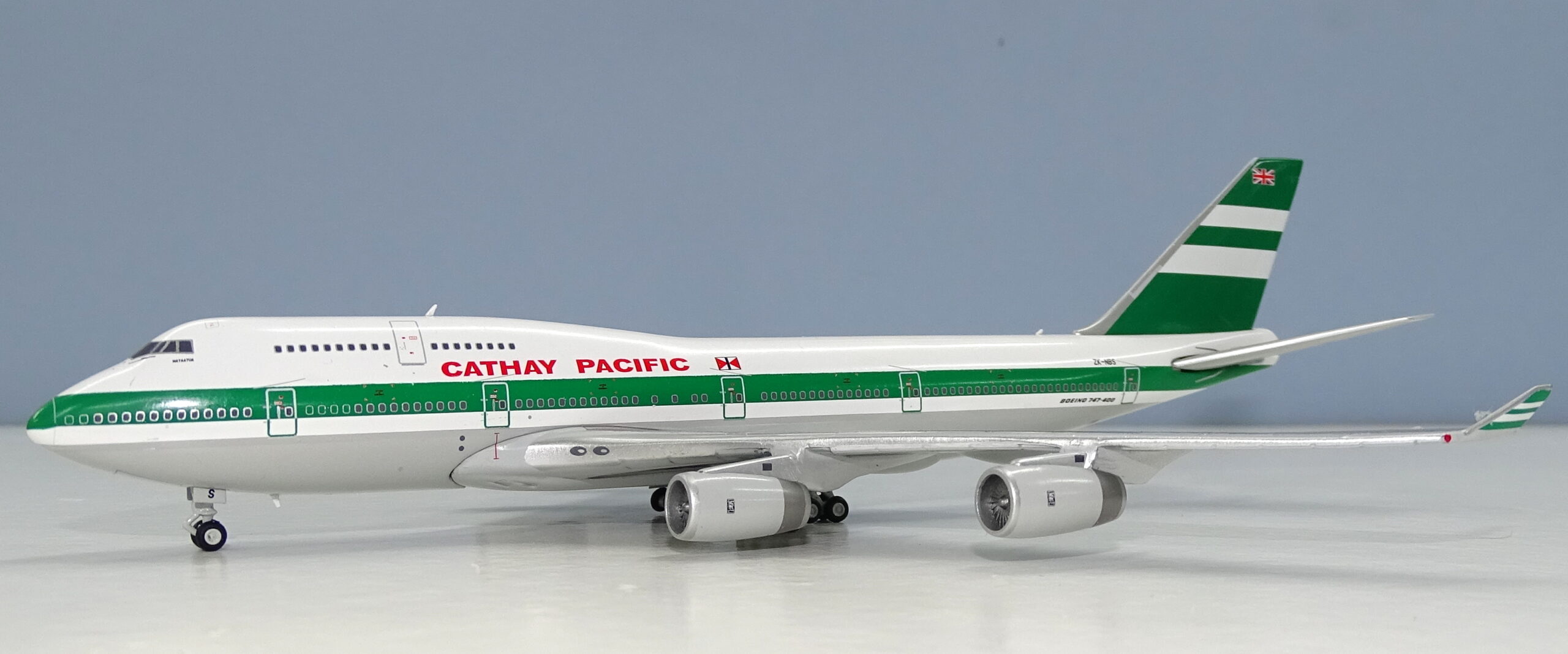 I have increasingly been keen to add 747 'classics' to my fleet and the type is nowadays the 5th most common major aircraft type in the hangar. That is despite there not being many new releases, and most of the new models made being produced on the appalling Phoenix mould. JC Wings have been taking a long time to get their new 747-400 into circulation and there is no sign of it yet. NG Models have also started making new 747 moulds but as of yet it seems the 400 will be after the older variants.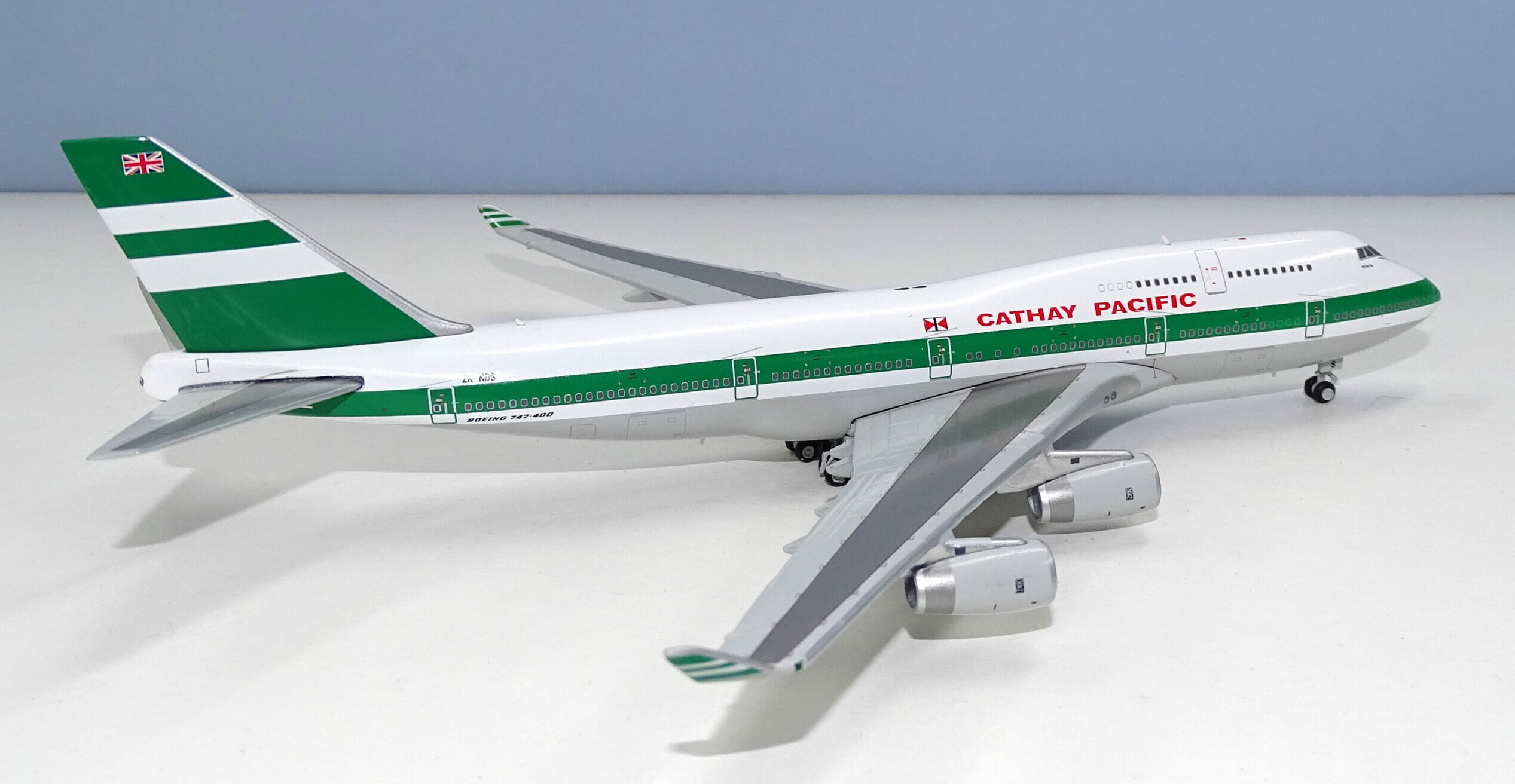 So that leaves either the excellent, but staggeringly under-used, BigBird Mk 3 mould or the old Gemini mould as the only worthwhile active choices. In that circumstance I welcome the old Gemini mould into my collection still, seeing as at least it gets some usage and looks like a 747!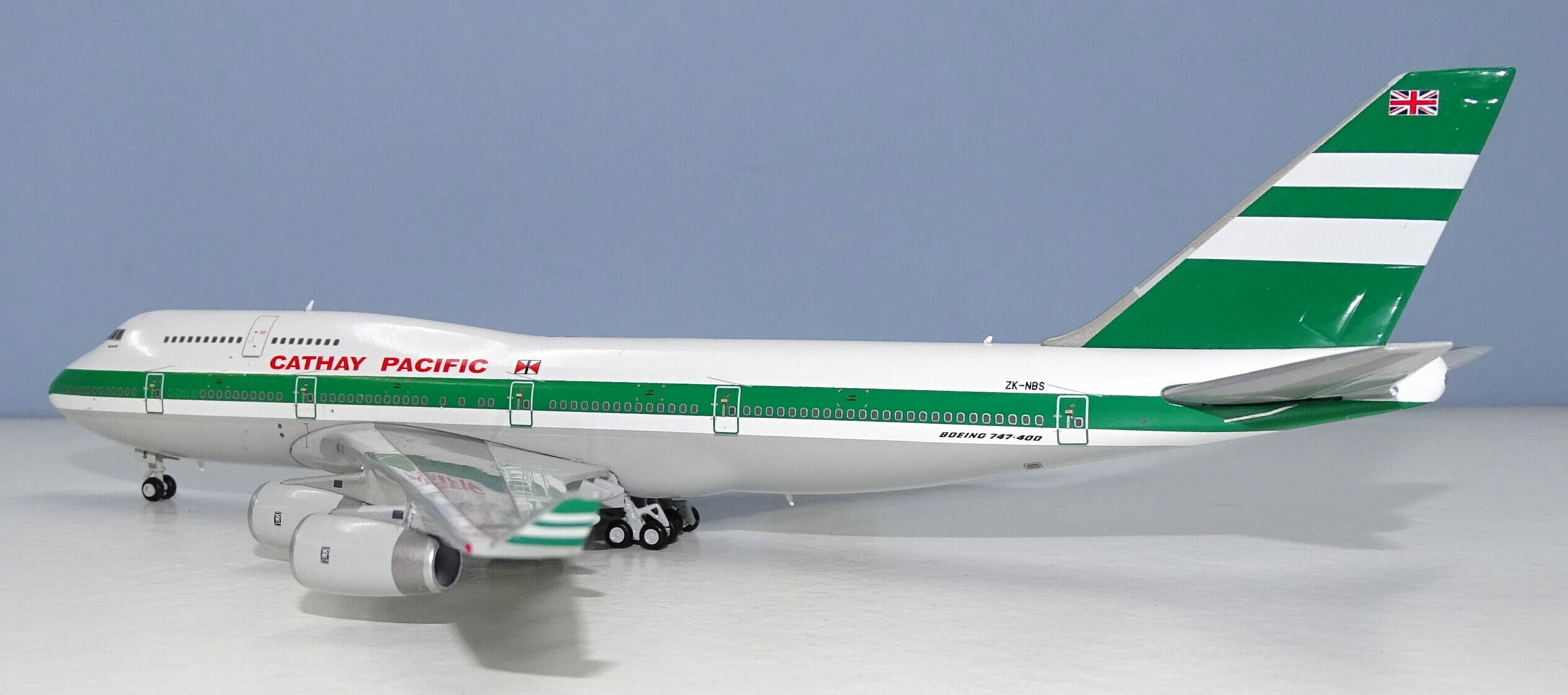 Gemini's old 747 moulds have been around since nearly the start of 1/400 production, but they are solid and reliable. In recent years they have been upgraded with new undercarriage and now antenna too, both of which are marked improvements for the original casting. The aerials (two above and two below in this case) are all excellent. JC Wings do usually try and put on more aerials than Gemini do, even when using the same casting, and this model has more than the recently reviewed British Airways example.

The tail, rear fuselage and wings are very nice, however the age of the mould shows in a couple of places. The rather cumbersome wing pylon/wing join isn't great and this is a well known 'feature' of these Gemini 747s.  I can live with it, as I can the cradle wing/fuselage join because it is tastefully done. The mould would be improved if it were seamless and had better pylons, but given its age it seems silly to have these expectations.
The nose of the mould is a bit too pointy but it still looks like a 747. Ignoring the pylons this really is a very nice mould. It's not as good as the BigBird and Witty 747s, but little is. I still wait in anticipation for the new JC Wings 747-400, which looked excellent in the photos from last year, but as a stopgap this mould is good enough.
SCORE – 7
PAINT & LIVERY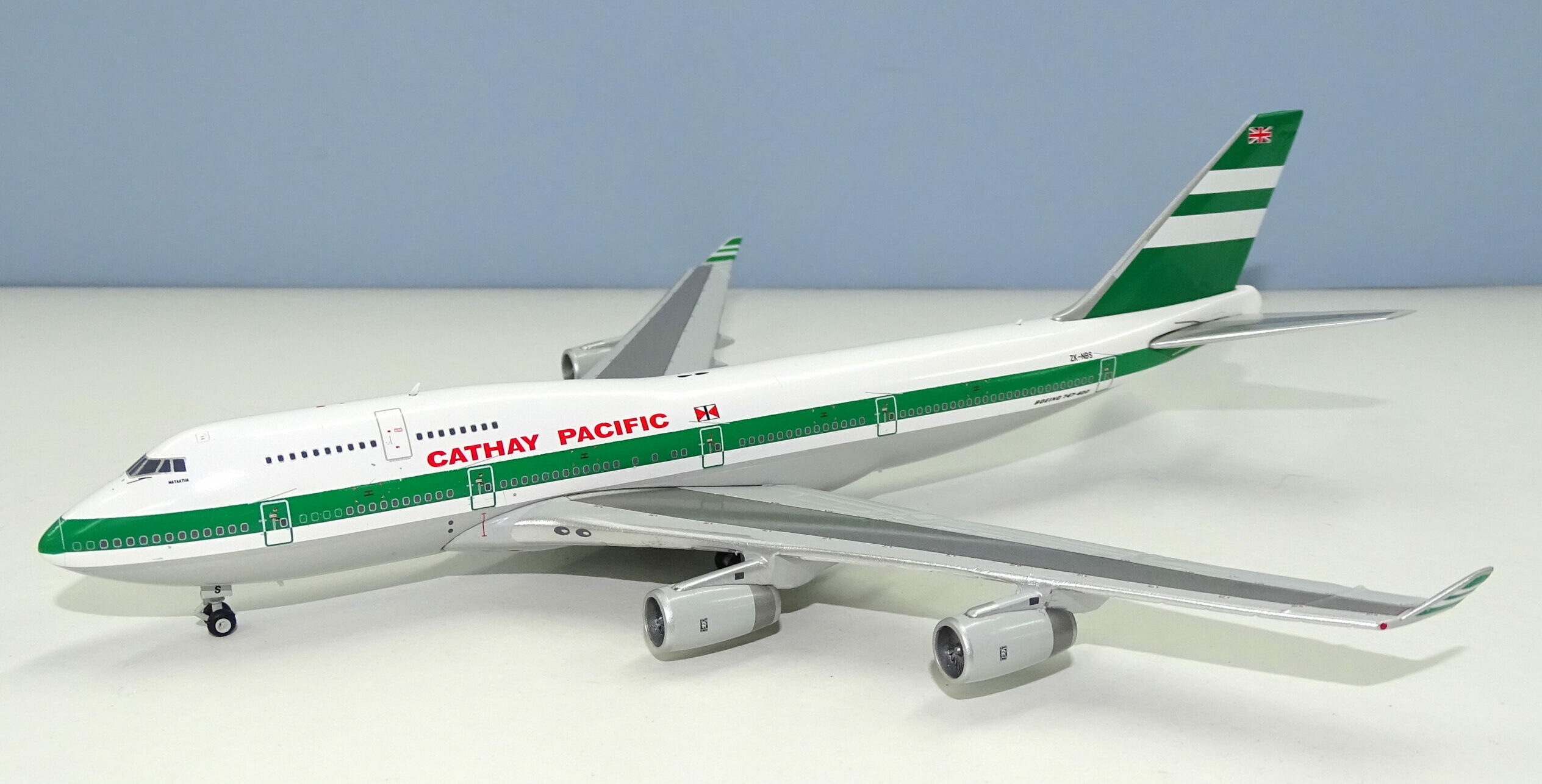 Cathay took an interesting path with the repaint of NBS into their colours and opted for a hybrid scheme that actually looked quite smart and complete. This was done by leaving the Air New Zealand cheatline and light grey belly in place rather than creating the full curving green cheatline and silver belly of the lettuce sandwich scheme. There aren't a lot of photos of the aircraft in CX colours, certainly not without copyright anyway, but there are some here, here and here that show the scheme well.

By not removing the original cheatline and instead painting over it photos show that you could still see the two tone cheatline of the original Air New Zealand scheme, with the lower half of the repainted cheatline noticeably darker. This was likely not the intention of Cathay but was the outcome of painting over the original cheatline colours. The model version does not show this detail, which is admittedly quite subtle in photos.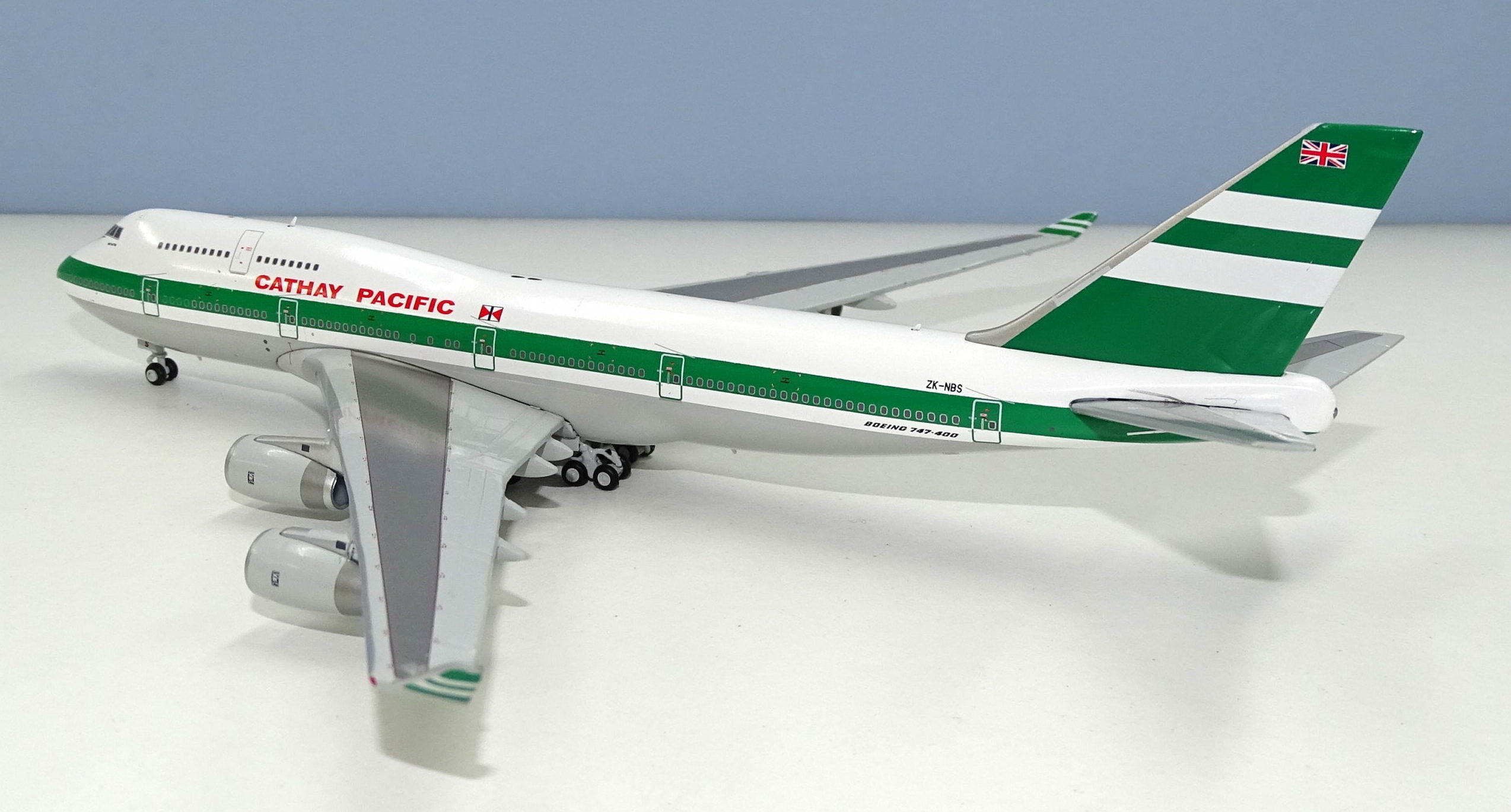 The main green colours and red titles being used are otherwise accurate as are the schemes other details. The livery is beautifully recreated with an excellent Swire flag next to the titles and a highly detailed Union Jack on the tail top.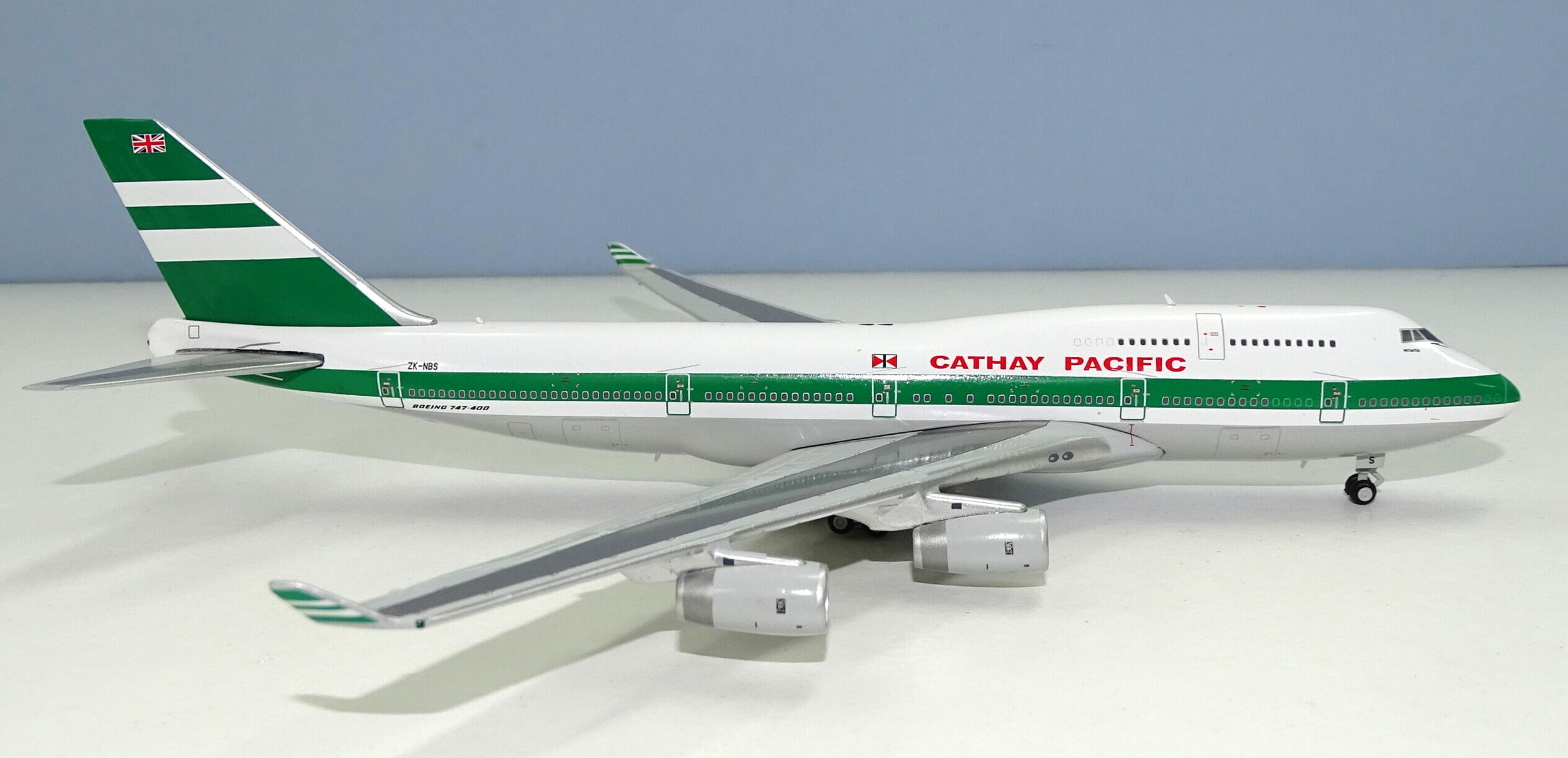 Aircraft type titles, winglets and the tiny aircraft name under the cockpit 'Mataatua' – the aircraft's original moniker are accurate and impressive.
SCORE – 9
PRINTING & QUALITY CONTROL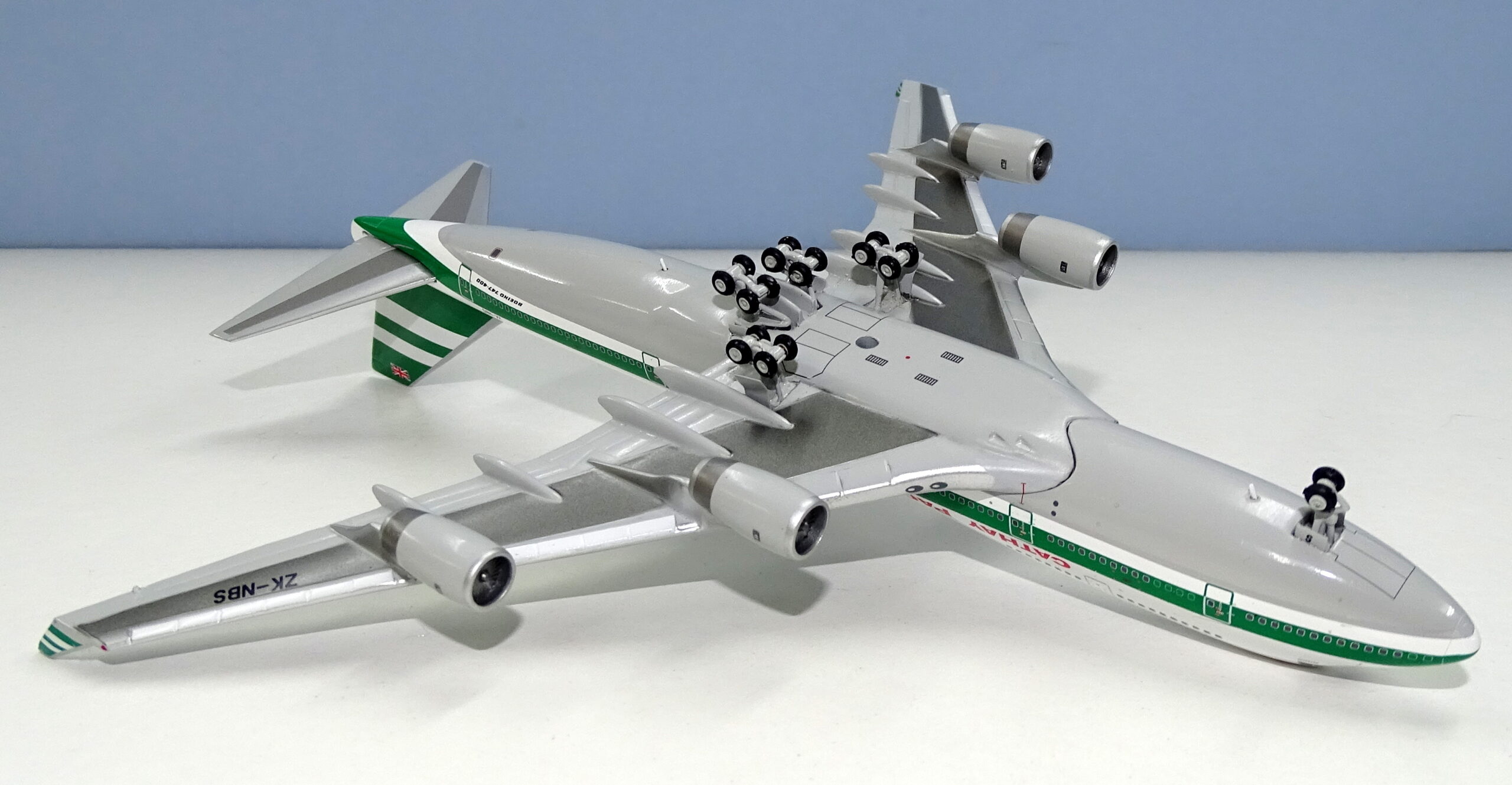 Print quality on the model is exemplary. Cargo doors, the nosecone ring, landing lights, the Rolls-Royce logo on the engines and other small details are very fine. The engine interiors have a nice dark titanium grey colour and add to an overall high-definition reproduction.

Build quality of the model is spot-on. Parts fit tightly and firmly and there is no glue residue or tyre tabbing. My British Airways 747 from Gemini came with some poorly fitted engines but this model has all four turbofans attached well to the pylons at the correct angle.
SCORE – 10
CONCLUSION
This aircraft is a really nicely put together model showing how even older moulds can be elevated with modern printing, addition of aerials and attractive rolling gear. Also, in comparison to the Gemini 747 using the same mould it highlights what appears to be a higher level of finish and quality control from models made by JC Wings. This model has the extra aerial and better quality. I admit the sample size here is hardly representative from which to draw too many conclusions, but this isn't the first time that I have felt JC Wings is offering a better product than Gemini. As far as I am aware there are still models for sale of this 747 so contact FantasyWings to secure your copy. I would be super happy to acquire an Air New Zealand 747-400 in the original cheatline scheme too.
FINAL SCORE – 26/30
P.S: I paid my own money to acquire this model, it was not a freebie.