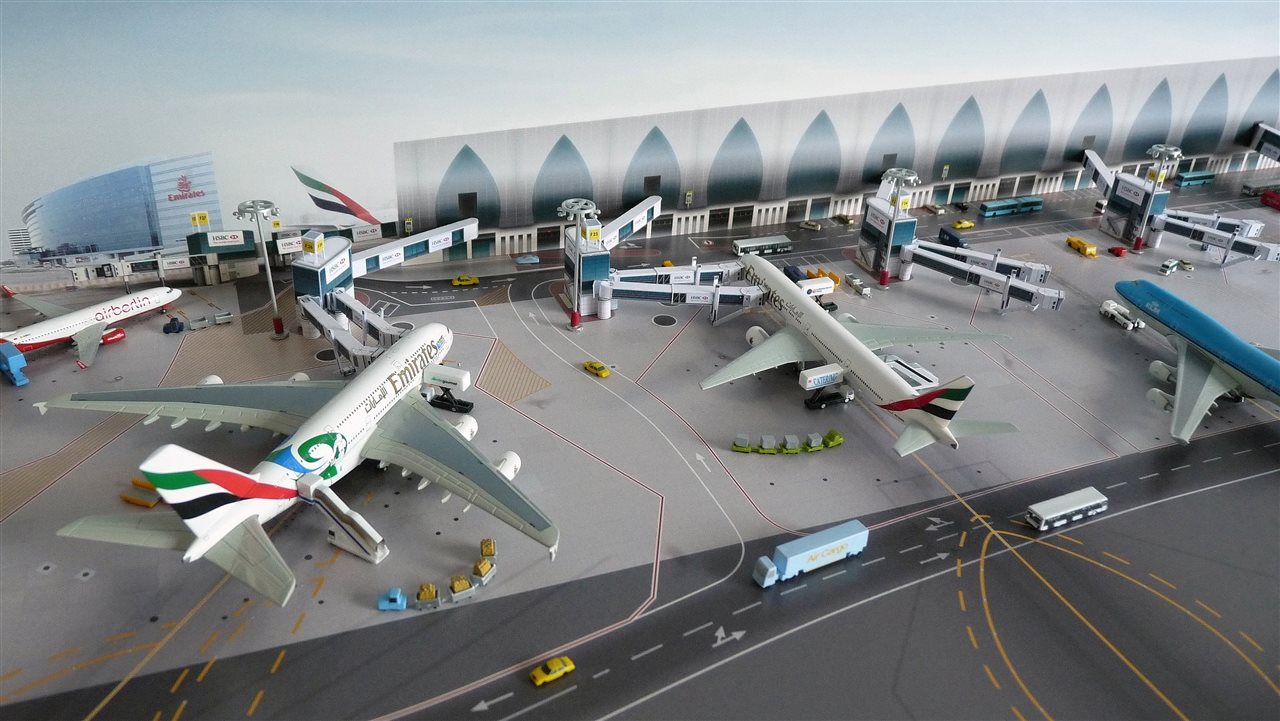 His son's toy collection and an X-Plane flight simulator game helped spark Percy Spee's passion for aviation. Little did he know, this passion would lead him to another endeavor in 2011-the creation of airport diorama products. His experience in graphic design, expertise with Adobe software and creative mind helped him with the development of some of the most stunning airport diorama available to model collectors who aspire to take the hobby to the next level. Today, Spee heads No Point Airport, which offers scale size airport diorama layouts. Recently, I had the opportunity to chat with Percy about his product line.
DF=The Diecast Flier
PS=Percy Spee
DF: When did you first become interested in diecast model aircraft?
PS: In 2011, my son was six-years old and crazy about airplanes. We flew the X-Plane flight simulator together and I ended up building a cardboard cockpit for him. He also had a huge Playmobil Airport, but it was a bit lacking in terms of detail. I started to browse the internet and found some lifelike Herpa, Gemini Jets, and Inflight models. I decided to order two 1:200 scale models for him, a China Airlines Boeing 747 and an Air Asia Airbus A340 featuring the Oakland Raiders livery. He really loved them!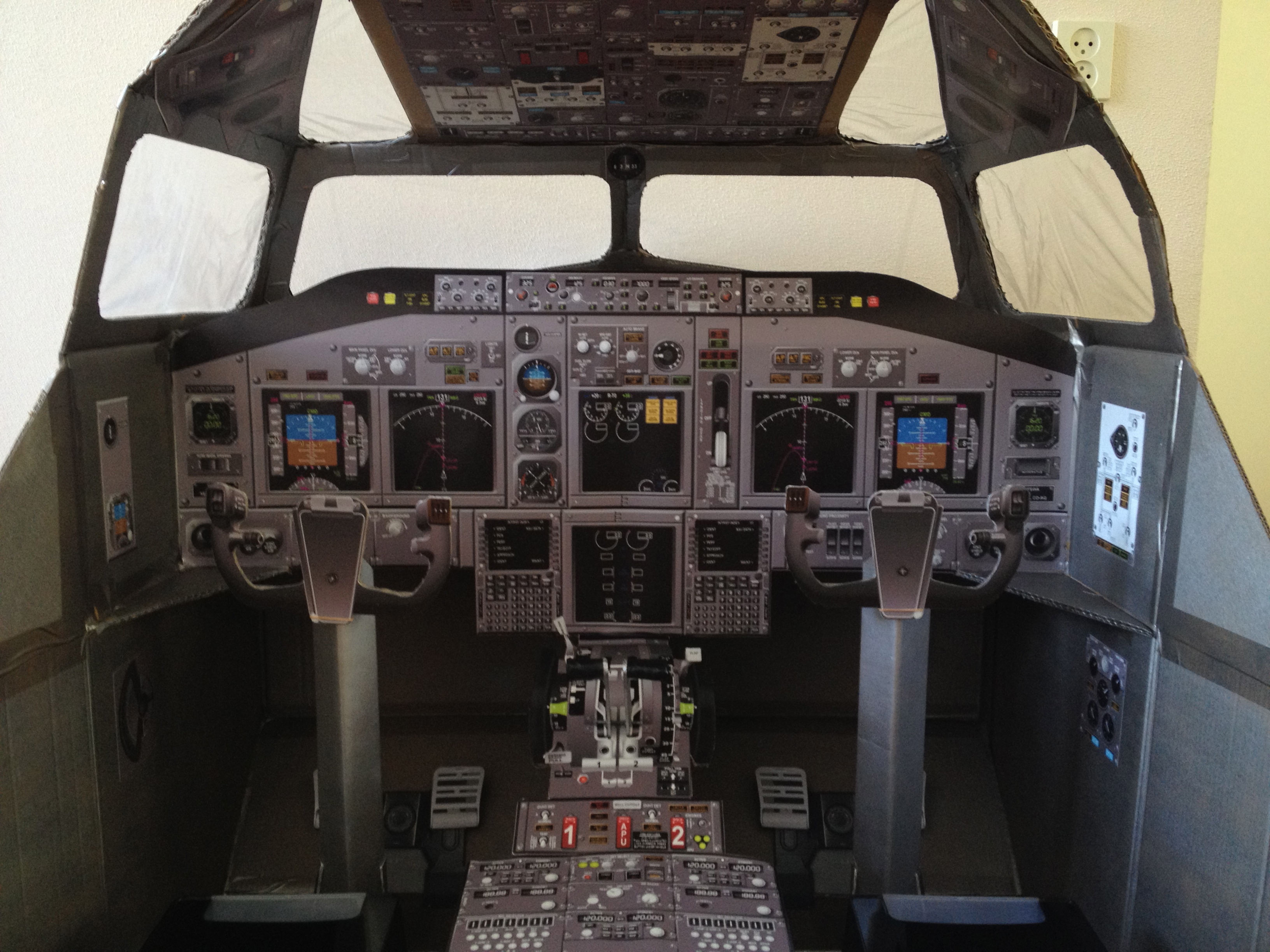 The cardboard 737 flight deck Percy Spee constructed for his son
DF: What was the first model aircraft you owned?
PS: A set of 1:400 scale Thai Airways aircraft which included a 747 and DC-10.
DF: Do you have an aircraft model collection? How large is your collection?
PS: At the moment I have around 35 models, which I showcase in my studio. Twice a year I use them to photograph No Point Airport foils. During these moments the aircraft models come to life.
DF: What is your favorite airport?
PS: My favorite airport is EHAM (Amsterdam). When I was a child, my grandfather and I would visit the aircraft spotting area at Amsterdam Airport often. We parked as close as we could to the runway. My grandfather even had a special light in his car which would blink when an aircraft was on approach for landing. When I became older, I found out it was the direction indicator of his car. 🙂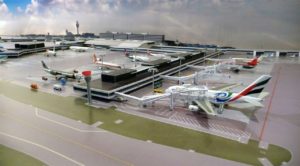 A view of the tarmac and terminal at No Point Airport's Amsterdam look-a-like
DF: What inspired you to create No Point Airport products?
PS: In 2011, my son asked me for an airport mat, but I couldn't locate one for 1:200 scale model aircraft. I decided to draw a 2 X 4 meter mat for him and had it printed on soft vinyl.
DF: What was your vision when you created No Point Airport products?
PS: When I began to search for airport mats online, I found average products that were not very lifelike. I didn't like the shiny plastic buildings either. I felt I could create a better product with look-a-like parts of existing airports. So I came up with an idea to draw a lifelike and highly detailed airport foil in a 1:500 scale size. This compact size allowed me to showcase the maximum diorama on a small surface with lifelike colors, and shadows. When possible, I try to use the International Civil Aviation Organization dimensions for runways, taxiways, stopways and blast pads. I also use them for runway markings, lighting, gate designs and parking stands.
With twenty-years of Mac computer and Adobe software experience, I started to draw foils at the end of 2011. My first creation was a 1:500 scale airport foil. I developed matching cardboard buildings and adjustable jet bridges. What a time consuming job, but it was a great learning experience and I loved building it!
Later, I developed a 1:400 scale foil and decided to sell it on the Dutch Marktplaats.nl site. In one week, I sold 3 complete airport sets. This was a very good indication that I was heading in the right direction by helping to fulfill the needs of aircraft collectors. The first sellable No Point Diorama Airport was born. It was named 'Design-serie'.
In May 2012, I visited Wings-Borse-Dus at the Düsseldorf Airport. There I showcased a No Point Airport stand and it received a lot of interest. After my visit, I designed the No Point Airport website with a built-in webshop and began to work closely with my printer partner to fulfill airport foil orders.
DF: What products do you currently offer?
PS: No Point Airport offers lifelike, detailed airport diorama products that will bring your airport models to real life. We offer airport foils, cards, show cards, building kits, action kits, background and building equipment.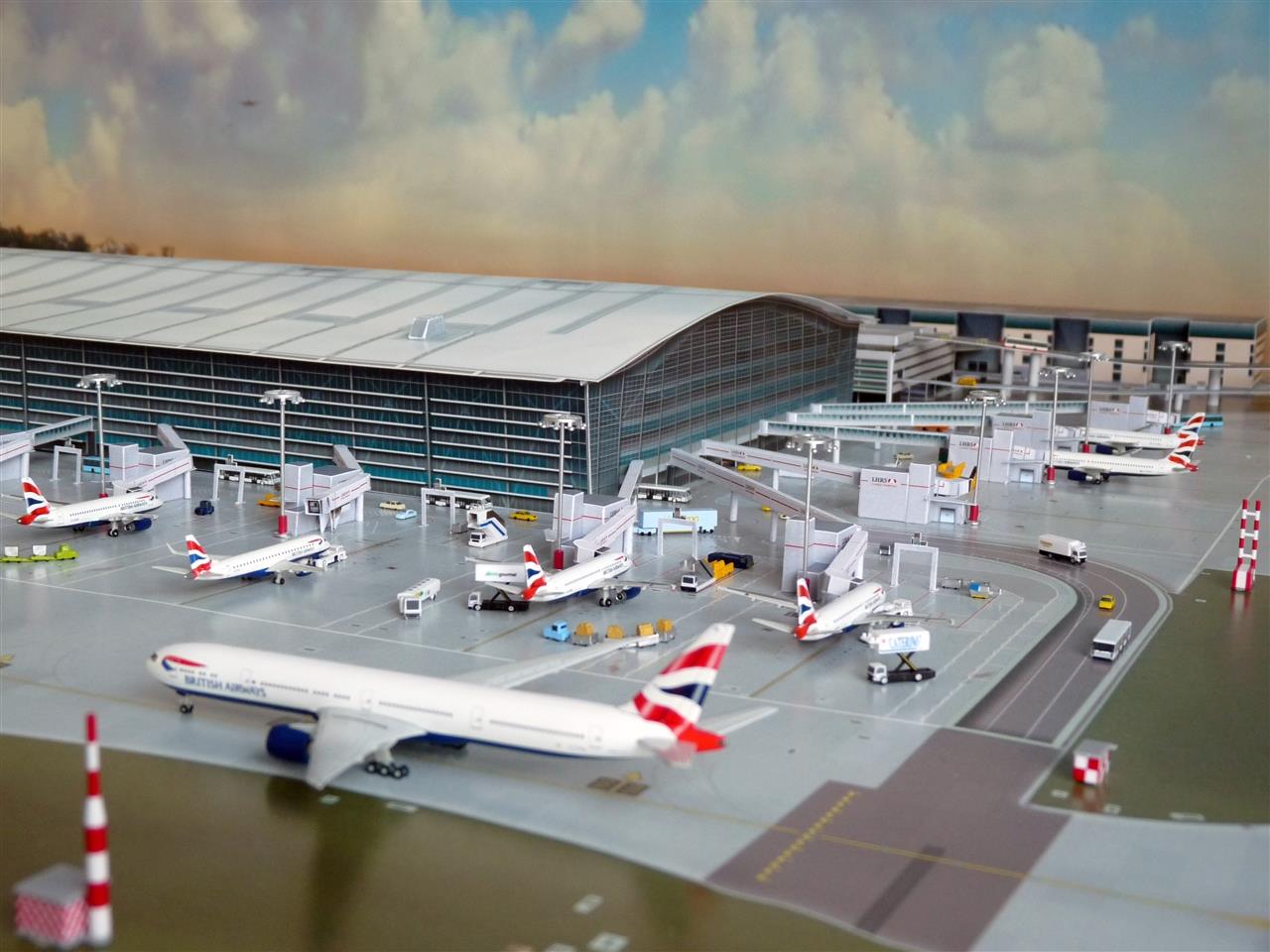 The London Heathrow Airport look-a-like features realistic roadways, gates, taxiway and parking stand markings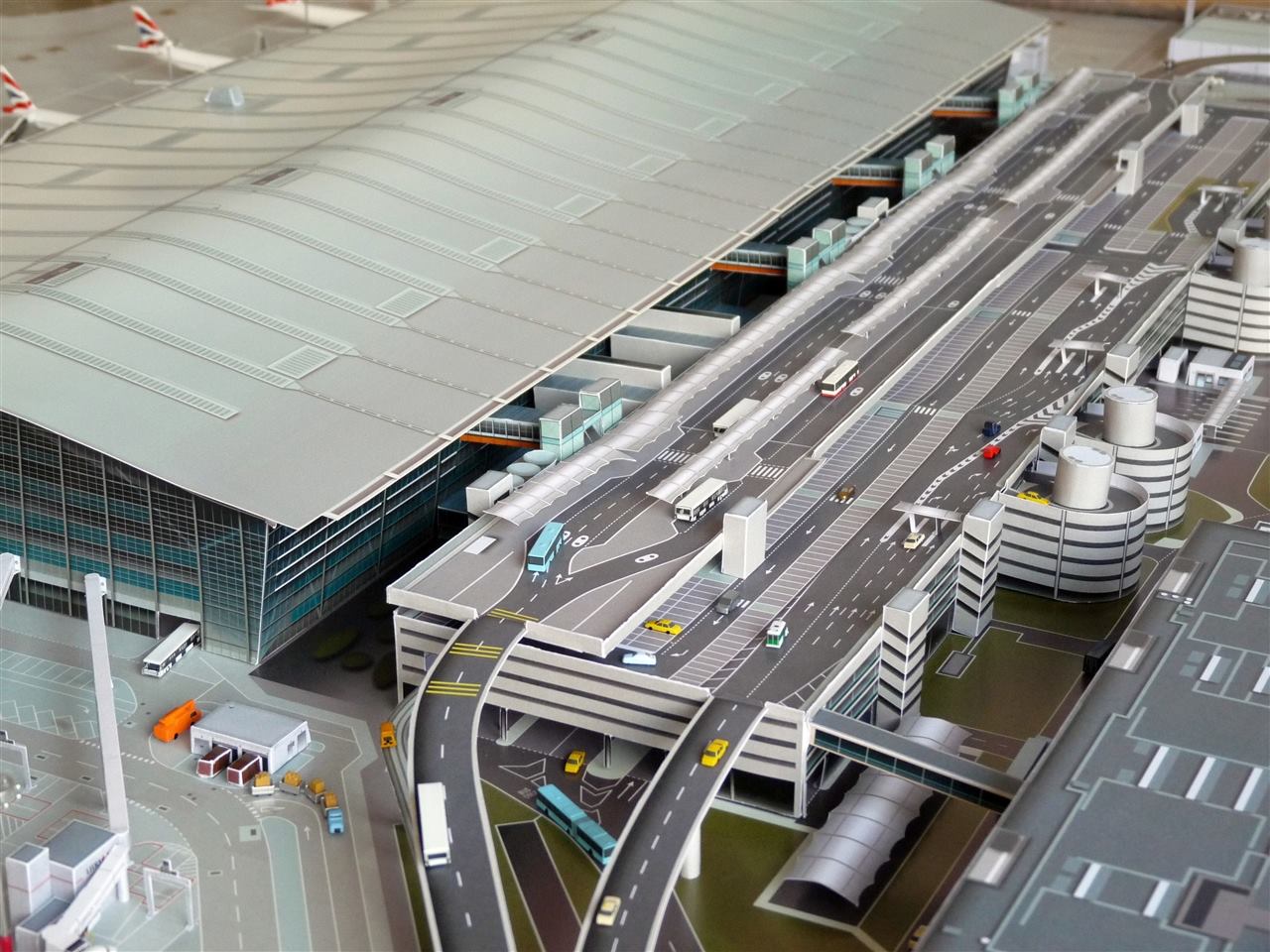 An outside view of No Point Airport's London Heathrow Terminal 5 look-a-like
The following products are part of our airport series
DESIGN- Fantasy 2012 (XL diorama)
EHAM-Amsterdam (look-a-like) 2012-2013 (XL diorama)
LHR-Heathrow (look-a-like) 2013 (Medium diorama)
FRA-Frankfurt (look-a-like) 2014-2015 (XXXL very large diorama)
DXB-Dubai (look-a-like) 2015 (XL diorama)
SXM- St. Maarten(look-a-like) 2016 (XXL large diorama)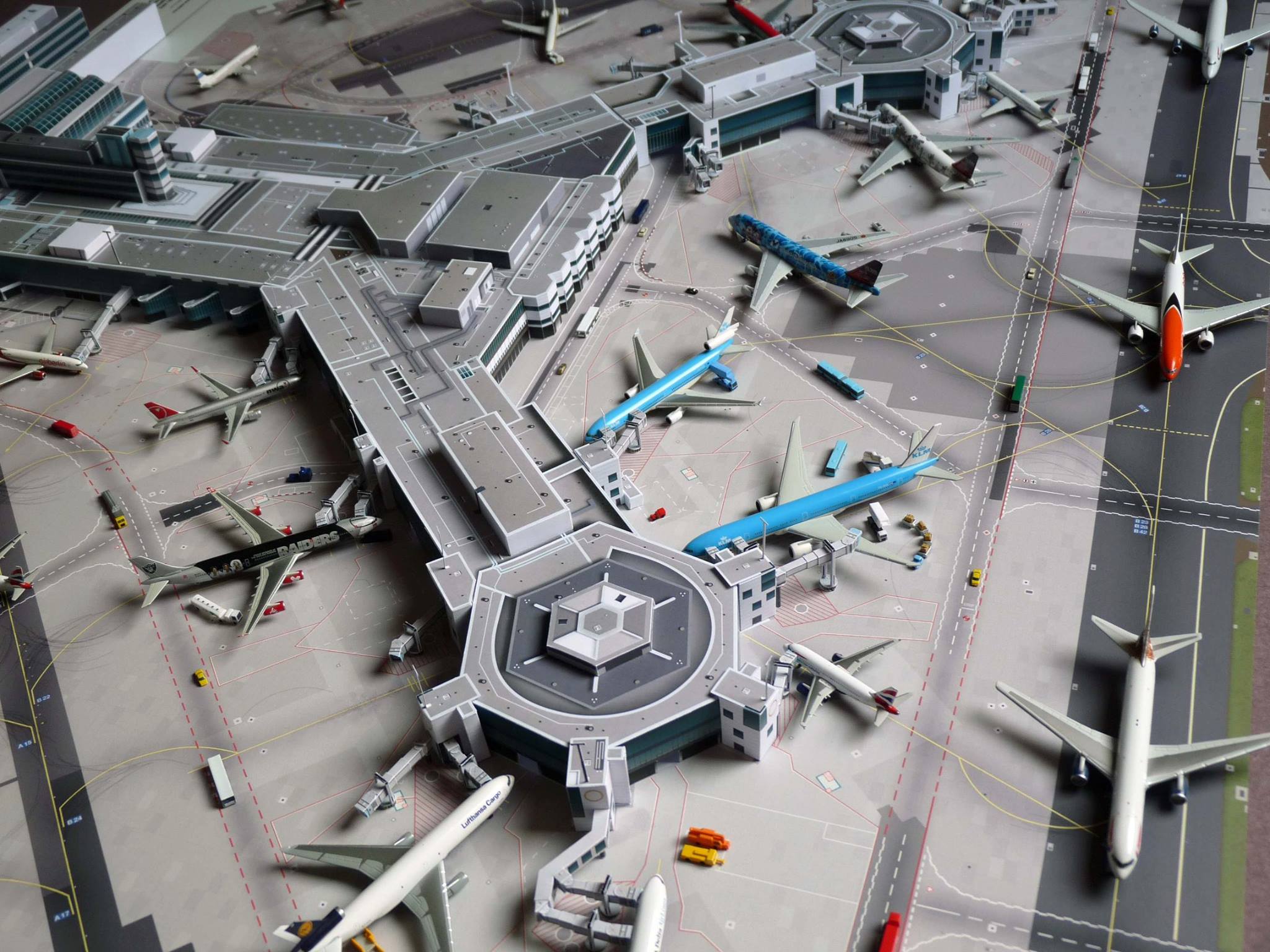 A birds-eye view of the Frankfurt Airport diorama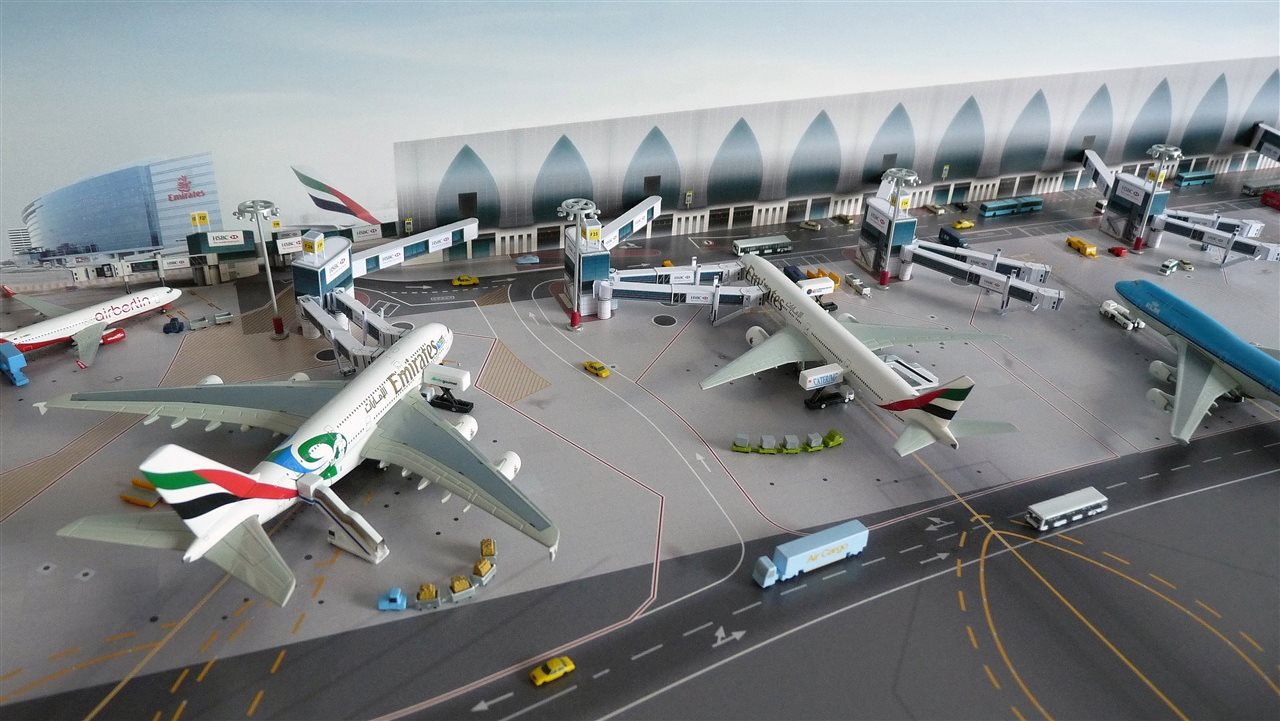 No Point Airport also offers a Dubai Airport look-a-like Foil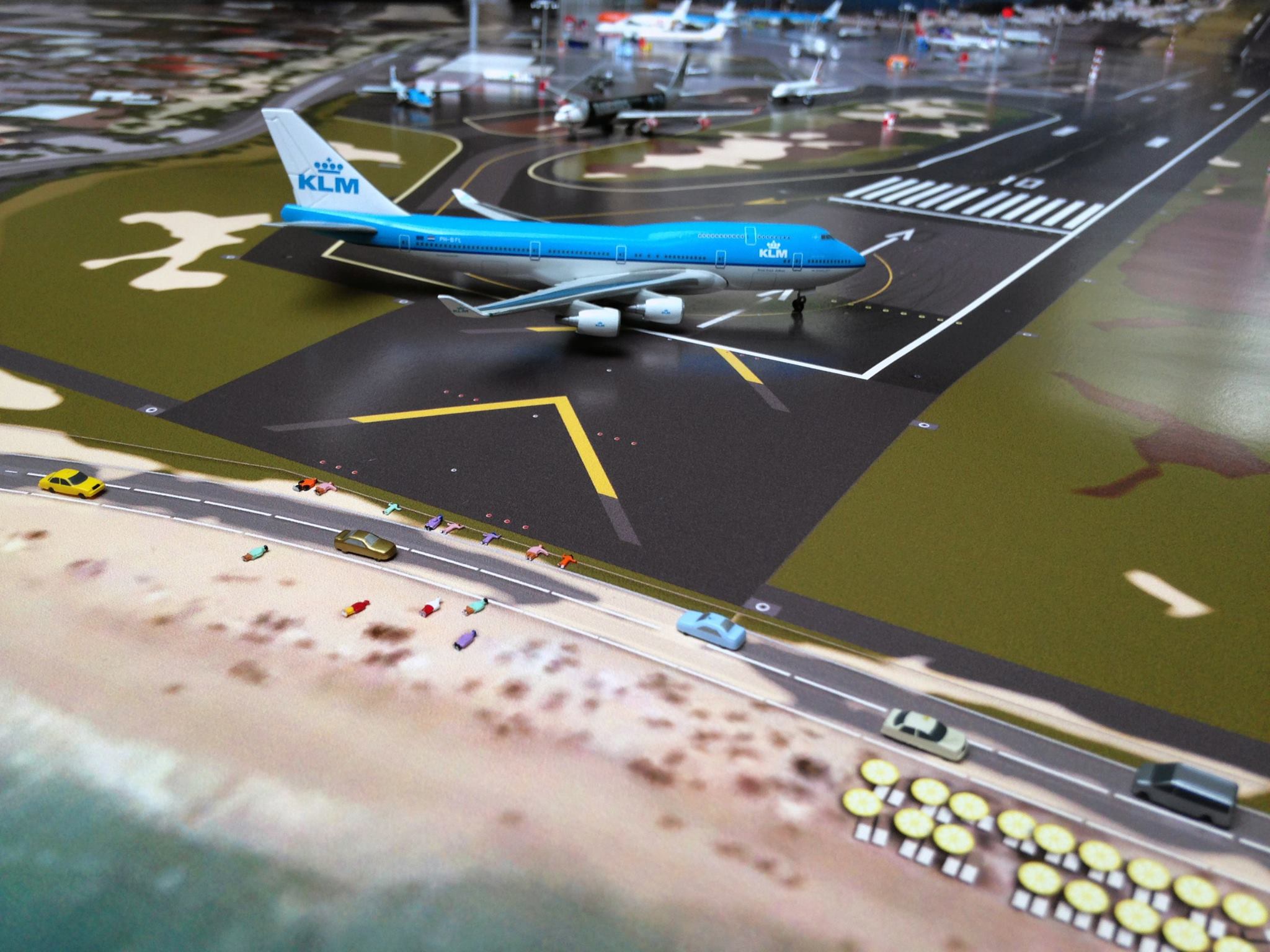 No Point Airport's St. Maarten look-a-like. Buildings for the foil will be released in April 2017
DF: What model scales do you offer airport diorama and accessories for?
PS: They are available in 1:400 and 1:500 scale. Some products are offered in 1:200 scale.
DF: How long does it take you to design an airport?
PS: The development and design of an airport can take anywhere from 5 months to 14 months. Our newest airport in the series is St. Maarten (SXM). Buildings for this airport will be released in April 2017.
DF: Can you describe the process for designing a No Point Airport?
PS: The design process begins with the drawing of a foil for a 1:500 scale airport. Next, we calculate measurements. Following the completion of the drawings, which can take several months, we print the foil and begin checking it for imperfections. We also try to find ways to improve the initial foil designs. Then the drawing for the matching building kit begins. After this step is completed, I check the product once again for imperfections and begin working on improvements. When improved and re-built, we setup the diorama with aircraft models, and ground service equipment. Lots of photos are then taken and used for front building cards, as well as our web store and advertising. At this point, the foil and buildings are ready in a 1:500 scale size. In order to create the same product in a 1:400 scale design, we must enlarge everything by 125%. We then make completely new foil parts and rearrange the building cards with enlarged building parts. Product pricing is then determined based on foil surfaces and the number of building cards. After making the advertisement we announce the launch of a new airport series via social media. Later on down to road, we make some 1:200 scale parts as well as 1:400 scale and 1:500 scale cards and an easy mat (playmat). Finally, we announce the new products on the sidebar of our homepage under the news tab. You can see all together, this is a time consuming process.
DF: I see you also specialize in racing diorama? What products do you offer for that product line?
PS: We've received lots of requests for foils from 1:43 scale racing car collectors. In response we started drawing some of the most famous racing circuits. 1:43 scale cars can be quite big. The size of one-half of a race car corner foil is generally 100 cm X 65 cm. This is very large and we've discovered that collectors prefer to keep their models in dust free transparent plastic boxes or a display cabinet. We tried selling these for a short period of time, but weren't successful and stopped further development. Our heart and focus will be the airport series and we will continue this for the foreseeable future.
DF: Do you envision yourself expanding your product line?
PS: We plan to expand our product line by adding one new airport series each year. It's very challenging to find time for new designs while keeping up with customer demand for existing products. We also have to serve our No Point Studio customers. So in conclusion, finding time for all of this can be a bit difficult, but it's fun work. No day is the same and we love this.
DF: Do you have any future goals?
PS: Right now I'm 50 years young, but I feel like I'm 35. I have lots of energy and plan to continue to develop more airports. I work together with a great team of freelancers as well as a superb printer partner. We are a different player in the airport diorama world since we offer lifelike and detailed groundfoils, cards and cardboard building kits. We just love details. We do this with passion and are very proud to have served many customers worldwide since our launch in 2012. Many of them have become good friends. They have provided movies, and photos for the details of airports and buildings. Thank you all very much!
Click here for No Point Airport's Website (with built-in-webshop)
Click here to visit No Point Airport on Facebook
Click here to Join the Diorama Airport Building Group on Facebook
You can also find No Point Airport on Instagram and Pinterest.