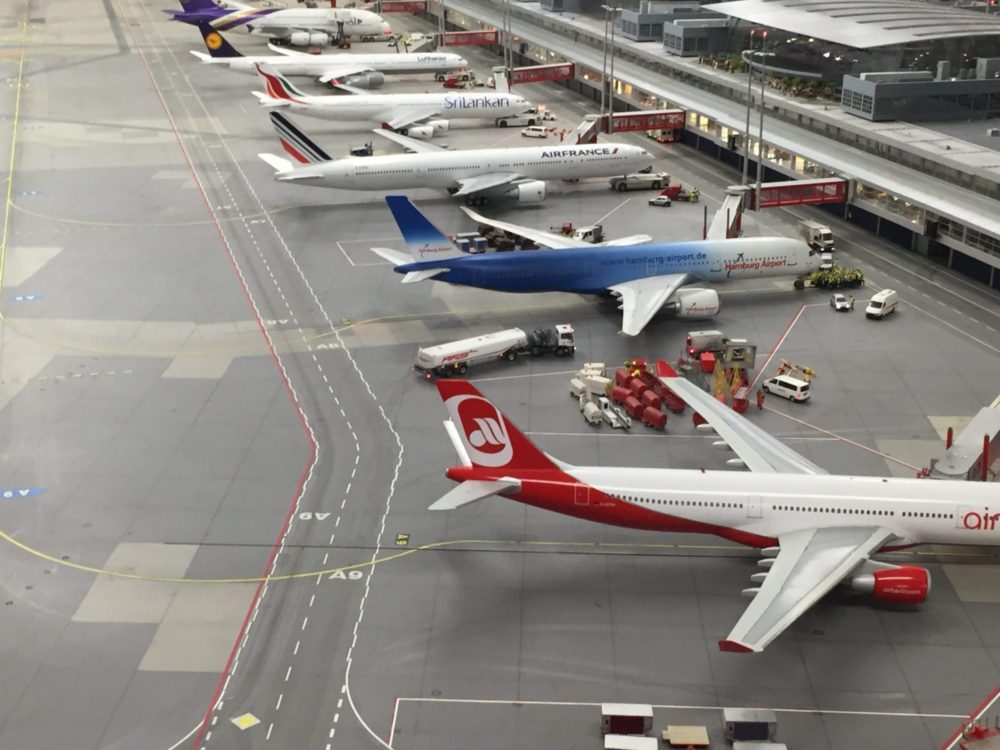 Nestled in the city centre of Hamburg, Germany is a fantasy land full of planes, trains and automobiles. Since its opening in 2001, Miniatur Wunderland has attracted over 10 million visitors from around the world. Join me as I embark on an adventure through one of the museum's most popular exhibitions, Knuffingen Airport.
History and Location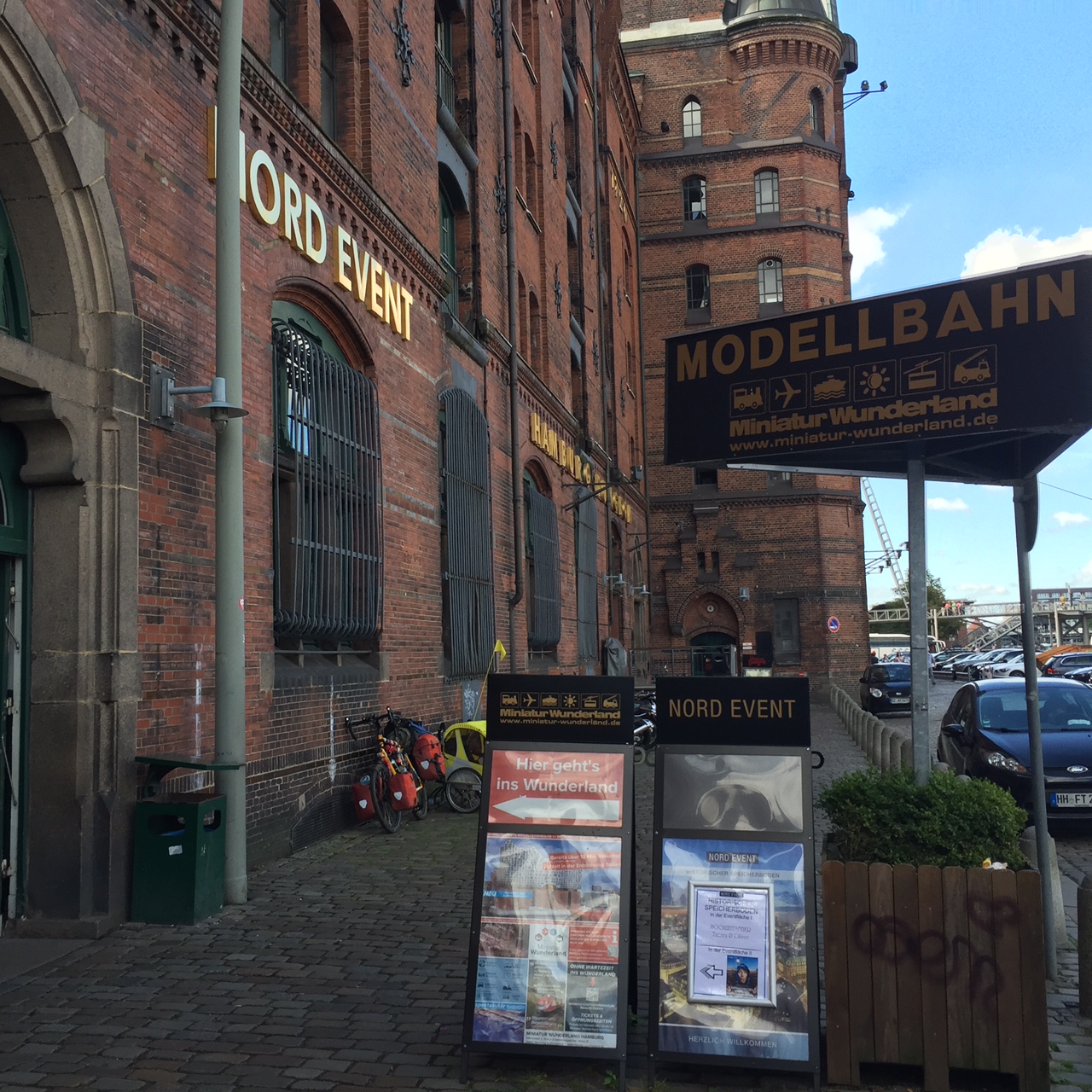 Entrance to Miniatur Wunderland.
Miniatur Wunderland is located in Hamburg's Historic Warehouse District, near the River Elbe. This area was once home to many maritime shipping companies, who used the river as a means of transit. It's a short walk (15-20 minutes) from Hauptbahnhof, Hamburg's main rail station. Construction of the exhibition began in 2000 and today, Miniatur Wunderland is home to the largest model railway layout in the world. It also features a popular attraction, Knuffingen Airport.
Tickets
Miniatur Wunderland is a favorite among tourists visiting Hamburg, and therefore I recommend getting your tickets ahead of time to avoid waiting in long lines. You can make a reservation on-line via Miniatur Wunderland's website. The reservation will provide you with a designated time slot for your visit. You can also check the estimated wait times for entry. Admission prices are very reasonable.
Admission Prices
Children (Smaller than 1 meter/3 feet accompanied by parent) Free
Children (16 years old or less) 6.50 euro
Adults 13 euro
Knuffingen Airport
Knuffingen Airport is an impressive exhibit to say the least and is a very popular stop for museum visitors. Construction of the layout began in 2005, and was completed in 2011. Over 150,000 hours of labor and 3.5 million euros were required to complete the massive project. One of the most amazing accomplishments of the design team was their ability to simulate a realistic airport with lighting, parking stands, moving planes, ground service equipment and vehicles. Knuffingen even boasts an arrivals and departures board which corresponds with the airport's arriving and departing traffic.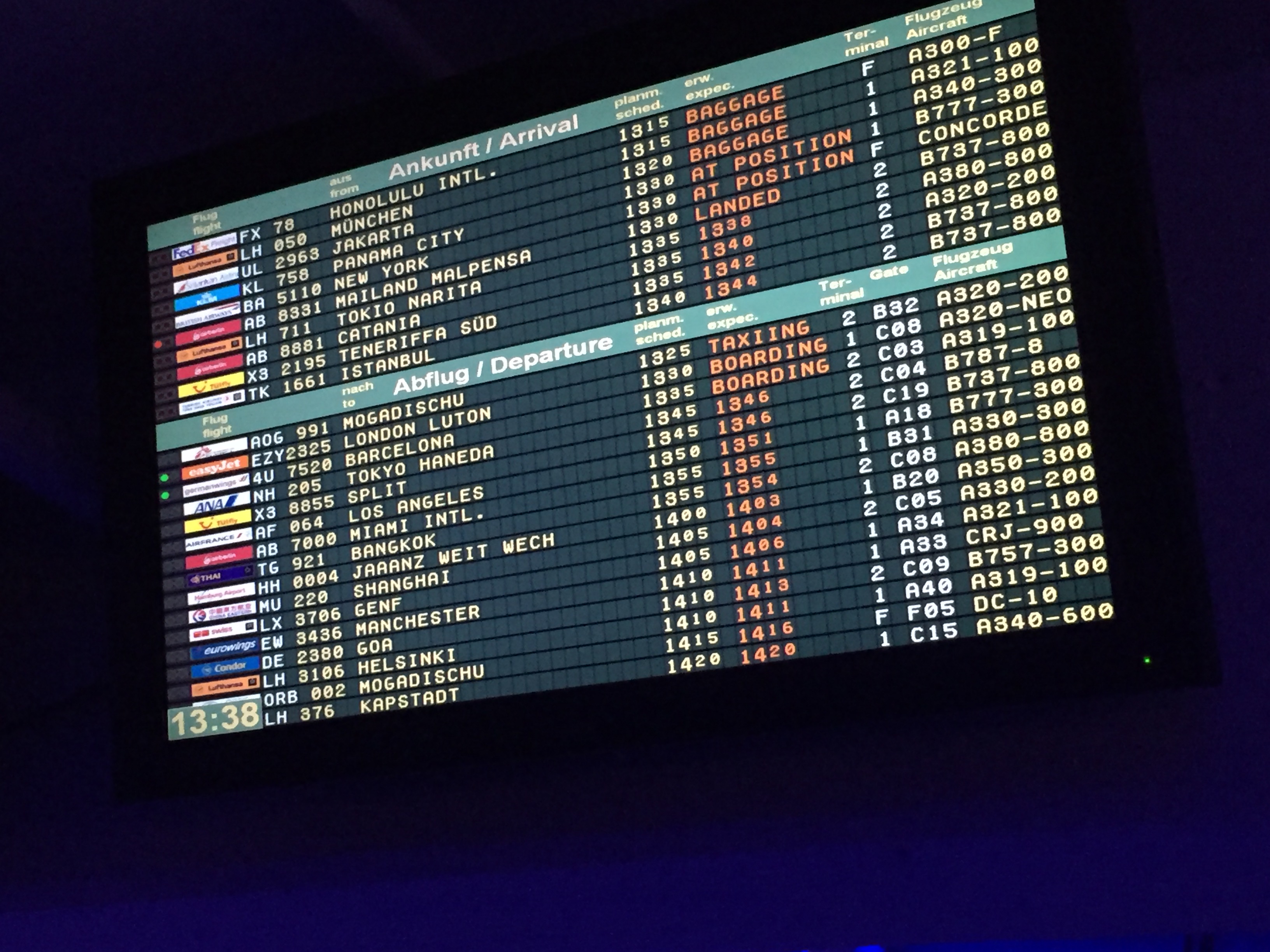 Arrivals and Departures Board at Miniatur Wunderland's Knuffingen.
The airfield is home to 55 aircraft ranging from the Lockheed Constellation to Airbus A380. If you look closely during your visit, you may even see an unexpected guest, the Starship Enterprise. The layout accurately simulates vehicle and aircraft ground movements. Ground service equipment transverse the entire airport and simulate refueling, and cargo loading. Furthermore, airliners operating in and out of Knuffingen simulate all phases of a routine airline flight including pushback, taxi, takeoff, landing and parking. The airport features a main terminal building along with several remote parking aprons as well as a cargo facility.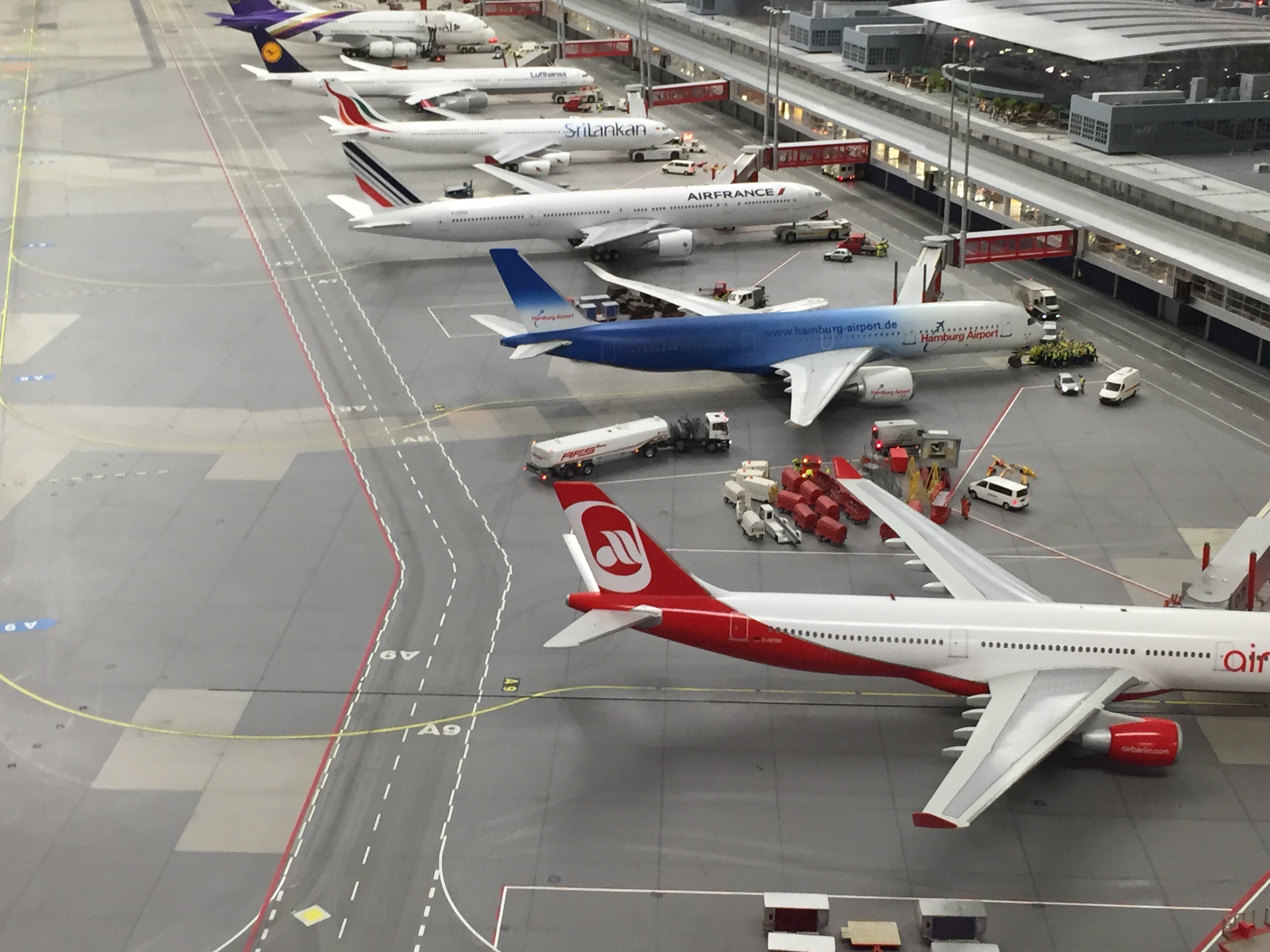 Knuffingen Airport's main terminal building features realistic gates, airport service                                     vehicles, taxiway and roadway markings.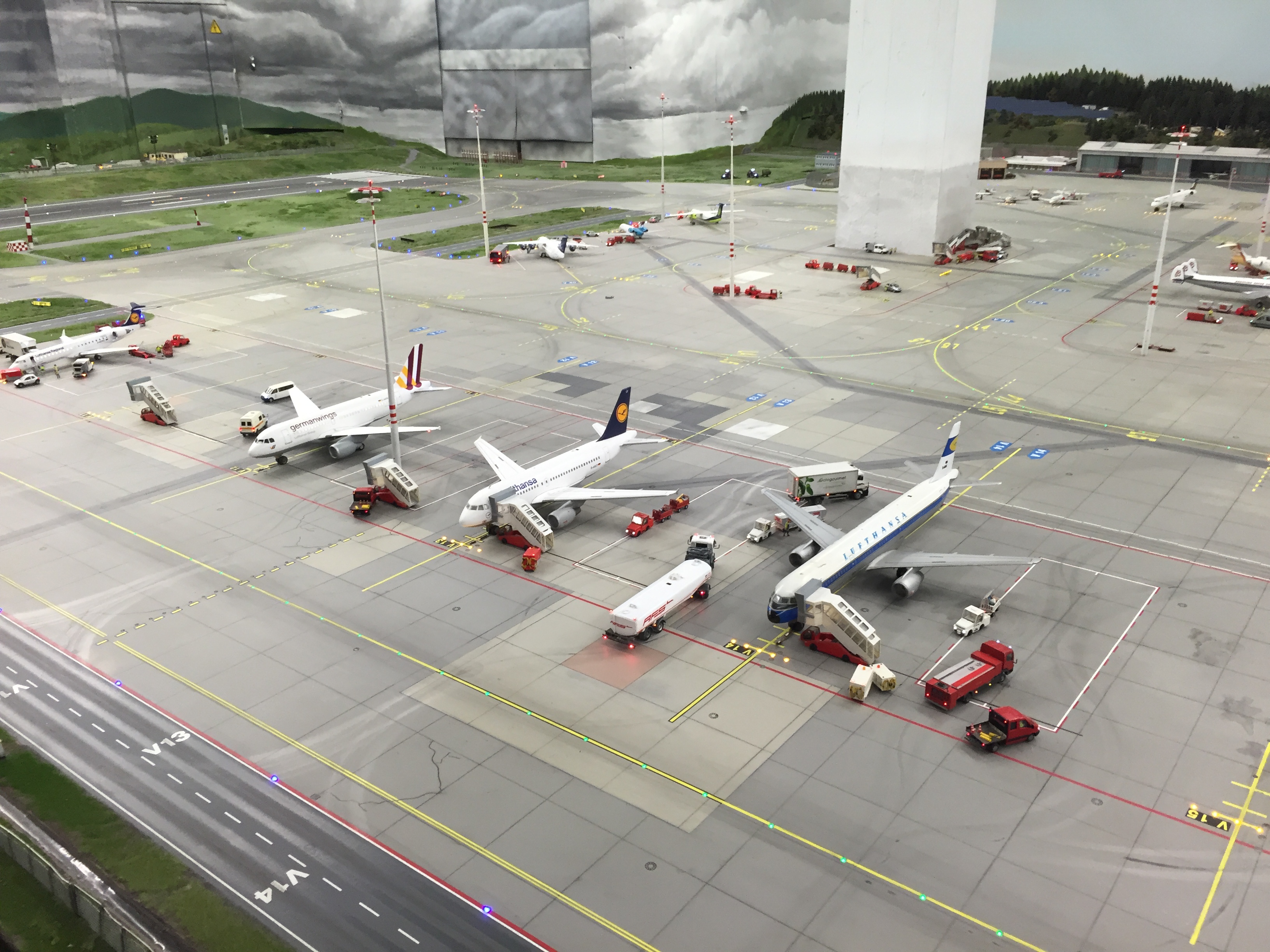 Knuffingen's remote parking apron is accurately detailed with parking stand markings.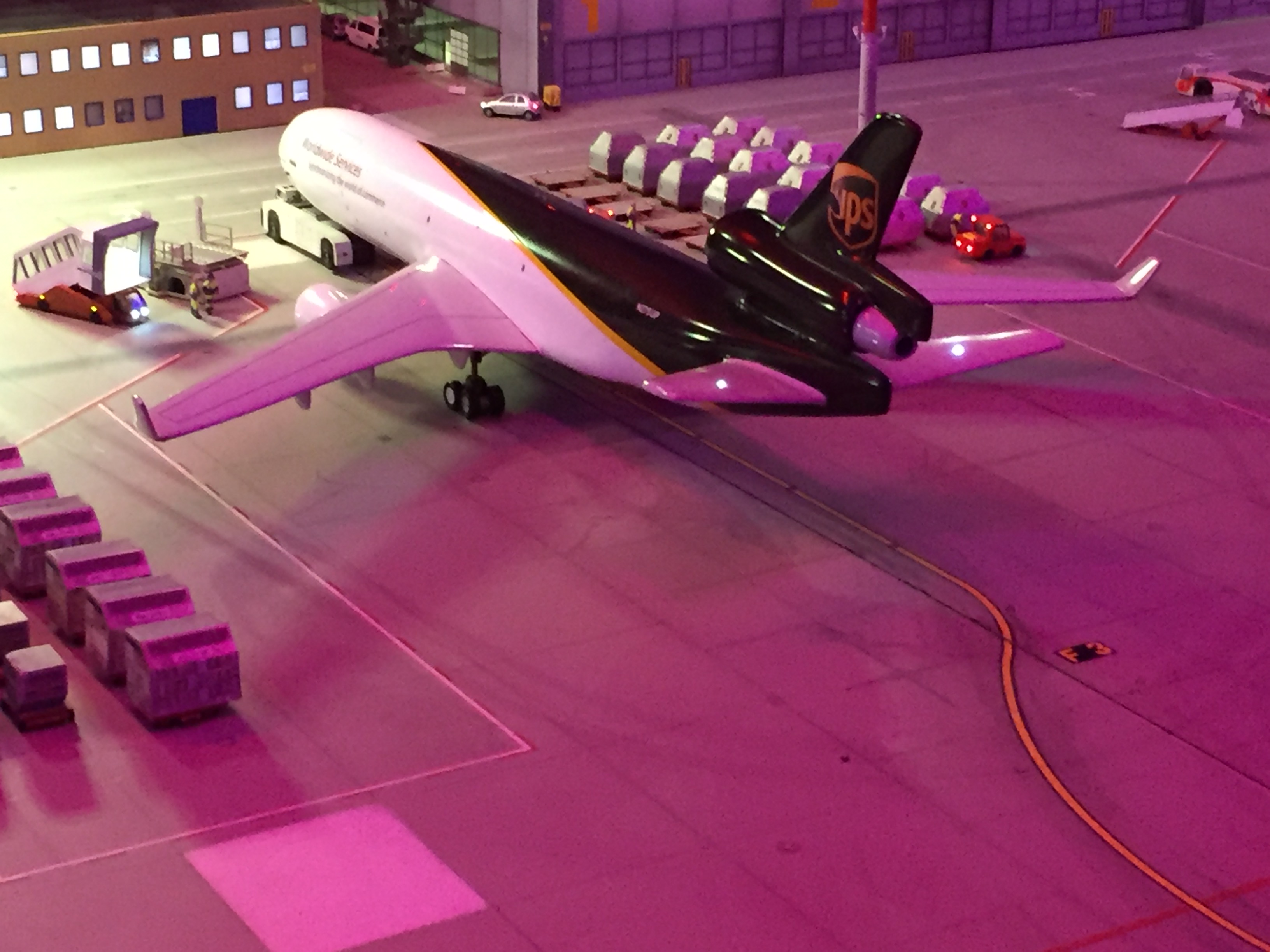 A UPS MD-11 awaits its next flight from the air cargo apron.
One of the most exquisite features which has been incorporated into the layout, is its ability to transition between daytime and night conditions every 15 minutes. This allows for the airport's impressive apron, taxiway, and runway lighting to be showcased.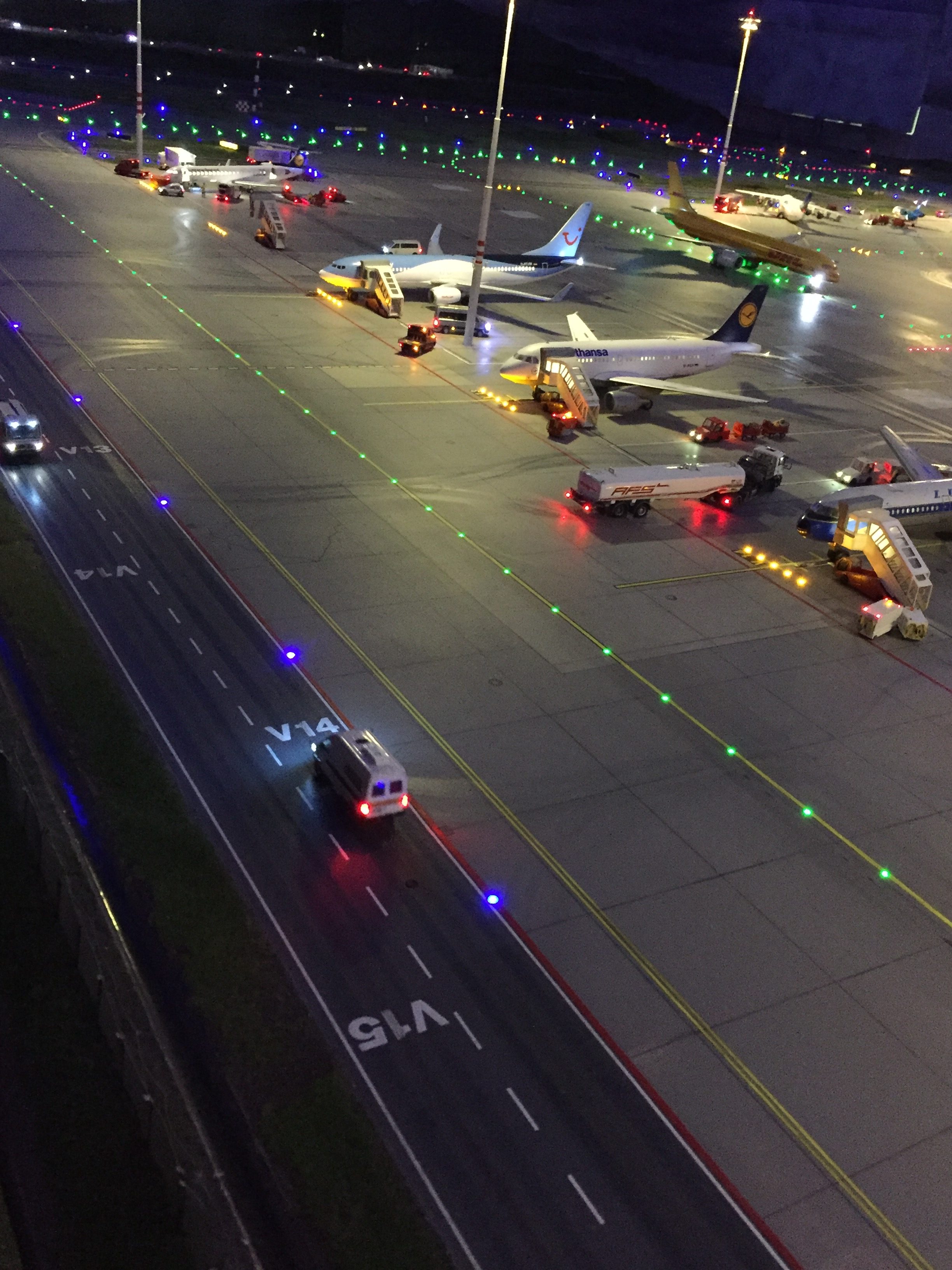 A nighttime view of Knuffingen.
Although, I've only shared a few details about this captivating exhibition, hopefully I've given you a reason to visit Hamburg. After all, I don't want to completely spill the beans by divulging all of the exhibit's magnificent features. I will certainly say Miniatur Wunderland is a must see attraction if you plan to visit Hamburg. The stunning detail and visual affects, give the layout a lifelike appearance and make one feel as if they're at an actual airport. For the aircraft model collector and enthusiast it is simply mesmerizing. You won't be disappointed!