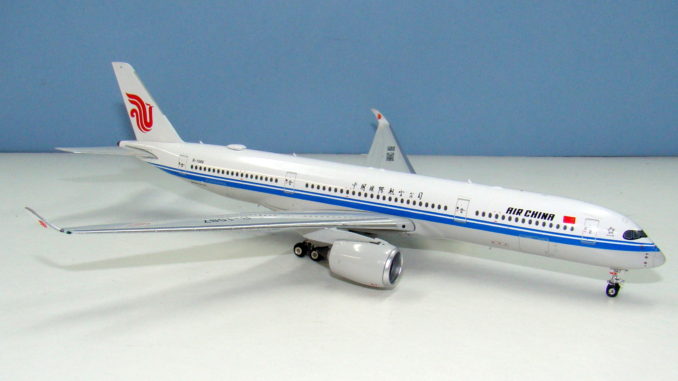 Phoenix are almost renowned for their ability to mess things up although admittedly in recent years they have improved, whilst others have gotten worse so that the playing field has somewhat leveled. Even so you can never be quite sure what you're going to get, one model may be great and the next rubbish. This one however introduces a new way to make a mess, of an otherwise decent model, that I hadn't experienced before. Bravo Phoenix, bravo!
THE REAL THING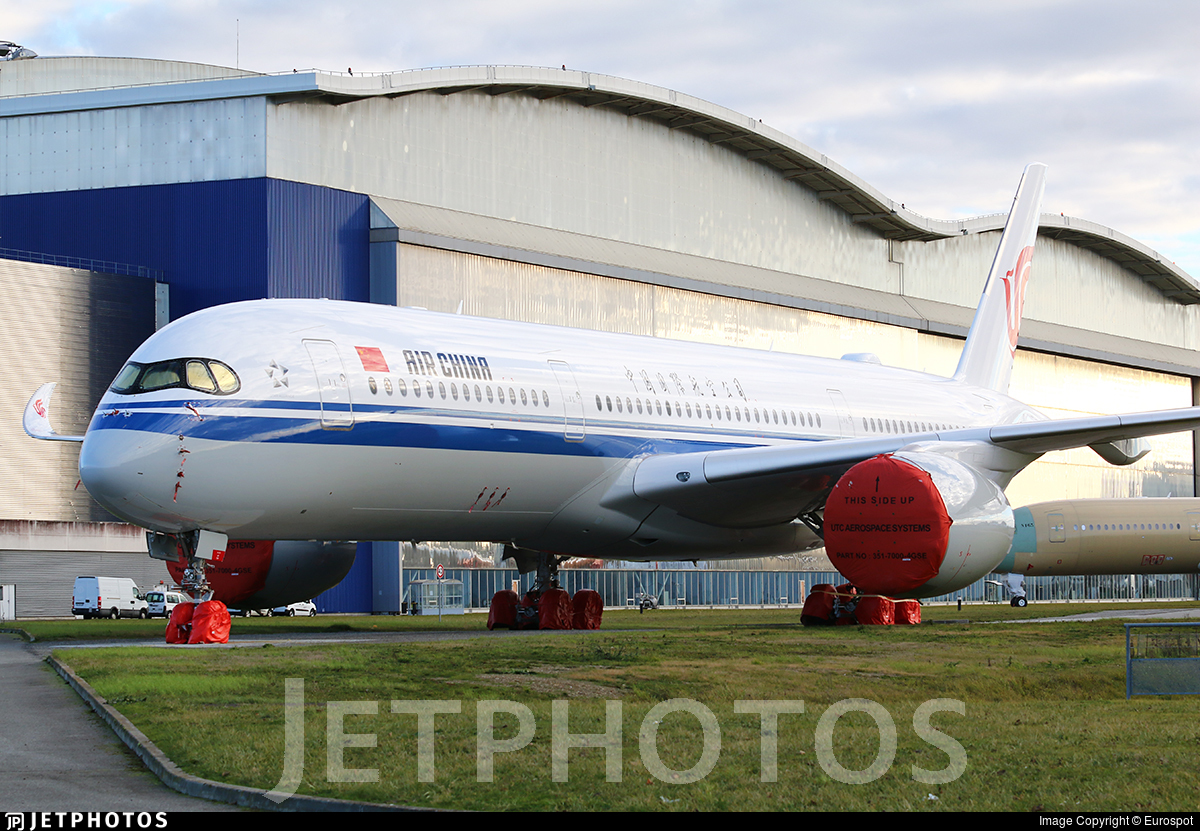 It seems to have been an age that Air China has taken to receive its first A350 and indeed there had already been a fantasy Phoenix Air China A350 released in 1:400 as long ago as 2014! It had the fictional registration B-6688 but since Air China is ultra-conservative with their livery it is otherwise largely accurate.
It has taken a further three years since this release for Air China to actually get close to receiving their first A350 and both Phoenix and Gemini Jets have recently released models of that aircraft. These both carry the registration B-1086 so I assume that the manufacturers have some inside information since the aircraft itself still does not yet carry an actual B reg.
The actual aircraft, MSN 167 registered F-WZHG, took its first flight on June 5, 2018 and is scheduled for delivery in mid-July. Air China was the first mainland Chinese airline to order the type and has 10 frames on order. This is a substantially smaller commitment to the type than the other pair of the big three but then again Air China already has 787-9s. Both China Eastern and China Southern have orders for 20 A350-900s each.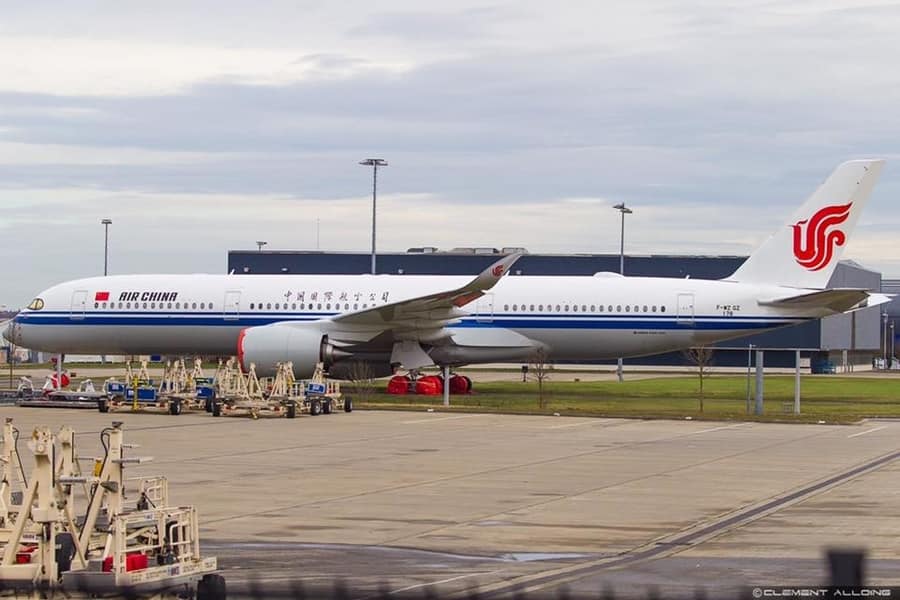 Other Chinese airlines will receive smaller numbers of the A350 with Sichuan getting a pair and Hainan receiving at least four. Air China's service entry of the type has actually been moved forward. It was previously set for September 1 but will now commence on August 1. As is standard, with new types in service with Chinese airlines, the first routes for the new long-haul type will be domestic services. The A350 will inaugurate operating CA1405 and CA1407 on the twice daily Beijing-Chengdu sector.
Nonetheless the original delivery date for the A350s was December 2017 so even with the move forward the type is well behind schedule. In fact, both of the first pair of Air China A350s were finished externally in January 2018 so the delays are likely due to fitting out the cabins. It is the existence of two CA A350s that has led to Phoenix releasing a pair of models at the same time and this is the root of the problem with the model I received. Hopefully Air China's A350 service entry will run more smoothly.
THE MODEL
The format for my reviews is to split them into three key areas:
The mould of the aircraft
The paint and livery
Printing and quality control
Each can get a maximum score of 10 for a section giving a maximum combined total score of 30.
THE MOULD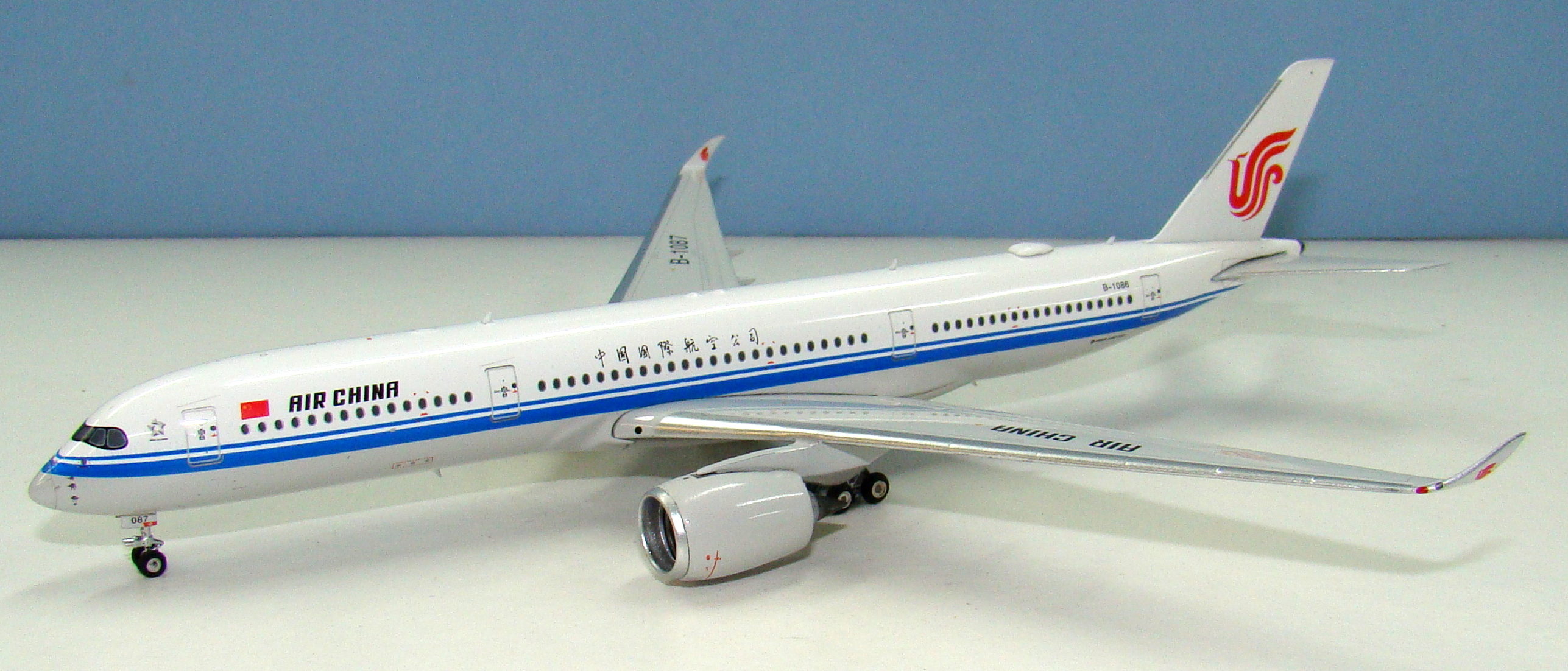 I have reviewed the Phoenix A350-900 mould on two prior occasions and the mould had improved significantly between the two. The last one I reviewed was a Hong Kong Airlines example last November and since Aviation400 have entered the A350 market with their own mould in 1:400. Even so the reality is that none of the three available moulds are perfect. I'll be taking a closer look at the three moulds together in a detailed mould review at Yesterday's Airlines this month. For now however how does this Air China example look?

It's pretty good actually. The Phoenix mould has a decent nose region although the fuselage is not tall enough at least they recognise there is a change in angle at the cockpit windows. The rest of the fuselage is excellent with the Phoenix mould having the one small dome ahead of the wing and two small domes above the wing in relief.  The large satnav dome is nicely moulded as an add-on just forward of the vertical stabiliser. The noticeable crease aft of the wing is also well moulded. When they are well installed Phoenix tend to have better antenna than JC Wings and this model has all 5 that the real thing exhibits (3 on the roof and 2 on the belly).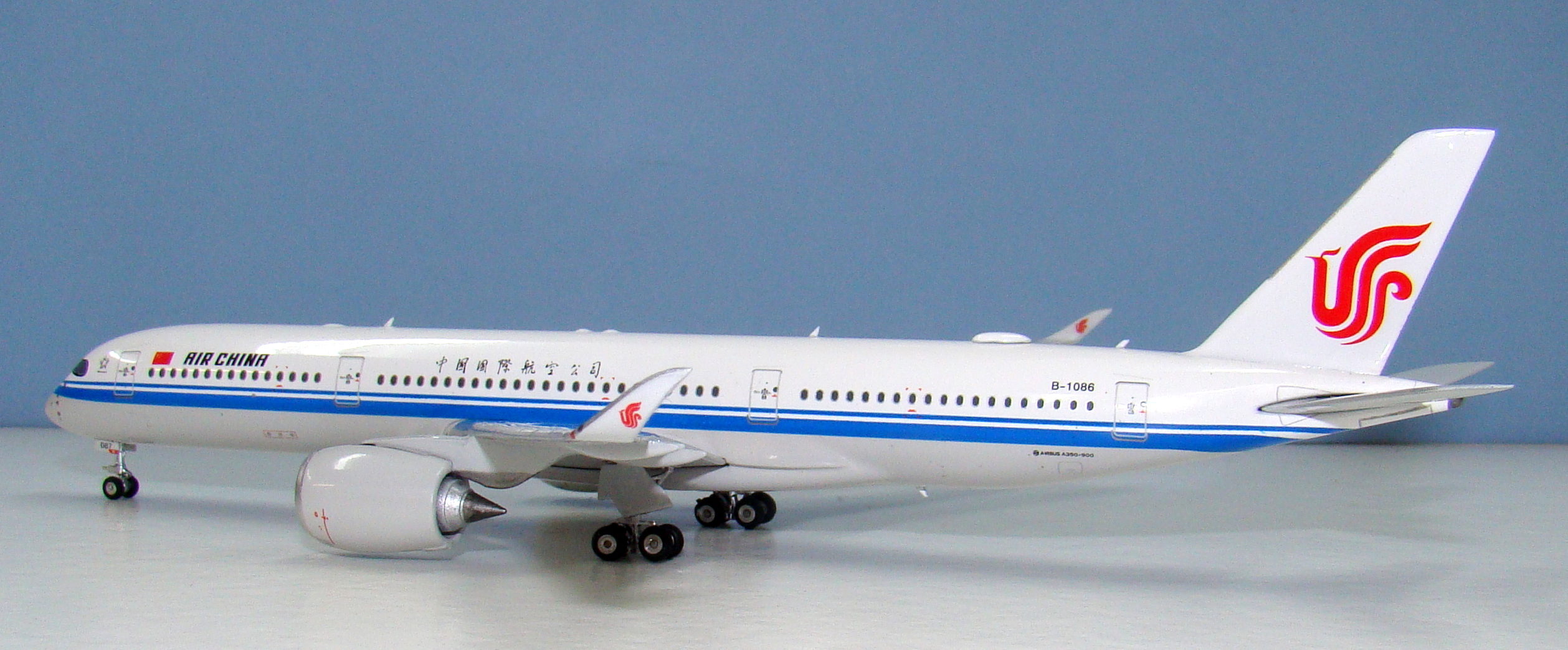 The undercarriage is a strongpoint on this mould. The gear legs are very detailed and accurate whilst one area Phoenix always does well are the wheelhubs; having said that the gear legs and hubs are very silver when they should be grey. Now the worst of the engine issues have been resolved Phoenix have reduced the size of the nose tyres and they look much better for it.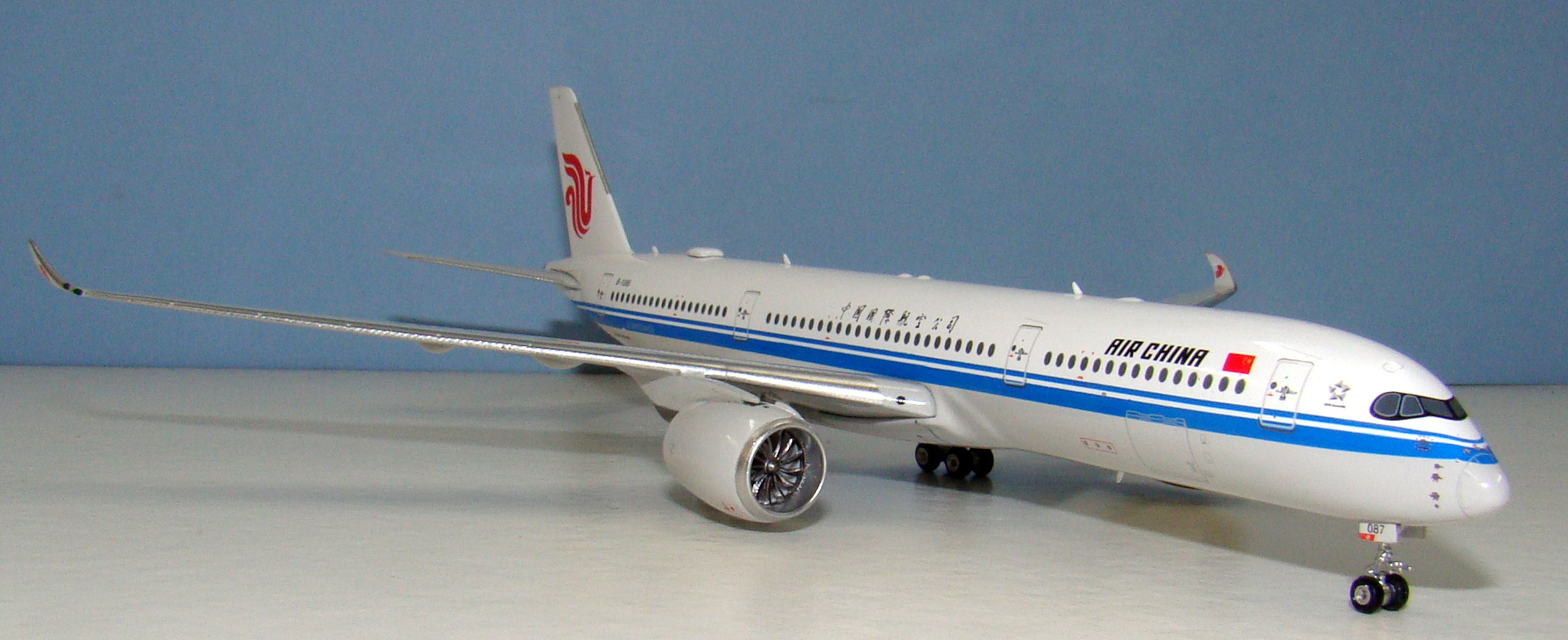 Early Phoenix A350s were rightly criticised strongly for the ground clearance of the engines. Modifications have significantly improved the situation although the engine pylons are still not great (the engines are fitted too low) and ground clearance isn't what it ought to be.
I'm actually quite a big fan of this mould – it isn't perfect by a long shot but then again none of the 1:400 A350s are.
SCORE – 8
PAINT & LIVERY
I reviewed a Phoenix Air China 737 MAX-8 only in March and an NG Models Air China Cargo 757 in the April/May edition of Model Airliner Magazine so it is fair to say I'm quite familiar with this livery. It is a scheme I like for its conservative old fashioned cheatlines and clever VIP / bird tail logo.
The Phoenix MAX was a mess livery wise and one aspect that was incorrect was the blue, which was too light. This A350 actually has a darker blue and looks about right. Bravo Phoenix they have managed to do what every other manufacturer has done for years with the Air China livery.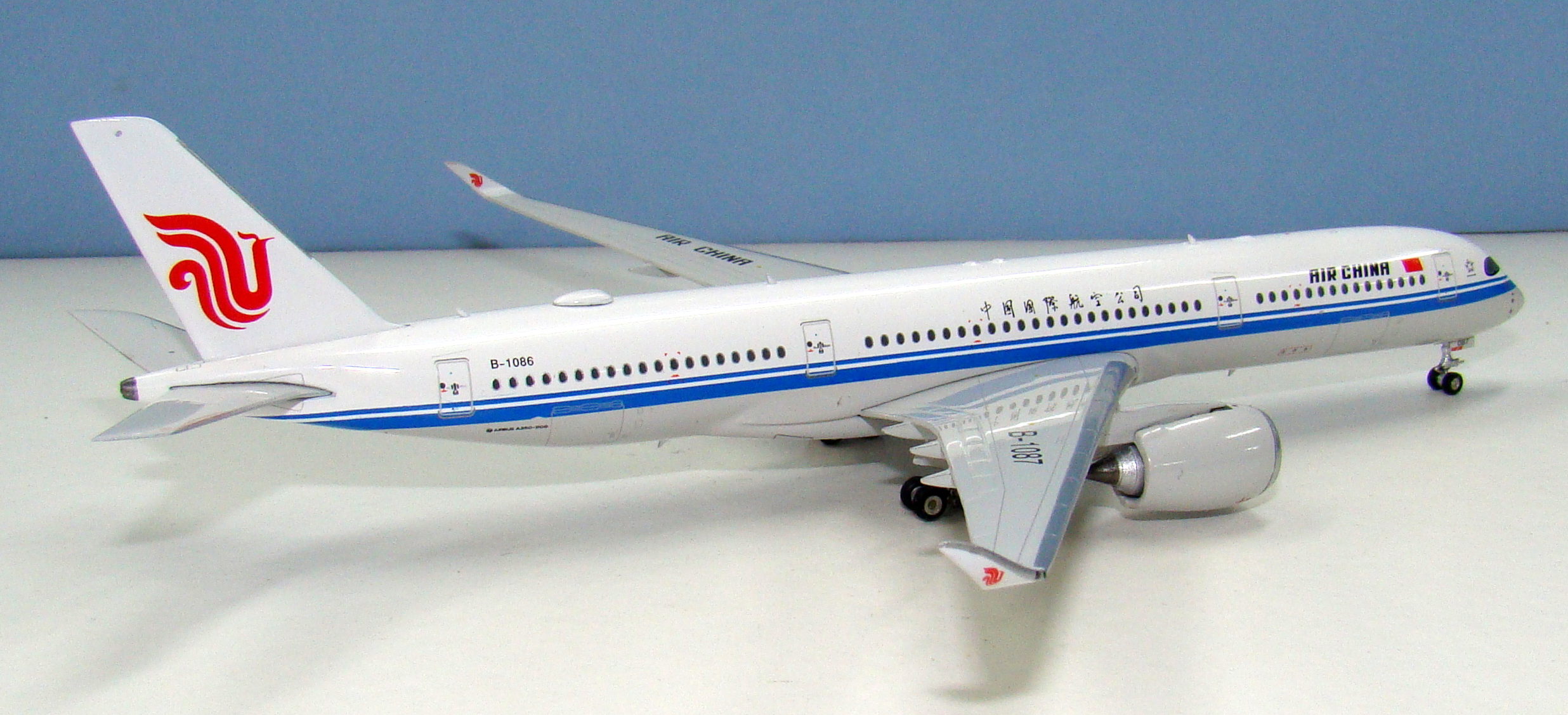 There are no issues with the tail logo or fuselage titles and Phoenix have even got the cheatline correct. It is admittedly simple but it does have two lines and narrows at the cockpit. They got this all wrong on the MAX so again this is an improvement. The belly and engines are correctly grey whilst the bird logo is on both sides of the winglets (albeit it fractionally too low on the outer sides).

This is a bread and butter scheme and Phoenix have gotten it correct this time as they should do. Thank heavens for small mercies.
SCORE – 10
PRINTING & QUALITY CONTROL
It is this area where it all falls apart for this model; however on first glance it looks perfectly built so what could be wrong with it? It's not the printing, which is better than the majority of Phoenix models manage. The nosecone area and engine undersides have good detailing. For once Phoenix has remembered the aircraft has an underside and actually put some printing on it – although they still refuse to outline the maingear door bays.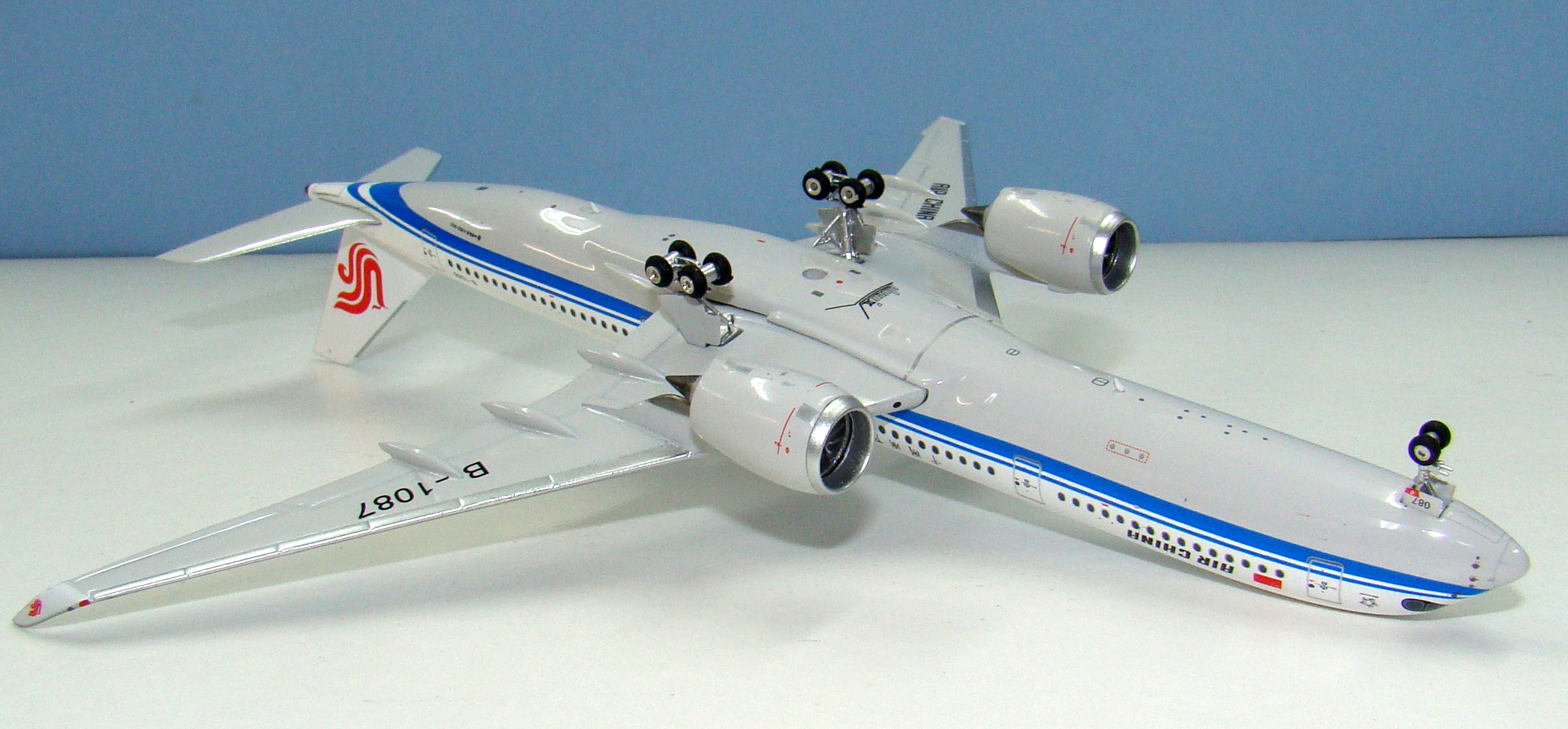 The quality of build on this model is also top quality – a far cry from the last Phoenix A350 whose wing fell off due to lack of glue. Of course there are tyre tabs on two of the maingear tyres but c'mon this is Phoenix after all.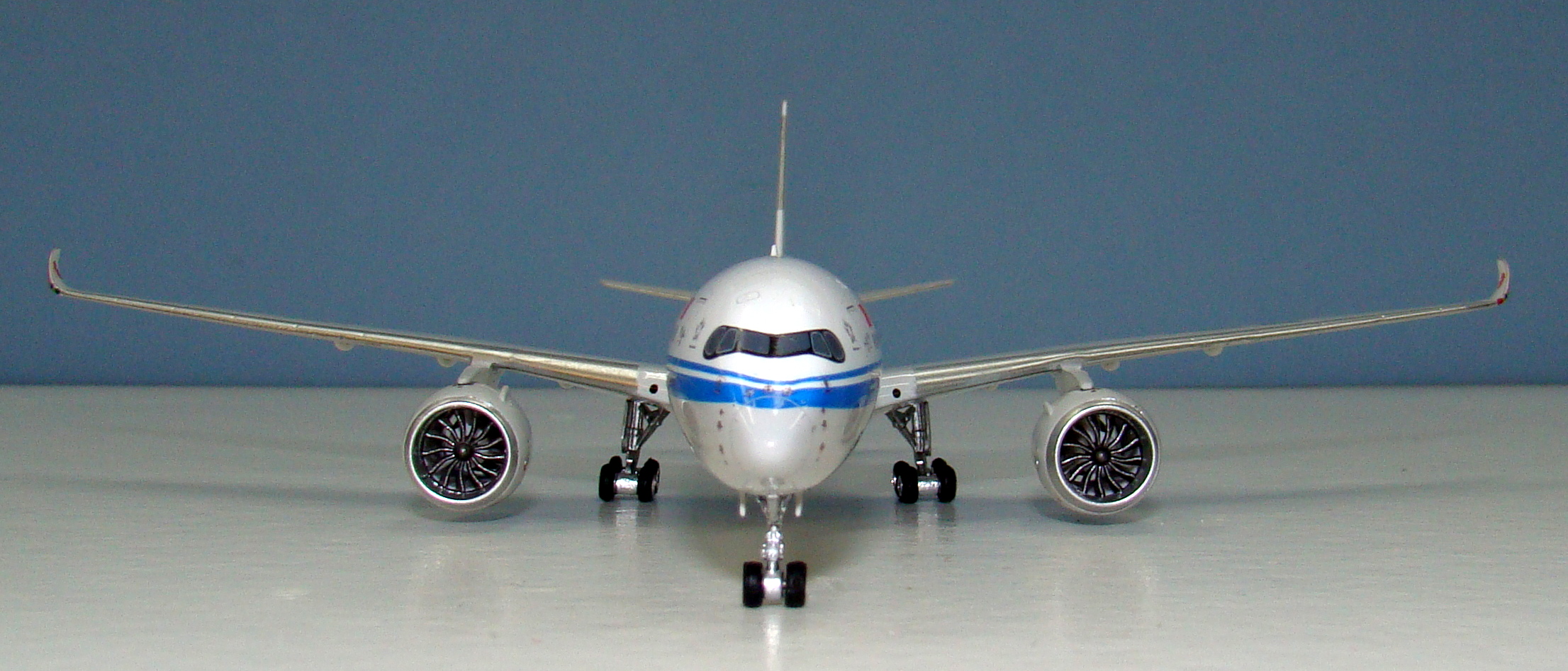 So what is wrong? Take a look at the registration on the fuselage – B-1086. Now take a look at the registration in huge letters on the starboard wing and in small numbers on the nosegear bay doors – B-1087. Yes Phoenix have workers who not only don't understand how aircraft registrations work but also who don't understand English number characters, and obviously absolutely no QC to notice such an obvious error. They have simply attached the wrong wings and nosegear to the fuselage.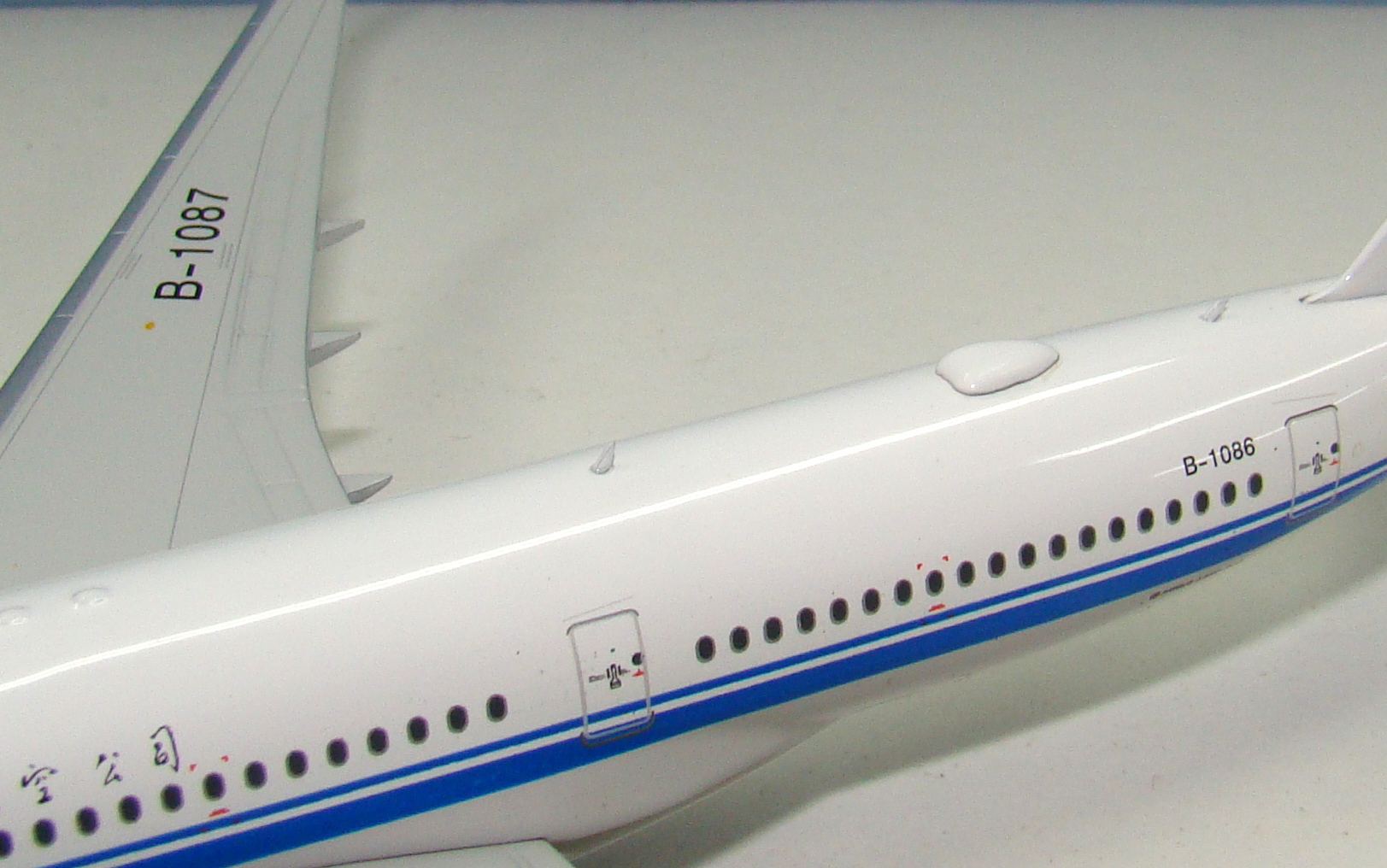 It is a comedy error and comes from Phoenix having released two versions of the Air China A350-900 at the same time with different registrations. I wonder how many of these mismatched models exist – mine can't be the only example. It is depressing that Phoenix have seemingly tried so hard with this model – the mould is better, the colours are better, the printing is better and then cocked it up with such a ludicrous fail. Usually I'd only knock a couple of points off for this sort of thing but seriously – how hard is it to make a bloody 1:400 model and then actually look at it?
SCORE – 6
CONCLUSION
This model actually displays fine in my collection and has many commendable points but I'd have to hang up my reviewing hat if I let manufacturers get away with such blatant disregard for their products. Even so with a large point deduction for the rego discrepancy the model still actually scores pretty well – better than the last Phoenix A350 I reviewed. What can I say I actually like this model despite the failing. Besides Gemini Jets made a complete mess of their A350's cockpit windows so even with the rego mistake this is a better model. Then again if Phoenix can't make Air China models they really should just stop production altogether.
FINAL SCORE – 24/30