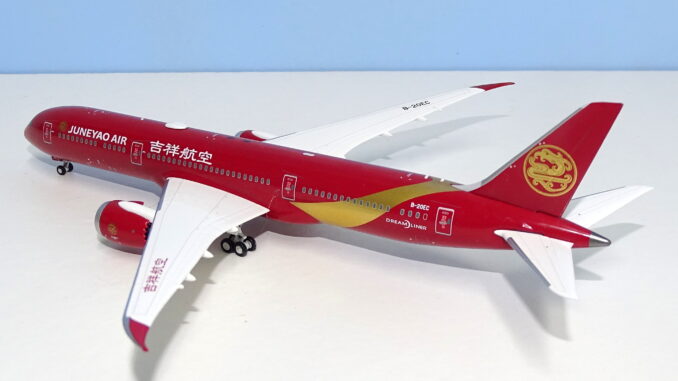 There is no greater competition between 400 scale brands than when it comes to Chinese widebodies, so that even though Juneyao Airlines only owns 7 787-9s, admittedly in 4 different schemes, there have been 15 announced models. The split is between JC Wings, Phoenix and NG Models, however the long delays in JC Wings releasing announced models means that often it is a direct clash between Phoenix and NG. The latest release has not been announced by Phoenix as of yet, but looking at the previous sequence of Juneyao 787 releases it has always been NG first, then JC and lastly Phoenix. In this review we'll see if the first release is likely to be the best.
THE REAL THING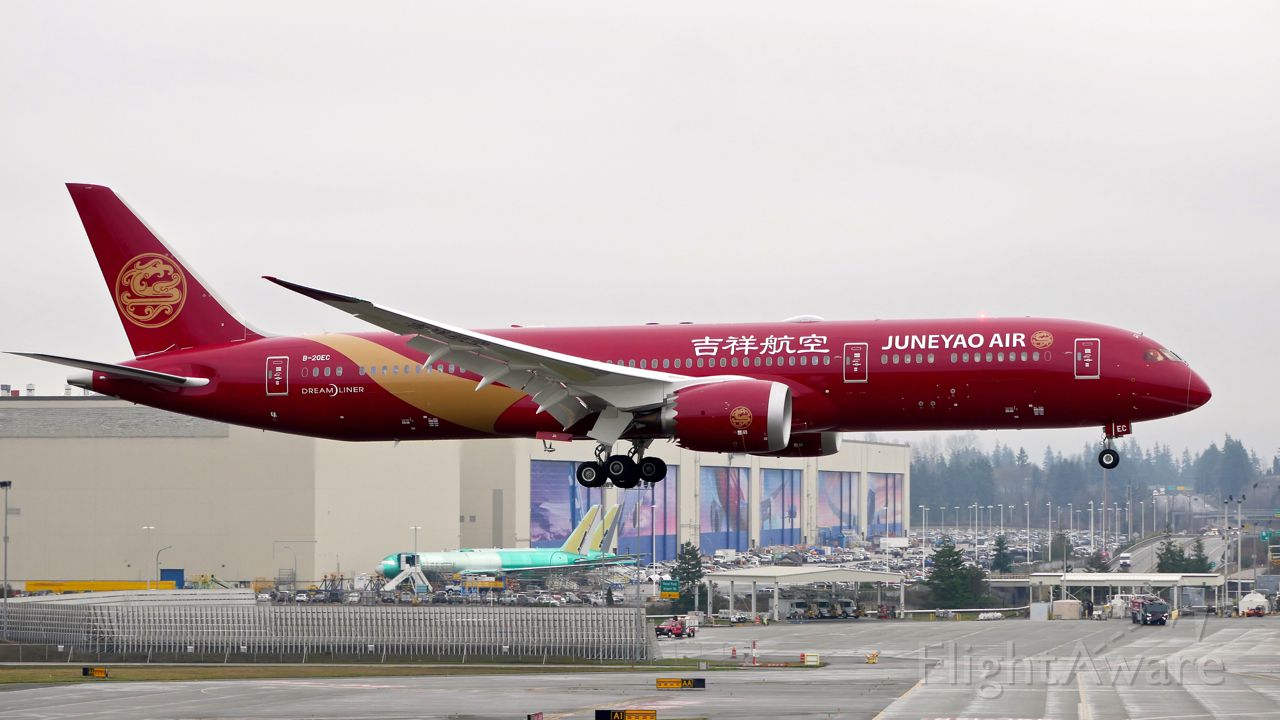 Truly private airlines remain few and far between in the Chinese aviation landscape, dominated as it is by the big 3 state-owned majors and their many subsidiaries. Even Hainan Airlines, regularly hailed as a private airline, has a substantial local government ownership portion. The strongest private Chinese airlines operate out of the dual hubbed Shanghai mega-city and Spring Airlines and Juneyao Airlines represent the clearest domestic challenge to the government backed airlines.
Juneyao means 'Auspicious' in Chinese and as its name suggests the airline has positioned itself as a boutique full-service carrier, unlike Spring Airlines. Routes are flown from both of Shanghai's airports – Hongqiao and Pudong. Juneyao has been able to take advantage of Shanghai's relatively wealthy population to grow profitably. From its first flight in September 2006 it has gradually built up a large fleet of Airbus narrowbodies, increasingly adding the larger A321 to its A320s.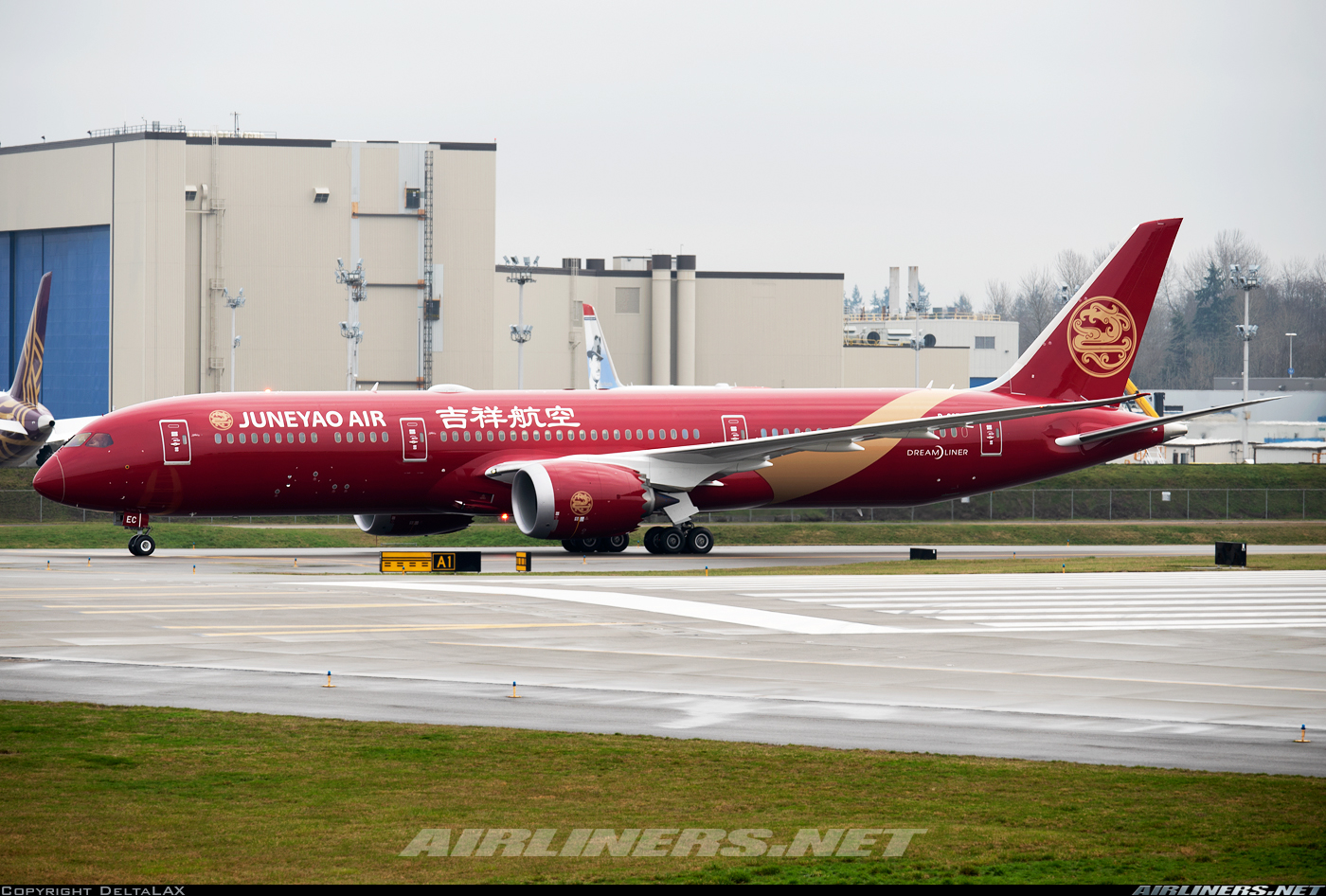 Unlike its low-cost neighbour Juneyao was keen to develop long-haul services and in February 2017 finalised a deal with Boeing for 5 787-9s, with another 5 options. The first 787 arrived in October 2018 and the addition of extra Dreamliners initially allowed Juneyao to increase capacity on international regional routes such as those to Thailand, Singapore, South Korea and Japan.  The first transcontinental service was opened in June 2019 to Helsinki, Finland codesharing with Finnair.
Towards the end of 2019 Juneyao announced further international destinations using Helsinki as a stopover. These included Dublin, Manchester and Reykjavik. Direct routes were also planned to Istanbul and Athens. Unfortunately, the Covid crisis has had a massive impact on the airline, which has been forced to cancel all planned flights to the 5 new destinations. Frequency to Helsinki was reduced to only a single weekly service.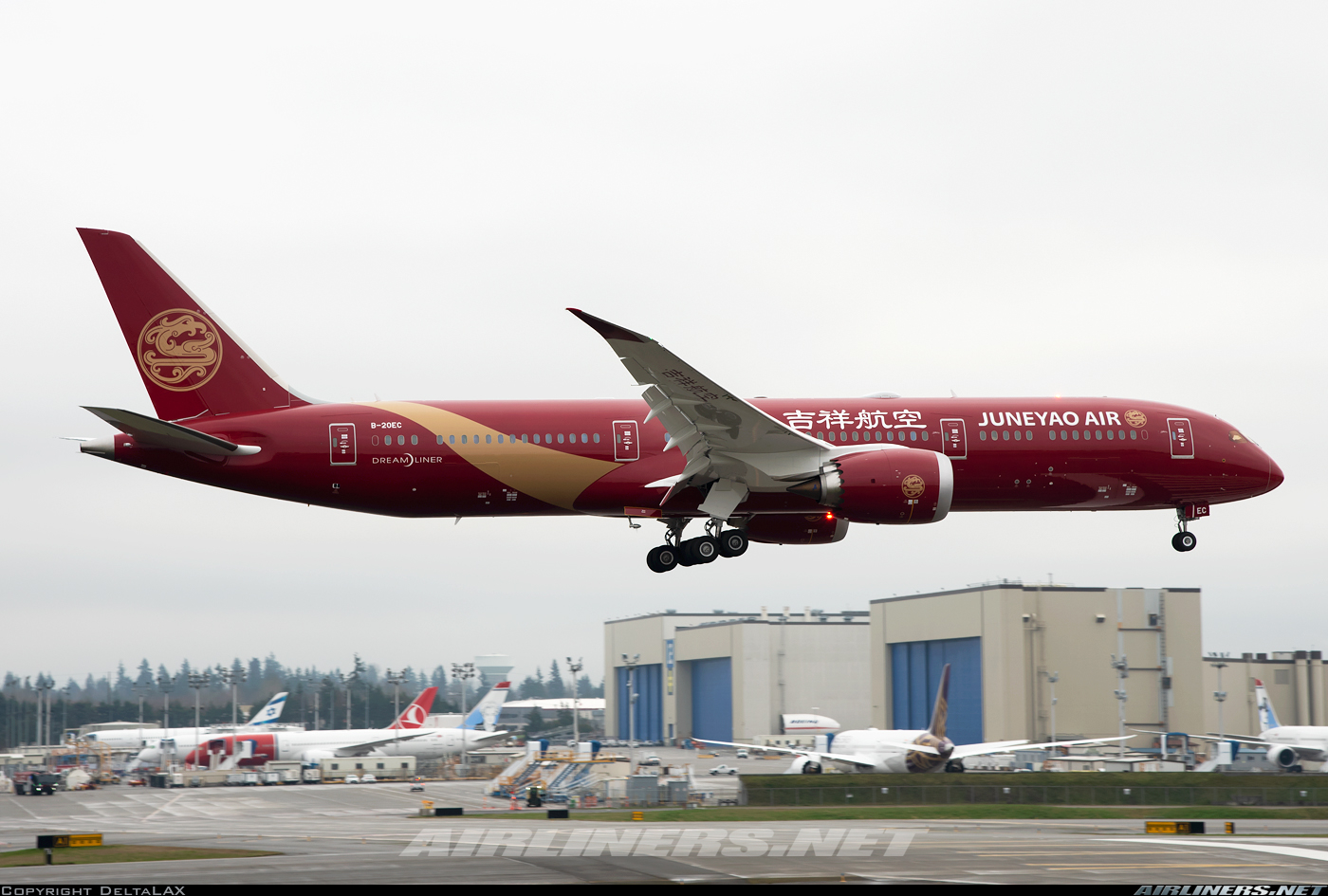 Into August and despite China's recovery from Covid flight numbers continue to be well down. The 787s are currently used on flights to Bangkok, Helsinki, Osaka and Singapore – all of which remain once weekly only. No doubt this is all very disappointing for Juneyao who had promoted their 787s heavily with videos such as "Dream a Journey; Share a Trip" highlighting its premium cabin offering. It'll be interesting to see whether China's private carriers can weather the storm as easily as the state-run ones, but with a strong home market and well-defined product I'd expect Juneyao to be fine.
B-20EC will be the 7th 787 for Juneyao when she is eventually delivered. She first flew on February 11 but doesn't appear to have entered service as of yet and is presumably in storage while passenger demand remains so low.
THE MODEL
The format for my reviews is to split them into three key areas:
The mould of the aircraft
The paint and livery
Printing and quality control
Each can get a maximum score of 10 for a section giving a maximum combined total score of 30.
THE MOULD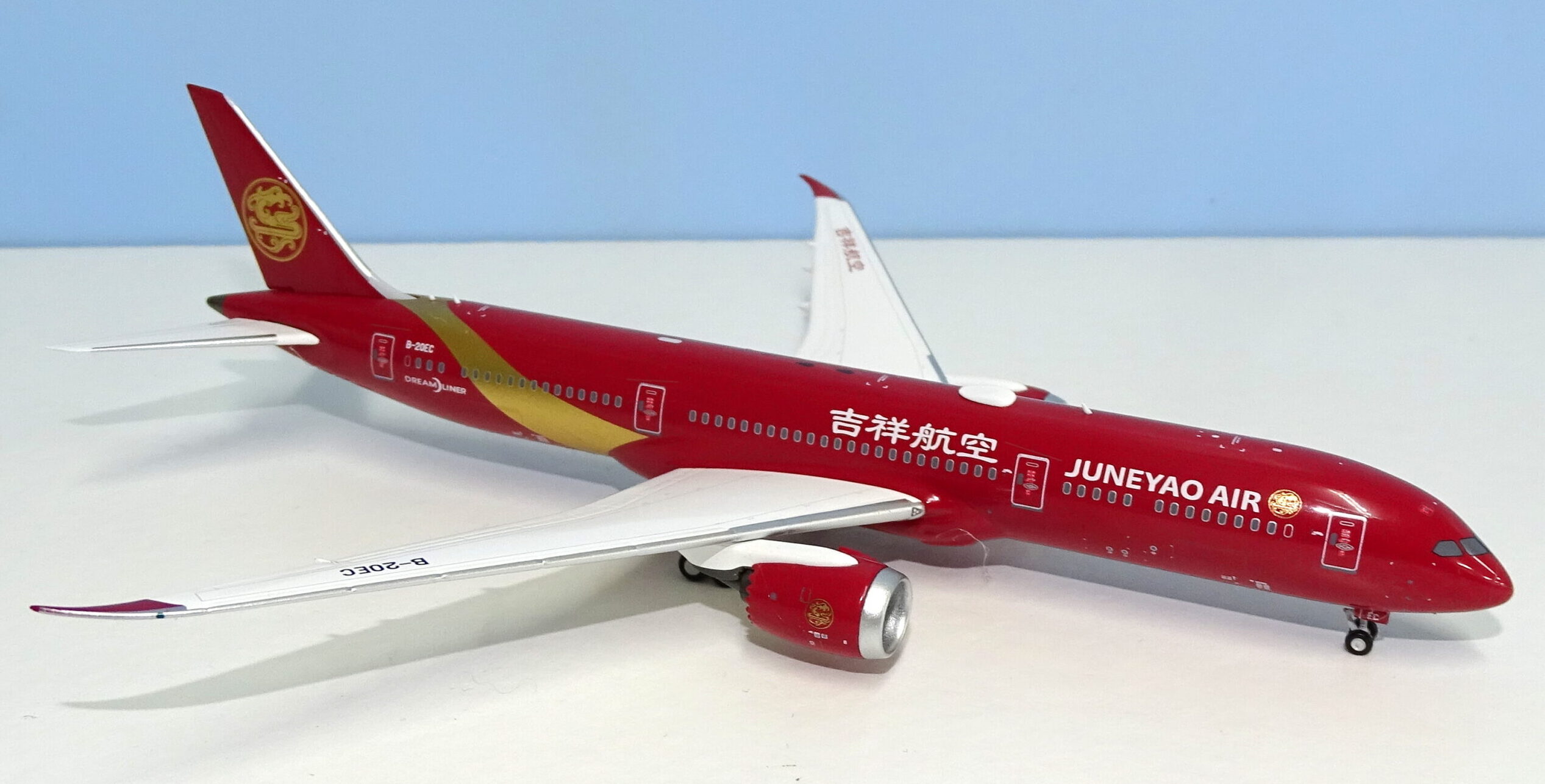 NG Models have now produced or announced an impressive 47 Boeing 787s and modified the mould multiple times. This model dates from the May announcements, which weren't released until early June. That means that it hasn't actually got the latest update associated with the mould. The latest batch of 787s from early July (Bamboo Airways, Etihad Man City and Amiri Flight) have modified maingears, which resolve the hot rod stance of earlier 787 releases.
The original problem came about due to a shortening of the nosegear in a previous mod and with the change the only major criticism of the mould disappears. This model however still has the slight tail up stance caused by the slightly too long maingear legs.

Both the Phoenix and Gemini Jets moulds are massively inferior to the NG Models product. Only the JC Wings 787 offers any real competition and indeed it is a very strong competitor, arguably superior depending on your point of view, but with the updated NG maingear the two are largely comparable.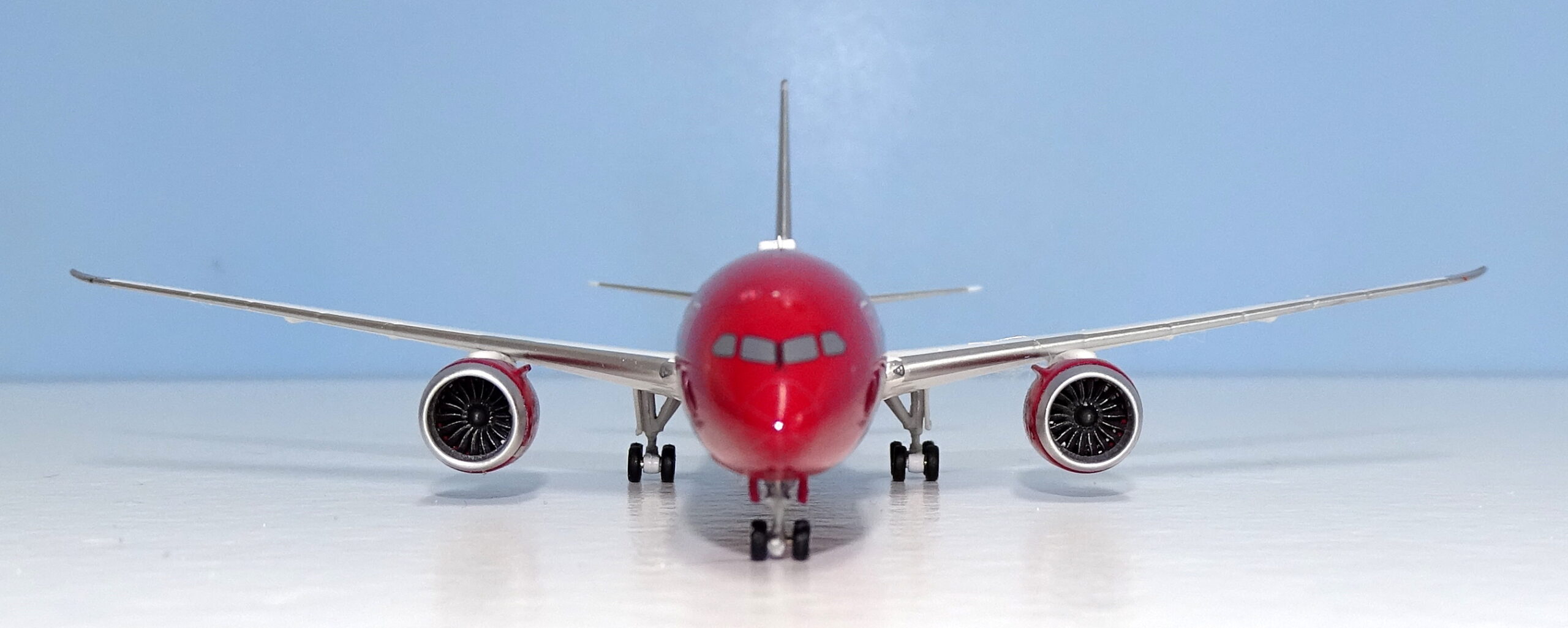 When I did a detailed mould review of the competing 787 moulds the NG Models version won in my estimation, however the difference between the two was miniscule and came down to within the margin of error. Basically, both moulds are outstanding.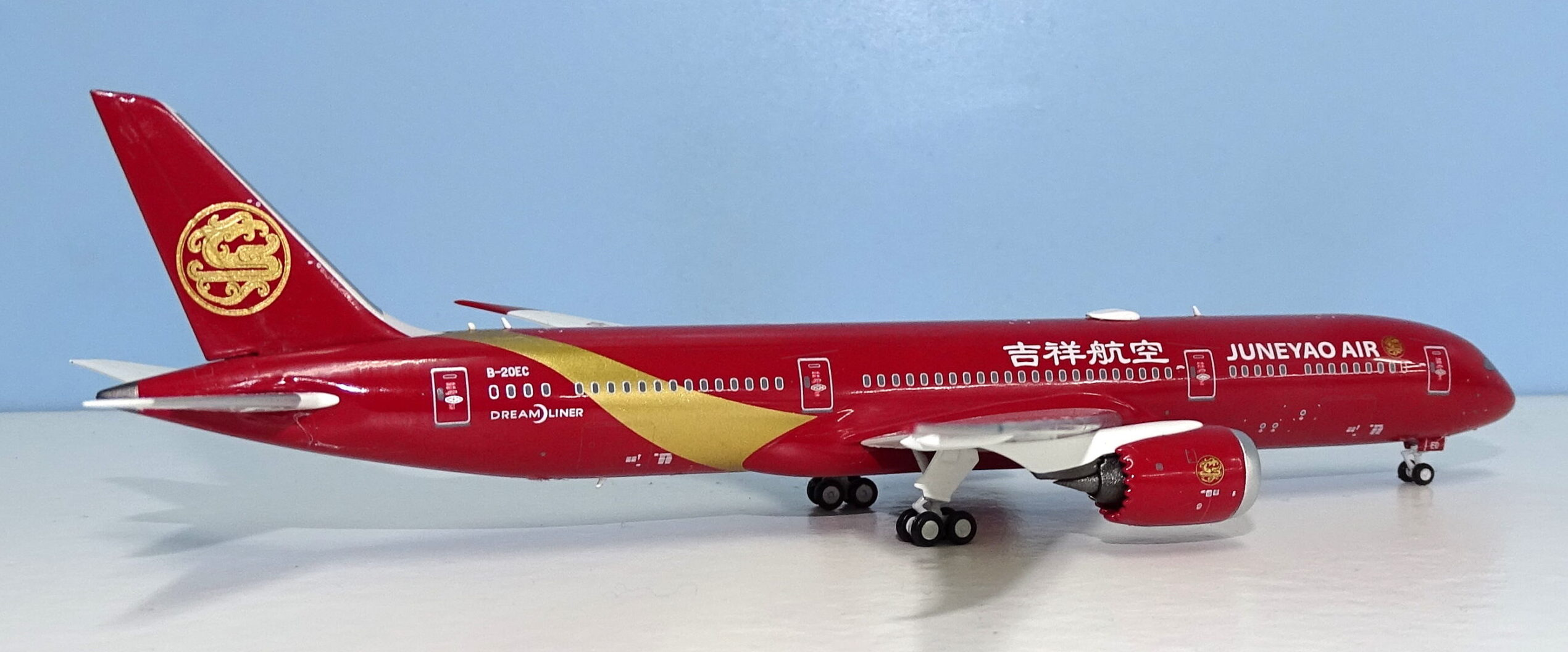 The fuselage, wings and control surfaces of the NG Models mould are excellent and compare well to the JC Wings casting. NG Models do not offer a flaps down variant, as JC Wings do, but in other ways the two are very close. The NG has slightly better sized aerials, better angled horizontal stabilisers, better shaped vertical stabilizer and better fanblades, but arguably the nose on the JC may be slightly superior.

Both the JC Wings and NG Models 787s are exceptional castings and we are lucky as collectors to have the choice between them, or at least we should be. The reality is that JC Wings takes literally months to release models it announces, whilst NG will have theirs out the month after the announcement. The gap between the moulds isn't big enough for me to not purchase the NG version. With the improved maingear this mould is a ten but this slightly older version gets a nine.
SCORE – 9
PAINT & LIVERY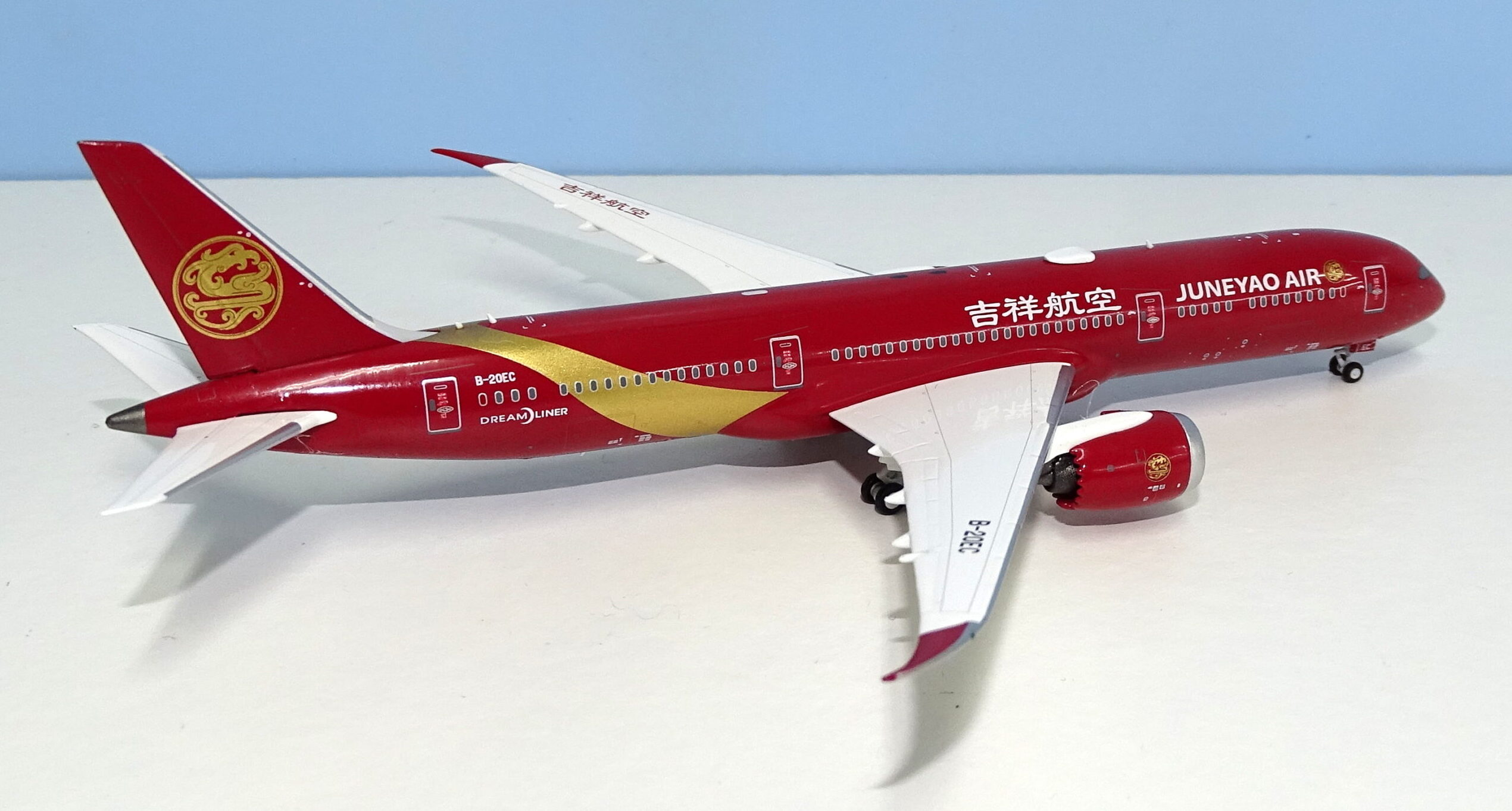 Juneyao's first 6 787s came in three different schemes, none of which match the airline's standard rather bland Euro-white scheme. Instead they have flourishes on the fuselage adding a Silk Ribbon, Peony Flowers or Petals. Juneyao has also utilised a fourth livery variant, previously applied to an A320 and an A321. This 'Chinese Red' or burgundy scheme is a lot more daring as it covers the entire fuselage in the same burgundy colour as used on the tail.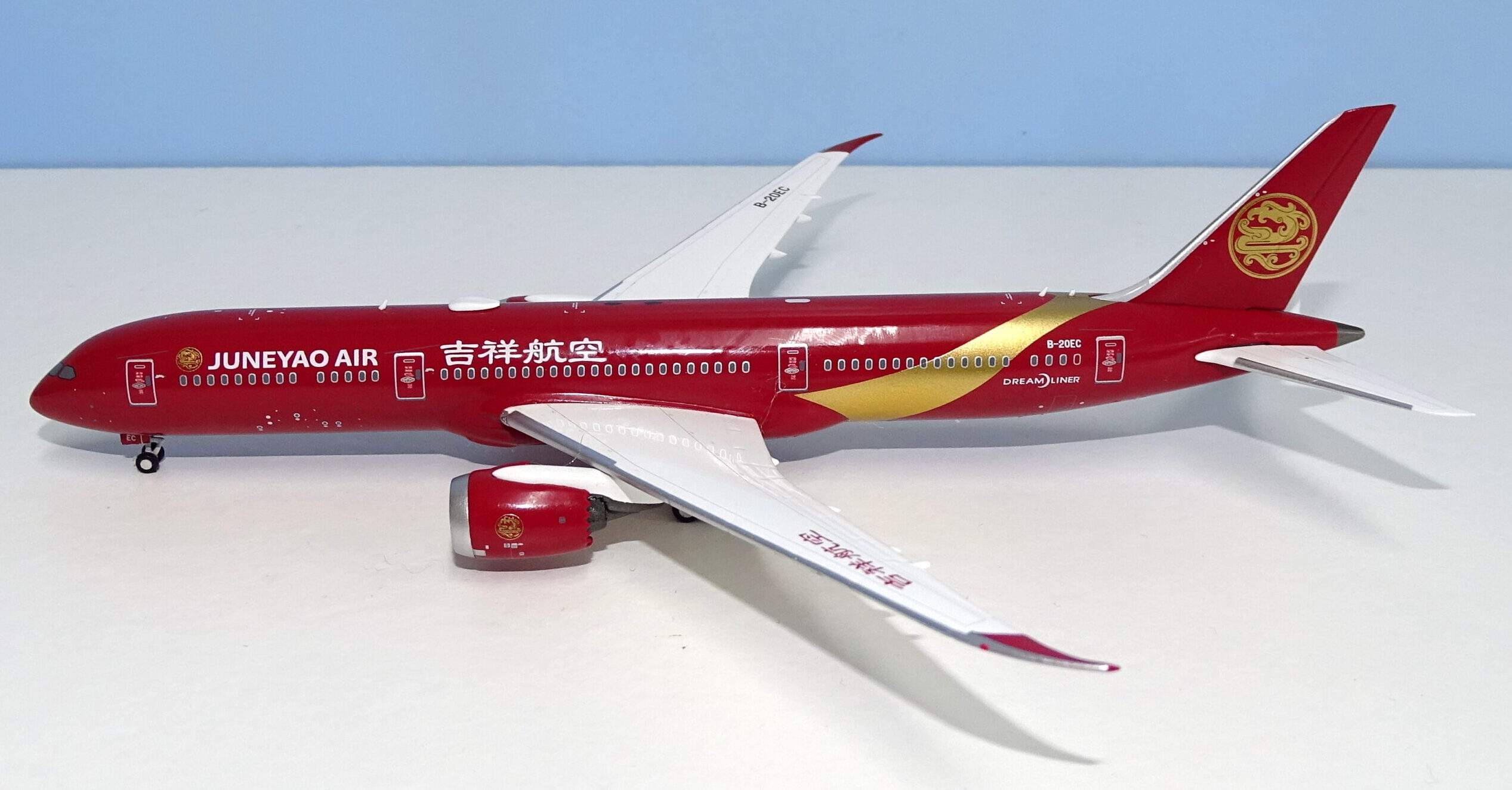 In addition, the fuselage is adorned with a flowing golden ribbon and both the tail and engines are sprayed with the standard golden auspicious phoenix logo. This variant of the Juneyao scheme has proven challenging to get right in the past. I have a Phoenix A321 using it and the burgundy colour is way off. An HYJLwings replacement for that model was cancelled seemingly also for colour reasons. Only Aeroclassics have done the scheme justice, on an A320.

NG Models have the burgundy accurate and the gold shines beautifully. The phoenix on the tail is exquisite and the gold ribbon on the fuselage perfectly placed and sized. Since this is actually a rather basic scheme once you discount the fuselage base colour there are limited areas for mistakes, however there are actually two places were NG haven't quite got this correct.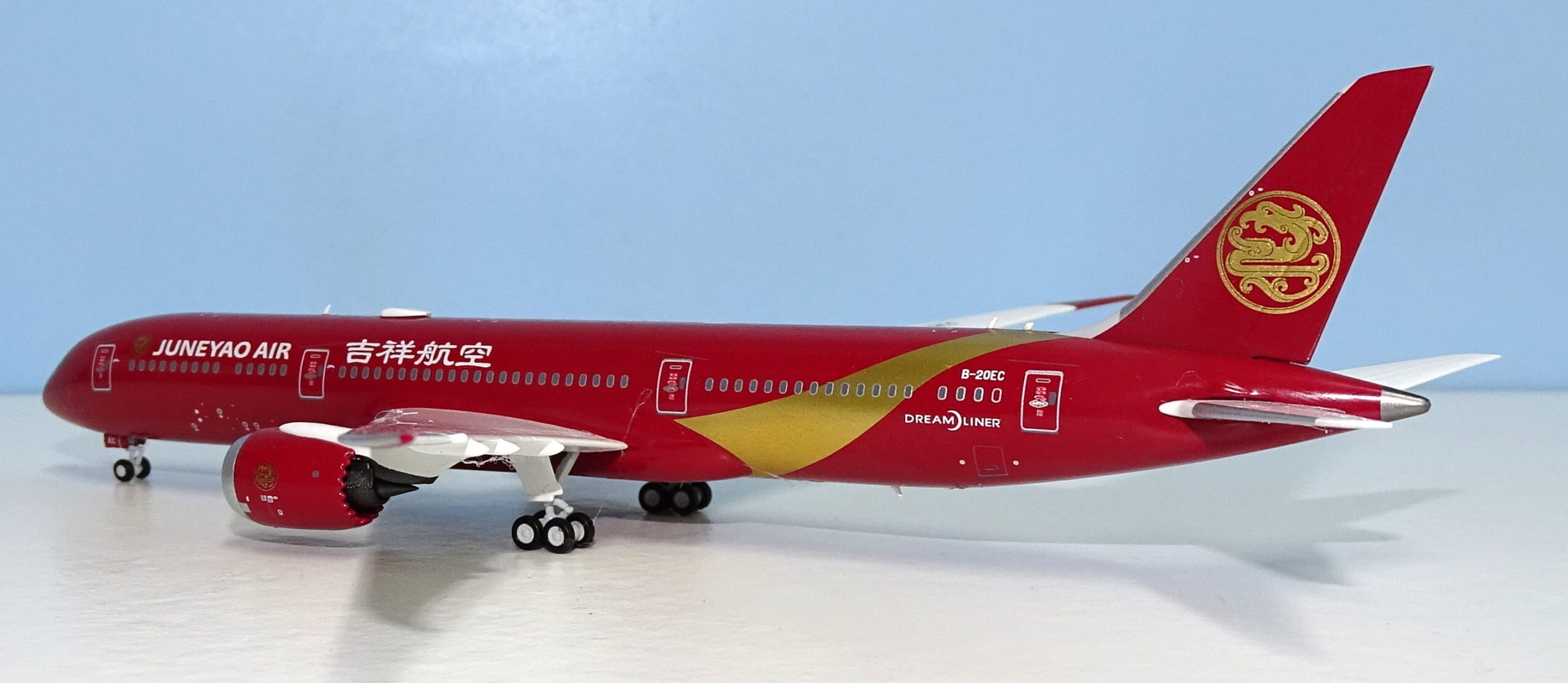 The first is the on the engines where the Phoenix logo although well sized and printed is a little too high on the nacelle. The second is the English titles which are slightly too low and so a bit chunkier than they ought to be. Neither of these errors stand out at all unless you're staring hard at the real thing, which of course I have been.
SCORE – 9
PRINTING & QUALITY CONTROL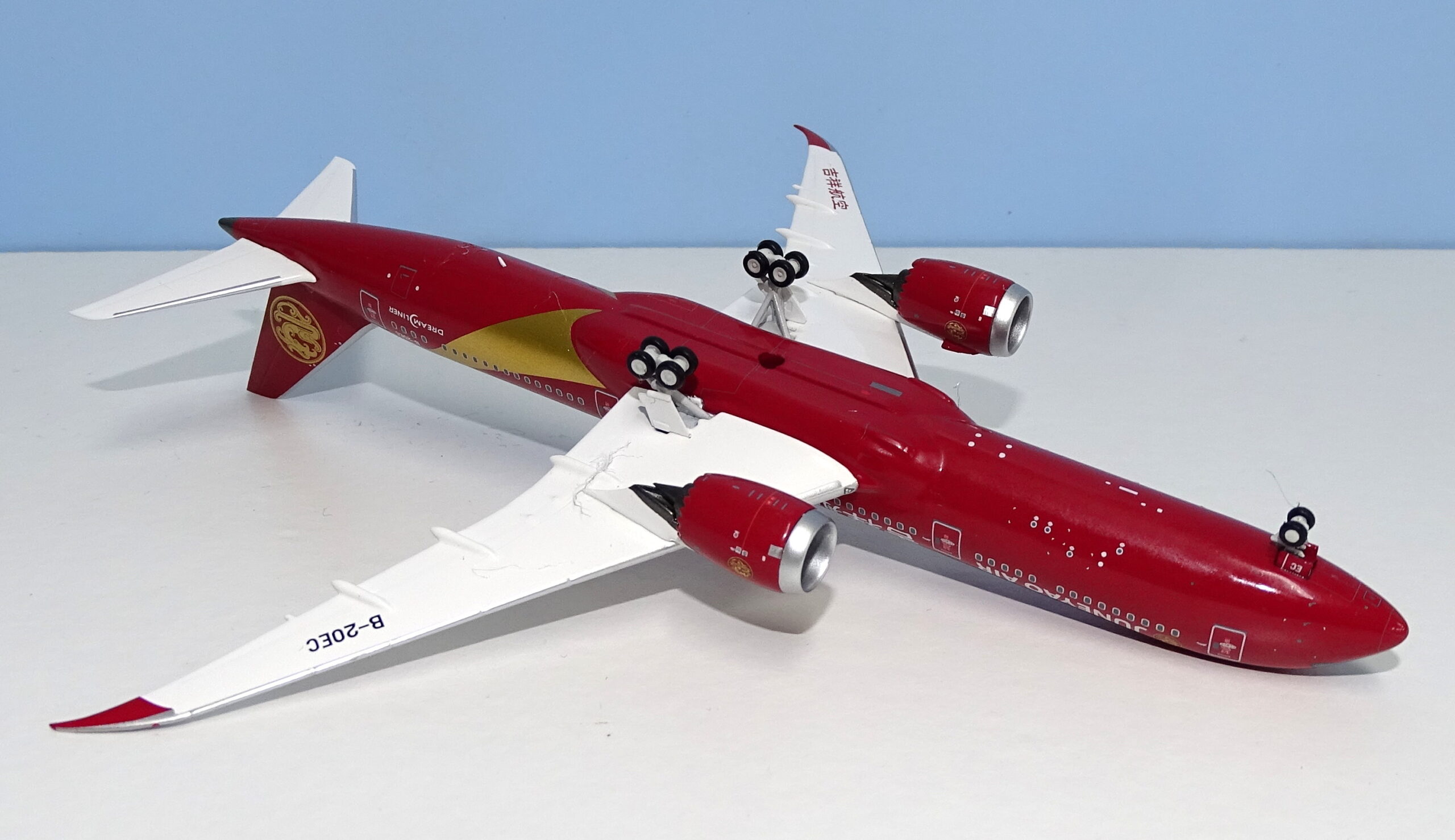 I'm running out of superlatives to discuss the printing on NG Models releases. Here they manage to print ultra-thin markings even on a dark background. It is very impressive and the burgundy really highlights the amount of printing being put on the model.

Construction is largely first-rate however the white dome on a burgundy fuselage does highlight that the attachment of the dome isn't as tight as it might be. Otherwise it's the usual high standards.
SCORE – 9
CONCLUSION
NG Models have a habit of making tricky looking models like this look easy and this is another high-quality effort. I doubt 99% of collectors would notice the livery and build problems that have lost this model 2 points. You know that buying from NG you are going to get quality and considering their 787s are available literally months ahead of JC's I am tempted to acquire them over the latter's. Phoenix meanwhile are not even in the running for 787s and consistently achieve lower scores in the livery application and print scoring areas even without their 787 being a 7, which it is.
FINAL SCORE – 27/30