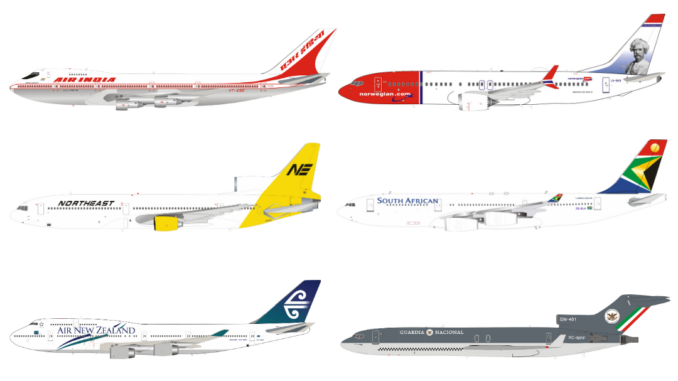 Inflight200 has announced a new suite of models for the month of August! There are 12 new releases in a variety of types representing airlines from around the world.  Highlights include a Guardia Nacional de México 727-200 Advanced, the first Air New Zealand 747-400, a Northeast L-1011 in "Yellowbird" colors, and a "Mark Twain" Norwegian Air Shuttle Boeing 737-8. Check out the full lineup of new releases below!
Inflight200 (1:200)

South African Airways Boeing 727-44C Swakop ZS-SBG IF721SAA04P
In the early 1960s, Suid Afrikaanse Lugdiens (South African Airways) needed an airplane with good 'hot-and-high' performance to operate out of Johannesburg with short and long range capabilities. They chose the 727 over the competing Hawker Siddeley Trident for its greater range and payload capacity. It took over routes previously operated with the Lockheed Constellation and Vickers Viscount. In 1968, South Africa's civil aviation authority delegated to SAL/SAA the characters 'SB' in the tail number to indicate a short-range airplane: 'SA' was for long range. Before the change, ZS-SBG was known as ZS-EKX. It was named for the Swakop River.
---

Olympic Boeing 727-230/Adv SX-CBG Mount Menalon IF722OA0720
One of ten 727 airplanes in Olympic's fleet, SX-CBG was named Mount Menalon for Mainalo in Arcadia.
---

Air-India Boeing 747-237B VT-EBO Emperor Vikramaditya IF7420820P
This fourth 747 delivered to Air India bore the name Emperor Vikramaditya for the legendary ancient Indian emperor. The title "Vikramaditya" (meaning "the sun of valor") was later adopted by several Indian kings, much like "Caesar" in ancient Rome.
---

Air New Zealand Boeing 747-419 ZK-NBT Kaikoura IF744NZ0820
Named Kaikoura for a town on the South Island's east coast, ZK-NBT was delivered in 1990 as the first Air New Zealand 747-400.
---

Aerolineas Argentinas Airbus A310-324 F-OGYR IF310LV1020
This A310 was originally delivered to Pan Am as N819PA, where it was named Clipper Northern Light. It was sold to Delta in 1991 and leased to Aerolineas Argentinas by Airbus from 1994 until 2000, when it was leased to Transaero before cargo conversion and sale to FedEx in 2004 as N805FD where it was named Fernando.
---

Volaris Airbus A321-271N N542VL IF321VN41020
N5452 was the fifth Volaris A321neo. It is currently being leased from AerCap.
---

Azul – Linhas Aéreas Brasileiras Airbus A321-251NX PR-YJC IF321AS0720
The A321NX is an A321neo with the Airbus Cabin Flex (ACF) door configuration. With some cabin changes, this increases capacity by 20 seats over the standard configuration A321N. PR-YJC is named Sucesso Azul (Blue Success).
---

South African Airways Airbus A340-211 ZS-SLA IF342SAA07
This A340-200 flew for Lufthansa as D-AIBA Nürnberg until 2003 when it was sold to Airbus. It was leased to SAA by Airbus until sale to GMT Holdings in 2006, who continued the lease. ZS-SLA was retired in 2011 but is preserved in Johannesburg as a cabin trainer.
---

Turkish Airlines Airbus A350-941 TC-LGB IF359TK0920
TC-LBG will be the second A350 XWB delivered to Turkish Airlines. At the time of publication, it is registered as F-WZGD and is undergoing taxi and RTO checks in Tolouse.
---

Norwegian Air Shuttle Boeing 737-8 MAX LN-BKB "Mark Twain" IF73MDY1220
"It is a subject that is bound to stir the pulses of any man one talks seriously about, for in this age of inventive wonders all men have come to believe that in some genius' brain sleeps the solution of the grand problem of aerial navigation, and along with that belief is the hope that that genius will reveal his miracle before they die, and likewise a dread that he will poke off somewhere and die himself before he finds out that he has such a wonder lying dormant in his brain." ―Mark Twain (Letter, 1869)
Samuel Clemens (Mark Twain was his nom de plume) lived until 1910, seven years after the first heavier-than-air powered flight, but never flew. Orville and Wilbur Wright were born in 1871 and 1867, respectively. The navigation waypoint TWAIN is located over Hannibal, Missouri where Twain grew up.
---

Northeast Airlines Lockheed L-1011-385-1 TriStar 50 3D-NEG IF1011NE0920
This TriStar was delivered to TWA in 1974 as N31019, an L1011-1. In 1983, it was converted to an L1011-50. It was re-registered as 3D-NEG and painted in Northeast colors. In March 2004, decals for the fictional Serb Air were applied for filming of NBC's LAX. It also starred in the episode 'Flight' of the FX Networks' Thief in November 2005. It was sold to Ashrock Metals to be parted out in 2009. Fortunately, Save A Connie Inc. purchased it later that year. It is now preserved as N700TS (in World Air Leasing livery) at the Airline History Museum in Kansas City, Missouri.
---

Guardia Nacional de México Boeing 727-264/Adv XC-MPF GN-401 IF722MEX03
The Mexican National Guard is a national military police force formed from the merger of the Military Police, Naval Police, and Federal Police in 2019. XC-MPF was formerly in service of the Policía Federal, but has been repainted for the Guardia Nacional. It originally flew for Mexicana as XA-MXD until 2002.
---
All of these models are available for pre-order at DGPilot, the official store of ModelAirliner.com. Click here to shop now!