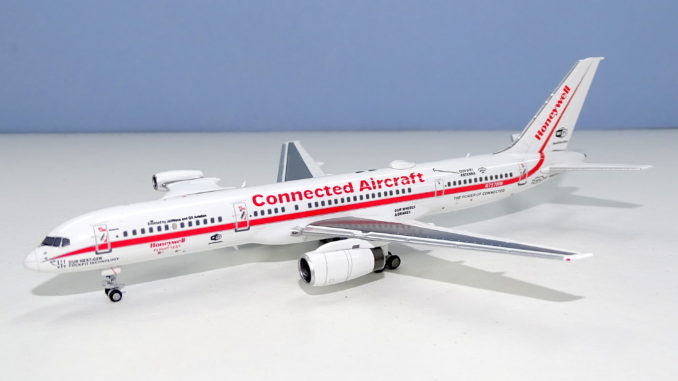 The willingness to go the extra mile has been the hallmark of NG Models so far. As a manufacturer they have worked in concert with collectors like no other and listened actively for feedback. They have also shown a playfulness and interest in unusual aircraft, which can test their capabilities. When this model was first announced it was without the third engine mounting but after a bit of discussion it became clear that NG wanted to try its hand at producing the extra engine. The level of effort required to make a one-off model with a low hundred release level is a credit to NG as a company. They are really going the extra mile.
THE REAL THING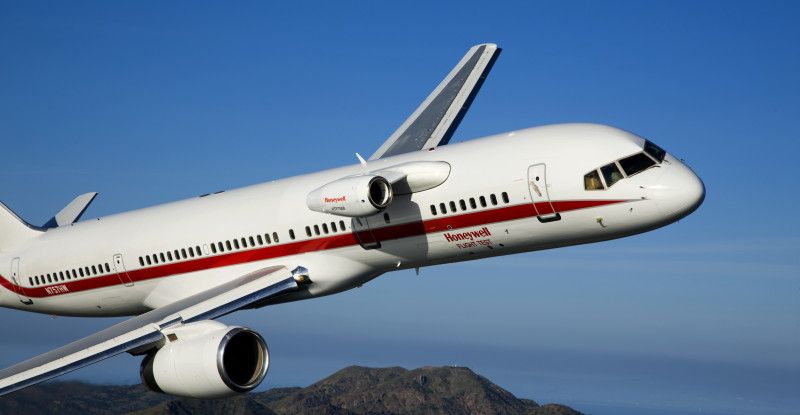 Honeywell International is a huge American conglomerate that has four main business units, one of which is Honeywell Aerospace.  Based in Phoenix, Arizona the aerospace arm manufactures aircraft engines, avionics, auxiliary power units and a host of other systems. Among its engines are the TFE, TPE, ATF and HTF families equip huge numbers of business jets from the Dassault falcon to the Bombardier Challenger and Gulfstream series.
Testing these engines in real conditions has seen Honeywell equip a carrier aircraft with a strange extra engine mount that comes out of the fuselage. The aircraft originally used for this work was a 1961 vintage Boeing 720 but in April 2005 Honeywell acquired a Boeing 757 to takeover this role.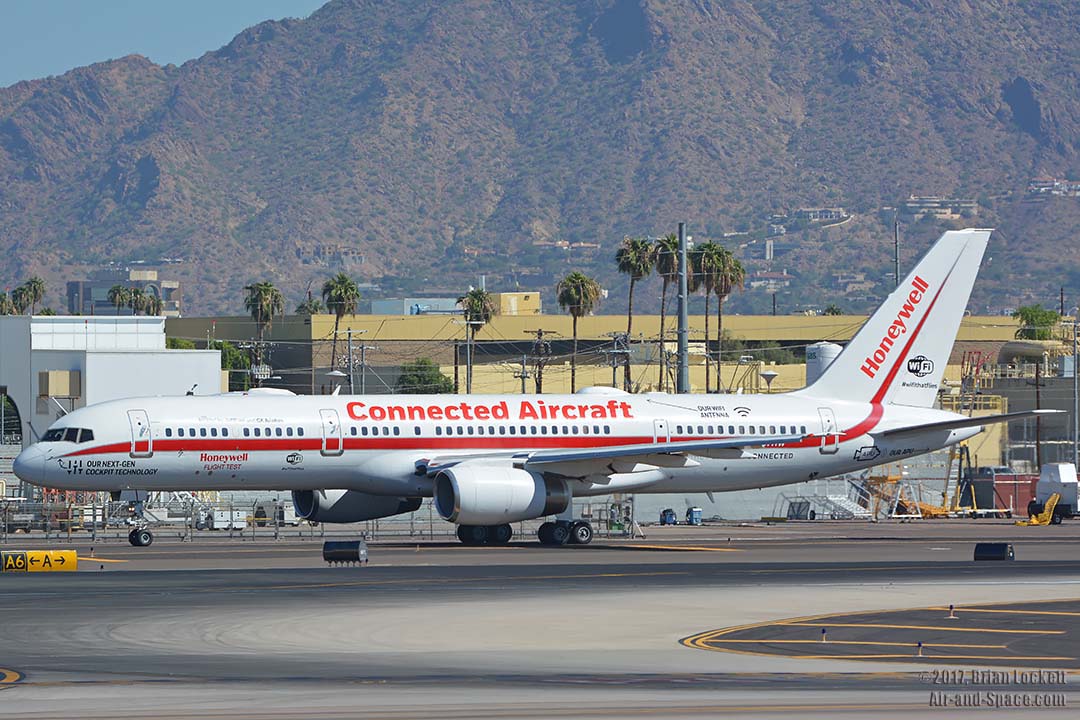 The aircraft was actually only the 5th 757 built and was originally delivered to Eastern, as N504EA, on February 28, 1983. Following Eastern's collapse she sat idle for several years before being acquired by the UK charter airline Airtours where she was registered G-JALC in February 1995. They were renamed as MyTravel Airways in mid-2002 and she served a further 3 years before moving on to Honeywell.
It seems she didn't actually enter service with Honeywell until December 2008 with a new distinctive right-hand forward engine mount which could be equipped with various testbed engines. Apparently, the handling characteristics of the 757 are not impacted by the unusual mounting.
After over 400 hours of test flights and visits to 15 countries in May 2017 the aircraft began Honeywell's Power of Connected World Tour promoting Honeywell's suite of products that can transmit, receive, analyse and share data. To that end the aircraft was upgraded with a variety of systems like smart brakes, a JetWave modem (for faster airborne WiFi) and the integrated flight planning software GoDirectFlight Services.
The tour took in trips to Dallas, Mexico City, Panama City, Toronto and New York before switching to the 'Old world' with visits to Denmark, Switzerland, Algeria, Russia and onwards. There seems to be plenty of life left in this unusual aircraft yet.
For detailed photos of this aircraft through its career see – Air and Space.com
THE MODEL
The format for my reviews is to split them into three key areas:
The mould of the aircraft
The paint and livery
Printing and quality control
Each can get a maximum score of 10 for a section giving a maximum combined total score of 30.
THE MOULD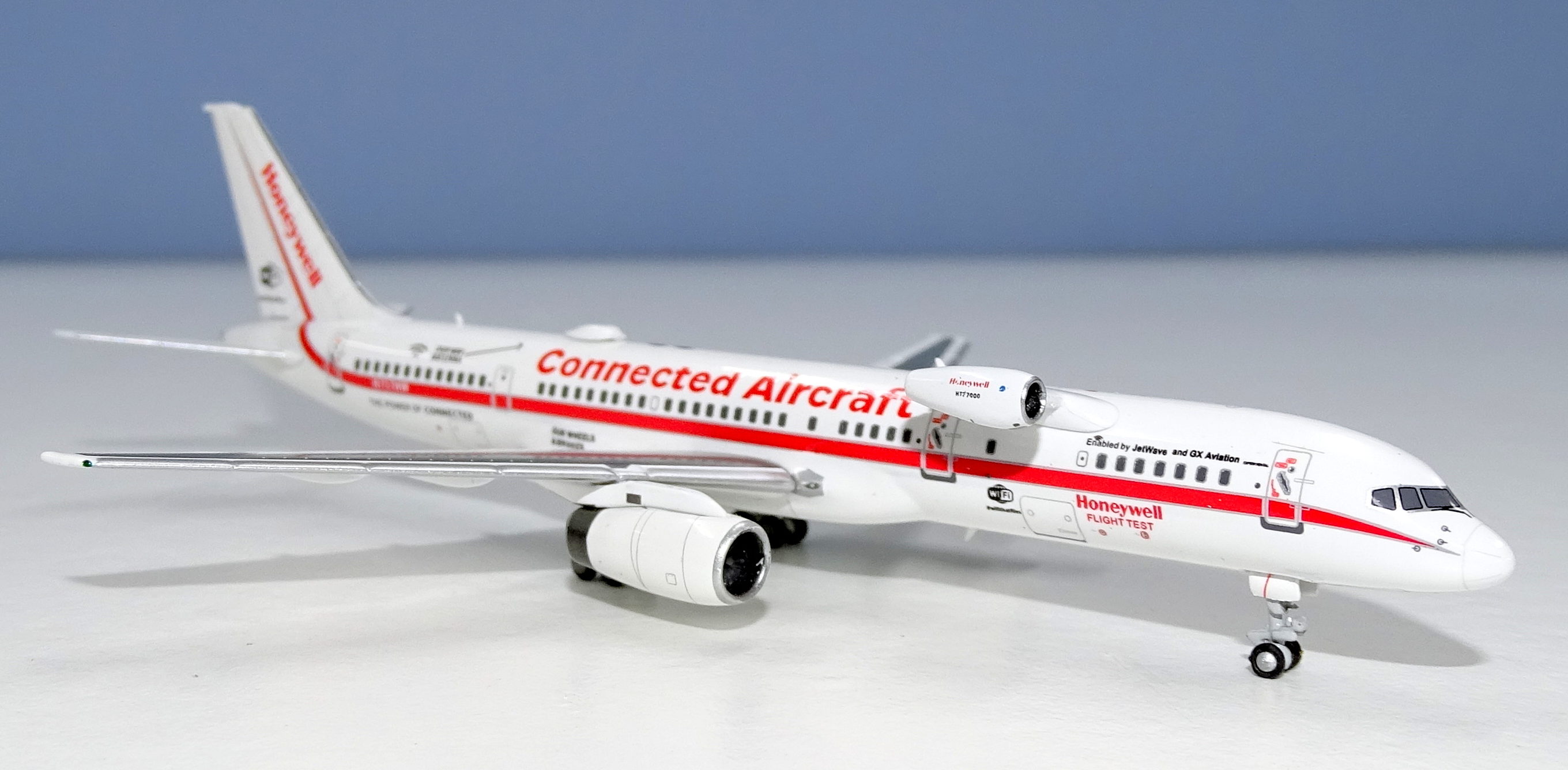 This model of course uses the base of the universally admired NG Models standard 757-200. To cover points made in the previous 3 NG/HYJLwings 757s of the standard 757 I've reviewed:
The fuselage shape of the NG Models mould is excellent, particularly the nose shape and wingroot area. The latter is a really nicely contoured design with an exceptionally tight fit for the wings. The NG mould has delicately detailed gear legs and excellent tyres and hubs.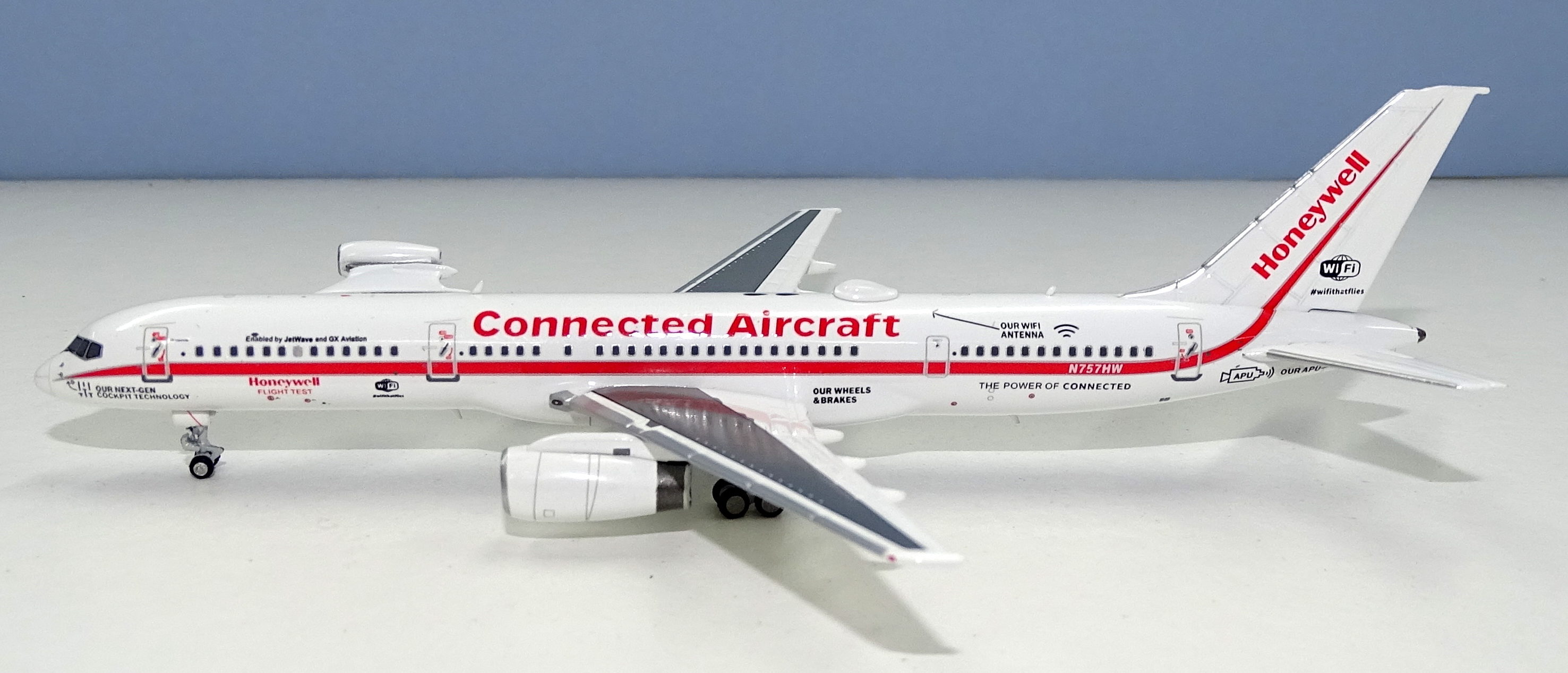 The control surfaces on the NG mould are full metal but still crafted to a fine degree. The wings and stabilisers fit tightly to the fuselage and flaps and ailerons etc are beautifully etched. The only real criticism I have seen of the NG 757 has been the shape of the Rolls Royce engine nacelles. They aren't perfect but they aren't too far off either.

As a mould the NG Models 757 is effectively faultless and easily beats all previous versions of one of the most attractive airliners ever built. Of course, this 757 has more than the standard models released to date. It has a couple of modifications.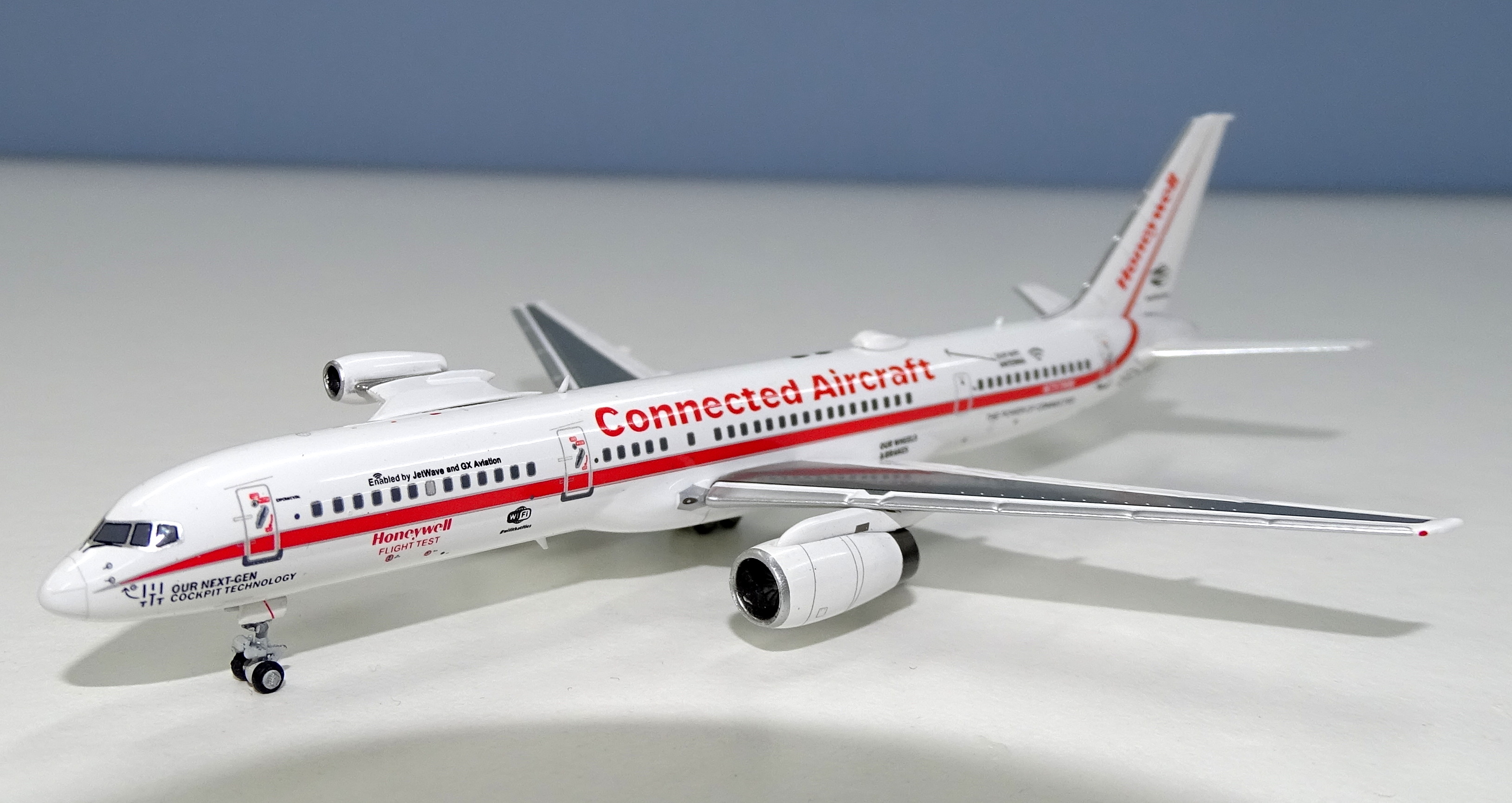 Firstly, the tail top has been modified with the trailing probe like tube. It's a lovely extra detail that I can't believe many manufacturers would bother with. In addition, the aircraft is fitted with all 4 aerials and the large WiFi radome atop the rear fuselage. The shape and fit of all are excellent.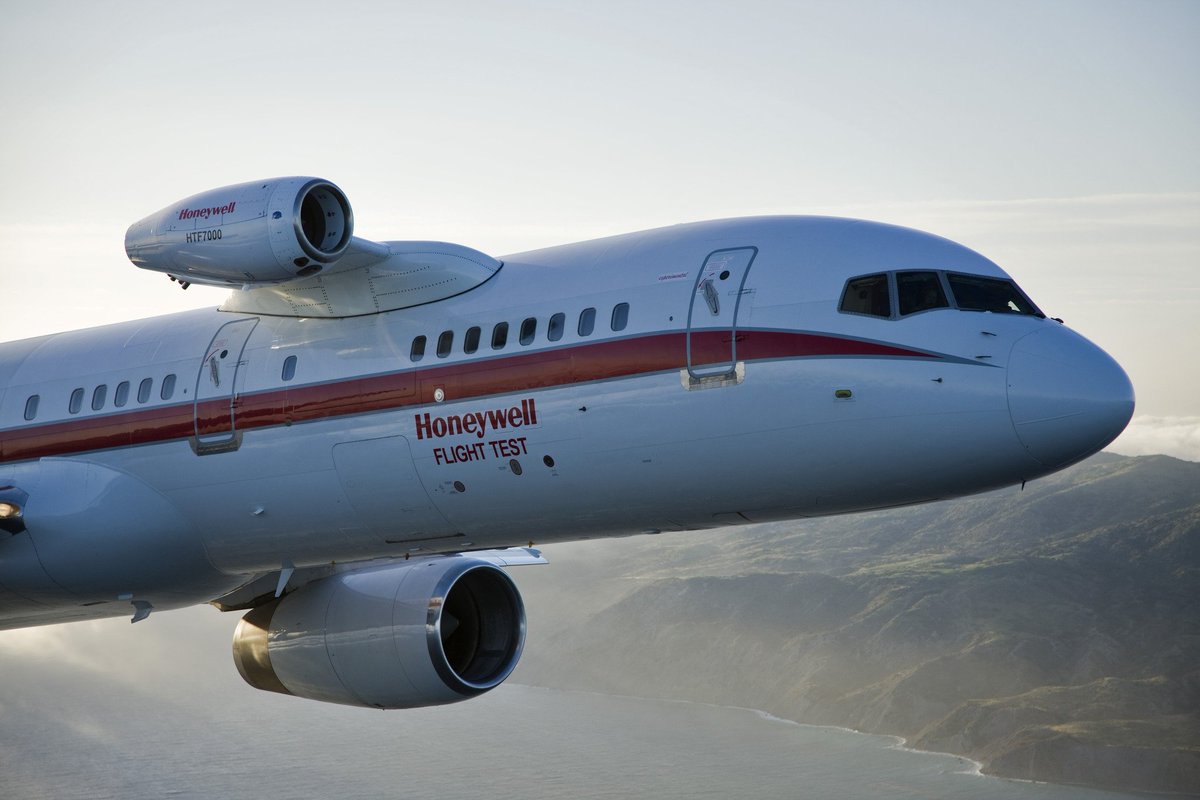 The additional engine pylon is what makes this particular airframe special and I am still amazed that NG Models spent the time not only to add it but to also add the test engine to it. That is some investment for a one-off model. The pylon fits beautifully to the fuselage with no obvious gaps and lovely curved lines, especially underneath. The size, shape and location are exquisite.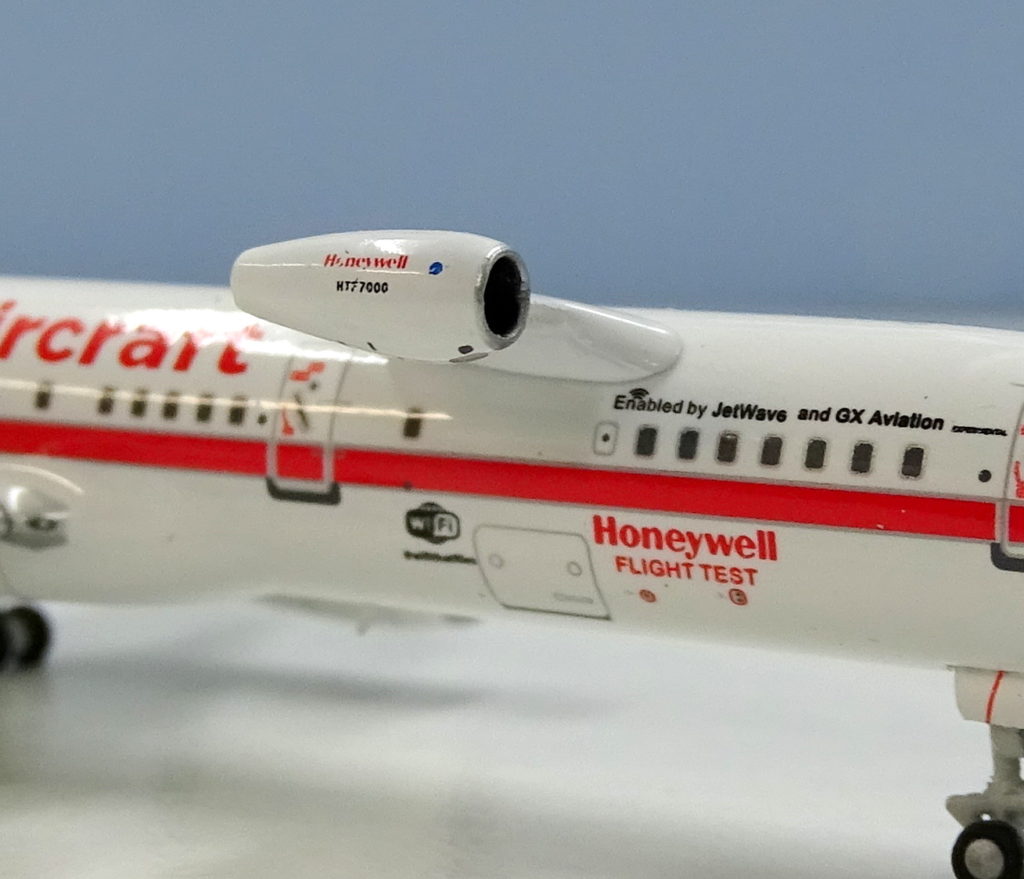 The additional engine is the HTF7000. It comes with the model separated in little plastic bag, but is easily attached to the pylon and fits snugly and cleanly. The shape of the engine is faultless. It has been pointed out that this aircraft actually never wore this engine whilst wearing this livery variation, however if that bothers you simply remove the engine from the pylon.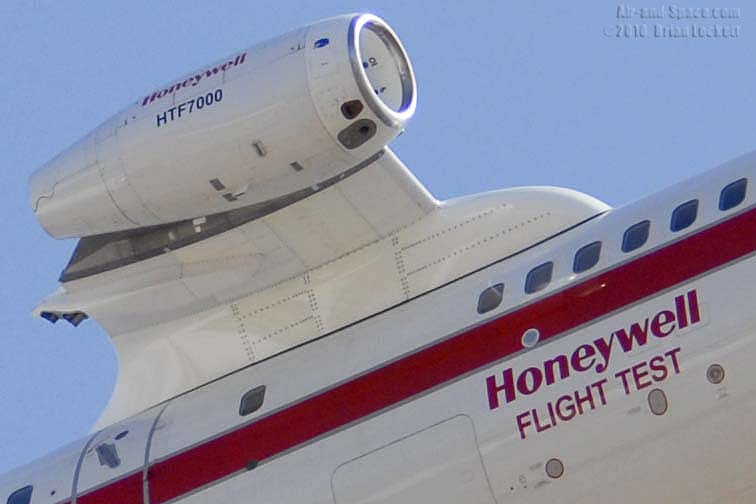 I should also say that the 757 did wear a jet engine in this scheme during May 2018, but it was a TFE731-5BR, which has a slightly different look. Most of its career in this livery the 757 was engineless or testing a Turboprop TPE-331-14. You never know perhaps NG will make a variant of either of those engines for later releases?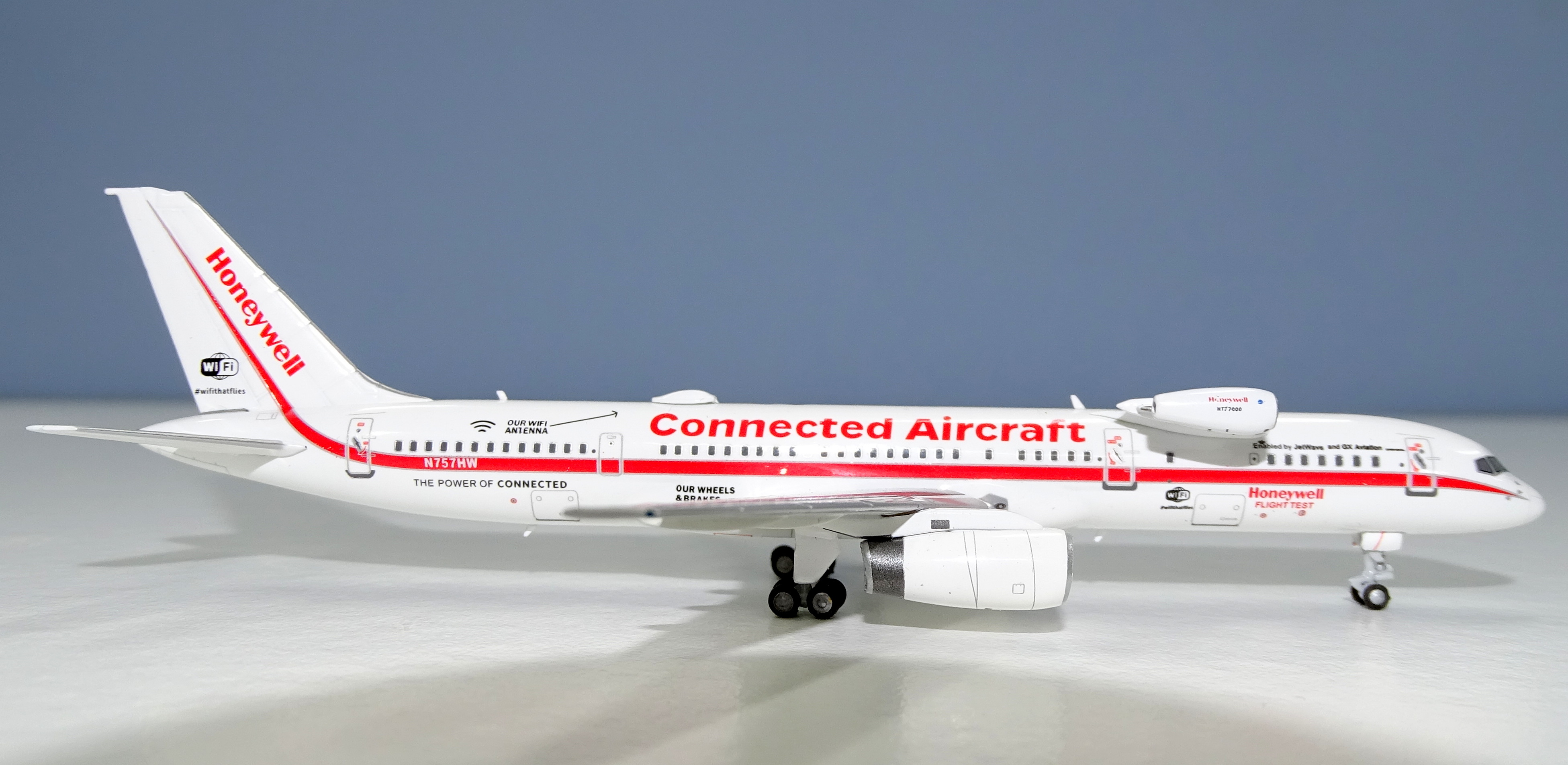 I can barely fault this mould in its standard variant so I am hardly going to dock any points for all the extra work that has gone in to make this bespoke aircraft. It is only a shame I can't give a higher score than 10!
SCORE – 10
PAINT & LIVERY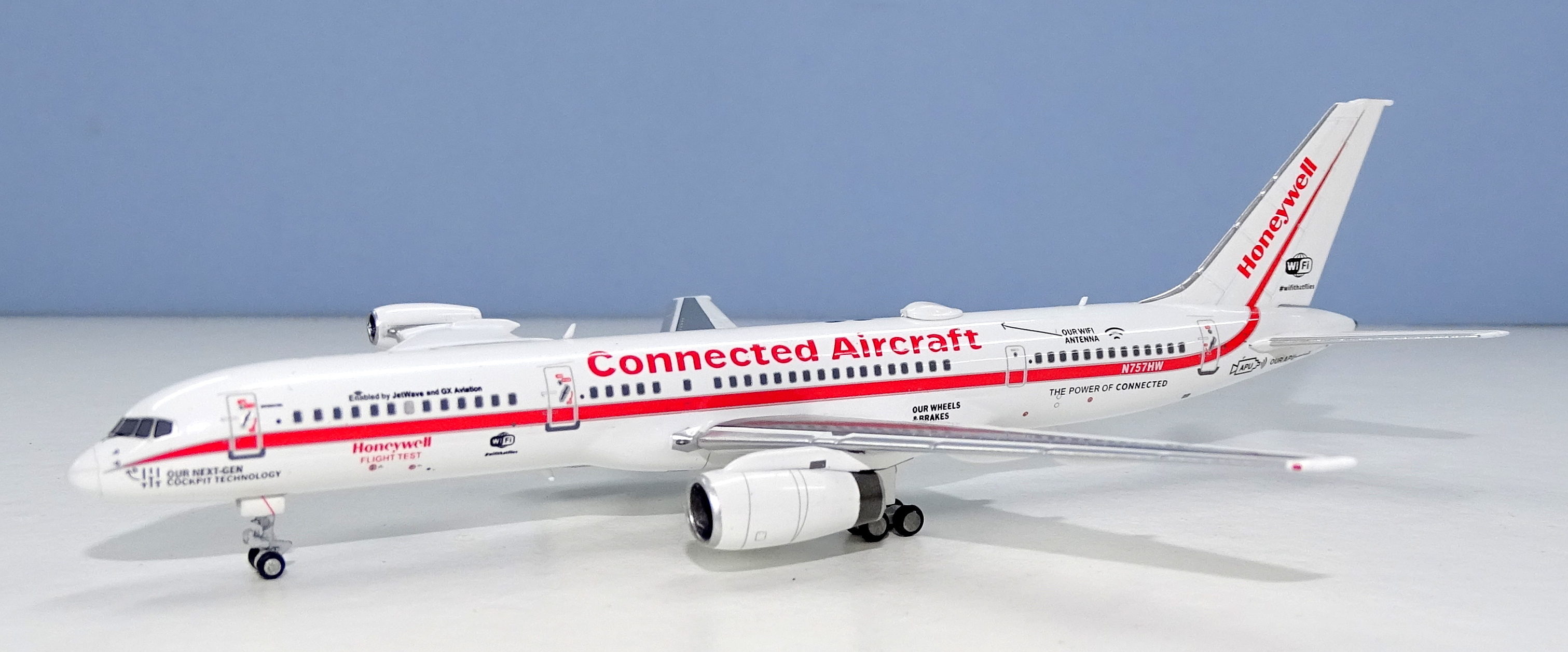 Sometime between January and May 2017 the original rather basic Honeywell scheme was updated for the 'Power of Connected World Tour'. This involved adding large 'Connected Aircraft' titles to the fuselage and 'Honeywell' titles to the tail. Also added were various other slogans and logos calling attention to the special features of the aircraft like 'OUR WHEELS & BRAKES', 'OUR WIFI ANTENNA', 'THE POWER OF CONNECTED', 'OUR API', 'OUR NEXT-GEN COCKPIT TECHNOLOGY' and '#wifithatflies'. In some ways it reminds me of the special and jokey Kulula 737 that had text pointing out parts of the aircraft. Originally under the additional wing the aircraft had 'Enabled by JetWave' titles but these were later extended to 'Enabled by JetWave and GX Aviation'. A logo under the 'OUR WHEELS & BRAKES' was dropped at the same time.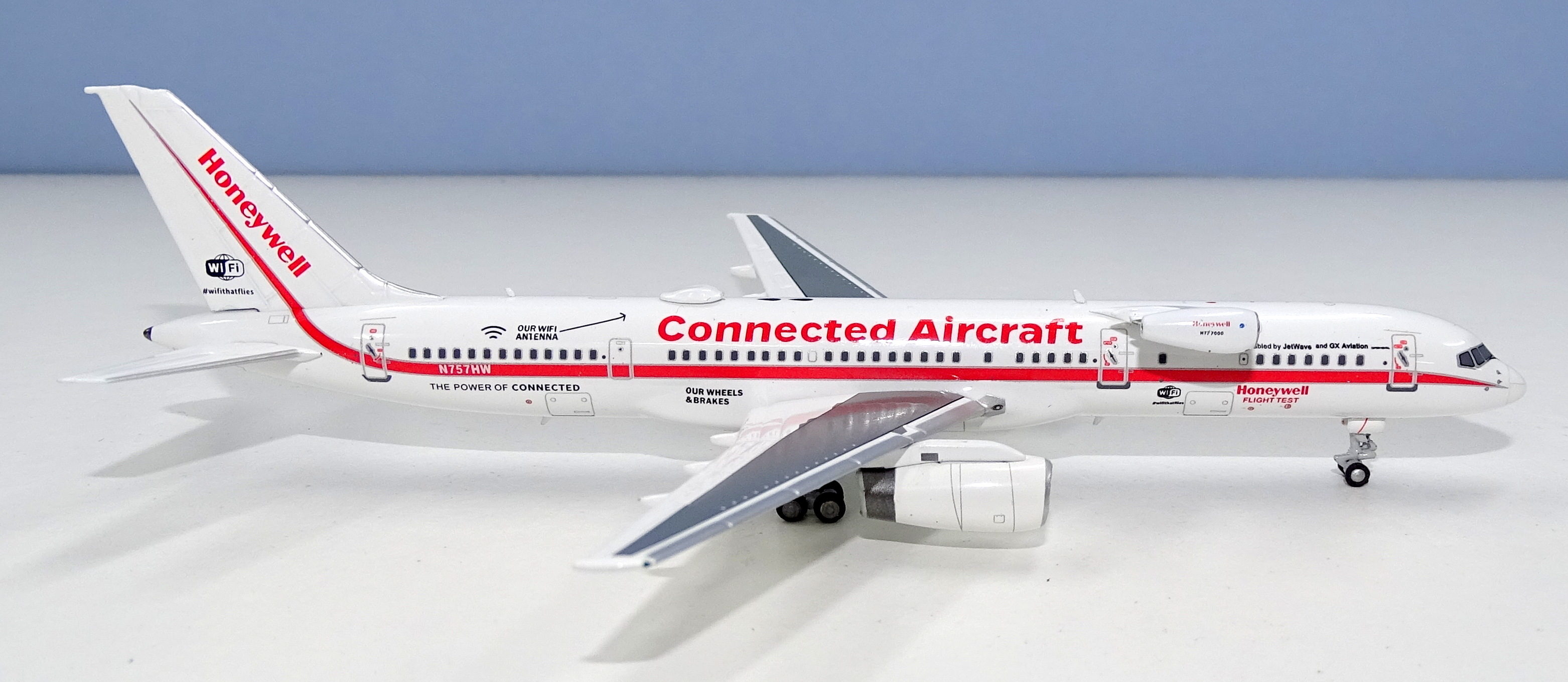 All these additions make this a difficult scheme to reproduce, however NG Models has consistently front-footed sample models with the collectorate and in doing so a few typos and titles changes were requested and acted upon to make the model hyper-realistic. Fonts, text, logos and placement are all fabulous.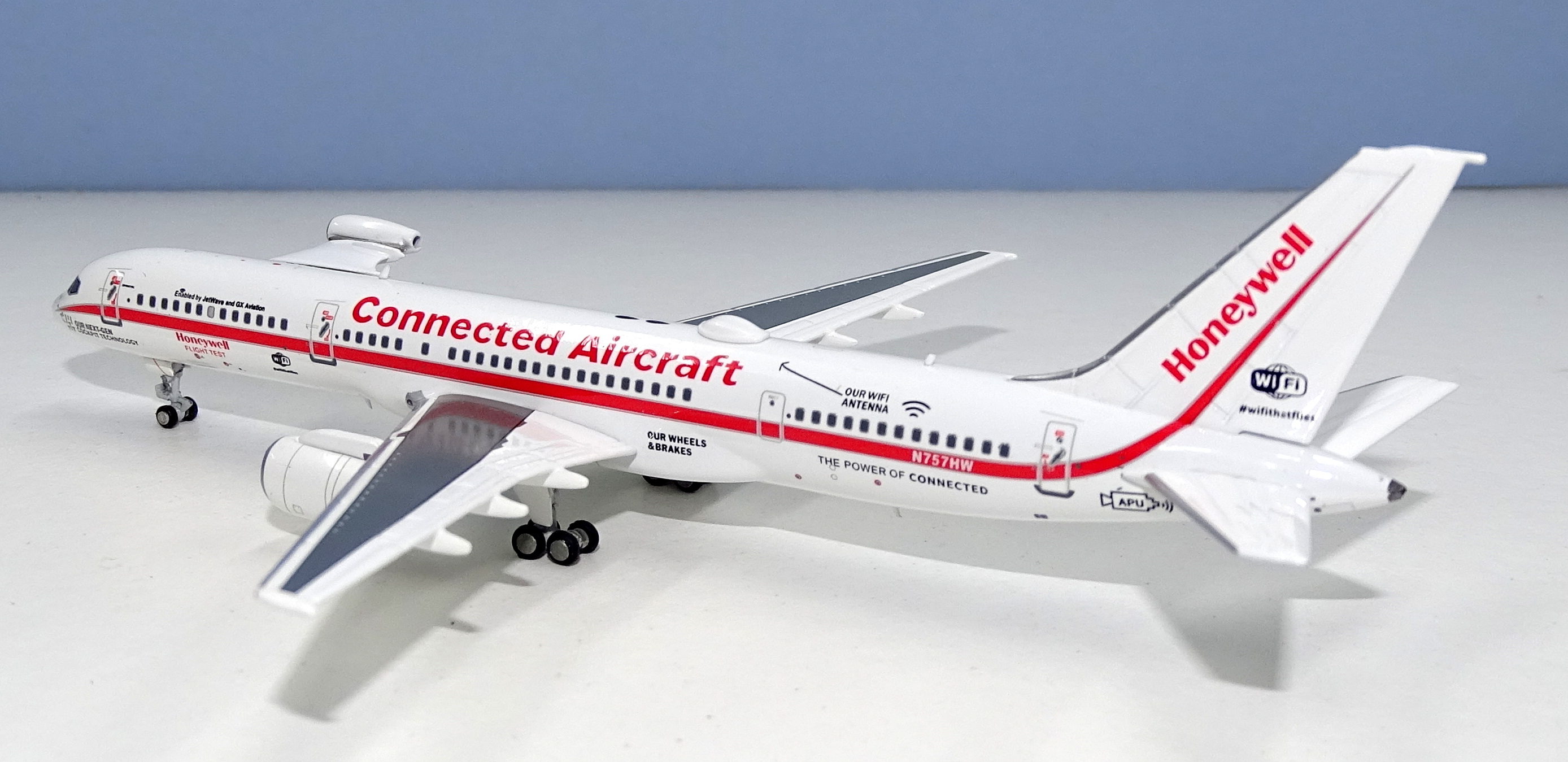 The base white fuselage gleams and the simple but attractive swoosh-style cheatline fits perfectly alongside the major titling. Once again NG Models have gone the extra mile and where mistakes have been made, they have been fixed quickly and accurately. Bravo.
SCORE – 10
PRINTING & QUALITY CONTROL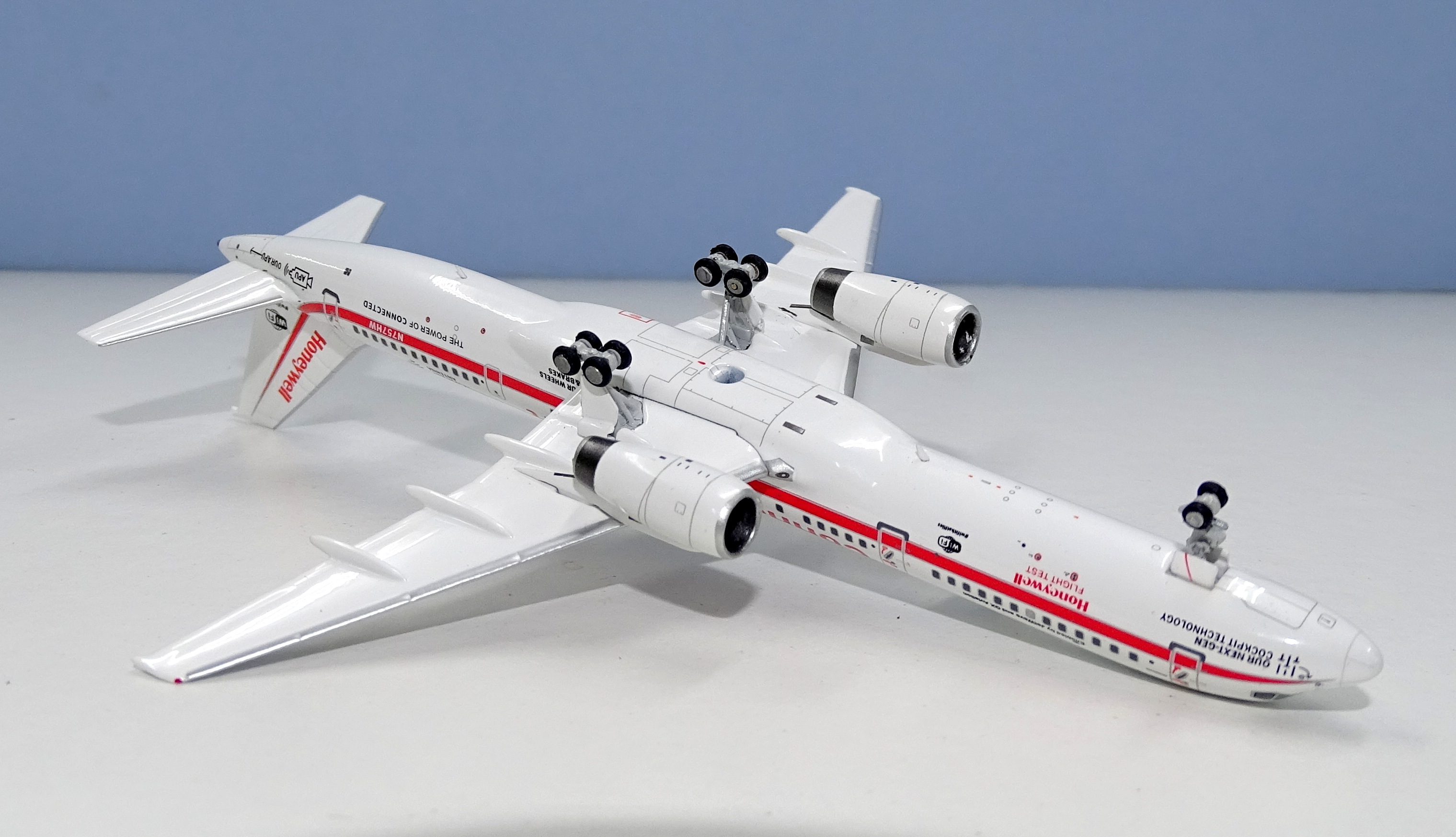 NG Models standard printing is a cut above almost everybody else's. It is so good that after you've got a few you almost begin to take it for granted until you see competing manufacturer's efforts. Items like engine nacelle panel lines and the nose radome are printed in the finest detail everytime. Of the over 20 NG 757s I own none has come with any printing defects or poor finishing. You simply can't ask for more from a manufacturer than this.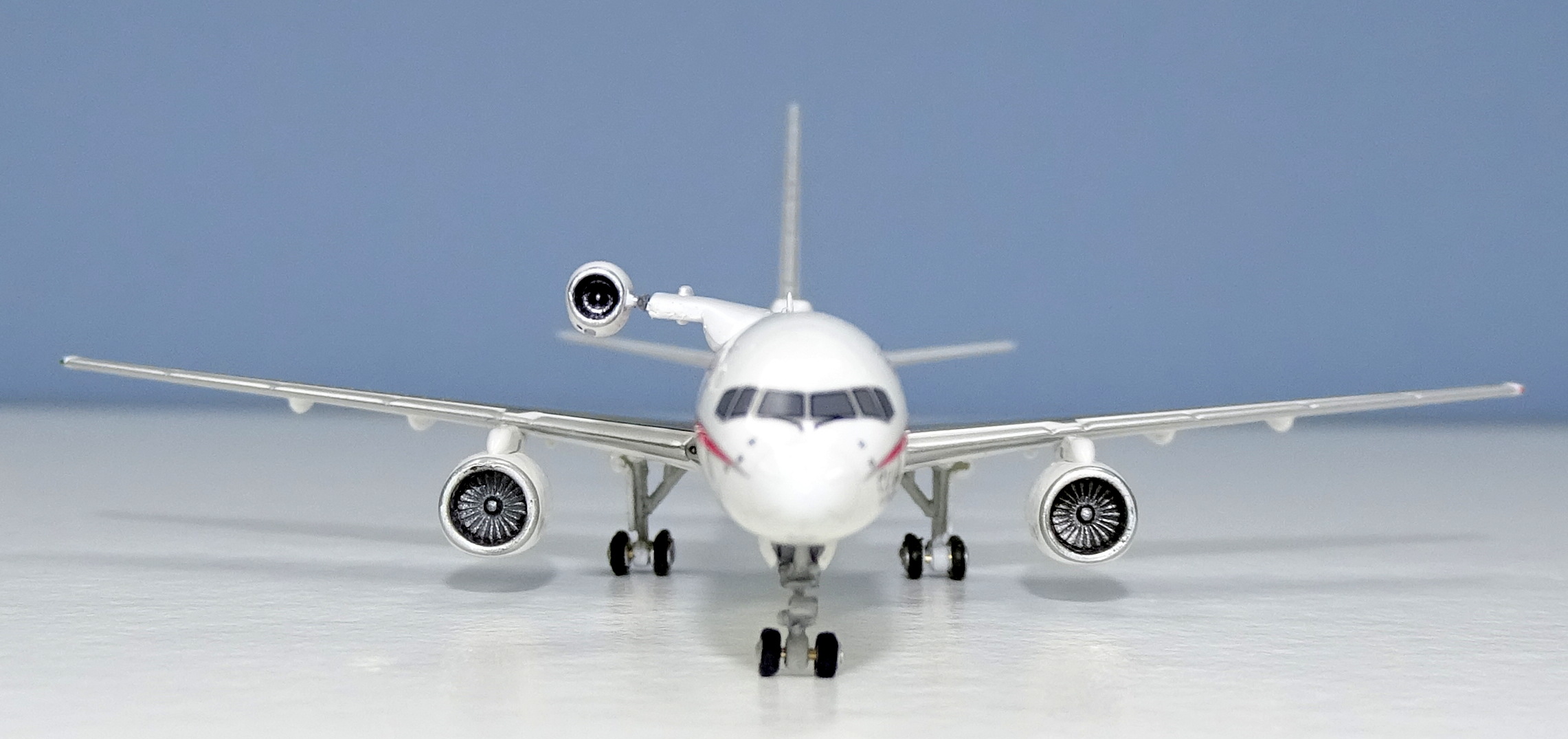 Construction quality is flawless as I have come to expect from NG. Particularly impressive is the fit of the third engine pylon and the engine itself to the pylon.
SCORE – 10
CONCLUSION
This is my 109th review at Diecast Flier and until now I have always been able to find fault with a model. I had expected that to continue but NG Models have really been pushing the boat out this year in terms of quality. Yes, technically the engine mounted here doesn't fit the livery but seriously? I mean they have literally created a one-off aircraft, well outside of the mainstream, because they personally wanted to do so. If that doesn't smack of a company that not only cares for its customers but also is enjoying itself producing models, I don't know what does. The quality of NG's products speaks for itself. I know others have produced unusual mould variants (Dragon especially, Gemini also) but they have rarely, if ever done it with the panache shown here. This model is simply outstanding.
FINAL SCORE – 30