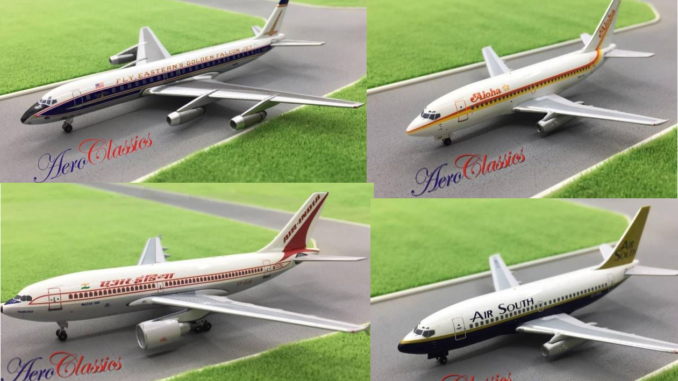 June brings a diverse and interesting selection of releases from Aeroclassics, which focus more heavily on classics than some months in 2017 have, but still give a range of models that should be able to please everyone. Nobody else releases such an interesting range of airlines as Aeroclassics and they continue to leverage their superb selection of moulds. In keeping with their cycling through the moulds they have Aeroclassics keep on producing DC-8s, A310s and A320s, but reintroduce the 737-200 into the mix.
Early Falcon Eights
Last month's early DC-8s were excellent and Aeroclassics keep the momentum going this month with three long awaited examples of the Eastern DC-8. They telegraphed these releases a while ago with the release of the same trio in 1:200 scale, under their Western Models brand, and now it's their turn in 1:400. Eastern played around with their titling and other livery elements multiple times early on in their career and here we have 3 versions. Sadly none are the first one with DC-8B titles but N8602 is wearing the second 'Fly Eastern Golden Falcon' version, which is broadly similar.
My only query is whether the falcon on the tail of N8610 is correct. Should it be red with a gold outline? I had read that all the DC-8s kept the gold with red outline version? Not sure – and I can't find any colour photos of that scheme version. The last example worn by N8606 wears the '720' scheme introduced following the return of the Electras from their LEAP refits.
Eastern Airlines DC-8-21 N8602 'Fly Eastern Golden Falcon'
Eastern Airlines DC-8-21 N8610 'Fly Eastern Air Lines'
Eastern Airlines DC-8-21 N8606 'Fly Eastern'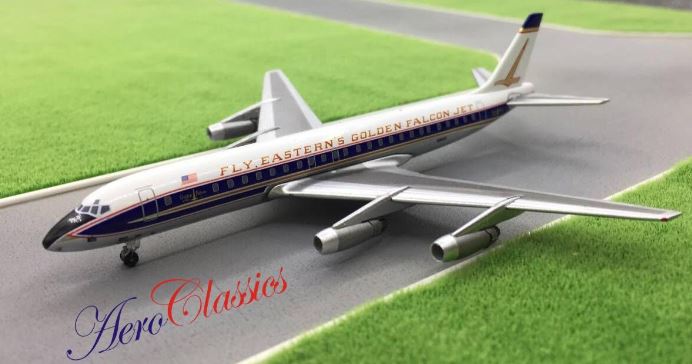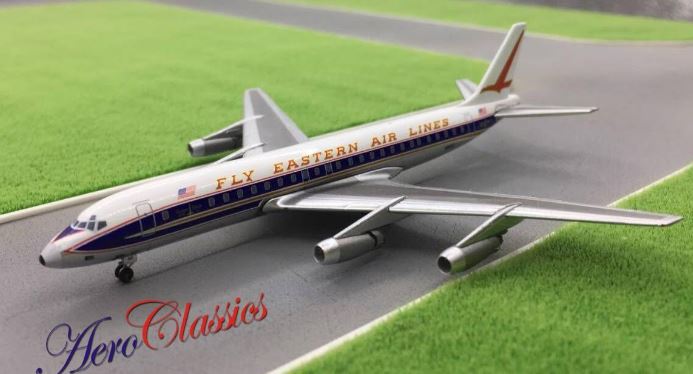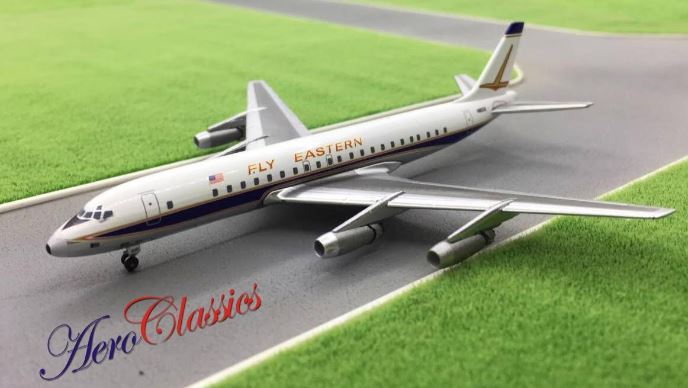 The 4th DC-8 this month is another Canadian this time of Trans Canada (Air Canada's former name). She like last month's comes with a 15 piece GSE set. Definitely on the wishlist for me:
Trans Canada Airlines DC-8-43 + GSE 15 piece set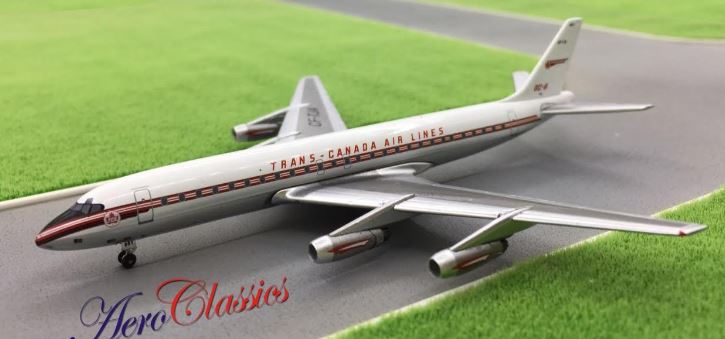 Further 3 Tens
I was mildly concerned that the usage of the A310 mould was tailing off, which would be a real shame considering the number I'd still like to see (Cyprus Airways, SABENA, BCal, China Northwest, Condor etc). Fortunately this month includes an important trio of the type:
Emirates A310-304 A6-EKA
Air India A310-304 VT-EJG
TAP Air Portugal A310-304 CS-TEI (slight shame this is in the 2000s livery and not the older better scheme)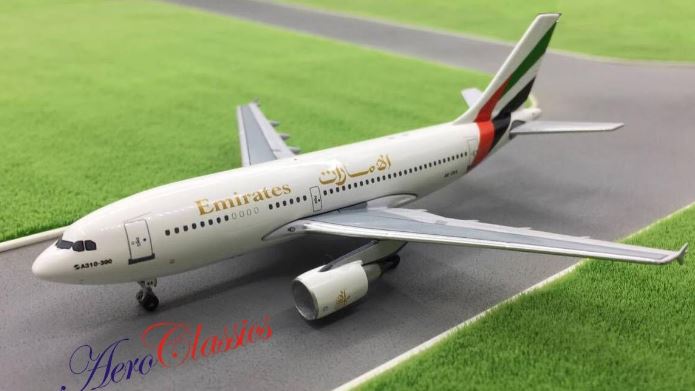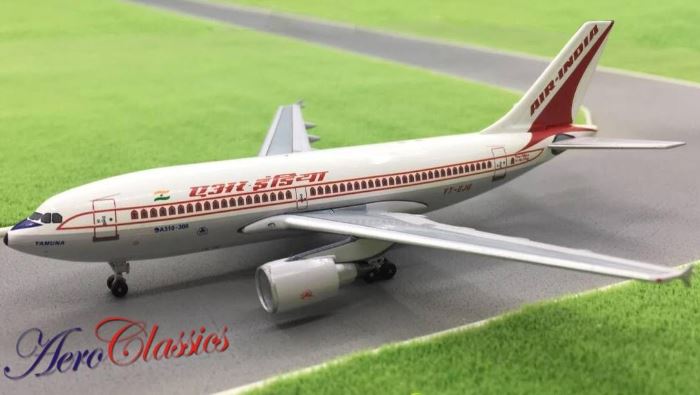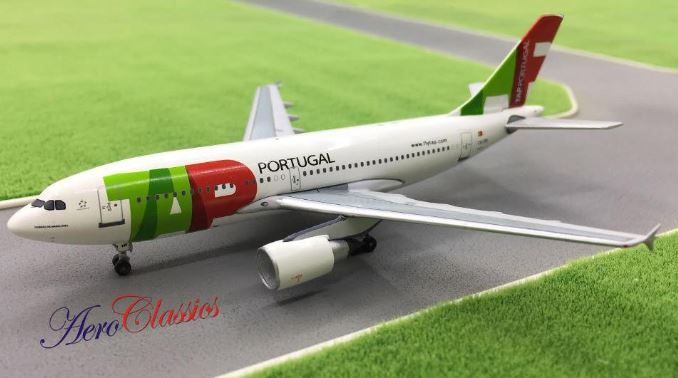 There's also a limited rereg rerelease of an earlier Lufthansa example:
Lufthansa A310-304 D-AIDH
New World Baby Buses
The month's only real modern releases are a trio of baby buses but I expect that these will be good sellers. All are regular recent Aeroclassics airlines:
Air Canada A320-211 C-FNVV New Clrs
JetBlue Airways A320-232 N537JT Skyscrapers
LATAM Chile A321-211WL CC-BEP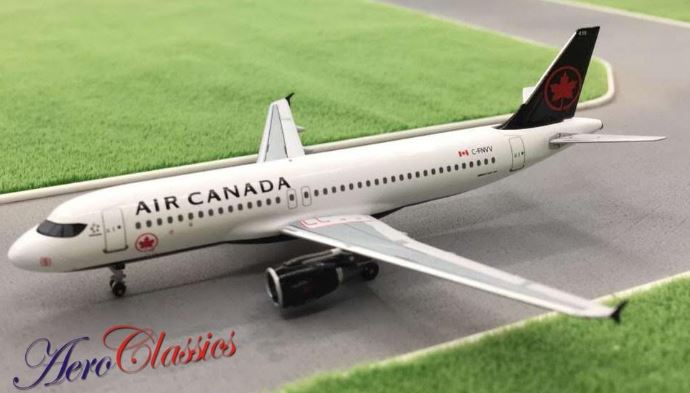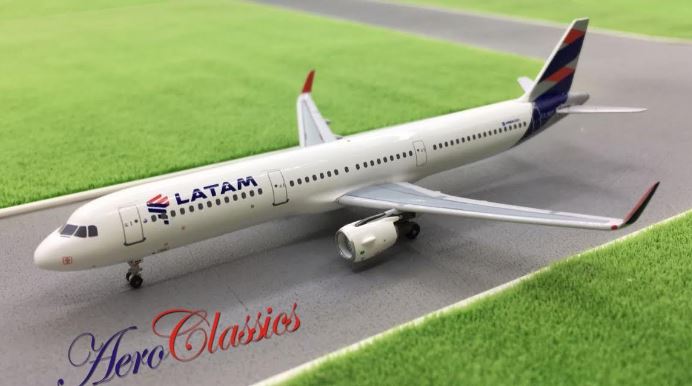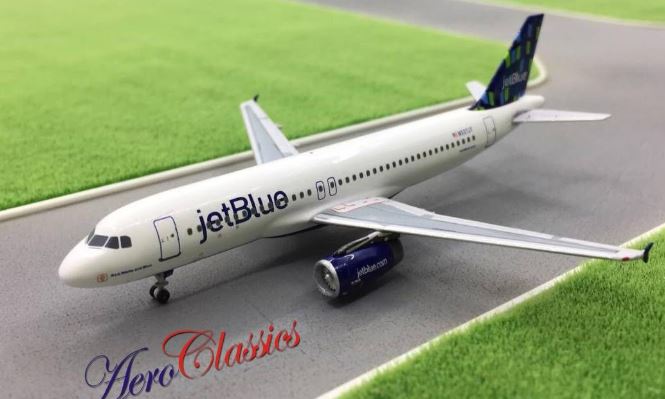 Return of the Fat Albert
The big story for this month is the return into circulation of the 737-200, which has seen some usage in the recent past. Perhaps it is however the airlines that are the real story? Air South was a small US 1990s startup based at Atlanta (and Columbia, South Carolina) that operated from 1994-1997. Although small it is just the sort of airline that nonetheless has an interesting part in the fabric of  aviation history to tell. It's a great release and in fact we get two examples this month from an airline that only ever had 10 aircraft.
Air South B 737-2P6 EI-CKW
Air South B 737-242 N159PL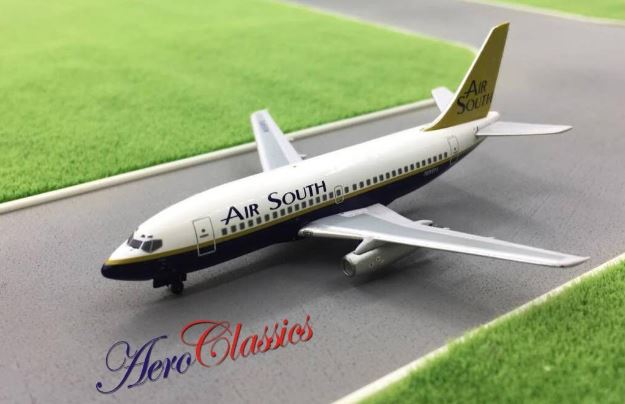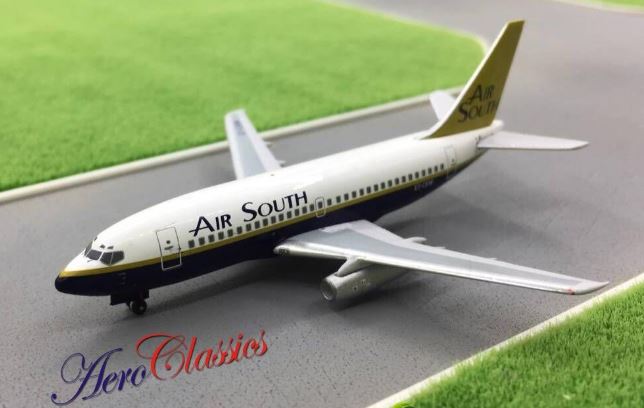 Aloha is an iconic US airline that has been quite neglected in 1/400 scale. Gemini Jets did release a flower power 737-200 many years ago but messed up the printing of the cockpit and cheatline near the nose. It's great to see new Aloha 737s in different liveries including the flower power scheme (N73711) and the 1980s colours (N801AL). I'd still like to see a delivery scheme version however.
This is the original delivery scheme for Aloha:
Aloha Airlines B 737-297 N73711 70s Clrs
Aloha Airlines B 737-202C N801AL 80s Clrs
Aloha Airlines B 737-202C N802AL
Aloha Airlines B 737-2X6C N817AL Cargo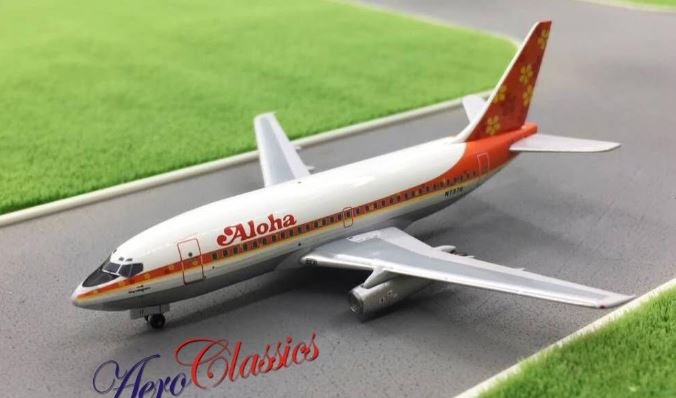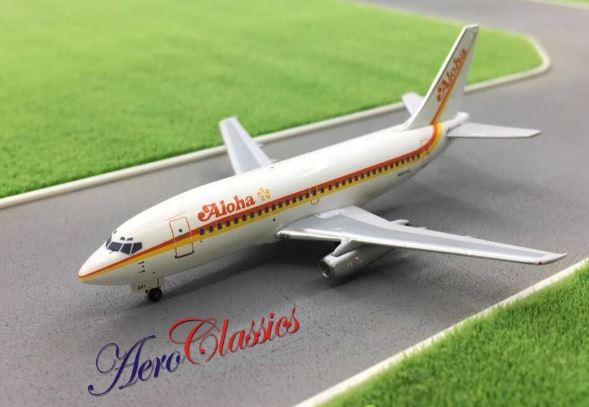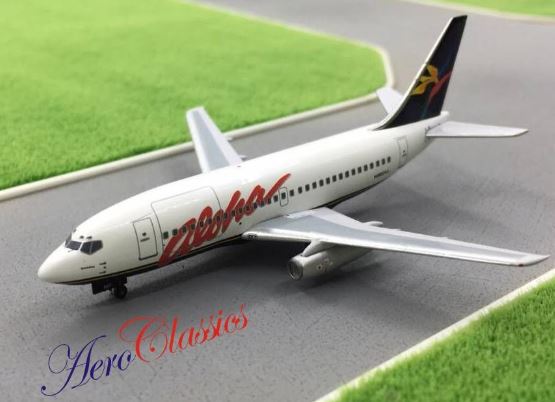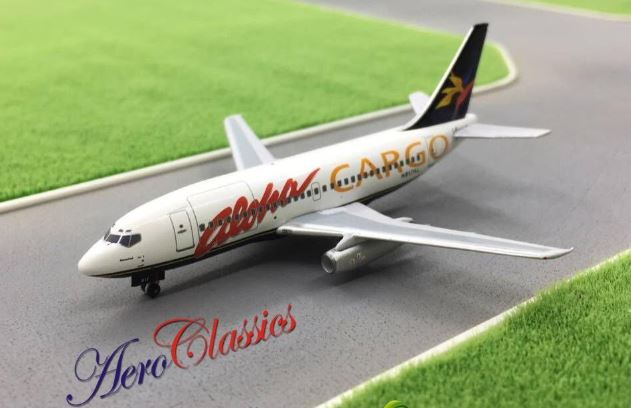 Going further afield and we revisit Iran for a pair of nice baby Boeings. Once again good to see some classic airline releases for more eclectic international carriers:
Iran Air B 737-286C EP-IRH 70s Clrs
Iran Air B 737-270C EP-IGA Post Islamic Revolution Clrs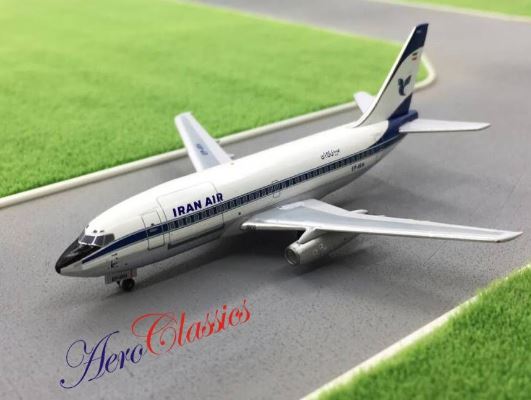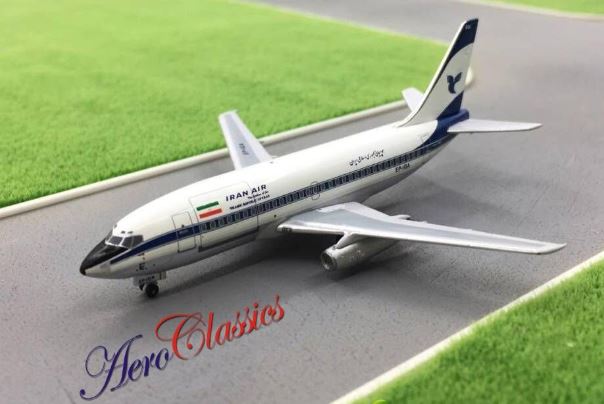 Others
Props have been hard to come by recently and this month there are two but they are just limited market re-releases of earlier models. Hopefully there'll be more props in the future:
National Airlines CV-440 N2045
Cascade Airways 748 N118CA
Roundup
All in all this is another great month for Aeroclassics, which delivers some long sought after models (Eastern and Aloha) plus some great leftfield airlines (Air South), whilst still knocking off major missing models (the A310s). There are at least 6 or 7 models for me out of this bunch and my wallet is feeling the pain!