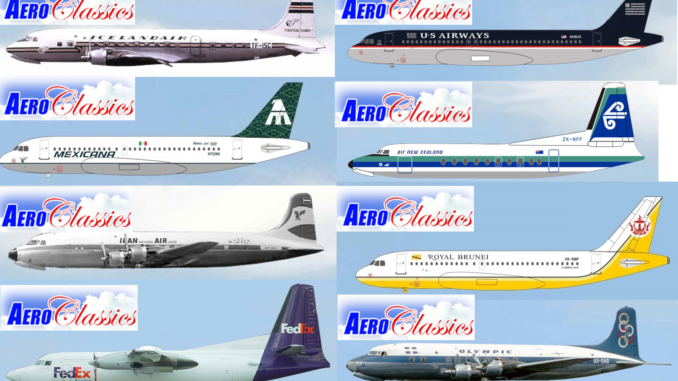 Aeroclassics was well known for the secrecy surrounding its releases but no more! Not only are they advertising releases ahead of their release but they are now even two months ahead and so it was that whilst I was away on holiday the releases for December were announced. This bunch is an early Christmas present for prop-lovers across the world.
Prop-Heaven Pt1: Super Sixes
There has been a relative dearth of propliners this year and some discussion about their sales potential, but of recent Aeroclassics has been producing small numbers of their excellent DC-6 and DC-7Cs. This month however they have really rolled out the props with 7 sixes including several replacements for the old and outdated DC-6 mould from the early 2000s.
The releases are spread nicely geographically with a pair from Iceland – a country until very recently almost totally ignored in this scale, but now rather well covered.
Icelandair DC-6 TF-ISC
Loftleidir DC-6B TF-LLB


Also and more unusually there is a release for the the short-lived Finnish charter airline Finlantic, which only operated for two years with a pair of DC-6s.
In the rest of the world there is a delivery scheme CP and other sixes from Iran, Greece and Mexico. At least two of these (AM and OA) replace older releases of the DC-6:
Aeronaves de Mexico DC-6 XA-NAM
Canadian Pacific DC-6 CF-CZF
Iran Air DC-6 EP-AEV
Olympic Airways DC-6 SX-DAD



Prop-Heaven Pt2: Little Fokkers
The other prop mould to get a run out is the Fokker F-27 and the highlight for people in the Antipodes is surely the Air New Zealand version. Of course I imagine the Federal Express version will sell well too and you can't have a month of Aeroclassics without something from Indonesia 🙂
Air New Zealand F-27 ZK-NFF
Fed Ex F-27 N709FE
Merpati Nusantara Airlines F-27 PK-MFK

Bus Fleet Builders
The releases are rounded off with some nice fleetbuilder Airbuses. The pair of 1997 US Airways colours have been an obvious hole in the releases whilst 3 A319s make up the rest. These include both Royal Brunei and SAA companions to the A320s of the same airlines announced last month:
Mexicana A319-100 N750MX
Royal Brunei Airlines A319-100 V8-RBP
South African Airways A319-100 ZS-SFG
US Airways A319-100 N700UW (Darth Vader colors)
US Airways A320-200 N118US(Darth Vader colors)

Summary
This is a pleasing month of releases, although I admit personally for me there is less than there has been of recent going to be joining my collection. That is not necessarily a bad thing considering the high recent Aeroclassics related expenses. Nonetheless if money were no object I would quite happily get 10 of these and I hope that 2017 continues to bring such a good mix of props and jets.