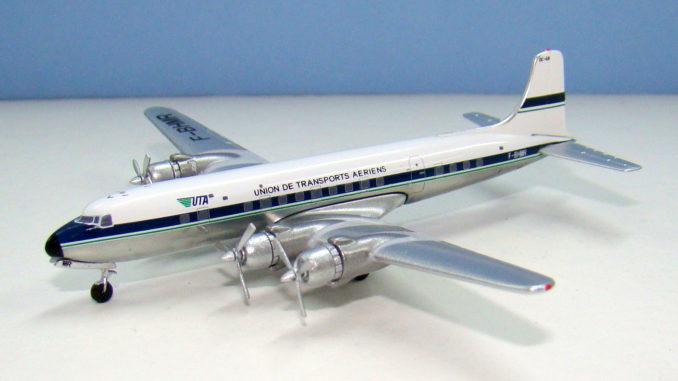 Propliners are awesome. Their models may not sell like 787s but they are a window into a more civilized time in aviation. Only Aeroclassics nowadays makes classic piston-props, which is a damn shame. At least they have a selection of excellent moulds and the will to look into reproducing the golden age of aviation. In this review we take a look at the most efficient of the piston props in service with France's second airline.
THE REAL THING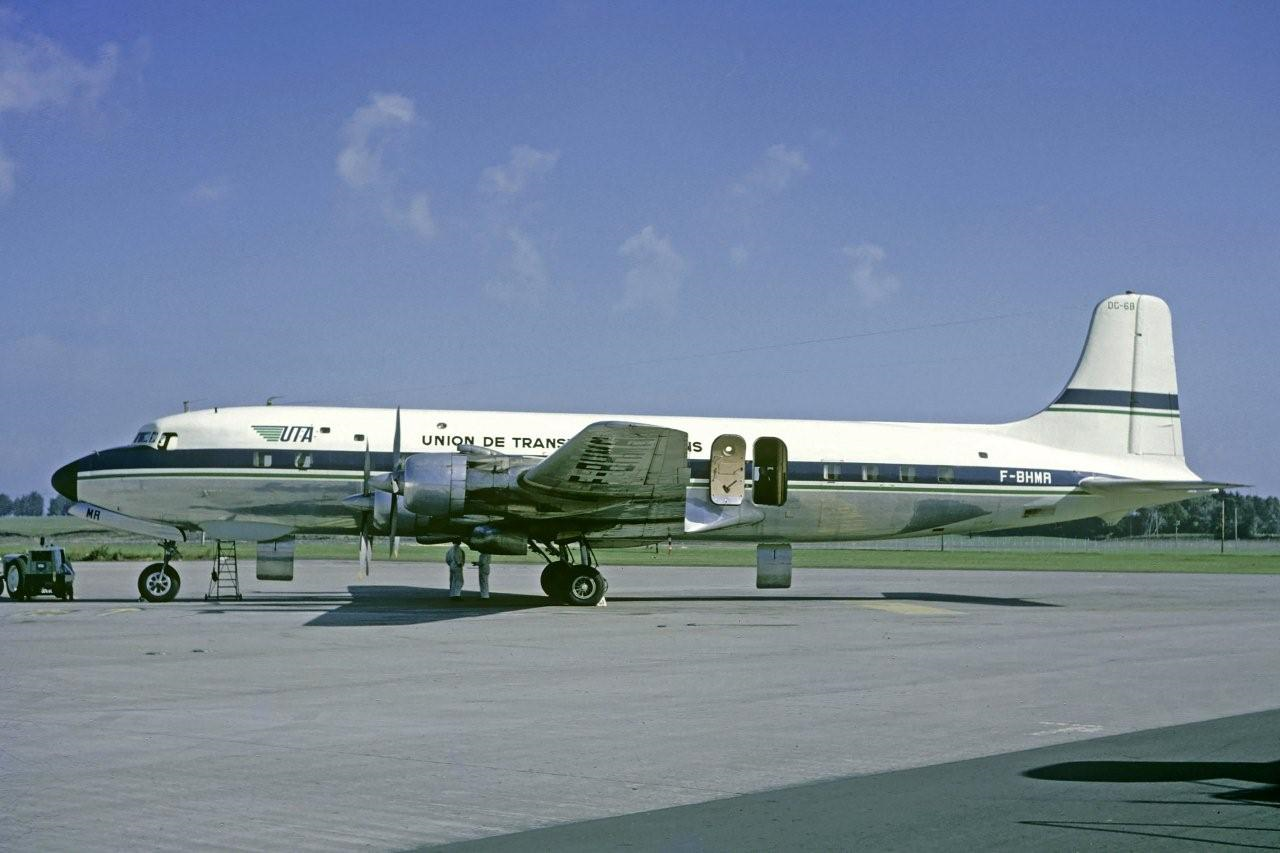 Union de Transports Aériens (UTA) was formed in 1963 from the merger of the two French independent airlines Union Aéromaritime de Transport (UAT) and Transports Aériens Intercontinentaux (TAI). It was one of only four wholly private owned independents (outside the USA) with a scheduled intercontinental long-haul network. As with Canadian Pacific and British Caledonian the airline benefitted from being designated as a second force by its native government, although this designation also came with downsides and the national carriers were always favoured.
UTA's sphere of influence was primarily African although it also kept a foothold in the Pacific serving Australia, New Zealand and French assets in the Pacific islands through Asian stopovers. Both UAT and TAI had operated jets before the 1963 merger however UAT's had been Comet 1s, which only served briefly in the early 1950s. TAI had acquired its first DC-8s during 1960 but both airlines' fleets were primarily made up of Douglas piston-liners. The initial UTA fleet consisted of six jets and 29 piston props – mostly Douglas DC-4s and DC-6s.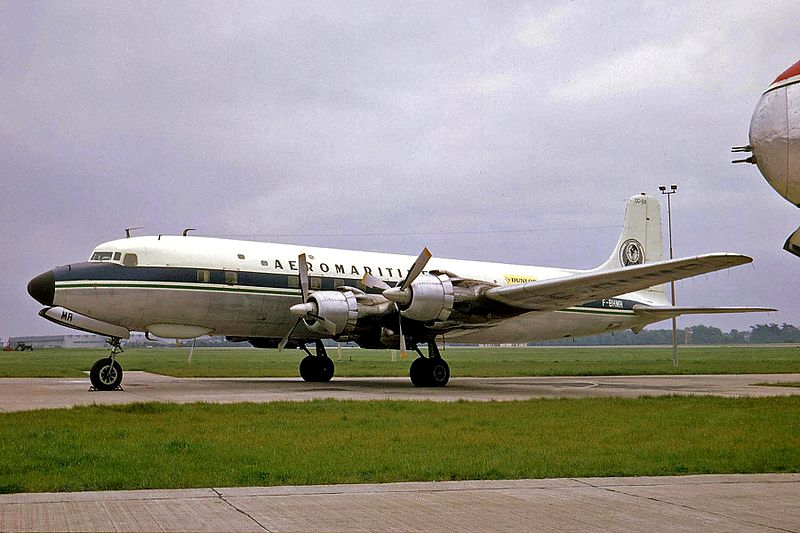 F-BHMR was a 1953 build DC-6B, one of three that were acquired from Canadian Pacific by UAT in the late 1950s. Her sistership F-BHMS, of the same CP heritage, was lost about a year after merging into UTA on Friday October 2, 1964 when en route to Port-Etienne (now Nouadhibou, Mauritania) she crashed into Mt Alcazaba in Spain killing all 80 aboard on the Palma-Tangiers leg. This kind of route was fairly typical for the DC-6s although they could also be found operating charters within Europe or longer range services into the Pacific.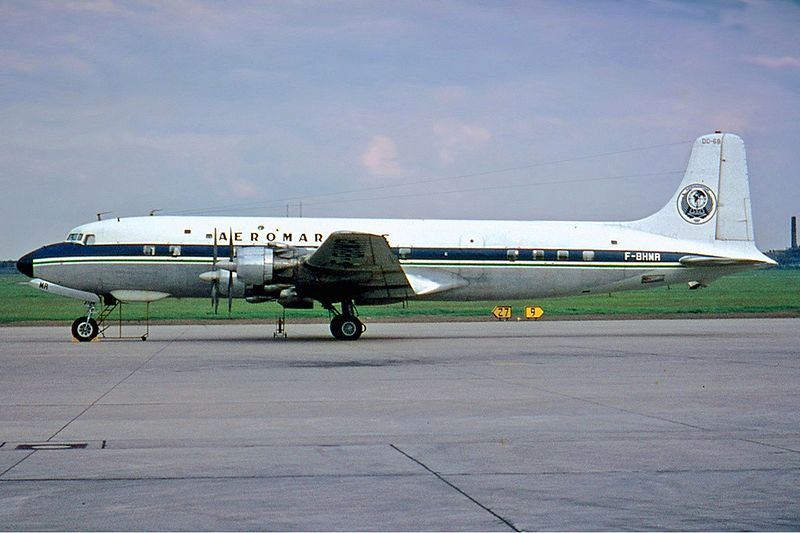 Fortunately F-BHMR was luckier than BHMS. She saw some service with UTA's partner Air Afrique, as TU-TCK, and from 1967 UTA's subsidiary Aeromaritime until 1975. Her career lasted until February 1994 as following sale to Bellomy Lawson Aviation she operated a variety of leases following conversion to a freighter in 1978. She was lost whilst operating for Aerosol Colombia as HK-3874X being damaged beyond repair upon landing at Villavicencio, Colombia. Interestingly that means that the DC-6 outlasted UTA itself, which was finally merged into Air France from 1990-92.
THE MODEL
The format for my reviews is to split them into three key areas:
The mould of the aircraft
The paint and livery
Printing and quality control
Each can get a maximum score of 10 for a section giving a maximum combined score of 30.
THE MOULD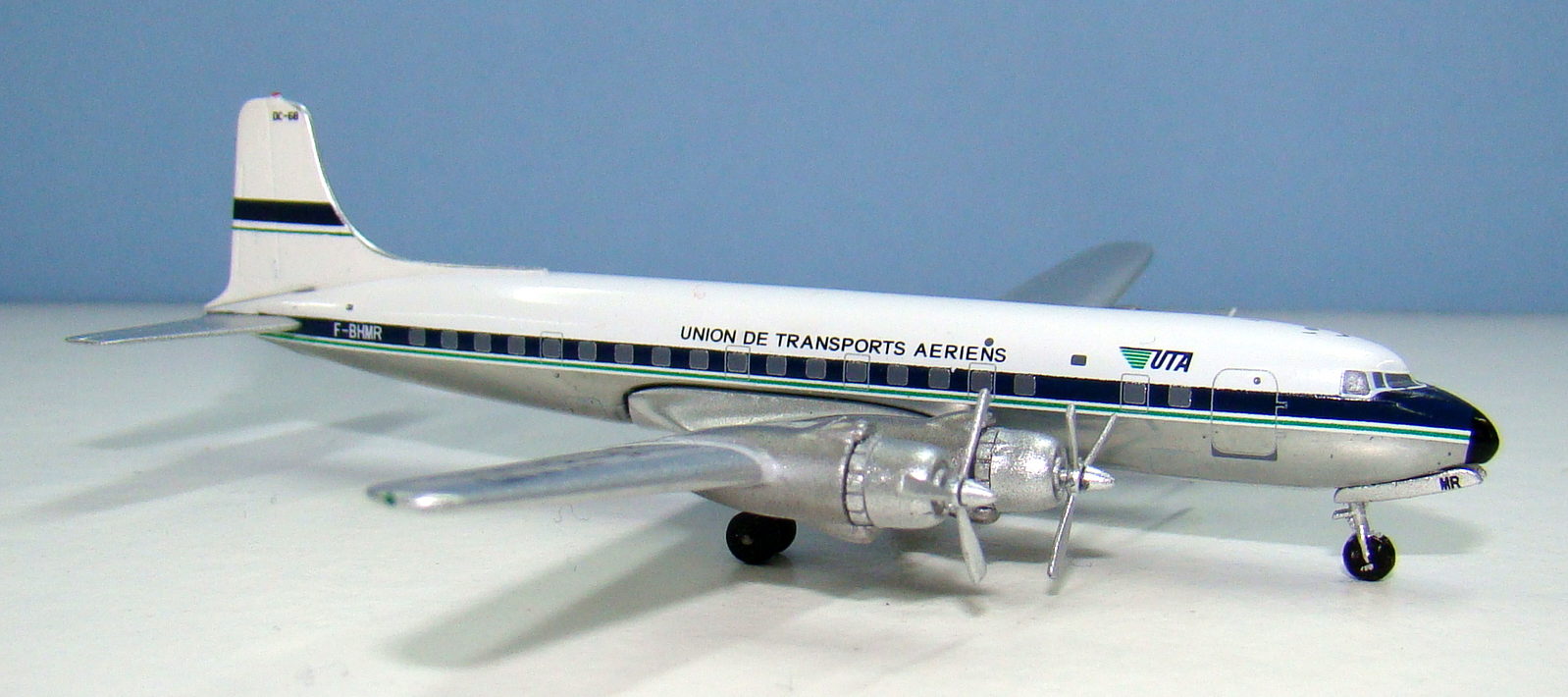 Aeroclassics actually have two versions of their DC-6 mould – one with a short radome and one with a longer radome, which illustrate the type with and without radar. In this case they have decided to use the short radome, radar-less, version, which is a curious choice. Researching old aircraft, especially prop-liners, can be fraught with difficulty, as the amount of photographic evidence is limited, but looking for photos from which to do this review it struck me that I couldn't find any in the UTA colours with a short nose.
I did find some photos of F-BHMR when on lease to Continentale Deutsche Luftreederei (CDL) during 1961 where the nose was short but by 1963 when she was on lease to Air Afrique, as TU-TCK, she had been refitted with the radar nose. As far as I can tell it is only after then she joined UTA from the UAT fleet and the one picture in UTA colours I have found has her with the long nose (as do pictures of sistership F-BHMS). I can't say for certain that it is an error to use the short nose mould but it looks likely. Anyway I'm not going to knock off points for this as it is far from certain I am correct. It is possible that between the CDL and Air Afrique leases she returned to UTA in full colours. There were certainly other DC-6s that wore the UTA scheme with the short nose also.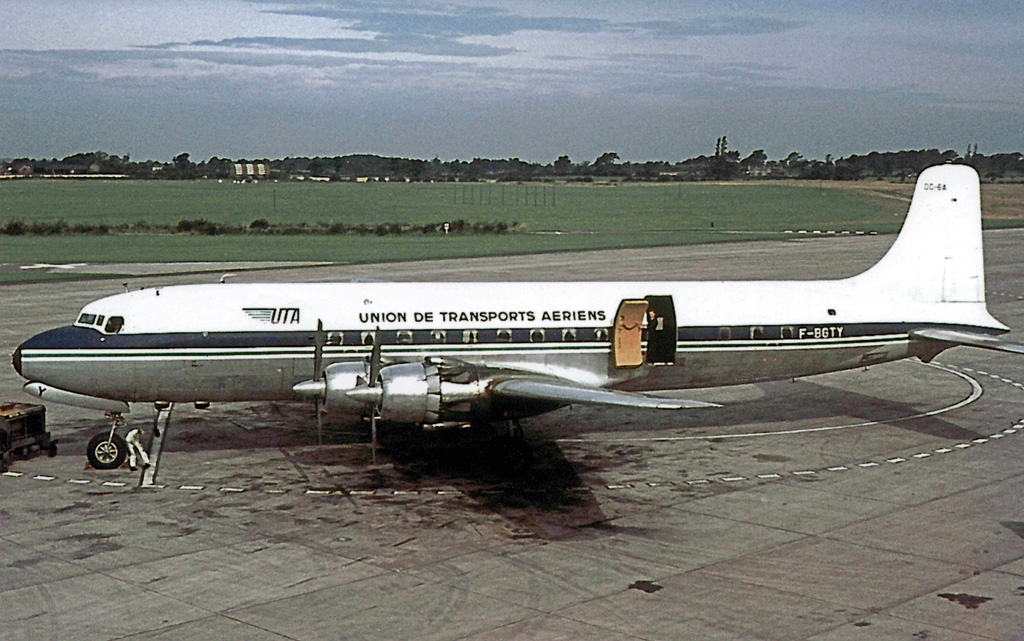 Back to the mould and the 2010 Aeroclassics DC-6 is about as awesome as a prop-mould can get. The nose and cockpit region is perfect, whilst the long thin nosegear bay doors and nosegear itself are finely detailed and remarkably robust. No stupid rolling gears here and the aircraft is better for it.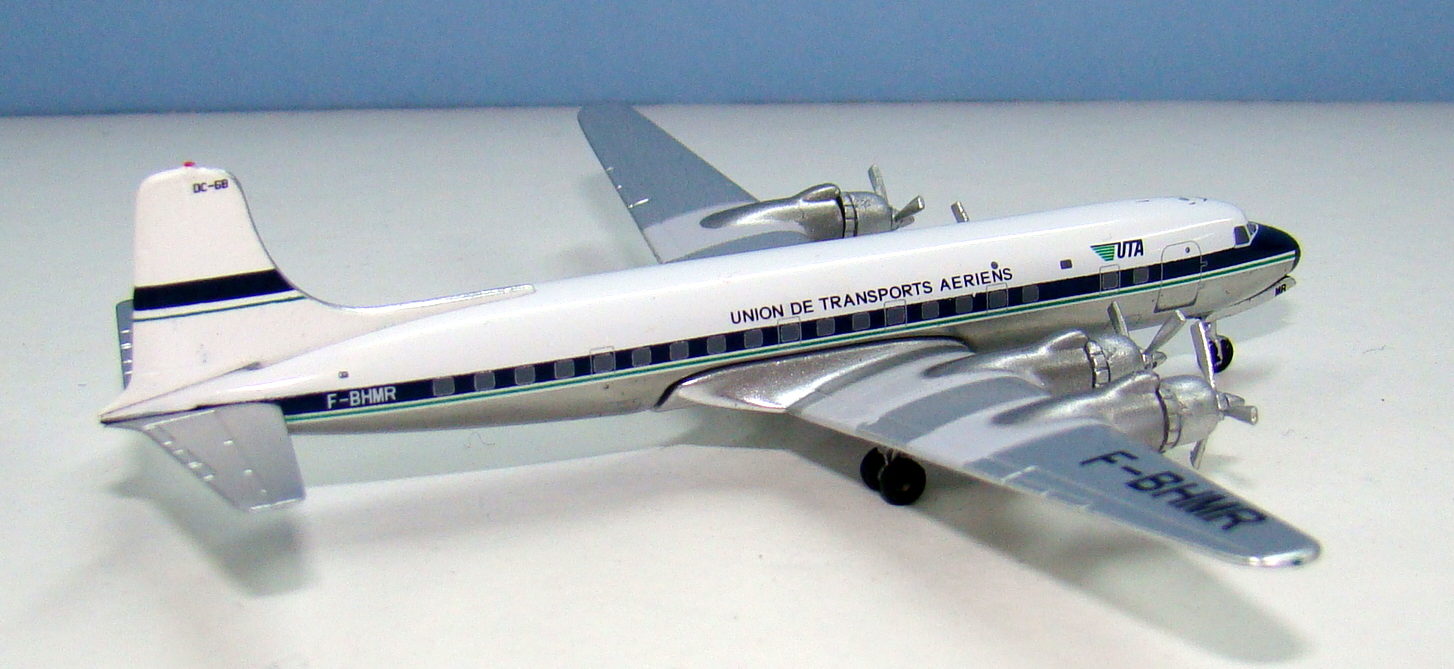 There is a small seam line (as this is a cradle mould) but it is discrete and not an issue for me. The macro photography makes the gap look large but in person it isn't very noticeable. The wings are great and as Aeroclassics commonly does with its props the engine cowlings are plastic addons, which allows for greater detail. Lastly the rear fuselage and stabilizers are pretty much perfect. There really isn't anything substantial to complain about with this mould. It is one of the best.

It is worth pointing out that the real aircraft had some kind of unusual fairing on the port side forward belly. I don't know what this was but being so non-standard you can hardly expect it to be on the mould.
SCORE – 10
PAINT & LIVERY
UTA always had something of an unusual livery with deep blue stripes and a rather featureless tail. Considering they were French they certainly never won any design awards, even with their BigBoss green doored 747s. Nevertheless the scheme looked smart on the DC-6 even if it was crying out for something to liven up the tail.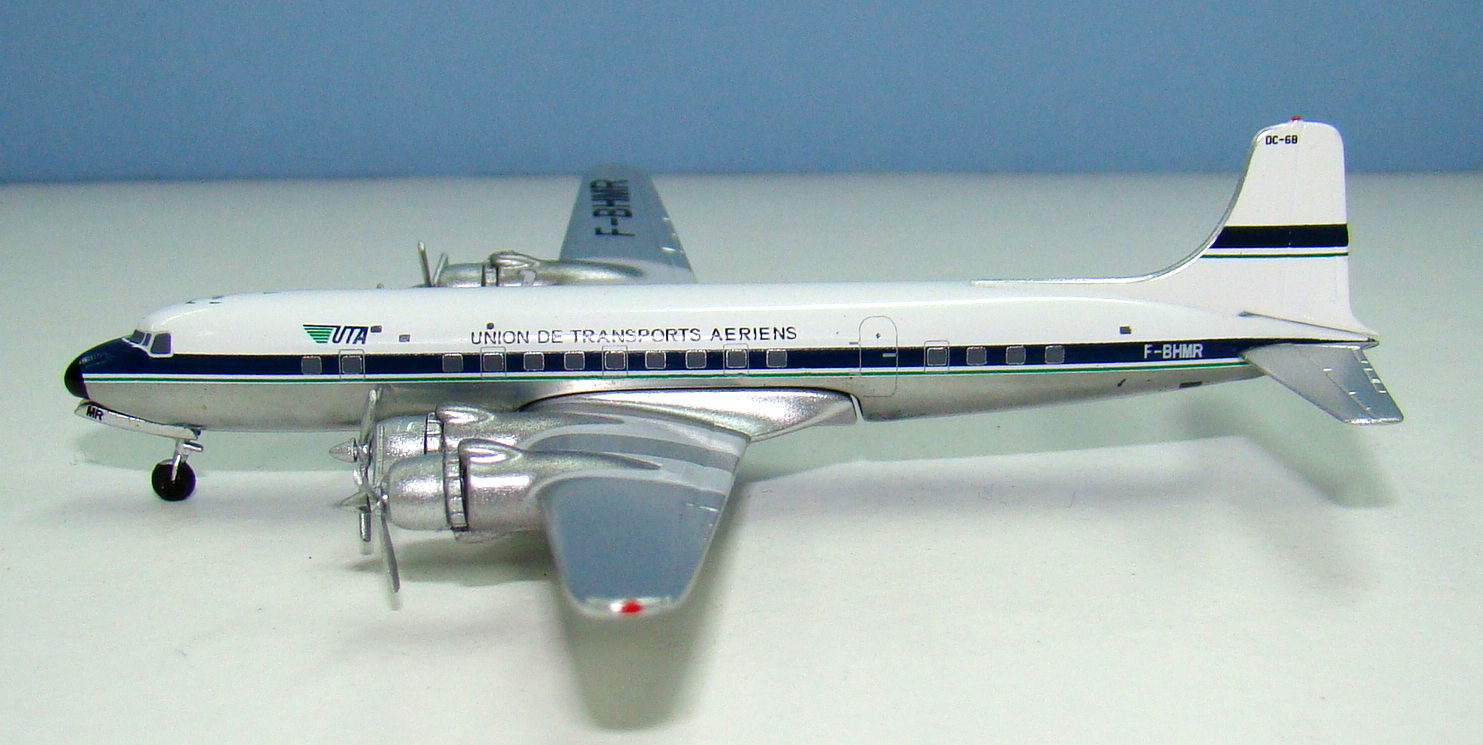 The colours on the model are very simple – basically white and dark blue. They look fine to me. In fact the placement of the livery elements is perfect. Aeroclassics even make a decent fist of the title font, but everything else is also god. The UTA logo, white registration within the cheatline, large rego above and below the wings and DC-6B titles on tail top all feature correctly.
SCORE – 10
PRINTING & QUALITY CONTROL
The level of printing detail required on old prop-liners is a lot less than on modern types and in this case the mould has detailing for control surfaces so they don't need to be printed. Even so the printing present (things like the forward aerials, and belly cargo doors) is fine and there are no print quality problems. To be fully realistic the engines need to be covered with grease and oil but I'm not knocking points off for the model's pristine condition!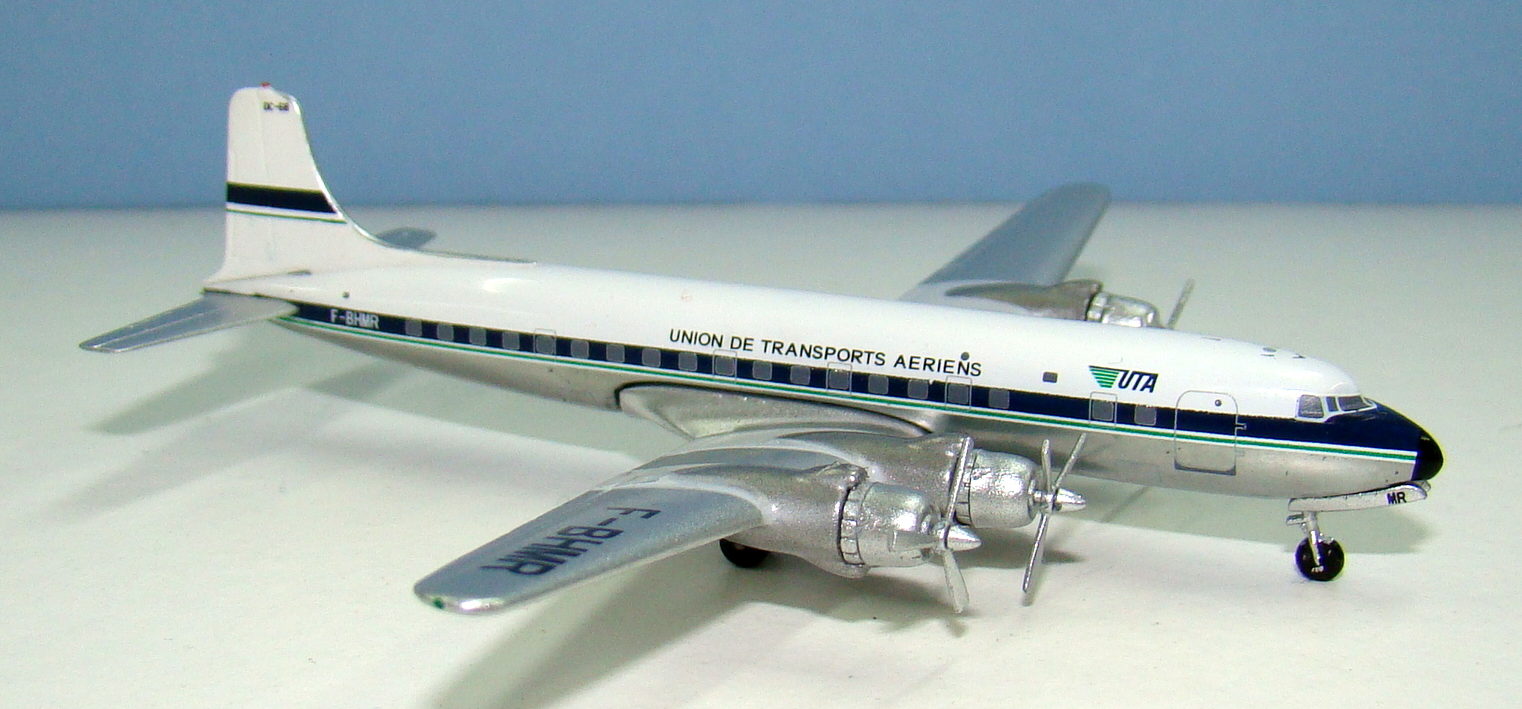 Painting quality is not as awesome in one particular place – the nosegear tyre. Aeroclassics has recently struggled with the nosegear of its HS-748s and on this DC-6 the tyre is painted unevenly black all over with no allowance for the large metal wheelhub. Painting such small components must be tricky but it'd be nice to see an improvement here.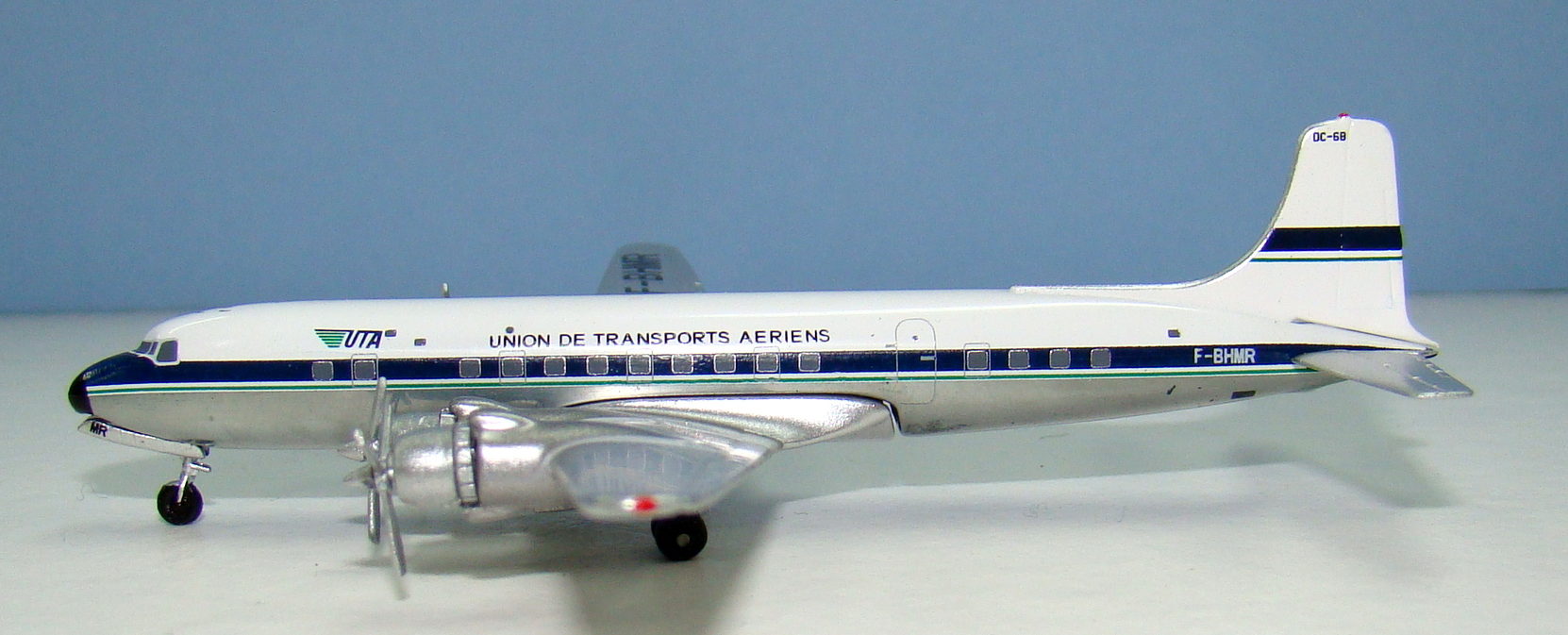 The attachment of the plastic engine cowlings to the main engine can also be a little slipshod and on this DC-6 one of the engines is not attached very well. There is a clear gap between the components at the top.
SCORE – 8
CONCLUSION
Aeroclassics can certainly do prop-liners, often better than it does jets. They are a gem and for me far more interesting than the latest A350. This effort is a good example of Aeroclassics at the top of their game and I look forward to seeing plenty more classics like this.
FINAL SCORE – 28/30