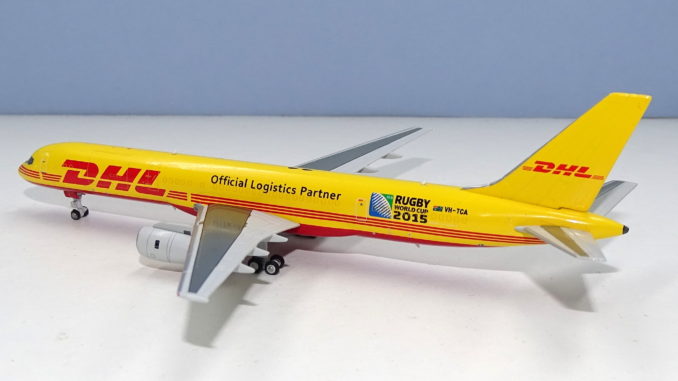 The range of cool 757s that collectors on the Diecast Aircraft Forum have come up with as suggestions for Boeing 757s for NG Models to make is impressive and long. Still NG in their customary friendly way are working through the lists and trying to please as many people as possible. The DHL fleet offers plenty of potential for varied global operators wearing similar schemes as well as special livery versions (Aeroclassics has also discovered this with DHL 727s) and it was nice to see one of the few 757s that has visited my home airport get a release.
THE REAL THING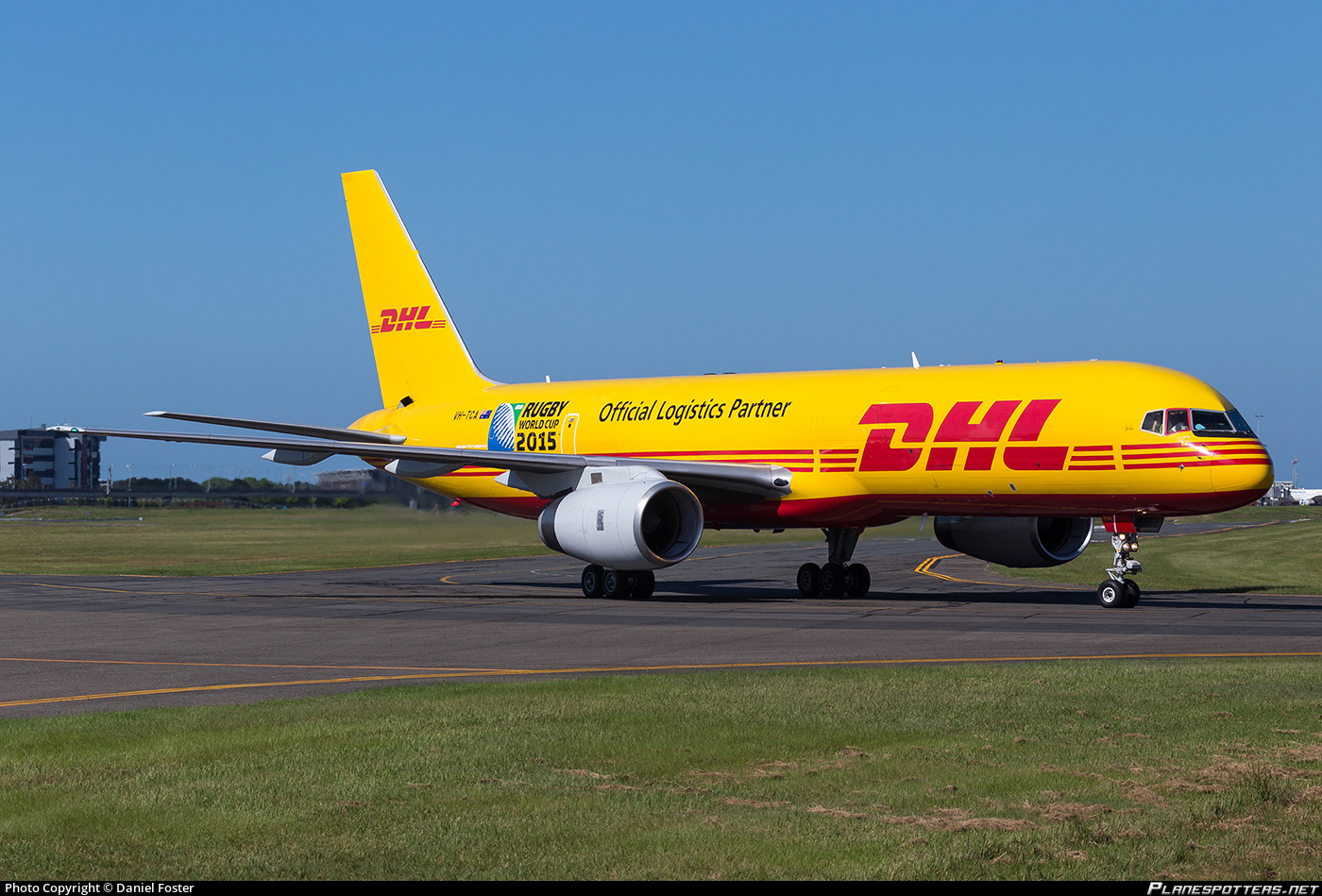 Although sales of the freighter version of the 757 probably never met Boeing's expectations passenger to freighter conversions have been very popular and almost the entire ex-British Airways fleet of 757-236s has ended up at DHL. One of them saw five years of service in Australasia operating for Tasman Cargo Airlines as their sole aircraft but ironically although technically a 757-236 it never actually operated with British Airways.
It was actually delivered new in April 1992 as G-IEAC to the British charter airline Inter European Airways and in October 1993 passed into the Airtours fleet as G-CSVS, when they tookover IEA. Just over four years later she joined Greenlandair and wasn't withdrawn by them until April 2010. Converted to a freighter in 2011 and back on the British register once again as G-CSVS she joined DHL Air UK.
TCA operates scheduled international cargo services on behalf of DHL alongside ad hoc domestic and international charters. Its roots go back to 1994 when Premier Airlines began operations with a 727-100, but this was replaced in 1995 with a quieter 727-200 and the following year the carrier was renamed to Asian Express Airlines. The name hardly matters to be honest since the 727 was operating in full DHL colours.
The retirement of the 727, once again due to noise restrictions, led to the short-term lease of a DHL 757 (the well-travelled G-BMRJ) in October 1990 but this was in turn replaced by a long-term lease of G-CSVS in July 2011. Tasman Cargo based the 757 at Auckland but the airline is itself based in Sydney, Australia and in July 2013 the 757 took up the Australian registry VH-TCA.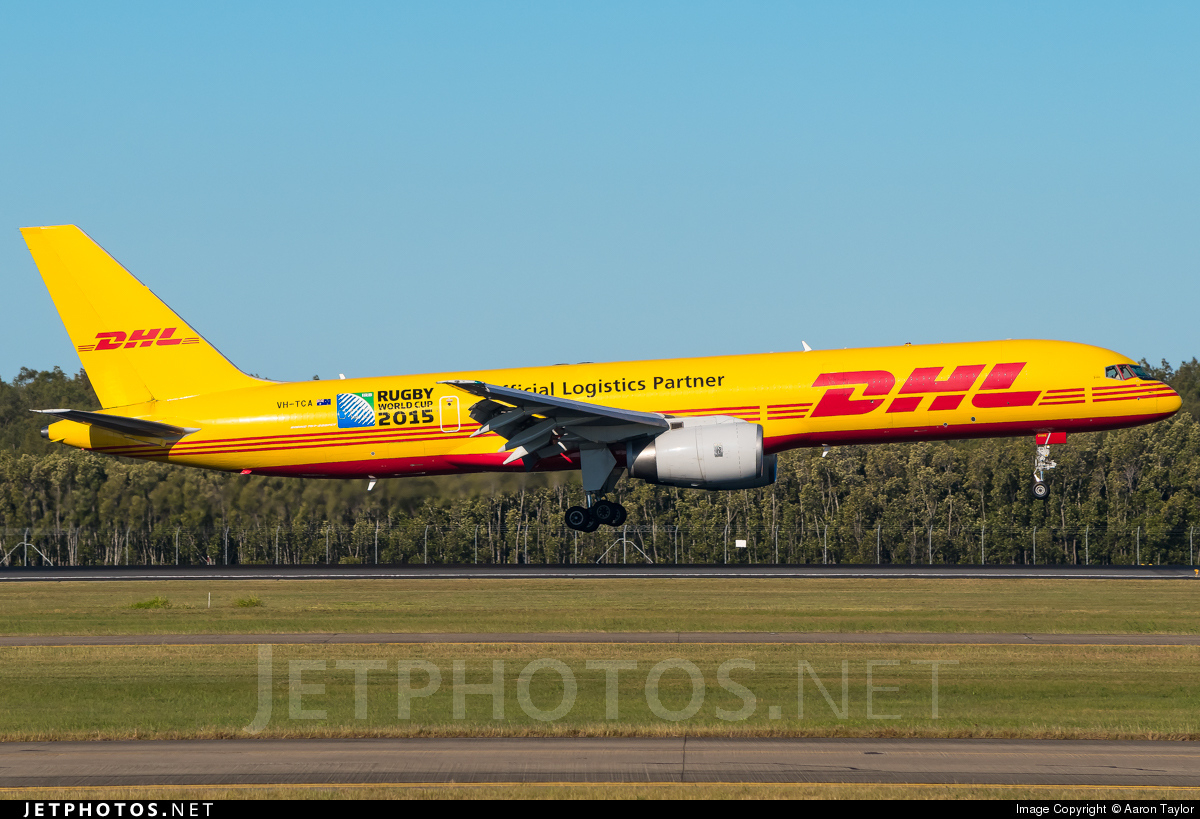 TCA's main route is between Sydney and Auckland, which is operated Monday – Thursday nights and Saturday during the day. The 757 was a common site near the DHL facility at Auckland airport. Aside from the standard small parcel freight TCA used the 757 to fly a wide variety of more unusual cargo such as helicopter blades and livestock. In fact, a significant part of the airline's business is the transportation of racehorses between Australia and New Zealand.
The carrier has seemingly outgrown its 757 in recent months and TCA operated her last revenue flight for them on October, 9, 2018. She was returned to DHL Air UK and has taken up the registration G-DHKZ. Her replacement is a larger 767-3JHF. That 2012 purpose-built freighter was previously G-DHLH but is now VH-EXZ. 757s have never been common in New Zealand but the return of VH-TCA now leaves just the pair operated by the RNZAF operational in the country.
THE MODEL
The format for my reviews is to split them into three key areas:
The mould of the aircraft
The paint and livery
Printing and quality control
Each can get a maximum score of 10 for a section giving a maximum combined total score of 30.
THE MOULD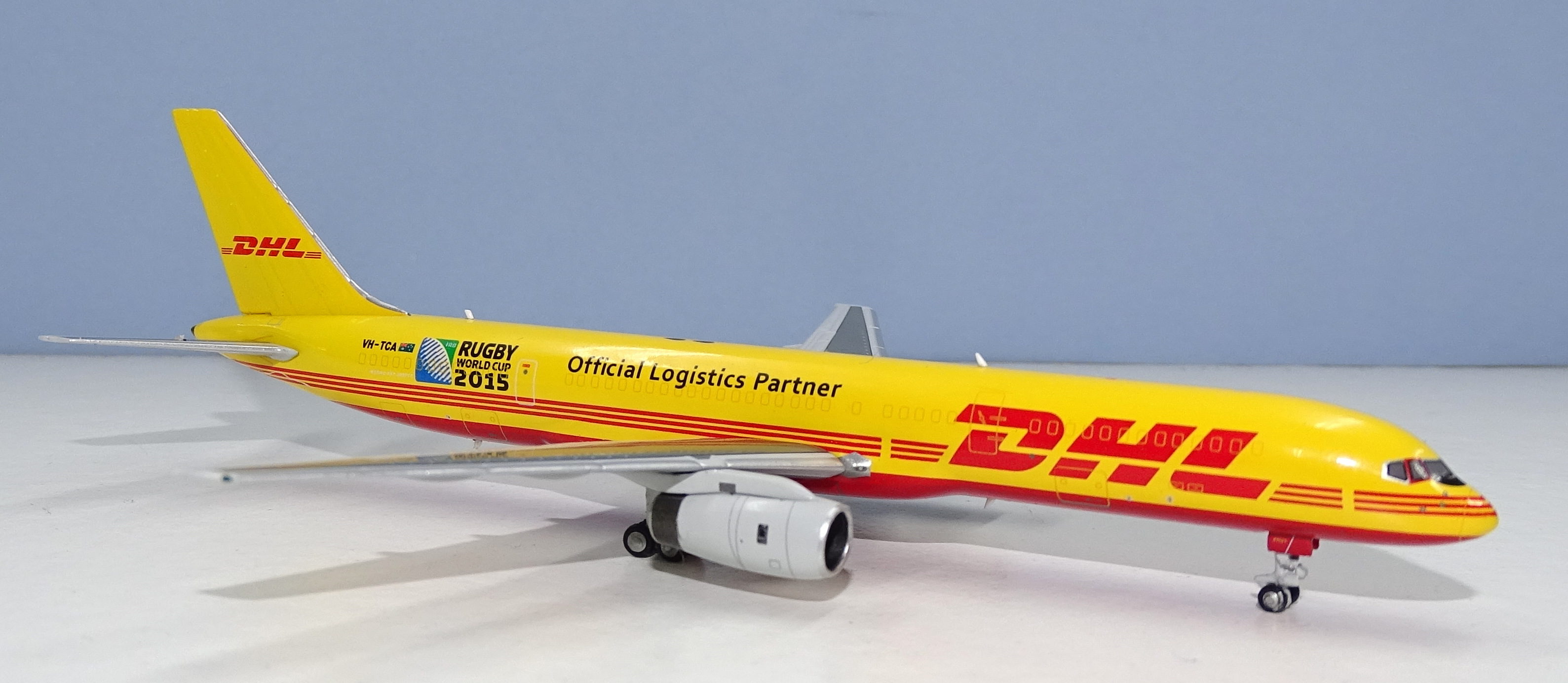 I now own 45 Boeing 757s that have been produced using this mould (by NG Models, HYJLwings and Aeroclassics) so that probably tells you how highly I rate it. It is spectacularly good and rather shows up the older 757 moulds, which to be fair aren't dreadful themselves.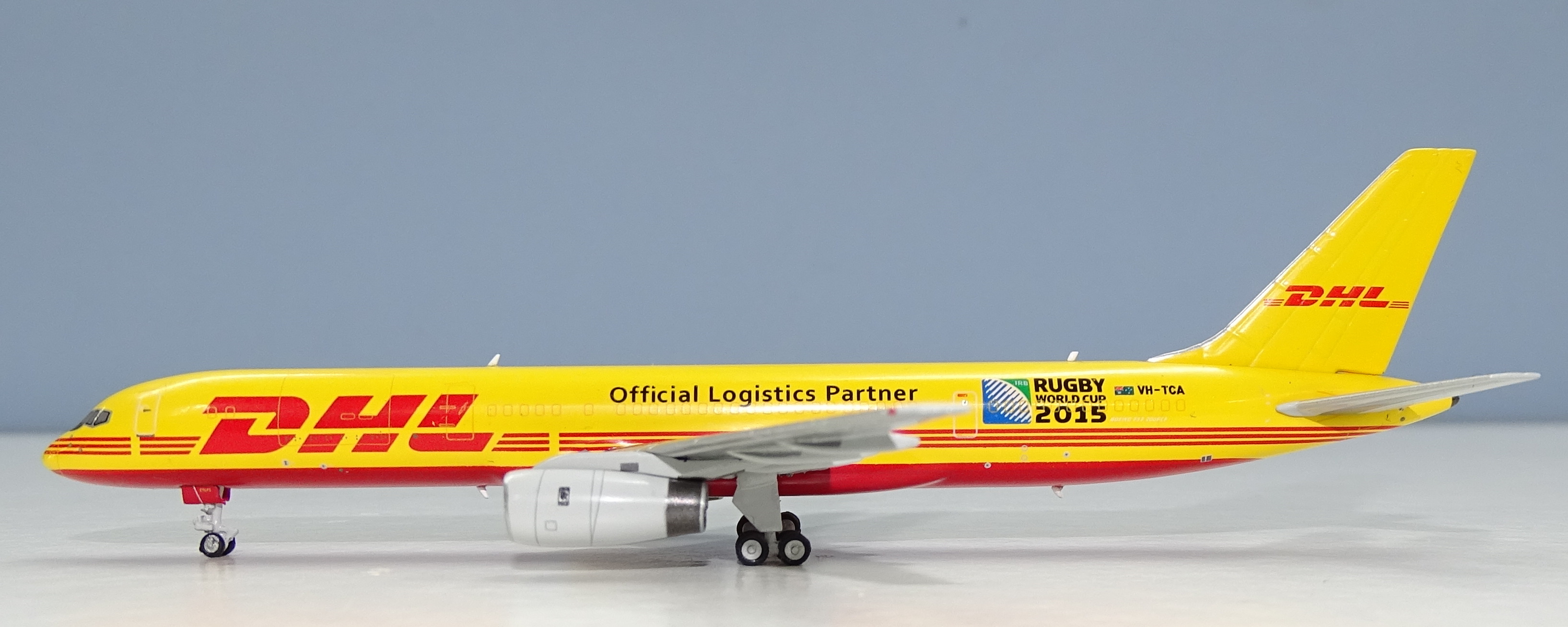 The fuselage shape of the NG Models mould is excellent across the board, particularly the attractive nose shape and wingroot area. The latter is a really nicely contoured design with an exceptionally tight fit for the wings. The biggest weakpoint of the old Gemini 757s has been the landing gear and although this has recently been updated to compete more evenly against the NG mould it is still inferior to the delicate and finely detailed nosegear leg of the NG. It's not just the leg either – the tyre is lovely and the gear doors accurately sized.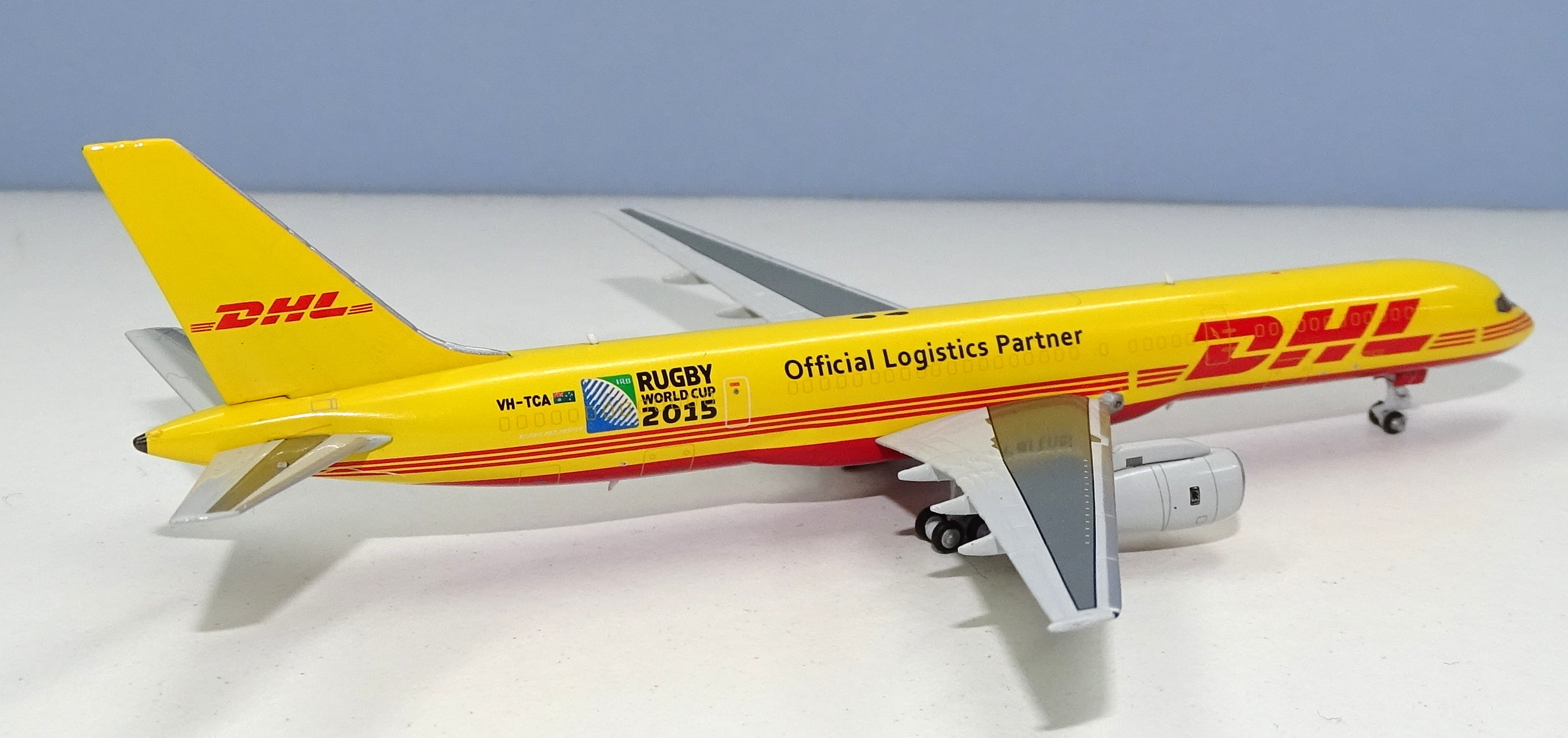 This attention to detail transfers over to the maingear legs and doors also. The control surfaces on the NG mould are full metal but still crafted to a fine degree. The wings and stabilisers fit tightly to the fuselage and flaps and ailerons are beautifully etched.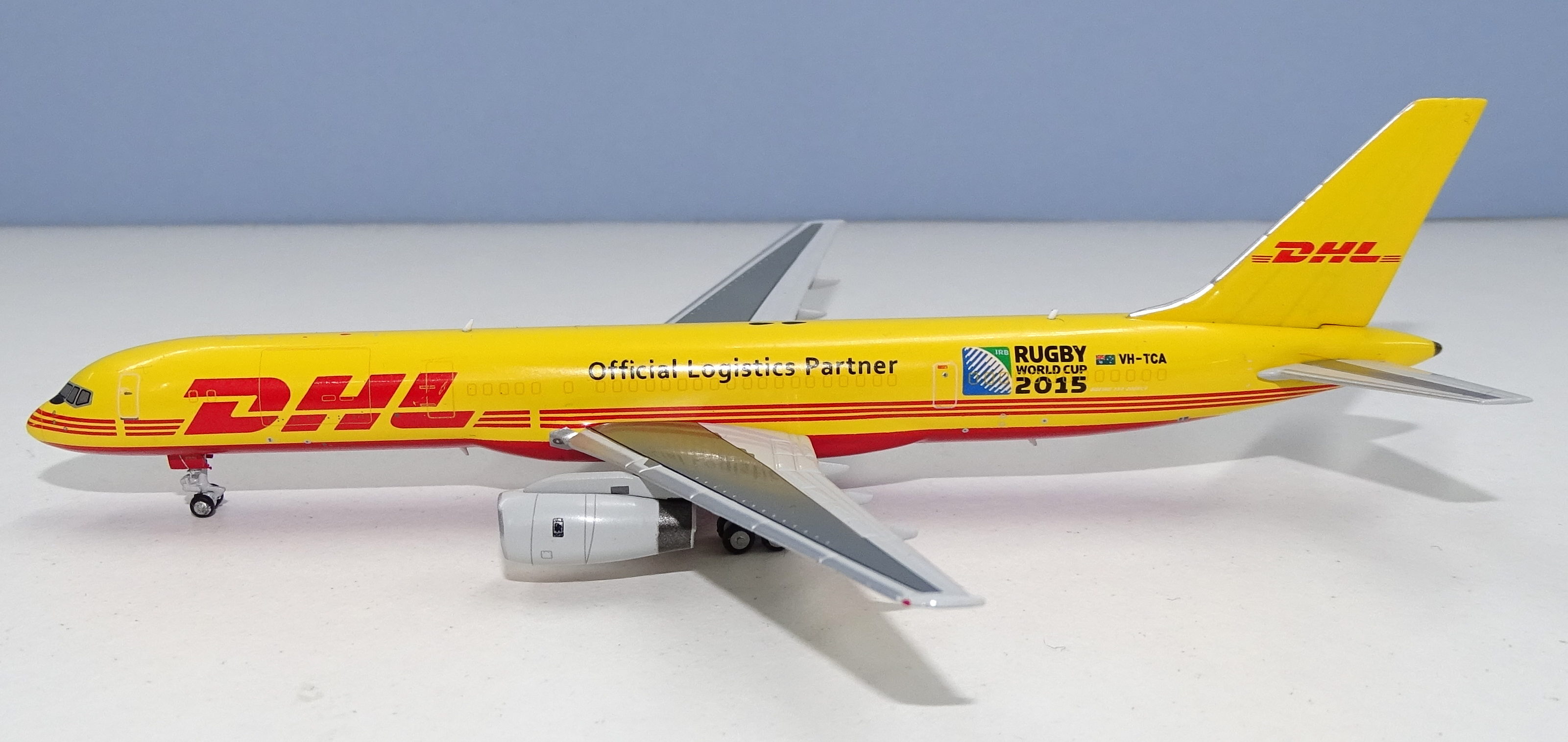 This version of the NG mould carries the RB211-535E engines, which were fitted to all Rolls-Royce equipped 757s in the 1990s. There have been some minor gripes about the shape of the underside of the engine but it is a minor detail hardly worth mentioning.
As a mould the NG Models 757 is effectively faultless and easily beats all previous versions of one of the most attractive airliners ever built be they Dragon Wings, Gemini Jets or Phoenix model examples.
SCORE – 10
PAINT & LIVERY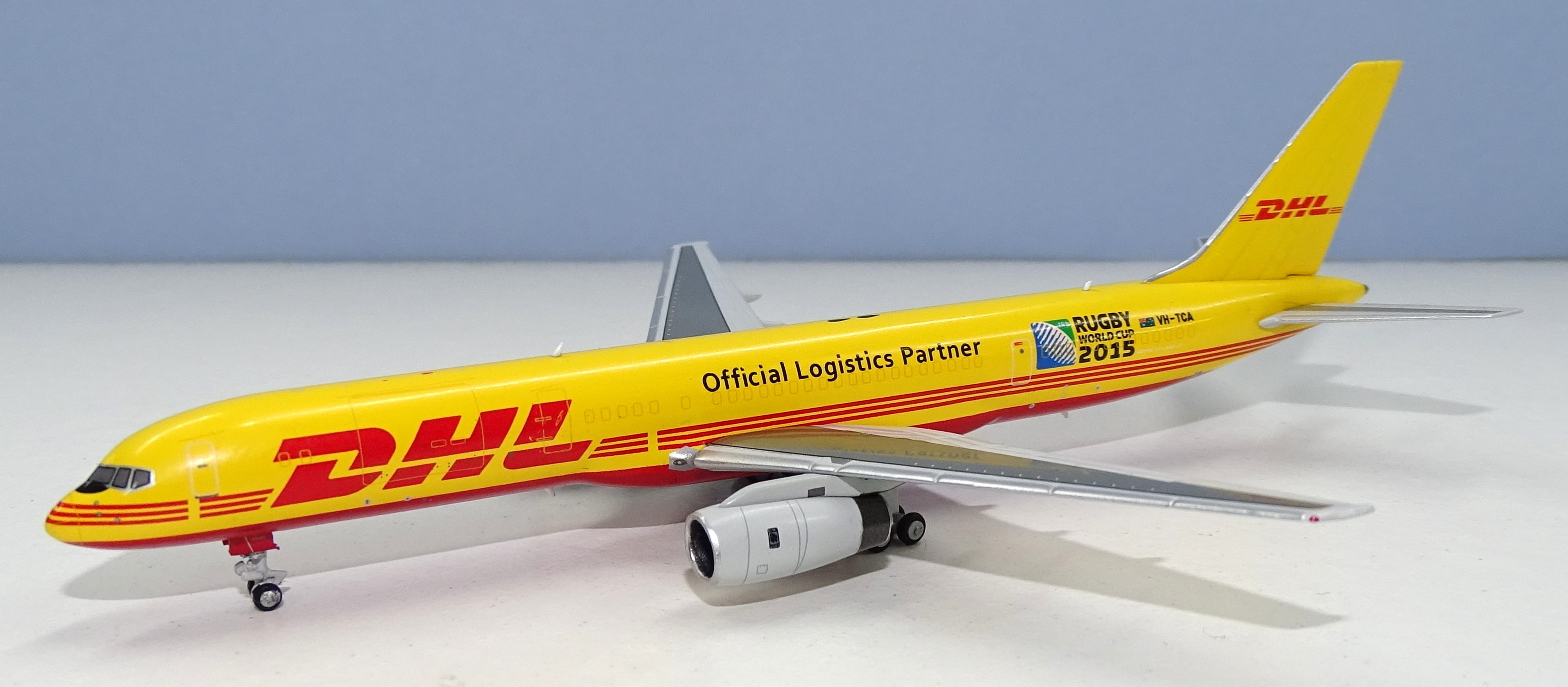 DHL's all yellow and red livery certainly catches your attention and is a definite improvement over the previous white base scheme. This aircraft wore a variety of special stickers throughout its career and as DHL were the official logistics partners for the, New Zealand hosted, 2015 Rugby World Cup it is hardly surprising that stickers were applied for the event; especially when you consider how seriously Rugby is taken in New Zealand.

Attention to detail is the watchword of NG Models livery research. The DHL livery is actually quite simple but the basic template is sound. The red and yellow are accurate and the placement of major livery elements like the pin stripes, red belly and DHL billboard titles excellent.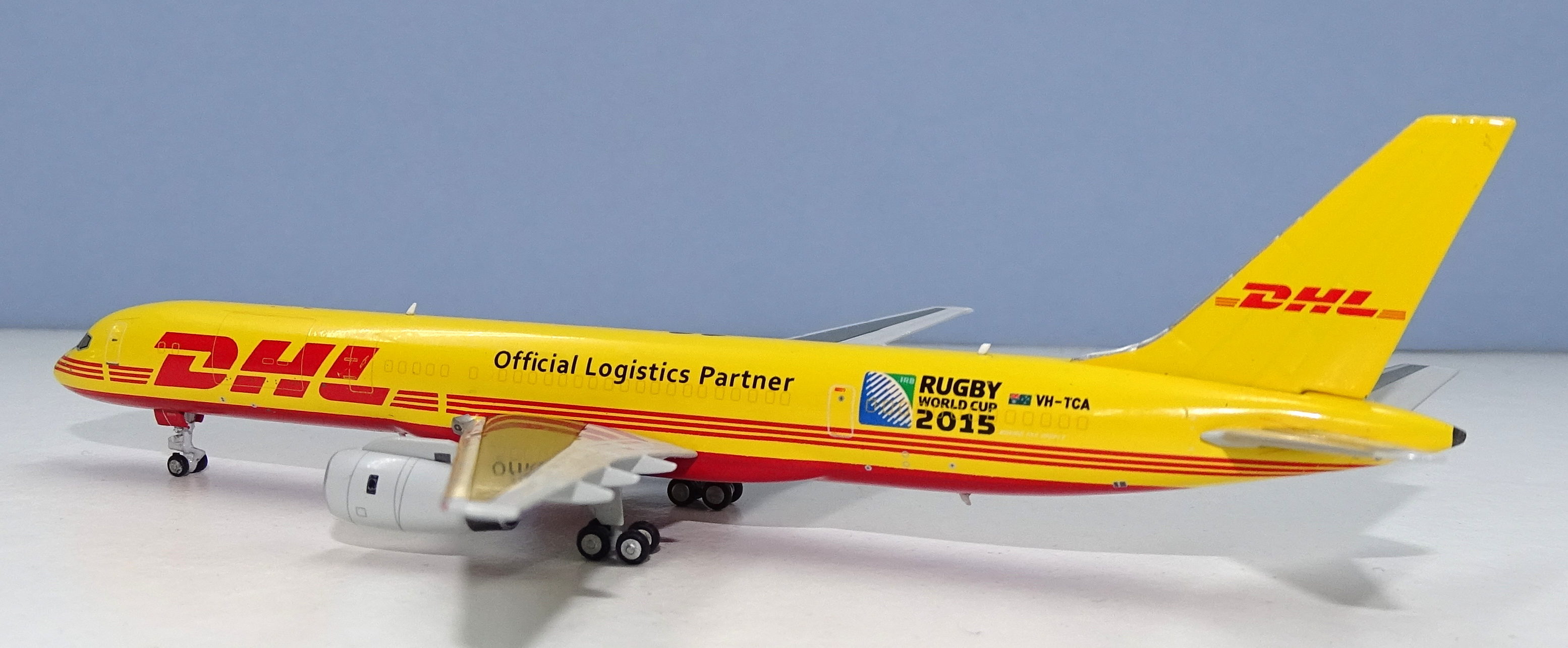 Smaller livery items are also well rendered especially around the cockpit where the small anti-glare panel and red outline around the second windows is very good. The Rugby sticker and titles, whilst admittedly not the most complex special scheme, are perfect.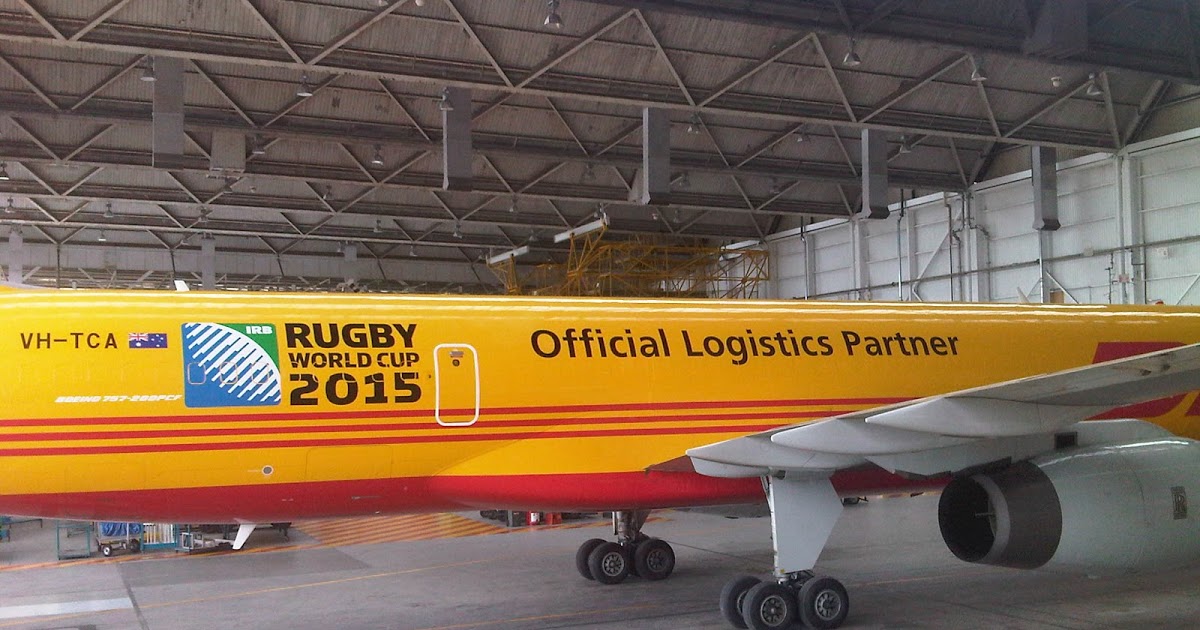 If I am very picky, and NG Models excellence is making me really have to search for errors, it is that the outline around the remaining 3 entry doors is too thin and not a strong enough white. The doors rather disappear against the yellow background. Also I had initially thought the tiny BOEING 757-200PCF titles underneath the windowline beneath the NZ flag were missing but although effectively invisible to the naked eye the photos do show them up, albeit way too feint.
SCORE – 9
PRINTING & QUALITY CONTROL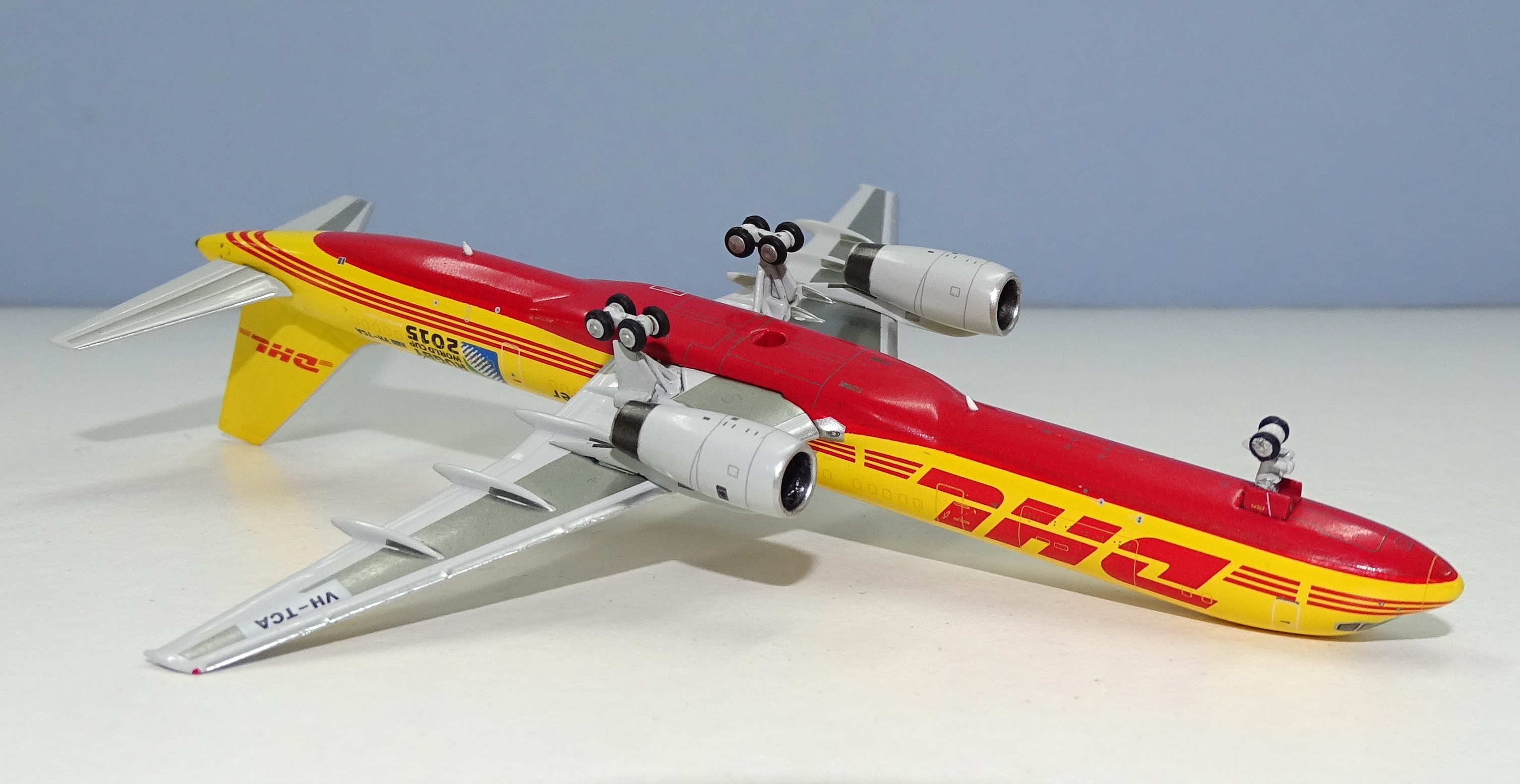 With pure freighters printing can almost be an after-thought, however printing on ex-passenger airliners is a lot more complex due to all the windows which have been plugged. NG Models is comfortably up to the challenge and is exceptional at fine printing lines such as these. I have never come across an NG release with any printing quality problems like smudging or finger prints and this model isn't going to break that pattern.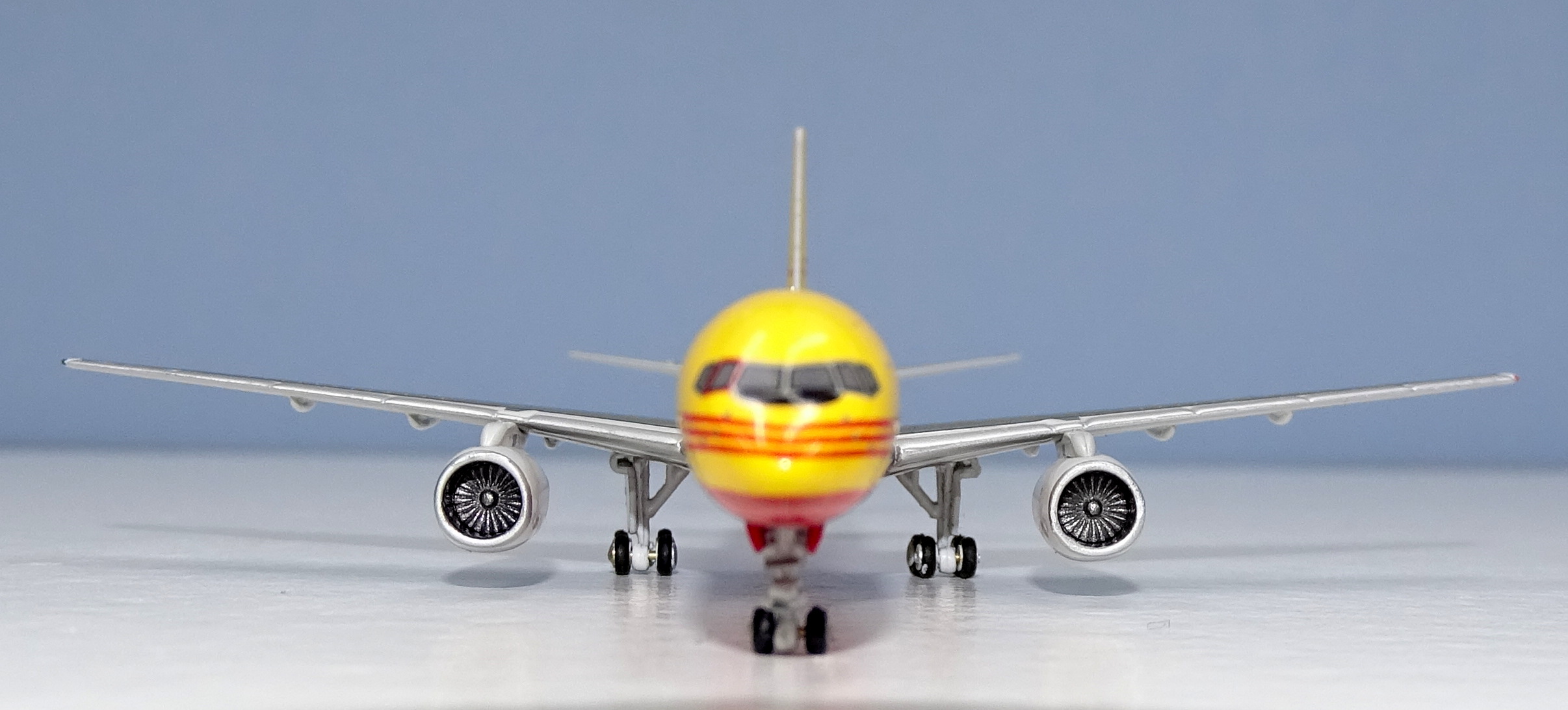 NG seem to have gotten on top of the only recurring construction fault with their 757s (that the nosegear was prone to falling out) and this model comes perfectly put together. Once again, I have to search for any issues worthy of a dropped point and if I'm unkind the nosegear is a little rough. The tyre hubs and gear leg aren't as good as on other NG 757s I own.
SCORE – 9
CONCLUSION
I often feel nowadays that I have to find reasons not to give NG Models top marks. Far from favouring them, as I have been accused of, they simply produce excellent models to very high standards. Made by collectors, for collectors you might say. You really know that when you buy an NG Model you are going to be receiving something of high quality regardless of whether they got the license for it or not. As a collector I don't care about paying airlines that don't need the money. I care about top class models and once again this is one.
FINAL SCORE – 28