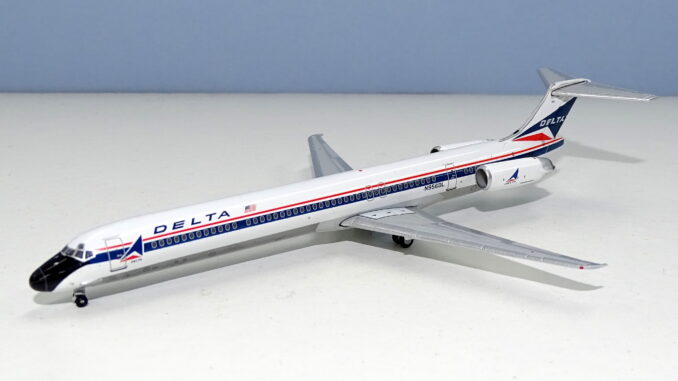 There are some aircraft that really stand-out as obvious sellers in 1:400, which just don't seem to get made. Many of these are MD-80s, and I have previously bemoaned the fact that the existing mould gets so little use. A Delta MD-88 in the original widget scheme is a great example of one of these models, since only Jet-X made it previously on their hard to find and relatively poor casting. December 2019's Gemini announcements finally delivered this model and it is part of what appears to be a minor reorientation of Gemini's release behavior.
The last quarter of 2019 included a wider range of 'classic' releases appearing from Gemini, even if it was only one or two a month. Whether this is a reaction to NG Models or just a return to the Gemini of before 2010 I can't say but I am delighted to see it. If it continues, I may be reviewing more Gemini releases this year than last.
THE REAL THING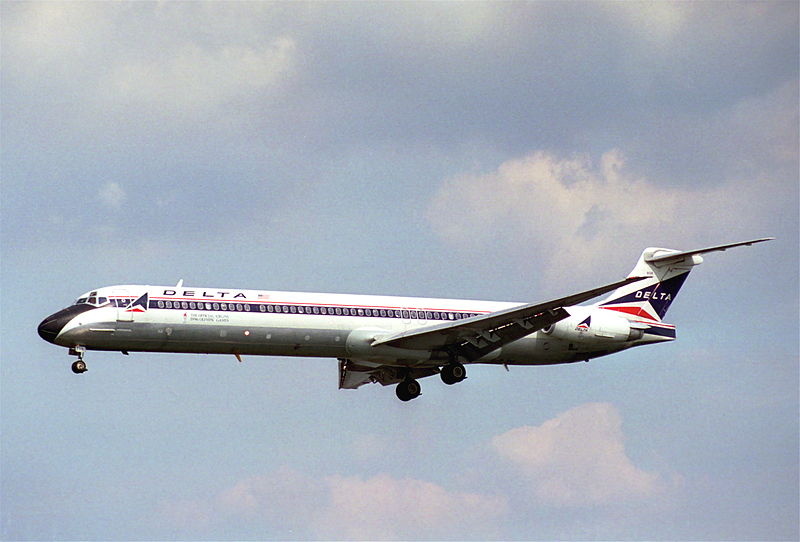 The merger of Delta Air Lines and Northwest Airlines made sense for many reasons but especially as both carriers knew how to get the most out of their fleet. Northwest was of course famous for the longevity of the Douglas DC-9s, that it acquired from Republic, but had also bought second-hand DC-10s and kept its original 747-100/200s going for a long time. Delta itself has been sensible with its fleet purchases and its acquisition of second-hand MD-90s is a good example of getting bang for its buck.
Nowadays Delta is gradually acquiring new metal to renew its fleet, which, at an average age of 15 years, is one of the oldest in the USA. The average age of its A320s, which were acquired through Northwest, is 24.1 years but its original McDonnell Douglas MD-88 fleet is even older, with an impressive average age of 28.7 years.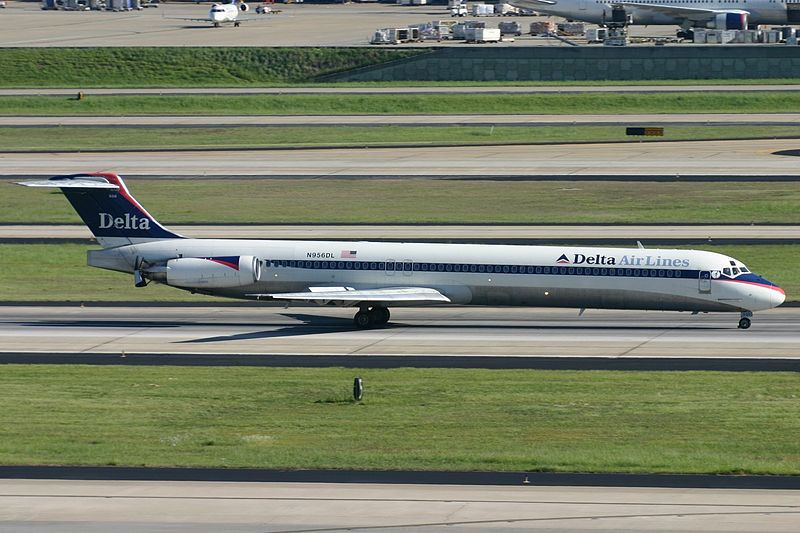 Delta placed its original order for the MD-80s in January 1986. It was valued at $2 billion and covered 30 orders, with 50 options, for the new variant of the Super 80 – the MD-88. McDonnell Douglas won the order despite competition from the fast selling Boeing 737-300. It was swung in the MD-88's favour due to its larger capacity (142:128 seats) and longer range (2,300:1,900 miles).
Douglas at the time was still pushing the concept of the prop-fan engine and suggesting that the new Delta MD-88s could be refitted with them. This didn't happen but that didn't bother Delta whose first aircraft was delivered on March 9, 1987, albeit as an MD-82. The first eight aircraft were actually delivered as MD-82s and retrofitted to become MD-88s in 1988. The difference centred around a new digital glass cockpit rather than the analogue flight deck of earlier MD-80s.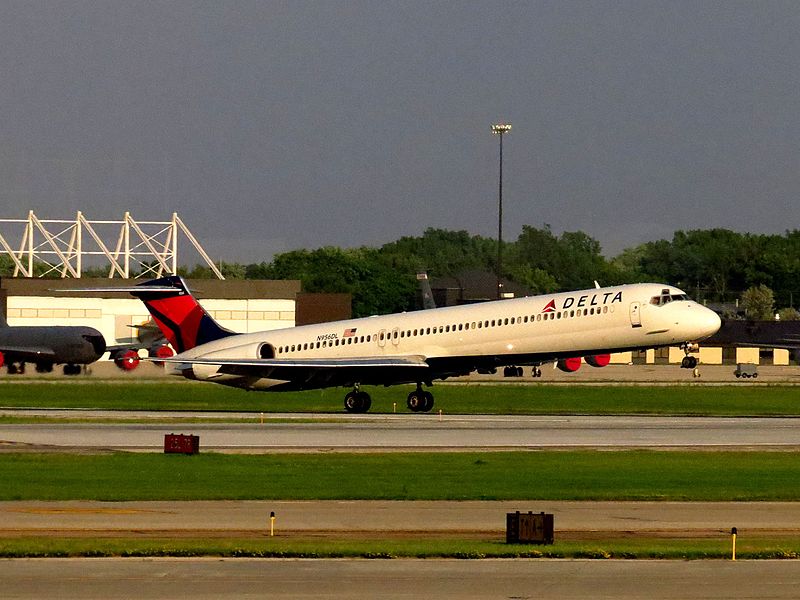 Delta eventually took delivery of 120 MD-88s from McDonnell Douglas and the type became the primary short-medium haul equipment, replacing older Douglas DC-9-30s and Boeing 727-200s. Seating capacity has been increased over the years so that the type is now configured with 149 seats, nine less than its slightly larger stablemate the MD-90.
As of April 2019, Delta was still operating 79 of its MD-88s (and 37 MD-90s) but it began to accelerate the retirement of both types last year with the arrival of new Airbus A220s, A321s and Boeing 737-900ERs. By February 2020 the MD-88 fleet had been reduced to 48 units, the oldest of which is N905DL delivered in April 1987. N956DL was delivered on April 27, 1990 and flew with Delta until her last revenue service on August 31, 2019. It remains to be seen when Delta will finally retire its last 88s but it has certainly got its money's worth out of the venerable Mad Dogs.
THE MODEL
The format for my reviews is to split them into three key areas:
The mould of the aircraft
The paint and livery
Printing and quality control
Each can get a maximum score of 10 for a section giving a maximum score of 30.
THE MOULD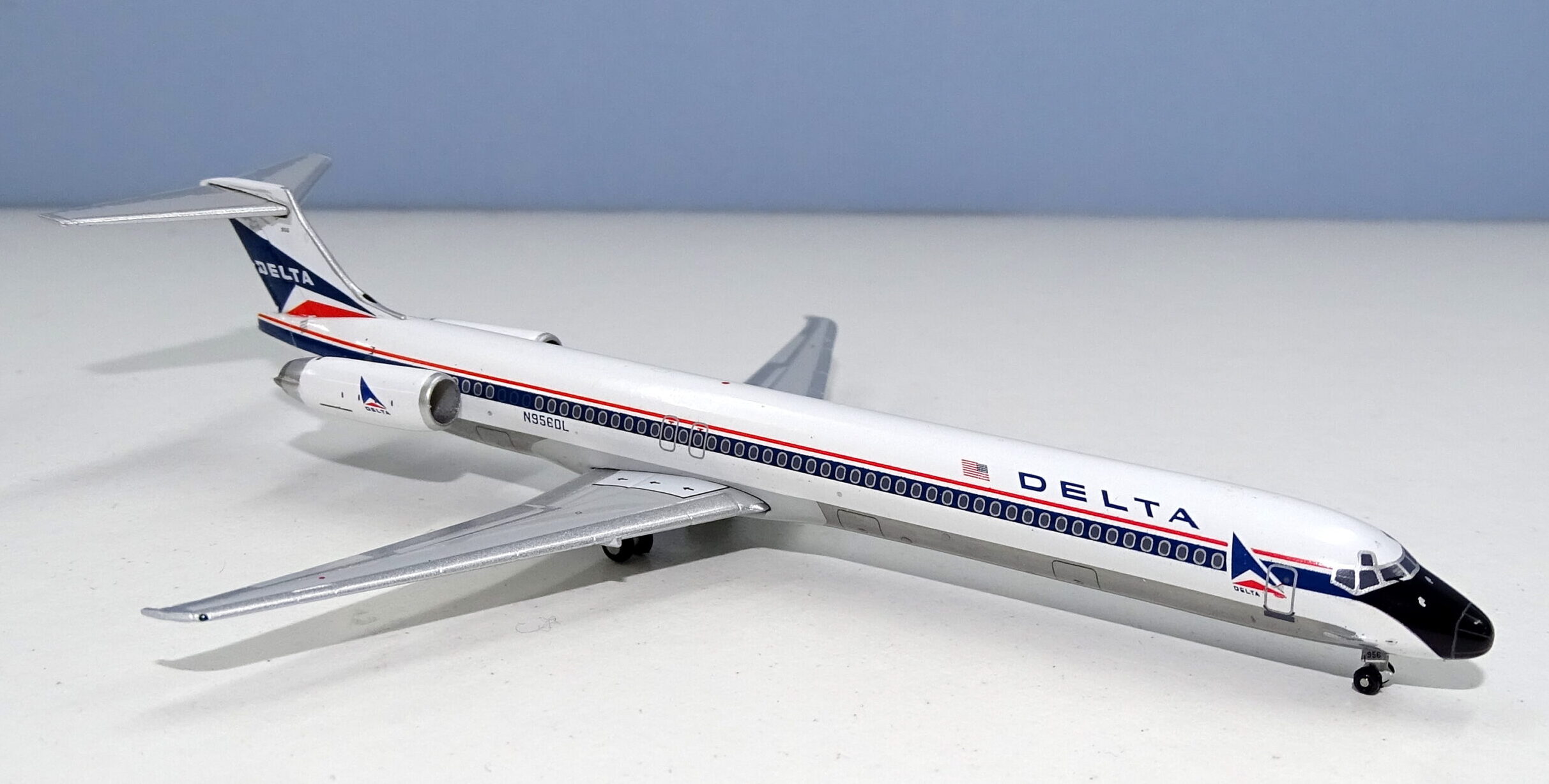 The Gemini MD-80 mould is the only existing mould for the type still in use and although not a world-beater it is a perfectly respectable attempt that deserves more frequent use. In fact, it is still the best MD-80 that has been made in 1:400 scale. The Dragon Wings mould is the most widely used in this scale. It is well liked and not bad, but it is not issue free and looks rather old-fashioned nowadays, even though it is seamless.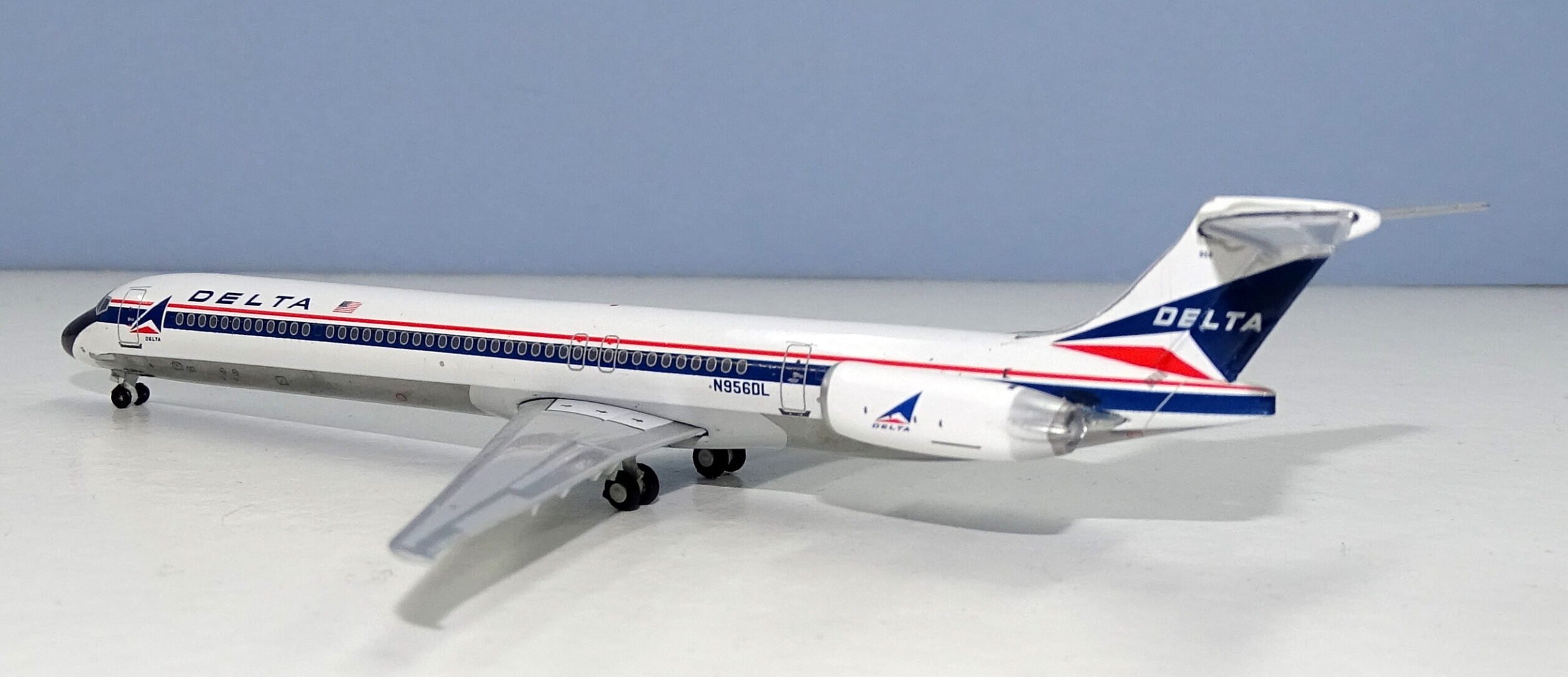 This MD-80 also has some issues but not across the board. The all-important rear of the mould for example is very good. The downward angle of the horizontal stabilizers at the top of the T tail is well replicated and overall the rear fuselage is well shaped. There are minor concerns, the top of the tail is too angular and flat topped, and the screwdriver tail could be enlarged and squarer, but they aren't deal breakers. The engines are very nice, suitably chunky, well sized and angled.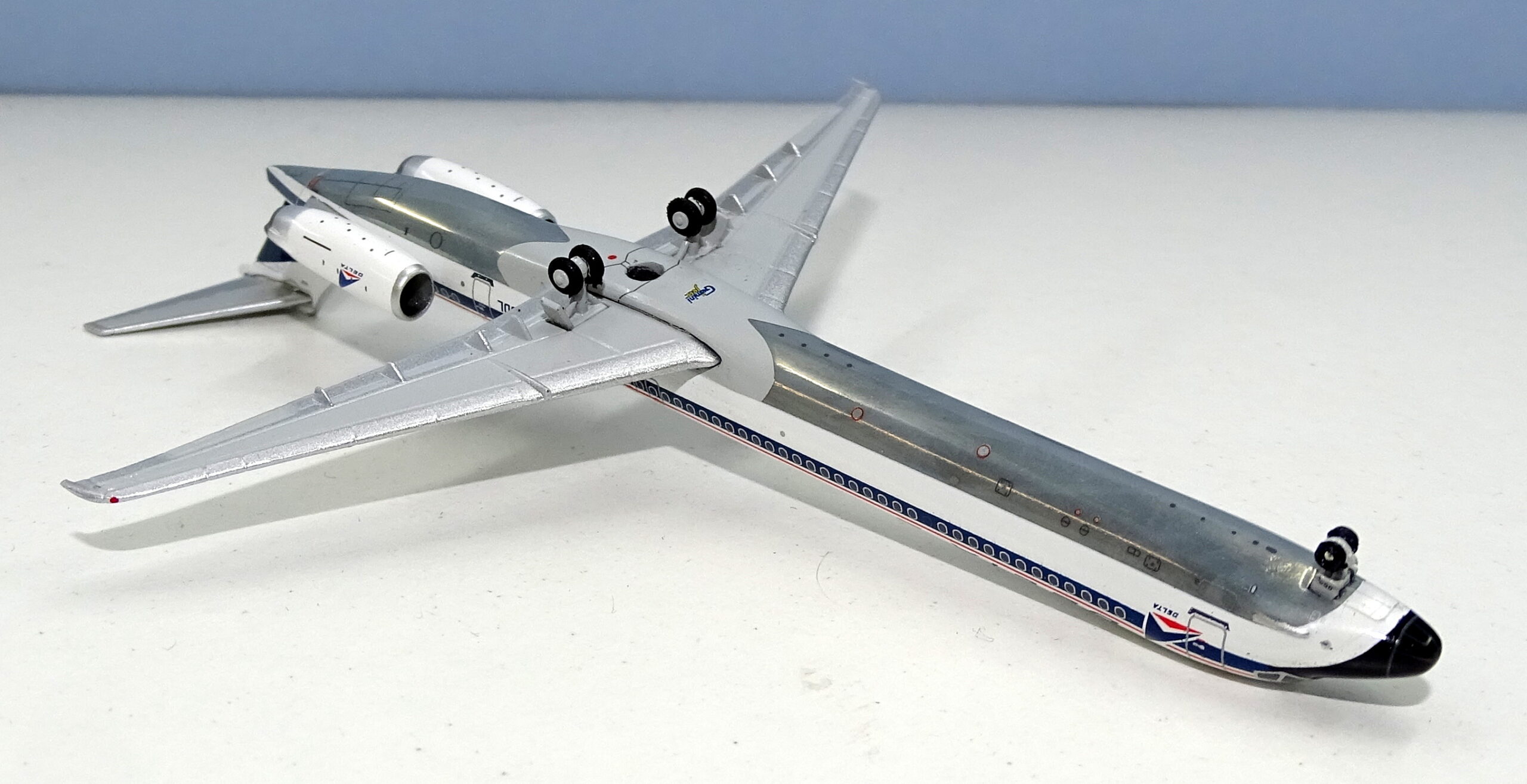 The wings and maingear are excellent too and the mould is seamless with slot in wings rather than a cradle mount. There are still no aerials on this mould, which is surprising seeing as JC Wings have updated much older and inferior Gemini classic moulds (the DC-8 and 737-200) and also added them to the MD-90.

I have previously taken this mould to task over the entire region forward of the wing but over time I'm rather coming around to it, partly I admit as there are no other contenders to compare it to, other than shorter DC-9 variants, and partly because later releases do seem genuinely better than earlier ones.

The nosegear is slightly too far backwards but it appears better fitted than in earlier versions, plus the gear itself is good. I do not think that the nose profile is especially accurate and this is the weakest area of the mould. It looks wrong and is inferior to the old Dragon mould, and miles away from Aeroclassics superb DC-9 nose. However, having said that this is still the best 1:400 MD-80 by some way and if Gemini used it more often, I'd be very happy. It is solid without being outstanding and sometimes that's good enough.
SCORE – 7
PAINT & LIVERY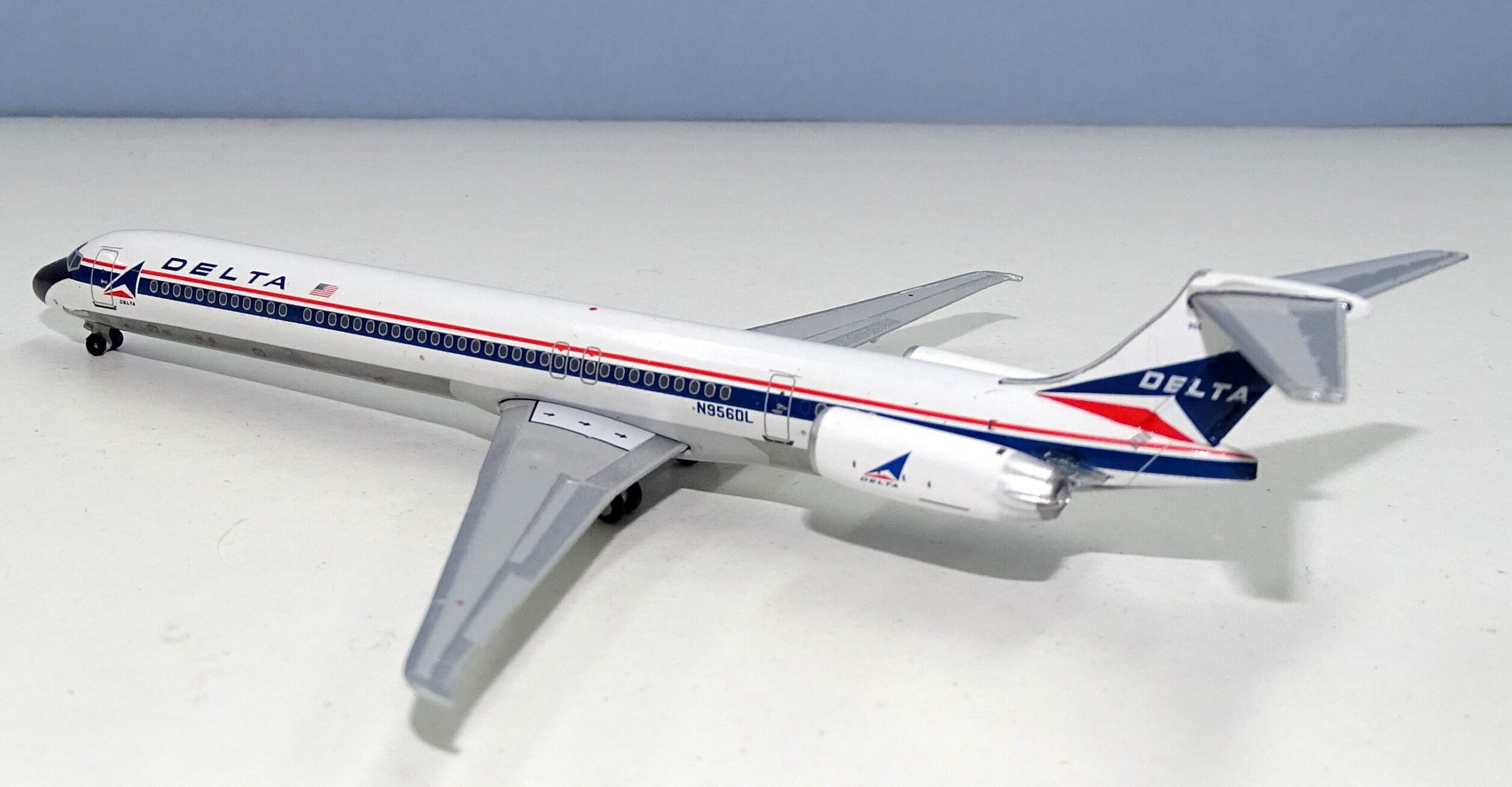 Delta's classic widget scheme still without a doubt the enthusiast's favourite and it looks great on the long thin MD-88. Considering the type's long service with Delta it is a little ironic that finding photos of MD-88s in the Widget scheme (or at least ones I can use here) is not easy, let alone photos of this specific frame. The best widget photo of N956DL I can find is this one from Air Britain.

Gemini know how to do a Delta Widget. Their dark blue for the cheatline and tail is fine and melds nicely into the black nosecone. The red is also fine. Positioning of the tail Widget is excellent. I had never noticed before that its lower edge was not horizontal to the cheatline but Gemini have. The size and font of the titles is fine and small details like the fleet number on the tail accurate.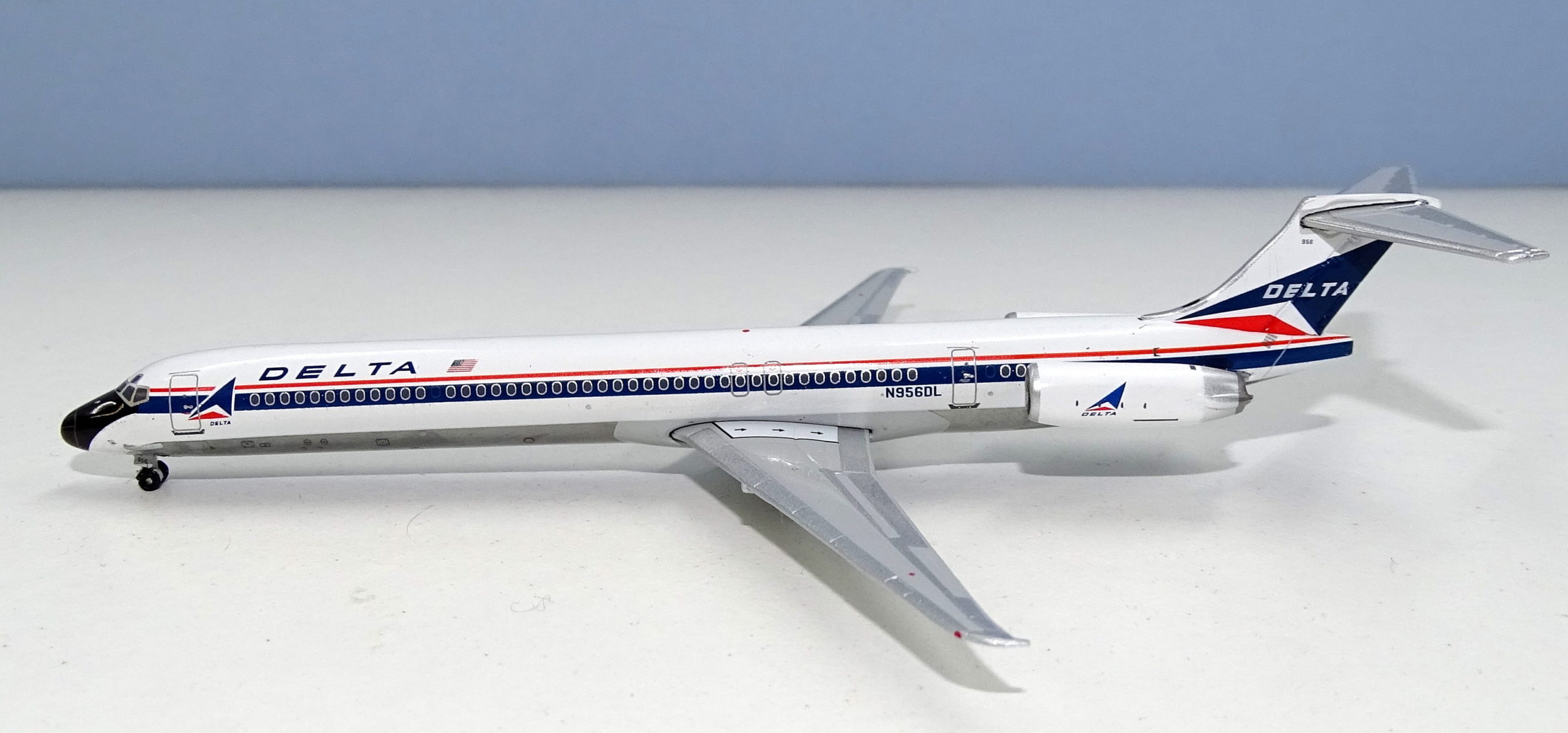 The widget is repeated on the engines and forward fuselage, with tiny DELTA titles under it, beautifully. Lastly the natural metal belly accurately follows the line of the nosecone painting and the grey central wing fairing is present and correct. I have got no concerns with the livery application here at all.
SCORE – 10
PRINTING & QUALITY CONTROL

Printing on this model is crisp, clean and finely detailed. Both the engines and underbelly region gain a lot of detail print work, which is faultless. A fine and accurate nosecone outline is even printed onto the black paint.
Unfortunately, it is the build quality that lets this model down, which is a real shame as the model is otherwise essentially perfect. Both the starboard side engine and the port side wing came detached from the model. Fortunately, neither has produced any paint damage and so it can be put together to look fine. There is glue present on both the wing and engine tabs but there obviously wasn't enough, or it wasn't applied properly.
SCORE – 8
CONCLUSION
I like this model and I also like that Gemini are going back to their roots a bit and producing a more diverse range. February's Gemini release announcement includes 3 models that I might purchase, something that hasn't been the case in years. What I don't like is a trend of poor construction that I've seen from Gemini models on the forums and Facebook groups. Hopefully what ought to be minor issues to fix can be resolved so that they don't detract from what are otherwise good efforts.
FINAL SCORE – 25/30