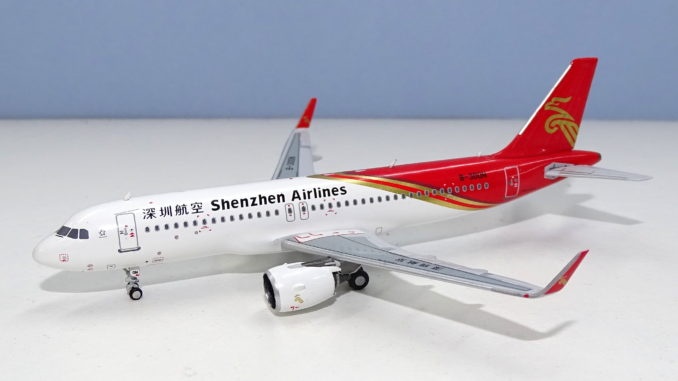 Throughout 2018 Panda Models have taken a move away from their traditional Chinese heavy production however their new material has focused heavily on either releases for the Indonesian market or four major European carriers (Easyjet, Lufthansa, SAS and Swiss). Nice as these appear to have been, they hold little interest for my collection and so my number of Panda purchases this year has gone way down. Nonetheless the models I have reviewed have still scored well and they still can't resist the odd Chinese major here and there, which is more in my territory.
THE REAL THING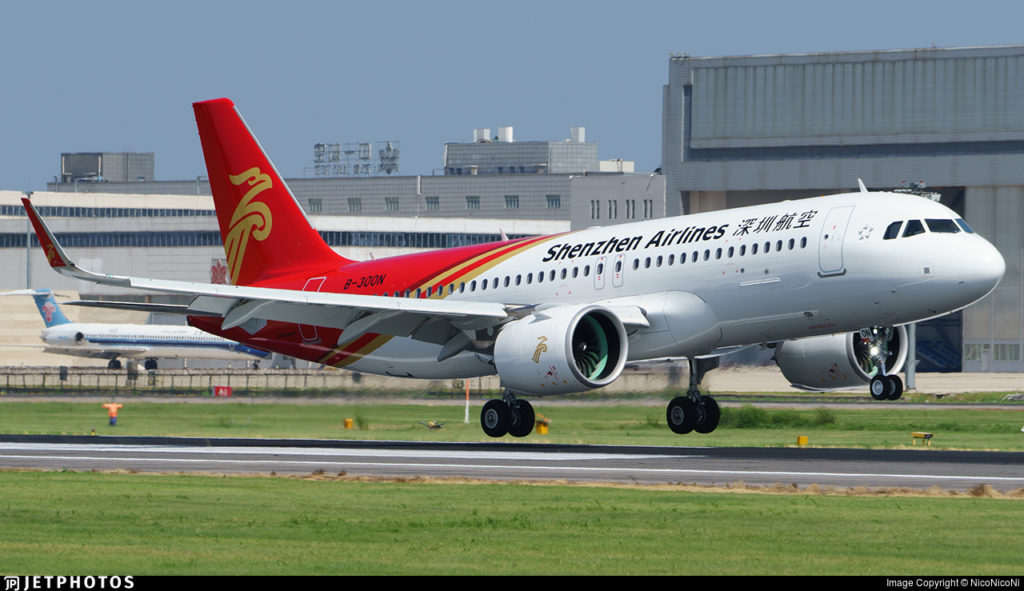 Shenzhen Airlines is one of those massive Chinese airlines that few people outside of China have heard of. It wasn't until October 30th that they launched their first long-haul service,between Shenzhen and London Heathrow, using A330s, that they got outside of Asia; Although around 8% of their capacity is on international routes this is mostly limited to connecting Shenzhen and Guangzhou with regional destinations in Thailand, Japan, Cambodia and the like.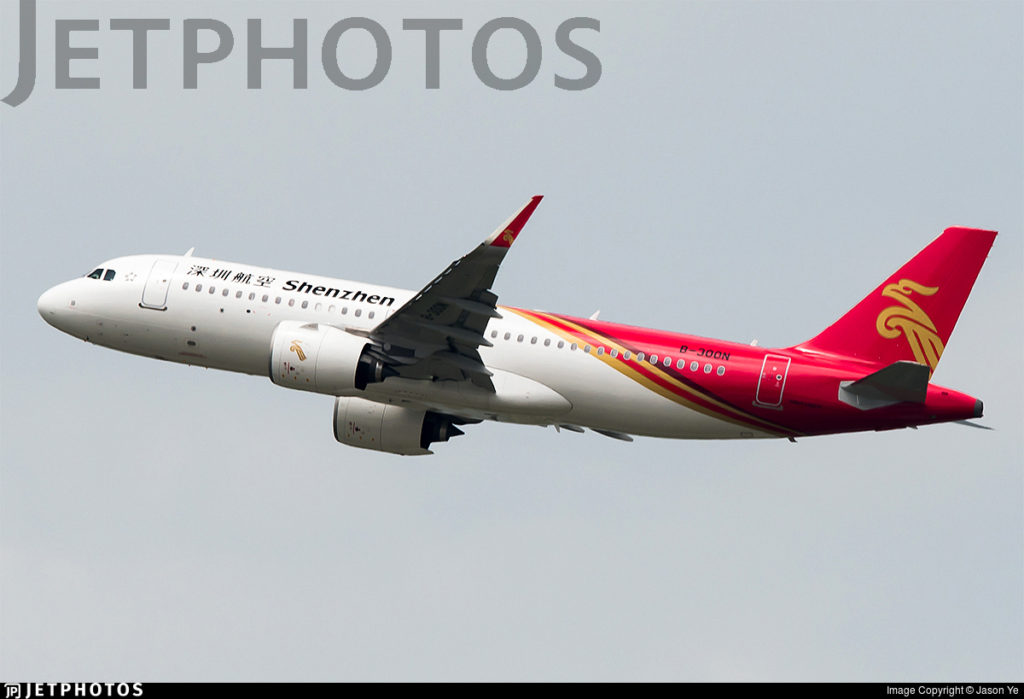 The carrier was taken over by Air China in 2010 after the former majority stakeholder, Huirin, filed for bankruptcy. Rather than merge it into its own operations Air China has kept and grown the Shenzhen brand within the Southern China and Pearl River Delta region, as a weapon to compete against China Southern. The fleet now stands at near 200 aircraft,rather typically for Chinese majors, split almost evenly between Airbus A320 and Boeing 737 family airliners.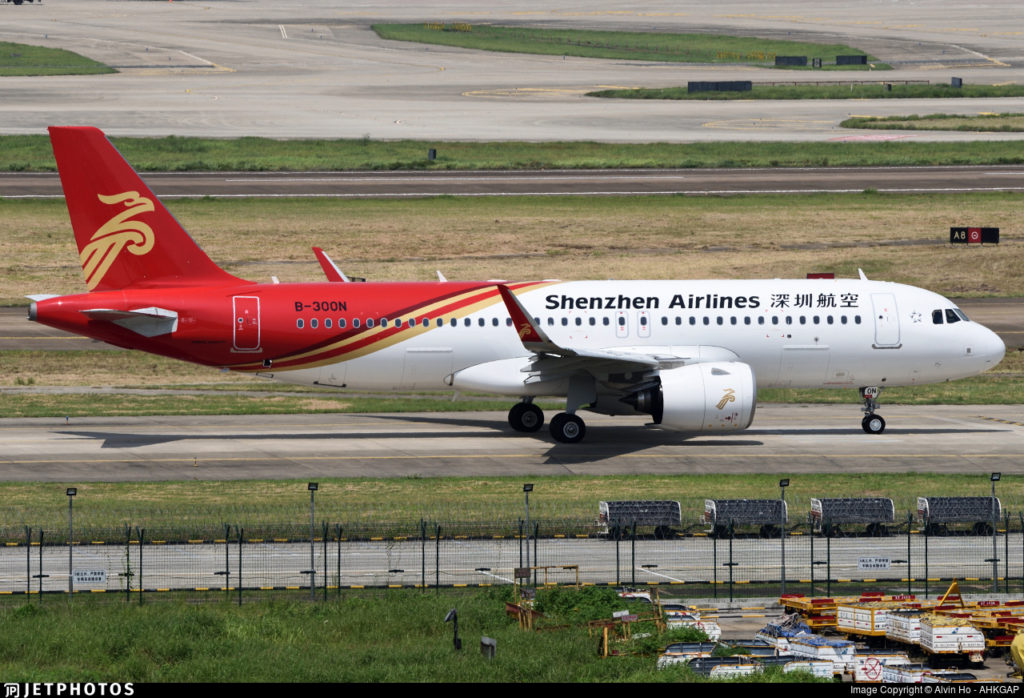 Mostly these narrowbodies are the middle range member of each family, the A320-200 and 737-800 respectively, indeed surprisingly no A321s are operated at all. Fleet age of this impressive collection of jets is young with an average age of under 7 years. Partly this is due to the ongoing growth at the airline, which increased its annual number of system seats by over 10 million between 2012 and 2018 (to nearly 40 million). Passenger numbers have almost doubled since the Air China takeover showing how seriously its parent takes the brand, which in turn has been solidly profitable year on year.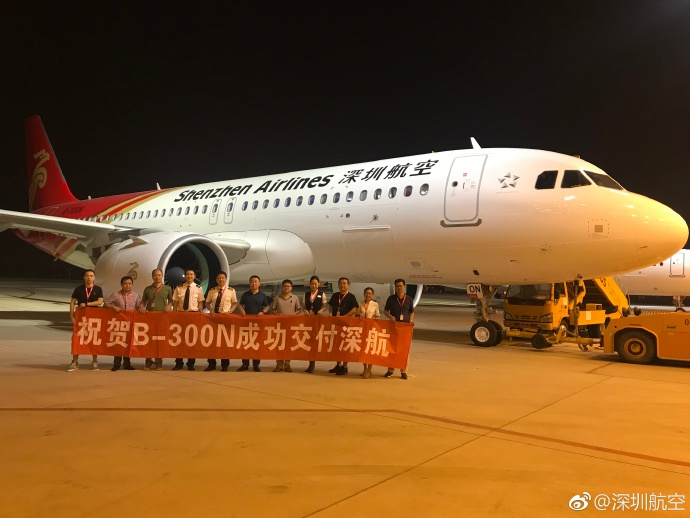 It is no surprise that Shenzhen has begun to acquire the next generation of narrowbodies and A320neos are now beginning to flood into China in the same way 737MAXs are as the Pratt & Whitney PW1100 engine problems are gradually resolved. B-300N was the first NEO for Shenzhen and was delivered on July 6, 2018. Unlike many Chinese aircraft she is owned directly by the airline and not leased. Two further NEOs have since arrived,rather confusingly registered as B-300M and B-302M, and they will be followed by 24 further siblings.
THE MODEL
The format for my reviews is to split them into three key areas:
The mould of the aircraft
The paint and livery
Printing and quality control
Each can get a maximum score of 10 for a section giving a maximum combined total score of 30.
THE MOULD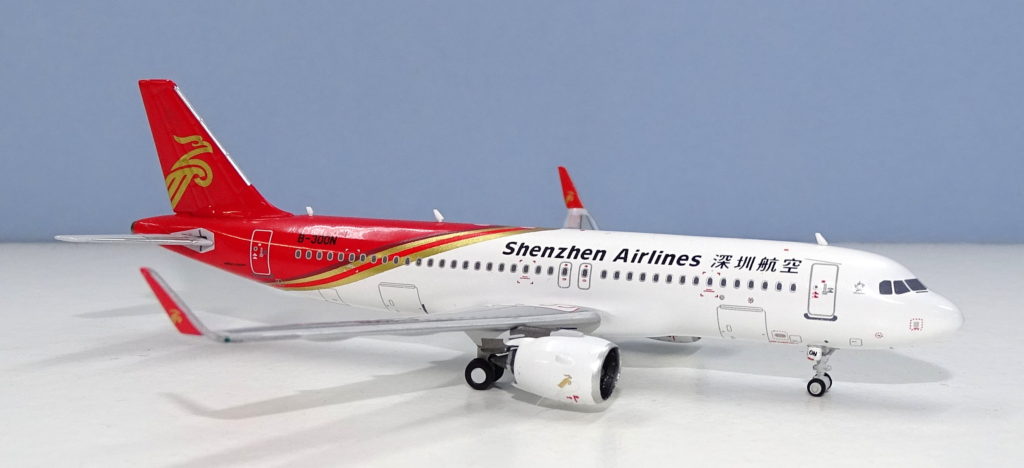 Panda Models produced the first 1/400 scale A320NEO in September 2016 leveraging the excellent A320 mould they were using, whose ancestry is, shall we say, disputed. Ethics aside the mould is very good and has been improved by Panda with aerials and new nosegear tyres, complete with wheelhubs. It is the best A320NEO available in 1:400 scale due to these additions.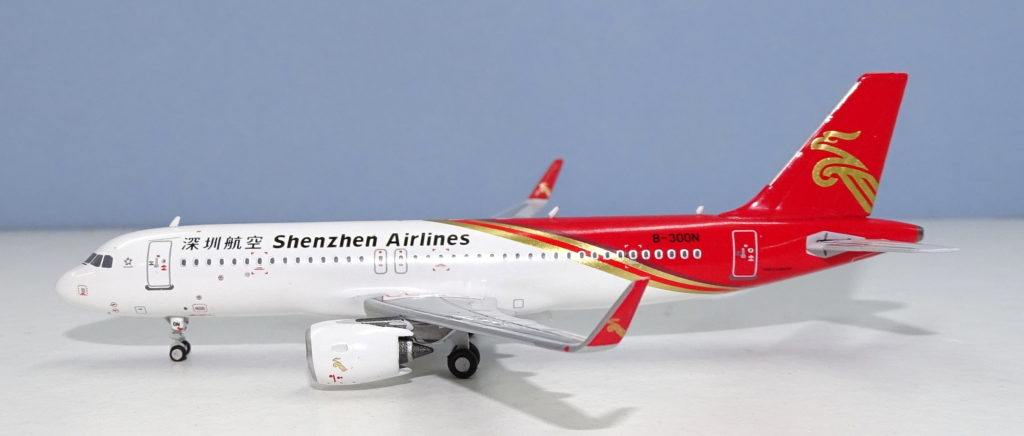 So, the mould, being effectively the same as the Aeroclassics A320 is excellent. The shape is essentially perfect and leaves the A320s from Phoenix and JC Wings in the dust. The wings are also excellent and slot into the fuselage very well with no discernible gap and no wing angle issues.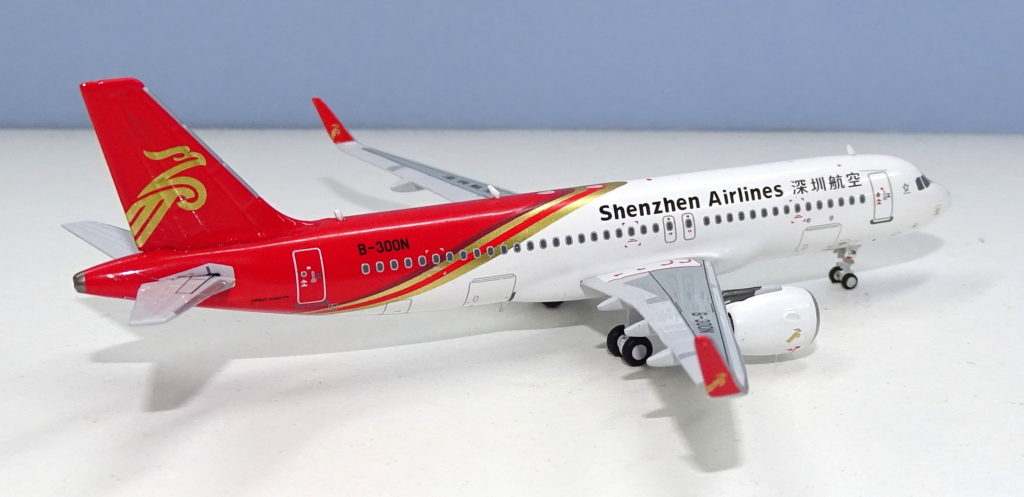 Unlike JC Wings, which often makes the antennae too large, Panda have got the size correct and in addition they have fitted on this mould all four of them, unlike JC Wings, which regularly misses out the rear under fuselage antenna.
The replacement nosegear is a major improvement over the original rubber tyres on a spigot. Aeroclassics have also recently updated the tyres of their A320 family models but although larger it remains the old simple construction. Not only have Panda got a better sized tyre (slightly smaller than the new Aeroclassics one) but they also have nice hubs.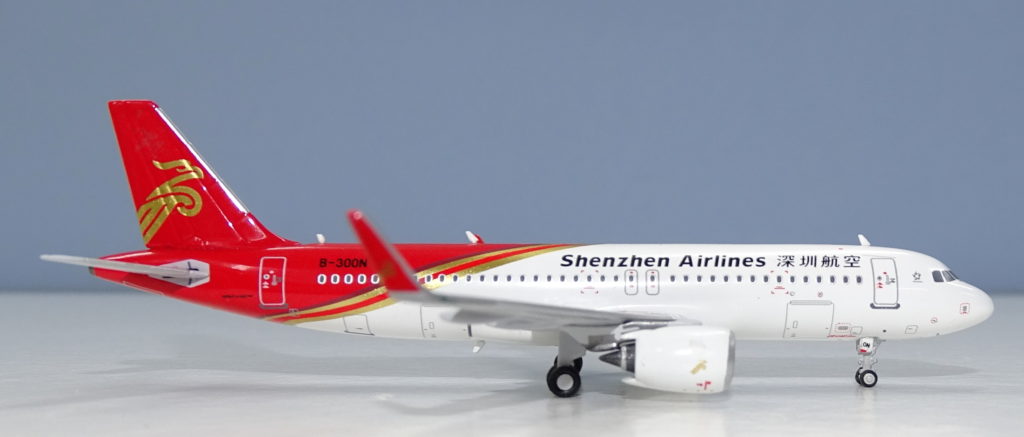 The larger tyre does assist in improving ground clearance for the PW engines but although the clearance is ok it is still not enough. This is primarily because the engine pylons do not hold the engines quite high enough in front of the wing.
Overall this is a fine mould but I still feel in the hands of true connoisseurs like NG Models it could be improved with some changes to the engine pylons.
SCORE – 9
PAINT & LIVERY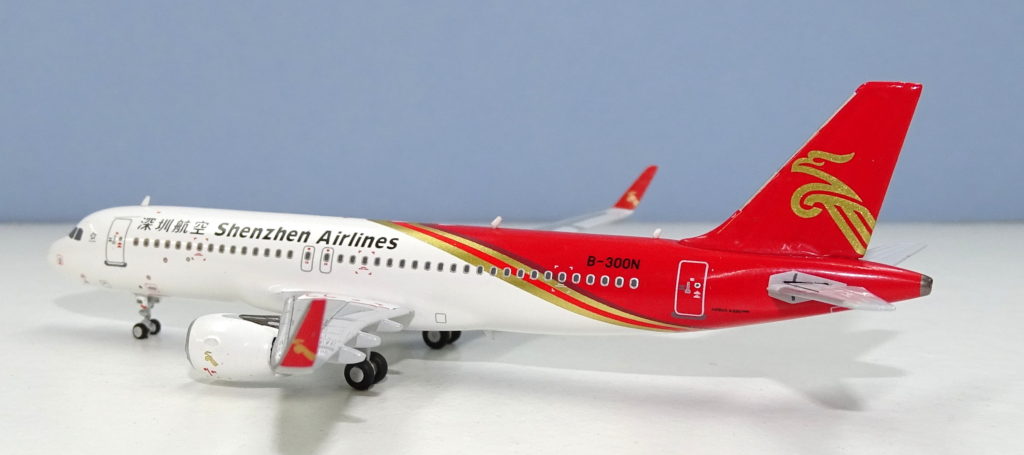 Shenzhen replaced its original rather dowdy blue/green and disconnected cheatlined livery in 2006 replacing it with a more modern and colourful look. The tail sports the "National Roc." According to the airline's website this is "the totem aggregating the traditional and modern Chinese cultures. The design is harmonious and the colors of red and gold are gloriously lined with one on the other, agglomerating the soul of the oriental culture. Tallness and straightness, fullness of vitality, are the reflection of progress and prompt response." Indeed.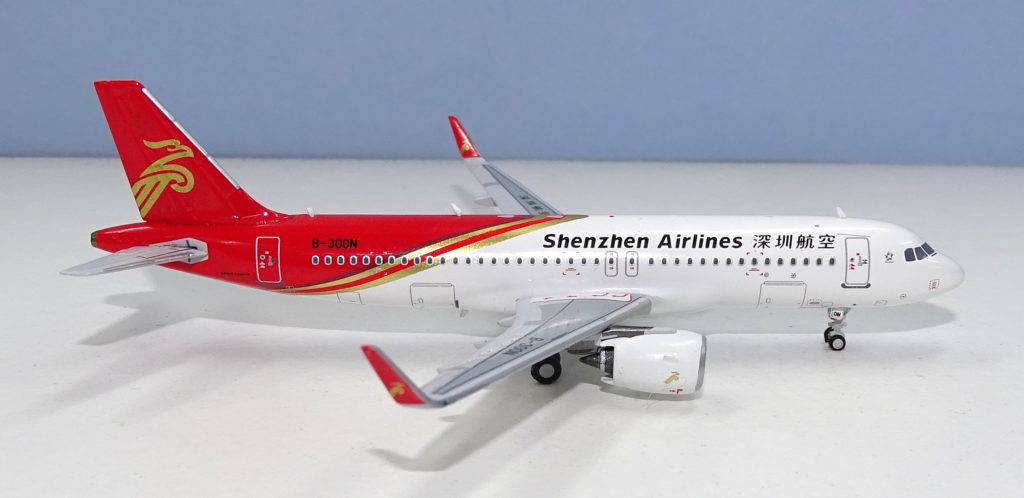 Well to a westerner it looks like a funky bird logo on an attractive red rear half with gold highlights. An earlier attempt to modify the scheme by moving the red line forward, partially obscuring the black titles, appears to have been dropped and the titles are again completely on a white background.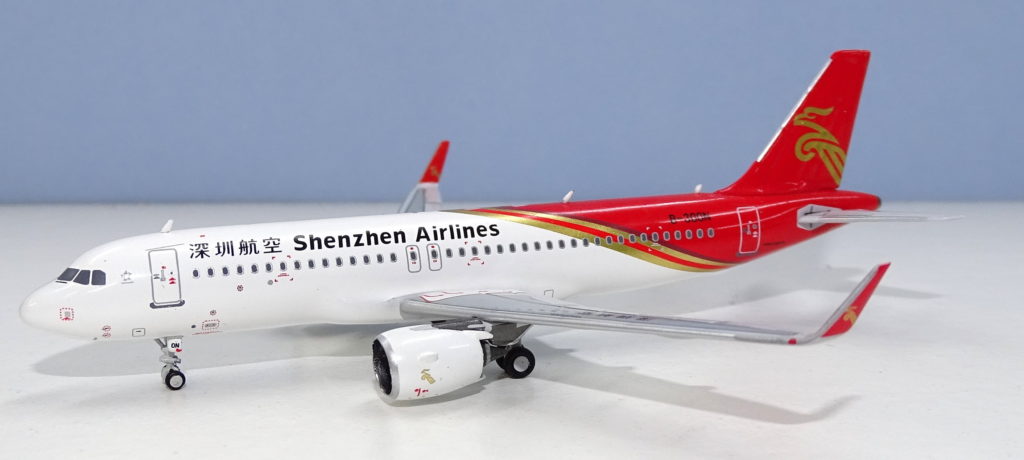 Shenzhen Airlines is one of those schemes (like Hainan Airlines) that the major manufacturers tend to fall into two camps on related to colour. Phoenix takes the lighter route whilst everyone else takes a darker one, including Panda Models. This is actually a rare occasion of Phoenix being correct and the red on this model is a shade too dark. Having said that since it matches six of my seven other Shenzhen standard colours aircraft it is a price worth paying.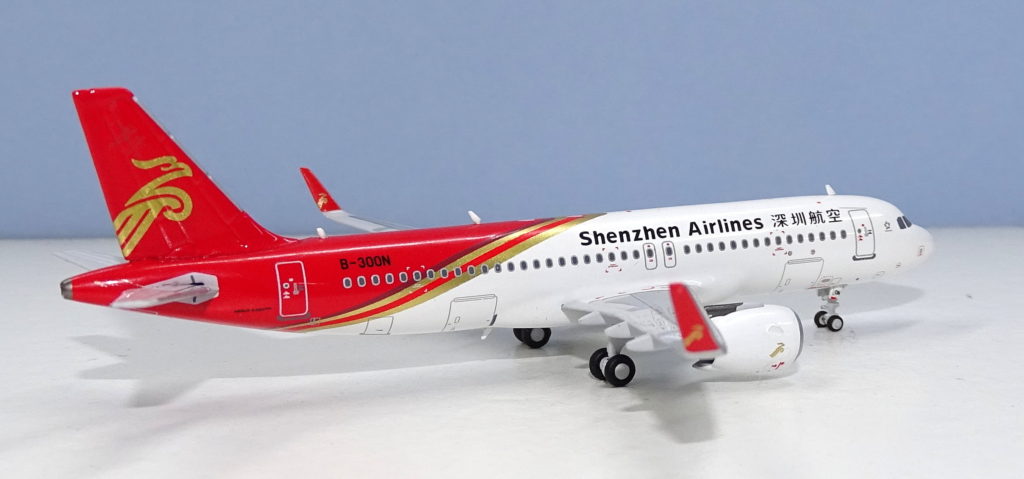 On the plus side the golden 'National Roc' is much better realized in gold than on the Phoenix A320 I own. The rest of the scheme is applied well from the tiny Star Alliance logo by the cockpit to the 'National Roc' detailing on the Sharklets and engines.
SCORE – 9
PRINTING & QUALITY CONTROL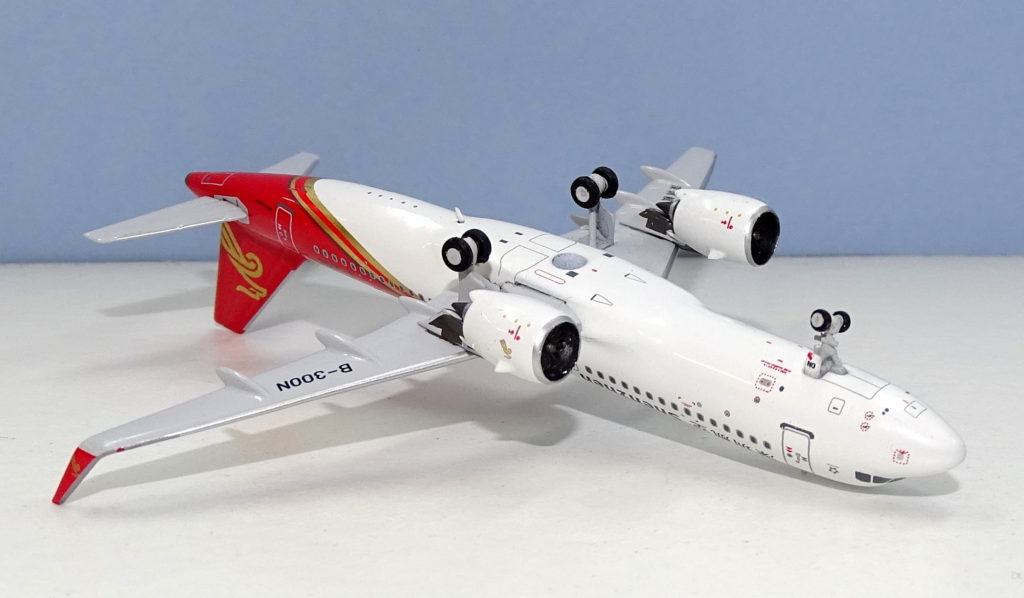 Printing quality on this model is high. They wisely avoid the radome printing, which is pretty much invisible on an A320 anyway, but add a lot of detailing elsewhere, especially under the nose, by the nosegear. There are no printing defects and in addition the engine fans are a lovely dark shade of titanium grey. All the paint is crisp and fine.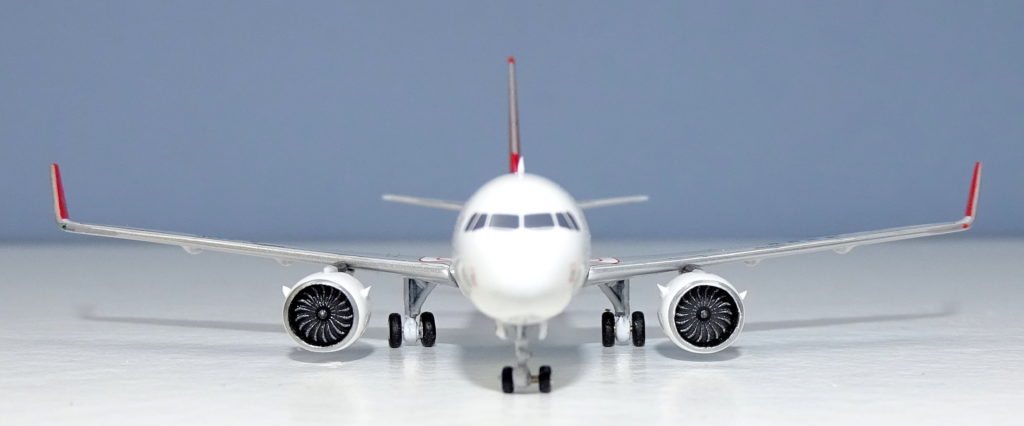 Then again, perhaps I am spoilt by NG Models,but it is possible they could have added more printing on the engine nacelles (panel lines) and the clear line that runs around the wing/fuselage fairing as well. These are minor criticisms, but they would add some extra detailing.
Likewise, construction of the model is as good as it gets. All the aerials are well attached and the landing gear properly fitted and rolling freely.
SCORE – 9
CONCLUSION
Panda may have been muted in 1:400 scale in 2018 but they still know how to produce a high-quality model, and thankfully are not leaving the Chinese market to the inferior narrowbodies from Phoenix and JC Wings. You may not be a collector of Chinese airlines but this model proves that if you are after an A320NEO then you should check out Panda (and Aeroclassics) before anybody else.
FINAL SCORE – 27/30