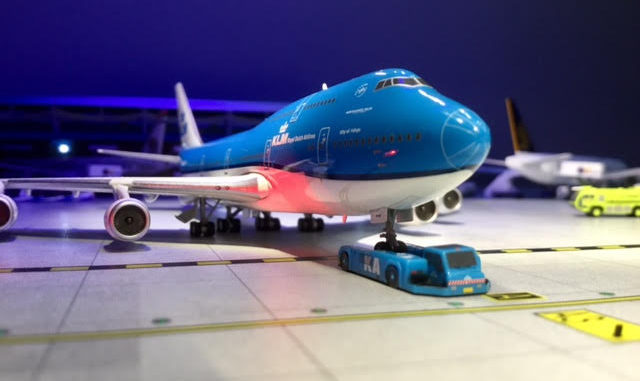 Our latest Airport Spotlight Series takes a look at Alejandro L's model of Madrid Barajas Airport. This impressive diorama features LED lightning, and a stunning ground foil layout complete with aircraft and ground service equipment tire markings.
DF=The Diecast Flier
A=Alejandro L.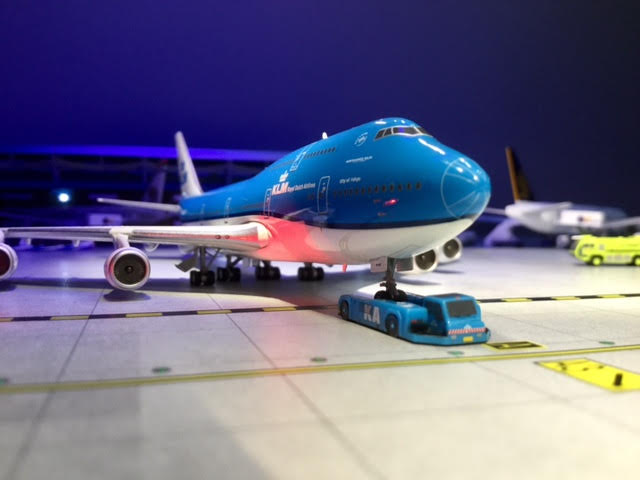 Current Location:
Madrid, Spain.
Airport Name:
Madrid-Barajas Airport (MAD) model airport.
DF=Closest Airport to your hometown?
A=Madrid, Spain (LEMD-MAD).
When did you develop an interest in aviation?
A=When I was around the age of five, my father began to travel quite often and I began to take an interest in flying machines. In fact I went on to become a pilot. I am passionate about aviation.
DF=Airport you took your first flight from?
A=Vigo, Spain (LEVX-VGO).
DF=What is your favorite airport?
A=Definitely Frankfurt. It's like a melting pot in the middle of Europe.
DF=What do you find most fascinating about aviation? It's the demonstration that barriers can be overcome, both technically and humanely. To manufacture these machines, to dominate them, to make them move from one place to another with such accuracy!
DF=What scale is your airport?
A=1/400 and 1/200.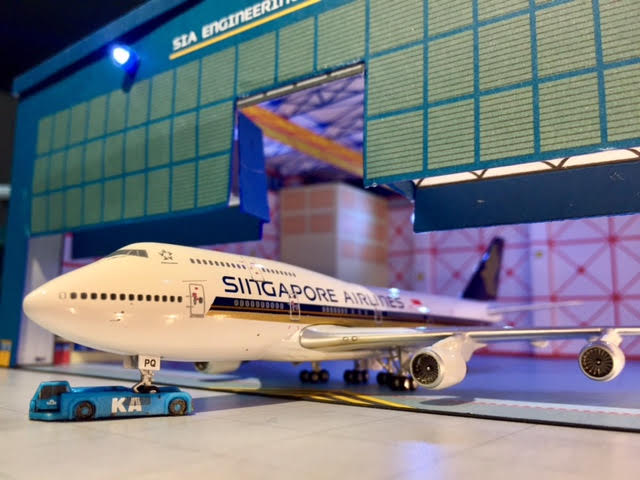 DF=What is the largest aircraft that that's part of your airport? Smallest aircraft?
A=Largest is a A380 1/200 scale. I have a few A380s in the Qantas, Singapore and Airbus liveries. Longest aircraft is the are some A340-600. I have several A340s in the Iberia, Etihad and Emirates liveries.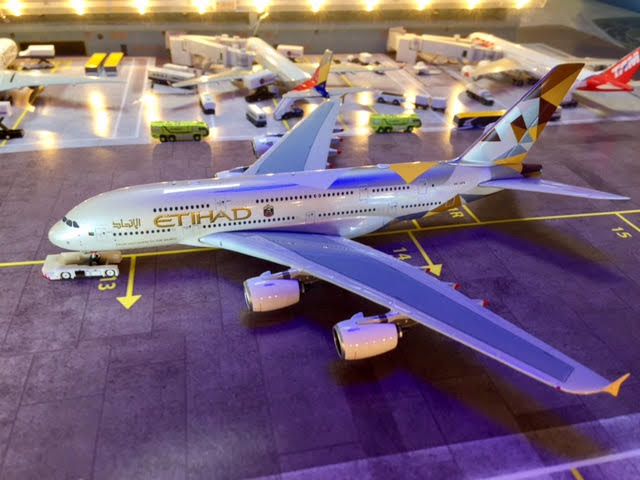 DF=Favorite aircraft that is part of your diorama collection?
A=That's a difficult choice. I'd say the Air New Zealand B777-300ER "All Blacks" livery and a Spanair A320.
DF=How many aircraft are based at your airport?
A=875 and growing!
DF=What type different types of products did you use in the development and creation of your airport?
A=Many things! From crystal chunks to carpet hairs, haha.
DF=Can you tell us how you designed and constructed your airport? How did you design the trees?
A=Basically I built sections or scenarios. Since I didn't have enough room at home I had to be mindful of the size of the layouts. My aim is to bring my models to life somehow. Thus I find it important to create a realistic environment. Anything can be used. The trees you mention are scrubs for train dioramas. The grass was constructed using carpet hairs. Backgrounds are painted canvas or printed pictures. I even used a dark blue child float one time. Its color was amazing for nighttime scene! A good mark painting of the apron is important and should include rubber markings, and ground service equipment vehicle markings around the aircraft area. I use pencils and pastels to simulate these markings.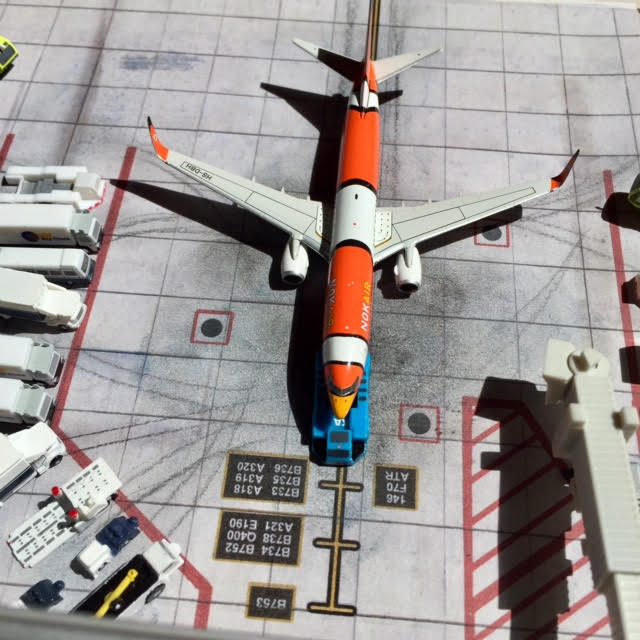 DF=The lighting for your airport is very impressive as you've managed create both day and nighttime visuals. How did you accomplish this?
A=Spending a lot of time in it. As I mentioned I wanted to bring my models into life so I started studying lightning methods. I started with white LED strips to highlight the brightness of the aircraft fuselages, as if it were illuminated by a row of spotlights. Next, I covered the normal bulbs with colored gift paper. And finally my best help is a bluetooth colored bulb to get fantastic ambients, combined with strategic positioning of LED lights and mini lamps. No photoshop or filters are used.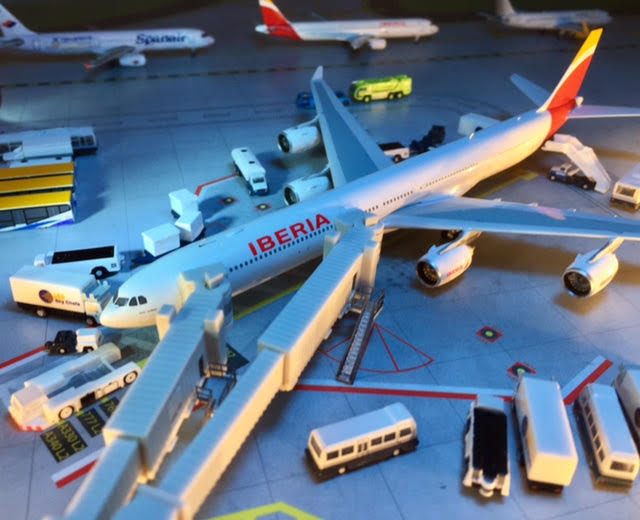 DF=I also noticed some of the aircraft taxing around your airport even have landing lights? Was it challenging to add this feature?
A=Absolutely! I got it by placing LED lights strategically. In fact the complicated thing is to get the perfect angle to take the photo so the lighting is hidden by the plane itself. It takes some time to get those photos, but I'm very happy with the result.
DF=What ground foil products do you use for your airport?
A=Mainly a Gemini 400/200 mat, but also customized mats purchased in UK.
DF=What products did you use to design your airport terminal?
A=It's a Gemini 1/400 terminal, and sometimes I use a customized regional terminal comprised of canvas and paper.
DF=Are there any future expansion plans for your airport diorama layout?
A=Yes, definitely! I want to build part of Frankfurt Airport to include an entire runway with taxi, and runway lights. I also plan to build my own terminal building with an interior design and would like to design a 1/200 foil too. Many projects indeed!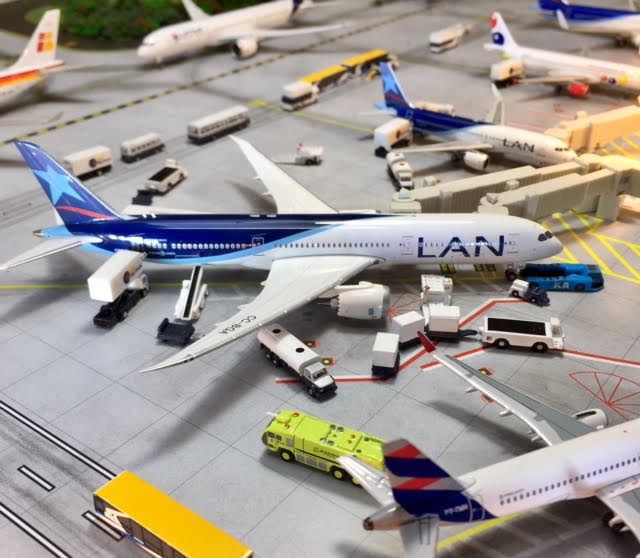 Want to be part of our Airport Spotlight Series? Submit your photos with a brief description of your layout to us at [email protected].