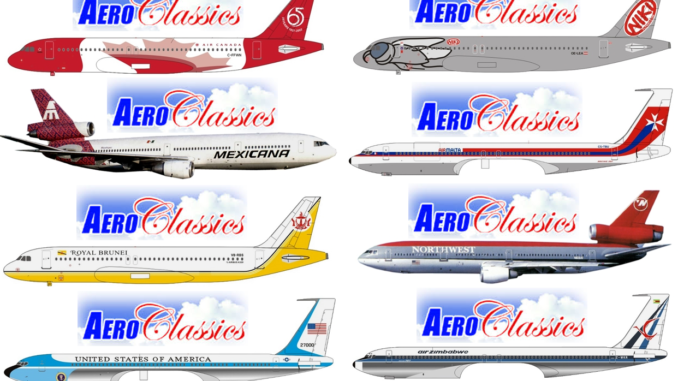 This may seem like deja vu but literally only a week after announcing the October Aeroclassics releases they have announced, out of the blue, the November releases as well. In addition the October releases are now out and at retailers. So it has been very busy at Aeroclassics and highlights the volatility and unpredictability of 1:400 scale's most exciting manufacturer.
One word of caution however is that since there was literally less than a fortnight between the October announcements and their arrival at retailers it obviously puts pay to the line that the early announcements will help flush out errors. There couldn't possibly have been enough time to update the releases with feedback as they must have been almost ready to ship when announced. At least it appears that October's batch are pretty decent and the photos I've seen don't suggest many obvious issues.
Anyway to focus on the November releases we have another interesting batch with a mix of modern and classics releases using several of the moulds we've been seeing in 2017 – namely the DC-10, F28 and Airbuses plus for the first time in a while new 707s. What is missing is a continuance of the Braniff Ultra series, but hopefully they'll be back soon.
Baby Buses
Looking at the A320 family and this month's bunch are a great geographical collection from around the globe. Mostly the releases are A320ceos including one for Niki. The future of the Air Berlin affiliated airline is very much up in the air at the moment so it's good to see a release for them. Eurowings, one of the likely major beneficiaries of the collapse of Air Berlin, is also present – twice in fact.
Eurowings Airbus Industries A320-200 D-AIZU
Eurowings Holidays Airbus Industries A320-200 OE-IQD
Niki Airbus Industries A320-200 OE-LEA



The other three A320ceos are from nations as diverse as Canada, Brunei and South Africa. It is especially good, and increasingly rare, to get narrowbodies from airlines outside of the USA, Europe and Far East so all three of these are welcome:
Air Canada Airbus Industries A320-200 C-FFWN 65th Anniversary Clrs
Royal Brunei Airlines Airbus Industries A320-200 V8-RBR
South African Airways Airbus Industries A320-200 ZS-SZY



The other three baby buses are an A321ceo and two A320neos. The latter are expected additions in the new colours of S7 of Russia and the first neo for Sri Lanka:
Philippines – Philippine Airlines Airbus Industries A321-200 RP-C9901
S7 Airlines Airbus Industries A320-200neo VQ-BCF
SriLankan Airlines Airbus Industries A320-200neo 4R-ANA


Lastly I should mention that the pair of VivaAeroBus A320s from october which had no imagery associated with them are now out and ready:
VivaAeroBus Airbus Industries A320-200 XA-VAF
VivaAeroBus Airbus Industries A320-200 XA-VAT '10 Years'


Big Buses
Just a pair this month and nothing too exotic. Yet another Sabena A330 is joined by one from Eurofly. There's no artwork for either:
Eurofly Airbus Industries A330-200 I-EEZM
Sabena Airbus Industries A330-300 OO-SFO
Ten-Tastic
The Aeroclassics DC-10 is always welcome in release announcements and this month includes four, only one of which is a series 40. Aeroclassics are certainly keeping JAL lovers waiting for a cheatline scheme version but the bowling shoe Northwest edition is a good addition nonetheless. For me however the other three are probably more interesting (as AC have already made a Northwest bowling shoe series 30).
Mexicana McDonnell Douglas DC-10-15 N1003W
Mexicana McDonnell Douglas DC-10-15 N10045
Northwest Airlines Douglas DC-10-40 N160US
Sun Country Airlines Douglas DC-10-10 N572SC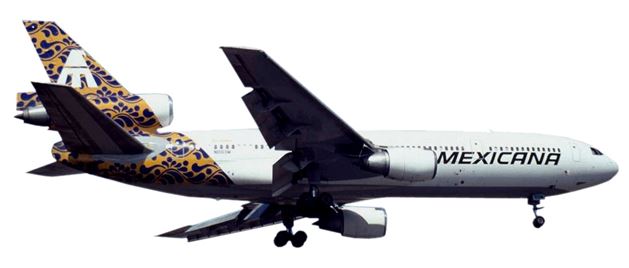 Milestone 707s
Like the DC-10 the return of the Aeroclassics 707-320B/C mould is always welcome since it is superb. The 6 releases are idiosyncratic but excellent. The highlight is the first ever 1:400 scale model for Zimbabwe, although I am surprised it is not in the colourful 1980s scheme. Hopefully that'll come soon. Also released is another largely ignored flag carrier – Air Malta. Aeroclassics hasn't released the more common Air Malta 720s or 707-120Bs but the airline did operate a sole 707-320C, on lease from TAP, and here it is.
Air Malta Boeing B 707-300 CS-TBU
Air Zimbabwe Boeing B 707-300 Z-WKR


Also announced are a pair of Taiwanese 707s:
China Airlines Boeing B 707-300 B-1824
China Airlines Cargo Boeing B 707-300 B-1832


Military models have become something of a mini-theme for Aeroclassics of late (with last month's C-9s for example) and this continues with a pair of Air Force One 707s, sure to be popular to patriotic yankees:
United States Air Force Boeing B 707-300 62-6000
United States Air Force Boeing B 707-300 72-7000


Lone Fokker
The F28 has been getting a good runout but there is only one this month and that is the attractive Citilink scheme for one of Andrew's favourite nations – Indonesia:
Citilink Express Fokker F28 PK-GFS

Summary
So it is another diverse month for Aeroclassics with something for almost everyone, aside from the declining number of prop-lovers. For me the bevy of more modern releases is a welcome relief to my wallet but even so there are plenty of models that I could buy, budget permitting. I think I will have to limit myself however to the 2 most unusual 707s and several of the DC-10s. Aeroclassics certainly have been putting out some superb releases recently and they still have the power to surprise.