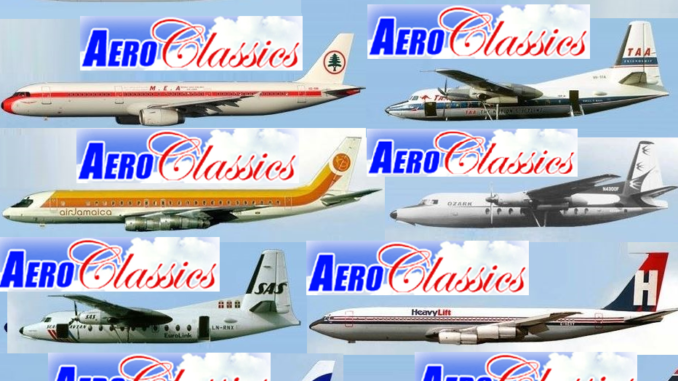 Is it 2018? Aeroclassics certainly thinks so as January's releases have been already announced. Aeroclassics often balances the modern releases of its Airbus moulds alongside the traditional classics offering and it is a challenge to please everyone. This month though they appear to have done a decent job in trying though.
Grail Fokkers and Fairchilds
There are some models that are asked for so regularly that they seem like obvious choices. This year Aeroclassics have done a sterling effort slipping out a variety of 'holy grails' like Braniff Ultra 727s, Piedmont F28s and many more. Aloha Airlines is one of those airlines with a long history yet a relative under representation in 1:400. They operated Fairchilds in the 1950s and 60s and finally here we have one in 1:400:
Aloha Airlines F-27 N5093A

Even better to go with it is an Ozark F-27. Ozark is another important US airline that is under-represented in this scale. There are several more F-27 Ozark schemes plus an FH-227 or two that can be made.
Ozark Air Lines F-27 N4300F

Antipodean collectors are not ignored either as a long awaited TAA F-27 is also in the batch. It looks like it'll be the later scheme version rather than the delivery scheme on this one:
TAA Trans Australia Airlines F27 VH-TFA

There are also 3 further F27s (i.e. Fokkers) and 1 F-27 (i.e. Fairchild) in the mix giving a good spread and continuing Aeroclassics recent interest in militarised civilian designs:
MSA Malaysia Singapore Airlines F27 9M-AOX
MSA Malaysia Singapore Airlines F27 9V-BAR
SAS Scandinavian Airlines F27 LN-RNX
United States Army F-27 GK001
Classic Four-holers
Adding to the classic mix this month are a pair of 707s and a pair of DC-8s that have been welcomed by the collectorate.
HeavyLift Cargo Airlines B 707-300 G-HEVY
HeavyLift Cargo Airlines B 707-300 N2215Y
Air Jamaica DC-8-50 6Y-JGD
Air Jamaica DC-8-61 6Y-JGG
Eclectic Airbuses
Aeroclassics did good work in 2017 slipping out some releases for nations that have either been massively under-represented in 1:400 (like Iceland) or never represented (Zimbabwe). 2018 kicks off in the same vein with some modern colourful Airbuses for the rather poorly known country of Moldova nestled between the former Warsaw Pact nations and Russia.
Air Moldova A320-200 ER-AXP
Air Moldova A320-200 ER-AXV

Plus there is a lovely retro MEA A321
MEA Middle East Airlines A321-200 OD-RMI

Standard Airbuses
The rest of the month's Airbuses are more ordinary but probably better sellers as they are a selection of fleet builders, including the natural extension of last month's pair of US Airways dark tops:
US Airways A321-200 N187US
Air Canada A321-200 C-GITU
Air Canada A321-200 C-GIUF
Air Canada A321-200 C-GITY
Last, and very much least, for me anyway, are a pair of Qatari widebodies. Not my cup of tea but I'm sure they'll be nice models nonetheless:
Qatar Airways A330-300 A7-AEG
Qatar Amiri Flight A340-300 A7-AAH
Roundup
So the new year starts well for Aeroclassics and the classier end of the collectorate 😉 with a bunch of well thought out releases that can't fail to make you happy if you collect interesting airlines and classics. As it should be. Happy New Aeroclassics!