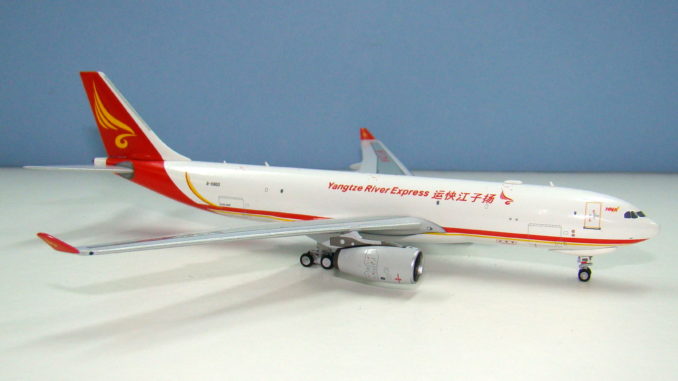 The A330 freighter has not performed to Airbuses' expectations in the sales department despite being by all accounts an excellent platform. The unique nose blister means that from a model mould perspective it isn't just a reuse of existing A330s and so for a long time it didn't seem like it was likely anyone would bother with another A330F after the poor Dragon Wings effort – indeed Aeroclassics faked a single model badly. Now we have two new A330F moulds, which shows the diversity that 2017 has brought in this scale.
THE REAL THING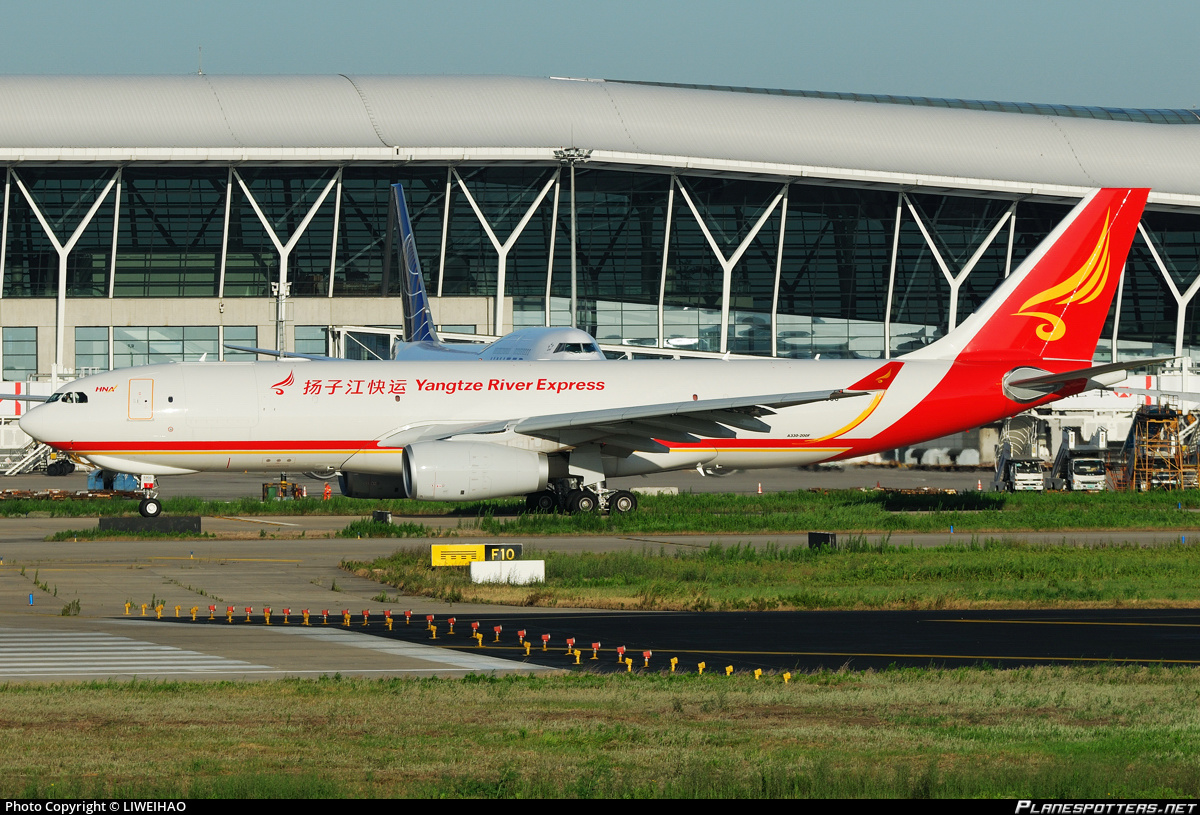 The cargo arm of the ever expanding HNA Group is now called Suparna Airlines, having expanded beyond pure cargo operations into passenger services from Shanghai Pudong. It was briefly called Yangtze River Airlines but for the majority of its existence it has been known as Yangtze River Express. The airline was formed in January 2003 as only China's second cargo operator, taking over the entire cargo operations of the, at the time, small constituent airlines of the HNA Group (Hainan Airlines, China Xinhua, Chang An and Shanxi Airlines).
The cargo operation has been based primarily around a relatively small fleet of 737-300/400 freighters, but from 2008 long haul routes were begun using secondhand 747-400BDSFs and 747-400Fs. So it was not entirely surprising that a 2008 BOC Aviation order for 5 A330-200Fs was scheduled for Yangtze. Its sister HNA Group airline Hong Kong Airlines took delivery of its first A330F in 2010 and Yangtze River Express' first aircraft, B-5900, followed in March 2012 – putting pay to speculation that Hong Kong would take all five instead.
The airframe, leased from BOC Aviation, was the first newbuild aircraft to join the Yangtze fleet but it would also be their last new build cargo aircraft too. Even though all five A330Fs were initially due for Yangtze the other four were cancelled. The undelivered aircraft found a home with Qatar Airways Cargo and with only a single A330F in the Yangtze fleet it was no great surprise when this aircraft was disposed of. She was transferred to Hong Kong Airlines on February 23, 2014 as B-LNV and the Hong Kong A330F force is now at five units.
There doesn't seem to have been any performance issues with the A330F in Yangtze service, however as I have discussed previously (see A330 Freighter – The Right Aircraft, Right Now) the A330F has struggled to sell. This appears largely due to the general softness of the cargo market in recent years, the type's lack of optimisation for the high volume package market, awkward fit between existing Boeing freighters and its high purchase price compared to cheaper conversions. Suparna Airlines now seems to have its hands full opening passenger routes with 737-800s but the A330F seems to have been an opportunity that didn't quite pan out. Quite why that was is lost in the labyrinthine decision making of Chinese airline groups.
THE MODEL
The format for my reviews is to split them into three key areas:
The mould of the aircraft
The paint and livery
Printing and quality control
Each can get a maximum score of 10 for a section giving a maximum combined total score of 30.
THE MOULD

As I said in the preamble until late 2016 there was only a barely passable Dragon Wings A330 Freighter in 1:400 scale. Then JC Wings announced they were going to produce a new mould in late 2016 but typically, given their long lead times, they were beaten to the market by a new Panda Models A330F. Both look like good moulds but in my opinion the Panda versions just shades it and that is the mould this review focuses on. Panda released new passenger A330 moulds at the end of 2016 also and so they were able to leverage off of these to create the freighter.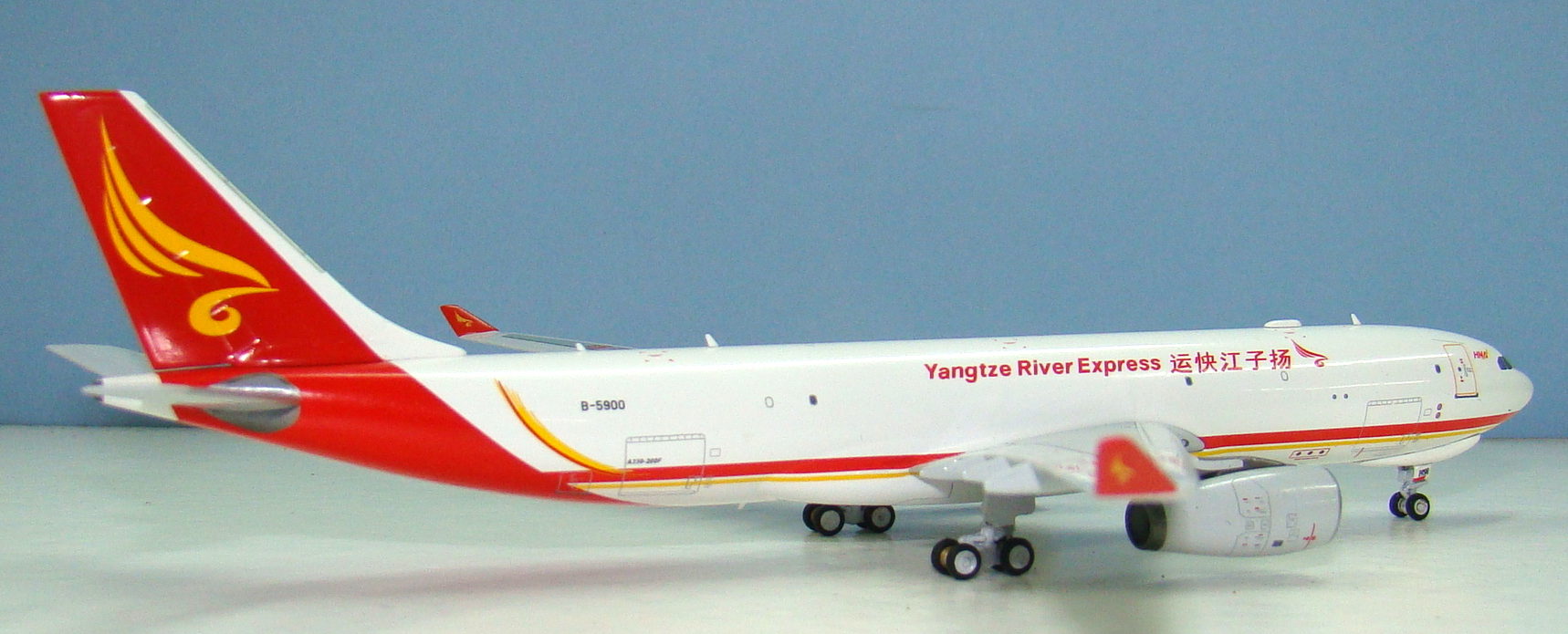 I have reviewed two Panda / Skywings Airbus A330s already this year and the mould is undeniably excellent. In fact it is practically faultless. This easily carries across to the Panda A330, which has great proportions and shape. Of course the most important aspect of the mould is the blister, or "La boufiolle" as the French call it.

I now own two A330 freighters from Panda and it is true that the first model does not have a perfect fit of blister to fuselage, bearing in mind that the blister is a separate item (like the satnav domes). That seems to have been improved and now the join is better albeit still not as good as if it was part of the fuselage moulding. Its shape is spot on but most importantly for me it is the undercarriage that in my opinion sets this mould apart from the JC Wings A330.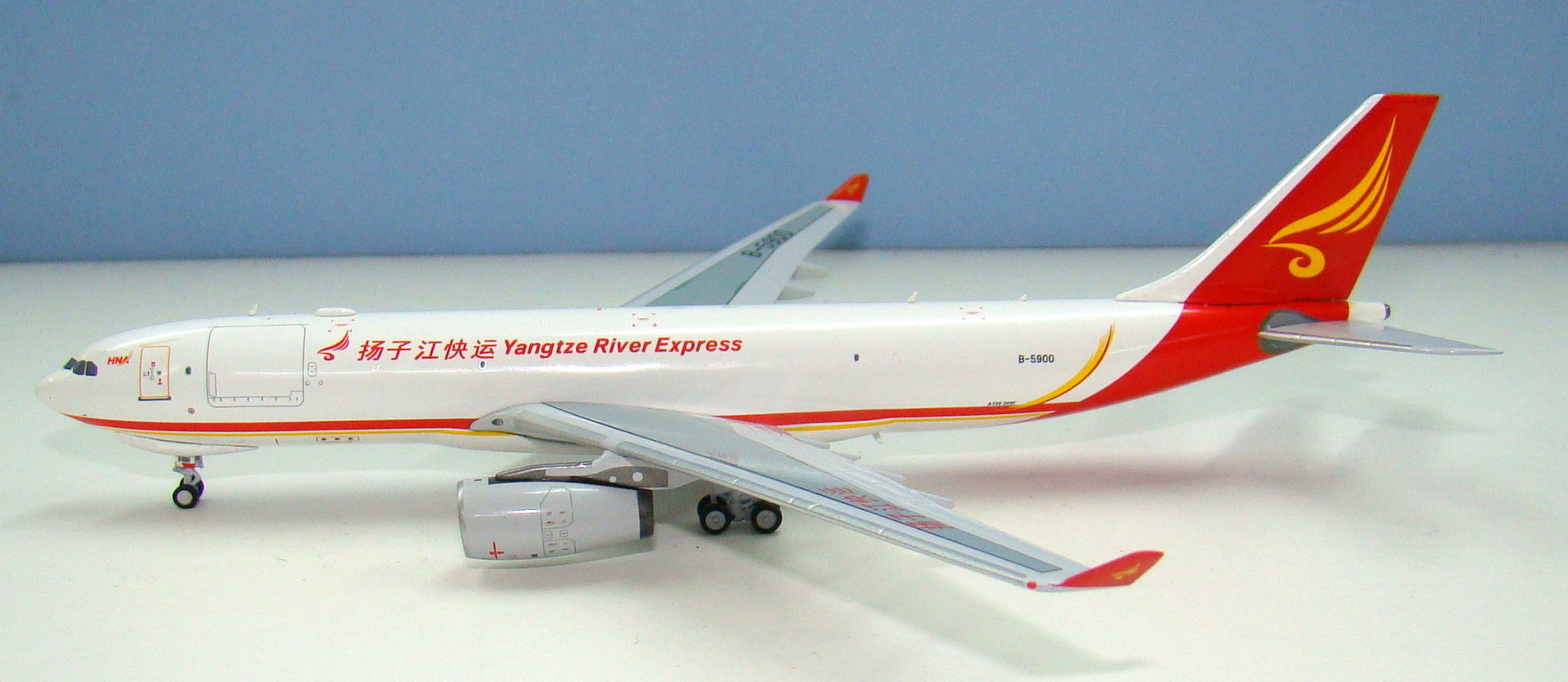 The JC Wings A330 already has landing gear that is a fraction too short and this trait carries over to their A330F. However it does have a blister that is part of the fuselage moulding so the two new moulds both have desirable characteristics. Both are really pretty decent and neither would look out of place in any collection.
SCORE – 9
PAINT & LIVERY
Yangtze River Express has utilized several colour schemes over its history but in recent years has aligned towards the standard HNA Group livery, rather oddly at the same time as other members of the HNA Group like Lucky Air have ditched it. The livery worn by this model is the scheme worn for many years before the standardization occurred, and illustrates what is still the current brushwing style logo on the tail. The logo nowadays only appears next to the main titles and I am surprised that the name change to Suparna Airlines hasn't come with a new livery. Even though the A330's scheme is independent from Hainan Airlines own it still utilizes the same colours: yellow and a deep orangey red. Later B-5900 would take up the more standard Hainan related scheme.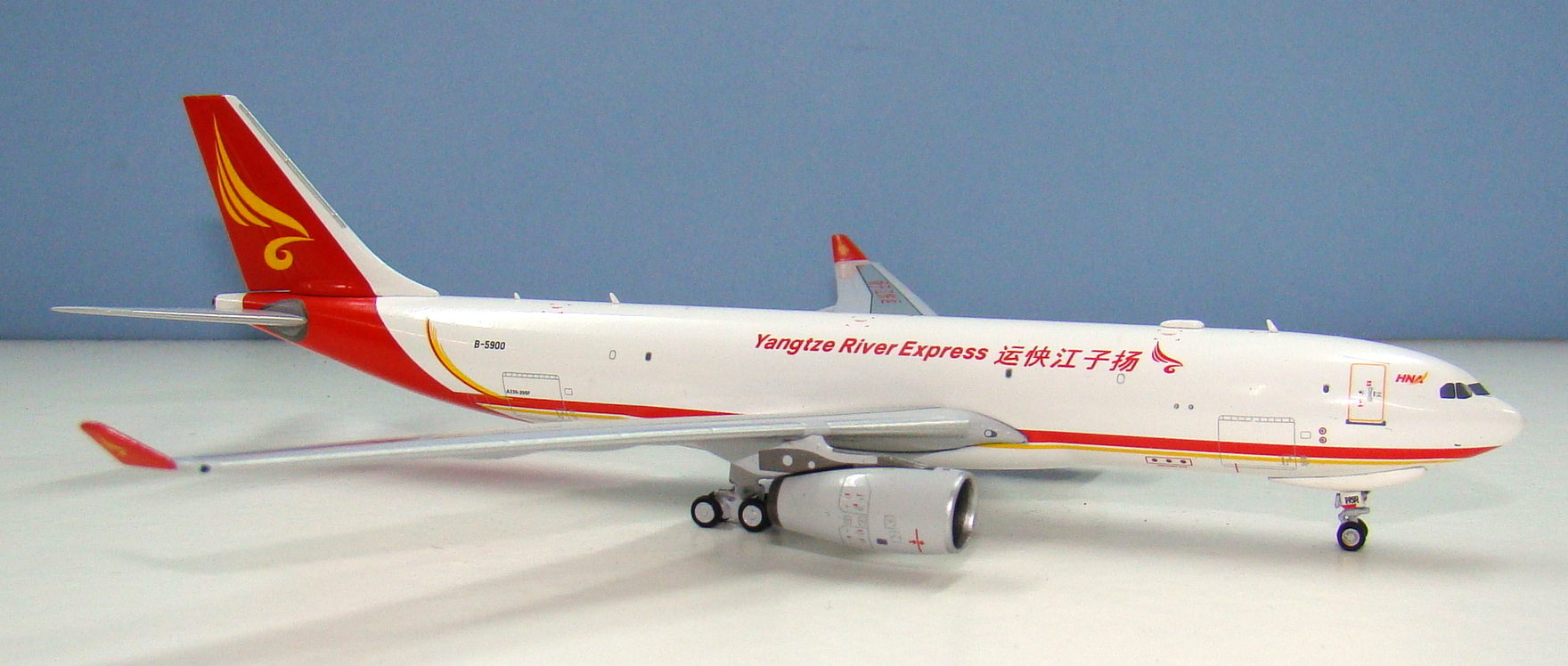 Panda models, like JC Wings and Aeroclassics, seem to use a slightly too dark shade of red for the HNA Group liveries, however the yellow is nice and bright. The scheme is relatively simple with a pair of low cheatline stripes along the lower belly joining with a brushstroke swoosh and then the red rear fuselage and tail.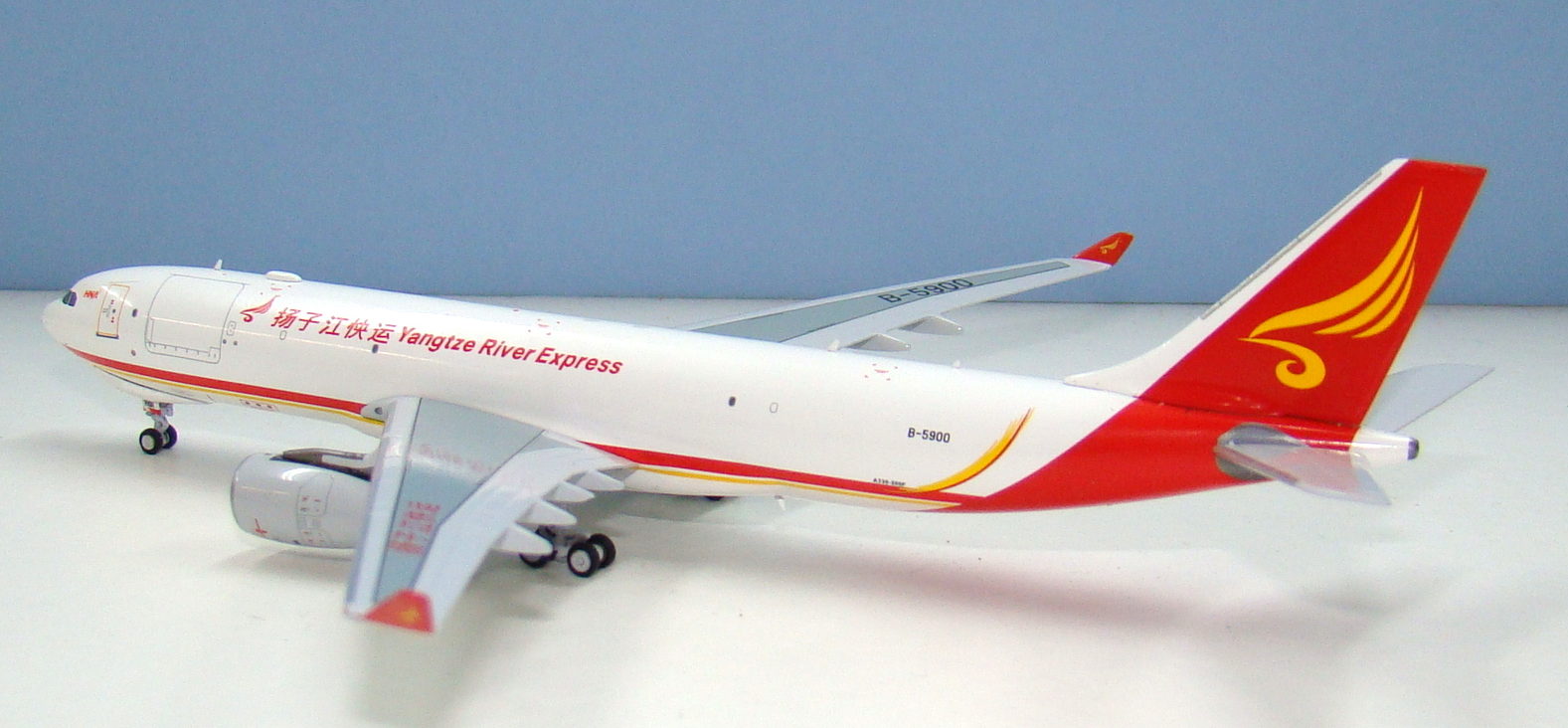 Placement of the livery elements is accurate and details like the yellow maindoor outline, HNA Group logo after the cockpit and small A330-200F titles are all present.
SCORE – 9
PRINTING & QUALITY CONTROL
Cargo aircraft offer the opportunity for extra detailed printing with the large cargo doors they typically come equipped with. Panda's printing is generally well detailed and accurate and so this aircraft is a good match for them. Details of the main SCD are excellent as is paneling on the engines and pylons.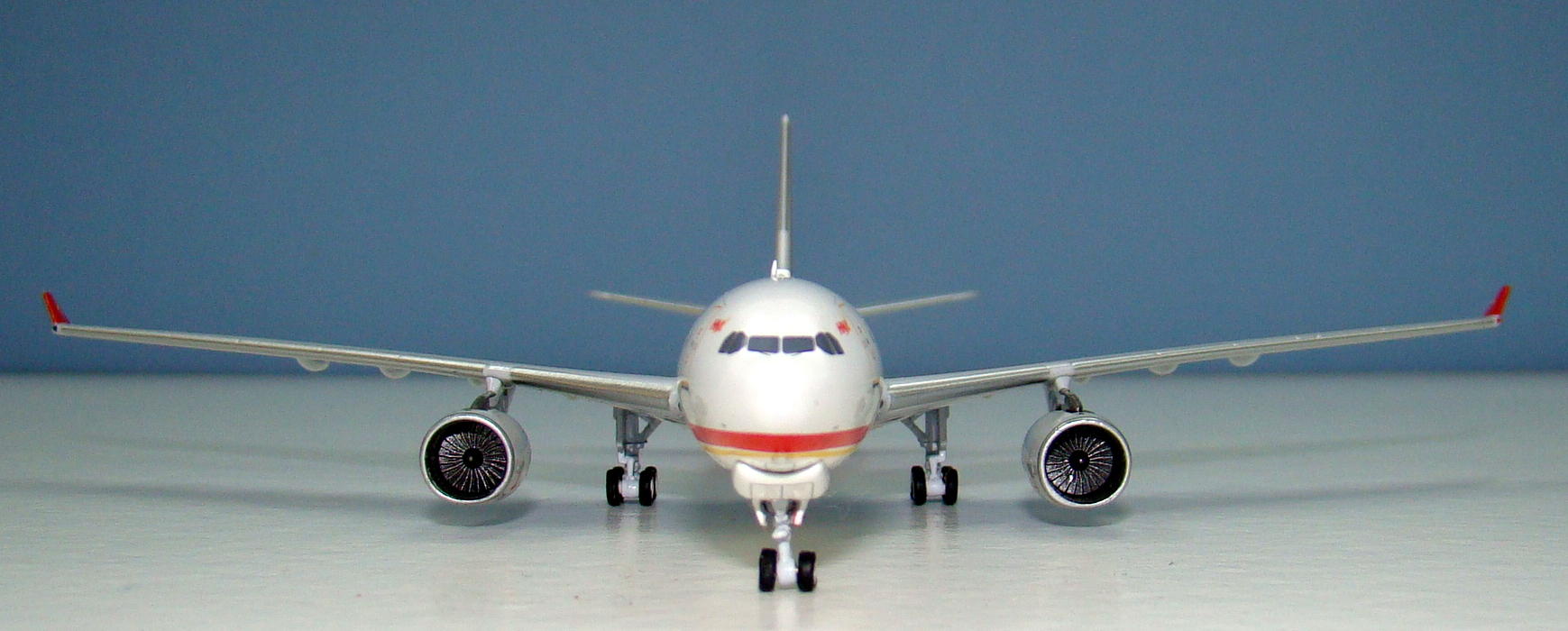 Everywhere else the printing is exquisite too helping to make this a very visually strong model. It is also worth mentioning that Panda has been going the distance to avoid silver engine nacelle inners and fanblades. In fact you could argue they've gone a little too far since the inners and blades are completely black.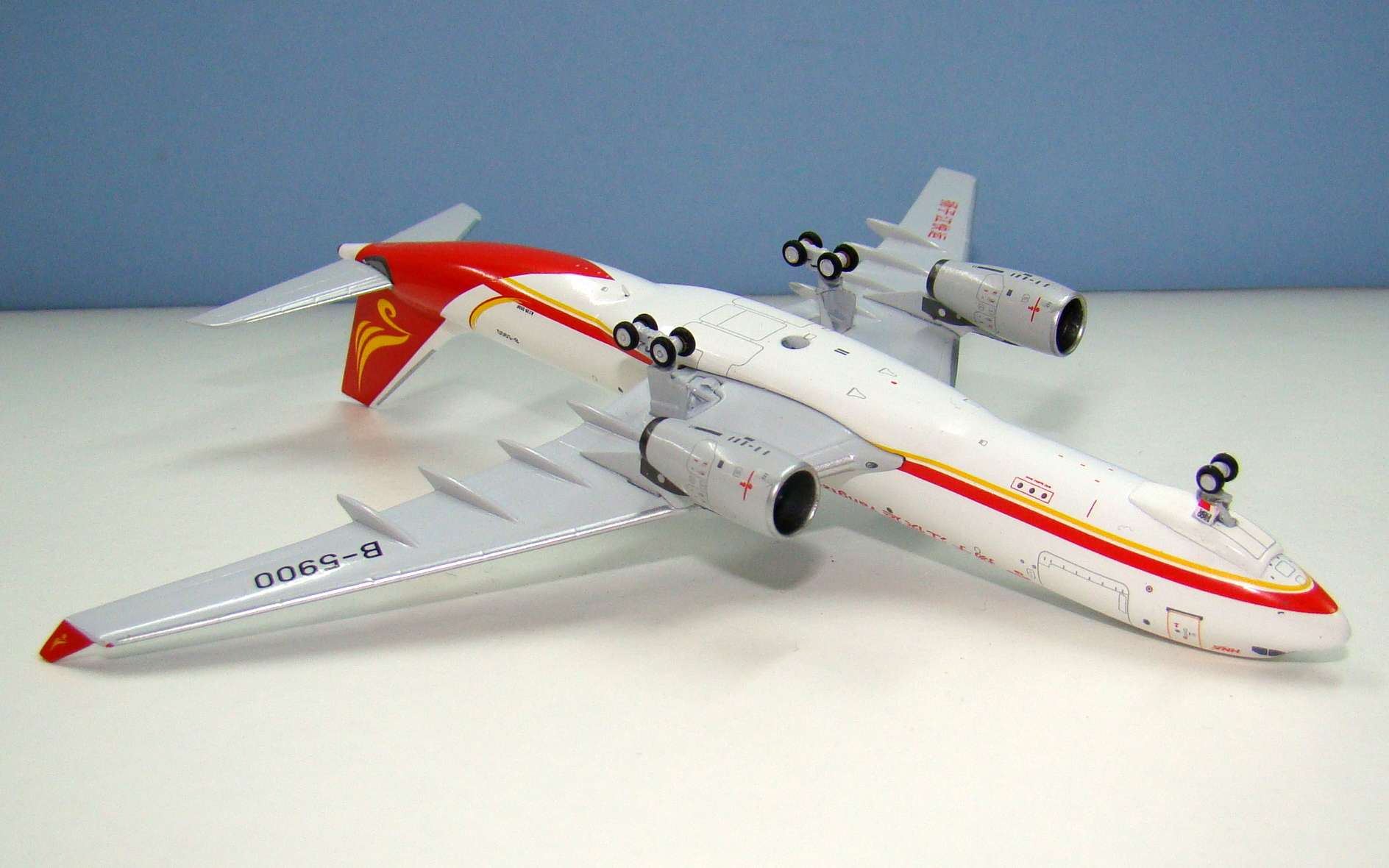 Quality control on the model is exceptional. Given the additional complexity of fitting the blister the model is a triumph of build. The aerials and satnav dome fit beautifully and the landing gear has nary a tyre tab or poorly fitted leg to be seen.
SCORE – 10
CONCLUSION
I keep on waiting for the Panda Models aircraft that is going to disappoint me, and I certainly don't cherrypick the best specimens to review. The truth is simply that they have proven themselves to be an excellent manufacturer in this scale. They have superb moulds and know how to create good representations of liveries. Even more importantly they seem capable of putting their models together properly. It may be that much of their output is specifically targeted at the Chinese market but those who ignore their releases are really missing out.
FINAL SCORE – 28/30