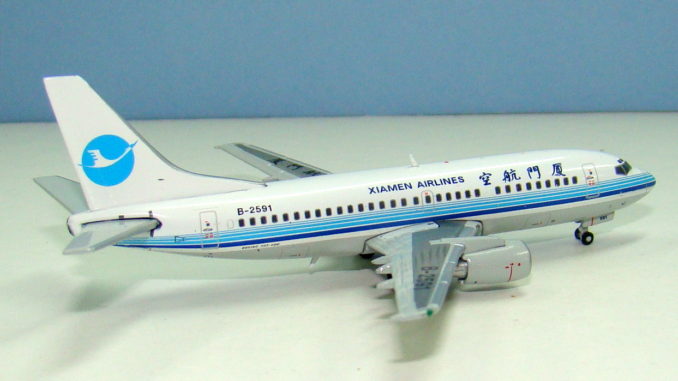 Gemini has recently been releasing some more unusual historic Chinese models (just this January they announced a China Southern Saab). They have obviously realised that even they can compete in the buoyant China market when the offerings are unusual. It is weird that they don't try this in the US market but even so any excuse for a 737-500 is a good thing.
THE REAL THING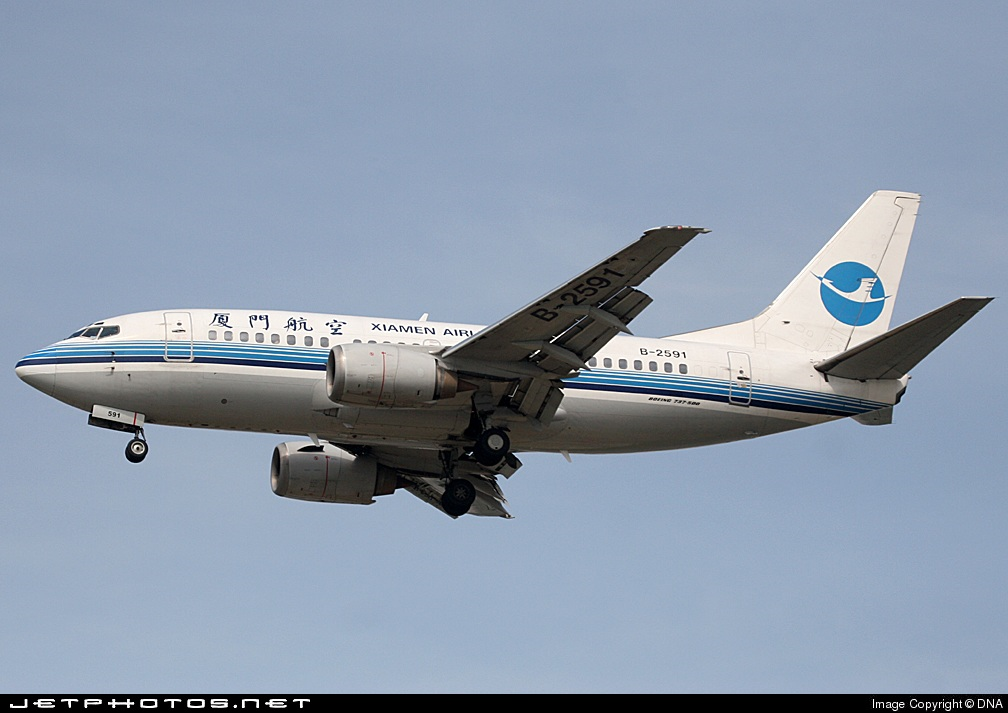 Deliveries of the 737-200 Advanced series continued into August1988 with the last aircraft going to the young Chinese startup Xiamen Airlines. The newer series 300 had been ongoing since 1984 but Boeing didn't see the 140-149 seat series 300 as a direct replacement for the 130 seat series 200. Naturally there was a requirement for a direct series 200 replacement at least from airlines that already operated both series 200s and 300s. The resulting 737-500 was only marginally longer (47cm) than the 200 but otherwise fitted seamlessly into the new 737 lineup and offered 25% more fuel efficiency than its older sibling.
The series 500 was officially launched in May 1987 and despite having higher costs to operate than the larger series 300, since it is effectively the same aircraft just shorter, it sold reasonably well. In fact 389 units were eventually delivered between 1990 and 1999. Within China the series 500 was included in the large Chinese state orders and 12 aircraft were delivered to China Southern. A further six aircraft fittingly joined Xiamen Airlines continuing their interest in the smallest member of the for sale 737 family.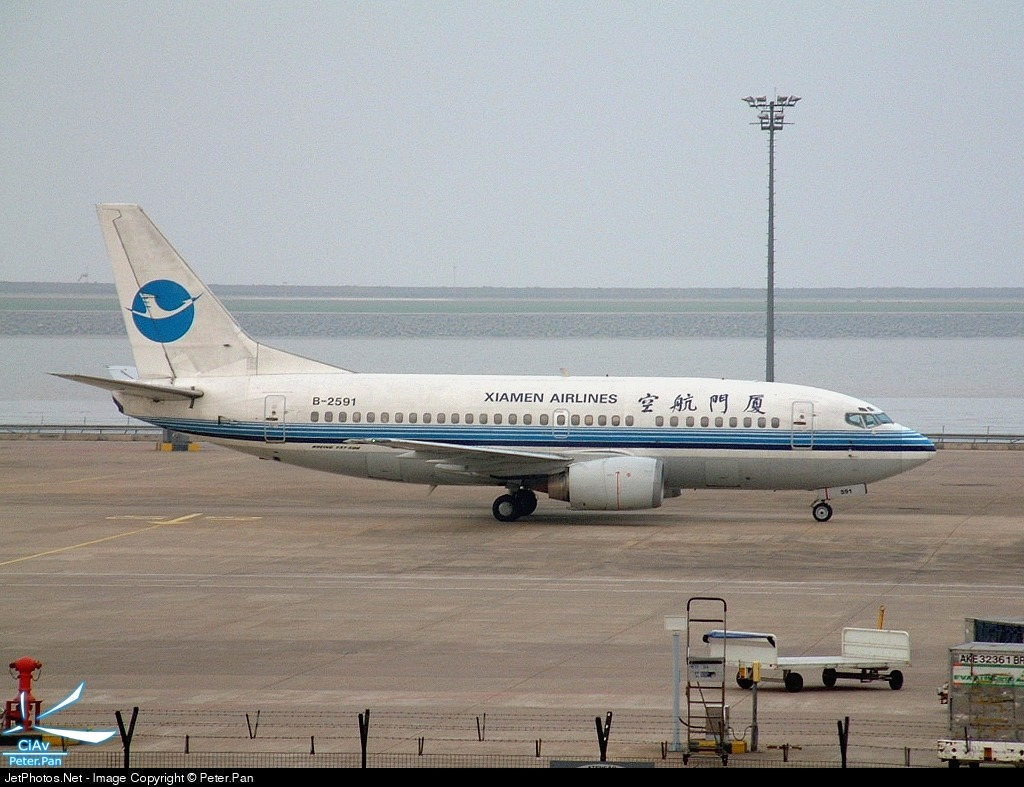 Xiamen Airlines was not only one of the first 'independent' Chinese airlines but also one of the more successful. Its expansion from the initial fleet of 737-200s gathered pace with the addition of both 737-500s and 757s in 1992. The former were unlike China Southern's 737-5Y0s series 505s originally destined for Braathens S.A.F.E. Six aircraft were received between September 1992 and October 1996. B-2591 was first registered LN-BRW and readied for Braathens by Sunrock Aircraft leasing but never delivered. Instead she went to Xiamen as their first series 500 in September 1992, but spent from March 1993 until July 2002 on sub-lease to China Southwest instead, returning to Xiamen afterwards.
The 737-505s continued in service as a sextet until 2008 when three returned to their lessors to be followed by the remaining three in 2009/10. This aircraft was redelivered to Aeroflot-Nord as VP-BKO. Unfortunately it was destroyed on September 14, 2008 when it crashed at Perm killing all 88 on-board. The crash was caused by pilot error, due to a loss of spatial orientation flying at night through cloud on approach to Perm, and poor management. The crew additionally were unfamiliar with the 737's systems. Despite this crash the 737-500 has proved popular with Russian airlines looking to replace their inefficient fleets of Tupolev Tu-134s and other soviet era aircraft.
THE MODEL
The format for my reviews is to split them into three key areas:
The mould of the aircraft
The paint and livery
Printing and quality control
Each can get a maximum score of 10 for a section giving a maximum combined total score of 30.
THE MOULD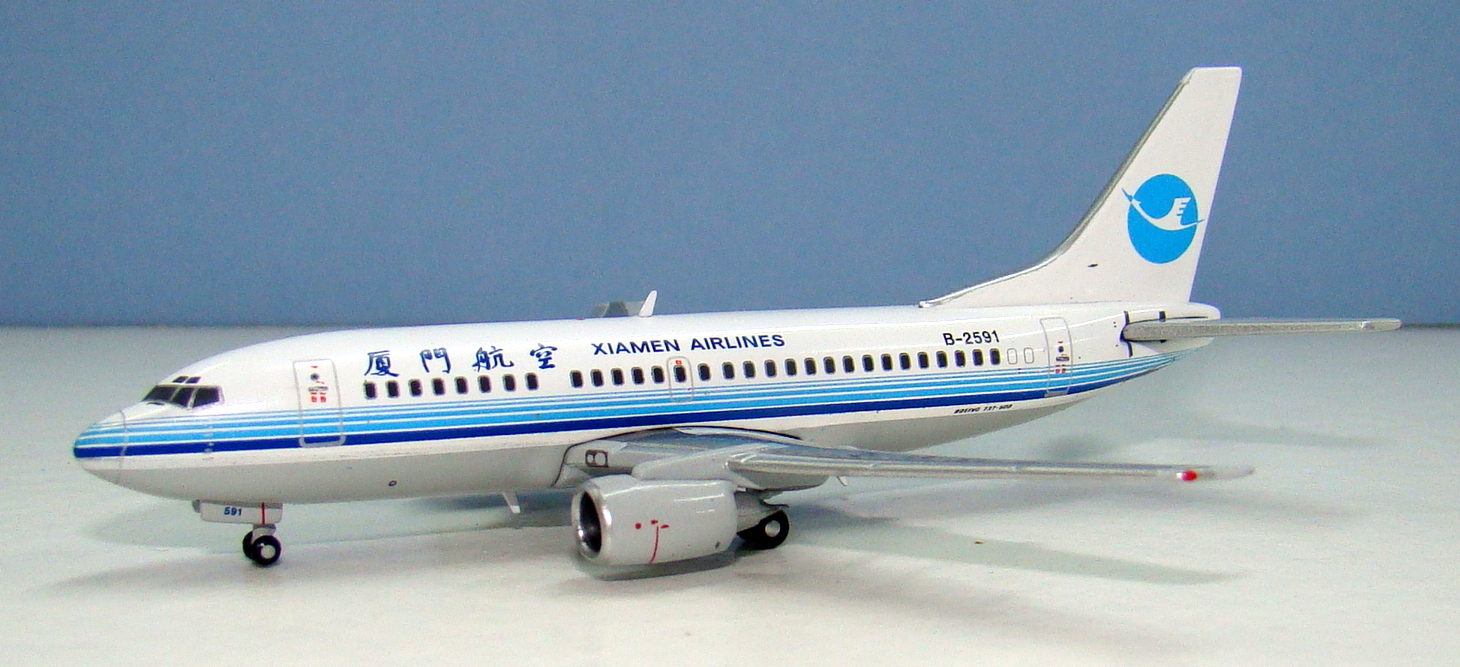 The Gemini 737-500 mould comes from a long lineage of 737 moulds for the series 200 to 900 used by both Gemini and Phoenix for many years. Nowadays their usage is restricted to a rare series 200 or 500 as the other versions have been replaced by new moulds, not always superior to the originals. The older moulds were never the acme of 737s but were perfectly decent representations.
Competition for the series 500 737 at 1:400 scale only comes from mediocre and long dead Herpa and Dragon moulds so it is nice that recently JC Wings have upgraded the Gemini mould with aerials, hopefully signalling that the mould will be active for some time yet.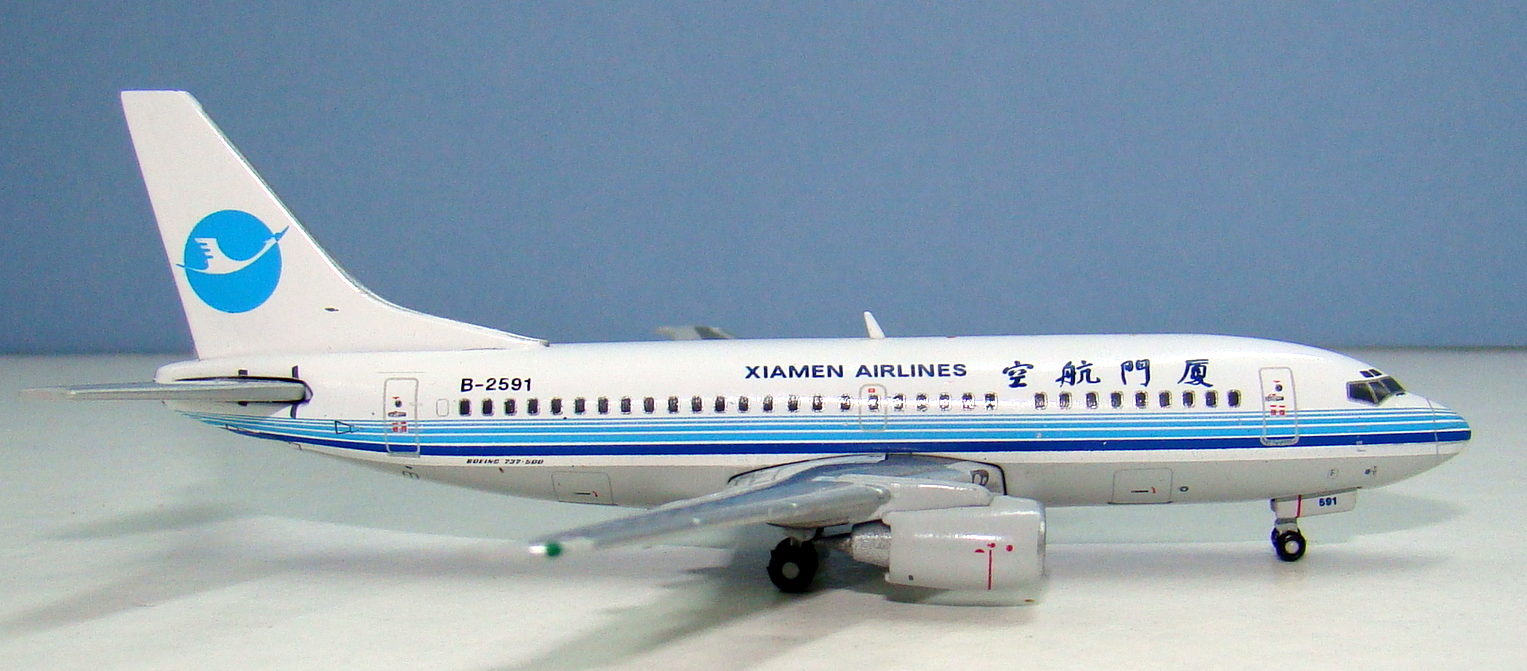 This mould isn't going to win any awards but despite dating from 2004 it isn't bad at all and certainly better than Phoenix's newer 737-300. The fuselage shape is good however the nosecone could be slightly shorter and sharper. As with all this series of 737s it is a cradle mould but the wingseam follows the wing / fuselage join so it is discrete.
The vertical stabilizer and tailcone are fine also. The biggest issue the mould has is that the maingears are a little short giving the aircraft a nose high attitude, which assists in it being one of the worst offenders for tail-sitting in 1:400 (the Gemini 146 and JC Wings Shorts 360 are about the only moulds I can think of that are worse).
The engines are much better than the odd tubes on the Gemini 737-200 but although they have good ground clearance they are a bit small and do not reach high enough at the top. In fact the engine pylon / engine join is not great at all.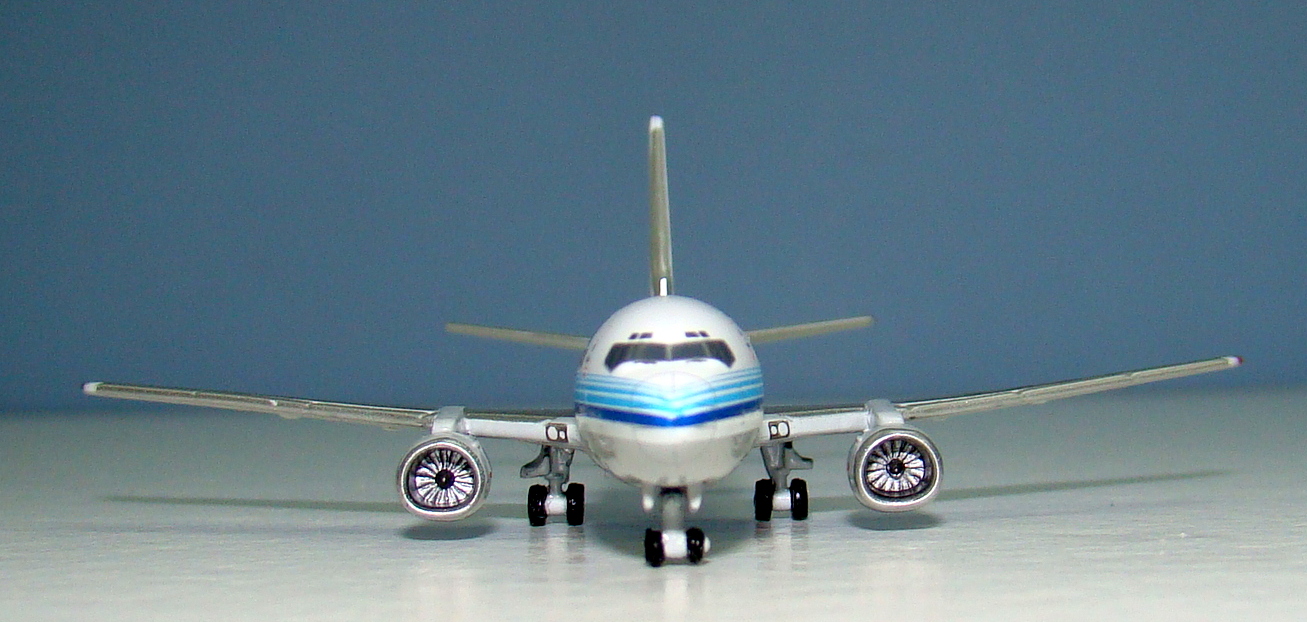 Lastly the new aerials are a mixed blessing. All three have been added (one above and two below) but they do seem a little too large. Unlike the Gemini 737-200, for which Aeroclassics has a much better offering, this series 500 is most welcome and even 14 years after its creation still a good little mould.
SCORE – 7
PAINT & LIVERY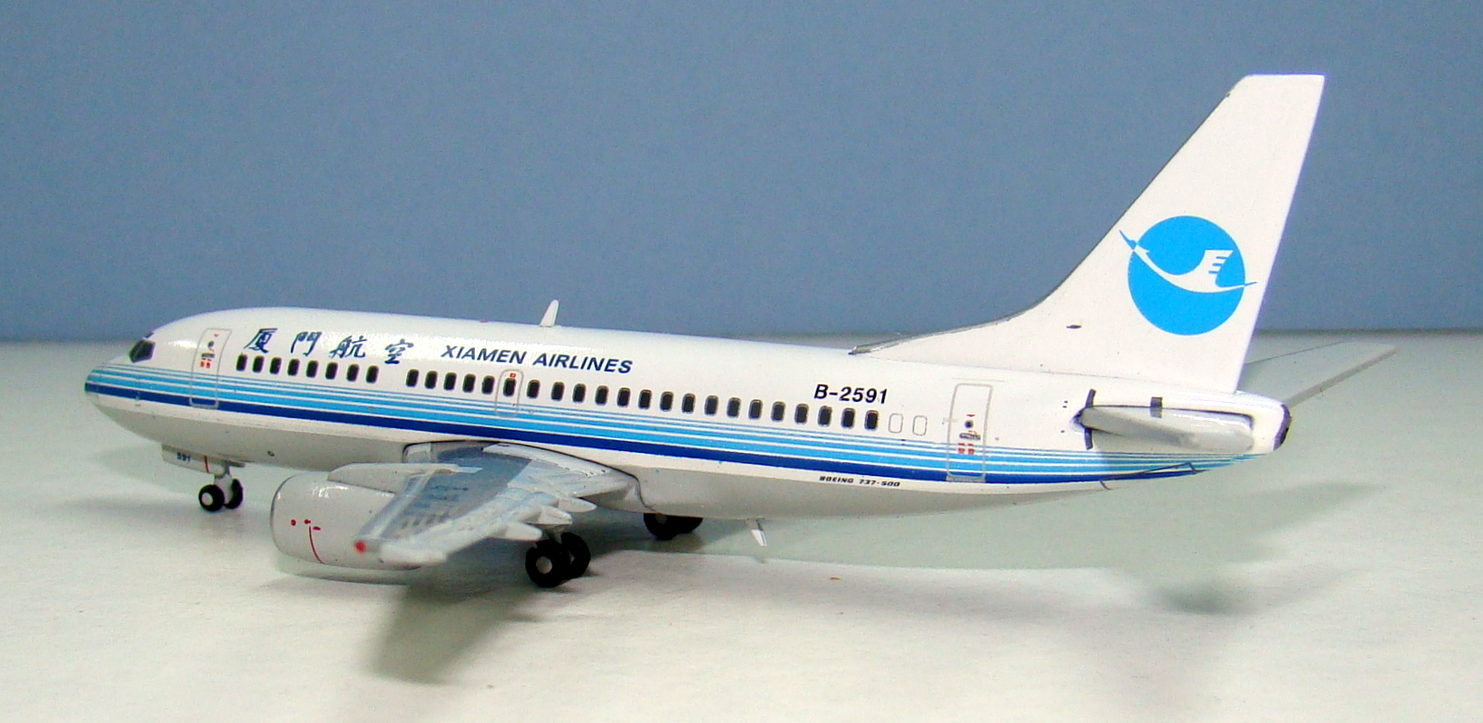 Unlike the larger ex-CAAC Chinese airlines Xiamen has had more latitude to modify its livery and its fleet have worn three schemes now. This model represents Xiamen's first livery, which was worn for the entire 1990s and much of the 2000s. The Egret logo is shown inside a light blue circle and the fuselage bears a complex 5 striped cheatline under the windows.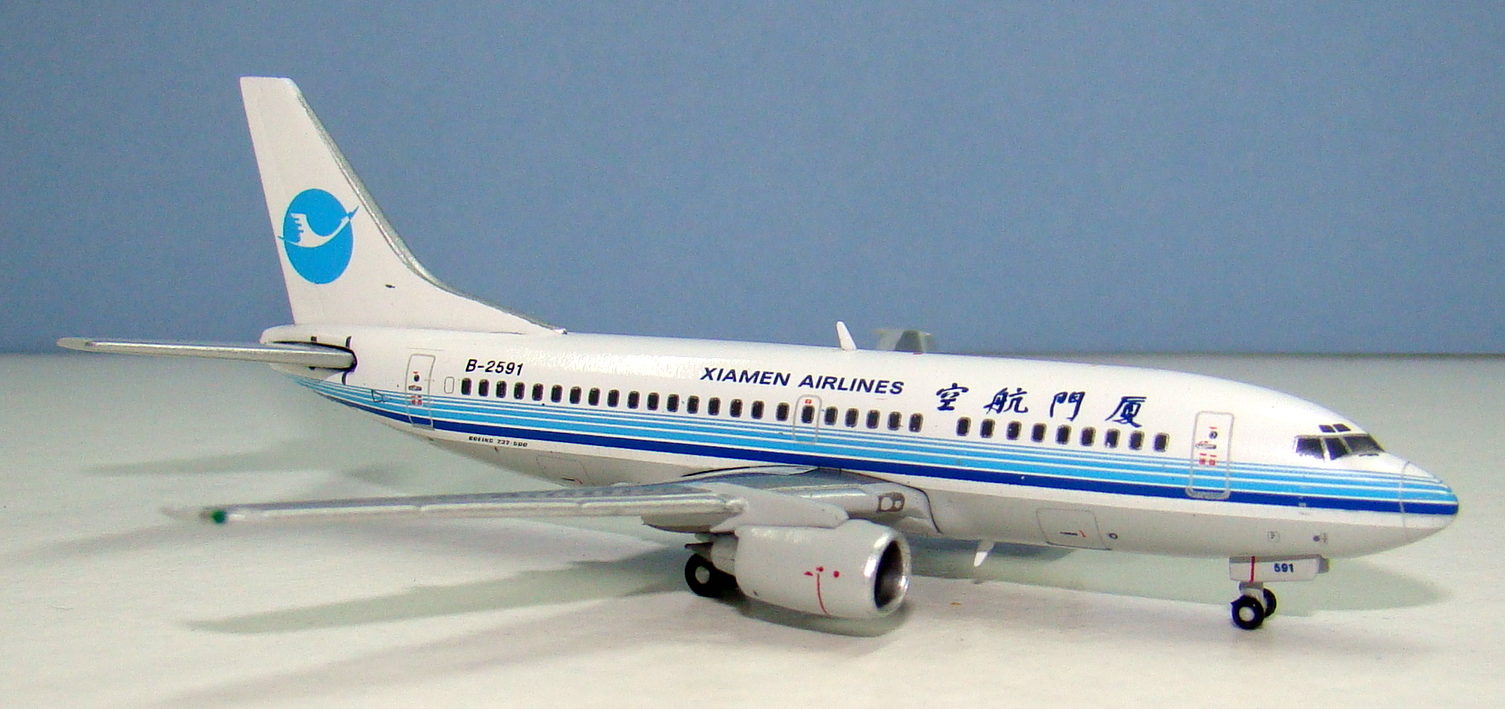 The two blues of the scheme are correctly coloured. The titles and lowest cheatline stripe are in dark blue with everything else in light blue. Where the white Egret moves outside the blue roundel it becomes blue. The complex Chinese characters are well recreated. The English titles look good too but may be a tiny amount too short.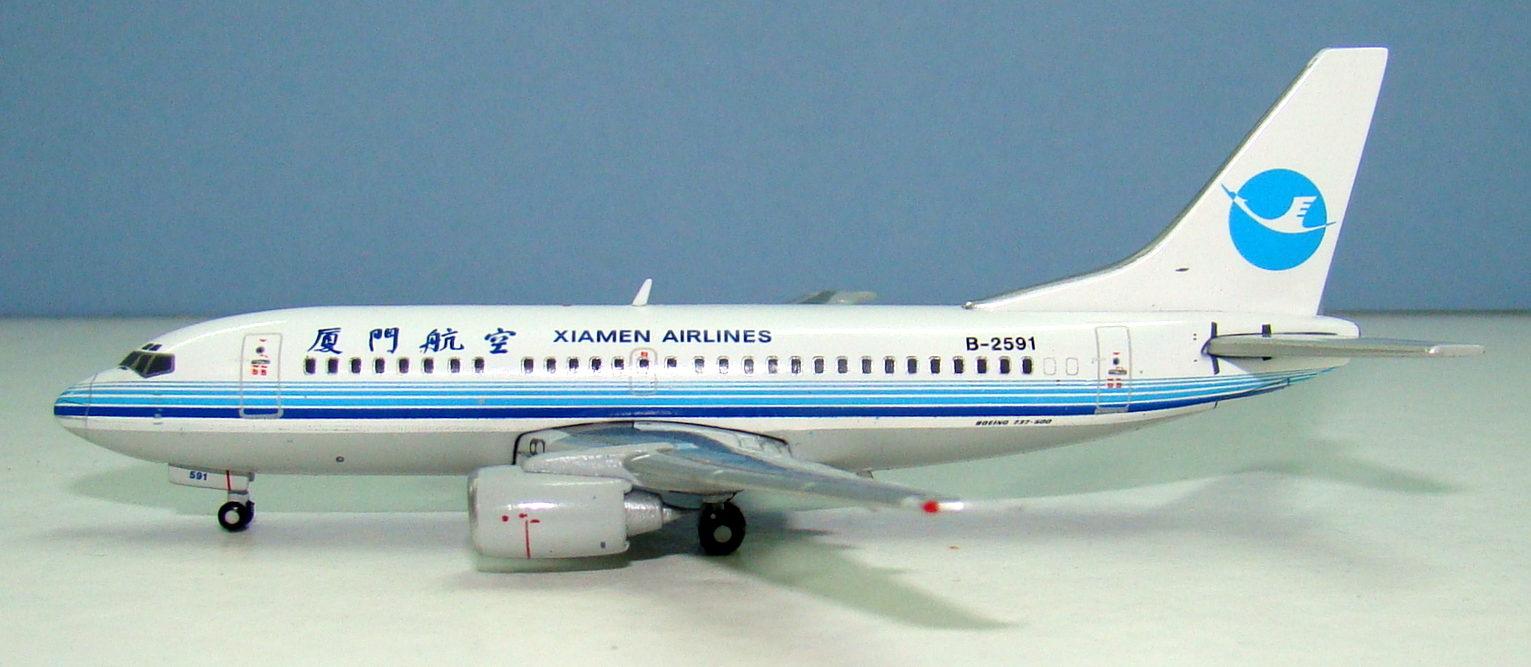 I'm stretching to find any errors with the livery representation. The elements are all positioned correctly and small details like the aircraft titles and registration on the nosegear are also present. Good job Gemini.
SCORE – 10
PRINTING & QUALITY CONTROL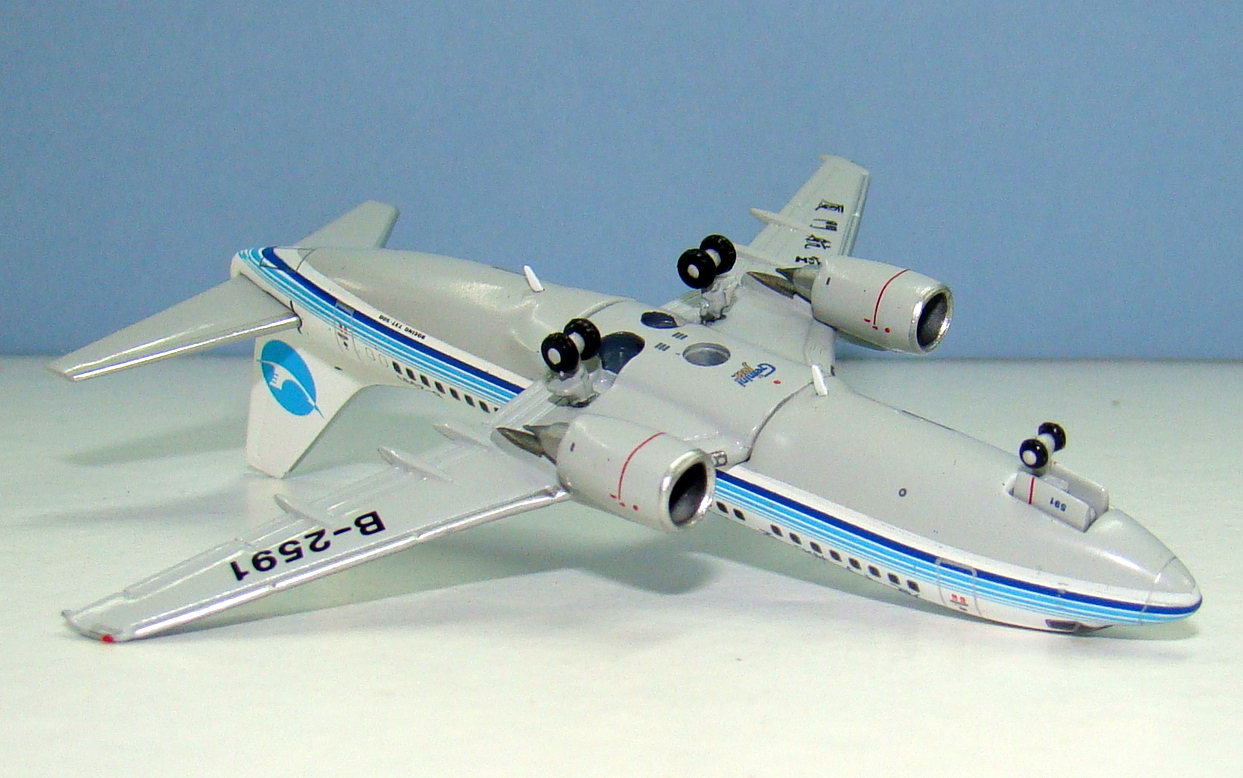 Printing detail is good overall but lacking in two places – the belly and vertical stabiliser. The rudder is defined in the mould but it would be nice to have it outlined since in photos it is really obvious. There are also panel lines on the tail visible in photos, although this may be because the aircraft is slightly dirty.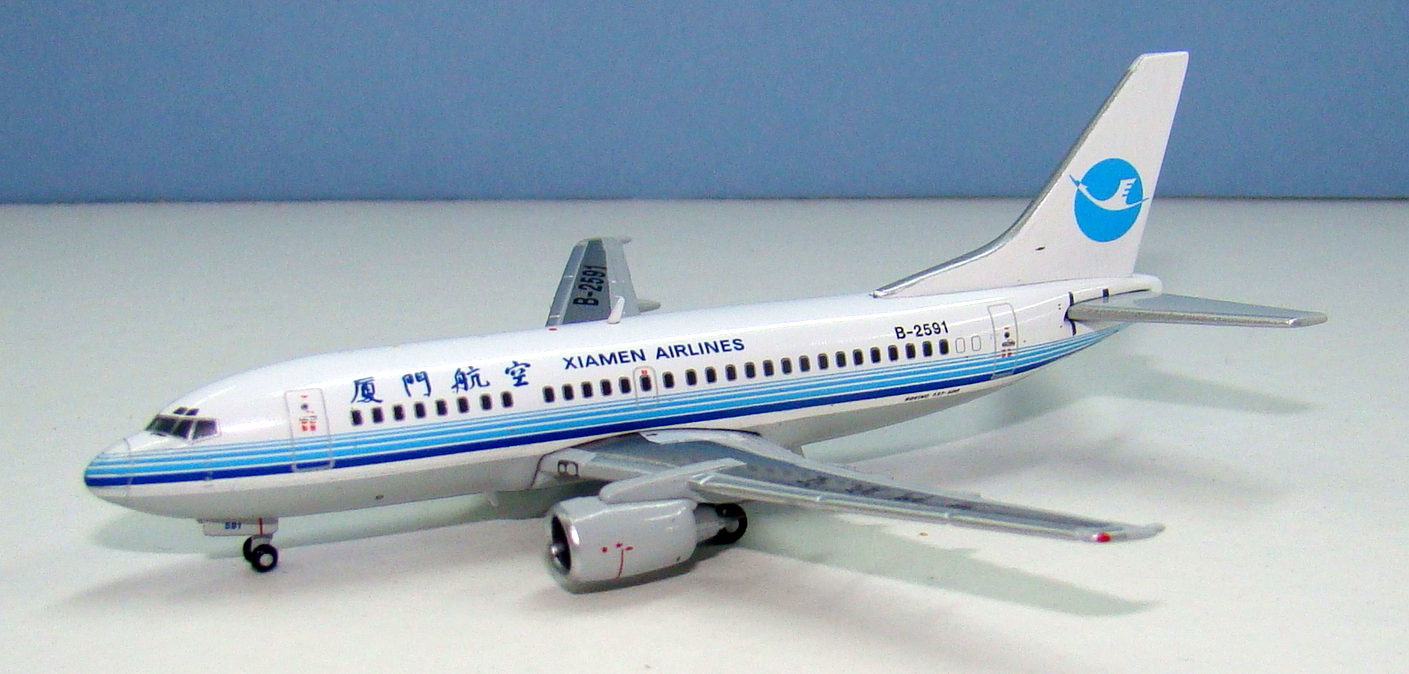 As is often the case with Gemini's older moulds their construction is simple and reliable. This model has static gears and is all the better for it. Build quality is top notch across the board.
SCORE – 9
CONCLUSION
It is nice to see Gemini occasionally fulfilling releases that nobody else can do (for a lack of moulds), it is an all too infrequent occurrence, but it enables them to show some individuality. This is an excellent little model and one of Gemini's older moulds that deserves a run out more regularly. An accompanying Braathens SAFE and Aeroflot-Nord pair would be excellent companions.
FINAL SCORE – 26/30