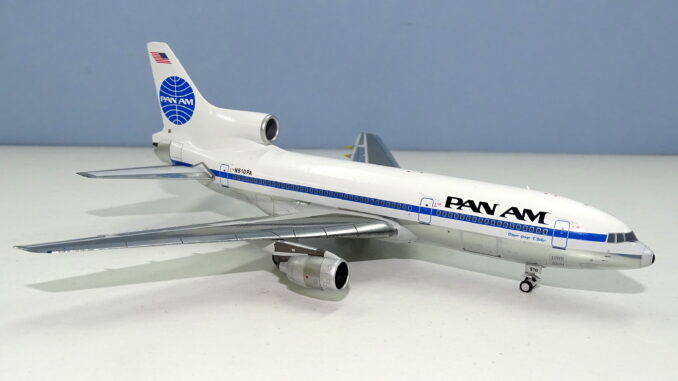 2019 was an exciting year for Tristar lovers but it wasn't all good news. The Tristar 500 was particularly poorly treated and in fact my lowest score for last year went to a Pan Am Tristar 500 by Gemini Jets. Aeroclassics' attempt at the same aircraft was not much better and both manufacturer's moulds took a huge and unwarranted amount of leeway with portraying the short Tristar. NG has been a lot slower in releasing its own series 500s but in this case it is very much an example of slow and steady wins the race.
THE REAL THING
I have already discussed the background of Pan Am's purchase of a sub-fleet of Tristar 500s, despite not owning any other L-1011s and having already acquired the competing Boeing 747SP, in my earlier review of the Gemini example of this aircraft/airline combo. I'll instead then focus on the Clipper name that adorns this aircraft.
By the time that Pan Am began to receive its new Tristar 500s, in April 1980, the merger with National Airlines was already three months old. The merger would prove to be an enormous millstone around Pan Am's neck, which would do more than anything else to kill the venerable airline. Not only did it overpay massively for National, but the two airlines were almost entirely incompatible. National had a primarily North-South network and a history of fractious employee relations. Pan Am still thought of itself as a global airline, the crème de la crème, and its Sky Gods had struggled with its new position in the airline pecking order.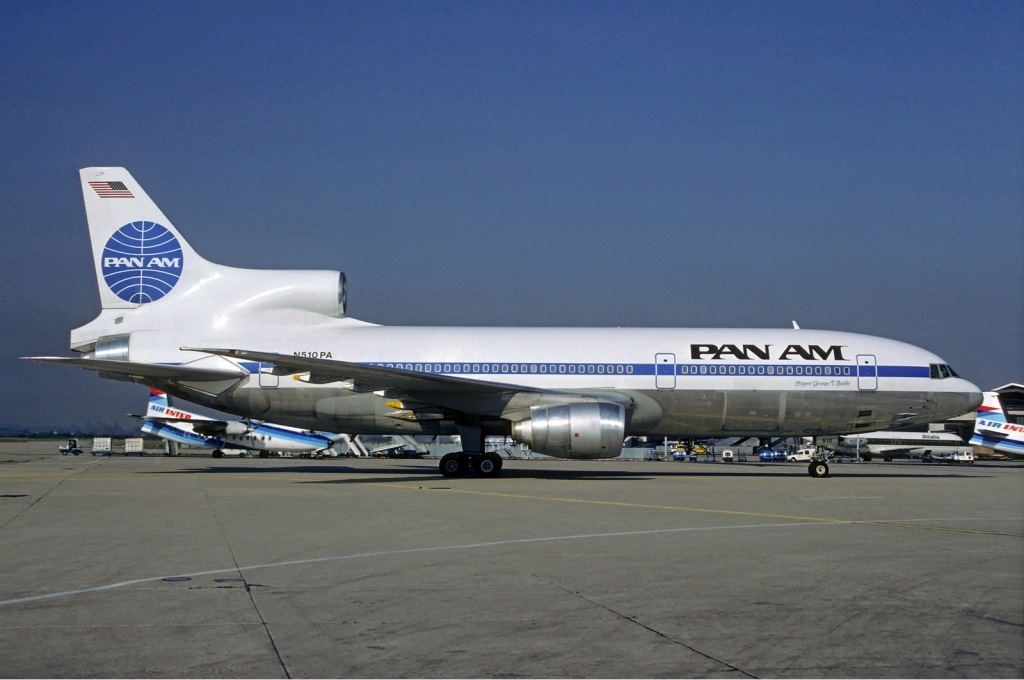 Predictably the merger was a disaster on every front. This is all the more ironic since given deregulation if Pan Am had really wanted its own domestic airline it could have created one anew rather than buying up National. Why am I talking about this at all? Well this aircraft was named 'Clipper George T. Baker' and George T. Baker, commonly known as Ted Baker, was the original founder of National Airlines way back in 1934.
Baker himself was never loved by his employees. He was one of the 'characters' that emerged from the early days of the US majors but in his case, he was a notoriously irascible, penny-pinching, wheeler dealer. He made National what it was, despite the predations of Eddie Rickenbacker's Eastern Air Lines, and famously tricked Pan Am's Juan Trippe into letting him get the kudos of operating the first domestic pure-jet service in the USA on December 10, 1958 (he leased some early Pan Am 707s whilst dangling a possible merger in front of Trippe).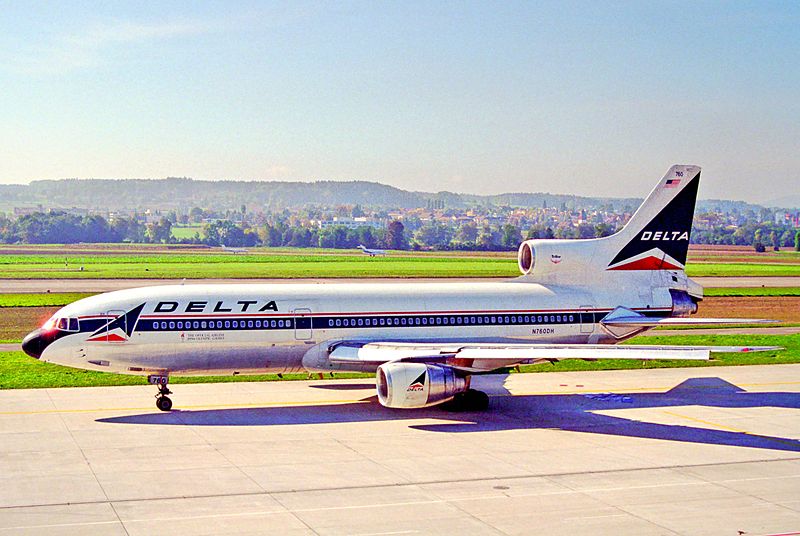 Baker sold his airline to Bud Maytag in 1962 but wasn't happy with the deal and it went to litigation. Bereft of his day to day airline business he died in 1964 from a heart attack. Nonetheless, he was responsible for making National into a major Trunk airline, and also for the systematic employee relations issues that were such a major part of the airline.
N510PA didn't, of course, wear Baker's name for long, as the desperate Pan Am sold its entire Pacific network to United in 1986 and the remaining six Tristar 500s with it. The majority ended up with Delta Air Lines and N510PA became N760DH in mid-1988. Delta got good use out of its short Tristars, on its growing European network, and this aircraft wasn't retired until October 1999.
THE MODEL
The format for my reviews is to split them into three key areas:
The mould of the aircraft
The paint and livery
Printing and quality control
Each can get a maximum score of 10 for a section giving a maximum combined total score of 30.
THE MOULD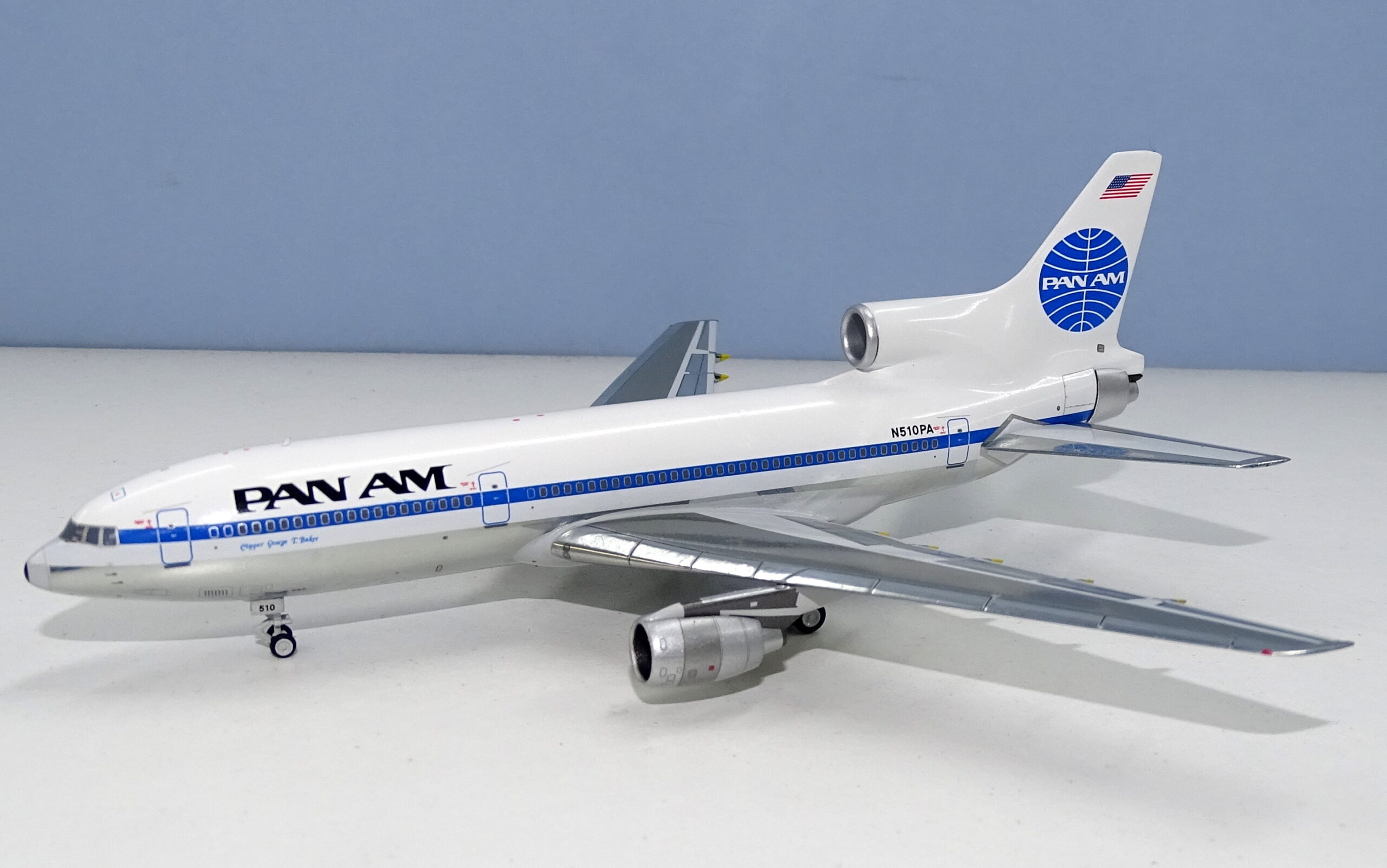 In my review of the Gemini Pan Am Tristar 500 I gave their mould a severe drubbing. Then Lockness / Aeroclassics made an example and it was even worse. So, this NG Models version has an incredibly low bar to get over. Fortunately, NG haven't cut corners, and ignored the basics of the series 500 Tristar, so not only do they vault over their contemporaries they are positively in orbit by comparison.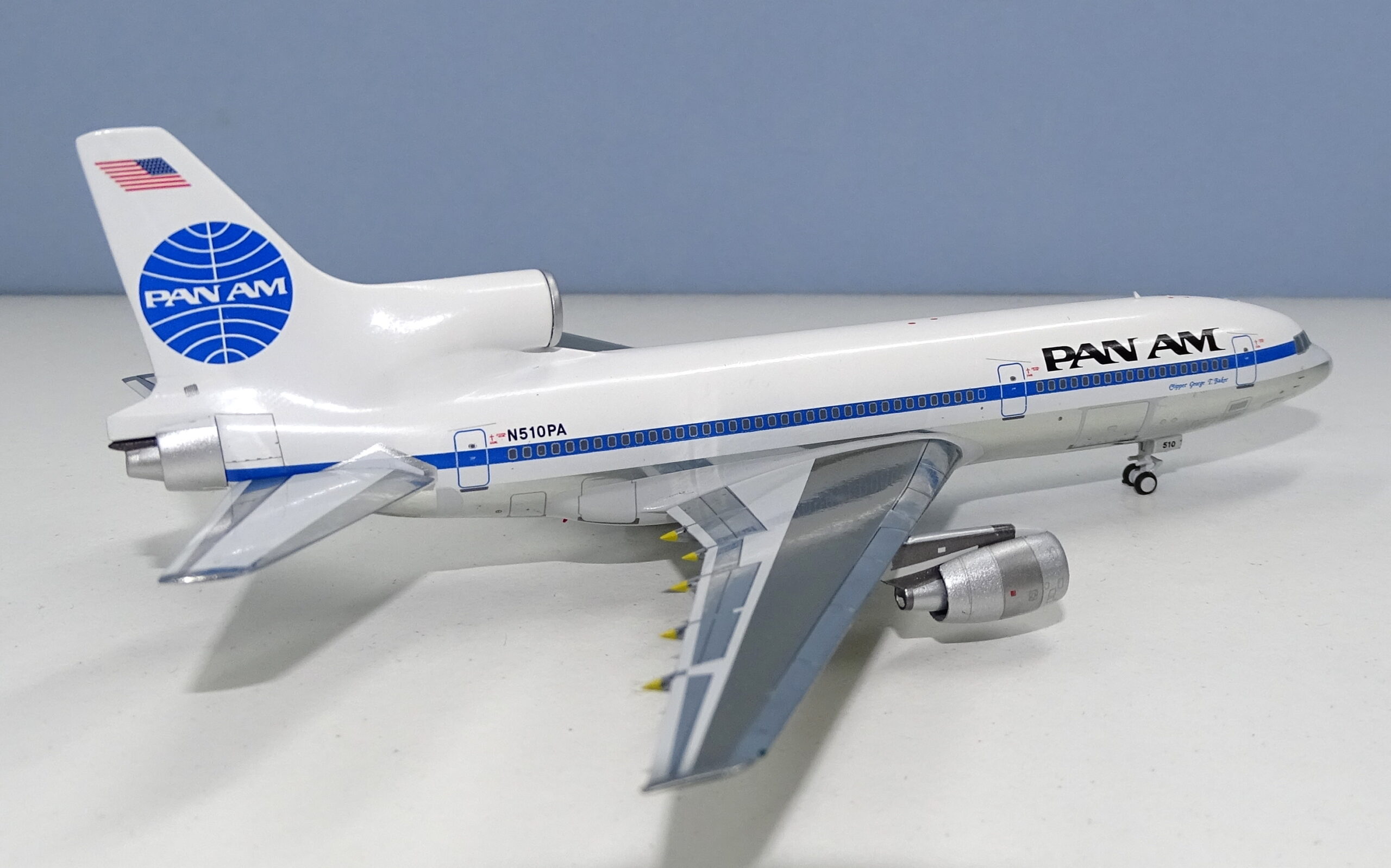 It helps that the standard-length NG Tristar is so good, but that wouldn't count for anything if NG had ignored the differences. As a recap they are:
A decrease in length by just under 4 metres
A redesigned and shorter forward and rear wing fairing where it meets the fuselage
An increased wingspan (by an extra 3 metres) at the tip.
The different middle engine / fuselage connector (shared with the L-1011-200)

Gemini got 1.5 of the 4 and Aeroclassics managed slightly better (about a 2 although the undercarriage and nose are worse). NG Models gets about a 3.5. My only criticism is that the complete shape of the middle engine fuselage fairing (frisbee) isn't spot on. It's still a little too concave.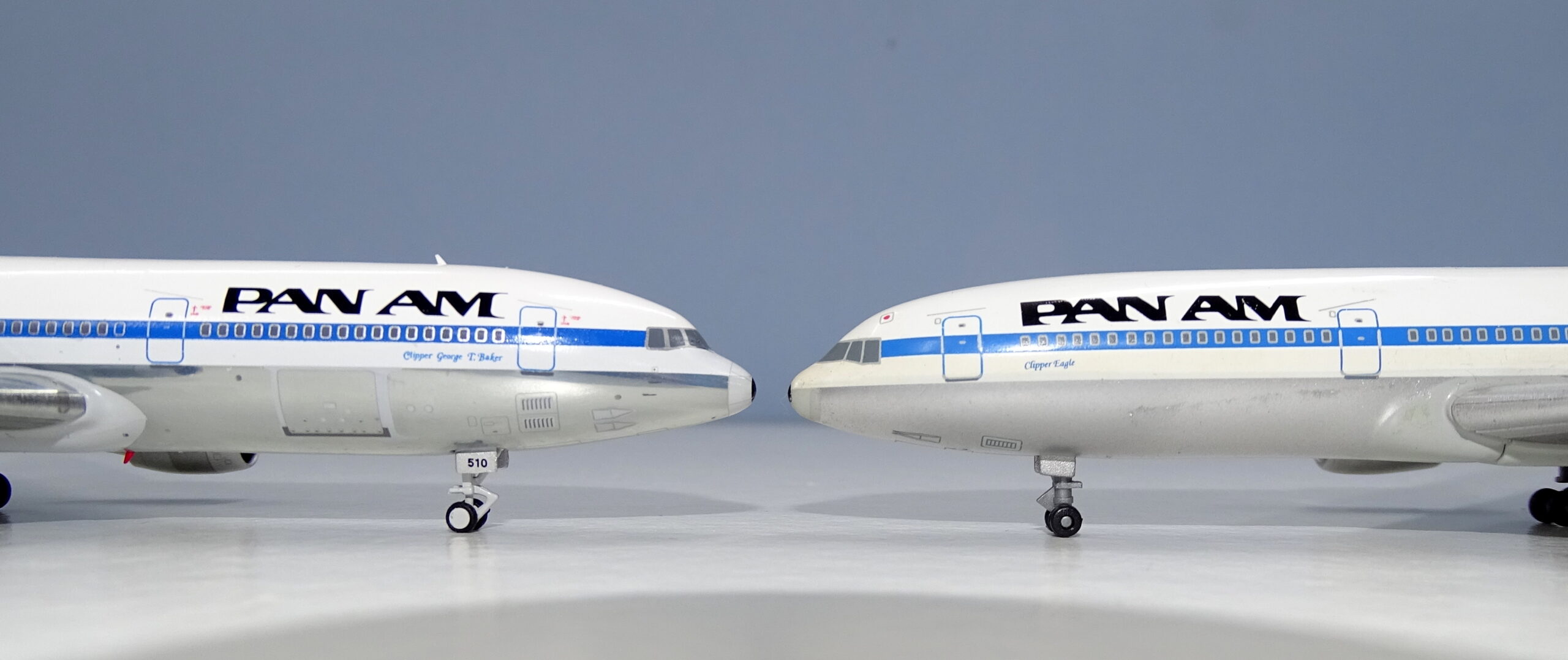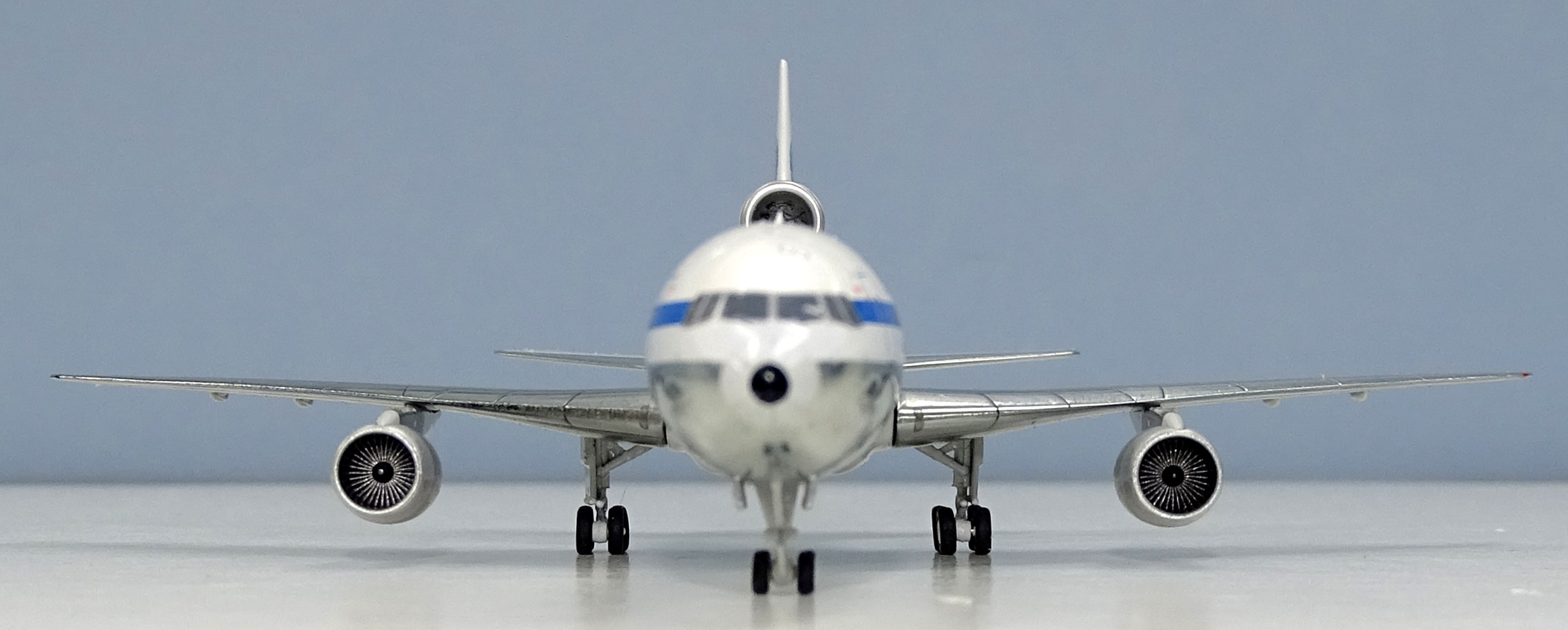 What you do get of course is the perfect nose shape, beautiful fuselage and amazing tail section. The latter is particularly nice, with an excellent engine to fuselage width and perfect angles. The complex tailcone, engine exhaust area is tightly fitted and looks great. The wings of course demonstrate the extended wingtips and a good angle. These are all major features that have been incorrect or poorly reproduced on the competition.

The undercarriage is very attractive but does repeat the errors of the standard-length version. The forward process on the nosegear is a little large and the angle of the maingear doors is not quite correct. The angle of the engine rims is also not quite correct (again a carry over from the L-1011-1 mould).

So, it is clear that I think this is a very good mould, however the three minor criticisms I have with it mean I can't give it full marks. Even so it is unarguably much superior to the competition.
SCORE – 9
PAINT & LIVERY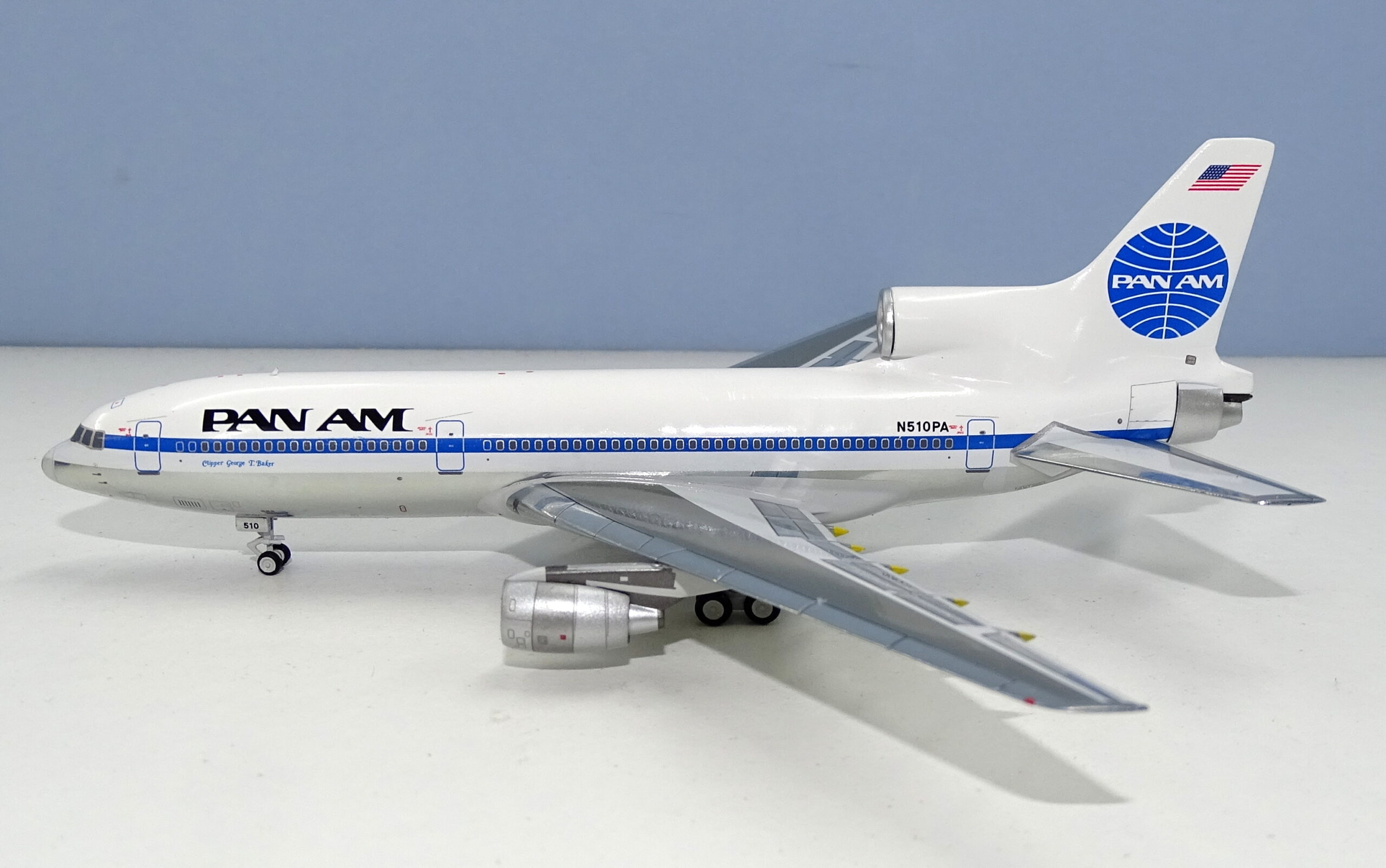 Once again this is the 1976 short titles, slanted flag cheatline version of the classic globe colours. Gemini really didn't do a great job with their version, mainly because they printed the cheatline too high. This is probably my favourite Pan Am livery and I'm glad to say NG don't make a mess of it.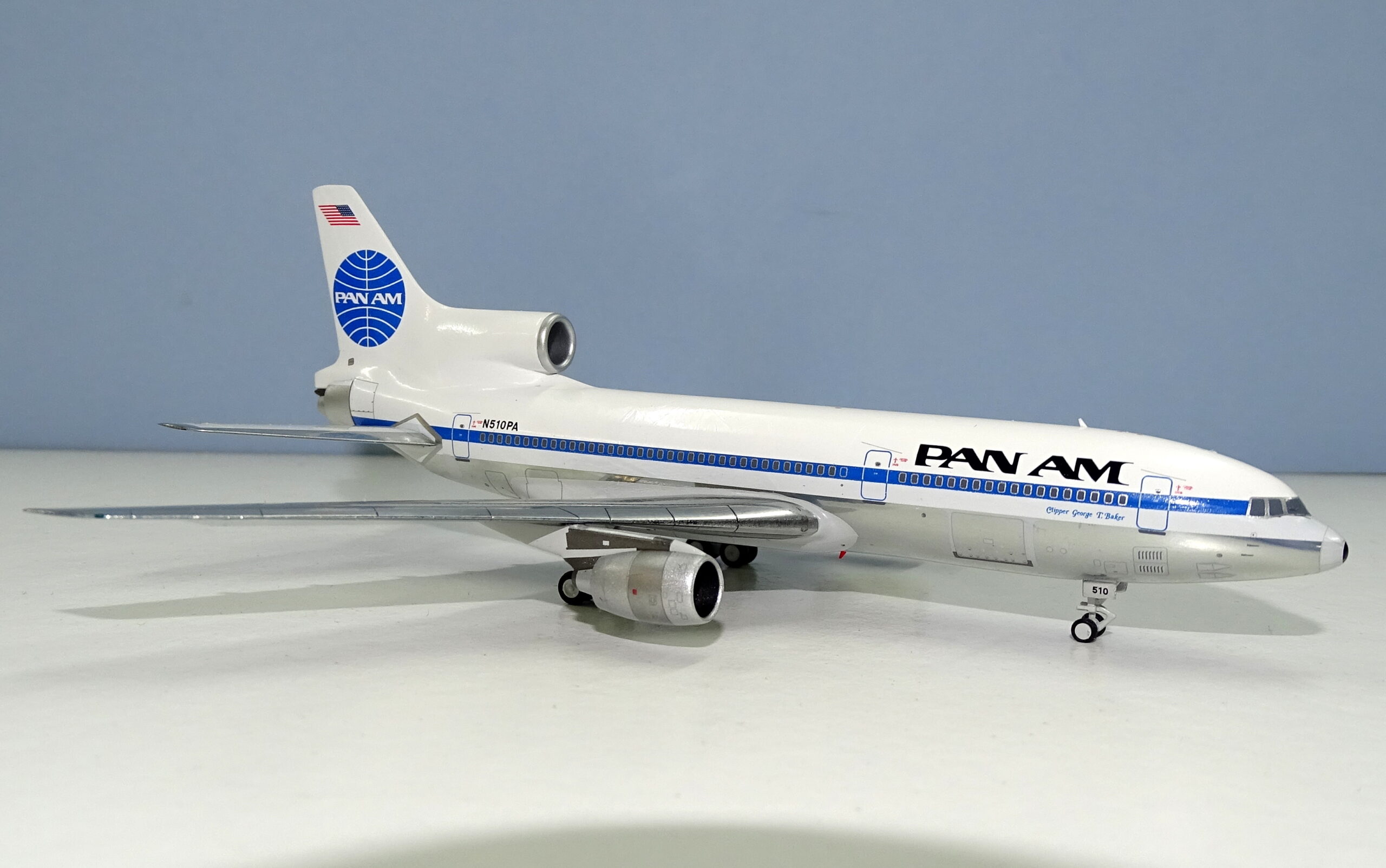 The tail logo is lovely and the flag above it very finely detailed to the extent you can see the individual stars. The line of the white and natural metal belly is at the correct height and the elements that are composites (nosecone, wing fairing) are grey, as they ought to be.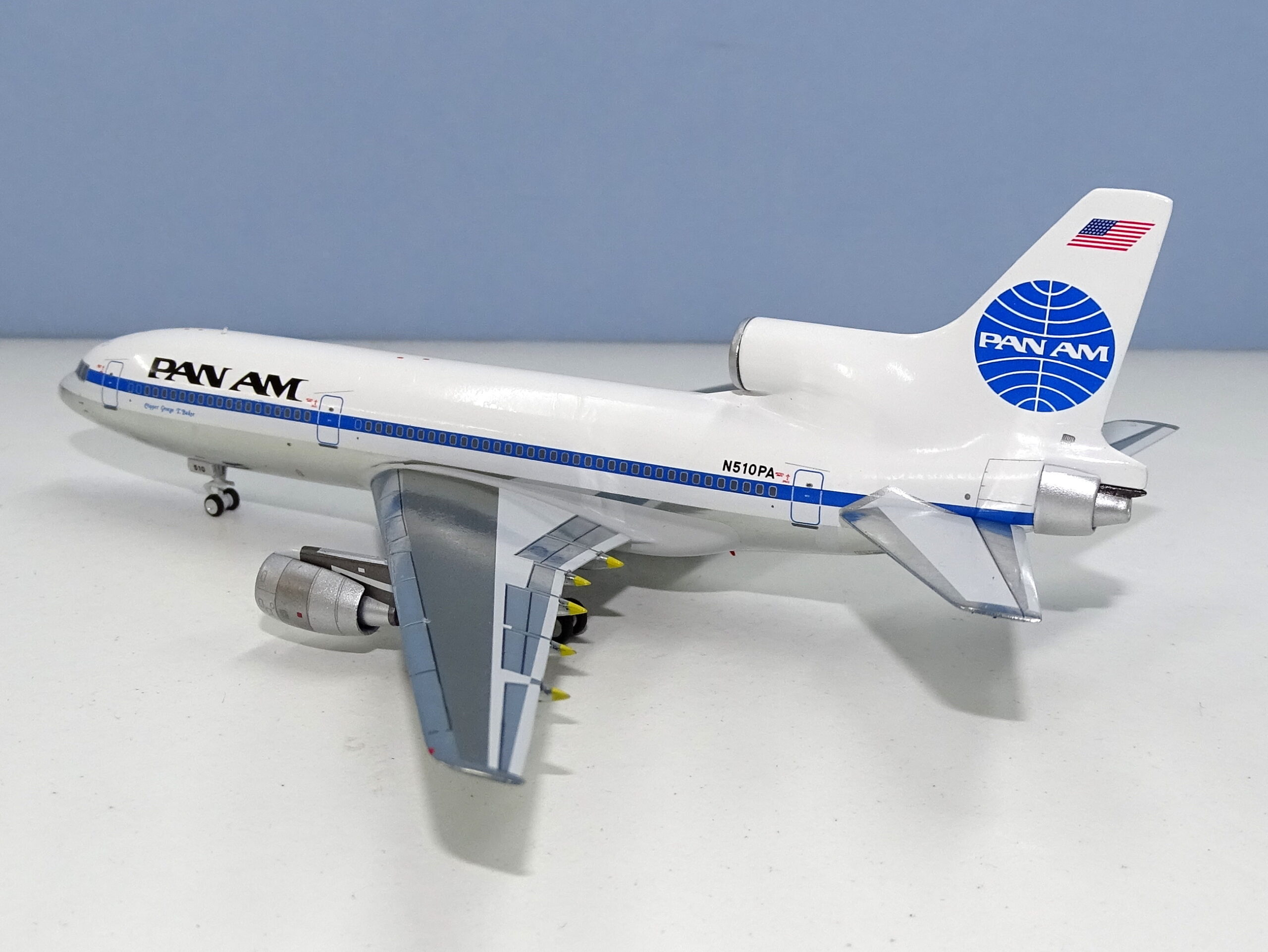 The main cheatline is also correctly placed and the blue colour is perfect. The black titles are the correct size and font, as is the Clipper title beneath the cheatline. Arguably the white inserts in the P and A are slightly the wrong shape (too large and small respectively) but it is a very minor detail.

This isn't a complex livery, I admit, but NG reproduce it very well. There are no issues large enough to warrant a loss of points.
SCORE – 10
PRINTING & QUALITY CONTROL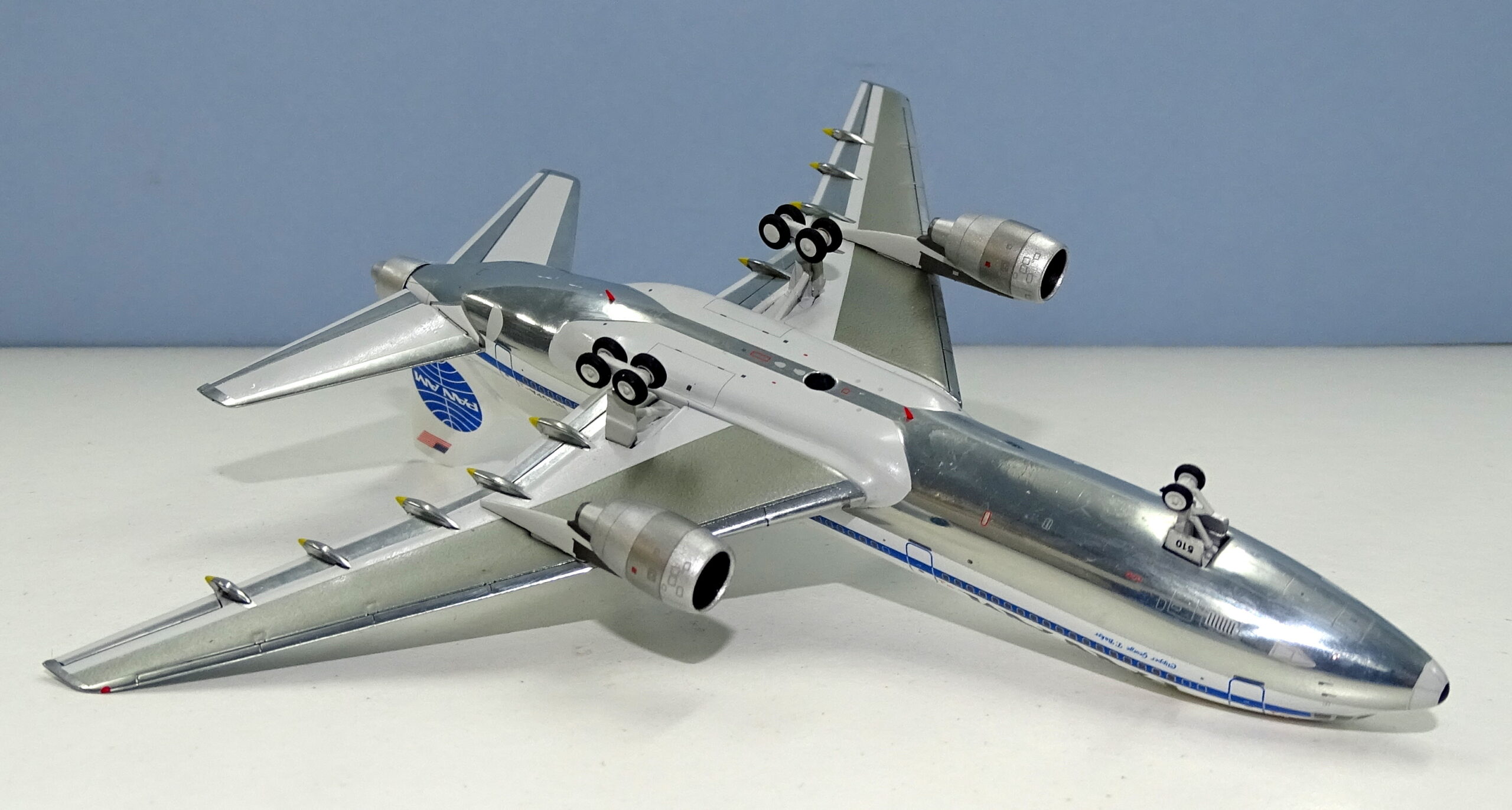 Printing is one of NG's strongest points and models never come with avoidable printing errors like smudges. The printing on this model is crisp, fine and generally excellent. Underneath the printing is at another level, especially towards the tailcone. The natural metal belly is especially shiny and attractive.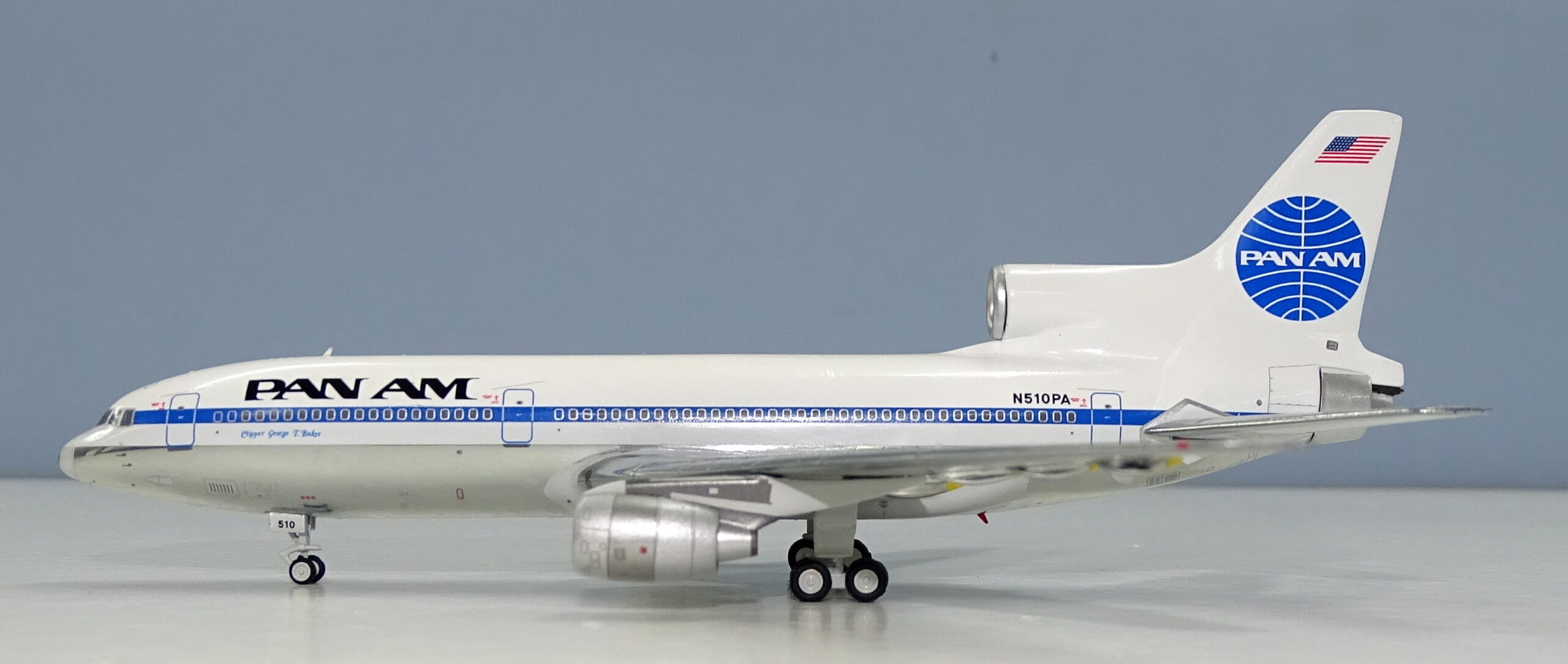 The cockpit windows provide the only criticism. They are quite nice but are slightly too small in terms of height. This isn't enough to damage the look of the model but they could be maybe half a mm taller.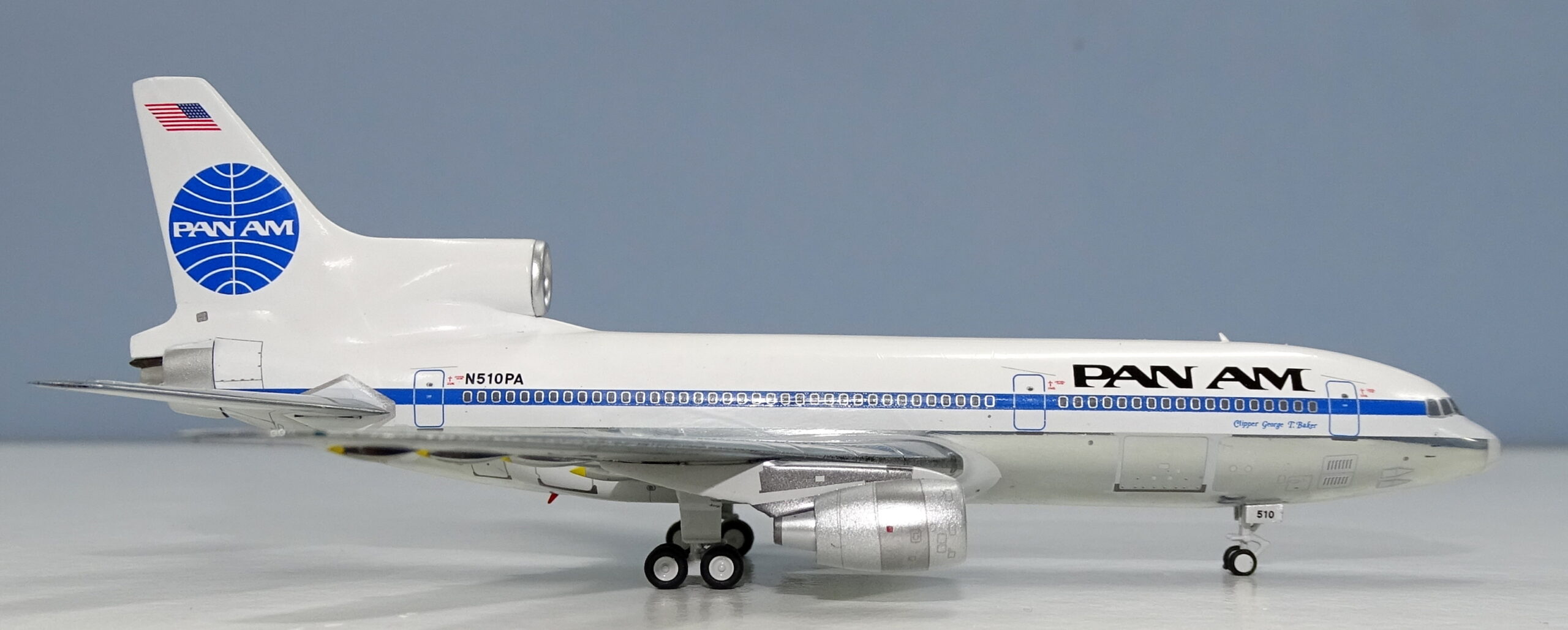 Build quality is very good with all major components in place. Having said that a DAC poster did alert me to a minor error. One of their Tristars didn't have the wheelhubs present in detail on every wheel and checking this model 3 of the 10 hubs have the same symptom. One of these is the rightside nosegear, which has an undetailed hub. It's a minor point, and really only noticeable as the other hubs are so good, but does suggest a lack of consistency.
SCORE – 8
CONCLUSION
The final score for this model illustrates that even on an ordinary day NG Models are producing models, which, on average, easily surpass most of their competition. This is without a doubt a very nice Tristar 500 but there are some small areas for improvement.
FINAL SCORE – 27/30