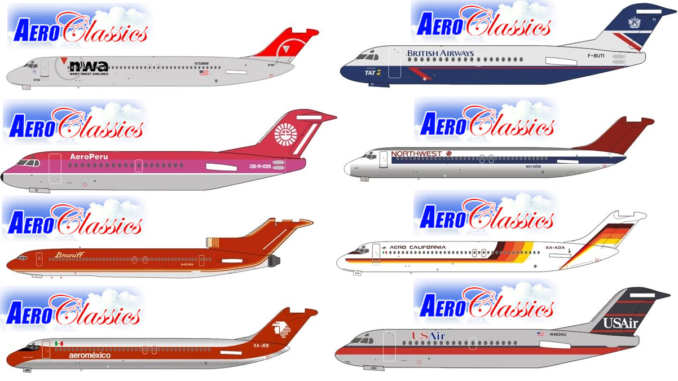 It's mid-August, which means that with the new Aeroclassics release strategy it is time for announcement of the September Aeroclassics. All of last month's releases are available, aside from the two Chinese A330s, and I know that Andrew used feedback to the initial images to fix some problems last month. This is a good idea and I'm glad to see it happening. In fact Aeroclassics actually slipped out some extra models last month including a very nice Sudflug DC-7C, UTA DC-6, Swissair A310 and Aloha Cargo 737-200. This month is yet another killer month with excellent long sought after models mainly utilising the 727-200, plus the returning Fokker 28 and Douglas DC-9 moulds. So let's take a closer look at what September brings.
North by Northwest
The thermometer DC-10-40s from two months ago are now to be joined by a pair of thermometer DC-9s which is great news. Not only does Aeroclassics have a sublime DC-9, which is one of the best moulds ever made in this scale, but they are continuing the policy of enabling gradual replacement of older inferior Gemini Jets. I have the old Gemini thermometer Northwest DC-9-30. It's ok but the new AC version will be much better, even if the red colour is too dark.
Northwest Airlines DC-9-30 N915RW "Thermometer"
Northwest Airlines DC-9-50 N776NC "Thermometer"
In addition to the 1980s Nines there are also three versions of the Nine in their last Northwest scheme. It's a good livery, but doesn't fit my collecting criteria:
Northwest Airlines DC-9-30 N607NW "2003 Clrs"
Northwest Airlines DC-9-40 N759NW "2003 Clrs"
Northwest Airlines DC-9-50 N773NC "2003 Clrs"
Diesel Mexico
Three more Mexicans this month show off three attractive liveries on the old Diesel Nine. The Aero California again replaces a rare and inferior old Gemini model, whilst the Aeromexico has only been released previously by Jet-X. Interestingly the TAESA nine is the airline's only series 30 and the aircraft that was destroyed when it crashed between Uruapan and Mexico City. This crash was enough to effectively kill the airline as I discuss further here:
My query with this release was whether the DC-9 ever wore the scheme Aeroclassics is proposing? The only photo I have seen shows it wearing the yellow top livery and the aircraft was only in service with TAESA for just over a year.
Aero California DC-9-30 XA-ADA
Aeromexico DC-9-30 XA-JEB
TAESA DC-9-30 XA-TKN
Familiar Fokkers
Anyone who follows Aeroclassics knows that Andrew loves Indonesian releases so I guess a pair of F28s from the island archipelago nation is no surprise. They are nice additions to your Indonesian fleet and Garuda was a major operator of the Dutch jet:
Garuda Indonesia F-28 PK-GVS "straight cheatline"
Garuda Indonesia F-28 PK-GFT "curved cheatline"
Aeroclassics has also shown a real interest in AeroPeru this year with 4 DC-8s already. I own the later 1980s liveried AeroPeru F28 and this month we get its earlier 1970s schemed pink top counterpart. Hopefully AC will get the tail and rudder colours correct this time (the rudder should not be the same colour as the tail as it replicates the Peruvian flag).

Also continuing on from earlier Piedmont and USAir hybrid livery F28s now we get the full 1990s pinstripe scheme on the F28-1000:
USAir F-28 N463AU "pinstripes"

Unfamiliar Fokker
British Airways liveried aircraft always sell well. During the early 90s BA invested in a variety of airlines including the French regional TAT, which operated some of its F28s in the Landor scheme. Personally I'd have preferred a TAT/Air France F28 but I suspect I'm in the minority and this release will sell well:
TAT/British Airways F-28 F-BUTI

Advanced 727s
Two months ago we got our first Braniff Ultra 727s and this month there are two more. I just hope this time AC gets the side engine striping correct and doesn't revisit the same faulty colouring they used on their Ultra DC-8s from a few years back. I'll take the chance:
Braniff International B 727-200 N479BN "Light Corvette Blue"
Braniff International B 727-200 N463BN "Terracotta"
Aeroclassics also likes a good European charter airline. Last month they slipped out a Sudflug DC-7C and this month it's the turn of Denmark's Sterling Airways.
Sterling Airways B 727-200 OY-SAU

Delayed China Buses -GSE?
The two outstanding Chinese A330s are still in the pipeline, however judging by the price change it now seems they may not be coming with new GSE? Not sure what is going on here.
Air China A330-300 B-5977 "50th"
China Eastern Airlines A330-200 B-5943 "Eastday"
Limited Release 3Tens
I assume the 3 A310s announced this month are all limited market releases as they've been done before to the best of my knowledge:
Air France A310-200 F-GEMG
Air France A310-300 F-GEMP
Lufthansa A310-200 D-AICC
Summary
I for one miss the 'Mata Hari's' hints, as unlike Gemini's clues they actually delivered exciting models. Nonetheless the releases are probably exciting enough on their own. Yet again this is a good month of releases from which I could buy most if money were no option. Instead I've settled for 9 of a great bunch of models.