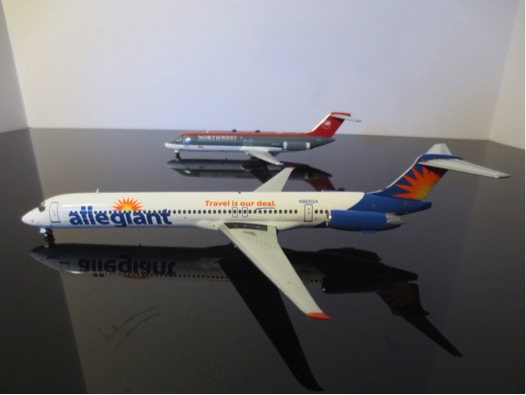 Today I will be comparing the models of 2 different manufacturers, with their McDonnell Douglas DC-9 and MD-80 line up.
N943N rolled off the production line in Long Beach, CA in 1975. Originally, it was delivered to North Central Airlines in May of the same year. In July 1979, North Central acquired Southern Airways and formed Republic Airlines. Then, in 1986 Northwest Airlines merged with Republic Airlines and the aircraft ended up with its last paint scheme at Northwest. At the time, the aircraft had a configuration of 16 first class seats and 84 coach seats. In July of 2008, N943N was flown to Pinal Airpark in Arizona where it was officially retired and scrapped.
Aircraft Type: DC-9-30
Serial Number: 47647 LN:773
Engines: 2 x Pratt and Whitney JT8D
N865GA rolled off the same delivery line as N943N some 15 years later in 1990. Originally delivered to SAS as a DC-9-81 and a registration of SE-DIX, it flew most of its younger days at SAS, with a brief lease to Spanair in 2003. SAS officially retired SE-DIX in May 2004 and after a short time in storage, it was picked up by Allegiant Air in September of the same year. N865GA is still active at Allegiant Air, and features 166, all-economy Low Cost Carrier (LCC) style seating. Allegiant Air recently did modifications on its entire MD-80 fleet and N865GA was updated to DC-9-83 series, which included an updated version of the JT8D engines.
You may notice that I use MD-80 and DC-9-83 in this post interchangeably, but there are some differences. A little history on the DC-9 vs MD-80 terminology: DC-9s were originally produced by Douglas Corporation and are all a common type rating for crews, from the DC-9-10 series all the way to the MD-95 (modern day Boeing 717). Up until the MD-88, all the DC-9s were dash series, from the DC-9-10 (dash 10) to the DC-9-83 (dash 83). The aircraft certificate then changed to the MD-88 (to include the MD-87, MD-90 and MD-95). However, MD-80 is a term that stuck with the DC-9-80 series and is still used to this day.
Aircraft Type: DC-9-83
Serial Number: 49998 LN:1800
Engines: 2 x Pratt and Whitney JT8D-219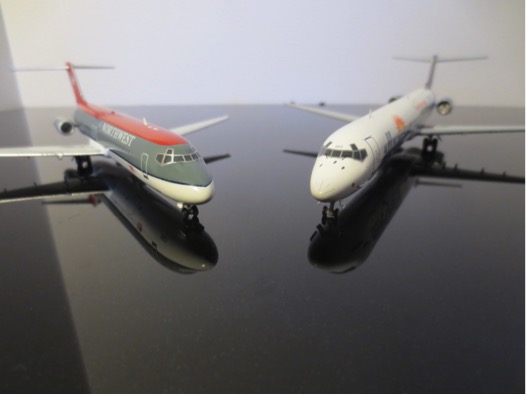 Model:
Both Inflight and Gemini 200s have a great McDonnell Douglas DC-9 mold. One thing to keep in mind is that the Inflight 200 DC-9 is an older model, released in 2007 and its lack of details show accordingly. This is something I will be keeping in mind when I grade these models individually.
That being said, for an earlier model, the Northwest DC-9 is still a great, classic model with a good amount of detail. The Inflight 200 model has a fixed gear, with rolling rubber wheels and details including antennas, a stand out beacon, numerous outlines, and an area where the forward air stairs would be. Douglas Aircraft designed the DC-9 series to be a self-sufficient aircraft, that would allow it to operate at airfields with limited ground services and resources. This included the aft, rear air stairs and a forward air stairs that were built into the airframe and were also incorporated in MD-80 series. Both Inflight and Gemini Jets do nice job of including these features in their models. There are a few signs of manufacturing where the wings meet the fuselage, but the overall shape of the model is great. One thing to note about the earlier Inflight 200 line up is this model does not come with the option to display it on a stand, as there is no pre-drilled hole for it. That being said, the model is clean and crisp looking.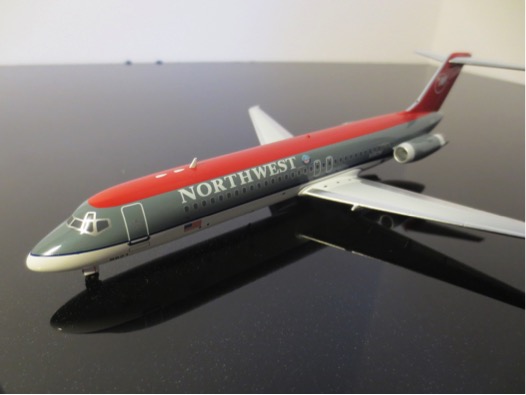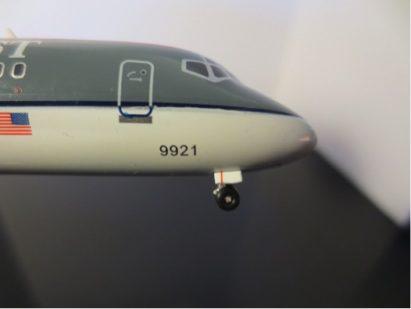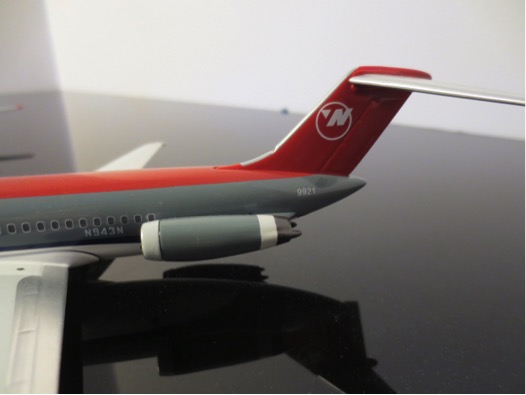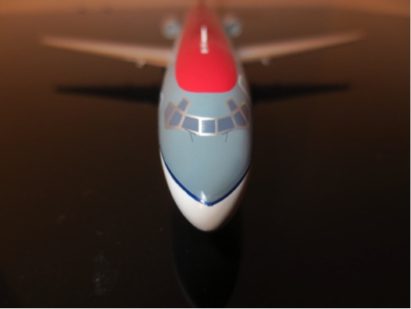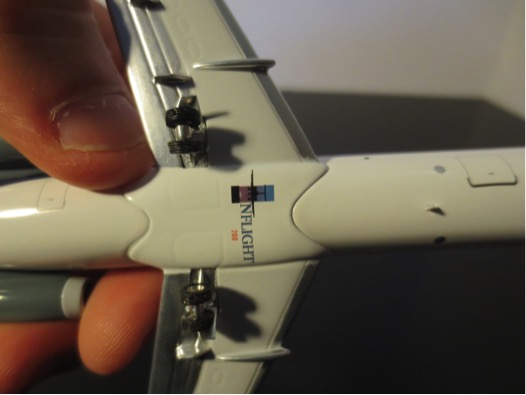 The Gemini 200 Allegiant Model is another great mold with lots of details and features. The Gemini 200 mold is newer then the DC-9 mold and thus has a few more details on it. The assembly of the wings and fuselage is done nicely with little to no signs of manufacturing. The forward strakes, which are the pieces right above the nose gear door show the most sign of manufacturing, however they are done tastefully. My only complaint with the overall mold would be the nose is just a bit on the pointy side. While the MD-80 series has a nose that is slightly pointier then it's predecessor, the DC-9, Gemini 200 might have overdone it on this mold. Another nice thing about this mold is that it does come with a stand to display.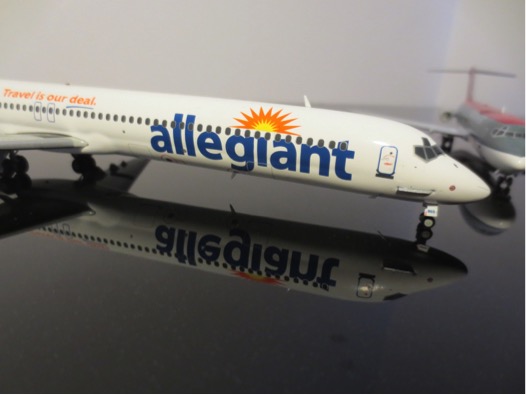 As for the paint and decals, both models have high levels of detail. As I had mentioned earlier, the Northwest DC-9 is an older mold, and thus is lacking in some of the fine details. For example, there are no pitot tube or radome markings on the nose of the DC-9, while Gemini Jets incorporated this on their MD-80 mold. That being said, both models have exquisite details that would make any model collector happy.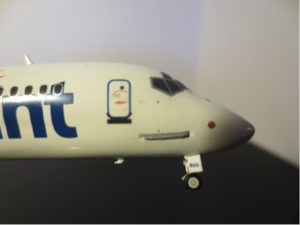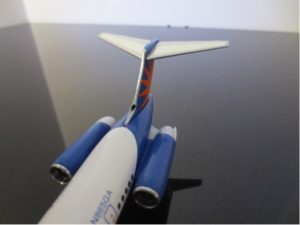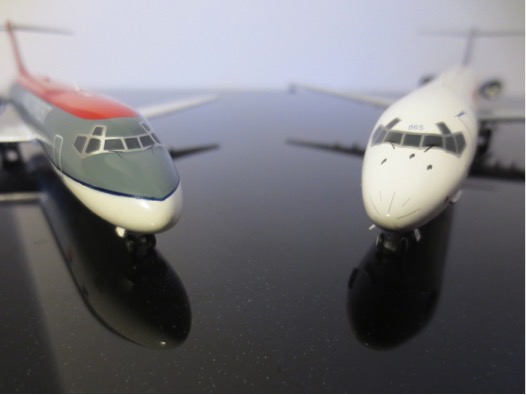 Grading:
Inflight 200 DC-9-30
The overall mold on this DC-9 is a great mold and will get a score of 9 out of 10
The paint and decals are great on this model as well and as the model is an older version, it will get a score of 8 out of 10
Inflight200's quality control is impeccable and it will get a perfect 10
This gives the Inflight DC-9-30 a score of 27 out of 30.
Gemini 200 DC-9-83
The overall mold on the MD-80 is a great mold, however the nose issue will give this model an 8 out of 10
The paint and decals were really well done on this model and it will get a perfect 10
Quality control is an issue that has plagued Gemini Jets. However, the model I have arrivedwith no defects or issues and it will get a 10 out of 10 as well.
This gives the Gemini 200 MD-83 a score of 28 out of 30.
Conclusion
Both of these models scored very well in my opinion and are great collector pieces in the McDonnell Douglas narrow body line up. I would highly recommend these models to any collector. I know the Inflight 200 DC-9 is sold out. However, a limited amount of them can be found on the secondary market. At this time, the Allegiant Air MD-80 is still available thought Gemini Jets.
I went into this review hoping to find a clear winner in the narrow body McDonnell Douglas 1:200 model department. However, it was a lot tougher than I thought, and while the Inflight 200 model is older, the details were on par with the much newer MD-80 produced by Gemini Jets model. For that, I give both model companies credit for their craftsmanship on their DC-9 variants.