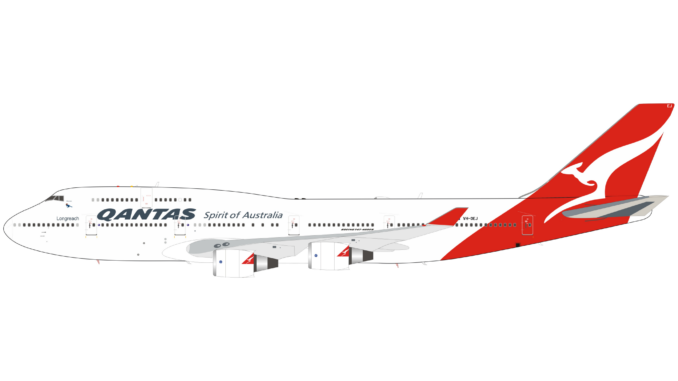 At the time of publication, the last Qantas 747 is in the air, en route from Sydney to Los Angeles. From there, it will continue to retirement in the Mojave desert. Fourteen hours earlier, this final Qantas 747 left Australian soil for the last time. Before departure, Sydney's Kingsford Smith Airport honored VH-OEJ (a Boeing 747-438ER) with a water cannon salute. The favor was returned with a brief flyover display over Sydney's suburbs and the harbor, as well as a wing-wave salute to VH-OJA, the first Qantas 747-400, at the HARS Aviation Museum. The route of flight traced out the Qantas logo over the Pacific ocean, a 250 kilometer wide kangaroo which took 90 minutes to complete.
Qantas (originally an acronym for Queensland and Northern Territory Aerial Services) was shaped more by the Boeing 747 than any other jet. Its introduction overcame the "tyranny of distance" imposed by Australia's antipodean location. On the opposite side of the globe from the North Atlantic, it is separated from Europe by the enormous land mass of Asia and from the Americas by the vast expanse of the Pacific Ocean. Qantas received its first 747 in August 1971. The earlier Boeing 707 had opened up routes to Australia, but the increased passenger capacity of the 747 lowered fares enough to make air travel to and from Australia more affordable for the average person. After the retirement of the 707 in 1979, Qantas operated an all-747 fleet. This continued until the delivery of the Boeing 767-200ER in 1985, which made possible service to smaller airports in Asia and the Pacific that could not support an airplane the size of the 747. Thirty-five years later, it is the wide-body twinjet, improved with new designs and technology to rival the 747's range and capacity, which is replacing the 747 and its greater fuel consumption. The first Qantas 747-400 was delivered in 1989.
In late September of 2019, the tour company Constellation Journeys chartered a different Qantas 747-400ER, VH-OEE, a for a 20-day around-the-world farewell tour to eight cities. On March 29th, 2020, VH-OEE flew as QF28, Qantas' final regularly-scheduled 747 revenue flight from Santiago, Chile to Sydney.

 Inflight200 1:200 Qantas 747-400ER VH-OEJ "Wunala"
 Inflight200 1:200 Qantas 747-400ER VH-OEE "Nullarbor"
Inflight200 has just announced pre-order availability for both VH-OEJ and VH-OEE in their final liveries. These special edition models are a great way to honor the 747 and keep alive a piece of aviation history. Each includes an exclusive collector's coin that commemorates the aircraft and its history. These models will be produced in limited quantities, so be sure to submit your pre-orders while they're available. You can pre-order both from DGPilot, the official store of ModelAirliner.com. Click here to shop now!