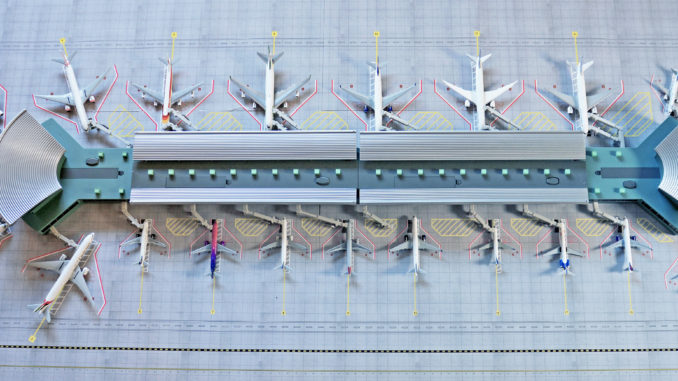 Today, we welcome guest contributor, Todd Michaels from GeminiJets to discuss their new deluxe airport terminal. The 1:400 scale airport debuted in April and features several new additions including interior and rooftop LED lightning and 22 gates.
Story by Todd Michaels
Photos by Khoa Vu
GeminiJets' new deluxe airport terminal is likely the biggest thing in the 1:400-scale model aircraft hobby. In fact, at a length of 54 inches (137 cm), it's as long as an average desk! At this year's Airliners International conference in Atlanta, it was the centerpiece of the entire showroom. Guests would gather around the display amazed at how carefully-crafted and realistic this miniature is. Featuring 22 gates, sweeping corrugated overhangs and sleek, linear facades, the terminal is patterned after several modern, contemporary airports around the world.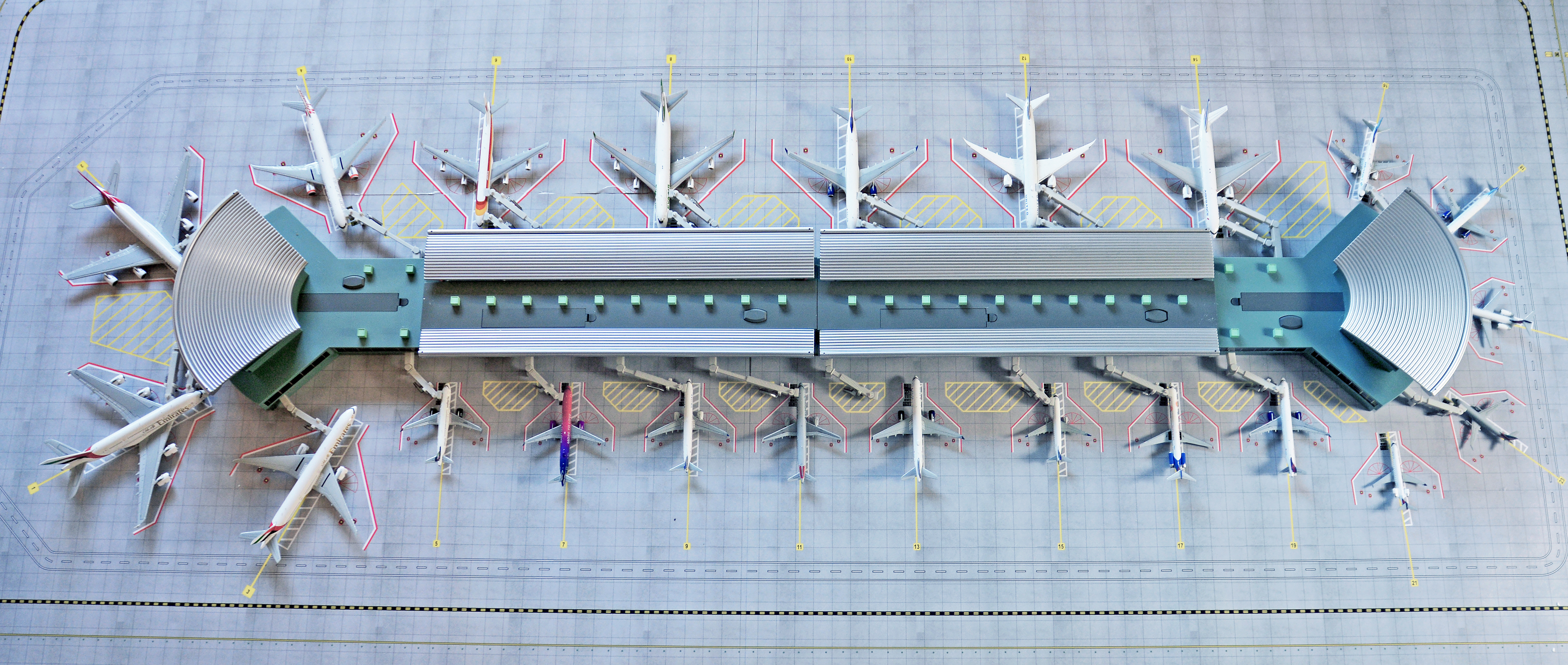 "We actually grabbed some ideas from the D gates of McCarran International," said GeminiJets President Elliot Epstein. McCarran, of course, is based in Las Vegas, the home of GeminiJets. Each end of the terminal is capped with a handsome rotunda featuring large, wrap-around windows. Battery-operated interior and rooftop LED lighting bring the terminal to life. For nighttime arrivals and departures, press a button and the airport becomes fully lit! The set includes 22 jet bridges that can be customized with scale-size stickers of official airline logos.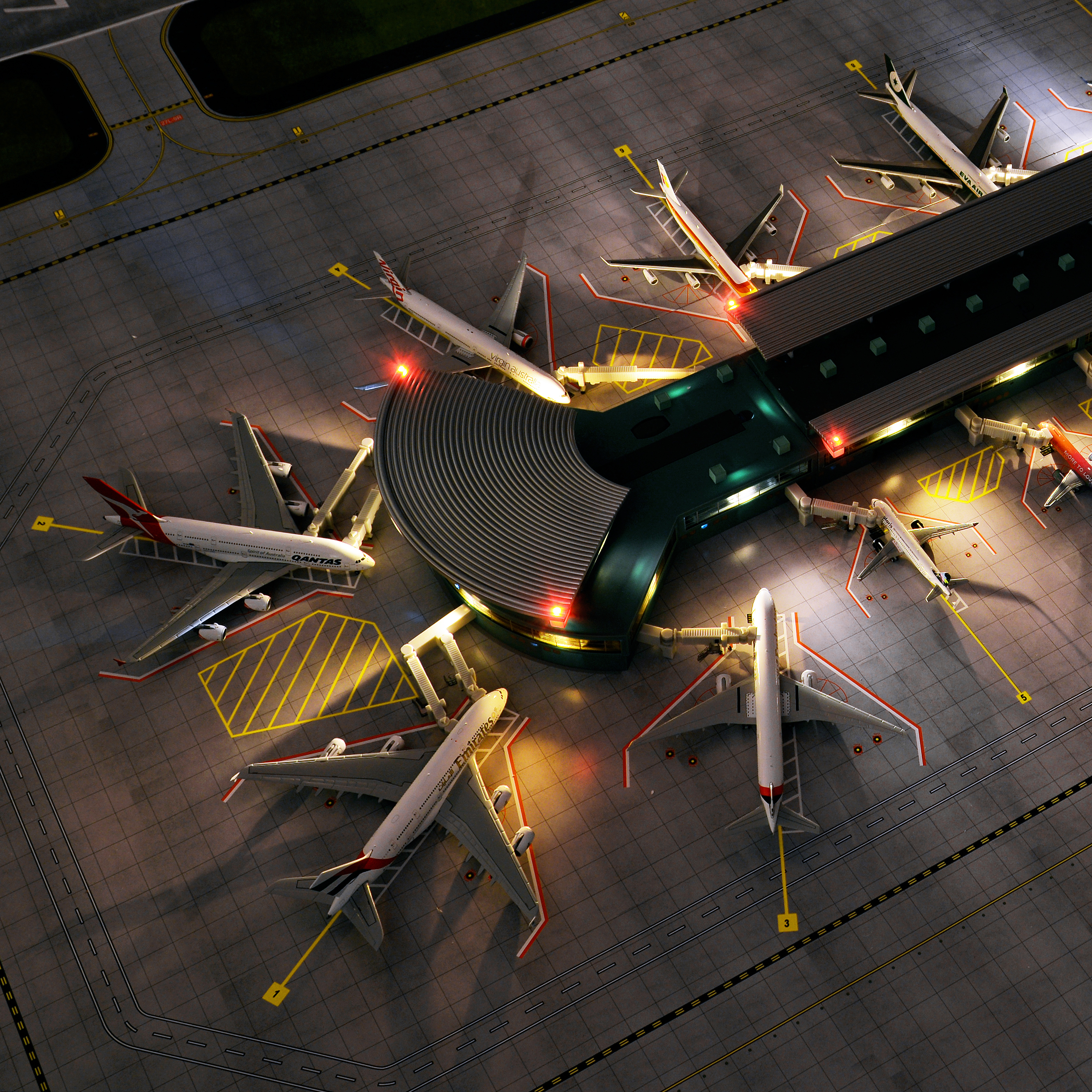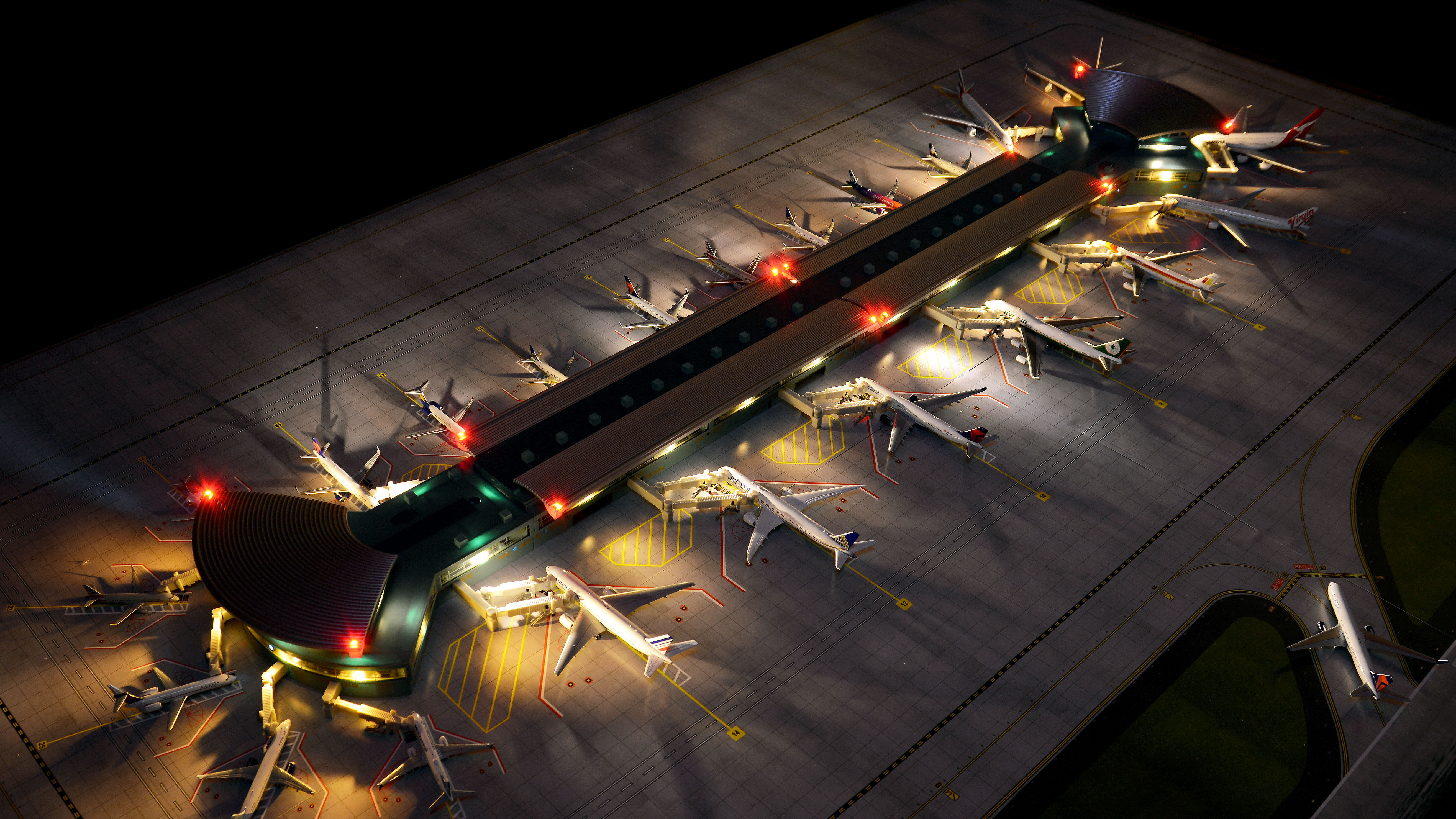 To accompany the new terminal, GeminiJets has an optional new 78 inch by 54 inch (198 cm by 137 cm) four-piece airport mat set. Made of heavy-duty polyurethane, the sections feature a runway, taxiways, gate markings and designated space for the terminal building. Plus, the mats are reversible and give collectors the opportunity to double the size of their layouts with a parallel second runway. Collectors can even add a second new GeminiJets terminal, increasing the number of gates and jet bridges to a total of 44 positions.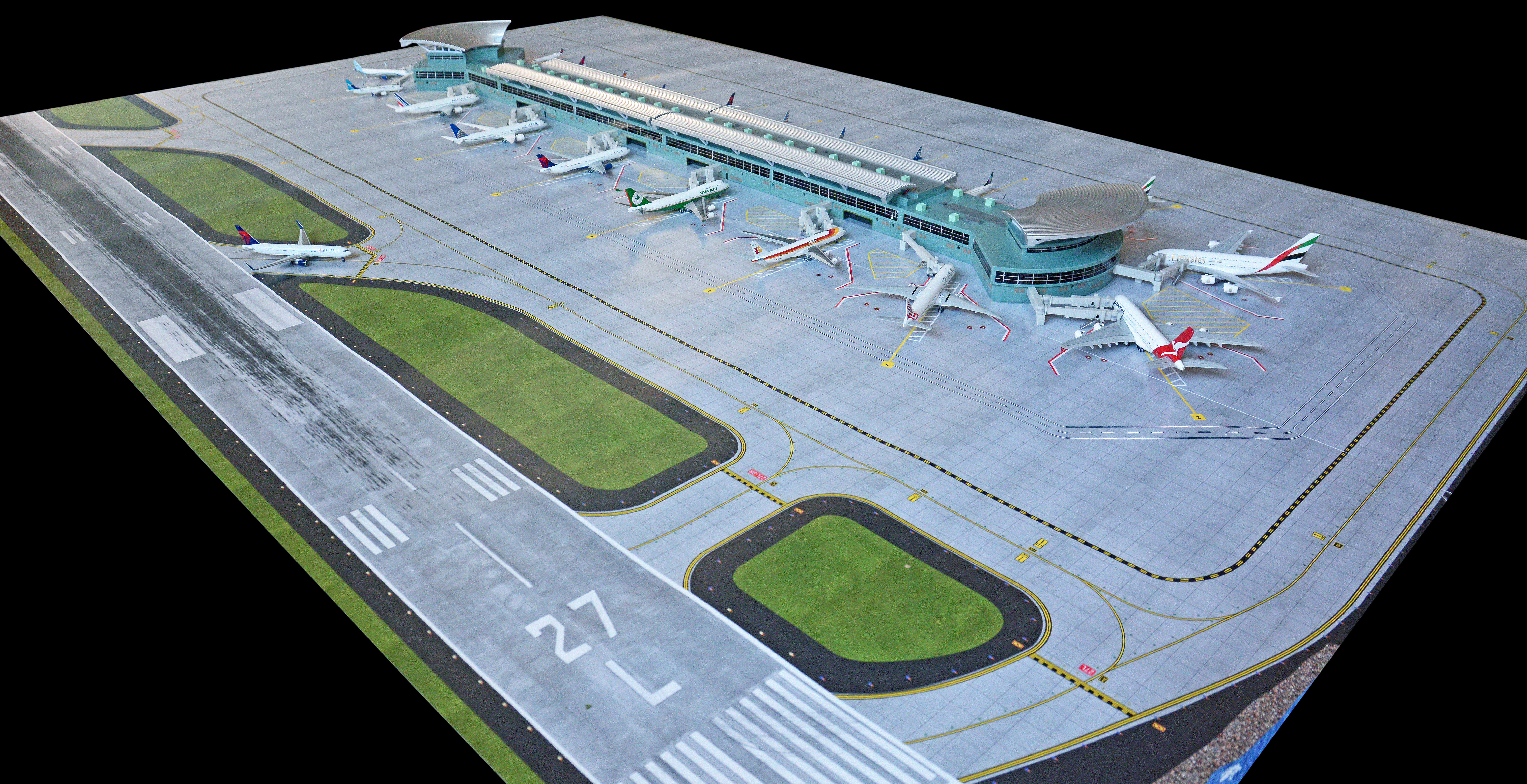 Epstein says the ability for a collector to enlarge his/her model airport was Gemini's focus from the get-go of the terminal project. "We wanted to keep a linear design in mind in order to accommodate a second terminal," he said. For the serious collector, adding a second new terminal will undoubtedly make an impressive airport diorama twice as impressive! In fact, there are frequent "oohs" and "ahhs" from visitors who first see the large, double layout in person inside GeminiJets' headquarters in Las Vegas. Two of the new GeminiJets terminals sit side by side with an array of aircraft parked at the gates. The spectacular, lifelike exhibit is named GeminiJets International Airport or GJX.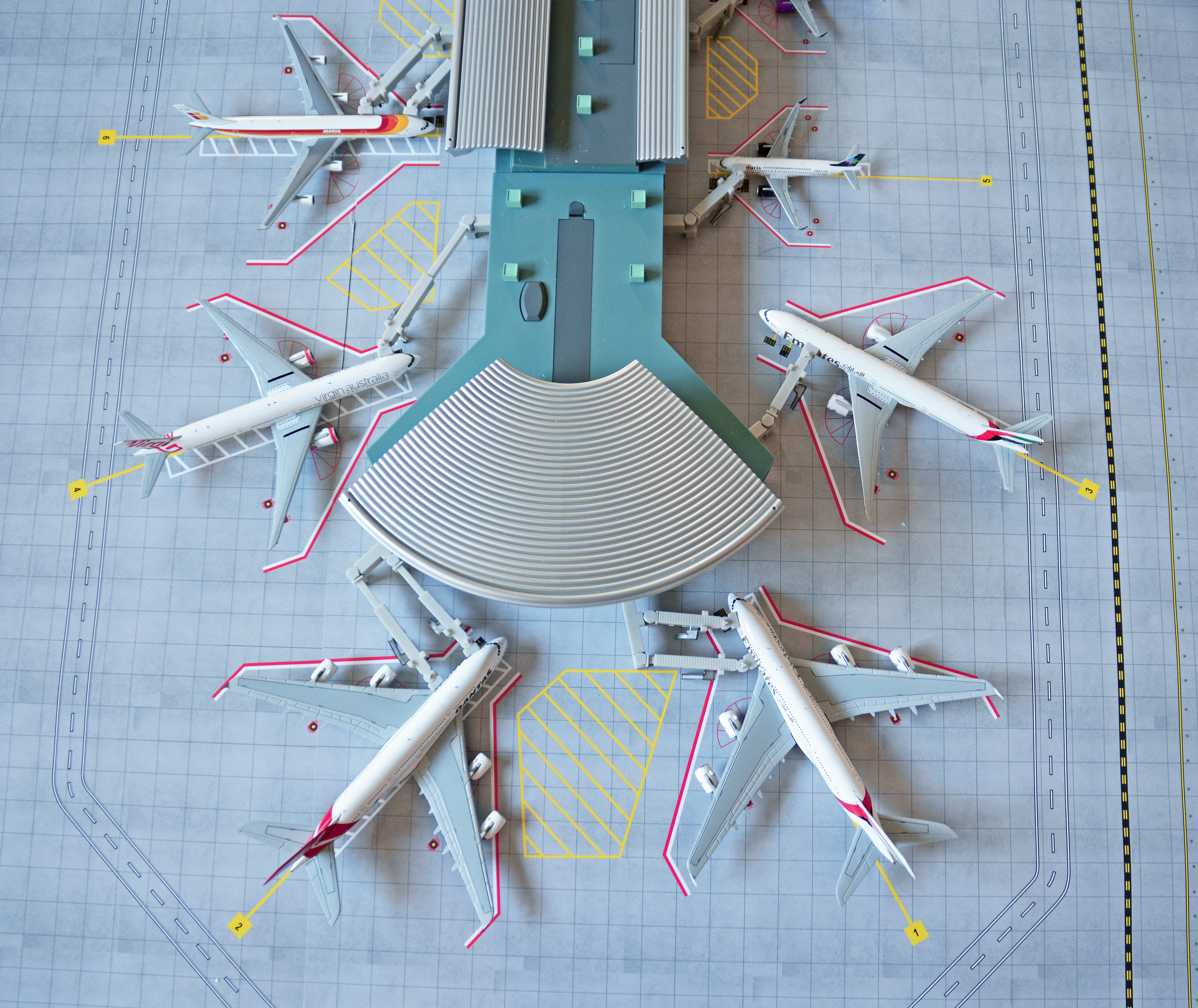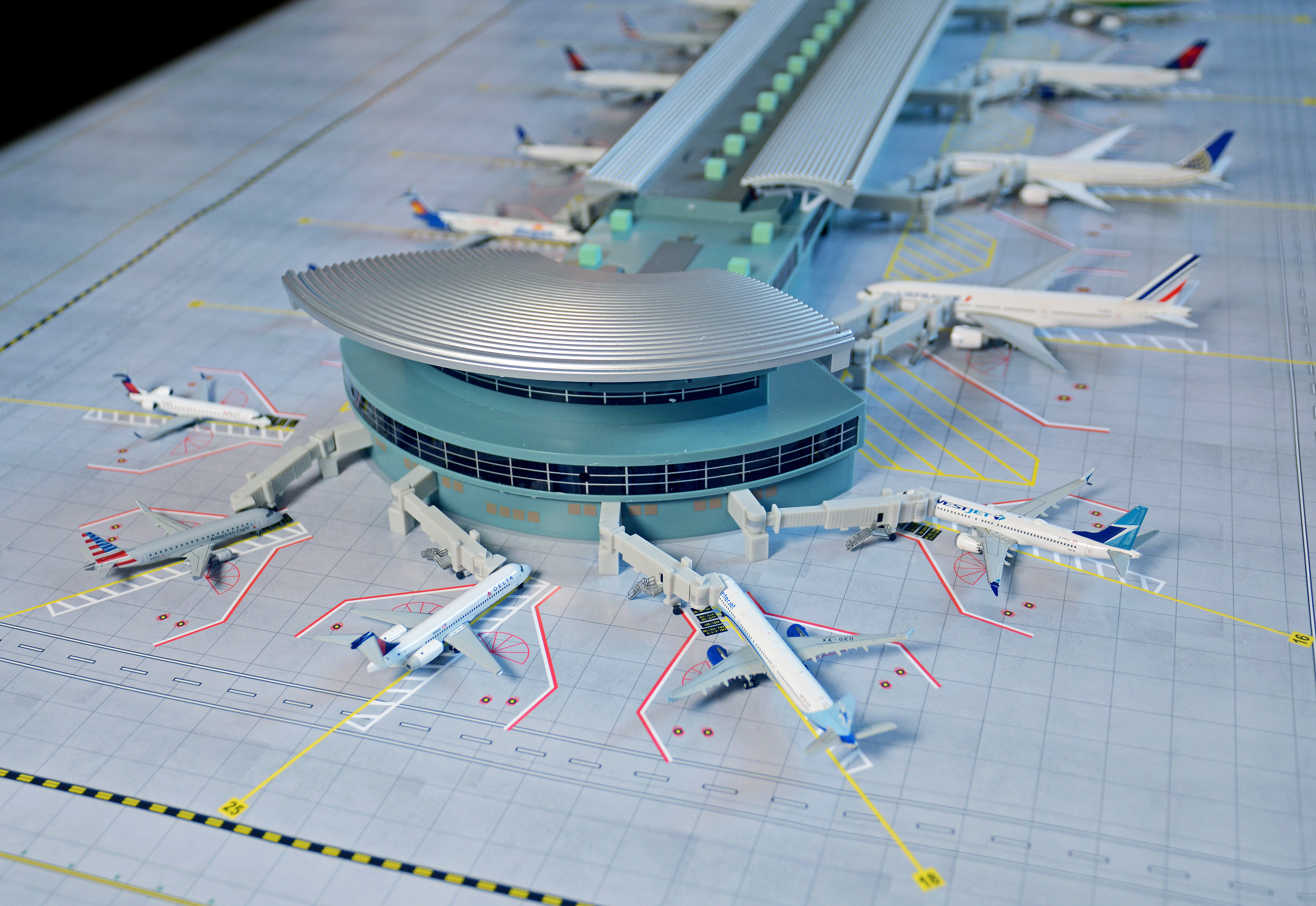 Since GeminiJets debuted in 1998, collectible 1:400-scale diecast models have been its core product line. The new airport terminal is the third from the brand and, with a suggested retail price of nearly $700.00 it also carries the biggest price tag. Here's why:
"It's four times the size of the last terminal and it also includes more electronics," Epstein explains. "In addition, the tooling of the last airport was made ten years ago. Mould, labor, materials and shipping costs have gone up substantially in China and the U.S. over the last ten years."
GeminiJets' previous terminal (Item GJARPTB, which is still readily available) is a single piece with an airside/landside design. The color scheme of both terminals is similar in appearance and that's on purpose. "In order to try to keep the cost under control, we needed something that would adapt from the existing terminal," said Epstein.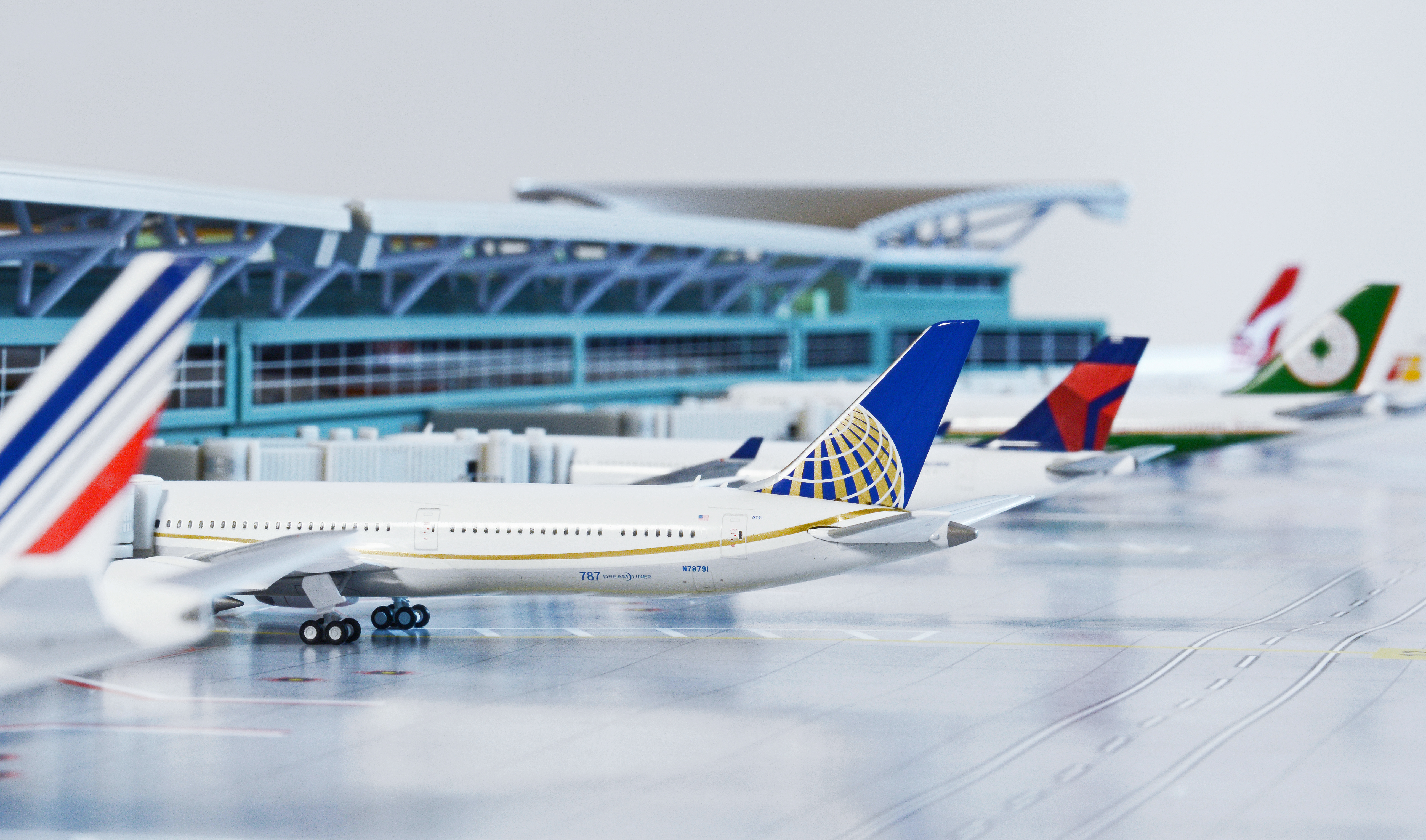 The new terminal is designed for use with GeminiJets' wide range of precision 1:400-scale models, which now number some 2,000 releases. However, it's compatible with any brand of 1:400-scale aircraft. GeminiJets' faithful customer base has been asking for a larger airport terminal and layout that will showcase a big collection of models. After two years in the making, it's finally available! Order it now from your favorite GeminiJets retailer.