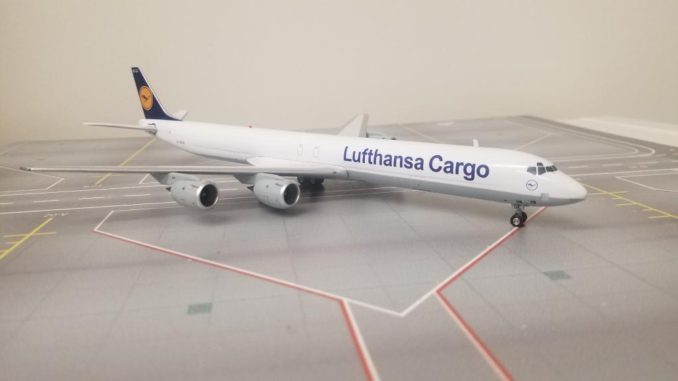 We're launching a Throwback Thursday series where we'll take a brief look of some of the historic aircraft models on the market! This week we bring you Inflight200's 1:200 scale Lufthansa Cargo DC-8-73(F) D-ADUE.
History of Lufthansa Cargo
The roots of Lufthansa Cargo can be traced back to German Cargo Services, which began operations in 1977. In 1993, German Cargo transitioned to operate under the Lufthansa Cargo name as part of a company restructuring plan. The McDonnell Douglas DC-8-73(F) was a staple in the Lufthansa Cargo fleet from 1994 until its retirement in 1997. Today the cargo airline, which continues to serve as a subsidiary of Lufthansa, operates a fleet of 18 aircraft (11 McDonnell Douglas MD-11 , 7 Boeing 777 Freighters).
Aircraft History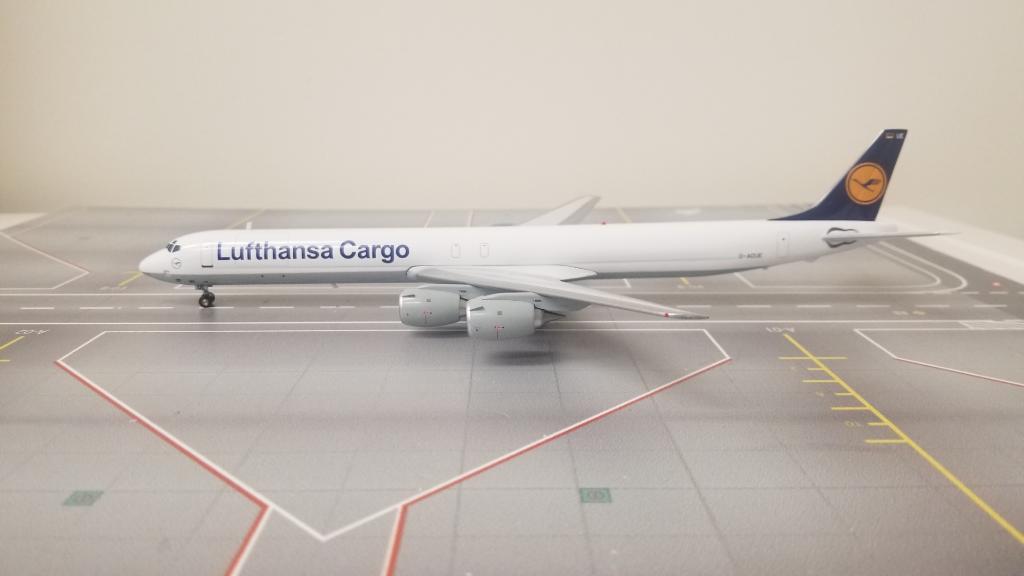 The aircraft was originally delivered to Flying Tigers in 1969 and remained in service with the airline until 1984, when it was acquired by German Cargo and registered as D-ADUE. The aircraft livery was repainted in the Lufthansa Cargo livery after the rebranding of German Cargo in 1994 and remained as part of the airline's fleet until 1997. Following its exit from Lufthansa Cargo, the aircraft was operated two cargo operators in the United States, Emery Worldwide and Air Transport International.
Model Details
Inflight200 recently released a 1:200 scale Lufthansa Cargo DC-8-73(F) model (B-DC8731017A). The model boasts a handful of details including the iconic crane logo, which has been a staple on Lufthansa aircraft since its introduction in 1918. The logo is also found on both sides of the forward fuselage just below the cockpit windows. More paint details can be seen on the upper portion of the vertical stabilizer including the German Flag and last two letters of the aircraft registration. The model also features four CFM-56-2-C1 engines. Many of the CFM-56 engines that were installed on the DC-8 aircraft were capable of producing between 22,000 and 26,000 pounds of thrust.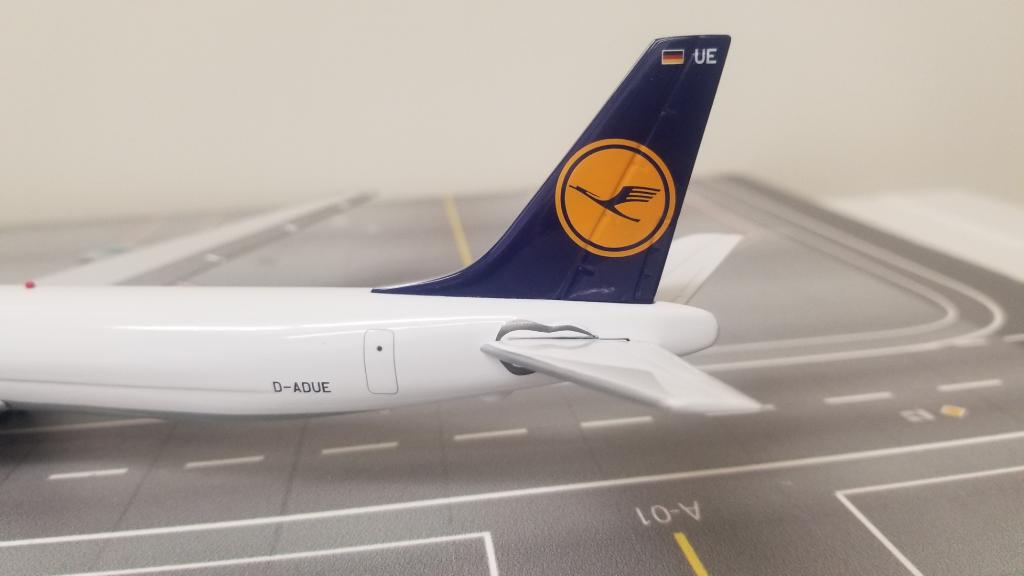 Engine Manufacturer: CFMI
Engines: CFM-56-2-C1
Aircraft Registration: D-ADUE
Original Operator: Flying Tiger Line
Time in Lufthansa Cargo Fleet: 1994-1997
Last Operator: Air Transport International
If you're a historic aircraft collector, this model is perfect for your collection! It's always nice to see a manufacturer release a historic cargo aircraft model!