In my last review I took a look at the 1970s Aloha Airlines 737-200 and compared it to the older Gemini release, however Aeroclassics released four Aloha 737s in June 2017. One of the others reproduced Aloha's 1980s livery, which has previously not been made in this scale. Last week's Aeroclassics 737 scored quite well but suffered from familiar problems too so let's see how this model compares.
THE REAL THING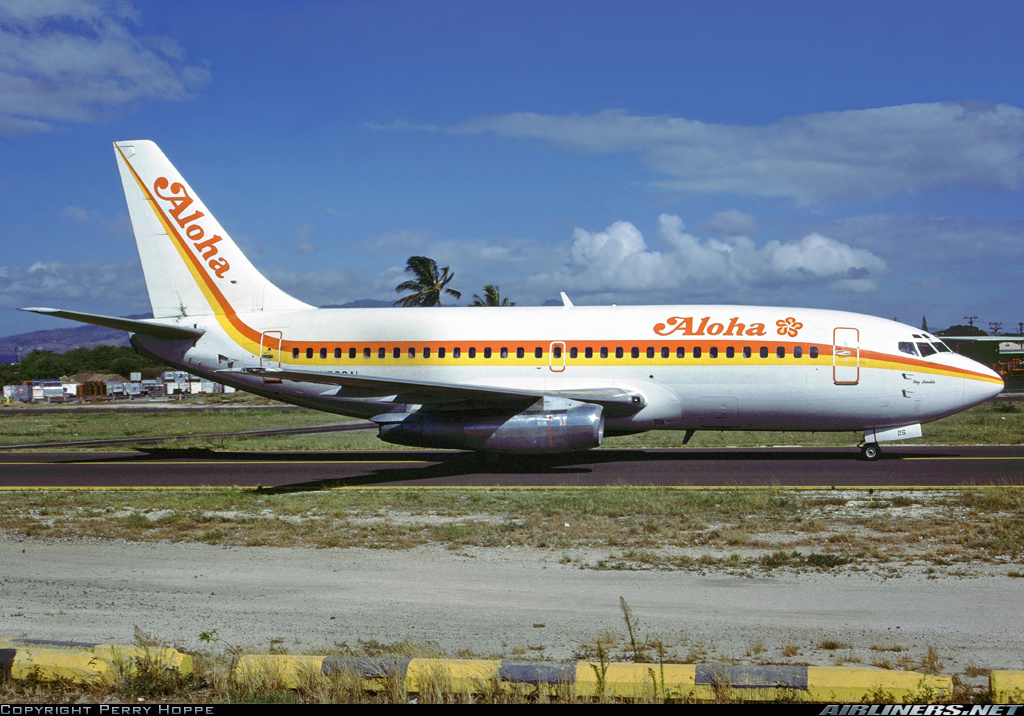 During the 1980s Aloha continued to add used 737-200s to its fleet from a variety of sources, indeed the airline operated at various times 63 different baby boeings. The airline also dabbled very briefly with long haul services using a DC-10-30 before returning to its staple of the inter-island runs. Rocked by the 1988 incident with Flight 243 (that I discussed briefly in the last review) the airline nonetheless kept the faith with the older 737s but began to look at using newer series 300s and 400s. These would in the end prove unsuitable and the series 200s remained on inter-island flights.
N801AL was a 737-202C which had been originally delivered to Wien Air Alaska on October 30, 1968 as N2711R. She served with them for 16 years until she joined Quebecair in September 1984. Two years later she was leased by Aloha and in 1989 although her owners changed to United States Airlease Inc, she remained with Aloha, who bought her outright in September 1994. She was exported to Africa in 1996 and joined Aero Zambia as 9J-AFW. She served a two year lease to Interair South Africa from 1997 but returned to Aero Zambia in 1999 and was finally withdrawn in 2001 after 33 years of service.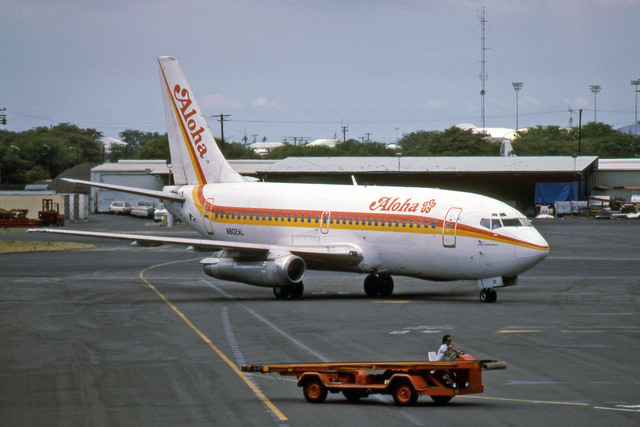 Interestingly this 737-200 shares the same registration as Aloha's short-lived McDonnell Douglas DC-10-30. In fact photos of the 737-202C N801AL seem hard to come by.
THE MODEL
The format for my reviews is to split them into three key areas:
The mould of the aircraft
The paint and livery
Printing and quality control
Each can get a maximum score of 10 for a section giving a maximum combined total score of 30.
THE MOULD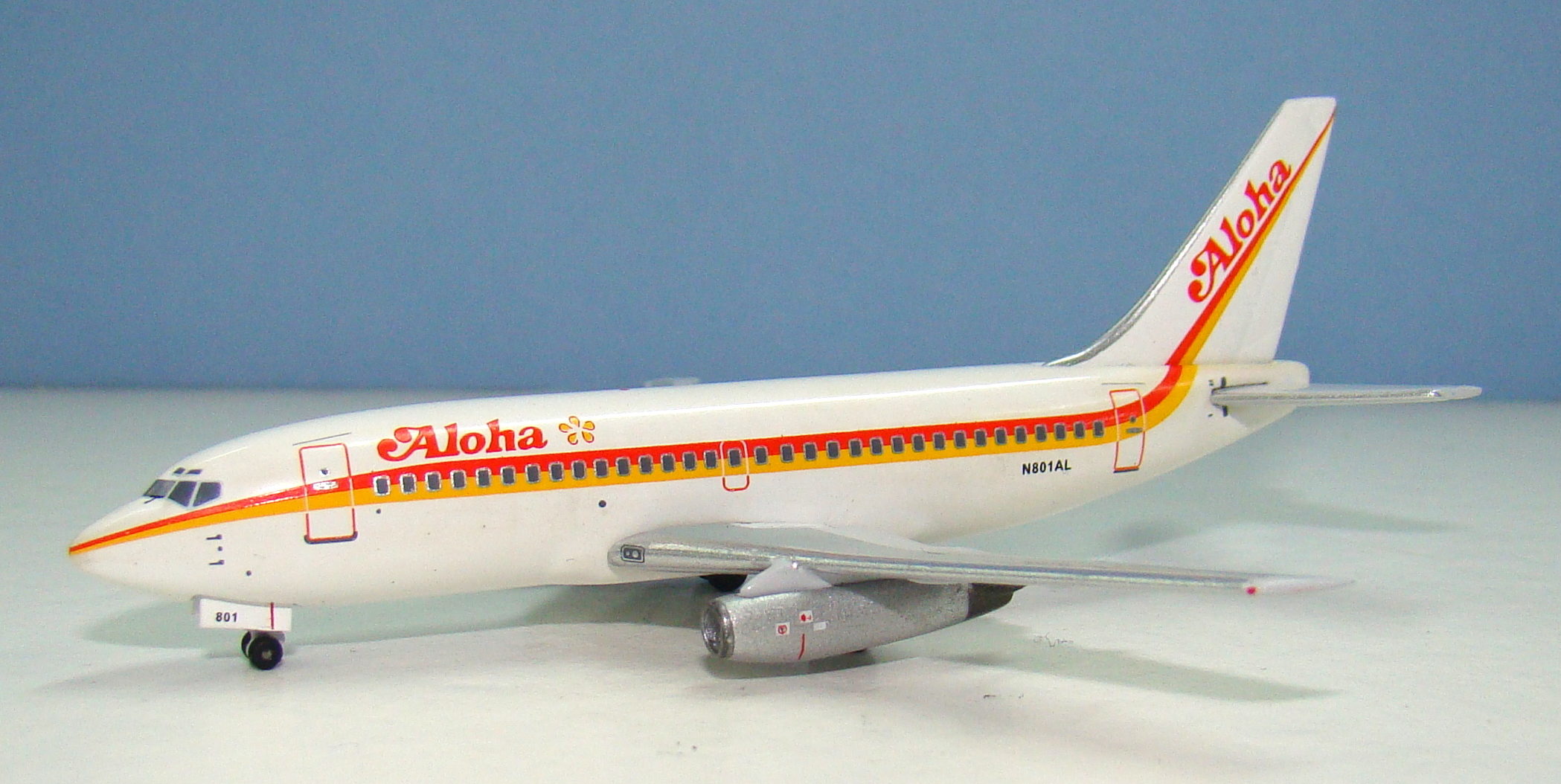 Aeroclassics replaced its already very good 737-200 mould, which had a discrete wing seam, with this slot in mould in 2009. Some early examples had oversized nosegear doors but otherwise it is an excellent 737-200, easily the best that has been made in this scale.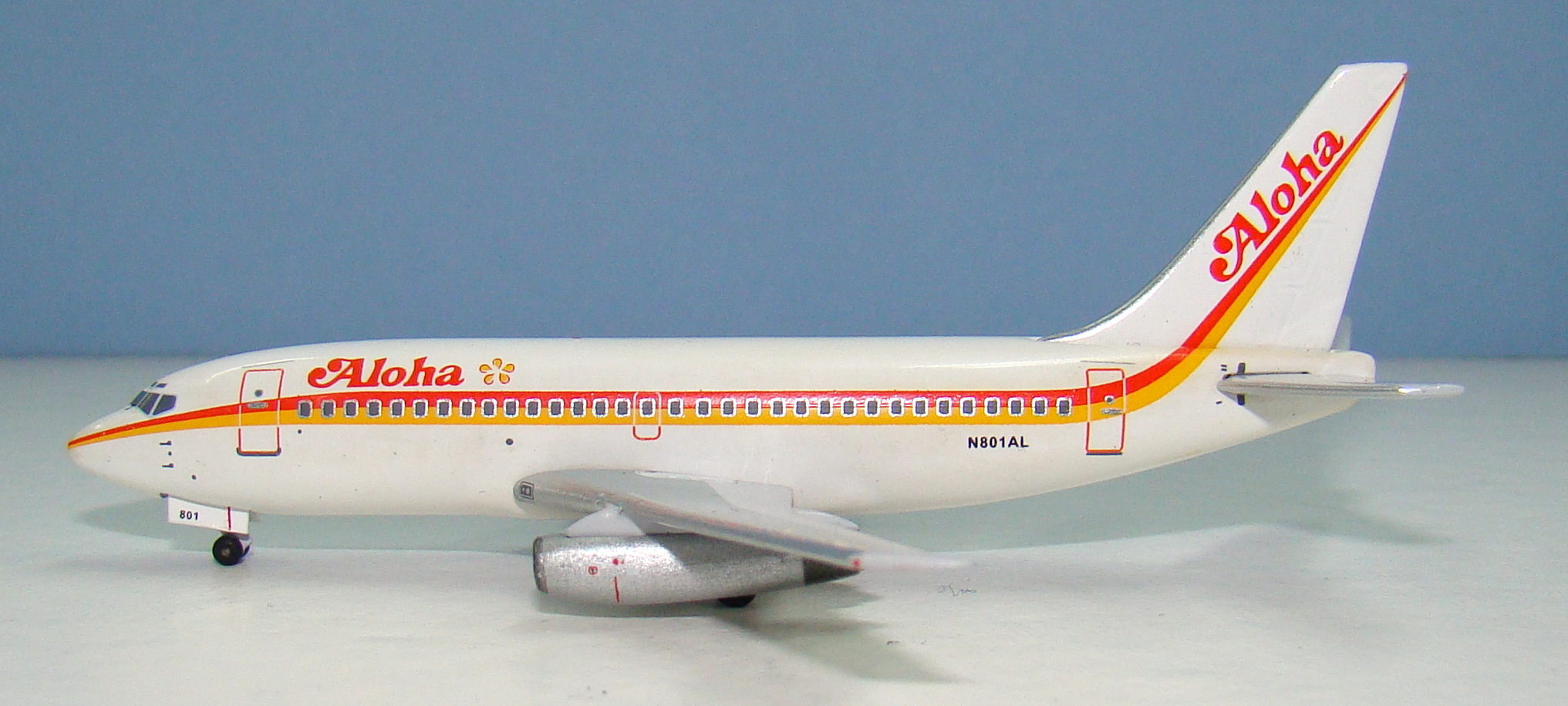 In fact there are no issues with the mould at all. All aerofoils, engines and stabilizers are great as is most importantly, in my opinion, the nose and cockpit. The wheels and hubs are simple Aeroclassics standard tyres on spigots but with such small and short undercarriage as the 737-200 has it really doesn't matter.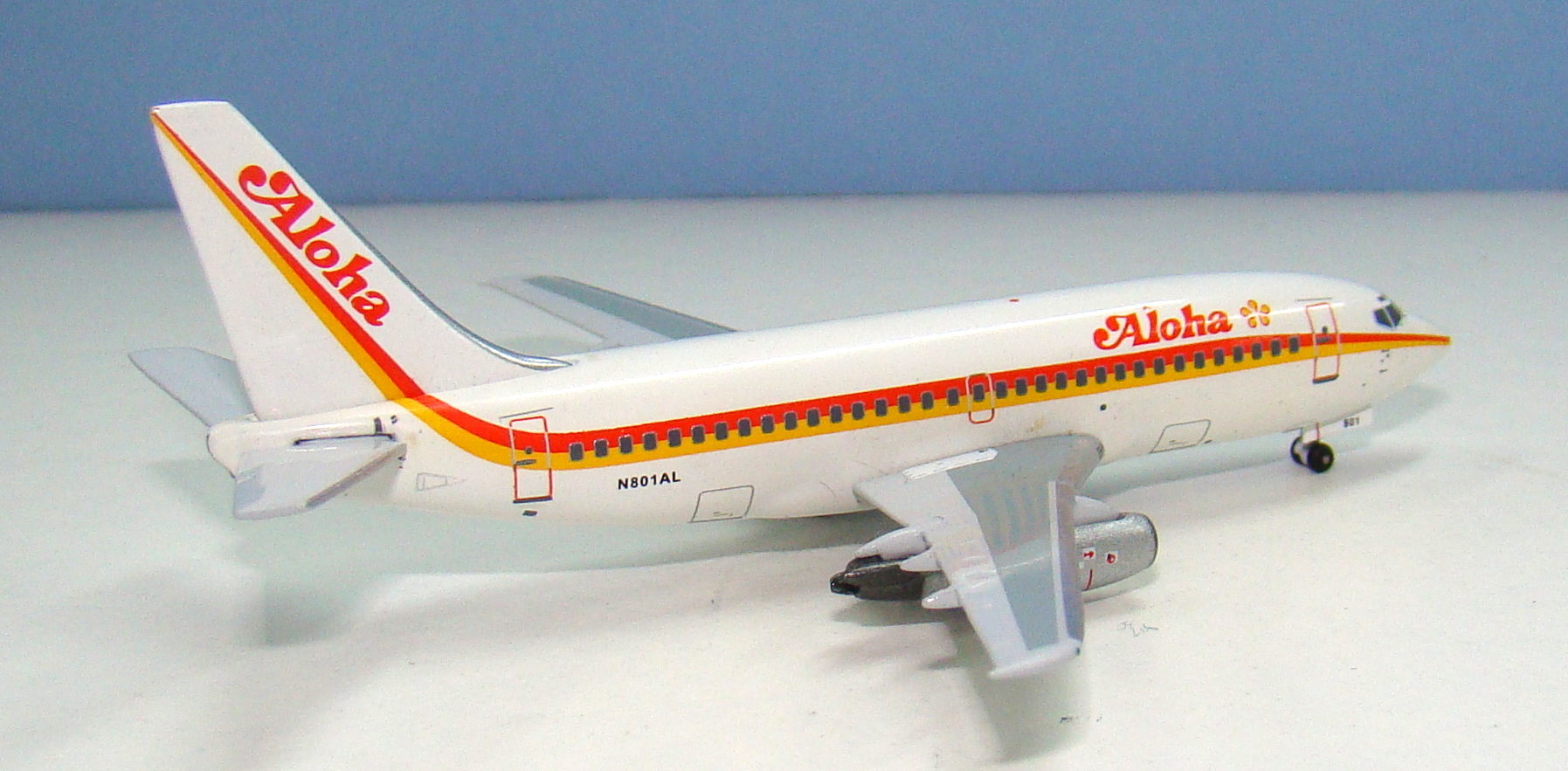 I gave the mould full marks in the first Aloha review and I see no reason to modify that score here.
SCORE – 10
PAINT & LIVERY
Aloha's 1980s colours were introduced around 1984 and went with a change of management. They were certainly more sedate than the previous Funbird and Flower power liveries but also more contemporary. Indeed I think the scheme still looks good today, if only cheatlines weren't so out of fashion. It is still a colourful identity with the previously wafer thin yellow stripe of the cheatline thickened and paired with a thinner orange line, both of which move onto the tail where Aloha titles join them. The Aloha titles are slightly smaller but otherwise match the same fun font as on the previous livery. The only remaining flower is a stylised bloom after the Aloha titling on the fuselage.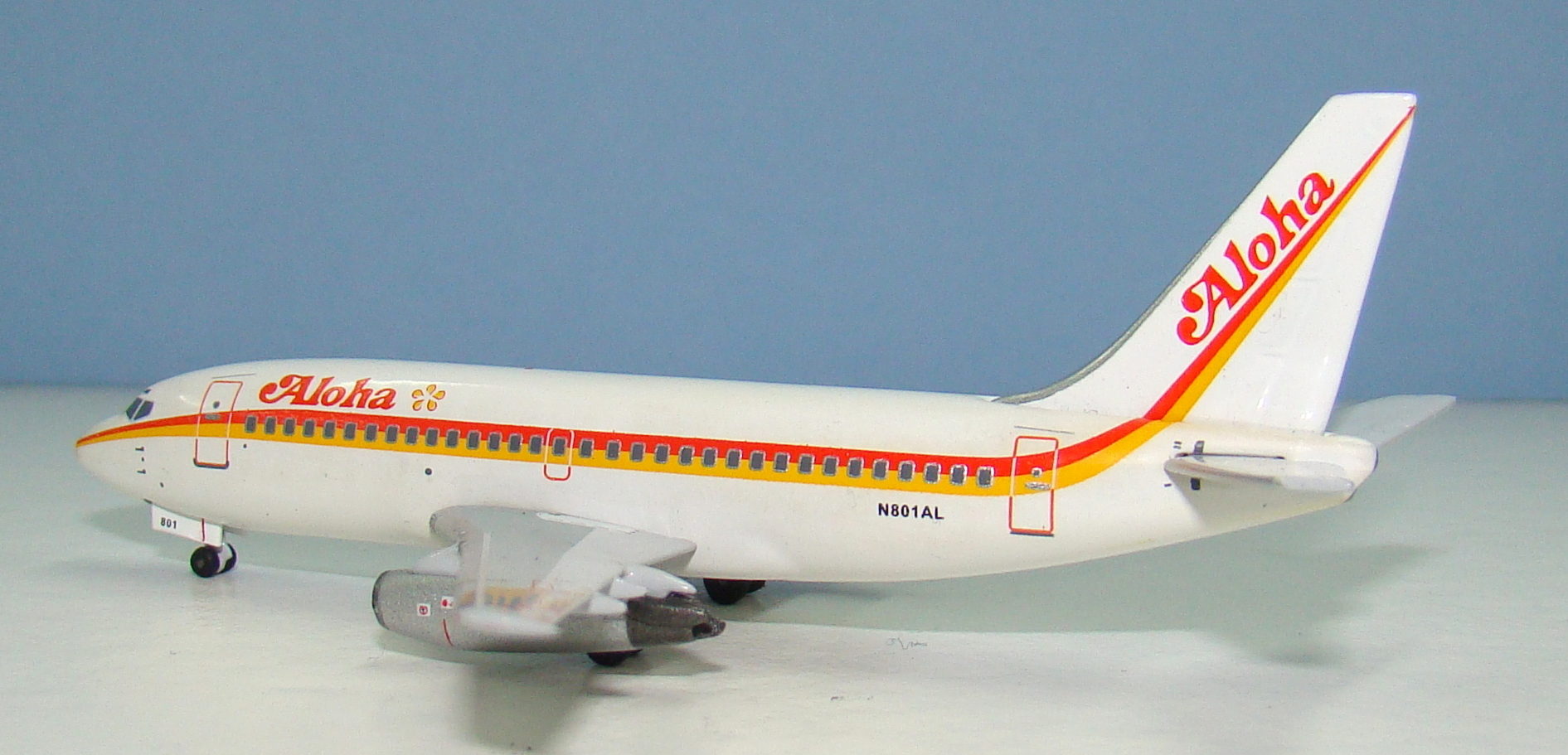 This is a simpler livery to reproduce than the earlier one but interestingly I can only find one photo online of this airframe wearing this scheme and it is small. So I will have to rely on other 737s in this scheme for this review. The colours are a perfect fit on this model – a nice bright orange and yellow. The cheatline is also well placed and correctly positioned.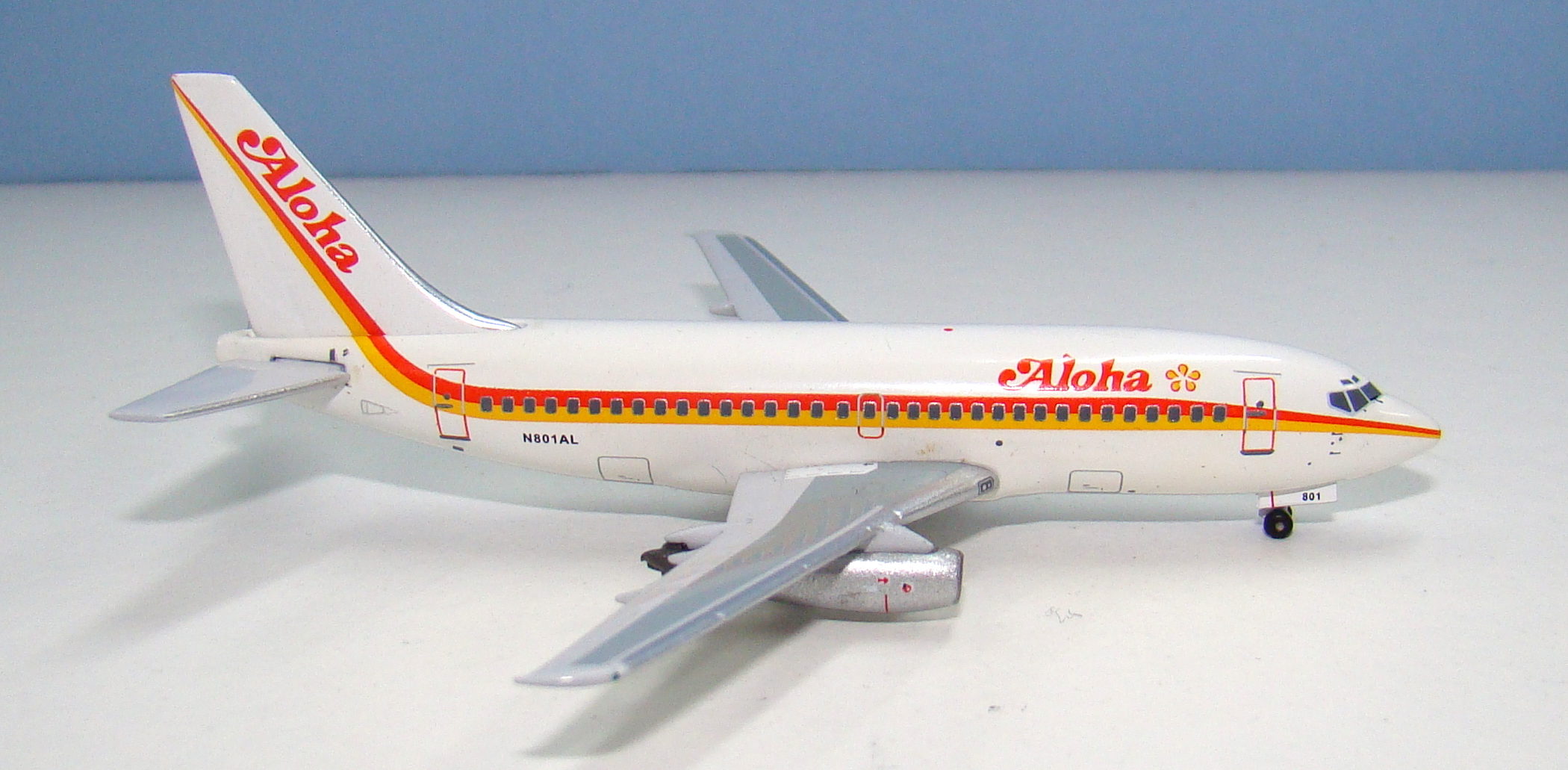 The only other parts to the livery are the titles and flower logo. The titles are actually better than on the Flower Power release but still not perfect. They are way too curvy and not straight enough. The h is the worst letter of the bunch although I admit you have to be looking for it for it to seem out of place. The flower logo is correctly sized and positioned next to the titles but is not thick enough. I guess these are minor points but the flower logo is a little underwhelming.
SCORE – 8
PRINTING & QUALITY CONTROL
Printing on this model is simple but effective. Details like the pitot tubes under the cockpit and scallop intake by the horizontal stabilizers are well rendered. The engines are also nicely printed although I note Aeroclassics has the tendency to make the engine exhausts dark grey whereas on the 737-200 they were silver. There are no other printing issues and Aeroclassics are a company who can be relied upon to do positional printing (especially of cockpits) very well.
My other Aloha 737 came with a wing detached, but that is not the case here. There is a small glue mark above the starboard wing but it is very minor. The model is otherwise presented perfectly constructed, which is what you ought to be able to expect from a small but relatively simple model like this.
SCORE – 9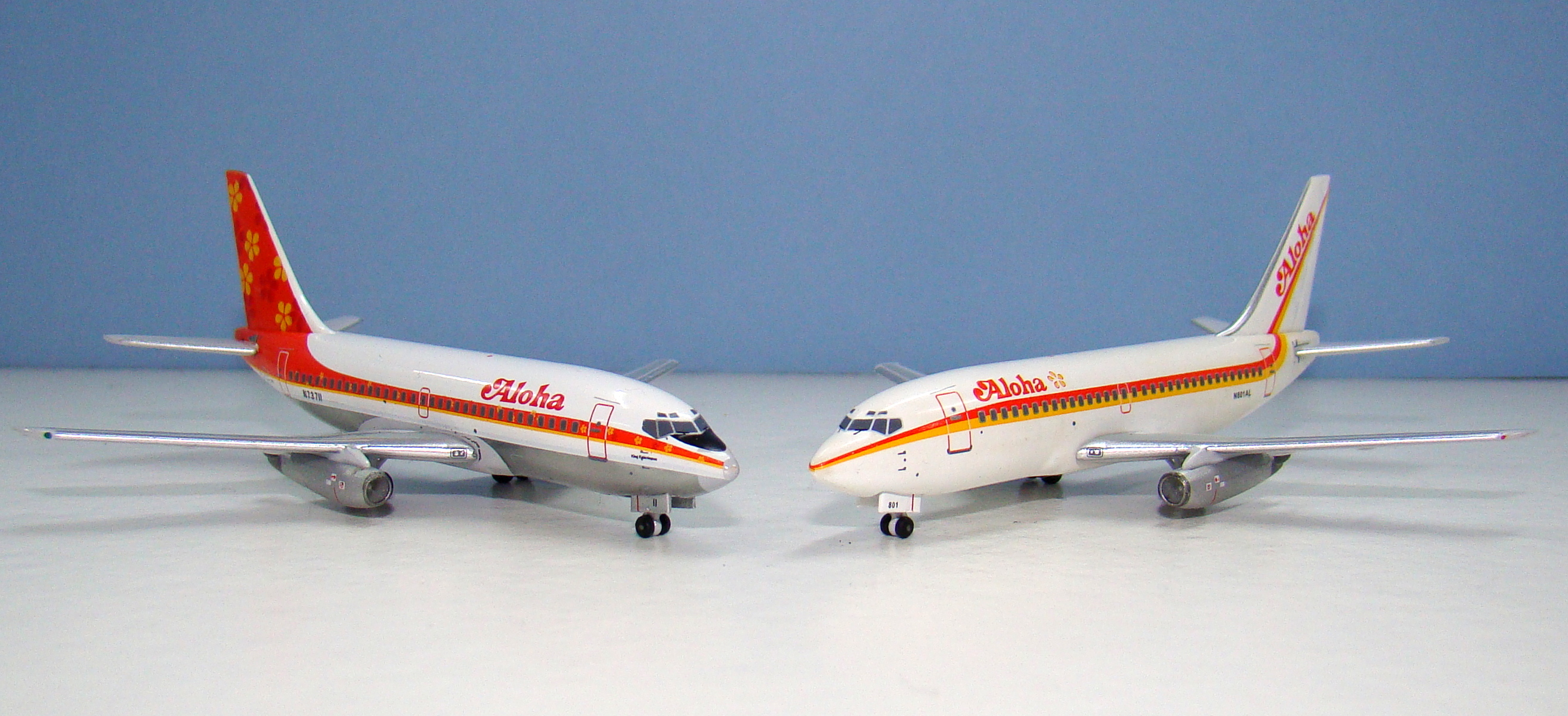 CONCLUSION
That's more like it from Aeroclassics. Almost all the models of theirs I have reviewed so far have great bones but suffer somewhat in the execution, usually due to colours and recently annoying construction problems too. This model does not have either of these and with the considerable boost from having a fabulous mould scores very well. Along with the 707, A300, A310, DC-8 and DC-10 the 737-200 is a hallmark type for Aeroclassics jets.
FINAL SCORE – 27