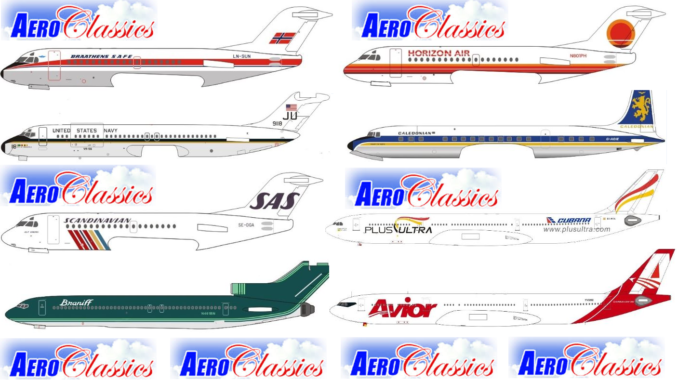 It's slightly later in September than for previous months but the now familiar pre-release announcement from Aeroclassics is in. The past few months have had some really impressive releases and necessitated large numbers of purchase events from this collector. Having said that the mistakes have still been slipping in so when buying from pictures of mockups, and not photos of the models, it's buyer beware still.
Watch these images closely, because as last month proved, Aeroclassics aren't always paying too close attention to research! The titles on the Sterling 727 last month are an example of this so if you see anything incorrect with the designs shown here shout loudly in the direction of Andrew Klein (he reads the Facebook groups and 400 Scale Hangar, or you can try the AC Facebook page). He has said he is listening and making corrections. I'm less keen to be doing Aeroclassics job for them but hey we all want good models so it's probably worth helping out.
Anyway onto the models and it's another strong month with more F28s, DC-9s and 727s plus a return to modern Airbuses and a few classic propliners to boot.
The Dutch Dream Continues
The F28 is finally getting the attention its rich service history deserves. Last month included some seminal fellowships and this month we get some more core operators. Horizon Air operated 9 F28-1000s between 1984 and the early 2000s in its own colours and the Alaska inspired scheme both of which get run outs here:
Horizon Air F-28-1000 N801PH 1980s clrs
Horizon Air F-28-1000 N802PH 1990s 'Alaska style' clrs

The F28 also saw service in Scandinavia with both Braathens SAFE and Linjeflyg. The latter was bought out by SAS and so the F28s got into their colours too. This month we get two of the three. Maybe there'll be a Linjeflyg in the future?
Braathens SAFE F-28-1000 LN-SUN
SAS Scandinavian Airlines F-28-1000 SE-DGA

DC-9s for the Services
All the major branches of the US military (aside from the army) has used Douglas DC-9 in service, in fact the Marine Corps continues to do so. The first aircraft were designated C-9A Nightingales and used for aeromedical transport by the USAF but the C-9B Skytrain II has been more widely used as a transport by the USAF, USN and USMC. Aeroclassics provide an example of each for us this month:
United States Navy C-9B 159118
United States Air Force C-9A 67-22583
United States Marine Corps C-9B 160046
Andrew also loves Indonesian airlines and slips out a civil DC-9 too, another Merpati Nusantara fleet member. I struggle to understand who's buying all these Indonesian aircraft but hey they are pretty nice:
Merpati Nusantara Airlines DC-9-32 PK-GNR 1990s

The Ultra Release Train Rolls On
I like the idea of releasing the Ultra fleet gradually and for the third month running we have a pair of Braniff Ultra 727-200s. This month we have N455BN in 'Chocolate Brown' and N461BN in 'Perseus Green'. I'll be getting both of these:
Braniff International B 727-277 N455BN 'Ultra Chocolate Brown'
Braniff International B 727-227 N461BN 'Ultra Perseus Green'
Back to the Mods
The Airbuses are back after a wee break. It's an interesting mix. VivaAeroBus is a major Mexican LCC and definitely due some releases, but I could do without the Level A330 (that's one boring name and livery). Both the Cubana lease and Avior A340 are obscure but interesting examples:
VivaAeroBus A320-232 XA-VAF
VivaAeroBus A320-232WL XA-VAT
Level A330-202 EC-MOU
Cubana A340-313X EC-MFA 'AirPlus Comet Clrs'
Avior Airlines A340-313X YV-3292
Sabena A330-223 OO-SFR
Seven Seas Ahoy
Last but definitely not least I am very pleased to see that a few prop-liners are still getting released. This month there are two excellent DC-7Cs for KLM and the 1960s charter airline Caledonian (which later merged with British United to form BCal):
Caledonian Airways DC-7C G-AOIE
KLM Royal Dutch Airlines DC-7CF PH-DSG
Summary
It is a rare thing anymore that I don't 'have' to purchase at least 6 models from a month of Aeroclassics releases and yet again that is the case this month. It is also pleasing to see a good mix of civil, military, classic, modern, jet and prop releases all at the same time. So I'm a happy boy again, now I just need to check the images above against photos of the real thing, and so should you!