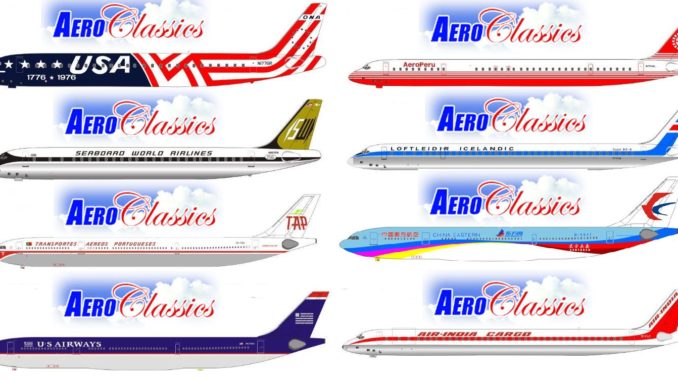 Aeroclassics is doing something different. Usually there is a guessing game over at 400ScaleHangar with the head of Aeroclassics, Andrew Klein, about what the next month's Aeroclassics releases look like. The 'Mata Hari' then gives a report with the registration prefixes sending AC fans into raptures about what aircraft these could possibly represent. The actual releases themselves are a well hidden secret only publicized at a specific time stated by AC, which is usually only a few days before they arrive at retailers. This is usually around the 5-10th of the month – so what is going on with the release of the models for the August Aeroclassics in mid-July?
It seems Aeroclassics is trying something that the other manufacturers do i.e. allowing pre-orders of models that haven't been released. This sounds like a win-win for the manufacturer who can get a much better idea of production volumes that are required. For the consumer it might also be a win since there is much wider publicity of future releases and it may lessen the mad scramble that sometimes accompanies the announcement of the new Aeroclassics releases. That's all positive. If I'm being less positive then this will encourage pre-orders of models that nobody has seen yet. Historically this would be ok, but let's face it Aeroclassics has had major quality issues recently in relation to simple research. In fact it has become standard in 2017 for a good quarter of releases to feature some kind of cock-up in their finish. Last month for example at least 5 of the releases were disappointingly incorrect.
This is concerning as I don't want to find myself ordering models that I haven't seen and then missing out if I don't. It'll be interesting to see how this pans out.
Anyway onto this month's announcement. If you can ignore the mistakes then AC has been making some awesome releases this year, and that continues into August. The DC-8 returns in a big way with all the other 1/400 releases being A330s. That is an unusually small set of aircraft types for Aeroclassics but both the A330 and various marks of DC-8 are some of Aeroclassics best moulds so it isn't a bad thing.
Keflavik Stretch-Eights
After not having any Icelandic classics at all we now have three in the past two months. This month there are a pair of series 63 DC-8s for both the transatlantic low cost pioneer Loftleidir and the national carrier Icelandair. These should both be excellent:
Icelandair DC-8-63 TF-FLF
Loftleidir DC-8-63 TF-FLB


A third TF registered DC-8 represents an on-lease example to Air India Cargo:
Deepest Peru
Another series 63 sees a return to an airline Aeroclassics has really taken a shine to this year – namely Aero Peru. This N registered example wears their early 90s scheme:

ONA is OK by me
Overseas National got a DC-10 from Aeroclassics not long ago (another release that looked good until you noticed it was finished incorrectly) and this month there are no less than 7 ONA DC-8s of which 5 wear the airline's own livery. These include the two special 1976 Bicentennial themed aircraft. There is also a real spread of variants in this bunch:
Overseas National Airways DC-8-30 N831F
Overseas National Airways DC-8-50 N852F
Overseas National Airways DC-8-30 N1776R
Overseas National Airways DC-8-20 N1976P
Overseas National Airways DC-8-61 N867F




Two of the above models continue the attempt by Aeroclassics to cast old Gemini models into the dustbin. Hopefully they'll do so as the moulds are massively superior to those GJ used back in the day.
The other two ONA DC-8s are examples wearing the on-lease livery of Saudia. This is another airline rather favoured by Aeroclassics, although I admit it doesn't do much for me:
Saudia – Saudi Arabian Airlines DC-8-61 N912R
Saudia – Saudi Arabian Airlines Air Cargo DC-8-61 N864F


Solitary Seaboard
The last DC-8 this month represents an airline that has been rather overlooked in this scale considering how important it was as one of only two certified freight airlines and as a pioneer of all cargo services. This Seaboard World DC-8 should be a real bobby-dazzler:
Seaboard World DC-8-50 N801SW

BigBuses
Moving to the modern side of things and the non-Chinese A330s have a rather retro feel to them this month with a couple of sort after releases and another Air Transat. The US Airways release has in particular been requested quite a few times. The mould is superb and the only question remains can you do without the aerials and satnav domes? It's up to you to decide.
TAP Air Portugal A330-300 CS-TOV
Air Transat A330-300 C-GKTS
US Airways A330-300 N678US



B-Reg with GSE
After some great classics eights with GSE, Aeroclassics moves to the modern end of the spectrum with a pair of Chinese A330s (both made already by others) but with their own GSE. Quite what these sets look like is open to speculation since there are no images but I'm reasonably excited about these.


Summary
I can't but help be a little cynical this month since what was an excellent month of Aeroclassics last month was rather damaged by the issues afflicting quite a few of them. Having said that this is another solid month of candidates from AC, of which I could quite happily buy more than 10. If they all come as advertised and match a cursory glance at a photo of the real thing I'll be a happy man.